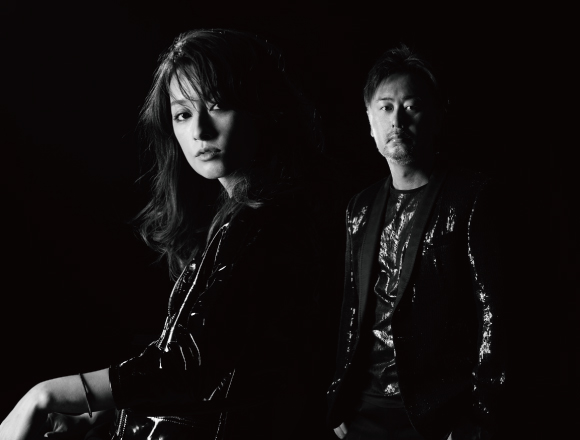 18.May.2017
Do As Infinity reveal visual for their new single & announce tickets to their Taiwan solo concert as sold out!
Do As Infinity recently unveiled the announcement of a long-awaited new single – the first in almost a year – which is to be released on June 28th. The title of the upcoming release is "Alive / Iron Hornet."
The person in charge of the sound production for the single is none other than Hiroyuki Sawano, who is responsible for having worked on music for numerous anime, dramas and movies such as "Attack on Titan," "Mobile Suit Gundam Unicorn," and "Platinum Data" to name a few.
A new visual for the band's upcoming single has just been revealed, showcasing them in an all new light: we see the figures of both members emerging from the darkness looking cool.
The actual CD jackets for "Alive / Iron Hornet" come in two versions, displaying vivid blue and orange spheres respectively. But they also leave a mysterious impression as not only do they look like eyes, but also like planets – specifically earth and mars. This air of mystery is emphasised in the teaser trailer for the single, where we see some strange, enigmatic symbols or hieroglyphics that seem to bear some kind of message, or point at some kind of foreshadowing.
■Do As Infinity / 2017.06.28 New Single -teaser trailer-
Do As Infinity recently announced at a show in Taiwan on May 10th that they will be performing a solo concert there in August, and tickets have already sold out. This will be their first time performing solo in Taiwan, and that's exactly why the hype was off the scale during the show. It confirmed the love the Taiwanese fans have for the band, who released their debut album back in 2000 which sold 50,000 copies in Taiwan.
With the help of sound producer Hiroyuki Sawano for their new single as well as their list of concerts for South America and Taiwan, there's no stopping Do As Infinity.
Related article:"Do As Infinity" will hold its first-ever live concert in Taiwan in addition to live concerts in four South American countries
■Information
Do As Infinity
New Single「Alive / Iron Hornet」
2017.6.28 RELEASE
■Tour Schedule
Do As Infinity 1st LIVE in TAIWAN
Date: Saturday August 12th, 2017
Venue: ATT Show Box, Taipei
http://www.attshowbox.com.tw/index.aspx
Time: DOORS 17:00 / START 18:00 (subject to change)
Do As Infinity – "Latin America Tour 2017"
・Mexico <Mexico City>
Date: Saturday July 1st, 2017
Venue: Lunario Auditorio Nacional
・Argentina <Buenos Aires>
Date: Tuesday July 4th, 2017
Venue: Teatro Vorterix
・Brazil <Sao Paulo>
Date: Friday July 7th, 2017
Venue: Transamerica Expo Center
※Performance to be held at "Anime Friends 2017"
 ・Chile <Santiago>
Date: Sunday July 9th, 2017
Venue: Polideportivo Estadio Nacional
※Performance to be held at "Anime Friends 2017"
For full details, please visit http://www.d-a-i.com/