Sanrio has gained a huge name for itself not just in Japan, but overseas. Many go to worldwide meet and greet events with Hello Kitty, and collect hundreds of plushies, stationary items and even household furniture! I tried out the Pom Pom Purin café before, and this time I'll be checking out the Little Twin Stars (or Kiki Lala as they are known in Japan) pop up cafe in high-end department store Shibuya Hikarie.
The café is a pop-up instalment within THE GUEST diner. For the interior I was expecting an explosion of rainbows all over the walls, but I was surprised to see a mainly cream colour scheme. The reason is this cafe is aimed at Japanese adult women, and so they wanted to create that vibe, with classic merchandise that any businesswoman could easily take to work. Of course this is not the only audience it attracts – I was sat alongside families and couples also enjoying the sophisticated atmosphere. There were also plenty of regular goods for sale, so fear not pastel fans!


The menu is split into themed drinks, food and desserts. Everybody gets a free Little Twin Stars postcard if they order one of the special food items. I never thought I'd see art of them doing the washing – but the star shaped washing line and pure joy on their faces transforms this menial task into something adorable! If only I could look as happy as them when I do the chores.
The menu has something for everyone. If you can't stick around you can even get a special roll cake to takeaway. Everything has themed elements, such as omuice with pink rice, and a parfait where Kiki and Lala are playing in the fluffy white clouds!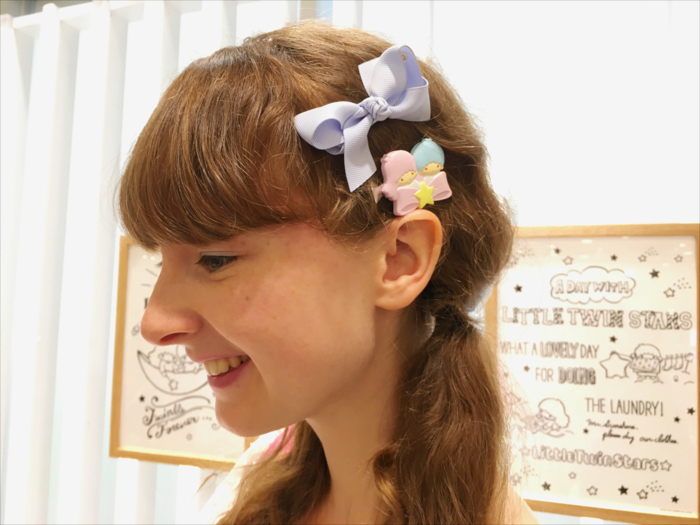 I started off my order with the pink cafe latte. It certainly looked impressive – and you got a free keychain that hangs off the straw! The stars and silver dragées around the edge of the cup gave the impression this drink had been conjured up by magic! Strawberry and coffee isn't a combination I would normally think of putting together, but it really worked with the bitter taste of the coffee jelly and super sweetness of the rainbow cream. It wasn't your usual colourful drink – the taste of the jellies chosen gave it a very refined, more adult taste. For those with a sweet tooth, I would suggest swirling the cream into the drink!
Culture Exchange Point!! 'Cafe latte' may confuse you – this is the same as a latte in Japan, and the word comes from the proper Italian word. If you ask for a latte in the UK or America, coffee is implied. If you ask for just a latte in Italy, you'll literally get milk, so you ask for a cafe latte (cafe = coffee, latte = milk!). Similarly, 'matcha latte' in Japan is matcha flavoured frothed milk, but doesn't actually contain any coffee!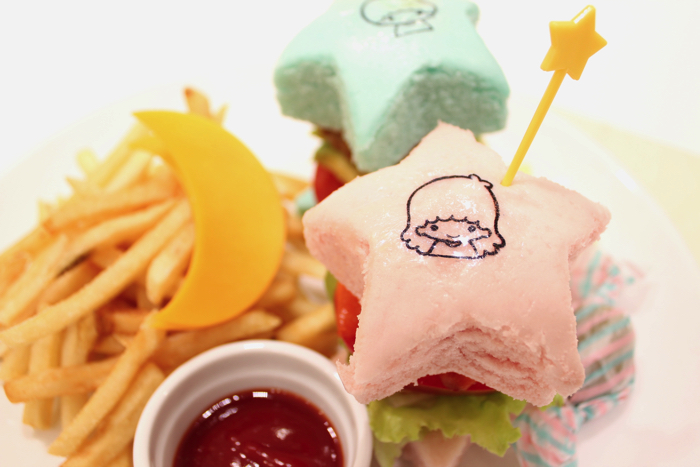 Next up I decided to try the most popular item on the menu – the Hamburger Plate. The buns are coloured blue and pink just like Little Twin Stars, and are perfectly soft and yummy. This is also the first time I haven't had a round burger – the star shape of the burger and moon shaped cheese is just too cute. The plate caters to both meat and fish lovers, with the pink being salmon and blue being beef. The avocado, lettuce and tomato was also very fresh – and there was even a pickle in a sweet wrapper! Some really creative presentation here. But nothing could top the presentation of the roll cake I had for dessert!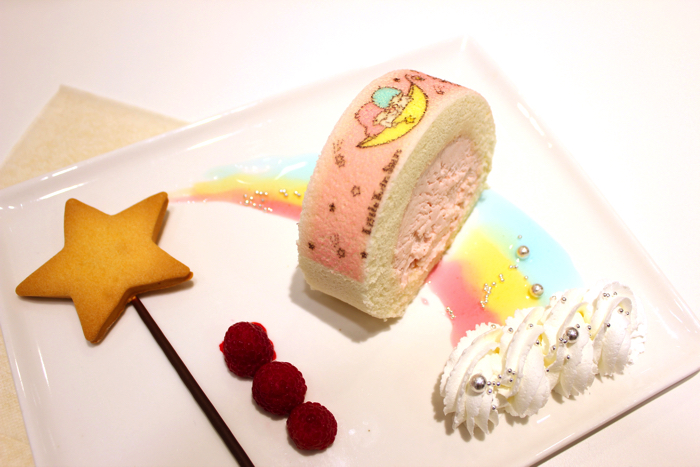 As if the cookie and Pocky wand had cast a spell, in a magic rainbow and a puff of creamy smoke, the roll cake appeared in front of me. The roll cake itself had a cute Little Twin Stars image printed on it, and was filled with a thick strawberry cream that had an ice-cream like texture. The rainbow sauce also had some nice fruity flavours. The tart taste of the raspberries worked as a sophisticated complement to the sweet overload.
■Information
THE GUEST POP-UP CAFE
Shibuya Hikarie B1, 2-21-1 Shibuya Shibuyaku Tokyo
TEL. 03-6434-1866
OPEN.10:00〜21:00 (food L.O 20:00 /drink L.O 20:30)
Model & Writer:Scarlett Young
Photo:Nao Shiota(MOSHI MOSHI BOX Store Manager)
Related article:Mogu Mogu Scarlett#2  Pom Pom Purin café in Harajuku!
Related article:Mogumogu Scarlet #1: Going to eat super soft pancakes in Japan