Gaze at Cherry Blossoms and Tokyo Tower at Tokyo Prince Hotel's Sakura Festival
Tokyo Prince Hotel is set to hold Sakura Matsuri 2019 from March 16 to April 14 where they will serve a cherry blossom inspired menu.
The Shiba Park area by the hotel is a famous cherry blossom spot which brings together lots of people each year who visit to see the pink flowers in bloom. Tokyo Prince Hotel has put together a special menu to excite this year's hanami season for tourists and sightseers visiting Tokyo to view the flowers.
Sit atop the hotel's wide-open cafe and bar Tower View Terrace where you will be served colourful hors d'oeuvre, steak, temari sushi and many more springtime foods. Meals are made even more memorable with the gorgeous cherry trees standing at eye level behind which towers Tokyo Tower.
Lunch – "Hanami Box – Cherry Blossoms": ¥6,000 (Served 12:00-15:00)
Dinner – "Hanami Box – Nighttime Cherry Blossoms": ¥9,000 (Served 17:00-21:30)
Nighttime Cherry Blossoms Wagyu Beef Teppanyaki & Seafood Barbeque Set (Serves 1): ¥10,000 (Served 17:30-21:30)
Over at the hotel's beer restaurant Garden Island you can look forward to enjoying an evening BBQ under the cherry blossoms. Tuck into wagyu sirloin beef, spiny lobster and other top quality hotel ingredients as you gaze at the nighttime cherry blossoms. The restaurant also serves a meal plan that comes with an all-you-can-drink option.
Beautiful Sakura Gozen Meal: ¥5,000 (Served 11:30-14:30 / until 17:00 on Saturday & holidays)
Roll up to the hotel's Shimizu restaurant where they will be serving a vivid traditional Japanese meal which can be enjoyed with the stunning view of the cherry blossoms and Tokyo Tower outside the restaurant's enormous windows.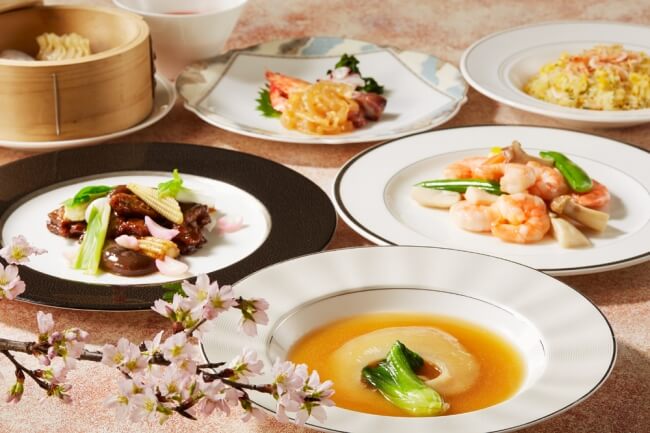 Sakura Course: ¥8,000 (Serving 17:00-21:30)
Maronie is a restaurant at the hotel that specialises in Chinese cuisine. Like Shimizu, you can appreciate the cherry blossoms peeking at you through the window as you dig into a delicious Chinese meal.

Lunch: Weekends ¥3,500, Saturday & Holidays ¥4,000 (Served 11:30-15:00) / Dinner: Weekends ¥6,000, Saturday & Holidays ¥6,500 (Served 17:30-21:30)
Porto, a buffet restaurant in the hotel, is preparing a springtime buffet which can be enjoyed with a full view of the pink flowers and Tokyo Tower.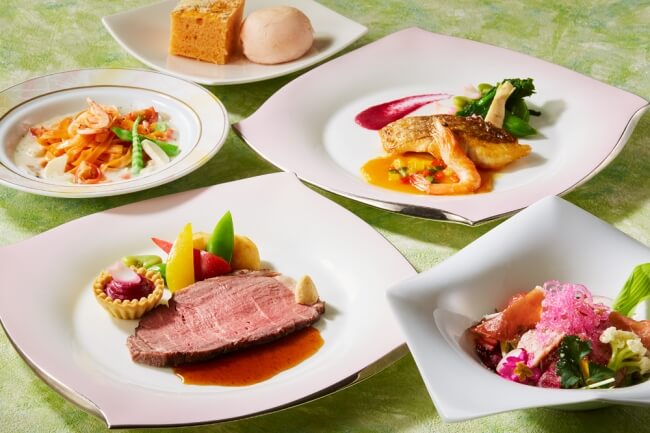 Bloom: ¥4,000 (Serving 17:00-21:00)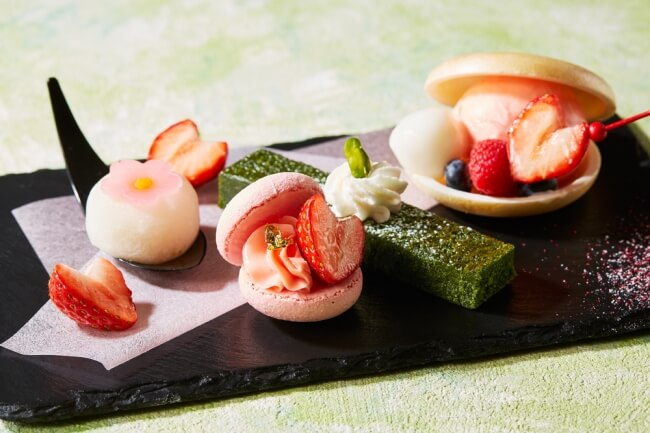 Cherry Blossom Sweets Plate: ¥1,500 / With Drink ¥2,100 (Serving: 11:00-21:00)
The tea salon Pikake will be cooking up a range of meals including pasta served in spring colours, salad, roast beef and more as well as a special sweets plate with 4 different Japanese sweets.
Snow Sakura: ¥1,800 (Served 17:00-Midnight)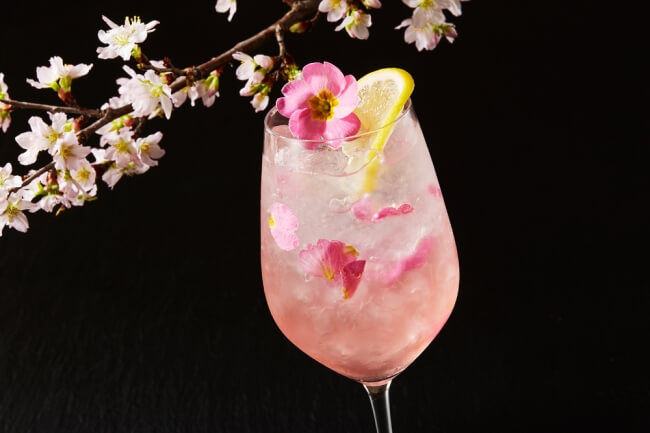 Spring Fizz: ¥1,800 (Served 17:00-Midnight)
The hotel's main bar Windsor will be pouring two different cherry blossom inspired cute pink cocktails.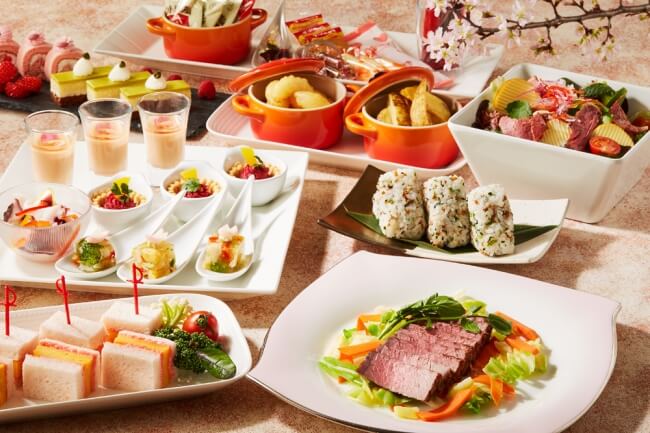 Party Plan: ¥5,800 Per Person (Weekdays 17:00-Midnight / Saturdays 15:00-Midnight / Holidays 15:00-23:00)
Petrea Karaoke Room has a very special party plan planned which includes a cherry blossom themed menu as well as karaoke and all-you-can-drink.
Tokyo Prince Hotel's Hanami Season Map
If you're visiting Tokyo during the hanami season then don't miss out on this luxurious flower-viewing experience.
Information
Sakura Matsuri 2019
Running: March 16, 2019-April 14, 2019
*Will run March 16 to April 25 at Porto and from March 22 to April 14 at Garden Island.
Participating Restaurants: Tower View Terrace, Porto, Garden Island, Shimizu, Maronie, Pikake, Windsor, Petrea Karaoke Room
Official Website: https://www.princehotels.co.jp/tokyo/
RELATED ENTRIES
SiM to Hold Streaming Event 'Amazon Music Live: DEAD POP FESTiVAL 2022'

Amazon Music Live: DEAD POP FESTiVAL 2022 was originally held on June 25 and 26, 2022. Those who missed out on SiM's outdoor festival will be able to watch it on the Amazon Music Japan channel on Twitch on August 16 at 20:00 along with exclusive commentary from the members. In addition, Shuhei Igari (HEY-SMITH), GEN (04 Limited Sazabys), and Takuya Yamanaka (THE ORAL CIGARETTES) will appear. 20 artists who participated in the festival will give their personal thoughts on the June event including behind-the-scenes stories.

Fans of Attack on Titan won't want to miss the first live performance of SiM's track The Rumbling, used as the opening theme for The Final Season Part 2.

Prior to the event on the Amazon Music Japan channel, a playlist consisting of songs performed at DEADPOP FESTiVAL 2022 is available on Amazon Music Unlimited. Be sure to check it out!

NIJISANJI Fes 2022 Reveals 118 Participating VTubers, New Illustrations

NIJISANJI Fes 2022, the largest NIJISANJI event to date, will be held on October 1 and October 2 at Makuhari Messe in Chiba. Ahead of the festival, ANYCOLOR has announced the 118 VTubers that will be participating, along with new illustrations showing some popular personalities wearing class T-shirts which will be available at the venue.

NIJISANJI Fes 2022 Special Announcement Video
https://youtu.be/st-m1G_DYS8

The image song for NIJISANJI Fes 2022, Hurrah!!, is now available to stream. The music video for the track will feature fan art which will also be displayed at the venue, so get your entries in by August 28!

Illustrations Highlighting Class T-Shirts

NIJISANJI Fes 2022 Image Song, Hurrah!!

Music: Mito Tsukino, Sasaki Saku, Kuzuha, Lize Helesta, Sara Hoshikawa, Minato Fuwa, Axia Krone
Lyrics / Composition / Arrangement: Jin

On the special website, newly-drawn illustrations of the 118 participating VTubers are featured. Each member is a part of a different class, and these class T-shirts will be handed out at random to those with tickets to the event as a bonus. They will also be available for purchase, so don't worry if you don't get the one you want!

▼Green
Manami Aizono, Uiha Aiba, Youko Akabane, Axia Krone, Akane Asahina, Hina Asuka, Momo Azuchi, Kokoro Amamiya, Sayo Amemori, Almal Ars, Katrina Ange, Mugi Ienaga, Inui Toko, Ibrahim, Ichigo Ushimi, Muyu Amagase, Vox Akuma

▼Indigo
Kou Uzuki, Albio Ex, Emma★August, Eli Conifer, Elu, Haruka Onomachi, Oliver Evans, Haru Kaida, Hayato Kagami, Kanae, Shoichi Kanda, Hisui Kitakoji, Gilzaren III, Gwelu Os Gar, Kuzuha, Yotsuba Umise, Aza

▼Blue
Natsume Kurusu, Kuroi Shiba, Mirei Gundou, Tojiro Genzuki, Touya Kenmochi, Akina Saegusa, Ritsuki Sakura, Sasaki Saku, Yuika Shiina, Shellin Burgundy, Rin Shizuka, SisterClaire, Hajime Shibuya, Joe Rikiichi, Tomoe Shirayuki, Akira Shikinagi, Eine

▼Red
Sango Suo, Kana Sukoya, Utako Suzuka, Masaru Suzuki, Aki Suzuya, Miyako Seto, Kirame Sorahoshi, Rion Takamiya, Mito Tsukino, Debidebi Debiru, Kohaku Todo, Dola, Kyoko Todoroki, Kei Nagao, Naraka, Kanato Fura, Elira Pendora

▼Orange
Naru Naruse, Chigusa Nishizono, Sociere Nui, Fuyuki Hakase, Hanabatake Chaika, Sou Hayase, Marin Hayama, Air Harusaki, Kaede Higuchi, Gaku Fushimi, Tamaki Fumino, Furen E. Lustario, Fuwa Minato, Belmond Pandelas, Nei Ponto, Pomu Rainpuff

▼Yellow
Sara Hoshikawa, Himawari Honma, Keisuke Maimoto, Ririmu Makaino, Meme Mashiro, Chima Machita, Mao Matsukai, Moira, Alice Mononobe, Kazaki Morinaka, Rine Yaguruma, Kizuki Yashiro, Karuta Yamagami, Chihiro Yuki, Seraph Dazzlegarden, Mysta Rias

▼Violet
Riri Yuhi, Mahiro Yukishiro, Roa Yuzuki, Kakeru Yumeoi, Ratna Petit, Lize Helesta, Ryushen, Mikoto Rindou, Lain Paterson, Luis Cammy, Levi Elipha, Vincent Leos, Lauren Iroas, Hibari Watarai, Finana Ryugu, Hyakumantenbara Salome

Tomakomai Mirai Fest 2022 Announces Second Round of Performers, Additional Details

New performers and events have been announced ahead of the start of Tomakomai Mirai Fest 2022 in Tomakomai, Hokkaido on September 17 and 18. The event will be held in one of the most gorgeous towns on the island and excitement is building!

The purpose of this event is to promote the appeal of the Tomakomai region, not only to those living in Japan but to those living abroad. In addition to music, the event will also feature art, food, technology, and more content that can be enjoyed by kids, families, and people of all ages and genders.

Tomakomai Civic Hall, Large Hall

Incredible live performances will be held in a futuristic setting. Along with Awesome City Club, Kyary Pamyu Pamyu, and Little Glee Monster, guests can look forward to seeing HY, Wednesday Campanella, Taichi Mukai, and Atarashii Gakko!

Tomakomai Civic Hall, Parking Lot

DJ performances and food trucks will welcome guests to the futuristic area, and the illuminations are sure to impress!

Kirakira Park

An AR system accessible by smartphone will allow guests to take pictures of the Tomakomai Mirai Fest logo for a surprise. During the daytime, a food truck area will provide visitors with different types of gourmet offerings and a stage will showcase local dancers and musicians from Tomakomai. A family-friendly picnic area will allow guests to relax and enjoy good food and live music.

At night, in addition to impressive illuminations and a live stage showcasing Hokkaido's best talent, an island bar will amplify the mood.

O-machi/Nishiki-machi

During the daytime, a gourmet area will feature Tomakomai's famous curry ramen, local craft beer, craft spices, and more. At night, visitors can enjoy restaurants in the O-machi and Nishiki-machi areas while still enjoying the vibe of the event.

And More!

A stamp rally will be held during the event, and guests finding stamps at each location will be eligible to win fantastic prizes. A bus service is also planned.

More performers and details will be announced soon, so stay tuned!

Information

Tomakomai Mirai Fest 2022

Dates: September 17 and 18, 2022

Tomakomai Civic Hall, Large Hall (Admission Fee Required)

September 17 / Doors Open 16:30, Event Starts 17:30

September 18 / Doors Open 14:30, Event Starts 15:30

Tomakomai Civic Hall, Parking Lot / Kirakira Park / O-machi, Nishiki-machi (Free Entry)

September 17: Open at 12:00

September 18: Open at 11:00

*May be earlier or later depending on the venue. Detailed event times will be announced at a later date.

Locations: Tomakomai Civic Hall, Large Hall / Parking Lot / Kirakira Park / Around Omachi, Nishikimachi

Ticket Agency: Ticket Pia

[1-day or 2-day Tickets Available]
Official 2nd Advance Ticket Lottery: July 28, 12:00 – August 7, 23:59

https://w.pia.jp/t/tomakomaimiraifest22/

Official Site: http://miraifest-tomakomai.jp/

Mount Fuji to be Surrounded by Colorful Blossoms During the Rainbow Flower Festival 2022

Yamanashi's Fuji Motosuko Resort is home to the yearly Fuji Shibazakura Festival, one of the most popular spring flower events in Jaapn. From July 16 until October 10, 2022, guests will also be able to enjoy the Rainbow Flower Festival, with over 80,000 blooms decorating the land around Mount Fuji. 

From Left: Coneflowers, Common Zinnia, Begonia, Ageratum

From Left: Scarlet Sage (Sirius), Scarlet Sage (Bonfire), Scarlet Sage (Deep Blue), Coleus

The theme for the inaugural event is 'Seven Colors of Mount Fuji.' Visitors will be able to take incredible pictures, with a variety of blooms springing from the Earth in seven beautiful colors. Whether you love begonias or zinnias, you won't want to miss this one. 

The venue will also feature photo spots that will be perfect for social media, from a rainbow circle bench to the 'Yellow Door of Happiness.' A campaign will also be held to choose the best photos of the event posted to Instagram.


Koppe-pan (with Yamanashi Peach Butter and Whipped Cream) / Lava Fried Tofu / Bellflower Mochi Ice Cream / Jewel Soda


A unique food menu featuring everything from lava-shaped fried tofu to fluffy bread with local peach butter will appear at the event.

*Sample image.

Pictures aren't the only thing you'll leave with–a selection of souvenirs will be on sale, including 'Stick Jelly' made with five types of local fruit puree. These will only be available at the event, so come have a wonderful time visiting Mount Fuji this summer!

Information

Rainbow Flower Festival

Running: July 16 – October 10, 2022

*Blooming dates may vary. The festival will be open every day during the event period.

Hours: 8:00-16:00 *Subject to change.

Tickets: Adults (Middle school age and up): ¥800 / Children (Ages 3 and up): ¥250

Venue: Fuji Motosuko Resort (212 Fujigane, Fujikawaguchiko, Minamitsuru District, Yamanashi)

Official site:https://www.fujimotosuko-resort.jp/

NAKED Summer Festival 2022 to be Held at Nijo Castle in Kyoto

This summer, the World Heritage Site Nijo Castle will host the NAKED Summer Festival 2022 event from July 22 until August 21. Visitors can explore the incredible location at night, illuminated by colorful lights and filled with summer fun.

Festival Stalls

Virtual Content via Smartphone

The entrance gate and Ninomaru Garden will both be illuminated for the event, and a digital fireworks display will be shown on the stone walls surrounding the inner moat.  Continuing from last year, the fan-favorite NAKED Distanced Lanterns and NAKED Tsukubai will be returning.

Come make some summer memories at Nijo Castle!

Toshio Suzuki Studio Ghibli Exhibition Inspires Limited-Time Hotel Suite

The Grand Prince Hotel Takanawa in Tokyo will offer a special suite inspired by the upcoming Toshio Suzuki Studio Ghibli Exhibition from July 1 until August 31, 2022. This will include tickets to the exhibition, which will take place at Warehouse Terrada in Shinagawa from July 1 until September 7. 

Toshio Suzuki, a producer at Studio Ghibli, has worked with both Hayao Miyazaki and Isao Takahata on a number of beloved masterpieces. The exhibition will feature a large bookshelf housing 8,800 of Suzuki's publications and favorite tomes. Many of these were published before Suzuki joined Studio Ghibli, and guests are invited to see how the producer was inspired to join the legendary studio after working as an editor at a manga magazine. To commemorate the exhibition's opening, this special suite is filled with books written by Suzuki along with other books that visitors may enjoy during their relaxing stay. 

In the suite, guests will find a list of 106 books that influenced Suzuki the most. This list will be available to take home. Visitors will also find reproductions of Suzuki's calligraphy. 

©TS ©Studio Ghibli

Tomakomai Mirai Fest 2022 to be Held in September

On September 17 and September 18, the Tomakomai Urban Renewal Project Committee will hold Tomakomai Mirai Fest 2022, inviting guests to celebrate the area around Tomakomai in Hokkaido. 

The purpose of this event is to promote the appeal of the Tomakomai region, not only to those living in Japan but to those living abroad. In addition to music, the event will also feature art, food, technology, and more content that can be enjoyed by kids, families, and people of all ages and genders.

The main venue of the event will be the Tomakomai Civic Hall. Musical acts announced so far include Awesome City Club, Kyary Pamyu Pamyu, and Little Glee Monster.

In the Tomakomai Civic Hall parking lot and the nearby Kirakira Park, guests can enjoy free DJ performances, mini-concerts, art and technology installations, food trucks, picnic areas, and more. In addition, the Nishikimachi and Omachi areas will be decorated with digital art, and food and beverages will be available.

Advanced 2-Day tickets are available now on Ticket Pia by lottery. More performers and additional content will be announced soon, so keep an eye on social media and the official website.

Information

Tomakomai Mirai Fest 2022

Dates: September 17 and 18, 2022

Venue: Tomakomai Civic Hall, Large Hall

Hours: 

September 17 / Doors Open 16:30, Event Starts 17:30

September 18 / Doors Open 14:30, Event Starts 15:30

*More detailed event times and locations will be announced at a later date.
Locations: Tomakomai Civic Hall, Large Hall / Parking Lot / Kirakira Park / Around Omachi, Nishikimachi

Tickets: https://w.pia.jp/t/tomakomaimiraifest22/

Official Site: http://miraifest-tomakomai.jp/

Banyan Tree Group Opens Garrya Nijo Castle Kyoto Hotel

Banyan Tree Group, one of the world's leading independent hospitality groups, held the grand opening of Galleria Nijo Castle Kyoto, on Friday, June 17, 2022. This is the first of the group's hotels to open in Japan.

Hotel Exterior

Located south of Nijo Castle, a World Heritage Site, and named after the beautiful winter flower, Galleria Nijo Castle Kyoto is a small, modern, and minimalist luxury hotel that offers simple guests a chance to recharge themselves.

Wellbeing Room


For the grand opening, a new Wellbeing Room has been opened where visitors can experience quiet meditation.

Visitors can stroll through nearby gardens, temples, and shrines, take a tour of Kyoto's many historical sites, or spend time in the Wellbeing Room meditating or practicing yoga to recharge their batteries away from the hustle and bustle of everyday life.

The French Restaurant Singular will also offer up healthy and tasty meals with a focus on local ingredients and producers.


Enjoy a visit to Kyoto in this peaceful space perfect for resting both body and soul.

Buffet Inspired by 'Moominvalley Turns Jungle' to be Held for the First Time at Keio Plaza Hotel Hachioji

From June 1 until August 31, Keio Plaza Hotel Hachioji is inviting guests to travel to the adorable world of Moomin by partaking in two tasty buffet events at the Le Clair Restaurant on the second floor. In Moomin's home country of Finland, people start enjoying the summer following the solstice in June. The theme of this project is 'Moominvalley Turns Jungle,' inspiring the hotel's chefs to create a spectacular original menu. A tasty lunch buffet will be held Tuesday through Friday during the event period, while a sweets buffet will take place on weekends and holidays. The restaurant's interior will be decorated with artwork from Tove Jansson's 1956 comic Moominville Turns Jungle.

The Moomin Lunch Buffet is titled 'Jungle Party in Moominville,' and will depict a fun summer lunch get-together in the titular character's home village. The lineup of foods includes smoked salmon canapes, marinated herring, and sardine sandwiches, all typical of Scandinavian cuisine. Plenty of spiced dishes and veggies will be available, the latter looking like they came from Moominmamma's garden. August 9 is Moomin Day, and the chefs will be preparing some extra goodies for each guest on that day only.

The Moomin Sweets Buffet will feature adorable desserts created by expert pâtissiers and will be inspired by Moomin and his friends enjoying the summer. From red velvet cake made to look like Little My's dress to chocolate mousse in the style of Moominpappa's Silk Hat, fans of the series will want to snap plenty of pictures before they dig in! Tons of sweets will include popular Scandinavian ingredients like red currants, raspberries, and blueberries. The welcome plate, limited to one per person, will change monthly, with a Tropical Parfait coming in July and an Edible Jungle coming in August. Light meals will also be available to compliment the sweets.

The Sweets Buffet will also include a special table plan limited to three per day, using plates and mugs included in the Moomin by Arabia 2022 Summer collection. Guests participating in this plan can order a special non-alcoholic cocktail created by the restaurant's bartender and made with rose-colored ice inspired by Moominmamma's love for flowers.

Information

Moomin x Keio Plaza Hotel Hachioji

 

Moomin Lunch Buffet ~Jungle Party in Moominvalley~

Running: June 1 – August 31, 2022 [Tuesday-Friday only]
Location: Le Clair Restaurant, 2F
Hours: 11:30-15:30 (2-hour seating) *Last order 30 minutes before reservation ends.

Moomin Sweets Buffet ~Moominvalley Turns Jungle Fun Summer Time~
Running: June 4 – August 28, 2022 [Weekends and Holidays only]
Location: Le Clair Restaurant, 2F
Hours: [1] 11:30-13:00 [2] 12:00-13:30 [3] 14:30-16:00 [4] 15:00-16:30

Buffet Bonuses: https://www.fujibi.or.jp

Advanced Reservations begin on May 17, 14:00 for hotel email subscribers, LINE Friends only
Standard reservations begin May 19 at 10:00
Details/Reservations: https://www.keioplaza.co.jp/hachioji/event/moomin/

Moomin by Arabia Product Information:
https://www.arabiajapan.jp/products/list.php?category_id=61
Sekiguchi Product Information: https://www.sekiguchi.co.jp/collection/

Conrad Tokyo Hotel to Offer Peach Afternoon Tea in Collaboration with Luxury Brand Wedgwood

Starting July 1, guests visiting the five-star Conrad Tokyo hotel can enjoy a new peach-filled afternoon tea menu for a limited time. Designed in collaboration with the British luxury brand Wedgwood, the lineup includes both savory and sweet items perfect for summer. The afternoon tea will be available on the 28th floor at the aptly named Twenty Eight Bar and Lounge.

In collaboration with Wedgwood, a 260-year-old porcelain and fine china brand used by the British royal family, this special service will feature an afternoon tea plate with a tempting array of sweets. The plate itself is from Wedgwood's world-renowned Gio collection and features a honeycomb pattern embossed on fine bone china. The contrast between the modern setting, the classic and refined shape of the white tableware, and the beautiful pink treats will come together to create the most memorable summer moment imaginable.

Coconut & Earl Grey Panna Cotta / Rose Jelly / Peach Compote

Wine and Peach Gelatin / Vanilla Mousse

White Peach Mousse / Raspberry Gelatin

White Peach and Soy Milk Sandwich

Apricot Tart / Peach Cream

Peach Soup / Lobster Consomme Jelly

White Peach and Chicken Mousse Tart

Pork Rillettes and Peach Slider

Highlights from the sweets menu include coconut & Earl Grey Panna cotta served with rose jelly and peach compote, peach gelatin infused with red wine and vanilla mousse, and a delectable white peach and soy milk sandwich. For those with less of a sweet tooth, the afternoon tea service also offers delectable dishes like a white peach and chicken mousse tart, a pork rillettes and peach slider, and more. Guests can also enjoy a selection of scones in either plain or coconut, each served with clotted cream and either peach or guava jam. Over 20 beverages will be on offer, including Wedgwood teas.

Toyokawa Inari to Bring Back Popular Naked YORU MO-DE Event in 2022

One of Japan's Three Great Inari Shrines, Toyokawa Inari in Aichi Prefecture, will be decorated in summer-themed lights from July 22 until August 8! The popular Naked YORU MO-DE event is coming back for 2022 after attracting over 40,000 visitors last year. 

Starting in 2021, Toyokawa Inari has held the Naked YORU MO-DE event monthly on the 22nd, the founding date of the shrine's founding. Using technology, Naked's artwork is updating the worship experience to fit into the 'new normal,' keeping social distancing in mind. 

Jihoukan Projection-Mapping – Summer Festival ver. 

Socially Distanced Art – Naked Distanced Lanterns, Summer Festival ver.

Naked Tsukubai – Summer Festival ver.

The theme for this new event is 'a summer festival for a new era.' Many of Toyokawa City's annual festivals, such as the Oiden Festival and the Mitama Festival, have been canceled since the spread of the coronavirus. This new kind of festival will pull inspiration from other local events and will feature handheld firework displays, a collection of gorgeous wind chimes, and tons of night stalls for guests to enjoy alongside Naked's digital artwork. The local handheld fireworks will be shown using projection mapping, and all of the fan-favorite Naked social distancing art projects will be transformed to suit the summer festival theme. The Naked Tsukubai hand sanitizing art project will show goldfish and fireworks in the palm of your hand, and the Naked Distanced Lanterns will be decorated with a summer firework pattern.

Information

Toyokawa Inari, One of Japan's Three Great Inari Shrines x Naked YORU MO-DE

Venue: Toyokawa Inari (1 Toyokawacho, Toyokawa, Aichi Prefecture)

Running: July 22 – August 6, 2022

*Held throughout the year starting on the 22nd of every month
Hours: 19:00-22:00
Official Site: https://event.naked.works/yoru-mo-de/

Yunohana Onsen Resort Reveals Contemporary Art-Inspired Guest Rooms

Sumiya Kihoan, a cozy inn at Yunohana Onsen in Kameoka City in Kyoto, opened a unique new guest room on April 28, 2022. The room's concept is "where guests can stay in the middle of contemporary art," and was inspired by the works of internationally-acclaimed contemporary artist Yukinori Yanagi. The new room, created as part of the Art Room Project, has been named 'Kofuu.'

The Icarus Corridor Connecting Heaven and Earth

Heavenly Bath Welcoming a Rainbow at Dusk

In-Ground Bath Featuring Oribe Glazed Ceramic

Concept Drawing of the Art Room Project by Yukinori Yanagi


The new room includes an open-air bath where guests can be transported into the world of Yanagi's contemporary art while gazing at the gorgeous Kyoto landscape. Upon entering the inn, guests are greeted by a long corridor leading to the bedrooms, dining room, and two creative open-air baths. The space was created in collaboration with Yanagi and local artists and craftsmen, such as potter Ishii Naoto, obi craftsman Yamaguchi Genbei X, plasterer Kusumi Akira, and Japanese paper craftsman Hatano Wakaru. A delicious menu is prepared by chef Hosoi Kunihiko.