IPPUDO Releases Cherry Blossom Coloured Tonkotsu Ramen at 1/2PPUDO
IPPUDO released its limited-time "Spring Colours Tonkotsu Ramen" at 1/2PPUDO branches on March 1. Only 30 bowls will be served per day.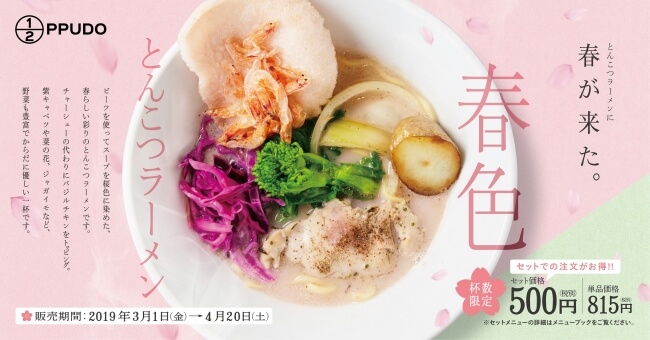 To achieve the cherry blossom colour of the broth, IPPUDO cooks it with beetroot which has a vivid and distinct red colour. The bowl contains an assortment of vegetables including bright purple cabbage that has been pickled, rape blossoms, butter sauteed onion, and fried potato. It also has sakura shrimp―a perfect choice for the coming spring―as well as a shrimp flavoured rice cracker, basil, and a juicy roasted chicken thigh.
To bring this healthy and hearty springtime bowl together, the ramen is served with medium-thick chewy noodles.
RELATED ENTRIES
Enjoy Kyoto Vegan Ramen Among teamLab's Artwork in Tokyo with New Store

teamLab Planets TOKYO DMM, located in Toyosu, Tokyo, have completed the refurbishment of their outdoor food stand, opening Vegan Ramen UZU Tokyo on October 8 2021. The new shop allows customers to eat vegan ramen from Kyoto in a new art space from teamLab. In addition, the teamLab Flower Shop & Art will be opening, a shop where customers can purchase orchids previously used in one of the group's art pieces to take home with them. 

 

Menu

Vegan Ramen Flower (Cool): ¥1,980 (Tax Incl.)

Vegan Ramen Tea: ¥1,650 (Tax Incl.)

Vegan Ramen Soy Sauce: ¥1,320 (Tax Incl.)

Vegan Ramen Miso (Spicy): ¥1,320 (Tax Incl.)

Newly Released Works

Reversible Rotation – Non-Objective Space, teamLab, 2021


Table of Sky and Fire, teamLab Architects, 2021


Floating Flower Garden: Flower, Myself and Cognate, Garden and Myself as One

teamLab Planets Original Tote Bag


 

The menu at Vegan Ramen UZU uses no animal products like meat or fish, instead condensing the taste of vegetables into a delicious ramen that you can enjoy in a space designed by teamLab. Vegan Ramen UZU Kyoto first opened in March 2020 to great popularity, with many customers queuing for over an hour to get inside the store. 

At the new Tokyo store, customers can enjoy a bowl of vegan ramen while enjoying teamLab's latest art installations, the Non-Objective Space and the Table of Sky and Fire.

Not only that, you can also take home some of the orchids used in the Floating Flower Garden: Flower, Myself and Cognate, Garden and Myself as One exhibit that was held from July 2, along with a section of teamLab merchandise such as stickers, patches, postcards, and more, at the newly opened teamLab Flower Shop & Art store.

Look forward to tasting this healthy ramen while immersed in an artistic space!

Introducing Ramen Muraji, a Popular Ramen Store in the Backstreets of Kyoto

Gion's Tatsumi Bridge, a picturesque area plucked straight from a painting. From there, continue south and into the backstreets, you'll find the popular Kyoto Ramen store, Ramen Muraji.

The bridge takes you over the Shirakawa River which flows into Lake Biwa, with the connecting street spanning a distance of only 180m, with paths the width of three adults. Once you head into the alley, the scenery will completely change. 

The asphalt becomes cobblestone, surrounded by Kyoto-style lattice windows. Here you'll find Ramen Muraji, located in a renovated 100 year old Kyoto-style building, perfectly blending into its surroundings. 

At first glance you wouldn't believe it to be hiding a ramen shop,  with many people calling their discovery of the shop a once-in-a-lifetime encounter as they wander the streets of Gion.

The back alleys of Gion retain the history of Kyoto, with hidden shops shrouded by curtains, gently glowing lanterns, and carefully handwritten signboards. Each spot has been crafted to become a once-in-a-lifetime encounter with those who visit.

 

Ramen Muraji was built in the alley


Tatsumi Bridge, an area famous for retaining the distinctive Gion look.

Muraji's Speciality White Chicken Ramen

Gion has been popular with Kyoto tourists for years, surrounded by attractive buildings and cityscapes. Located here is the Yasaka Shrine, a world heritage site which hosts the annual Gion Summer Festival. 

While the locals rarely explore the area, Gion is full of traditional beauty that has inspired many novels, maintaining the culture and history that has been passed down for generations. 

Why not relive the splendor of Gion at Ramen Muraji, a shop that was born 、

With its long history and culture that weaves towns, humans, and spirits together, why not relive the splendor of Gion with a historical cup of Muraji ramen? 

 

Ramen Muraji is a space where anybody can enjoy ramen, surrounded by Kyoto-style interior decor and Japanese-style decorations. 

Their chicken ramen, boiled in a plain water soup, boasts a selection of carefully selected ingredients that condenses the taste of Kyoto's unique food culture. Kyoto Sake matched to the flavor of the ramen is also available.

Enjoy the charms of Kyoto's food for yourself at Ramen Muraji.

Information

Ramen Muraji Gion Store

Address: 373-3, Kitomoto-cho, Higashiyama, Kyoto City, Kyoto 

TEL: 075-744-1144

※Covid-19 Opening Hours: Daily, 11:30 ~ 20:00 (L.O 19:45)

Business Hours:

Lunch: 11:30 ~ 15:00

Dinner: 17:00 ~ 22:00

Weekend, holidays: 11:30 ~ 22:00

Kyary Pamyu Pamyu Appointed As Ramen Kourakuen's New CKO

As a company aiming to bring a new kind of happiness to many people, Ramen Kourakuen have announced their new slogan: All New Happy! 

In order to spread the message even further, Kyary Pamyu Pamyu has been appointed as Kourakuen's new CKO – Chief Korekara (Future) Officer. 

Their new goal is to work towards each step of the New Happy 5 Plan in order to spread cheer across Japan.

Plus, a new Kourakuen commercial featuring Kyary Pamyu Pamyu will be released nationwide.

The special commercial will be promoting the new student discount set, where students will be able to enjoy ramen meals for ¥550 on weekdays, plus the mobile order service which allows customers to order their ramen in advance, meaning it'll be ready when you arrive.

The students and workers shown in the commercial are so satisfied that their face morphs into Kyary Pamyu Pamyu's as she dons the Kourakuen logo on her cheek. Make sure to check out Kyary's China themed hair and costume!

 

Ramen Inspired T-Shirt Collection Cooks Up in Collaboration With Tenkaippin

This year marks the 50th anniversary of Japanese ramen restaurant chain Tenkaippin. To celebrate, they have joined hands with men's apparel brand MONO-MART to release a collection of ramen-inspired t-shirts in collaboration with Japanese illustrator Isogai Hitohisa. The limited-edition collection dropped on ZOZOTOWN on June 10.

Tenkaippin | Comment

"Thanks to all of our customers, Tenkaippin turns 50-years-old this year. It's a turning point for us, and so we've decided to develop products in collaboration with an apparel brand for the first time. We hope it helps to spread word of the Tenkaippin name amongst the youth. Designs include photos of when we first opened, illustrations drawn for us, and more. Please enjoy Tenkaippin through these super rare tees!"

Each t-shirt in this collection is branded with Tenkaippin's logo along with their 'KOTTERI' logo. There's another with a photo of the brand's legendary founder Tsutomu Kimura, another with the encouraging message 'Righht effort,' and more. Other designs include illustrations by Isogai Hitohisa on the back, various photos, and so on.

ROKU: Kyoto's New Soba Ramen Shop Produced by Michelin-Star Chef

Kamo Dashi Chuka Soba ROKU is a new ramen restaurant set to open at GOOD NATURE STATION, a shopping facility in Kyoto, on December 12, 2020.

The restaurant is produced by Yuki Iwasaki, a chef at VELROSIER which acquired its first Michelin Star in Michelin Guide 2021 Kyoto, Osaka & Okayama. It will serve ramen in a variety of duck-flavoured dashi broths made with duck from Kyoto and France.

Duck Sei Tanmen | ¥1,000


Duck Shiro Tanmen | ¥1,000

ROKU will initially offer three types of ramen dishes which includes the two pictured above as well as a special served each season. The Duck Sei Tanmen uses a broth made from a blend of duck meats and has a distinctly refreshing yet rich taste. The Duck Shiro Tanmen uses the same broth but adds chicken to the base together with mayu burnt garlic oil. The restaurant also makes its own thick noodles to enjoy with the soup. No tare sauce is used, allowing for customers to enjoy the umami flavour of the dashi and the various ingredients added.

The ramen bowls used are original wares created by TOKINOHA, a Japanese crockery brand specialising in traditional Kiyomizu ware which are perfect for enjoying your ramen.

Information

Kamo Dashi Chuka Soba ROKU (Japanese Name: 鴨出汁中華そば ROKU)
Grand Opening: December 12, 2020
Address: GOOD NATURE STATION Floor 2F, 318-6 Inaricho, Shimogyo-ku, Kyoto
Opening Hours: 11:30-20:00
No Fixed Holidays
Official Website: https://goodnaturestation.com

Kyoto's Popular Ramen Restaurant MENBAKA Kyoto Fire Ramen to Open New Branch in Singapore

MENBAKA Kyoto Fire Ramen, a ramen restaurant in Kyoto that's particularly popular with foreigners in Japan, is expanding overseas by opening a new branch on the 5th floor of Singapore Orchard in Singapore on November 24, 2020.

MENBAKA Kyoto Fire Ramen


Menbaka first opened in 1984 and has gone on to become a popular ramen bar, focusing on the use of green onion in its dishes for its flavour and fragrance enhancement. In recent years, the Kyoto branch has seen a significant increase in the number of foreign visitors to Japan dining at the restaurant, and in 2017 it ranked number six in the country on Tripadvisor as the most popular restaurant in Japan with foreigners. It has gone on to be reported on in news and media outlets, including the video created by the Japan National Tourism Organization as part of its global campaign.

MENBAKA Kyoto Fire Ramen Singapore

The Singapore branch will open as a franchise of SOUTH EAST ASIA FOOD ENTERTAINMENT PTE. LTD. with carefully-selected suppliers and ingredients to ensure the taste is as close to the Japanese as possible. The restaurant will serve not only ramen but food entertainment as well.

Singapore Orchard, where the restaurant is opening, is a shopping mall and major tourist destination of Singapore. Like other countries around the world, Singapore is having to restrict the number of foreigners entering the country as a result of the COVID-19 pandemic which has also led to restaurants limiting the number of available tables, social distancing measures being put in place, and so on. The restaurant's opening date was originally scheduled for April 2020 but was postponed due to the pandemic so its grand opening is now scheduled for November 24.

If you're in Singapore and want to try some authentic Japanese ramen at the same time, be sure to visit MENBAKA Kyoto Fire Ramen.

Information

MENBAKA Kyoto Fire Ramen
Address: Cineleisure Orchard 5F, 8 Grange Rd, Singapore 239695
TEL: +65-6970-8408
Opening Hours: 12:00-21:00
No Fixed Holidays

Narita Airport's Anime Deck Serves Up Ramen From Around Japan in Revamped Restaurant

KADOKAWA revamped and reopened the eat-in restaurant at Narita Airport's Narita Anime Deck on October 27. Visitors can now look forward to dining at Zenkoku Gensen! Aji no Tabi Ramen Walker."

The Narita Anime Deck opened inside Narita International Airport Terminal 2 in November 2019. It's an entertainment facility where travellers from around the world can experience and enjoy Japanese anime culture in various forms such as with character merchandise, food, events, and a variety of photo spots.

The new dine-in restaurant features a long ramen menu of ramen dishes carefully selected by Ramen Walker, Japan's biggest information site for ramen. There are nine strictly-selected dishes to choose from, as well as over 50 ramens for people to buy and take home with them.

The menu will change its line-up from time to time

Customers can order any of the nine ramen dishes on their own, or they can order from several set menus which enables them to taste different ramen dishes from around Japan. There are also over 20 ramen toppings to choose from, so guests are sure to be spoilt for choice.

The restaurant will also sell their own range of exclusive ramen-related merchandise.

But that's not all, as Ramen Walker Chicken is also set to open at Tokorozawa Sakura Town in Saitama on November 6 as the world's first booking-style facility where you can book a table at the most popular ramen bars across Japan.

Information

Narita Anime Deck

Address: Narita International Airport Terminal 2 Main Building Floor 2F (1-1 Furugome, Narita, Chiba)

Opening Hours: 10:00-20:00 (Food Last Orders 19:30)

No Fixed Holidays

Ramen Walker Chicken

Address: Tokorozawa Sakura Town 2F, 3 Chome HigashitokorozawawadaTokorozawa, Saitama
TEL: 0429-68-7786

Narita Anime Deck Official Website: https://www.animedeck.jp/ja/narita/
Ramen Walker Chicken Official Website: https://ramen.walkerplus.com/kitchen/

Hello Kitty Collaborates With Japanese Ramen Restaurant Kourakuen

Kourakuen Holdings Corporation launched a collaboration campaign together with Sanrio's popular character Hello Kitty on September 26 which is set to run to October 25.

Hello Kitty takes over Kourakuen

For the duration of the collaboration, the Roppongi and Dogenzaka branches of Kourakuen will be decorated in all things Hello Kitty

Free folder with child meal sets

A free and exclusive A4 size folder will be given to all who order the children's meal set. This is available at select branches only and the folders are limited in stock.

Kourakuen original merchandise

Kourakuen x Hello Kitty Soy Sauce Plate | ¥200 (Tax Included)

Kourakuen x Hello Kitty Folder | ¥100 (Tax Included)

A special line-up of original and exclusive merchandise will also be sold at all Kourakuen branches including soy sauce plates, folders, and more.

New York Ramen Bar Kuro-Obi to Open First Japanese Branch in Shibuya

New York-based ramen bar Kuro-Obi has announced that it's opening it first Japanese branch in the food hall of Shibuya's new shopping centre RAYARD MIYASHITA PARK on August 4, 2020.

Kuro-Obi was established in New York back in 2014. To date, it has opened 6 branches across the US as well as one branch in Singapore. It specialises in "tori paitan", a silky chicken-base broth. The new Japanese ramen bar will serve many different tori paitan ramen dishes takeout style, which is common in the US. All ramen served here is served in paper cups rather than bowls, so it can be eaten both in the food hall or taken away.


Added to the rich soup broth and noodles is moist chicken char siu, soft-boiled egg, negi spring onion, and fried onion chips. The black pepper used adds a kick to the overall flavour. Thick noodles are also used.

"Ramen is Freedom" is the theme of Kuro-Obi's brand in Japan, with which they aim to challenge the new possibilities of ramen.

Information

Kuro-Obi MIYASHITA PARK
Grand Opening: August 4, 2020
Address: MIYASHITA PARK South 3F FOOD HALL, 6-20-10 Jingumae, Shibuya, Tokyo

Opening Hours: 11:00-23:00 (Last Orders 22:30)

Official Website: https://kuroobi-ramen.com/

Japan's New Snack Theme Park Little Oyatsu Town Namba to Open in Osaka This October

Japanese snack company Oyatsu Town is opening a new "town-style" theme park inside the Namba Parks shopping complex in Osaka on October 2, 2020 called "Little Oyatsu Town Namba" which will be themed around Oyatsu Town's timeless Japanese dried noodle snack "Baby Star Ramen."

When the theme park opens, it will be taking all necessary precautions against COVID-19 to ensure guests have a safe experience.

Hoshio-kun Kitchen: Make your own Baby Star Ramen

In the Hoshio-kun Kitchen area, you will be able to choose favourite seasonings to create your very own personal Baby Star Ramen snack. Guests will also be able to make steamed bread to season too.

Hoshio-kun Fantasy Park: The amusement area

At Hoshio-kun Fantasy Park, kids and adults alike can enjoy Baby Star in a variety of interactive digital content, from music to videos, controlling your own avatar, and more.

Baby Star Dining: Enjoy lunch and dinner in the food area

Baby Star Dining features a menu arranged by pro chefs. Enjoy lunch, dinner, or cafe time. At dinner, alcohol is served too.

Oyatsu Deli: The takeout corner

Here, you can order curry bread, steamed buns, and other freshly-made tasty takeout food made using Baby Star.

Oyatsu Marche: The marketplace

At the Oyatsu Marche market, guests can get their hands on exclusive Baby Star Ramen flavours, merchandise, stationery, and more.

Bookings will open in September before the grand opening of Little Oyatsu Town Namba on October 2, 2020.

Information

Little Oyatsu Town Namba
Address: Namba Parks 7F, 2-10-70 Nanbanaka, Naniwa-ku, Osaka
Grand Opening: October 2, 2020 (Subject to change)
Opening Hours: 11:00-21:00 (Subject to change)
No Fixed Holidays
Entry: Free (Select services will charge however)
Access: 7-minutes on foot from Namba Station via the south-south ticket gates of the Osaka Metro Midosuji Line or the central ticket gates of the Nankai Electric Railway / 9-minutes on foot from Osaka-Namba Station via the east ticket gates of the Nara Line

Official Website: http://oyatsu.town/

Ramen Delivery Website Ouchi Ramen to Open in Response to Coronavirus Lockdown

Matsufuji Shokuhin, which manages numerous ramen stores including Rokurinsha, has announced that it is opening a new delivery website called Ouchi Ramen ("At Home Ramen") on May 18, 2020. This will be the company's first delivery website to operate in almost six years, and comes in response to the closure of ramen eateries as a result of the COVID-19 pandemic.

Initial sales will collaborate with super popular ramen shops

The first batch of ramen to be open for delivery will come from 8 hugely popular ramen shops in Japan as called for by the head of Rokurinsha (三田遼斉).

1: Senrigan (Nakameguro, Tokyo)

Senrigan is a super popular ramen shop in Komaba-tōdaimae that serves gattsuri style ramenーbasically, hearty portions. It's normal to be waiting it line to get into this place for a bowl of their hiyashi chūka chilled Chinese noodles.

2: Jump (Kasukabe, Saitama)

Another ramen shop you'll find people lining up outside is Jump which was independently set up by the owner of Junk Garage, Takayama, after he began working there. They have many loved dishes there, like their mazesoba dry noodles and taresoba.

3: Kuriyama (Yokohama, Kanagawa)

Kuriyama placed first in many ramen competitions, and is said to have been the final place that ramen legend Kazuo Yamagishi taught his practices at before his passing in 2015.

4: Oni Soba Fujiya (Shibuya, Tokyo)

This popular ramen shop is managed by Japanese impressionist HEY! TakuChan. It's considered the real deal amongst some of Japan's biggest entertainers and reigned as the champion at a food festival held in the US in 2019.

5: Ootsuya (Yokosuka, Kanagawa)

There is huge support for the owner of this popular ramen restaurant which has many fans for its delicious family ramen.

6: KaneKitchen Noodles (Toshima, Tokyo)

KaneKitchen Noodles has hailed as a Bib Gourmand restaurant three years in a row in Michelin Tokyo. Their cup noodles are popular too.

7: Magorinsha (Chiyoda, Tokyo)

Magorinsha is a famous restaurant where its kitchen is graced by a different ramen master chef every day, including the owner of Rokurinsha. Simply eating their meals with just ramen and vegetables without seafood is enough to earn the description of exquisite.

8: Rokurinsha (Chiyoda, Tokyo)

Rokurinsha is said to be the place that started the tsukemen boom in Japan. It's incredibly famous, and legend has it that it's had to close before because lines have been so long in the past.

Online orders are made up of a set of two meals. A price of a set starts at ¥2,980 and shipping is free (Japan only). Many more respected restaurants are scheduled to be added to the website in the near future. This is a great way to continue supporting this hardworking restaurants.

Tokyo Station's Best Rice Bowl & Noodle Dishes as Voted by Commuters

Tokyo Station and surrounding facilities are currently holding the "Tokyo Station Rice Bowl vs. Noodles Grand Prix 2019" tournament from October 7 to November 24 to find out people's favourite rice bowl and noodle dishes at the station.

The past three tournaments have focused only on rice bowls, but this year sees the introduction of noodles too, with past restaurants in Kitchen Street and GRANSTA competing once again as well as new ones in ecute Tokyo and KITTE for a total of 13 participating station areas. 92 dishes are in the line-up, the biggest list to date.

The current rankings for the rice bowl and noodle categories have finally been unveiled, so let's take a look at the Top 3 of each to see which is leading the race.

Category Is: Rice Bowl

1st Place

Ultimate Japanese Spiny Lobster Bowl – ¥2,200 (Tax Included) @ Tsukiji Sushiko (GRANSTA Marunouchi)

Tsukiji Sushiko was the victory of last year's grand prix. This year, they've whipped up a hearty seafood bowl made with a whole Japanese spiny lobster and 11 other delicious critters from the ocean.

2nd Place

Premium Wagyu & Uni Otsukimi Date – ¥2,530 (Tax Included) @ Uniya no Amagokoro (Kitchen Street)

Served with sliced premium brand wagyu, this bowl is topped with uni sea urchin eggs and ikura salted salmon roeーa luxurious combination you won't find anywhere else.

3rd Place

Ura Ooedo Tempura Bowl – ¥1,800 (Tax Included) @ Tenkiyo (Grand Roof)

This is an alternate version of the restaurant's famous Ooedo Tempura Bowl, served with delicious tempura.

Category Is: Noodles

1st Place

MISO JIRO – ¥1,000 (Tax Included) @ Tokyo Style Miso Ramen Do Miso (KITTE GRANCHE)

A super-filling bowl piled with pork char siu and a mountain of vegetables.

2nd Place

Lanzhou Wagyu Noodles – ¥950 (Tax Included) @ Mazilu Lanzhou Beef Noodles

Authentic Lanzhou ramen served by the Halal-certified Mazilu Lanzhou Beef Noodles, customers can choose between nine different thicknesses for their noodles to satisfy their palate.

3rd Place

Dehydrated Hamburger Bolognese – ¥1,190 (Tax Included) @ HAMBURG WORKS

Enjoy the full flavour of the hamburger meat made from Japanese black wagyu beef and served with pasta.

Be sure to use this list as reference if you're looking to eat while travelling through Tokyo Station!

Information

Tokyo Station Rice Bowl vs. Noodles Grand Prix 2019

Running: October 7, 2019 – November 24, 2019

Locations: Kitchen Street, Kurobei Yokocho, Kitamachi Dining, Grand Roof, Grand Roof Front, GranAge, GRANSTA, GRANSTA Marunouchi, KITTE, ecute Tokyo, ecute Keiyo Street

Participating Restaurants: 91

Menu Items: 92 (79 of which are exclusive to Tokyo Station)