Milk tea specialist shop CHAYAM lands in Japan! Now open at Shin-Okubo!
YOPU collaborated with the world's most famous Chinese tea brand and Korea's no.1 fresh juice brand to create the milk tea CHAYAM. The first branch to open in Japan opens on Friday 19th April 2019 in Shin-Okubo, Tokyo.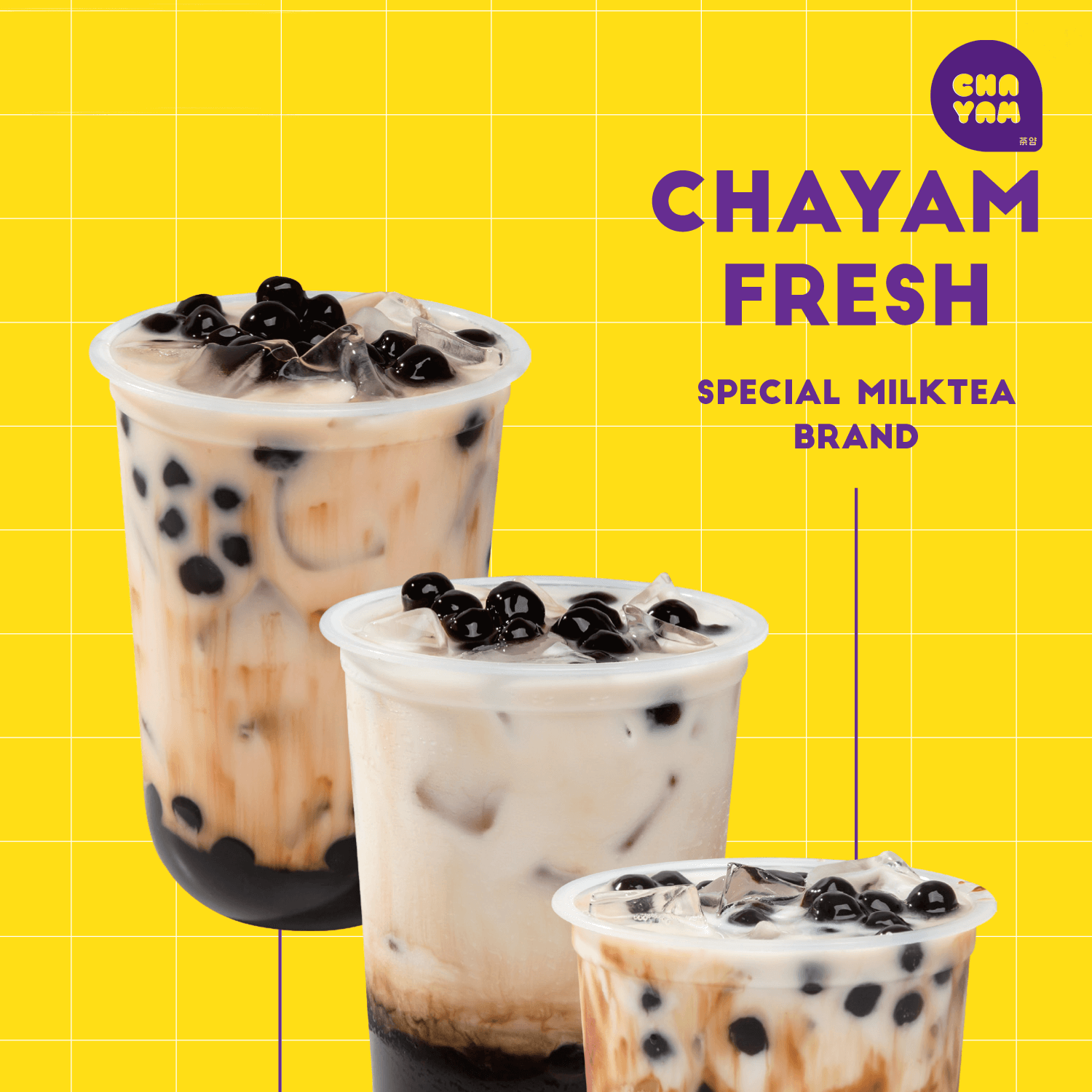 The name CHAYAM is a combination of the words "cha" (tea) and "yammy" (yummy). CHAYAM arrived in Japan thanks to the expertise of Boduo Holding Group, which owns over 20,000 businesses in China. Whether young or old, everyone in Japan can enjoy this high-quality drink at an affordable price!
Tapioca is one of the best toppings for milk tea, and at CHAYAM, an original recipe is used to make these fresh by hand every day at the shop. Customers can enjoy the fresh, chewy texture! To preserve the original flavour of the tea leaves, homemade black sugar syrup is used. The rich sweetness of the black syrup draws out the flavour of the milk tea.
The long-awaited first shop will be linked to JUICY&88hotdog in Shin-Okubo. This is just a 10-second walk from JR Shin-Okubo station and a 1-minute walk from JR Okubo station. What a wonderful location! There is table seating inside but you can also order it to take out! As it is located near the station, this is the perfect place for a tea break. Alternatively, you can enjoy the streets of Shin-Okubo when you order to take out!
Besides the standard advertised menu, CHAYAM plan to launch seasonal menus every season and create collaboration drinks with JUICY.
This carefully-made, high-quality tea has finally landed in Japan! If you're a tapioca-lover, you have to check this out! ♡
Information
CHAYAM Shin-Okubo
Location: 1st floor, 2-10-2, Hyakunincho, Shinjuku Ward, Tokyo
Opening hours: 10:00 ー 23:00
No regular holidays.
TEL   :03-3227-3750
Official Instagram: http://instagram.com/chayam.jp
RELATED ENTRIES
Three Perfectly Peachy Parfaits This Summer In Nagoya

Summer is the perfect time to enjoy Japanese peaches, which are particularly juicy and sweet around this time. Peaches go well with red bean paste, cream and a variety of other flavours, which is why you will be seeing a lot of peachy desserts this summer. You just have to try them!

Today, Instagrammer meme, who is a big fan of cute and stylish cafés, will be introducing you to peach parfaits that you absolutely must try in Aichi prefecture.

BLUE STAR CAFE(ブルースターカフェ)/Nagakute

BLUE STAR CAFE has started selling a peach parfait. The peaches are so sweet and juicy that I was moved to tears. The parfait is made up of fresh cream, vanilla ice cream, peach sherbet and frozen peach. It is simple, delicious and very satisfying. 

▼BLUE STAR CAFE

Address: 504 Tsukada, Nagakute, Aichi

TEL:0561 42 6878

Official Website: https://bluestar-cafe.com/

Halleloo Garden(ハレルゥ ガーデン)

I was just waiting and waiting for Halleloo Garden to release their peach parfait and I was far from disappointed. Just looking at the pretty pink peaches is enough to get your mouth watering. When you cut into the peach, it will explode with colourful popping boba. What a fun parfait.♡

The parfait is made up of a variety of fruits including melon, blueberries, grapefruit and apple. It also contains vanilla ice cream, custard, fresh cream, and dried fruit too. Be aware that the contents of this parfait will change according to the season. 

This peach parfait also comes with peach-flavoured black tea with boba. Add this to your parfait and notice the change in flavour as your parfait becomes a milk bubble tea! This was my first experience of popping boba. It was such a fun experience to bite into the boba and feel them explode, flooding my tastebuds with a delicious juicy flavour. Whether Halleloo Garden can serve this parfait seems to be dependent on whether they can receive peaches from their supplier, so I recommend phoning up the café before you turn up to if you want to try this. 

▼Halleloo Garden

Address: Kami-222-1 Miyoshicho, Miyoshi, Aichi

TEL: 0561 56 1080

Official Website: http://www.halleloo.jp/

merry café(メリーカフェ)/Toyoake

merry café serves a beautiful peach parfait that looks just like a bouquet of flowers.

The simple peach compote allows you to enjoy the natural deliciousness of the peaches. During this season, finding peaches that are highly sweet can be a bit of a hit or miss, however there is no doubt that they will be sweet when made into a compote. It was a delicious peach parfait. ♡

▼merry café

Address: 7-18 Komochimatsu Shindencho, Toyoake,

TEL:0562-91-3230

Opening Hours: 11:00 ー 15:00, 17:30 ー 22:00

Official Facebook Page: https://ja-jp.facebook.com/merrycafe1218/

All these pink peach treats look so beautiful. This peachy season is the perfect time to wrap yourself in the wonderful fragrance of sweet peach. Please check out meme's Instagram which is full of information on cute cafés you can visit for delicious desserts. 

Author/ Photographer: meme

Checking Out Jaejoong's Cafe 'cafe de KAVE' in Shin-Okubo

Hey everyone! This is Midori from Moshi Moshi Nippon's Editorial Department!

Kim Jae-joong who was one of the original members of famous South Korean pop group TVXQ, is currently working as a solo artist. Did you know that he's now produced his own cafe?! The cafe is called "Cafe de KAVE". It opened in Shin-Okubo in November 2018, and even now it's as popular as ever!


The cafe is full of pastel colours and has a fairytale-like atmosphere…


There's even a spot where you can take a picture with Kim Jae-joong!

Terrace seating too!

I ordered my food to take away but the interior was just as cute as the exterior ー too cute! ♡

There was also merchandise on display along with his autograph. Fans would just go wild at the sight of this!

I ordered a popular Instagram drink: The brown sugar tapioca milk tea!

What a strange design! It looks like a can…yet it's see-through!

You open it just like a tin can and poke the straw through to enjoy.

You can't ask to have the sweetness of this drink adjusted, but it's pretty balanced and you can really enjoy the taste of the sweet brown sugar!

Whether you're a Kim Jae-joong fan or not, come enjoy this beautiful atmosphere and delicious, Instagram-worthy drink!

Information

Cafe de KAVE
Address: Dai 2 Tamaya Building 1st floor, 1-17-16, Okubo, Shinjuku, Tokyo

Tai Parfait Cafe, Yokohama sells cute, fluffy tapioca pancakes!

Tai Parfait Cafe, which is located on the 5th floor of Yokohama World Porters, is currently selling spring-limited Tapioca Pancake flavours! The spring-limited pancake sales were supposed to end on 14th April, however, due to their overwhelming popularity, the sales will continue until the end of May!

Tapioca Tai Pancake

There are three kinds of spring-limited Tapioca Tai pancakes!

The Tapioca Milk Tea pancake (¥1,200) is made by kneading earl grey tea into the batter. The pancake is then fried and then topped with milk tea cream. The Houji-cha pancake (¥1,200) is topped with buttermilk and houji-cha sauce. Finally, the strawberry pancake (¥1,300) is topped with strawberry sauce as well as fruit pieces.

These fluffy pancakes are generously topped with cream and tapioca! ♡

Besides The Tapioca Tai pancakes, the tapioca rock salt and cheese drink is also popular. This is your chance to enjoy mascarpone sauce with an accent of French rock salt! Whether it be pancakes or drinks, come enjoy tapioca served up in a variety of ways! ♪

Information

 Tapioca pancakes

Available: Friday 1st ー Thursday 28th February 2019

 

Tai Parfait Cafe

Address: World Porters (5th floor), 2 Chome-2-1 Shinko, Naka Ward, Yokohama

Opening hours:11:00 ー 22:00
Official website: http://tai-parfait.com/

Harajuku's New Bubble Tea Shop Chakasho―Review

Hey, everyone. It's Midori from the MMN Editorial Team.

It feels like a new bubble tea shop opens in Harajuku every single month. Chakasho is the latest to do so having opened on February 23. It has been trending on social media so I decided to take a trip myself to see what it was all about.

This is the second branch of Chakasho to open, the first being based in Ōkubo, Tokyo. It's very convenient to not have to travel all the way to Ōkubo to try this shop's famous bubble tea!

It's located next to Etude House in Cute Cube which can be found in the Meiji-dori side of Takeshita Street. Take care not to miss it as the shop sign is one step down from the main street!

There are no seats in the shop so you can line up inside which makes it great for rainy days. On the day I visited the staff were guiding the line so it felt like we moved forward more smoothly than other bubble tea shops.

Menus are handed to customers upon entering the shop. This one I'm looking at alone was the recommendations menu―so many to pick from!

There are menus up at the counter too. I ordered the "Brown Sugar Latte Tapioca & Au Lait." It has tapioca au lait which I think it pretty rare!

Ta-da!

I have Oreos piled on top in my cup. Speaking of which, with this bubble tea you don't have to pierce a film with straw. There aren't many bubble tea places that serve drinks with a lid like this, are there?

There's a heap of brown sugar sauce and tapioca at the bottom of the cop. Those who aren't good with the lumpy looking distinct texture of tapioca might find it easier to try brown sugar tapioca. The tapioca served at Chakasho are large-grained so I don't think they have that lumpy kind of texture.

I was surprised at how delicious the drink really tastes. Up until the moment where I tried it I saw how simple the designs of the cups were and wondered if this place really was popular, but balance between the refreshing sweetness of the brown sugar tapioca, which you wouldn't think that's what it actually is, together with the full-bodied flavour of the tea and texture of the Oreos is amazing. I now understand why it's a well-regarded shop.

The tapioca balls are fairly big and are more gummy than chewy. They have a satisfying texture. I felt really happy after having finished and enjoyed the drink.

For people tired of "flashy" bubble tea, or who didn't enjoy the last bubble tea they tried, or want to try drinking it but aren't so sure about the kawaii cups they come in, then I recommend Chakasho to anyone and everyone!

Information

Chakasho – Harajuku Takeshita Street

Address: 175 Honkan Bldg. Floor B1F, 1-7-3 Jingumae, Shibuya, Tokyo

Food Review: Seahorse Bubble Tea at Sin an ju in Front of Harajuku Station

Hey, everyone. Midori here again from the MMN Editorial Team.

The bubble tea boom in Japan is still rife. Harajuku in particular has become a war zone with new bubble tea shops opening all the time. Si an ju is one of them and it has become popular for its delicious drink selection so I went to try it out myself!

Si an ju is located just in front of Harajuku Station. Bubble tea shops in Harajuku tend to open along Cat Street or in Ura-Harajuku. Surprisingly there was even one in front of the station so it's safe to say bubble tea life is making progress.

To get there, exit from Harajuku Station's Takeshita Exit, cross at the traffic lights. Turn left and you'll be able to see the outdoor shop sign.

Also beyond that is Cafe Yolum, a South Korean cafe.

Related Article: Cafe Yolum: The Popular & Pretty Pink South Korean Cafe in Harajuku

At the storefront is a huge and airy bubble tea monument. Now I'm getting excited!

There are several tables inside for customers to sit down, relax and enjoy their beverages, but not many.

The menu is fairly big and they even have options without tapioca balls. The Blue Lagoon drink sounds interesting, it has a mysterious colour.

On my visit thought I ordered the shop's recommended Brown Sugar Bubble Milk.

The sauce in the cup is a brown sugar sauce which together with the decorative seahorse makes it look like a coral reef. Very beautiful!

The sauce is collected at the bottom and sinking around the sides so be sure to give the drink a good mix before drinking. Compared to other bubble teas the tapioca look pretty big. They might be almost as big as the thickness of the straw.

Time to drink!

It's pretty sweet-tasting. It's sweet even for me who orders their bubble tea with the maximum sugar option. But it's not an overpowering sweetness – the brown sugar has a refreshing sweet flavour. The tapioca balls are large and so are filling

The brown sugar sauce will fall and mix into the drink as you sip so it's best to take a photo right away.

I visited the shop at the same time as they opened so I was able to buy my drink without waiting, but if you go on the weekend in the afternoon the lines can get pretty long, so it might be an idea to go earlier.

A lot of bubble tea shops open at 11:00am but Sin an ju opens at 10:00am so I recommend going there if you're in Harajuku early in the morning when no others are open!

I also highly recommend it for people who like chewy tapioca balls. Be sure to pay them a visit.

Information

Sin an ju

Address: 1-19-14 Jingumae, Shibuya, Tokyo

TEL: 03-5843-0229

Official Website: https://sin-an-ju.com/

Strawberry Tapioca Pancakes Pile Their Way Into Osaka's #702 CAFE&DINER

#702 CAFE&DINER in Namba Parks has introduced new tapioca pancakes to its menu which can now be ordered until February 28.

Towering four thick individual pancakes, each serving is topped with smooth and fluffy cream before being decorated with chewy and colourful tapioca. There are four tapioca flavours to choose from: strawberry, mango, matcha and tea.

To give an example of how delicious this pancakes really are, the milk tea versions come with tea flavoured tapioca balls, milk tea flavoured sauce, and cream. It's like eating milk flavoured bubble tea. The toppings may look simple but they are sumptuous, vibrant and photo-worthy.

Information

#702 CAFE&DINER Namba Parks
Address: Namba Parks Floor 7F, 2-10-70 Nanbanaka, Naniwa Ward, Osaka, Osaka Prefecture
Access: 1-minute on foot from the central and south exits of Namba Station via the Nankai Main Line and Nankai Kōya Line
TEL: 06-6643-9233
Opening Hours: 11:00-23:00
Website: http://www.sld-inc.com/702.html

Review: Trying the New Cheese Tea at The Alley in Omotesando

Hi, everyone. Midori here, editor at MOSHI MOSHI NIPPON.

Have you heard about 'cheese tea'? It's a drink that's getting a lot of attention right now. It's tea topped with cheese foam which results in a perfect match of sweetness from the tea and sourness from the cream cheese.

Related Article: Drink Tea in Style With FORTUNER tea-box's Cheese Tea Tapioca in Harajuku

I heard that The Alley, a well-known bubble tea cafe recognised by its deer logo, released its own cheese tea so I took a trip there straight away!

I went to the branch in Omotesando. There are lots of other branches too so head to the closest one to you. The one in Omotesando sits right next to Gong Cha, another bubble tea store.

Cross the intersection at Laforet towards ICE MONSTER and turn the corner at the flamingo (pictured above).

You'll come to a road with Cafe Ron Ron on the left and Gong Cha on the right.

Turn right at the FamilyMart at the end of the street and you'll find The Alley!

The photo above was taken on a weekday before opening hours so there was no line,  but it was a different story in the afternoon on the weekend!

Ta-da!

The line is so long it's hard to know where the end even is! It sure is popular. According to the staff working there, the line is constant on weekends from opening hours to when they close, so if you don't want to line up they recommend visiting during the week.

There's also a stylish indoor section where you can enjoy your drink.

Other menu items include the following:

Bonsai bubble tea and aurora drinks are really popular on Instagram in Japan right now!

When talking about The Alley you've got to mention the deer! There was a big one drawn on the wall inside.

I went with the brown sugar tea from the cheese foam series.

I recommend drinking cheese tea without the lid. If you drink it with the lid on it's hard to get the cheese foam and tea at the same time. The Alley is best known for its tapioca bubble teas, but they have other ranges too like this one.

Now, onto tasting! Mixed in with The Alley's famous fragrant tea is brown sugar. It has a smell that is sure to make you happy. The cheese doesn't have that super sour taste, it's a mellow flavour. The drink isn't served hot but "mild hot" so you can get to drinking right away without burning yourself. It's safe for those with sensitive tongues too. I have to let hot drinks cool down first before drinking them too so I was glad with my choice.

Head to The Alley to try out their new cheese tea yourself!

Information

The Alley
Address: 6-6-6 Jingumae, Shibuya, Tokyo
Opening Hours: 10:00-22:00
No Fixed Holidays.
TEL: 03-6712-5185
Website: http://www.the-alley.jp/

Visiting Harajuku's Newest Tapioca Drink Store KOI Thé

Japan is going through an unprecedented tapioca boom right now, and Harajuku is no exception, with tapioca stores opening left, right and centre. With so many to choose from no matter which you go to on a weekend there will be a huge line. I visited KOI Thé, a new shop that just opened on November 25.

It's located right near the MOSHI MOSHI BOX Tourist Information Center where you'll find us.

Head through Takeshita Street from Harajuku Station and go down the path between New Balance and Murasaki Sports.

Follow straight down and you'll find KOI Thé on your left. Look for the big tapioca drink outside – you can't miss it!

It's quite spacious instead and has simple decor rather than being stylish. Guys can line up without worry too.

This is how the menu looks. You can adjust how much ice and sugar you want in your drink.

I went with the classic tapioca milk tea!

The tapioca balls here aren't black but in fact golden. The reason they are gold is because they don't use food colouring.

Tapioca that is transparent like this is cute too. The balls are comparatively smaller and are chewy and taste delicious!

I ordered the drink with the normal amount of sweetness and it tastes even more refreshing than at other stores. It's a simple tapioca drink made for adults.

If you're a little embarrassed at lining up at a tapioca shop then I recommend getting it from one for grown-ups in Omotesando!

Information

KOI Thé
Address: 4-27-1 Jingumae, Shibuya, Tokyo
Opening Hours: 10:00-21:00
No Fixed Holidays.
TEL: 03-6434-5753
Website: https://koithe.jp/