Naomi Watanabe Designs Nmerry, a Comfortable Bra to Wear at Home
HRC, a mail-order company aimed at providing proper breast care for women, has launched a new product designed by model and talent Naomi Watanabe. The Nmerry brand of at-home bras is available now at the Nmerry official store!
Nmerry
While there are all kinds of bras to wear when women are out and about, there aren't many that are comfortable enough to wear around the house. Women often think "I don't want to wear this uncomfortably tight bra at home, but I also don't want my boobs to sag." With that thought in mind, Naomi has designed this new product to be comfortable, to fit a wide range of sizes, and to bring more peace of mind to women around Japan.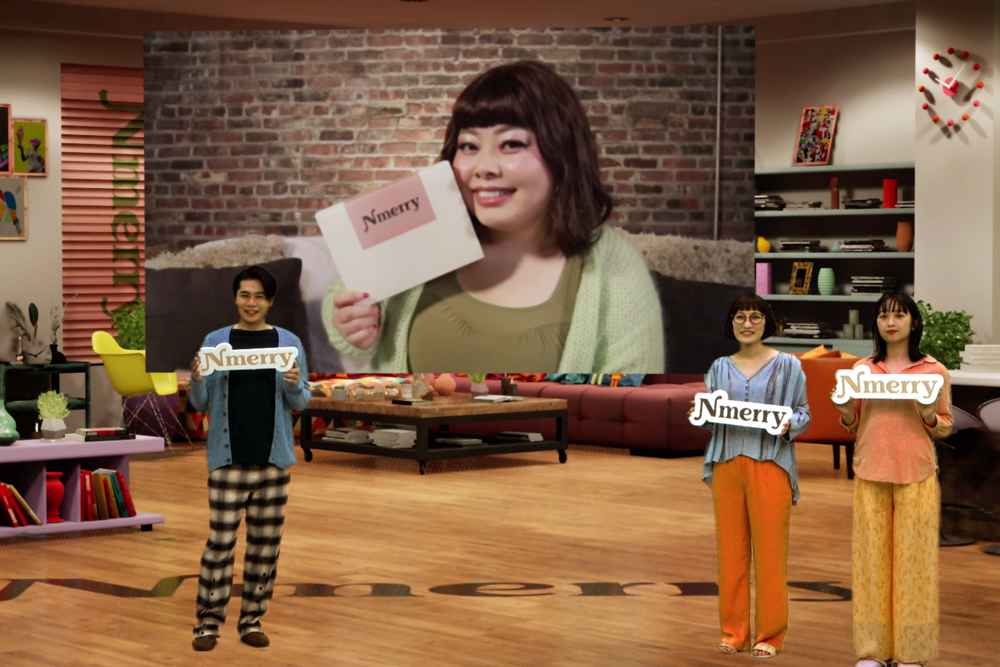 Naomi Watanabe commented on Nmerry during a recent presentation. "I was super picky about this collection. All of the items were carefully selected and discussed over and over, and it took over a year to develop. In the past, when I slept on my back, my chest would kind of suffocate me. It was so uncomfortable, so I really paid attention to fixing that problem. I also made the colors really warm and cozy, perfect for wearing around your own space."
"I've created a bra that everyone can wear at home without feeling constrained," she added. "I hope you'll feel comfier and less stressed every day you wear it. Please give us feedback so we can create even better products going forward!"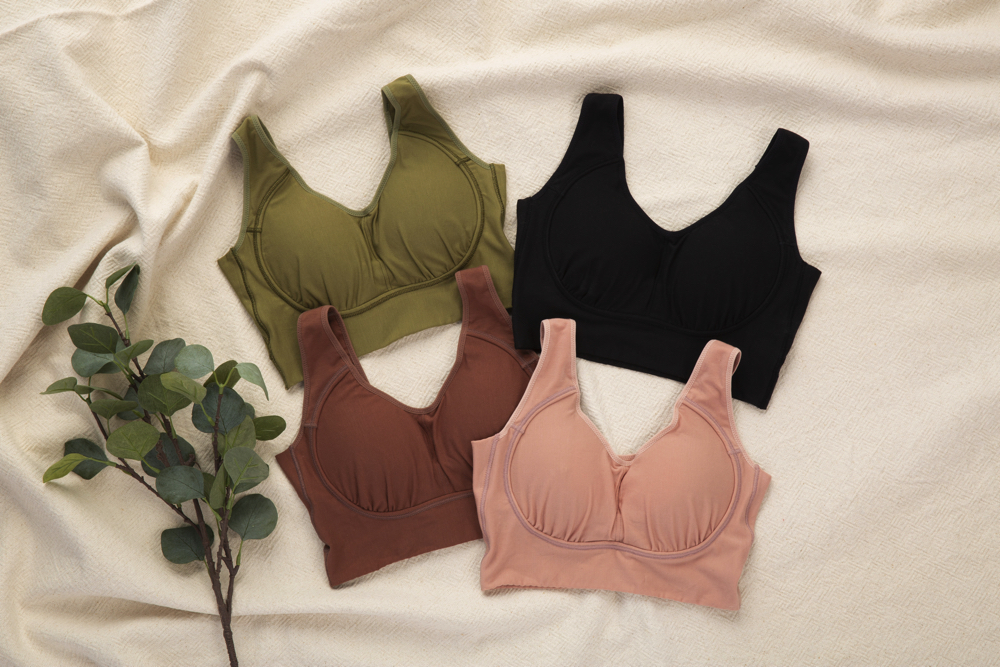 Nmerry At-Home Bra (Black / Pink / Khaki / Brown): ¥5,478 (Tax Included)
Nmerry offers a wide range of sizes from S to 5L. 
RELATED ENTRIES
Kate Spade New York x Naomi Watanabe Reveal Handbag Capsule Collection

Kate Spade New York is set to drop a limited-edition handbag collection in collaboration with their recently-appointed global ambassador Naomi Watanabe on November 25, 2020.

Naomi Watanabe is a Japanese comedian, actor, and fashion designer who is representing Kate Spade New York for 2020. Her collection with the brand is a celebration of women and loving life. It has a bright and positive face to it, making the Naomi Watanabe, who's career is centred on inspiring people with positivity, the perfect face of the collaboration.

<naomi watanabe x kate spade new york capsule collection> From Left: large tote in dark orchid ¥53,000 (H28 x W40 x D20cm), medium camera bag in deep umber ¥35,000 (H12 x W18 x D4cm), micro camera bag in pomegranate juice and dark orchid ¥15,000 (H8 x W11 x D4cm) (All pre-tax prices)

The capsule collection features three handbag styles branded with the iconic interlocking spade symbol.


The dark orchard tote bag is made from curled fur comes as a stylish over-sized pick.。

The medium and micro-sized camera bags come with a cross-body strap so can be conveniently carried hands-free. They come in two vivid colours, deep umber and pomegranate juice, which are fitting for the coming holiday season.

All three designs are fitted with special tags with Watanabe's sign printed on them.


Check out the promotional video for the collection.

Naomi Watanabe | Comment

"As soon as we did the shoot for the first campaign, I knew I wanted to continue this partnership with Kate Spade. Things kind of naturally went in that direction which led to this collaboration. I went on to talk about the collection with Nicola, and we both knew we wanted to incorporate colour and humour into it, as well as positivity about life. That's where this collection came from."

Naomi Watanabe Appointed Shu Uemura Ambassador For Launch of 'Rouge Amplified Unlimited' Lipstick

Japanese makeup artist brand Shu Uemura has invited Naomi Watanabe on board as the global ambassador for the launch of the new colour and packaging for their "Rouge Unlimited Amplified" lipstick which will hit shelves on September 16, 2020.

Rouge Unlimited Amplified looks to amplify the user's lip experience with its bold colours. The collection will see a range of updated colours and packaging, including the brown "BR 784 Naomi's redwood."

In the promotion for the lipstick, Naomi Watanabe has donned the "Rouge Unlimited Amplified Matte AM BR 784."

Naomi Watanabe | Comment

"This is a really beautiful colour and gives you a personalised look that you don't see with other lipsticks. You can use it pretty much anywhere, whether at the office or at a party. As long as you wield this lipstick, you can go anywhere, and do anything."

Naomi Watanabe is a fashion icon in Japan, promoting positivity and letting people know they can wear whatever makeup and clothing they like. Her message ties in with Shu Uemura's core concept of individual beauty.

Rouge Unlimited Amplified Matte AM BR 784

The "BR 784 Naomi's redwood" was specially developed to bring out the tones in the skin of those in Asia. It's a tailor-made brown inspired by reddish-brown, a popular colour trend. Adding a reddish tinge makes it contrast well against the skin and makes it possible to wear it on any occasion. The brown hue adds a sense of sophistication and balances out the red, so you can wear it both casually and formally. Four different textures of the "BR 784" are available to purchase.

Naomi Watanabe Posts Parody Music Video of 'Rain on Me' by Lady Gaga and Ariana Grande

Japanese comedian Naomi Watanabe uploaded a music video parody of Lady Gaga and Ariana Grande's song Rain on Me. The original song was released on May 22, 2020 and features on Gaga's latest studio album Chromatica. It went on to reach No. 1 on weekly charts across the globe, and its music video has over 160 million views on YouTube (as of July 2020).

Lady Gaga "Rain On Me with Ariana Grande" Official Parody

Naomi Watanabe explained that she felt incredible power from Lady Gaga and Ariana Grande when Rain on Me dropped back in May. She described the "motherly presence [of Gaga] that greatly envelops me." In the parody music video, Watanabe plays the part of Lady Gaga while comedian Yuriyan Retriever takes up the role of Ariana Grande.

The music video was shot after the state of emergency was lifted in Japan. It was directed by Daisuke Ninomiya, who has worked on many music videos for many big artists in Japan such as Daichi Miura and Sandaime J Soul Brothers. It was shot in collaboration with makeup artists, stylists, and manicurists who are close with Watanabe. The music video plays up Watanabe's iconic comedy while still managing to be as thrilling as the original music video.

Speaking about the music video, Naomi Watanabe said: "I thought it would be amusing to shoot this video as close as possible to the original, and because I like parodies, so we really went all-out with the little details."

The music video parody received praise from Lady Gaga's production team for its quality. It currently has 2.5 million views on YouTube (as of July 2020). Check it out and be sure to compare it with the original.

Naomi Watanabe Produces Second Cosmetic Collection With Shu Uemura

The second cosmetic collection produced by Naomi Watanabe for the Tokyo-based makeup brand Shu Uemura―called the "naomi for shu uemura collection"―will be released in limited supplies from July 20.

The collection includes two colours each of Shu Uemura's hugely popular satin lipsticks Rouge Unlimited and their velvety Rouge Unlimited Matte. It also includes two colours from their Glow On F which gently blends with the skin and change one's look in an instant. The blush is served in a limited edition custom case.

From a sublime colour that draws out the charm of a person tenfold to another trend colour that elevates the face to its peak, Watanabe produced each of these original colours from nothing and Shu Uemura manufactured them. This is also the first blush Watanabe has ever produced.

The collection comes as the long-awaited sequel to Uemura's first collaboration with Shu Uemura when she was appointed an ambassador of the brand. The line-up exhibits Watanabe's drive to keep on evolving and is an expression of herself today.

What Watanabe was focused on with this collection was ensuring each item easy to use and incorporate into looks while also making a range of exquisite colours you cannot get anywhere else. For example, the deep killer red colour "no.1" is laced with gold glitter to give a shimmering finish to those lips.

"unfollower" balances red and yellow with the saturation altered to create a unique orange that makes your lips the standout feature of your makeup. This colour is perfect when combined with summery eye makeup.

The blush serves to bring out your peak adult beauty in a super easy fashion. It's for those people who are able to create gorgeous eye makeup but aren't quite skilled at their cheeks yet. "amber sophistication" doesn't highlight your cheeks too much but gives just enough to leave you looking sophisticated and urban. "bellini innocence" gives your cheeks a pure look with its coral colour that blends into your skin with its slightly more sweeter-looking appearance.

Naomi Watanabe published a comment regarding her collection: "Hello, everyone! I'm Naomi Watanabe! This summer, I am collaborating with Shu Uemura again to release a section collection! I am super happy to say that we have been able to deliver you all a product that we have confidence in. I hope that through this collaboration with Shu Uemura we can help all those people who treasure each day have the confidence to live life their way. I also hope this lends a little support to your makeup potential. Let's all be happy and radiate this summer!!"

Information

naomi for shu uemura collection

Product Line-Up

"Rouge Unlimited" (2 Colours) – ¥3,200 Each (Before Tax)

"Rouge Unlimited Matte" (2 Colours) – ¥3,200 Each (Before Tax)

"Glow On F" (2 Colours) – ¥2,500 Each (Before Tax) *Can be refilled

"Custom Case II" – ¥700 (Before Tax)

*All products are limited edition colours and come in limited edition packaging

Exclusive Pre-Order: July 3, 2019

Pre-Sale: July 10, 2019

General Pre-Order: July 13, 2019

General Release Date: July 20, 2019

Bonus Item

"now me" Pouch
*Obtained by purchasing two or more items from the "naomi for shu uemura collection" priced at over ¥8,000.

*Limited availability

Full Details (Japanese): https://bit.ly/2Lqc3WC

Full Details Mobile Site (Japanese): https://bit.ly/2YlF7lH

Naomi Watanabe & James Corden Feature in SK-II's New Pitera Masterclass Video Series

Global skincare brand SK-II launched a new video series on YouTube on June 19 titled "Pitera™ Masterclass." Featuring comedian and fashion designer Naomi Watanabe, English actor, comedian and talk show host James Corden, multi award-winning American singer-songwriter John Legend and Chinese actress and SK-II ambassador Tang Wei, the series is the new edition to their first beauty entertainment series #BareSkinChat.

The first video is a trailer for the new series and showcases what's to come as the four of them work to uncover the secrets of Pitera™. The video also showcases the first ever SK-II original rap song entitled Oh Pitera™.

Pitera™ is a cosmetic award-winning facial treatment essence enjoyed for its ability to leave skin clear, radiant and glowing. The secret to how it's made and how it's able to make skin event with the deepest wrinkles smooth and beautiful has been kept under wraps since it was first released.

Speaking about the new video series, Naomi Watanaba comments: "It's a completely mystery that it was me who was placed amongst the other members [of the video series], but I'm extremely happy that I was able to convey the wonder of Pitera together with the most amazing time. It was fun. Everyone was really bright and cheery on set. Me and James are both comedians so we had that in common. We both got constantly carried away but I think that also helped us to better and more easily convey what's good about Pitera. John Legend's Oh Pitera was insatiable, it gave me chills. Look forward to seeing me challenging myself to have a conversation in English for the first time too."

Kasumi Arimura & Naomi Watanabe Go Makeup-Less in SK-II's #BareSkinChat Videos

Global skincare brand SK-Ⅱ released the next entries to their beauty and entertainment video series Bare Skin Chat on May 8.

The two new videos feature appearances from actress and SK-II ambassador Kasumi Arimura and popular comedian Naomi Watanabe. They continue where James Corden and Chloe Grace Moretz left off in Episode 5. In just two weeks of being posted Episodes 1-5 had already garnered over 40 million views online and 1.3 million reactions on social media.

Kasumi and Naomi were a duo that fans could never have imagined coming together. People reacted positively to their hilarious banter.

SK-II #BareSkinChat | Episode 6: Episode 6: Your Bathtub, May I?

In Episode 6, Naomi unveils to Kasumi the secret to beautiful skin: relaxing is a nice bubble bath while listening to classical music. While she's doing that Kasumi lets Naomi in on her own skin care routine which consists solely of using Facial Treatment Essence. Naomi soon learns that this simple routine is the true secret to soft skin by touching Kasumi's face over and over.

SK-II #BareSkinChat | Episode 7: #ASMR SHHHHH


In Episode 7, the duo try their hand at making an ASMR video by using Facial Treatment Essence.

Be sure to catch up with the series and check out the new episodes!

Comedians Naomi Watanabe and James Corden take part in SK-II new beauty video series!

Global skincare brand SK-Ⅱ will release the first episode of the new beauty entertainment series called "Suppin Suhada Talk" on 25th March. The official trailer was released on 20th March.

One of the participants in the talk series includes Naomi Watanabe, a famous Japanese comedian who is known is the "Japanese Beyoncé" and has also performed overseas. Another other is James Corden; the host from the American TV show "The Late Late Show", who is also famous for his carpool karaoke hosting. This will be  James' and Naomi's first ever time to take part in the video series! The two comedians will suddenly appear in the bathrooms of famous actresses Kasumi Arimura and Chloë Grace Moretz. Throughout the series, the viewers and comedians will then uncover beauty secrets from the actresses that everyone is dying to know.

From the other side of the closed door, one by one, the four participants burst into a charming or silly pose that they have never shown anyone before. With all their might, Arimura Takahashi and Chloe Moretz challenge themselves to everything from beatboxing to dancing to ASMR. They will also reveal their beauty secrets and try out the SK-II PiteraTM * Essence (facial treatment) which is "just like liquid foundation".

The first episode of the "Suppin Suhada Talk" series will be released worldwide on 25th March at the same time. After that, a new episode will be released every two weeks to form a sequel. Gradually, the secrets of beauty will be unravelled!

Statements from the participants:

Kasumi Arimura

For this series, I was given the role of explaining the amazing qualities of Pitera™ to Naomi Watanabe ー it's a pretty heavy role and before the shoot I was nervous thinking about it but after the shoot I felt completely different ー I was relaxed and really enjoyed myself! I was not sure how Watanabe would react during the shoot so I just acted natural and interacted with her in a fun way! I'll be very happy if everyone watching also feels just as enthusiastic about Pitera™!

Naomi Watanabe

This is a brand I have always adored, so when I first heard the news about being part of the series I was so happy. As a comedian, I had fun interacting with Arimura and incorporating comedy into the introduction of the product ー I think it is a very original idea and made the shoot really fun! Whilst being given the freedom to steer the show, I could really feel Arimura's enthusiasm to spread the news about Pitera™. It was fun and I learned a lot about SK- II. I say this in the video too but… I think this is something that a god would even purchases!

Chloë Grace Moretz

The video shoot was really fun and the set was overflowing with laughter. I'm pretty sure viewers at home will also be able to sense the fun. There are times when you don't want to be thinking too seriously about skincare but would rather just have fun!

James Corden

Me being associated with a skincare brand is nothing to be surprised about. I have always been a big fan. Nowadays, SK-II is essential to support my skin every morning and afternoon and evening.

Shiritsu Ebisu Chugaku Release 'Dekadonden' Music Video Featuring Naomi Watanabe

Shiritsu Ebisu Chugaku have released the music video to their latest single Dekadonden which is set to be released on June 6.

A mysterious photo and countdown was posted on the group's official Twitter and Instagram on May 25, causing much speculation from fans. The countdown stretched to May 30, on which the music video was unveiled. Japanese actress, comedian and fashion designer Naomi Watanabe makes an appearance in the video, who the group members adore.

The video sees the group members taking on the roles of detectives to solve incidents around town. It's then that they stumble upon Naomi Watanabe, who plays the role of a giant dance queen. They managed to corner her in a car park where an epic dance battle takes place. It's then that the plot twist is revealed. 'Plot twist' in Japanese is dondengaeshi, which related to the song title.

Speaking about the collaboration, the members said: "We haven't had many guests perform in our music videos, so we are truly honoured for Naomi Watanabe to be that person, whom we love, and to even have danced with her!" During the dance battle sequence, the members are wearing clothes from PUNYUS, a fashion brand produced by Naomi Watanabe and one that the Shiritsu Ebisu Chugaku members enjoy in their daily lives.

'Dance' is the key word behind this video, and it's all thanks to Sasuga Minami who created the choreography for it. The unique and powerful dance moves are worthy of note.

Be sure to catch the video for yourself and see the group's collaboration with Naomi Watanabe, who is a dance queen both in name and in reality.

Naomi Watanabe Appointed Brand Ambassador of "Shu Uemura" Cosmetic Line

The vivacious and colourful Naomi Watanabe, whose career spans a wide selection from acting to comedy and fashion designing, has been appointed as a brand ambassador for Shu Uemura, a make-up artist brand that hailing from Tokyo.

Naomi Watanabe is an entertainer that thinks outside the box. She enjoys make-up and fashion freely in her own way and continues to promote positivity. She loves herself for who she is and cherishes her individual beauty. Her overwhelming performances also do not fit into a single mold. She brings new ideas to the table and breaks down stereotypes. All of this has garnered her much attention and she has captivated not only the people of Japan, but around the world. Through its future collaboration with Naomi Watanabe, Shu Uemura – which pursues the question of make-up that brings out the individual beauty of people with its free-thinking – wishes to further advocate the limitless possibilities of beauty that doesn't fit the standard.

For their first project, they have teamed up with French jewelry and accessory brand Yazbukey to create the Mattitude Collection, an evocative range of limited-edition lipsticks set to release on April 27. By wearing matte lipstick, they will draw out a girls' real qualities, which they theme as 'Sexy,' 'Lovely,' 'Funky' and 'Edgy.' Naomi Watanabe helped design these four looks. Putting on any one of these lipsticks will change a girl's appearance entirely.

Naomi Watanabe Comment:
"Shu develops a wide selection of colours. Their passion for cosmetics really shows, so normally even I go and buy from them as a customer. They really have a lot of colour usages, so I'm always excited when I go to the shop. Like 'Hm, let's try combining this and this next.' To me, make-up is something that I can use to express myself by combining things together. I challenge myself to different combinations. I want to draw out an individuality ¬¬¬¬¬that suits me. So I want everyone to try lots of different make-up for themselves too!

Make sure to check out Shu Uemura and Naomi Watanabe's collaboration!

Naomi Watanabe is going to be featured in the CM of "KIREIMO," a dehairing salon

The new project of "KIREIMO," a dehairing salon called "KIREIMO 100% GIRLS!!" announced that they will hire Naomi Watanabe who is a comedian and the producer of the brand "PUNYUS."

Naomi Watanabe will participate the venues and limited events of "KIREIMO 100% GIRLS" to warm up the project.

Her face was hidden in the CM which was broadcasted for a week from the 1st of January but the project announced on January 8th that they have hired her as a model for this project.

A campaign where you can win a participation ticket for the CM "100% CM GIRL!!" will be started too!

Don't miss the future activities of the "KIREIMO 100% GIRLS!!" project!

■Information

100% CM GIRLS!!(TV CM's cast application campaign)
https://kireimo.jp/100girls/cmcast/

Application: please make an application via the special site of the campaign.

※an application can be made by women who are using the services of KIREIMO.

※members of KIREIMO can make an application from "my page."

※please take a look at the campaign's special website RE: detailed information.

Applicable date: 2018,01,08 (Mon, holidays) to 02,02 (Fri.)

KIREIMO 100% GIRLS!!" project special site: https://kireimo.jp/100girls/ 
"100% CM GIRL!!" campaign: https://kireimo.jp/100girls/cmcast/

KIREIMO: https://kireimo.jp/