Best store to purchase panda souvenirs! Matsuzakaya Ueno Store holds "Panda No. 1 Grand Prix"
With the birth of the panda cub, Xiang Xiang Ueno's panda bear fever is on the rise. All kinds of panda menu items and souvenirs are gaining popularity.
In line with this excitement, Matsuzakaya Ueno Store has announced that they are going to hold the event titled, "Panda No. 1 Grand Prix" on the food floor of the department store so as to survey which is the most popular panda menu item. Twenty-five food items were chosen out of the approximately 50 panda menu items by buyers recommendations. If you are looking to purchase a panda food item, this is the place to head for. Here, we will introduce to you just a few of these panda food items.
<Heichinroh> Panda Man (bun with bean-jam filling) 453 yen per bun / Basement 1F
<Taro> Panda inari (sushi wrapped in fried bean curd) 594 yen / Basement 1F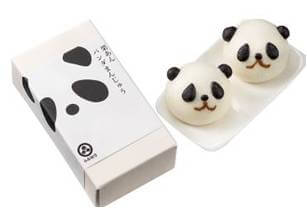 <Obusedo> Kurian Panda Manju (bun with chestnut / bean-jam filling) 2 buns 594 yen / 1F
<Sapporo Kaniya> Panda chirashi (sushi topped with variety of ingredients) Basement 1F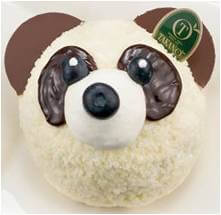 <Shinjuku Takano> Akachan (baby) Panda  1 item 756 yen / 1F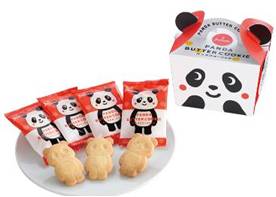 <Juchheim> Panda Butter Cookie  12 cookies 648 yen / 1F
In addition, there are lots of other cute panda bear souvenirs. From the 25 recommended panda bear items, the NO.1 will be chosen. All customers who purchase a panda item worth over 200 yen will be given a ballot sheet. All you have to do is fill in the necessary information along with registering your choice and stuff this into the ballot box. After the voting is closed 5 lucky persons who casted their vote will win shopping coupons worth 3000 yen of one of the top 3 items.
For all who are wondering which panda souvenir to buy, head on over to Matsuzakaya Ueno store.
■Information
Matsuzakaya Ueno Store
Address: 3-29-5 Ueno, Daito-ku Tokyo
Hours: 10:00-20:00
Holidays: New Years day
TEL:03-3832-1111
RELATED ENTRIES
Hard Rock Cafe Releases Limited-Edition Pins of Ueno Zoo's Panda Xiang Xiang

Hard Rock Cafe Ueno is celebrating the 4th birthday of Ueno Zoo's giant panda Xiang Xiang with a collection of birthday pins. The limited-edition line-up was released on Thursday.

4th Birthday Pin | 300 Available | ¥2,200

4th Birthday Pin 2 | 500 Available | ¥2,200

The two pin designs are limited in stock, the first featuring Xiang Xiang with her mother and father has 300 available, and the second one has the cute giant panda on an aeroplane branded with her birthday date with 500 available.

Both pins capture Xiang Xiang's energetic personality and are cute souvenirs to take home after meeting her at Ueno Zoo.

Information

Hard Rock Cafe x Ueno Zoo Pims
Released: June 10, 2021 at Hard Rock Cafe Ueno Station Tokyo

Address: Atre Ueno Floor 1F, 7-1-1 Ueno, Taito-ku, Tokyo

TEL: 03-5826-5821
Also available online: https://hrcjapan.official.ec/

Hard Rock Japan Official Website: http://hardrockjapan.com/

Ueno's Real-Life Panda Idol Xiang Xiang's 4th Birthday Celebrated With Merchandise Release

Ueno Information Center is celebrating the 4th birthday of Xiang Xiang, the giant panda who was born at Ueno Zoo back in 2017, with the release of a merchandise collection. The line-up arrived on Wednesday and is available both at the information center and via their online store.

Although strict measures are in place at the center to reduce the risk of COVID-19 spreading, celebrations for Xiang Xiang aren't completely cancelled, as fans of the adorable panda, who has become something of an idol in Ueno, can get their hands on some fun goodies.

Ueno Panda Family Memorial Pins 2021 | ¥2,530 (Tax Included)

Ueno Panda Family Clear Pouch YE | ¥2,200 (Tax Included)

Ueno Panda Family Cooling Lunch Tote Bag | ¥1,650 (Tax Included)

The collection features motifs of Xiang Xiang, her mother Shin Shin, and her father Ri Ri. The pin collection, which comes in a gold leaf-laced box, includes Shin Shin in a tree peony, Xiang Xiang amongst the cherry blossoms, and Ri Ri with lotus flowers.

The pouch sees Xiang Xiang happy and energetic with her parents. It comes in a summery yellow and is made from semi-transparent matted vinyl. Perfect for storing away makeup, stationery, and any other bits and bobs.

The cooling bag is made from aluminium on the inside for keeping your food fresh. It's big enough for fitting a bento and 500ml bottle, making it handy for taking your lunch out with you.

Happy 4th Birthday, Xiang Xiang!

Information

Ueno Information Center Xiang Xiang's 4th Birthday Collection

Released: June 9, 2021

Where: Ueno Information Center

Ueno Information Center Official Website: https://uenoinfo.jp/

Ueno Information Center Online Shop: https://edotokyo1.com

Disney's Mickey & Friends Teams Up With Tokyo's Souvenir Sweet Tokyo Banana

Disney SWEETS COLLECTION by Tokyo Banana, a joint confectionery shop between GRAPESTONE and Tokyo Banana, released its new Mickey & Friends collection on Thursday.

Tokyo Banana Mickey & Friends Collection | ¥1,300 (Tax Included)

Mickey, Minnie, Donald, Daisy, Goofy, and Pluto join hands in a heart-warming new collection of Tokyo Banana, a cream-filled sponge cake and the official souvenir sweet of Tokyo's official souvenir sweet: Tokyo Banana.

 

Mickey & Friends arrive in all the colours of the rainbow

The colourful packaging features the Disney group of best friends including Mickey, who loves his friends, his girlfriend Minnie, the anger-prone Donald, stylish Daisy, silly Goofy, and trusty Pluto.

Six cute patterns decorate the sponge cakes

There are six super cute Mickey & Friends designs you could get in your Tokyo Banana, and each one is random. They are filled with chocolate banana-flavoured custard cream.

Collect all the postcards

All boxes of these treats come with two of eight possible postcard designs which you can use for sending to someone or even as room decoration.

 © Disney

Pokémon x Tokyo Banana Expands Across Japan

The Pokémon Tokyo Banana confection series launched its first two products that it ever released at Yume Town, Yume City, LEC, and Yume Mart branches in the South-west most part of Honshu, Shikoku, and Kyushu on May 14.

Pikachu Tokyo Banana (Banana Flavour) | Includes 2 | ¥292 (Tax Included)

Eevee Tokyo Banana (Caramel) | Includes 2 | ¥292 (Tax Included)

Heart-shaped tail ends

Six different packaging designs each for Pikachu and Eevee

Tokyo Banana are popular cream-filled cakes and are the official souvenir sweet of Tokyo. The Pokémon series turns these fluffy treats into cute confections for you to enjoy with your favourite Pokémon during snack time.

Pikachu was the first to enter the Pokémon Tokyo Banana series who was turned into a banana custard cream-filled sponge cake. The second was Eevee with the fluffy sponge a delicious caramel macchiato flavour and filled with sweet banana custard cream

The confections are both branded with adorable heart-shaped tails, and each comes with one of six possible packaging designs.

©2021 Pokémon. ©1995-2021 Nintendo/Creatures Inc./GAME FREAK inc.
ポケットモンスター・ポケモン・Pokémonは任天堂・クリーチャーズ・ゲームフリークの登録商標です。

Cow Brand Soap x BEAMS Japan Take Over Kotobukiyu Bath House in Tokyo

BEAMS Japan and Cow Brand Soap have teamed up to an event titled Sento no Susume 2021 which began on April 23. As part of the event, the two brands have come together at the popular Tokyo-based bath house Kotobukiyu where illustrations for the collaboration drawn by manga artist Mari Yamazaki (Thermae Romae, Olympia Kyklos) has been put up on the outside, inside, and along the walls.

See the illustrations being plastered in the video below.

At the bath house entrance, along the walls, and everywhere else

Fashion shoots are being held at the bath house

Limited-edition merchandise for Sento no Susume 2021

For many years, sento public bath houses have been big part of Japanese culture and are located up and down the country. They are places people go to unwind, relax, and destress. However, with times changing, they are because less part of people's lives, and the facilities themselves are seeing significant wear and tear as well as not having successors to take over the businesses. Sento no Susume aims to revitalise sento and raise their cultural value once again by showing how they can be enjoyed. The first event was held in January and February in 2019.



This year will be the second hosting of the event and invites manga artist Mari Yamazaki on board who has given Kotobukiyu a makeover with her iconic artwork themed on exercise and bathing. Six sports are featured in her drawings for the bath house including basketball, climbing, javelin, surfing, judo, and volleyball.

Have you experienced a Japanese sento before?

Matcha and Latte Cookies and Drinks Released by Yojiya

Kyoto makeup brand Yojiya is now selling its own collection of snacks and drinks which it released via its website last week.

Yojiya Matcha Sandwich Cookies | ¥1,400 (Tax Included)

Yojiya Cafe Latte Chocolate Cookies | ¥1,350 (Tax Included)

Yojiya Matcha Milk | ¥950 (Tax Included)

Yojiya's snack line-up is made with the idea of being able to enjoy high-quality food products at home. Their collection includes crunchy matcha and cafe latte cookies along with matcha milk, the latter of which is made with famous Uji matcha from Uji, Kyoto. Perfect for a tea/coffee break or as a souvenir.


Rurouni Kenshin x Hello Kitty Collaboration Launching to Promote Manga's Upcoming Live-Action Films

In promotion of the forthcoming live-action films Rurouni Kenshin: The Final and Rurouni Kenshin: The Beginning, both of which will be released on April 23 and June 4 respectively this year, the series is rolling out a collaboration with Sanrio's globally-beloved character Hello Kitty on April 14.

Original Merchandise

Rurouni Kenshin x Hello Kitty Plush Toys (2 Designs) | ¥3,850 Each (Tax Included)

Rurouni Kenshin x Hello Kitty Plush Toys (4 Designs) | ¥2,750 Each (Tax Included)

Rurouni Kenshin x Hello Kitty A4 Folder Set | ¥495 (Tax Included)

Rurouni Kenshin x Hello Kitty Bottle | ¥1,540 (Tax Included)

Rurouni Kenshin x Hello Kitty Tote Bag | ¥2,200 (Tax Included)

Rurouni Kenshin x Hello Kitty Ballpoint Pens & Mechanical Pencils (2 Designs) | ¥770 Each (Tax Included)

Rurouni Kenshin x Hello Kitty Hand Towels | ¥1,430 (Tax Included)

Rurouni Kenshin x Hello Kitty Pins (6 Designs) | ¥330 Each (Tax Included)

Rurouni Kenshin x Hello Kitty Acrylic Stands (8 Designs) | ¥715 Each (Tax Included)

Rurouni Kenshin x Hello Kitty Sweets Paradise Collaboration Cafe

Menu Excerpt

Kenshin Hello Kitty Beef Bowl / Battousai Hello Kitty Omurice

Enishi Hello Kitty Orange Crepe / Tomoe Hello Kitty Anmisu / Kaoru Hello Kitty Strawberry Pancake

Acrylic Mascot Key Rings

10 Designs

Plush Toys

This marks the second collaboration between Rurouni Kenshin and Hello Kitty, the first taking place back in 2014 in promotion of Rurouni Kenshin: The Legend Ends. Fans can get their hands on a collection of cute merchandise with Hello Kitty dressed as various characters from the series, as well as tuck into a themed menu which will first be served at Sweets Paradise Ueno ABAB from April 22 before rolling out to six more Sweets Paradise branches in Japan.

©和月伸宏/集英社 ©2020 映画「るろうに剣心 最終章 The Final/The Beginning 」製作委員会

Sablé Shortbread Cookie Shop Sablé MICHELLE Opens First Tokyo Branch in Ikebukuro

Sablé MICHELLE opened its first Tokyo branch inside Seibu Ikebukuro last Friday to serve up their cute and colourful baked treats for the people of Japan's capital.

Voyage Sablé New York

Voyage Sablé Netherlands

Voyage Sablé Hawaii

Voyage Sablé Tokyo

Voyage Sablé Gift (Contains 3)

Voyage Sablé Air Male (Box of 6)

Cake Sablé Tin (Small Size)

Cake Sablé Bag Type (Contains 2)

Fleur Sandwich Sablé (Contains 4)

Fleur Sandwich Sablé Bag Type (Contains 2)

Experience Okinawa From Tokyo Station to Shin-Osaka Station at Tokai Kiosk's Fair

Tokai Kiosk Company has announced a Kyushu and Okinawa themed fair which will run at all branches of Tokai Kiosk from Tokyo Station to Shin-Osaka Station starting on March 2. Customers will be able to enjoy a range of local foods and products from Kyushu and Okinawa.

Kyushu Okinawa Fair Poster

A Look at Some of the Available Products

Salted Shiroi Tabekko Doubutsu

Sugar Butter Sand Tree – Amaou Strawberry Butter

Okinawa Bireley's Ishigaki Island Pineapple

Sausage & Egg Yuzu Kosho Sandwich

This is just a peek of what will be available to try from Kyushu and Okinawa this spring. If you're travelling in Japan this March, then don't miss out.

Information

Kyushu Okinawa Fair

Japanese Event Title: 旅行気分で「うまい!」を楽しもう!九州・沖縄フェア

Running: March 2, 2021 – March 22, 2021

Where: Bellmart Kiosks, Grand Kiosks, Gift Kiosks, and Kiosks from Tokyo Station to Shin-Osaka Station

Official Website: https://www.kiosk.co.jp

Aromatic Kamakura Raw Chocolate Brand to Open New Branch in Nagoya

MAISON CACAO, the company behind the aromatic raw chocolate brand of the same name, will open a store on floor B1F of JR Nagoya Takashimaya on March 3, 2021. It will be the brand's first permanent shop in Japan's Tokai region.

The company held a special Valentine's event from late January to Valentine's Day where MAISON CACAO made the second most sales. They also enjoyed other sold out products, and showcased some exclusive indulgences like the gold leaf-adorned "Aroma Raw Chocolate ARMOUR" and "Aroma Raw Chocolate STRAWBERRY" as well as the all-new "Cacao Butterland."

The Nagoya Line-Up

Aroma Raw Chocolate AMOUR | ¥6,000 (Before Tax)

Exclusive to this new Nagoya branch of MAISON CACAO, these "AMOUR" chocolates are all handmade using techniques that have been passed down through the company. The dark chocolates are wrapped in luxurious gold leaf and have a fruity, sweet, and bitter combination. One box contains a generous serving of 16.

Cacao Butterland | ¥2,000 (Before Tax)

MAISON CACAO uses cacao beans from Columbia to bake its menu. These gooey treats are made with cacao butter and chocolate caramel with a double layering of dark and white chocolate. A rich and filling serving of six comes in a box.

 

Aroma Raw Chocolate STRAWBERRY | ¥2,200 (Before Tax)

Also a Nagoya-exclusive, these strawberry variants are made with intensely sweet JApanese amaou strawberries white combine with the fragrance cacao butter and white chocolate for a refreshing taste. You get 16 in a single box.

But Wait, There's More…

Raw Chocolate Butter Cake | ¥3,500

A cake made with velvety chocolate butter cream packed with roasted nuts, raisins, and caramel chips.

Rich Raw Chocolate Tart STRAWBERRY | ¥2,000

Yet another exclusive to Nagoya, these crunchy tarts are lathered in amaou strawberry chocolate and filled with runny and fruity amaou strawberry cream. A box comes with three included.

Other Popular Goodies Available While Supplies Last

Aroma Raw Chocolate MAISON (Grape) | ¥2,400 (Before Tax)

Babka | ¥2100

Raw Gateau Chocolate | ¥2500 (Before Tax) 

Information

MAISON CACAO

Grand Opening: March 3, 2021

Location: JR Nagoya Takashimaya Floor B1F

Address: 1-1-4 Meieki, Nakamura-ku, Nagoya-shi, Aichi

Opening Hours: 10:00-20:00

MAISON CACAO Official Website: https://maisoncacao.com/

Yokohama Welcomes Products and Souvenirs From Ise at the New ISE SHOP

Tama Plaza Terrace, a shopping centre in Yokohama, opened a limited-time pop-up shop on Tuesday (February 9) called ISE SHOP which is selling goods and products from Japan's city of Ise.

The shop opened in response to the reduction of sales of foodstuff, traditional handicrafts, and more in Ise due to the pandemic. Ise is known for its bounty of diverse products, and so this is a way to continue supporting it. Free tourist pamphlets are also being handed out detailing information about the city's wonders.

Some of the must-grab items

The store is a showcase of Ise's history, traditional, and food culture. Shoppers will find staple souvenir items like Ise udon, sea lettuce, hijiki seaweed, pearls, and more. Other touches of Ise include a popular hand cream made with water drawn from the Isuzu River, a fragrance mist also made from the same water, all-new cosmetic items, cookies inspired by the oshiraishi stones spread over the most holy part of Ise Grand Shrine—the list goes on. 58 Ise-based businesses are stocking around 100 products inside the store, so it's a must-visit for anyone interested in the ancient city.

Information

ISE SHOP
Running: February 9, 2021 – March 28, 2021
Opening Hours: 10:00-21:00
*Opening hours subject to change depending on the pandemic

Location: Tama Plaza Terrace – Gate Plaza Floor 2F
Official Website: www.tamaplaza-terrace.com

This Colourful Striped Pasta Looks Just Like Sweet Candy

Padonni is a Japanese pasta brand that sells multicoloured pasta that look like little candies. The brand tied up with Village Vanguard to make their stock available on their website on Wednesday (January 20).

Striped Paper Hat Pasta | ¥702 (Tax Included)

Shooting Star Pasta | ¥540 (Tax Included)

Heart Pasta | ¥540 (Tax Included)

Salted Striped Twist Short Puglia | ¥1,296 (Tax Included)

The rainbow-coloured pastas use no artificial colourings, all colours are brought about naturally with ingredients like beetroot and paprika.

The Instagrammable striped pasta is particularly cute and are sure to add some fun to pasta night. And these pastas aren't just for show either – they are made with high quality durum wheat from Apulia in Southern Italy so great taste is guaranteed. Traditional techniques are used to make the pasta with each and every piece being handmade. They are carefully dried in a low temperature for 4+ hours, giving them a delicious chewy texture.