The Alley Release Brown Sugar Matcha Latte in Their Tapioca Beverage Series
The Alley is a tea stand in Japan hailing from Taiwan. They have just added a new beverage to their Brown Sugar Tapioca Series: the Brown Sugar Matcha Latte. The drink was released at all branches across Japan on April 2nd.
The series uses brown sugar tapioca which is made from The Alley's own original tapioca and brown sugar syrup from Okinawa. They are bigger than the usual size tapioca and once bitten into fill your mouth with deliciously sweet brown sugar syrup. What's even better is that the store's brown sugar tapioca lattes are served with twice the amount of tapioca to the normal tapioca teas they sell.
The Brown Sugar Matcha Latte is a combination of bright springtime matcha and milk giving it a two-tone colour. The bitter flavour of the matcha draws out the sweetness of the brown sugar tapioca. Both the drinks' appearance and taste are immensely satisfying!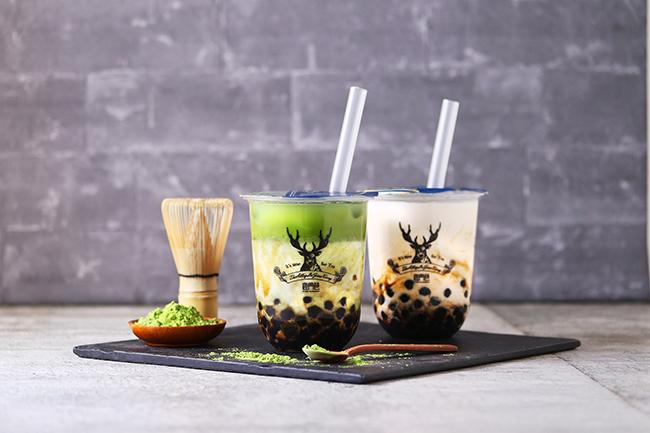 Enjoy this exquisite harmony of brown sugar tapioca and matcha.
■Information
Brown Sugar Matcha Latte
Released: April 2, 2018
Prices: M-Size ¥650 (tax excl.)
Types: Cold (冷) / Mild Hot (温) / Hot (熱)
Available Stores: Omotesando, Shibuya, Lumine Shinjuku, Ebisu, Jiyugaoka, Sanagi Shibuya Food Truck
Website:http://www.the-alley.jp
RELATED ENTRIES
Hydrangea Matcha Parfait Gets Served For Spring at Kyoto Tea Shop

Japanese Uji tea shop Itohkyuemon broughr back its seasonal Hydrangea Parfait to the menu at three of its stores last Monday.

Hydrangea Parfait

Hydrangea Tea Party

Kyoto's city of Uji, where Itohkyuemon's main branch is based, is home to Mimuroto Temple which is famous for its hydrangea flowers. The temple always bustles during the springtime rainy season. It's around this time that people can be waiting up to 3 hours for a seat at Itohkyuemon. Their Hydrangea Parfait is their most popular parfait, never failing to create a buzz on Japanese social media. It contains hydrangea-flavoured mashed sweet potato, hydrangea jelly, leaf-shaped matcha cookies, blueberries, and more, all capturing the swaying hydrangeas during the downpour of the rainy season. They are limited in stock and are not re-added to the menu until the following year once they run out.

Customers can order the parfait on its own, with a cup of tea, or with both tea and warabimochi. The tea set and tea party versions come with a free hydrangea coaster.

AMAZAKE STAND to Open its Second Branch in Sendai Serving Rice-Malt Sweet Sake

AMAZAKE STAND opened its first branch in Kamakura a year and a half ago as the first store in Japan serving homemade rice-malt amazake sweet sake. The cafe has announced that its second branch will open in Sendai on June 10, 2021. It hopes to promote the delicious taste of amazake to more people and pass it down to the next generation.

Homemade Amazake – Plain (Small Size) | ¥390 (Tax Included)

Strawberry Chocolate Amazake – Blueberry Cheesecake Amazake – Apple Pie Amazake | From ¥600 Each (Tax Included)

Amazake is a great alternative for those who can't handle the taste of ordinary strong sake. The cafe makes it with koji and rice from Tohoku and offers it in a range of different flavours. All beverages are made without granulated sugar and include a range of ingredients that have beautifying effects on the skin and help with recovering from fatigue such as grape powder, amino acids, and Vitamin B.

Enjoy a Cup of High Quality Japanese Tea in the Morning at This New Cafe in Nagoya

Mirume Shinryoku Sabo is a new cafe and tea-lover paradise that opened in Nagoya on May 10, 2021, serving high quality bottled Japanese tea, desserts, and other delicious delights.

Daifuku : Eat-In ¥250 (Tax Included)

Ise Tea Sweet Bean Jelly: Eat-In ¥250 / Store ¥500 (Tax Included)

Ise Tea Cheesecake: Eat-In ¥350 / Store ¥3,300 (Tax Included)

Mirume Shinryoku Sabo is the newest cafe to be opened by Shinryoku Sabo, an award-winning tea company in Mie Prefecture. The cafe's tea experience includes using a kyuusu, which is a type of small teapot, to brew Isecha green tea. Customers can learn the best way to prepare tea from an in-house instructor of Japanese tea, who will also provide backstory on the tea leaves used. Their deliciously brewed cup can be paired with a variety of desserts like daifuku, maju, cheesecake, and more.

The cafe also sells the "Morning Bottle," its signature bottled cold-brew tea which is prepared on the day in the early morning. Bottles can be returned to the cafe to be reused, allowing for no waste. Since the tea is cold-brewed, it also contains little caffeine.

Information

Mirume Shinryoku Sabo
Address: 1-36-57 Nagono, Nishi Ward, Nagoya, Aichi 451-0042, Japan
Opening Hours: [8:00-10:00] Morning Bottle only / [11:00-22:00] Cafe & Store
Closed: Wednesdays

TEL: 052-551-3366

Official Site:https://www.shinryokusabo.co.jp/

Idol Group Tsubaki Factory Features on Tower Records Shinjuku's NO MUSIC, NO IDOL? Poster

In promotion of their upcoming album 2nd STEP, which will hit shelves on May 26, Japanese idol group Tsubaki Factory was featured in Vol.242 of Tower Record Shinjuku's idol project NO MUSIC, NO IDOL?.

Tsubaki Factory in NO MUSIC, NO IDOL Vol.242

Tsubaki Factory formed in 2015 as members of Hello Project, an all-female idol group project managed by UP-FRONT AGENCY. The eight-member group made their debut with the release of their first single Hatsukoi Sunrise/Just Try!/Uruwashi no Camellia in 2017. In the same year, they receive the Newcomer Award from the 50th Japan Cable Awards.

Their forthcoming 15-track album 2nd STEP will include six singles from their fifth to their current as well as three additional tracks and six brand new ones. Tower Records is handing out posters and postcards to fans who pre-order or buy the record at select stores.

Receive a free NO MUSIC, NO IDOL? poster and postcard

Posters and postcards will be given to fans who purchase any of the three editions of 2nd STEP at the select Tower Records branches below. Available in limited stock on a first-come, first-served basis, those who pre-order the album will be given priority of posters and postcards over those who purchase it after its release.

Participating Branches: Sapporo PIVOT/Sendai PARCO/Shinjuku/Yokohama Vivre/Niigata/Shizuoka/Nagoya PARCO/Umeda NU Chayamachi/Hiroshima/Takamatsu Marugamemachi/Fukuoka PARCO/Naha

2nd STEP will be released in 3 editions

First Press Limited-Edition A (CD+Blu-ray+48 Page Booklet) | ¥8,800 (Tax Included)

First Press Limited-Edition A includes the album, all versions of the music videos from the group's 5th single to their current release, a Blu-ray featuring a behind-the-scenes shoot of the album cover photos, and an 48-page A4-size photo book.

First Press Limited-Edition B (CD+DVD) | ¥5,500 (Tax Included)

First Press Limited-Edition B  includes a DVD featuring the footage taken from a drama event hosted by the group.

Regular Edition (CD) | ¥3,300 (Tax Included)

Get a freebie with your purchase at Tower Records 

Purchasing the new album at Tower Records, TOWERmini, or the Tower Records online store will earn fans the below-pictured A4 folder. Available in limited stock on a first-come, first-served basis, those who pre-order the album will be given priority of folders over those who purchase it after its release.

Information

Tsubaki Factory – "2nd STEP"

Release Date: May 26, 2021

Tower Records Official Website: https://tower.jp

Hatsune Miku Features in Pocari Sweat Promotion as Official Ambassador

Otsuka Pharmaceutical released a 30-second video titled "Netsunarero" on their official YouTube channel on May 6 announcing Hatsune Miku and members of Leo/need from the Project Sekai Colorful Stage ft. Hatsune Miku mobile game as the official ambassadors for the Japanese sports drink Pocari Sweat.

The importance of "Netsunare"

The video stresses the importance of netsunare – sweating in order to get used to the heat during summer. Leading the promoting of this message is Hatsune Miku who is followed by Leo/need, MEIKO, Mirai Akari, Fuji Aoi, and YuNi. The video features the original song Waiting for Clear Weather created by Orangestar for the Project Sekai Colorful Stage ft. Hatsune Miku mobile game. The popular track has been streamed over 1.9 million times as of April 2021.

The Character Line-Up

Since December 2019, Otsuka Pharmaceutical has appointed Hatsune Miku, MEIKO, Leo/need, MEIKO, Mirai Akari, Fuji Aoi, YuNi, and other familiar faces as official ambassadors for Pocari Sweat to spread information on how to overcome Japan's hot summer weather to the world. It is part of the beyond2020 project which Otsuka describes: "With an eye to 2020 and beyond, this cultural program will contribute to the creation of a legacy befitting a maturing society that will make the next generation proud, through Japan's strength which consists of its local and diverse culture."

Leo/need from Project Sekai Colorful Stage ft. Hatsune Miku

Project Sekai Colorful Stage ft. Hatsune Miku is a mobile game for iOS/Android. The members of Leo/need include guitarist and vocalist Ichika Hoshino, keyboardist Saki Tenma, drummer Honami Mochizuki, and bassist Shino Hinomori. They will release their first single on June 9, 2021.

Twitter Campaign

Otsuka Pharmaceutical is also holding a Twitter campaign in Japan as part of the promotion where 200 random people can win a box of seven 500ml Pocari Sweat bottles for cooling down in the summer heat.

How to Sign Up

Step 1: Follow Pocari Sweat on Twitter @pocarisweat_jp

Step 2: Retweet or quote any of Pocari Sweat's posts featuring the hashtag #ネツナレろ ("Netsunarero")

Running: May 6, 2021 – May 19, 2021 (Japan Only)

Campaign Site: https://pocarisweat.jp/action/pocarimiku/netsunarero/

© SEGA / © CP / © CPM / © Mirai Akari Project / © YuNi / © Fuji Aoi

Häagen-Dazs Dessert Buffet Whipped Up at Keio Plaza Hotel

Keio Plaza Hotel in Shinjuku, Tokyo, is welcoming Häagen-Dazs through its doors who have prepared a very special dessert buffet for the hotel's "Summer Trip with Häagen-Dazs" service. The sweet treat line-up will be served from June 1 to September 30 along with a range of savoury foods from around the world – an inviting prospect to those unable to travel during the pandemic.

Sweets Collection with Häagen-Dazs ~Ice Cream Holic~ | General ¥4,800, Children (Aged 4-12)

The first entry to the Summer Trip with Häagen-Dazs is the "Sweets Collection with Häagen-Dazs ~Ice Cream Holic~" dessert buffet. To protect customers, all desserts are ordered and served like a course rather than going to pick up the food yourself. This marks the third year of the dessert buffet, and this time it's inspired by ice cream shops in New York, the home of Häagen-Dazs. Ice cream will be served in a cool and refreshing variety of ways.

Experience that feeling of picking out a flavour from the ice cream store with a line-up of eight flavours including classics such as vanilla and strawberry as well as the new rich royal milk tea. Each serving is customisable with numerous toppings.

Other menu items include mini ice cream croissants, ice cream sodas, ice cream cake, and more. There's also a line-up of savoury food too if you want to line your belly before dessert: fried chicken, burgers, hot dogs, fries, and so on.

While the buffet is on, the hotel restaurant itself will be transformed into an ice cream theme park with summery tropical fruit colouring as well as designs and decor inspired by ice creams and cones.

Information

Sweets Collection with Häagen-Dazs ~Ice Cream Holic~

Running: June 1, 2021 – September 30, 2021

Bookings; Now Open

Location: Jurin (Keio Plaza Hotel Floor 2F)

Address: 2-2-1 Nishi-Shinjuku, Shinjuku-ku, Tokyo

Slots: 15:00-17:00 (Last Orders 16:30) / 15:30-17:30 (Last Orders 17:00)

Jurin Official Page: https://www.keioplaza.com/restaurants/coffee.html

Deliciously Luxurious Matcha Shaved Ice to be Served in Shinjuku This Summer

This summer, Southern Tower Dining and Lounge South Court—both of which are located inside Odakyu Hotel Century Southern Tower—are serving up a fluffy matcha shaved ice dessert called Wa -Nagomi- from June 1 to September 30.

Southern Tower's Famous Fluffy Light Snowfall Wa -Nagomi- Shaved Ice | Eat In ¥1,470, Takeout ¥700

The matcha-flavoured shaved ice has a texture as light and fluffy as snow. As you spoon through the dessert your taste buds are met with a range of delicious tastes and textures like the Japanese rice flour confection known as gyuhi, winter melon syrup, black soybean flour ice cream, and cream.

The dessert can also be ordered for takeout. The black soy bean flour ice cream adds a crunchy cereal-like texture to the soft shaved ice, and with the takeout option, there's also chocolate-coated wheat bran and brown sugar syrup.

Information

Wa -Nagomi-

Japanese Name: 和 -なごみ-

Serving: June 1, 2021 – September 30, 2021

Where: Southern Tower Dining / Lounge South Court (Odakyu Hotel Century Southern Tower Floor 20F)

Address: 2-2-1 Yoyogi, Shibuya, Tokyo

Opening Hours:

[Southern Tower Dining] 11:30-16:00 (Last Orders 15:00) / 17:30-22:00 (Last Orders 21:00)

[Lounge South Court] 10:00-23:30 (Last Orders 22:30)

Southern Dining Official Website: https://www.southerntower.co.jp/restaurant_lounge/st_dining/bar_lunch/

Disney Princesses Help You to Answer the Question 'What is Love?' at This Tokyo Event

As part of Disney's Ultimate Princess Celebration, a worldwide festival themed on courage and kindness that began in April, an event titled "What is Love? ~The Secret to Shining Bright Lies in the Princess World~" will take place at Shibuya Marui in Tokyo from June 23 to July 29 this year. It will subsequently move to JR Nagoya Takashimaya from August 4 to 23 and finally conclude next year in Shizuoka where it will run from January to March.

This event tries to answer the question "What is Love?" through a range of content that encourages the use of all five senses: visually, digitally, musically, through scent, and more.

 

What is Love? ~The Secret to Shining Bright Lies in the Princess World~

Visitors are guided by 12 Disney princesses who will take them on a journey of their 'love' in six different areas.

 

A Look at the Event

1. Introduction: 12 Shining Princesses

At the event, you will meet the 12 princesses and learn their story, what their personality is like, and more.

2. Opening Theater: Discover the Secrets to Shining Bright

Attend the theatre and watch the stories of the princesses with your own eyes.

3. 7 Keywords Unravelled From Their Stories

Seven keywords that appear in the princesses' stories will be explored, each of which are tied back to love. This will include exhibits of scenes from the Disney animated movies, an AR experience using smartphones, and more.

From Beauty and the Beast

Using their smartphones, visitors can hold up their phones and utilise AR technology to see various scenes from Beauty and the Beast in an area inspired by the library that Beast bestowed upon Belle.

From Tangled

In Tangled, the King and Queen release lots of sky lanterns on Rapunzel's birthday each year in hopes that she will see them and return. Let your own lanterns fly like in the movie and witness a beautiful spectacle.

4. Music and Fragrance: Clad in Radiance Unseen to the Eye

A unique experience combining music and fragrances inspired by the princesses, who radiate from love, will let visitors feel closer to them.

5. Glowing Lines: Words That Make the World Shine

At the Closing Theater, words and lines said by the princesses will be displayed, offering another way of enjoying their world that radiates from love.

6. Prologue: Your Own Unique Story Begins

Pick up a range of merchandise featuring designs of the exhibition's main visual, the seven key words, and more.

 

Services and Content Offered by Disney at the Exhibition

Disney+

Disney+ is a streaming service that brings together all Disney, Pixar, Marvel, Star Wars, and National Geographic content in one place, as well as exclusives. Those at the exhibition can watch the content offered by Disney+ at the Opening Theater.

 

Disney DX App

The Disney DX is an app exclusive to Japan that comes as a set with Disney+. It offers the chance to see cut scenes from movies, behind-the-scenes content, and more. The exhibition utilises this app through AR experiences, so if downloaded, you're sure to have an even more fun time.

A curated list of Disney Princess music is played at the exhibition. If you head to the shop, you can pick up movie soundtracks and other albums. Disney even created a playlist themed on the princesses that's now available on music streaming services.

Information

What is Love? ~The Secret to Shining Bright Lies in the Princess World~

Japanese Event Title: WHAT IS LOVE? ~輝くヒミツは、プリンセスの世界に。~

Running: June 23, 2021 – July 29, 2021

Where: Shibuya Marui (Floors 7F & 8F) *Reception is on floor 7F

Address: Shibuya Marui, 1-22-6 Jinnan, Shibuya-ku, Tokyo

Opening Hours: 11:00-20:00

Official Website: https://PrincessExhibition.jp

*Exhibition will subsequently move to JR Nagoya Takashimaya (August 4, 2021 – August 23, 2021) and Shizuoka (January 2022 – March 2022)w

Godzilla Energy Drink Releases in Japan to Promote Godzilla vs. Kong

In promotion of the Godzilla vs. Kong movie, Japanese soft drink manufacturing company Cheerio Corporation released a new energy drink called GODZILLA ENERGY on April 30.

The Godzilla franchise began in 1954 with the first movie release. Since then, it has gone on to receive 29 films, three animations, and three Hollywood adaptations. An anime series began airing last month, and Godzilla vs. Kong was released worldwide on March 31 (but is releasing in Japan on May 14).

GODZILLA ENERGY is imbued with the full force of Godzilla's energy so you too can stomp relentlessly on your way to victory. The 500ml can has today's standard 210mg caffeine and 630mg arginine今.

The can's design features a monstrous image of Godzilla with a neon logo and the drink itself is the same vibrant colour.

TM & © TOHO CO., LTD.

Information

GODZILLA ENERGY

Released: April 30, 2021

Where: Japan (Cheerio Online Shop / Cheerio Vending Machines in Japan / Stores in Japan)

Godzilla Official Website: https://godzilla.jp

Blue Lock Manga Series Announces Exhibition in Shibuya to Promote 14th Volume

In promotion of the 14th volume of Muneyuki Kaneshiro's manga series Blue Lock, an exhibition will take place at SpaceHACHIKAI inside Tower Records Shibuya in Tokyo from May 15 to June 6.

Buy merch and receive these items free

Character illustrated cards


Vinyl-style panels

This will be Blue Lock's first-ever exhibition since it began serialisation in 2018. It will feature displays of manga drafts, uncoloured illustrations, and more. There will also be a special spot for taking photos. A collection of exclusive merchandise will be available for fans to buy, as well as free bonus items when a purchase it made.

© 金城宗幸・ノ村優介/講談社

Tokyo's New Museum Cafe is a Haven For Fans of Architecture

Japanese company Banc, which specialises in setting up hotels and other sites, held the grand opening of the new Architecture Cafe Sumika, a new museum/cafe in Shinjuku, Tokyo, on April 28.

A peek inside

A recreation of Fallingwater, a house designed by the architect Frank Lloyd Wright 

Painting by chalk artist Misuzu Wakai

Architectural designs recreated at the new museum cafe

Villa Savoye (Le Corbusier)
Fallingwater (Frank Lloyd Wright)
Casa Ligornetto (Mario Botta)
Sky House (Kiyonori Kikutake)
Maison a Bordeaux (Rem Koolhaas)
Malin Residence "chemosphere" (John Lautner)
Eames House (Charles and Ray Eames)
Silver Hat (Toyo Ito)
Fisher House (Louis Kahn)
Mailam House (Paul Rudolph)
The Glass House (Lina Bo Bardi)
Steel House (Kengo Kuma)

A little look at the menu

<Miho Chef Chocolatier> Premium Gateau Chocolate: ¥1,200 / Raw Marble Chocolate: ¥1,000 / Raw Dami Chocolate ¥450

<Ten no Ya> Egg Sandwich: ¥750

Architecture Cafe Sumika aim sto be a cosy space for architecture lovers who can enjoy thinking about their ideal home, talking about their favourite architect, and thinking about how architecture changes with the times. The cafe has recreated 12 architectural marvels from 12 different renowned architects, each at which sits at a different table.

 

The cafe, which is located in Shinjuku Sanchome, employs a spacious cafe area with high ceilings that can be enjoyed by both lovers of architects and cafe enthusiasts where they can relax with a cup of tea, coffee, a soft drink, or even alcohol, the latter of which is served at bar hours from 18:00, completely changing the atmosphere into a night museum. There's also a tasty food menu to tuck into.

If you're looking to speak to someone about architecture and real estate, Architecture Cafe Sumika also houses its own resident experts. Customers can also enjoy a range of other works by architects and interior designers.

In celebration of the cafe's opening, a competition is being held to create a jungle gym for children where entrees can win cash prizes, the top being ¥300,000. More details below.

Information

Architecture Cafe Sumika

Address: 6th Sanwa Bldg Floor 4F, 3-6-7 Shinjuku, Shinjuku-ku, Tokyo
Opening Hours: Cafe 10:00-18:00 / Bar 18:00-04:00 (Last Orders 03:00)
No Fixed Holidays
TEL: 03-5315-0396
Official Website: https://sumika-shinjuku.com/

1st Architect Contest

Submission Period: June 20, 2021 – June 27, 2021
Winner Announcement: June 28, 2021
Winning Work Display Period: July 1, 2021 – August 30 2021

Submission Entry: Children's Jungle Gym

Size: Max 60cm x 60cm x 40cm

Colouring: Any

Cash Prizes: Winner ¥300,000 (1 Person) / Runner-Ups ¥100,000 (7 People)
Submissions: Must be made by June 19, 2021

How Winners Are Selected: Entrants will be posted on the cafe's official Instagram – the most popular from the votes will be selected

BEAMS JAPAN Shinjuku Launches Event to Promote Japan's Sento Bath Houses

The Sento no Susume 2021 event being held by BEAMS JAPAN and Cow Brand Soap has now headed to BEAMS JAPAN Shinjuku. As part of the event, Mizuno has held designed a 'running course' is collaboration with sento bath house owners who have listed their recommended spots for running.

From Left: Hiroshi Fukui (Managing Director at Cow Brand Soap), Aya Terakawa (Sports Caster), Mari Yamazaki (Manga Author), Ryozo Naganuma (Kotobukiyu's 3rd Generation Owner), Hikaru Ikeuchi (Chairman of Board of Directors)

BEAMS JAPAN Shinjuku Floor 1F – Sento no Susume 2021 Pop-Up

BEAMS JAPAN Shinjuku Floor 1F – Sento no Susume 2021 Pop-Up

BEAMS JAPAN Sento no Susume 2021 Virtual Venue

For many years, sento public bath houses have been big part of Japanese culture and are located up and down the country. They are places people go to unwind, relax, and destress. However, with times changing, they are because less part of people's lives, and the facilities themselves are seeing significant wear and tear as well as not having successors to take over the businesses. Sento no Susume aims to revitalise sento and raise their cultural value once again by showing how they can be enjoyed. The first event was held in January and February in 2019.

The event arrived at BEAMS JAPAN Shinjuku on April 26 and  invites manga artist Mari Yamazaki on board who has given the store a makeover with her iconic artwork themed on exercise and bathing. This event combines sento bath houses with sports, and so as well as discovering bath houses to visit, you can learn find out about great running courses at the Sento Run no Susume corner. There's also a virtual venue accessible on the official website that creates the store in 4K 3D so everyone around the world can get involved regardless of their location.

Information

Sento no Susume 2021
Srart Date: April 26, 2021

Special Areas

BEAMS JAPAN Shinjuku




Running: April 26, 2021 – May 31, 2021

MIZUNO OSAKA CHAYAMACHI




MIZUNO TOKYO

Sento no Susume 2021 Merchandise

Available at BEAMS in-store and online

Participating Branches: BEAMS JAPAN (Shinjuku)

Dates: April 26, 2021 – June 30, 2021

Future participating branches depending on Japan's state of emergency: BEAMS JAPAN SHIBUYA/BEAMS JAPAN KYOTO/BEAMS STREET UMEDA/HEP FIVE 



Event Details: https://www.beams.co.jp/special/teamjapan/sentou/
Virtual Venue: https://my.matterport.com/show/?m=pMV2FmHUg4M

BEAMS Official Website: https://www.beams.co.jp/