illion to Perform at Strawberry Music Festival '18 ― One of China's Biggest Music Festivals
It has been announced Yojiro Noda (RADWIMPS) is taking his solo project illion to Strawberry Music Festival '18, one of China's biggest outdoor music festivals.
The Strawberry Music Festival has been organised by major Chinese record label Modern Sky since 2009. This year, the outdoor music festival will be held in Beijing and Shanghai from April 29 to May 1.
More than 100 artists from inside and outside China will perform at the festival. illion will perform in Beijing on April 29 and Shanghai on May 1.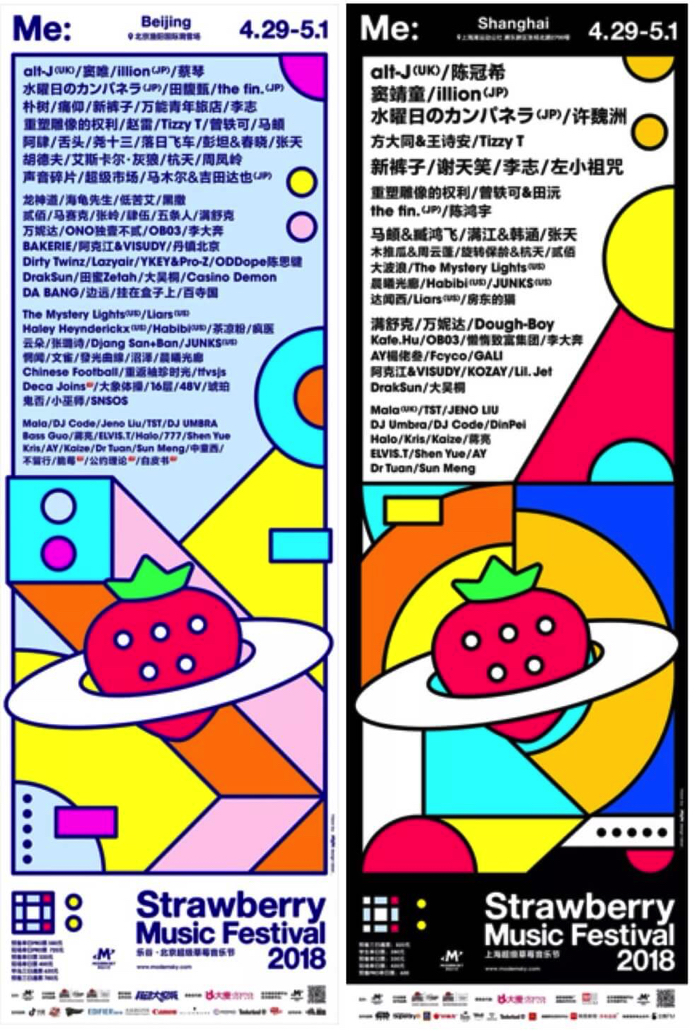 To date, Noda has performed overseas as illion in places like London and Hamburg. Now, he is finally rolling up to China!
A rare live set by Daito Manabe, a media artist also from Japan, will also take place. Don't miss out.
RELATED ENTRIES
RADWIMPS Release Trailer For ANTI ANTI GENERATION TOUR Documentary

A trailer was released on the official RADWIMPS YouTube channel for a documentary that is featured on the band's upcoming live DVD and Blu-ray release ANTI ANTI GENERATION TOUR 2019, which is set to hit shelves on March 18, 2020.

"Documentary of ANTI ANTI GENERATION TOUR" Trailer

The documentary follows RADWIMPS on their long tour from last year, which saw them play 20 shows in 11 cities across Japan. It includes rehearsal and backstage footage, as well as the band interacting with the artists that joined them across the 2019 tour.

The DVD and Blu-ray will feature 23 songs which includes the guest performance from Aimyon for Nakidashisodayo, a song by RADWIMPS which she features on. It also includes a documentary of the tour, as well as guest appearances from artists who joined the band on stage including Miyachi, Titan Zombies, Taka from ONE OK ROCK, and Toko Miura.

RADWIMPS are set to embark on an all-new tour starting this March. Titled "KONNICHIWA NIPPON TOUR 2020," it will take them to seven cities in Japan for 10 showsーincluding four dome venues.

For the latest information on the upcoming tour and the band's releases, check their official website below.

Information

"ANTI ANTI GENERATION TOUR 2019" LIVE Blu-ray & DVD

Release Date: March 18, 2020

Price: Blu-ray ¥6,800 (Before Tax) / DVD (2 Discs) ¥6,800 Before Tax)

Stock Numbers: Blu-ray UPXH-20091 / DVD UPBH-20262/3

RADWIMPS Official Website: http://radwimps.jp/

RADWIMPS Release 'ANTI ANTI GENERATION TOUR 2019' Live DVD & Blu-ray Trailer and Promotional Visual

RADWIMPS have revealed the DVD and Blu-ray cover for the release of their upcoming live DVD and Blu-ray ANTI ANTI GENERATION TOUR 2019, as well as a trailer on their YouTube channel which features footage from the feel-good tour which was held last year.

The DVD and Blu-ray will feature 23 songs which includes the guest performance from Aimyon for Nakidashisodayo, a song by RADWIMPS which she features on. It also includes a documentary of the tour, as well as guest appearances from artists who joined the band on stage including Miyachi, Titan Zombies, Taka from ONE OK ROCK, and Toko Miura.

RADWIMPS are set to embark on an all-new tour starting this March. Titled "KONNICHIWA NIPPON TOUR 2020," it will take them to seven cities in Japan for 10 showsーincluding four dome venues.

For the latest information on the upcoming tour and the band's releases, check their official website below.

Information

"ANTI ANTI GENERATION TOUR 2019" LIVE Blu-ray & DVD

Release Date: March 18, 2020

Price: Blu-ray ¥6,800 (Before Tax) / DVD (2 Discs) ¥6,800 Before Tax)

Stock Numbers: Blu-ray UPXH-20091 / DVD UPBH-20262/3

RADWIMPS Official Website: http://radwimps.jp/

RADWIMPS Release Live 'Banzai Sensho' Video From 'ANTI ANTI GENERATION TOUR' DVD & Blu-ray

RADWIMPS have released a live video of their performance of Banzai Sensho taken from their upcoming live DVD and Blu-ray ANTI ANTI GENERATION TOUR 2019 which is set to hit shelves on March 18, 2020.

"Banzai Sensho" from Live DVD & Blu-ray "ANTI ANTI GENERATION TOUR 2019"

In the video, we see the band and crowd of excited fans come together to sing this anthem.

The DVD and Blu-ray will feature 23 songs which includes the guest performance from Aimyon for Nakidashisodayo, a song by RADWIMPS which she features on. It also includes a documentary of the tour, as well as guest appearances from artists who joined the band on stage including Miyachi, Titan Zombies, Taka from ONE OK ROCK, and Toko Miura.

In the run up to the DVD/Blu-ray release, the concert will be screened for a limited time at cinemas in all 47 prefectures of Japan from January 23-26 this week. Details can be found on the band's official website, and is the perfect opportunity for fans who can't wait until the March release. Tickets went on sale for a limited time and the ticket window closed on January 5. However, if there are any remaining tickets for cinemas, they will go on sale at each cinema's website and at the cinema ticket desks from January 21 at 00:00 (JST).

RADWIMPS will embark on their "KONNICHIWA NIPPON" tour in March. They will perform 10 concerts in 7 cities including at Japan's four big domes. Information tickets and dates is available on the band's official website.

Information

"ANTI ANTI GENERATION TOUR 2019" LIVE Blu-ray & DVD

Release Date: March 18, 2020

Price: Blu-ray ¥6,800 (Before Tax) / DVD (2 Discs) ¥6,800 Before Tax)

Stock Numbers: Blu-ray UPXH-20091 / DVD UPBH-20262/3

Cinema Screenings

Title: RADWIMPS "ANTI ANTI GENERATION TOUR 2019 the Film"

Running: January 23, 2020 – January 26, 2020 (Showing times differ between cinemas)

Theatre List: Available on http://radwimps.jp

RADWIMPS Official Website: http://radwimps.jp/

RADWIMPS Announce KONNICHIWA NIPPON Tour 2020 and Launch Ticket Lottery

With their March 2020 tour on the horizon, RADWIMPS has revealed the tour's title as "KONNICHIWA NIPPON TOUR 2020". The ticket lottery, which is currently open to the general public, launched a few days ago and will close on January 12 at 23:59. This is an exciting time for fans as the tour will see ten performances in seven cities as well as the band's first ever major dome tour which includes four of the country's most famous domes.

RADWIMPS announced that they will release the DVD and Blu-ray of their ANTI ANTI GENERATION TOUR 2019 on March 18, 2020 which includes their August 29 2019 performance at Yokohama Arena. The DVD and Blu-ray will feature 23 songs which includes the guest performance from Aimyon for Nakidashisodayo, a song by RADWIMPS which she features on. It also includes a documentary of the tour, as well as guest appearances from artists who joined the band on stage including Miyachi, Titan Zombies, Taka from ONE OK ROCK, and Toko Miura.

In the run up to the release of the ANTI ANTI GENERATION TOUR 2019 LIVE Blu-ray & DVD, the concert will be screened for a limited time at cinemas in all 47 prefectures of Japan from January 23-26. Details can be found on the band's official website.

Fans just can't wait to get stuck into 2020. 

Information

こんにちは日本 ~KONNICHIWA NIPPON~ TOUR 2020

March 20: Kyocera Dome Osaka, Osaka

March 21: Kyocera Dome Osaka, Osaka

April 5: FUKUOKA PayPay Dome, Fukuoka

April 14: Hiroshima Green Arena, Hiroshima

April 15: Hiroshima Green Arena, Hiroshima

April 19: TOKI MESSE Niigata Convention Center, Niigata

May 2: Nagoya Dome, Aichi

May 9: Mori Transport Arena, Aomori

May 23: Tokyo Dome, Tokyo

May 24: Tokyo Dome, Tokyo

General Lottery Tickets

Selling: January 1 (12:00) – January 12 (23:59)

Purchase From: RADWIMPS TICKET https://radwimps-ticket.jp

"ANTI ANTI GENERATION TOUR 2019" LIVE Blu-ray & DVD

Release Date: March 18, 2020

Price: Blu-ray ¥6,800 (Before Tax) / DVD (2 Discs) ¥6,800 Before Tax)

Stock Numbers: Blu-ray UPXH-20091 / DVD UPBH-20262/3

Bonus Contents

The bonus contents include guest performances with RADWIMPS at the ANTI ANTI GENERATION TOUR 2019 and a documentary of the tour.

Cinema Screenings

Title: RADWIMPS "ANTI ANTI GENERATION TOUR 2019 the Film"

Running: January 23, 2020 – January 26, 2020 (Showing times differ between cinemas)

Theatre List: Available on http://radwimps.jp

Run Time: 165 minutes (Digital Cinema Package)

Tickets: All Reserved Seating – ¥3,000 (Tax Included) via Ticket Pia

*Up to 4 tickets per person

*Select cinemas will charge extra for those who wish to view Dolby Atmos®

*Coupons and invitation tickets are not valid for this viewing

*Additional charges may be added at cinemas for special seating

*Those ages 3+ years must hold a valid ticket (Those aged below 3 years that require a seat must also hold a ticket)

Purchasing Tickets

Available via Ticket Pia (in Japanese: チケットぴあ) from December 22, 2019 at noon (JST) until January 5, 2020 at 23:59 (JST). You will be entered into a lottery system where names will be drawn randomly to attend.

Purchase From: https://w.pia.jp/t/radwimps-thefilm/

*If there are spare seats available, tickets will be available to purchase online or directly at cinemas from January 21, 2020 at midnight. This date and time may differ for select cinemas.

RADWIMPS Official Website: http://radwimps.jp/

RADWIMPS to Release 'ANTI ANTI GENERATION TOUR 2019' Live DVD and Blu-ray

RADWIMPS have announced that they will release a DVD and Blu-ray on March 18, 2020 of their performance at Yokohama Arena which was held on August 29 this year. The concert was part of the band's tour "ANTI ANTI GENERATION" Tour which was held from June to August, covering 11 locations for 20 concerts including their first solo stadium show.

The DVD and Blu-ray will feature 23 songs which includes the guest performance from Aimyon for Nakidashisodayo, a song by RADWIMPS which she features on. It also includes a documentary of the tour, as well as guest appearances from artists who joined the band on stage including Miyachi, Titan Zombies, Taka from ONE OK ROCK, and Toko Miura.

In the run up to the DVD/Blu-ray release, the concert will be screened for a limited time at cinemas in all 47 prefectures of Japan from January 23-26 next year. Details can be found on the band's official website, and is the perfect opportunity fot fans who can't wait until the March release!

Information

"ANTI ANTI GENERATION TOUR 2019" LIVE Blu-ray & DVD

Release Date: March 18, 2020

Price: Blu-ray ¥6,800 (Before Tax) / DVD (2 Discs) ¥6,800 Before Tax)

Stock Numbers: Blu-ray UPXH-20091 / DVD UPBH-20262/3

Cinema Screenings

Title: RADWIMPS "ANTI ANTI GENERATION TOUR 2019 the Film"

Running: January 23, 2020 – January 26, 2020 (Showing times differ between cinemas)

Theatre List: Available on http://radwimps.jp

Run Time: 165 minutes (Digital Cinema Package)

Tickets: All Reserved Seating – ¥3,000 (Tax Included) via Ticket Pia

*Up to 4 tickets per person

*Select cinemas will charge extra for those who wish to view Dolby Atmos®

*Coupons and invitation tickets are not valid for this viewing

*Additional charges may be added at cinemas for special seating

*Those ages 3+ years must hold a valid ticket (Those aged below 3 years that require a seat must also hold a ticket)

Purchasing Tickets

Available via Ticket Pia (in Japanese: チケットぴあ) from December 22, 2019 at noon (JST) until January 5, 2020 at 23:59 (JST). You will be entered into a lottery system where names will be drawn randomly to attend.

Buy: https://w.pia.jp/t/radwimps-thefilm/

*If there are spare seats available, tickets will be available to purchase online or directly at cinemas from January 21, 2020 at midnight. This date and time may differ for select cinemas.

RADWIMPS Official Website: http://radwimps.jp/

RADWIMPS Release Weathering with You Main Theme 'Daijoubu' Music Video

RADWIMPS just dropped a music video for Daijoubu, one of the main themes from the hit animated film Weathering with You taken from the band's forthcoming album Weathering with You complete version which is set for release on November 27.

RADWIMPS – "Daijoubu" Music Video

The music video delicately weaves together the content of the song through the shots of the vast natural landscape and the workings of people.

Daijoubu is already drawing a great deal of attention after it was first performed on the NHK General TV documentary Weathering with You & Us: RADWIMPS x Makoto Shinkai which centres on the band's journey with Weathering with You and the film's director Makoto Shinkai. Shinkai describes Daijoubu as a song that exemplifies everything in the movie's last scene.

The song is also now available to download independently of the album. Pre-orders for the album are now open on iTunes.

For more details on the album, check the info below and visit RADWIMPS's official website.

Information

RADWIMPS – "Daijoubu" Digital Download

iTunes: https://smarturl.it/radwba_it

Recochoku: https://smarturl.it/radwba_reco

mora: https://smarturl.it/radwba_mora

e-onkyo: https://smarturl.it/radwba_eonkyo

Weathering with You complete version (Limited Pressing Edition Box)
Release Date: November 27, 2019
Price: ¥7,500 (Before Tax) [UPCH-29353]
Content: CD, DVD & Art Book
*CD includes all 5 main theme songs from the film, both full and edited versions, in Japanese and English. Does not include the songs from the Weathering with You soundtrack released on July 19, 2019.
*DVD includes Grand Escape feat. Toka Miura music video featuring clips from the film and the music video for Ai ni Dekiru Koto wa Mada Aru Kai.
*Art book includes photos of RADWIMPS and cuts from the film, bringing together the real world with the world of the film in a gorgeous mash-up. Two books in one. Size: 180mm x 202mm.

Weathering with You complete version (Regular Edition)
Release Date: November 27, 2019
Price: ¥1,800 (Before Tax) [UPCH-20540]
Content: CD only

Your Name. Soundtrack (First Press Limited Edition + Limited Pressing Edition) *Reprints
Release Date: November 27, 2019
Price: ¥6,400 (Before Tax) [UPCH-29352]
Content: CD, DVD & Book

Weathering with You Soundtrack (Limited Pressing Vinyl Edition)
Release Date: December 11, 2019
Price: ¥4,800 (Before Tax) [UPJH-20014/5]
Content: 2 vinyl records (33 RPM)
*Orders close on October 6, 2019
*Contains the same tracks featured on the Weathering with You soundtrack released on July 19, 2019.

RADWIMPS Official Website: http://radwimps.jp/

Weathering with You

Released: July 19, 2019

Writer/Director/Screenwriter: Makoto Shinkai

Music: RADWIMPS

Production: "Weathering with You" Production Committee / STORY inc.

Production Company: CoMix Wave Films

Distributor: Toho

Official Website: https://www.tenkinoko.com/

RADWIMPS Announce 2020 Japan Tour With 10 Shows

RADWIMPS have announced a new tour for 2020 that will take them to 7 cities around Japan for 10 concerts. The venues include four of Japan's biggest domes which will mark the band's first time playing them. Details on tickets are available on the band's official website.

RADWIMPS, who are responsible for the entire soundtrack for Makoto Shinkai's animated film Weathering with You, will release a new album entitled Weathering with You complete version on November 27, 2019. The album will include all 5 main themes, including both the full versions and versions edited down for the film. Limited Pressing Edition copies include an English version of Ai ni Dekiru Koto wa Mada Aru Kai. It will also feature the music video for Grand Escape feat. Toko Miura which the band performed live on YouTube in a special one-night-only stream that was watched by over 100,000 people.

The music video includes cuts from Weathering with You cut together specifically for the video.

©2019 "Weathering with You" Production Committee

Information

RADWIMPS LIVE TOUR 2020

2019/3/20 @ Kyocera Dome Osaka, Osaka

2019/3/21 @ Kyocera Dome Osaka, Osaka

2019/4/5 @ Fukuoka Yahuoku! Dome, Fukuoka

2019/4/14 @ Hiroshima Green Arena, Hiroshima

2019/4/15 @ Hiroshima Green Arena, Hiroshima

2019/4/19 @ TOKI MESSE: Niigata Convention Center, Niigata

2019/5/2 @ Nagoya Dome, Aichi

2019/5/9 @ Mori Transport Arena (Aomori Prefectural Ice Skating Rink), Aomori

2019/5/23 @ Tokyo Dome, Tokyo

2019/5/24 @ Tokyo Dome, Tokyo

Weathering with You complete version (Limited Pressing Edition Box)
Release Date: November 27, 2019
Price: ¥7,500 (Before Tax) [UPCH-29353]
Content: CD, DVD & Art Book
*CD includes all 5 main theme songs from the film, both full and edited versions, in Japanese and English. Does not include the songs from the Weathering with You soundtrack released on July 19, 2019.
*DVD includes Grand Escape feat. Toka Miura music video featuring clips from the film and the music video for Ai ni Dekiru Koto wa Mada Aru Kai.
*Art book includes photos of RADWIMPS and cuts from the film, bringing together the real world with the world of the film in a gorgeous mash-up. Two books in one. Size: 180mm x 202mm.

Weathering with You complete version (Regular Edition)
Release Date: November 27, 2019
Price: ¥1,800 (Before Tax) [UPCH-20540]
Content: CD only

RADWIMPS Official Website: http://radwimps.jp/

Documentary On Weathering with You Anime Film Soundtrack Composers RADWIMPS Announced

This year's blockbuster hit Weathering with You from internationally-acclaimed animator and film director Makoto Shinkai dropped back in July and has since amassed over 13.7 billion yen (approximately US$126 million) in the box office.

The film's soundtrack including the main themes were all composed by Japanese band RADWIMPS, and it's been announced that a special documentary centred on their journey with the movie will be released on NHK General TV on November 4, 2019. It is titled Weathering with You & Us: RADWIMPS x Makoto Shinkai.

The programme will include studio performances of four of the film's main themes, including some that have never been performed live before. Themes include Grand Escape and Shukusai both of which featured guest vocals from voice actress Toko Miura.

There will also be a live talk by RADWIMPS and Makoto Shinkai which features a guest audience of 100 students who are chasing their dreams. Other content includes never-before-seen storyboards, messages sent between the director and band during the recording of the soundtrack, and much in-depth insight into the recording process.

RADWIMPS, who are responsible for the film's entire soundtrack, will release a new album entitled Weathering with You complete version on November 27, 2019. The album will include all 5 main themes, including both the full versions and versions edited down for the film. Limited Pressing Edition copies include an English version of Ai ni Dekiru Koto wa Mada Aru Kai.

Information

"Weathering with You & Us: RADWIMPS x Makoto Shinkai" Documentary

Original Japanese Title:「天気の子」と僕ら~RADWIMPS×新海誠~

Broadcast Date: November 4, 2019

Broadcast Time: 23:00-23:40 (JST) *Subject to change

Channel: NHK General TV

Starring: RADWIMPS / Makoto Shinkai / Toko Miura / …and more

Weathering with You complete version (Limited Pressing Edition Box)
Release Date: November 27, 2019
Price: ¥7,500 (Before Tax) [UPCH-29353]
Content: CD, DVD & Art Book
*CD includes all 5 main theme songs from the film, both full and edited versions, in Japanese and English. Does not include the songs from the Weathering with You soundtrack released on July 19, 2019.
*DVD includes Grand Escape feat. Toka Miura music video featuring clips from the film and the music video for Ai ni Dekiru Koto wa Mada Aru Kai.
*Art book includes photos of RADWIMPS and cuts from the film, bringing together the real world with the world of the film in a gorgeous mash-up. Two books in one. Size: 180mm x 202mm.

Weathering with You complete version (Regular Edition)
Release Date: November 27, 2019
Price: ¥1,800 (Before Tax) [UPCH-20540]
Content: CD only

RADWIMPS Official Website: http://radwimps.jp/

'Rakuen' Film Main Theme 'Ichiru' by RADWIMPS' Yojiro Noda Feat. Mone Kamishiraishi Music Video Released

Rakuen ("The Promised Land") is an upcoming film written and directed by Takahisa Zeze, who is known for his masterful work on the suspense mystery drama films 64: Part I and 64: Part II. Set for release on October 18 this year, the film is an adaptation of best-selling Japanese author Shuichi Yoshida's short story of the same name. It will star Gō Ayano, Hana Sugisaki, Kōichi Satō, Akira Emoto, and Nijirō Murakami.

It was revealed last month that film's main theme Ichiru ("Thread of Hope") was written, composed and produced by RADWIMPS frontman Yojiro Noda. He is joined by popular singer and actress Mone Kamishiraishi on vocals. Kamishiraishi provided the voice for Mitsuha Miyamizu in the 2016 hit anime film Your Name which RADWIMPS wrote the music for.

A music video for the song has just been released. It has also been revealed that the song will be released as a digital single on October 14, 2019.

The music video was directed by Takahisa Zeze and Atsushi Unno, the director and assistant director for Rakuen respectively. It was shot in July, with most of the filming taking place in Nagano where the story is set. Zeze expressed his wish for Kamishiraishi to feature in the background of the film itself in the music video. The video features iconic locations from the film, including the Y-shaped road―quiet possibly the most symbolic. The video features not only actual scenes from the film, but newly-shot scenes too made just for the music video.

Speaking about the music video, Mone Kamishiraishi comments: "I was given the opportunity be part of the making of this music video with the Raken film team gathered together, including Zeze, the director. I am honoured to have been able to visit such iconic scenes from the film. It was a really memorable moment, and an experience I will keep for me with live."

She continues: "I listened to Ichiru a bunch of times while we shot the music video, but that feeling I had when I first heard it and my heart shook, and how moved I was when I first let my voice out to sing it, have gone unchanged. Yojiro [Noda] said, 'I hope this song becomes a ray of light at the end of the film.' I have always been able to feel that, from the lyrics to the power it holds and the music that pulls on your heartstrings."

She concludes her statement saying: "I believe this is a song that purifies the heart, like a cold breeze, even if you're going through hard or unfair times. So listen to it on repeat and take that message from it. And I hope you enjoy watching the music video. We shot it with much love."

In Rakuen, a little girl is kidnapped along a Y-shaped road but the perpetrator isn't caught. 12 years later, another girl is kidnapped along the same road. A man living close to the area of kidnappings lives together peacefully with his pet dog who is a coping mechanism to help forget his wife who passed away. He is pushed into deeper isolation after coming into disagreements with the locals in the area which causes him to lose his mind, leading to an incident nobody could have imagined. The truth to everything lies behind the two kidnappings and three peoples' fates.

©2019 "Rakuen" Production Committee

Information

'Ichiru' – Mone Kamishiraishi

Release Date: October 14, 2019 (Digital Release)

Lyrics/Composition/Production: Yojiro Noda (RADWIMPS)

Feature: The main theme for the film Rakuen

Mone Kamishiraishi Official Website: https://kamishiraishimone.com/

Mone Kamishiraishi Universal Music Page: https://www.universal-music.co.jp/kamishiraishi-mone/

RADWIMPS Official Website: https://radwimps.jp/

Rakuen (The Promised Land)

Release Date: October 18, 2019

Based On: Shuichi Yoshida's short story Rakuen

Director/Screenwriter: Takahisa Zeze

Publisher: KADOKAWA

Main Theme: Ichiru by Mone Kamishiraishi. Lyrics, composing and production by Yojiro Noda.

Official Website: rakuen-movie.jp

Music Video Released For Weathering with You Main Theme 'Shukusai' by RADWIMPS Featuring Toko Miura

The new blockbuster hit from internationally-acclaimed animator and film director Makoto Shinkai Weathering with You dropped back in July and has since amassed over 10 billion yen (approximately US$101 million) in the box office.

A music video for the movie edit of the film's main Shukusai by RADWIMPS featuring Toko Miura has just been released on the band's official YouTube page. The gorgeous video is inspired by the film's story, with the change in sunny weather simultaneously uplifting peoples' feelings.

The video features a lone Toko Miura in a cave with the sunlight shining down. The life that exists down in the cave begins to bloom at the sound and echo of Miura's bright and clear voice.

RADWIMPS, who are responsible for the film's entire soundtrack, have announced that they will release a new album entitled Weathering with You complete version on November 27, 2019. The album will include all 5 main themes, including both the full versions and versions edited down for the film.

It has also been announced that the first press limited edition of the Your Name soundtrack, which sold out instantly back in 2016, will receive reprints on November 27.

The Weathering with You soundtrack will also be released on vinyl on December 11.

©️2019 "Weathering with You" Production Committee

Information

Weathering with You complete version (Limited Pressing Edition Box)

Release Date: November 27, 2019

Price: ¥7,500 (Before Tax) [

UPCH-29353]

Content: CD, DVD & Art Book

*CD includes all 5 main theme songs from the film, both full and edited versions, in Japanese and English. Does not include the songs from the Weathering with You soundtrack released on July 19, 2019.

*DVD includes 

Grand Escape feat. Toka Miura

 music video featuring clips from the film and the music video for Ai ni Dekiru Koto wa Mada Aru Kai.

*Art book includes photos of RADWIMPS and cuts from the film, bringing together the real world with the world of the film in a gorgeous mash-up. Two books in one. Size: 180mm x 202mm.

Weathering with You complete version (Regular Edition)

Release Date: November 27, 2019

Price: ¥1,800 (Before Tax) [

UPCH-20540]

Content: CD only

Your Name. Soundtrack (First Press Limited Edition + Limited Pressing Edition) *Reprints

Release Date: November 27, 2019

Price: ¥6,400 (Before Tax) [

UPCH-29352]

Weathering with You Soundtrack (Limited Pressing Vinyl Edition)

Release Date: December 11, 2019

Price: ¥4,800 (Before Tax) [UPJH-20014/5]

Content: 2 vinyl records (33 RPM)

*Orders close on October 6, 2019

*Contains the same tracks featured on the Weathering with You soundtrack released on July 19, 2019.

Weathering with You

Release Date: July 19, 2019

Writer/Director/Screenwriter: Makoto Shinkai

Music: RADWIMPS

Production: "Weathering with You" Production Committee / STORY inc.

Production Company: CoMix Wave Films

Distributor: Toho

Official Website: https://www.tenkinoko.com/

Weathering with You Anime Film Limited Edition Soundtrack by RADWIMPS Announced

The latest blockbuster hit from legendary animator and film director Makoto Shinkai Weathering with You dropped back in July and has since amassed over 10 billion yen (approximately US$101 million) in the box office. Japanese rock band RADWIMPS, who are responsible for the film's entire soundtrack, have announced that they will release a new album entitled Weathering with You complete version on November 27, 2019.

The album will include all 5 main themes, including both the full versions and versions edited down for the film. This includes Grand Escape which features Japanese singer and actress Toka Miura which she performed together with RADWIMPS for the first time recently to close the band's show at Yokohama Arena.

The album is set to be released in several versions, including a limited pressing edition which comes in a gorgeous box. This special edition not only features all of the aforementioned tracks, but English versions of the five main themes too, as well as a music video for Grand Escape feat. Toka Miura featuring clips from the film, an art book, and more.

It has also been announced that the first press limited edition of the Your Name soundtrack, which sold out instantly back in 2016, will receive reprints on November 27.

The Weathering with You soundtrack will also be released on vinyl on December 11.

Information

Weathering with You complete version [Limited Pressing Edition Box]

Release Date: November 27, 2019

Price: ¥7,500 (Before Tax) [

UPCH-29353]

Content: CD, DVD & Art Book

*CD includes all 5 main theme songs from the film, both full and edited versions, in Japanese and English. Does not include the songs from the Weathering with You soundtrack released on July 19, 2019.

*DVD includes 

Grand Escape feat. Toka Miura

 music video featuring clips from the film and the music video for Ai ni Dekiru Koto wa Mada Aru Kai.

*Art book includes photos of RADWIMPS and cuts from the film, bringing together the real world with the world of the film in a gorgeous mash-up. Two books in one. Size: 180mm x 202mm.

Weathering with You complete version [Regular Edition]

Release Date: November 27, 2019

Price: ¥1,800 (Before Tax) [

UPCH-20540]

Content: CD only

Your Name. Soundtrack [First Press Limited Edition + Limited Pressing Edition] *Reprints

Release Date: November 27, 2019

Price: ¥6,400 (Before Tax) [

UPCH-29352]

Weathering with You Soundtrack [Limited Pressing Vinyl Edition]

Release Date: December 11, 2019

Price: ¥4,800 (Before Tax) [UPJH-20014/5]

Content: 2 vinyl records (33 RPM)

*Orders close on October 6, 2019

*Contains the same tracks featured on the Weathering with You soundtrack released on July 19, 2019.

RADWIMPS Release Weathering with You Album And Music Video For Ai ni Dekiru Koto wa Mada Aru Kai

Following the successful film Your Name, Makoto Shinkai has produced yet another masterpiece called Weathering with You (Tenki no Ko), collaborating yet again with RADWIMPS. RADWIMPS' released their brand new album called Weathering with You (Tenki no Ko) on July 19. Until now, their song Ai ni Dekiru Koto wa Mada Aru Kai has made quite a few brief appearances in the promotion in the movie including in the movie trailers and has stirred quite a sensation. 

Today, along with the release of the album, the official music video went public. Each scene of the video has been depicted beautifully. As the weather changes, each scene shifts perfectly in response, portraying the beautiful world of the film flawlessly. The music is filled with the strong and intense yet gentle and kind vibes of RADWIMPS that you absolutely cannot miss. 

The new album includes a total of 31 songs, consisting of the five main theme songs and the 26 songs that are used as background music in the film. Please check out their emotion-filled album and then see the movie for yourself to see just how RADWIMPS have added colour and emotion to scenes of the film. All songs from the album have been released by major streaming services such as iTunes and Rekchok, so please check it out. 

There is also a special bonus scheme running to treat those who purchase the new album from a shop. The bonus involves the free giveaway of a CD-sized card with a special design that represents the five main songs from the album. The pattern on the card varies from shop to shop, so please find out more information about this scheme by visiting their official website if you are interested. 

©2019 Weathering with You Production Committee