Tokyo Disney Resort® 35th Anniversary "Happiest Celebration" Event Begins
The opening ceremony for Tokyo Disney Resort's® Happiest Celebration event ― the largest festival in the park's history ― was held on April 15. The event is being held to celebrate the park's 35th anniversary.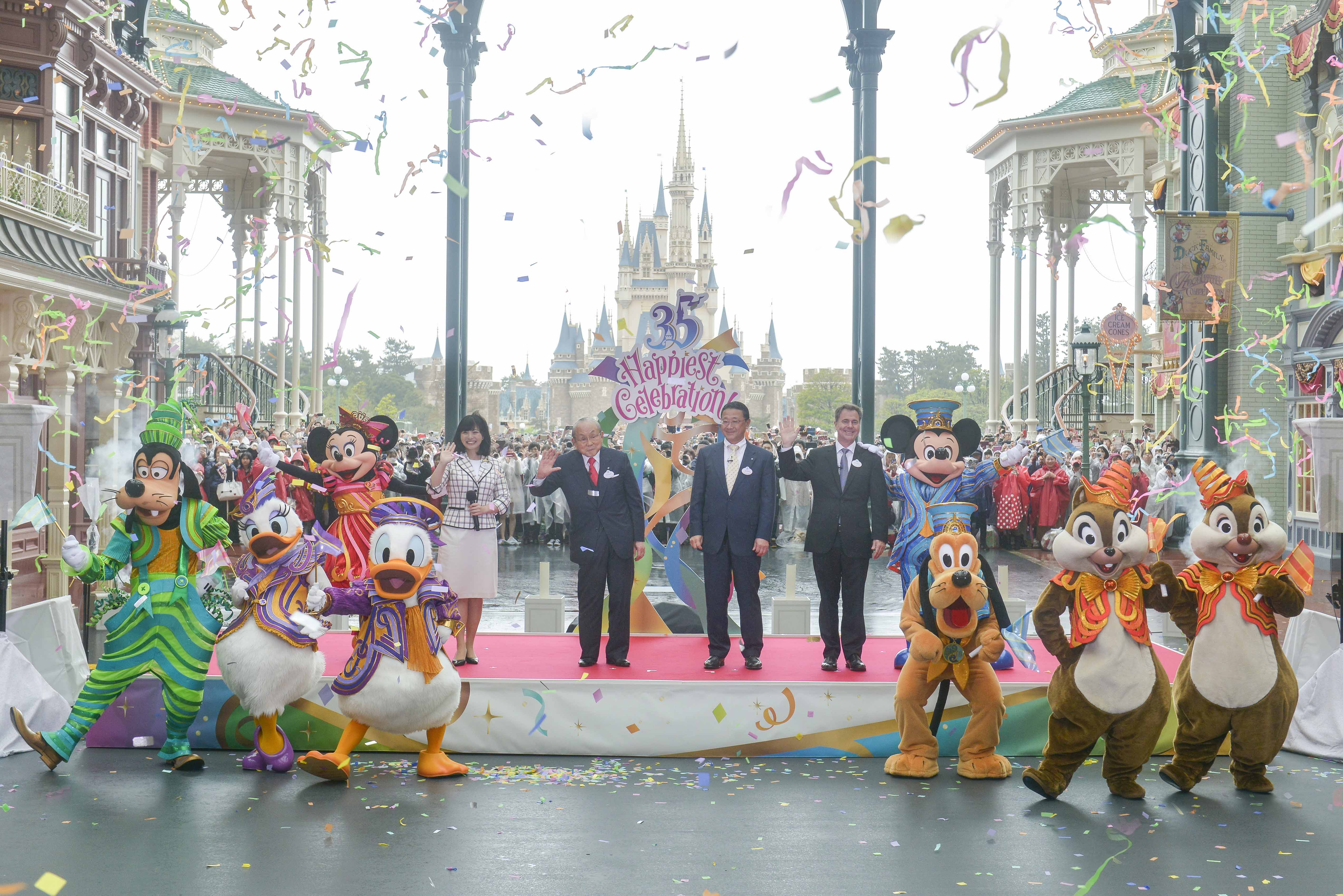 The ceremony began at 8:40am where the Tokyo Disney Resort Ambassador Nozomi Fukumoto stepped onto stage at World Bazaar's Celebration Street. Guests who had arrived early for the first day of the anniversary were invited to join in and have fun. Mickey Mouse, Minnie Mouse, Donald Duck, Daisy Duck, Pluto, Goofy, Chip and Dale came running in at the announcement enveloped in colourful confetti.
Joyous guests waved their hands at the Disney characters and called to them with smiles on their faces. Flags were collectively waved at the end of the opening ceremony, signalling the start of Tokyo Disney Resort's 35th anniversary celebration as everyone basked in the happiest atmosphere.
Happiest Celebration is running all the way until March 25, 2019. If you're in Tokyo, then why not join in this important and exciting occasion and celebrate with the Disney cast?
RELATED ENTRIES
Vintage Toy Story Clothing Collection to Drop by Ground Y x Pixar

Yohji Yamamoto's clothing brand Ground Y is teaming up with Disney·Pixar to release a vintage collection inspired by the Toy Story animated film series. It will be released in Japan at Ground Y stores and online at THE SHOP YOHJI YAMAMOTO on January 27, 2021.

Vintage Art Collection_1


Vintage Art Collection_2

The line-up brings together Yohji Yamamoto's iconic monotone colours with Toy Story artwork. It features carefully-selected pieces to capture the beauty of unfinished art, with familiar faces such as Woody, Buzz, Zurg, the Little Green Men, and more, against contrasting black and white hues.

Vintage Art Collection_3


Vintage Art Collection_4

Vintage Art Collection_5


Vintage Art Collection_6

The unisex collection includes a reversible hooded coat made from gabardine, a puffy sleeved sweater woven with high quality silk, hoodies, cut-and-sewns, tote bags, and more.


Vintage Art Collection_7


Vintage Art Collection_13

Modelling the looks are actress Moka Kamishiraishi and actor Eiji Akaso.


A unique and stylish springtime selection by Ground Y and Toy Story.

Japanese food, condiment, and ingredient delivery service Oisix is teaming up with Disney's hit animated feature film Frozen to release a new meal kit as part of their Kit Oisix series. The dish is called "Frozen – World of Ice Snow Stew" and it will hit the company's website for a limited time on January 28.

Frozen – World of Ice Snow Stew | ¥2,149 (Tax Included)

Toothpick for Anna salad

Olaf rice

Recipe instructions

Recipe book and packaging

Lunch mat and toothpicks

In November 2020, Walt Disney Japan signed a contract to start the "Table for Tomorrow" project which looks to serve healthy meals to children. This is the second product in the project line.

The meal kit comes with a recipe book so children can easily follow along with making their Frozen inspired snow stew. It takes just 20 minutes to make and can be served on the Elsa lunch mat that comes with the kit.

Information

Kit Oisix – Frozen – World of Ice Snow Stew

Japanese Name:「アナと雪の女王」氷の世界のスノーシチュー
Running: January 28, 2021 – February 11, 2021
Price: ¥2,149 (Tax Included)

Serves: 2
Official Website: www.oisix.com

Disney Store x South Korean Cosmetic Brand peripera Collaborate on Limited-Edition Packaging

South Korean cosmetic brand peripera and Disney Store Japan are teaming up to feature Minnie Mouse and Daisy Duck on the packaging products of peripera's best selling items. The products are now available to buy via shopDisney and at Disney Store branches in Japan.


peripera is perhaps best known for its lip tint which was released in 2015. It was so successful it was dubbed the 'national tint,' and Japan even enjoyed its own exclusive limited-edition collection.


Eight of peripera's products will feature in part of the collaborative line-up, with Minnie Mouse and Daisy Duck decorating their best selling Ink Velvet tint, glittery Sugar Twinkle Liquid Shadow, Ink Color Cara mascara, and more.

As well as the packaging designs, peripera and Disney Store have come together to create some Disney Store-original items which you can see below, all perfect as gifts to yourself or someone special.

©Disney

Tokyo Banana x Disney Sweets Shop to Open in Kobe Hankyu This Holiday Season

Disney SWEETS COLLECTION by Tokyo Banana is a sweets shop by Tokyo Banana in collaboration with Disney. A pop-up version will open in Kobe Hankyu from December 16 to 22 with a selection of sweets including two special treats releasing to commemorate the 80th anniversary of the Disney film Fantasia.

Fantasia 80th Anniversary Sweets

Disney Fantasia/Tokyo Banana

Disney Fantasia/Tokyo Banana (8 Included) | ¥1,300 (Tax Included)

The packaging features Mickey Mouse's iconic look as the Sorcerer's Apprentice.


The chocolate sponge cakes are filled with chocolate banana custard cream and are decorated with a moon, stars, and Mickey's head.


All boxes of these sweets come with a set of two random postcards too.

Disney Fantasia/Chocolate Sandwich


Disney Fantasia/Chocolate Sandwich (28 Included) | ¥3,024 (Tax Included)

This beautiful box of chocolate biscuit sandwiches will be limited to 80 tins per day.

The light and crunchy cookies are banana milkshake and chocolate flavoured and feature memorable scenes and references to the Sorcerer's Apprentice part of Fantasia.

The pop-up shop will be selling a variety of other collaborative treats too as part of the Disney SWEETS COLLECTION by Tokyo Banana.

Disney Japan to Release New Year's Themed Merchandise This Holiday Season

Walt Disney Japan has announced the release of a new collection of merchandise to celebrate the New Year which will hit Disney Japan stores on December 1, 2020. Pre-sales items will also open at select stores and on ShopDisney on November 27.

The line-up includes a selection of traditional Japanese New Year decorations and more, all with Disney motifs, like daruma dolls, kadomatsu pine decorations, and more.

<Daruma Plush Toy Sets> Mickey Mouse & Minnie Mouse or Chip & Dale – ¥2,750 Each | <Mascot Figure> Donald Duck – ¥2,750 | Shimekazari – ¥2,860 | Kadomatsu – ¥1,980 (All Before Tax)

Welcome the year with good fortune with the red and white Mickey and Minnie or Chip & Dale daruma dolls. They are sure to brighten up any house entrance or room.


Winnie the Pooh Plush (Large) ¥3,300 | Roo or Piglet – ¥1,760 | Eeyore – ¥1,980 (All Before Tax)

The faces of the Hundred Acre Wood arrive dressed in cute cow outfits to represent the Year of the Ox in 2021. Each of them is holding a bottle of milk.


Tsum Tsum Plush Toys  – ¥990 Each (Before Tax)

Disney Japan is also releasing a collection of Tsum Tsum plush toys, each of which is also dressed in cow clothing.


nuiMOs Kimono Plush Toy Set – ¥2,530 Each | Year of the Ox Costumes – ¥1,980 Each | UniBEARsity Plush Toy Costume – ¥3,630 (Before Tax)

nuiMOs and UniBEARsity have created their own New Year's plush toy outfits too in celebration of the Ox.

©Disney
©Disney. Based on the "Winnie the Pooh" works by A.A. Milne and E.H. Shepard.

Information

Release Date: December 1, 2020

Pre-sales: November 27, 2020 at Disney Store Sendai Toei Plaza, Disney Store Shibuya Koen-dori, Disney Store Kyoto Shijo Kawaramachi, Disney Store Shinsaibashi
ShopDisney Official Website: https://shopdisney.disney.co.jp/

Mickey & Friends Disney Christmas Cupcakes to be Released at Ginza Cozy Corner

Japanese confectionery company Ginza Cozy Corner is teaming up with Disney once again to release a new Christmas collection of cupcakes on December 1.

Colourful Disney treats for the holiday season

This sweet seasonal collection is inspired by Mickey & Friends and contains nine unique cupcakes which depict the characters getting ready for their Christmas party.

Disney Christmas Collection (Contains 9) | ¥2,500 (Before Tax)

Cupcakes include a Santa-hat wearing, chocolate ganache-filled Mickey cream cheese cake, a strawberry jam-filled Minnie mousse cake, a lemon and mint cream-packed, Christmas decoration-adorned Donald tart, a banana and mint cream Pluto tart, an orange cream Goofy chocolate cake, and more.

The cakes are packed in a special Disney Christmas box which is sure to catch the attention of sweet tooths this holiday season, perfect for stay-at-home Christmas parties.

Information

Disney Christmas Collection
Running: December 1, 2020 – December 25, 2020

Ginza Cozy Corner Official Website: https://www.cozycorner.co.jp/

Toy Story's Little Green Men and Lots-o' Get Turned Into Confections at Japanese Convenience Stores

Bandai's character-inspired Japanese confectionery series Tabemas has revealed that its next batch of sweet treats will be inspired by the Little Green Men and Lots-o'-Huggin' Bear from the popular Pixar movie franchise Toy Story. The confections will hit 7-Eleven convenience stores in Japan on November 21, 2020.


Tabemas Toy Story | ¥258 Each (Before Tax)

The lovable Little Green Men and Toy Story 3's main antagonist Lots-o have been fully recreated, down to the finest details, into delicious confections. The details are well crafted you can almost hear the aliens chanting "OOOOOH" in unison! The sweets are also made with a dough called "nerikiri" which is used in making traditional Japanese wagashi sweets.

The Little Green Men are matcha flavoured while Lots-o is strawberry flavoured. Both contain Japanese bean paste, and neither use artificial colourings. Their colours comes from the original ingredients. Each sweet is also only 100kcal making is a perfect quick treat.

'Tabemas' is an abbreviation of the Japanese words taberareru masukotto, meaning 'mascots that you can eat.' It is a Japanese confectionery series that combines well-known characters and Japanese sweets made from ingredients like red bean paste, sugar and rice flour.

©Disney/Pixar

Information

Tabemas Toy Story 25th Anniversary – Little Green Man & Lots-o'-Huggin' Bear
Release Date: November 21, 2020
Available: At the chilled sweets section of 7-Eleven convenience stores in Japan

*Available while supplies last

*Stock date may differ from branch to branch

*Select stores not participating

Official Website: https://www.bandai.co.jp/candy/tabemas/toystory/  

Japan's Pixar Bullet Train Project 'GO! WAKU WAKU ADVENTURE with Pixar' Announces New Merchandise

The "GO! WAKU WAKU ADVENTURE with Pixar" project has announced its second batch of original merchandise. Let's take a look at a sample of the line-up.

About GO! WAKU WAKU ADVENTURE with PIXAR

JR Kyushu signed a promotional license agreement with Walt Disney Japan to launch the "GO! WAKU WAKU ADVENTURE with PIXAR" project, which began on September 12, 2020, and sees select shinkansen bullet trains decorated in characters from Pixar's animated filmography.

Original Merchandise – Batch ②

Pixar Torimon | ¥1,512 (Tax Included)

The Hakata Tormin is a popular souvenir confection in Fukuoka Prefecture. This collection features exclusive Pixar packaging.

Pixar Stainless Steel Bottle | ¥3,190 (Tax Included)


Pixar Mobile Battery | ¥4,180 (Tax Included) *Available online only

Two items which are must-haves when travelling are a drink bottle and a mobile battery. The Pixar stainless steel bottle holds 130ml and is perfect for keeping hot drinks during the autumn and winter season.

minimaginationTOWN Toy Story Woody Set | ¥2,480 (Tax Included)


minimaginationTOWN Toy Story Ducky & Bunny Set | ¥3,278 (Tax Included)

Cute Pixar plush toys riding the Pixar bullet train. There's also Buzz and Little Green Men designs!

Pixar Arita Ware Plate (Up design) | ¥3,080 (Tax Included) *Available online only

Little Green Men Hand Towel | ¥2,816 (Tax Included) *Available online only

Two traditional Japanese items with an Arita ware plate inspired by Up as well as hand towels which are available in navy and brown.

Original Merchandise – Batch ②

Release Date: November 13, 2020
Available: Kokura Souvenir Shop, Hakata Souvenir Shop at Hakata Station's Hakata Entrance, Hakata Souvenir Shop Dates, Hakata Souvenir Shop at Hakata Station's Shinkansen area, Oita Souvenir Shop, Kumamoto Souvenir Shop, Nagasaki Souvenir Shop, Kagoshima Souvenir Shop, Miyazaki Souvenir Shop, and elsewhere
Online Shop: https://jrk-kyushutabi.shop/html/page2.html
*Limited in stock so available while supplies last

Instagram campaign to win more original merch

©Disney/Pixar


Prize: Embroidered Pouch With Pin

The WAKU WAKU ADVENTURE Instagram Campaign will run from November 16, 2020 to January 16, 2021 for a chance for 20 people to enter to win an embroidered pouch with a pin. All they need to do is follow the official Instagram page @wakuwakuadventure and post a photo related to the project with the Japanese hashtag #わくわくアドベンチャーキャンペーン.

©Disney/Pixar

Toy Story's Lotso Gets Special Disney Bag and Blanket Collection by Maison de FLEUR

Japanese brand Maison de FLEUR launched a new collection of merchandise on Saturday (October 31) themed on Lots-o'-Huggin' Bear from Toy Story 3 as part of their Disney Collection.

 

LOTSO Frilly Handle Tote Bag | ¥4,590 (Before Tax)

LOTSO Round Pouch | ¥3,990 (Before Tax)

LOTSO Blanket | ¥4,990 (Before Tax)

The line-up includes a fluffy tote bag, pouch, and blanket each of which bears Lotso's cute face. The items are made from boa fabric which is so soft you'll just want to hug your Lotso. Perfect for the autumn and winter season.

LOTSO Square Tote Bag | ¥4,290 (Before Tax)

There's also a square canvas tote bag which can is suitable for any season. Lotso's embroidered face is looking very cheeky. The insides of all the bags and the pouch also have prints of the characters from Toy Story so you can take them with you wherever you go.

This collection is a must-have for fans of Lotso and Toy Story.

Disney's Fantasia Gets Sweets Collection by Tokyo Banana

GRAPESTONE is releasing a new sweets collection at Disney SWEETS COLLECTION by Tokyo Banana, which is located in Tokyo Station, in collaboration with the Disney classic Fantasia. The confections will be released in limited quantities from October 30, 2020.

© Disney Disney SWEETS COLLECTION by Tokyo Banana JR Tokyo Station

Disney SWEETS COLLECTION by Tokyo Banana opened on the JR Line side of Tokyo Station in November of last year. The shop is a joint-collaboration with Tokyo Banana—the official souvenir sweet of Tokyo—and Disney. The shop sold over 100,000 products in the first week of its opening, and caught the attention of Disney fans on social media who described the shop and the packaging of their sweets as cute.

Disney Fantasia Chocolate Sandwich (Contains 28) | ¥3,024 (Tax Included)

The cute packaging features Mickey Mouse as The Sorcerer's Apprentice in the 1940 animated film Fantasia. The light and crunchy cat tongue cookies at filled with chocolate banana milk shake flavoured cream

The confections serve as the perfect gift or souvenir from Japan to yourself or any fan of Disney.

© Disney

Information

Disney Fantasia Chocolate Sandwich
Running: October 30, 2020 – Mid December 2020

Available: Disney SWEETS COLLECTION by Tokyo Banana JR Tokyo Station

Purchasing: 70 available per day, max 2 per person
Official Website: https://www.tokyobanana.jp/disney/index.html

Disney: Twisted-Wonderland Mobile Game Gets Themed Cafes in Tokyo, Osaka and Nagoya

LEGS, INC. has announced that it will open three cafes themed on the mobile game Disney: Twisted-Wonderland at OH MY CAFE branches in Tokyo and Osaka on November 20 and in Nagoya on November 27.

Disney: Twisted-Wonderland is a Japanese mobile game that was released on March 18, 2020. The concept, character designs, and scenario for the adventure rhythm game were conceived by Yana Toboso, the creator of the popular Black Butler manga series. The game is centred on the villains of Disney.

The cafe's theme places customers in the food hall of Night Raven College, the magic training school where the game is set. It will be adorned in decorations inspired by the game's food hall, and coupled with that, the cafe will serve up food and drink that actually appear in the game. There's also exclusive merchandise for players to get their hands on.

The Menu

There are four different lunches to pick from, all of which are low in salt content and so are a healthy option for wizards and witches flying into the cafe.

Food

<Lunch Option A>


Deluxe Menchi Katsu Sandwich | ¥1,990, with plate ¥4,290 (Before Tax)

The most popular item on the food hall's menu is the non-fried menchi-katsu meat cutlet sandwich.

<Lunch Option B>


Salmon Cream Stew | ¥1,990, with plate ¥4,290 (Before Tax)

A cream stew packed with salmon and vegetables and served with slices of baguette for dipping.

<Lunch Option C>


Tomato Base Squid Ink Pasta | | ¥1,990, with plate ¥4,290 (Before Tax)

A colourful tomato-based veggie pasta in squid ink and served with fruity yoghurt.

<Lunch Option D>


Four Mushroom Risotto | ¥1,990, with plate ¥4,290 (Before Tax)

A creamy, mild-flavoured risotto served with four different kinds of mushrooms.

Drinks


Character Drinks (7 Flavours) – Heartslabyul, Savanaclaw, Octavinelle, Scarabia, Pomefiore, Ignihyde, Diasomnia | ¥890 with coaster ¥1,790 (Before Tax)

A selection of colourful tinted waters inspired by seven different characters seen in the game.

Merchandise


Superdeformed Series Art Example


Pattern Series Art Example

Magic-wielding players can get their hands on a selection of merchandise both at the cafes, and from November 20, via the OH MY CAFE STORE website. There are two different designs for the merch line-up as pictured above.

Bonus Items

Customers who book a table in advance (¥650 before tax per person) at the cafe will receive one of 22 possible lunch mats, and if they order a drink, one of 22 coasters.

©Disney

Information

Disney: Twisted Wonderland @ OH MY CAFE

OH MY CAFE TOKYO

Address: Tokyu Plaza Omotesando, 4-30-3 Jingumae, Shibuya, Tokyo

Running: November 20, 2020 – January 31, 2021

kawara CAFE&DINING Shinsaibashi

Address: Shinsaibashi Opa Floor 9F, Nishi-Shinsaibashi, Chuo Ward, Osaka, Osaka Prefecture

Running: November 20, 2020 – February 2, 2021

kawara CAFE&KITCHEN Nagoya PARCO
Address: Nagoya PARCO, 3-29-1 Sakae, Naka-ku, Nagoya-shi, Aichi
Running: November 27, 2020 – February 9, 2021

Official Website: http://twst.ohmycafe.jp

Tokyo's Mickey Mouse Exhibition 'THE TRUE ORIGINAL & BEYOND' Previews 5 Japanese Artworks

The Asahi Shimbun and Nippon TV are set to host an exhibition centred on Mickey Mouse at the MORI ARTS CENTER GALLERY in Roppongi, Tokyo, from October 30, 2020 to January 11, 2021, in celebration of 90 years since Mickey Mouse's screen debut. The exhibition will showcase works shown at the Mickey: The True Original Exhibition held in New York in 2018-2019.

Before the exhibition opens, five participating Japanese artists have each revealed their never-before-seen artworks which will be on display.

The Tokyo exhibition will be a travel back through time, looking at Mickey Mouse from the past to the present. It will be split into three zones: "The Origin," "The True Original," and "Beyond." The five artists showcasing their work early will be featured in the "Beyond" zone and include Tomoko Oshima, Kosuke Kawamura, Nana Soeda, Calligrapher MAMI, and WAKU. Below are their featured pieces along with their comments.

Tomoko Oshima | Comment

"What's fascinating about Mickey Mouse is, for reasons I can't begin to work out, how he became a part of each person's life. I was raised in a household that banned cartoon characters, so it always felt like something unobtainable. Mickey Mouse is like a hero to all of us. He's dazzling and radiant, a kind of being I can't look directly in the face of. When working on my Mickey Mouse art [for the exhibition], my concept was to create a Mickey that's special only to me, so I challenged myself to turning that Mickey Mouse that everyone feels happy looking at and loves into my usual art style."

Oheya (Bedroom), Tomoko Oshima

Kosuke Kawamura | Comment

"What I find fascinating about Mickey Mouse is that no matter how old I get, he always transports me away from the real world to a world of dreams. He's an idol of mine. I even have my own collection of merchandise I've been collecting over the years. For the exhibition, I needed to creating something for the Beyond [zone], so I tried shaping Mickey Mouse from how I see him in my head. I've always made sure to balance my artwork in such a way that it can be seen in two ways. When you stand close, you can see the detailed composition, but when you step away, it looks different. This time around I gave myself a little challenge and made the silhouette of his face and hands using flowers. If you get close to it you'll see that it's made up of lots of flowers, but stand from afar and you'll be able to see the facial expressions and his pointing figure. I'd like people to give both a go, so when you've looked at it up close then take a step back."

Untitled, Kosuke Kawamura

Nana Soeda | Comment

"I feel Mickey Mouse's appeal from his long history and how he has changed overtime, so I tried to express these aspects in the piece I made. The theme for it is centred on Mickey Mouse in the future, so when I was thinking about what he might look like in the future, I looked to past [designs] and tried fixing them up. So in my piece there's a trace of looking back at past Mickey Mouse while giving him an update. Creating those 'futures' made me feel like I was walking through my own past and processes. You can't know exactly what's to come in the future even for someone as internationally popular as Mickey Mouse. But by learning from past memories and mistakes, you can draw on those to create a future, don't you think? That's something I wanted to convey in this piece, and I did so by creating something that's close to the Mickey Mouse of the past with both 2D and 3D surfaces. The Mickey Mouse I drew is the one of ages past that looks completely different to his appearance today. But those look at it might feel something newer about it than older. That, or they might feel uncomfortable seeing him in a way they're not used to. I want people to take their time looking at both and feeling whatever they feel when they do."

LOVE, Nana Soeda

Calligrapher MAMI | Comment

"I've captured Mickey Mouse's silhouette as its own kanji by using calligraphy. His appearance is iconic worldwide, and by making him recognisable through this common language, I've tried to create a new kanji, effectively breaking the language barrier of calligraphy, something which is difficult in itself to overcome for people. Another thing with calligraphy is that you can write the same piece hundreds of times which means it can be fine tuned over and over. I believe that overlaps with Mickey Mouse's design as he has too has evolved for a hundred years. But by no means have his designs he just spring out of existence immediately. He has undergone trial and error through the times, and always shines bright. It's because of everyone who will see my piece as this exhibition that I've been able to create something I can feel from the heart."

ZEN Mickey, Calligrapher MAMI

WAKU | Comment

"I think the appeal of Mickey Mouse lies in the fact that people around the world all remember him from their childhoods. We form memories during our childhoods, and ever I've been able to recognise those memories inside of me, Mickey Mouse was something that was always close to me. When I see three circles together, Mickey Mouse's face comes into my mind. He might be the first internationally recognisable symbol. I felt that the affinity between symbolism and neon signs is very high. So for my piece, I incorporated the techniques used for traditional Japanese neon signboards, something which I see less of these days. I took that and created the three Mickey Mouse circles using light."

Untitled (Still Being Worked On), WAKU

Information

MICKEY THE TRUE ORIGINAL & BEYOND
Running: October 30, 2020 – January 11, 2021

Time: 10:00-20:00

Venue: MORI ARTS CENTER GALLERY (Roppongi Hills Mori Tower Floor 52F)

Entry Price: General ¥2,800 / Junior & High School Students ¥2,000 / Elementary School Students ¥1,200 / Preschoolers – Free
Official Website: mtob.exhibit.jp