Gudetama Street Arrives at Shibuya Station's Keio Inokashira Line
Everyone's favourite lazy egg from the Sanrio cast of characters Gudetama is celebrating his 5th anniversary this year. The popular character has taken the world by storm for his downbeat appearance and attitude, even placing second in a poll for best food character.
As a special one-week celebration, the concourse at the Inokashira Line of Shibuya Station outside the ticket gates has been transformed into Gudetama Street. It opened on April 16 and will close after April 22.
Along Gudetama Street you will find the area decorated in Gudetama's 5th anniversary theme: space. Huge Gudetama measuring 138cm and wearing a variety of costumes will decorate the station. There's also a video that has been newly produced for this display. Experience Gudetama to the fullest in this special space.
A pop-up shop will also be open from April 19 to May 2 at the Toyoko branch of Tokyu Department Store selling limited edition merchandise.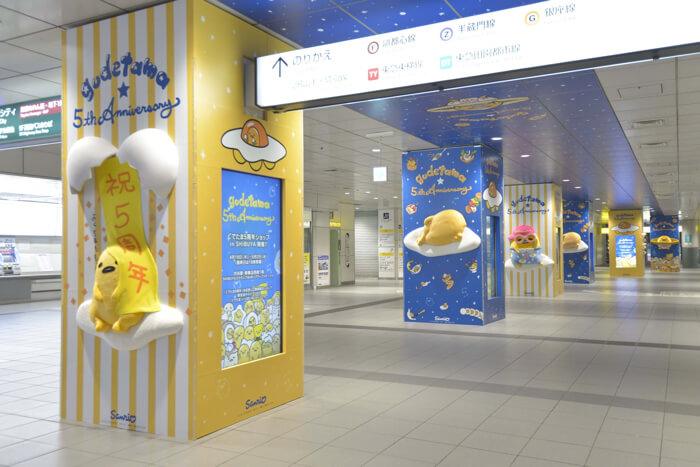 Gudetama is adored the world over in spite of his gloom-ridden demeanour. He is – hopelessly – serving everything he has over at Shibuya Station right now, so be sure go see him if you're passing through Shibuya.
■InformationGudetama Street
Running April 16, 2018―April 22, 2018
Location: Keio Inokashira Line concourse at Shibuya Station outside ticket gates
Gudetama 5th Anniversary Shop in SHIBUYA
Running: April 19, 2018―May 2, 2018
Location: Tokyu Department Store Toyoko, West Building, Shibuya Scramble I Pop-Up Stage A
Address: 2-24-1 Shibuya, Shibuya-ku, Tokyo
Opening Hours: 10:00-21:00 (until 18:00 on May 2)
Website: https://www.tokyu-dept.co.jp
RELATED ENTRIES
Disney's Pride Collection Arrives in Tokyo For Shibuya Pride Month

SHIBUYA109 Entertainment is set to release The Walt Disney Company's Pride Collection at SHIBUYA109 and MAGNET by SHIBUYA109 as part of Shibuya Pride Month. The collection will be available from June 18 to July 1.

The Walt Disney Company's Pride Collection

The Walt Disney Company's Pride Collection/SHIBUYA109

Free multipurpose case for buyers

SHIBUYA109's ethos is about making today's dreamers shine. Their collaboration with Shibuya Pride Month is to spread the positive message of creating a society where people can live however they want to live.

The Walt Disney Company's Pride Collection is a unisex line-up of original items by five popular brands at SHIBUYA109 and MAGNET by SHIBUYA109 with Disney, Pixar, Marvel, and Star Wars logos and character designs featuring rainbow colours.

A digital catalogue by creative director Wataru LINDA Igarashi was released showcasing each item in the collection. Special online events by SHIBUYA109 will also take place as part of the Pride celebration. Igarashi also created a collection of bucket hats, hoodies, sweaters, bandanas, stickers, and more as part of The Walt Disney Company's Pride Collection.

Information

SHIBUYA PRIDE MONTH
Running: June 18, 2021 – July 1, 2021

Locations: Shibuya109 (2-29-1 Dogenzaka, Shibuya, Tokyo) / MAGNET by SHIBUYA109 (1-23-10 Jinnan, Shibuya, Tokyo)
Official Page: https://www.shibuya109.jp/blog/?pi3=257211

The Walt Disney Company's Pride Collection

Release Date: June 18, 2021 (Available while supplies last)

Participating Brands:

<Shibuya109> GYDA (Floor 5F) / SPIRALGIRL (Floor 5F) / dazzlin (Floor 6F)

<MAGNET by SHIBUYA109> PONEYCOMB (Floor 2F) / A'GEM/9 (Floor 4F)

SHIBUYA109 Online Store: https://www.shibuya109.jp/onlinestore/

Marc Jacobs The Snapshot Bag Collection Receives Exclusive Colours Release in Tokyo

Marc Jacobs' iconic The Snapshot Bag has released in two exclusive colours at Shibuya PARCO in Tokyo as well as their Japanese online store, serving early summertime vibes.

The Snapshot | Shibuya PARCO & Marc Jacobs Japan Online Exclusive

Left Photo: Exclusive Models – Both ¥47,300 | Right Photo: 3D Painted Flowers – ¥71,500, Crystals – ¥62,700 (Tax Included)


Arriving first on the 2016 Spring/Summer runway, the Marc Jacobs Snapshot is a collection of cute and compact bag purses made to wear across the body. Each model is kitted out with audacious colours with oversized double-J hardware. All come with a detachable strap.


The new and exclusive duo of blue coloured bags come with webbed straps showcasing the detail that goes into the brand's craftsmanship. Both models add a sense of freshness to a look. Additionally, the Marc Jacobs Shibuya PARCO store branch also offering their Customization Capsule collection, allowing customers to freely customise their bags.

Mizkan Launches Gudetama Egg on Rice Collaboration With Sanrio

Mizkan launched a social media campaign last Tuesday in collaboration with Sanrio's popular character Gudetama. As part of the campaign, the lazy egg character is featuring on the packaging for Mizkan's 'Tamago Shoyu Tare,' an egg soy sauce topping for rice. There are eight designs in total, and all limited in stock.

The campaign invites foodies to make their best version of N-TKG, that's an abbreviation of natto tamago kake gohan, or natto egg on rice. 30 lucky people have the chance to win an original Quo card featuring a Gudetama design. All they need to do is follow Mizkan on Twitter and post their creation along with the Japanese hashtag #マイベストNTKG ("My Best NTKG") while quoting the campaign tweet.

N-TKG Recipe Maker

Mizkan have created a special N-TKG maker where you can make your own digital natto egg on rice. You enter six alphabetical letters which will give you a variety of toppings to creating your own dish. You can then use this as reference for actually making it in real life.


How to Make
1. Enter 6 letters into the recipe maker
2. Make your own original N-TKG using the toppings chosen by the letters you pick
3. Try making the dish yourself!

Information

#マイベストNTKG Campaign
Submission Period: June 1, 2021 – July 31, 2021
Official Website/N-TKG Recipe Maker: https://mizkan-ntkg.com/  


Tokyo's New Strawberry Dessert Shop ICHIBIKO Opens at Shibuya's Tokyu Food Show

ICHIBIKO is a new strawberry dessert-themed cafe that opened at Tokyu Food Show in Shibuya, Tokyo, on June 1. The shop's concept is centred on letting people enjoy strawberries all year round served in a variety of sweet and succulent ways.

Migaki-Ichigo Pudding | 3 Flavours

The Migaki-Ichigo Pudding is a Japanese-style custard pudding made with a layer of custard and strawberry jam. The jam, which contains fresh juicy pieces of strawberry left over, is made from a type of high quality strawberry called Migaki-Ichigo. These puddings are available in three flavours.

Migaki-Ichigo Pudding – Strawberry Custard | ¥432 (Tax Included)

Made with fresh cream and vanilla custard and combined with strawberry jam. Rich and full of fruity flavour.

Migaki-Ichigo Pudding – Condensed Strawberry Milk | ¥486 (Tax Included)

Layered with condensed milk instead of custard, lending a refreshing milky flavour to the sweet strawberry and giving a velvety texture.

Migaki-Ichigo Pudding – Strawberry Milk Yogurt | ¥432 (Tax Included)

Made with strawberry sauce-infused yogurt and Migaki-Ichigo jam giving a cool, refreshing flavour.

  

The new ICHIBIKO store also sells the brand's most popular beverage, ICHIBIKO Milk, as well as baked confections, and fresh Migaki-Ichigo strawberries sourced directly from farmers.

Information

ICHIBIKO Shibuya Tokyu Food Show

Grand Opening: June 1, 2021

Address: SHIBUYA MARK CITY East Mall Floor 1F, 1-12-1 Dogenzaka, Shibuya, Tokyo

Opening Hours: 11:00-20:00

Access: Connected directly to the Keio-Inokashira Line at Shibuya Station

TEL: 03-3477-4676

ICHIBIKO Official Website: https://ichibiko.jp/

Disney Princesses Help You to Answer the Question 'What is Love?' at This Tokyo Event

As part of Disney's Ultimate Princess Celebration, a worldwide festival themed on courage and kindness that began in April, an event titled "What is Love? ~The Secret to Shining Bright Lies in the Princess World~" will take place at Shibuya Marui in Tokyo from June 23 to July 29 this year. It will subsequently move to JR Nagoya Takashimaya from August 4 to 23 and finally conclude next year in Shizuoka where it will run from January to March.

This event tries to answer the question "What is Love?" through a range of content that encourages the use of all five senses: visually, digitally, musically, through scent, and more.

 

What is Love? ~The Secret to Shining Bright Lies in the Princess World~

Visitors are guided by 12 Disney princesses who will take them on a journey of their 'love' in six different areas.

 

A Look at the Event

1. Introduction: 12 Shining Princesses

At the event, you will meet the 12 princesses and learn their story, what their personality is like, and more.

2. Opening Theater: Discover the Secrets to Shining Bright

Attend the theatre and watch the stories of the princesses with your own eyes.

3. 7 Keywords Unravelled From Their Stories

Seven keywords that appear in the princesses' stories will be explored, each of which are tied back to love. This will include exhibits of scenes from the Disney animated movies, an AR experience using smartphones, and more.

From Beauty and the Beast

Using their smartphones, visitors can hold up their phones and utilise AR technology to see various scenes from Beauty and the Beast in an area inspired by the library that Beast bestowed upon Belle.

From Tangled

In Tangled, the King and Queen release lots of sky lanterns on Rapunzel's birthday each year in hopes that she will see them and return. Let your own lanterns fly like in the movie and witness a beautiful spectacle.

4. Music and Fragrance: Clad in Radiance Unseen to the Eye

A unique experience combining music and fragrances inspired by the princesses, who radiate from love, will let visitors feel closer to them.

5. Glowing Lines: Words That Make the World Shine

At the Closing Theater, words and lines said by the princesses will be displayed, offering another way of enjoying their world that radiates from love.

6. Prologue: Your Own Unique Story Begins

Pick up a range of merchandise featuring designs of the exhibition's main visual, the seven key words, and more.

 

Services and Content Offered by Disney at the Exhibition

Disney+

Disney+ is a streaming service that brings together all Disney, Pixar, Marvel, Star Wars, and National Geographic content in one place, as well as exclusives. Those at the exhibition can watch the content offered by Disney+ at the Opening Theater.

 

Disney DX App

The Disney DX is an app exclusive to Japan that comes as a set with Disney+. It offers the chance to see cut scenes from movies, behind-the-scenes content, and more. The exhibition utilises this app through AR experiences, so if downloaded, you're sure to have an even more fun time.

A curated list of Disney Princess music is played at the exhibition. If you head to the shop, you can pick up movie soundtracks and other albums. Disney even created a playlist themed on the princesses that's now available on music streaming services.

Information

What is Love? ~The Secret to Shining Bright Lies in the Princess World~

Japanese Event Title: WHAT IS LOVE? ~輝くヒミツは、プリンセスの世界に。~

Running: June 23, 2021 – July 29, 2021

Where: Shibuya Marui (Floors 7F & 8F) *Reception is on floor 7F

Address: Shibuya Marui, 1-22-6 Jinnan, Shibuya-ku, Tokyo

Opening Hours: 11:00-20:00

Official Website: https://PrincessExhibition.jp

*Exhibition will subsequently move to JR Nagoya Takashimaya (August 4, 2021 – August 23, 2021) and Shizuoka (January 2022 – March 2022)w

Blue Lock Manga Series Announces Exhibition in Shibuya to Promote 14th Volume

In promotion of the 14th volume of Muneyuki Kaneshiro's manga series Blue Lock, an exhibition will take place at SpaceHACHIKAI inside Tower Records Shibuya in Tokyo from May 15 to June 6.

Buy merch and receive these items free

Character illustrated cards


Vinyl-style panels

This will be Blue Lock's first-ever exhibition since it began serialisation in 2018. It will feature displays of manga drafts, uncoloured illustrations, and more. There will also be a special spot for taking photos. A collection of exclusive merchandise will be available for fans to buy, as well as free bonus items when a purchase it made.

© 金城宗幸・ノ村優介/講談社

Peter Luger Steak House Opens First Japanese Branch at Ebisu Garden Place

Hailing originally from Brooklyn, the 130-year-old Peter Luger Steak House has announced the opening of its first-ever Japanese branch which will welcome customers at Ebisu Garden Place in Tokyo this September with its 3-storeys of red brick.

Peter Luger is credited with spreading the mouth-watering wonder of dry-aged beef steak to the world which has made the restaurant's name globally famous. The restaurant of course wields a Michelin Star and has been featured high on the Zagat Survey for over 30 years.

The secret behind Peter Luger's signature ingredient

The restaurant's beef fillet and New York strip are signature items on the menu, both of which are made from porterhouse steak. Their steak is also made from USDA Prime beef which is dry-aged by hand to intensify the flavour and aroma.

The porterhouse is placed directly onto the broiler and seasoned solely with salt. The steak is flipped only once during the broiling process. A knob of melted butter is added to a serving platter and the steak is sliced atop it. It's then placed back into the broiler for a few minutes depending on the doneness requested by the customer. It's this process that gives Peter Luger's steaks their deliciousness. 

 

Brooklyn red brick building and theatre decor

The Japanese branch takes inspiration from the Brooklyn restaurant with its red brick exterior.

The first floor is home to the bar where customers can enjoy food and cocktails. There's also a takeout shop with gifts and other items.

The second floor is the spacious dining space which is home to Peter Ruger's first-ever open kitchen. The third floor is another seating area with balcony-like seats so you can look out over the city.

There are seven private dining rooms of varying sizes for those looking a little more intimacy and privacy. The restaurant's lighting was also designed by a New York designer.

Information

Peter Luger Steak House Tokyo

Grand Opening: September 9, 2021

Address: 4-19-19 Ebisu, Shibuya, Tokyo

Bookings: From August 2021

Peter Luger Steak House Japan Official Website: https://peterluger.co.jp/

Coji-Coji's Jiro Becomes Legendary Japanese Mermaid Amabie at Harajuku Event

Nippon Animation began holding the Amabie Jiro Fair at KIDDYLAND Harajuku's Maruko & Coji-Coji Store on April 29, selling merchandise of the character Jiro from Momoko Sakura's manga series Coji-Coji.

Pre-sale merchandise

Free hand towel


Jiro has turned into Amabie once again this year, a legendary Japanese mermaid who is said to emerges from the sea and prophesise either an abundant harvest or an epidemic. People are instructed people to make copies of its likeness to defend against illness.

Fans who spend over ¥8,000 at the Maruko & Coji-Coji store will receive a free original hand towel as pictured above.

Enjoy a Healthy Junk Food Menu at Shibuya LOFT's New Cafe 2foods

Shibuya LOFT opened its new '2foods' cafe on April 15 which serves junk food healthily.

2foods uses absolutely no eggs or milk in their menu – everything is plant based and healthy, making it a haven for vegan foodies, especially in Japan where there aren't as many vegan places as other countries. What's better is that everything's reasonably priced too. There are around 60 menu items to choose from, like curry and soba as well as desserts, organic coffees and lattes, cold pressed juice, and more.

Artist's rendition of the cafe

Curry | ¥1,023 (Tax Included)

A hearty and spicy curry served with brown rice which is better for digestion.

Tantanmen Ramen | ¥968 (Tax Included) | Shibuya LOFT exclusive

A ramen soup with 100% gluten free rice flour noodles, soy milk, sesame seeds, peanuts, soy meat, and other healthy and natural ingredients.

Egg Doughnut Sandwich | ¥528 (Tax Included)

A vegan egg sandwich that doesn't use eggs but tastes just like them.

Gateau Chocolate | ¥528 (Tax Included)

A rich chocolate gateau made with brown rice powder and soy cream.

Information

2foods Shibuya LOFT

Opened: April 15, 2021

Address: Shibuya LOFT (Floor 2F), 21-1 Udagawacho, Shibuya, Tokyo
Opening Hours: 11:00-20:00 
TEL: 03-6416-4025 

Official Website: https://www.loft.co.jp/

Music-Eating Space Hamsters BLUE HAMHAM Get Pop-Up Store in Tokyo and Osaka

CHOCOLATE Inc. is set to open the BLUE HAMHAM POP UP STORE at Shibuya PARCO in Tokyo on May 14 May 28 and Shinsaibashi PARCO in Osaka on June 4  July 2. The pop-up shops are centred on Arimura Taishi's characters BLUE HAMHAM.

BLUE HAMHAM are four music-eating space hamster brothers from a planet called 'Proxima b.' Their animations on Twitter, TikTok, and other social media platforms have garnered over 300 million views worldwide. In 2020, they began collaborating with overseas artists. Their musical animations have garnered popularity across the globe.

At the pop-up shop, fans can get their hands on over 30 new BLUE HAMHAM items. This also marks the brothers' first pop-up shop in Osaka. From exclusives to free novelties, there's plenty to enjoy.

At the store, fans will also be greeted by four 1-meter tall BLUE HAMHAM statues, the only ones in the world. There will be a display showing their animations, a chance to learn about the characters, and more.

©CHOCOLATE Inc.

Information

BLUE HAMHAM POP UP STORE

Tokyo Store: Shibuya PARCO B1F GALLERY X

Address: 15-1 Udagawacho, Shibuya, Tokyo

Running: May 14, 2021 – May 30, 2021

Tokyo Store: Shibuya PARCO B1F GALLERY X

Address: 15-1 Udagawacho, Shibuya, Tokyo

Running: May 28, 2021 – June 14, 2021

Osaka Shinsaibashi PARCO 10F EVENT SPACE

Address: 1-8-3 Shinsaibashisuji, Chuo-ku, Osaka-shi, Osaka

Running: June 4, 2021 – June 21, 2021

Osaka Shinsaibashi PARCO 10F EVENT SPACE

Address: 1-8-3 Shinsaibashisuji, Chuo-ku, Osaka-shi, Osaka

Running: July 2, 2021 – July 18, 2021

Special Page: https://art.parco.jp/shinsaibashi/detail/?id=656

Sustainable Fashion Week Event to Take Place at Earth Day Tokyo 2021

Earth Day Tokyo 2021 is set to run from April 17 to April 25 both online and offline. Messages of eco-friendliness, organic products, sustainability, ethics, and inclusiveness will be at the core of various events held as part of the festival and it will bring together environmental NPOs, charities, and locals.

As part of this year's Earth Day Tokyo, sustainability and fashion are set to interweave with the SUSTAINABLE FASHION WEEK 2020+1 event which is running on April 24 and 25.

With less than nine years to go until the world must achieve the 17 Sustainable Development Goals (SDGs), Earth Day Tokyo believes individuals need to be doing more to change their lifestyles and the way they do certain things. Fashion is an area that enrichens people's lives—but it's also one that can call for environmental action by changing our consumption habits.


SUSTAINABLE FASHION WEEK 2020+1 will bring together various teams and organisations to hold booths and talk sessions online and offline where people can learn about these issues. It's a collaboration between Fashion Revolution Japan, the Japanese branch of the global Fashion Revolution campaign to reform the fashion industry by enabling a greater transparency in the fashion supply chain amongst other problems. Fashion Revolution Week takes place every year on April 24, the same date as the 2013 Dhaka garment factory collapse where 1,134 people died and more than 2,500 people were injured.

The main visual for SUSTAINABLE FASHION WEEK 2020+1 features Japanese singer and artist KOM_I who is best known as a member of the Japanese music group WEDNESDAY CAMPANELA. It was created by HYPE FREE WATER, an artist collective headed by KOM_I and art director Minori Murata. KOM_I will participate in a planned talk program at MIYASHITA PARK on April 24 and 25.


A Message From KOM_I

"HYPE FREE WATER will be taking part in Sustainable Fashion Week at Earth Day this year. Our organisation focuses on the future of water. We want to be able to wear something beautiful without having to make sacrifices like selling out the future or destroying the environment. I'm looking forward to new people getting involved with us as this discussion takes off."

Information

Earth Day Tokyo 2021

Running: April 17, 2021 – April 18, 2021

Earth Day Tokyo Official Website: https://www.earthday-tokyo.org

SUSTAINABLE FASHION WEEK 2020+1

Running: April 17, 2021 to April 25, 2021

Time: 11:30-18:00
Where: Shibuya Miyashita Park / RAYARD MIYASHITA PARK

Address: 1-26-5 Shibuya, Shibuya-ku, Tokyo

Fashion Revolution Japan: https://www.fashionrevolution.org/asia/japan/

Little Glee Monster and Other Japanese Artists Announced For Tokyu Musix Challenge

Tokyu Musix Challenge is set to take place at Bunkamura Orchard Hall this year on March 7 at 18:00.

2020 saw the cancellation of music events across the world, with Japan being no exception. Shibuya, Tokyo's hub of countless live music venues and halls, was particularly affected by the effects of the pandemic. But the energy and power that music artists hold is one they can offer to brighten up peoples' time during today's times. That's where Tokyu Musix Challenge comes in, a new kind of music festival that will bring together a multitude of genres, and where better for it to be held than the cultural melting pot that is Shibuya.

This year will be the first run of the festival, where a collaboration between classical music and contemporary pop music will clash at Bunkamura Orchard Hall. The Tokyo Philharmonic Orchestra, which is recognised as Japan's oldest symphony orchestra, will play alongside acts such as Little Glee Monster, Ai Higuchi, Win Morisaki, Meimi Tamura, Kayoko Yoshizawa, ROTH BART BARON, and more. And the line-up is set to grow as more performers will be announced in the lead up to the event.

Comments from the Artists

Little Glee Monster

"We are really looking forward to feeling the fresh breeze of our music colliding with the grand scale of an orchestra. We'll be sure to play our part so that we don't lose to the overwhelming performance of everyone in the Tokyo Philharmonic Orchestra, but also so that our music complements theirs. We hope that everyone can have a good time and feel good from the strength that music has."

Ai Higuchi

"In 2020, we may have all lived kind of complicit with so many options in front of us leading down different paths. A certain friend might have gone to a drinking party, another might not have seen their lover for a long time. What choices do we make? We become darker depending on our choices. In Shibuya, a city that continues to change, I will sing my unchanged songs."

Win Morisaki

"Over this past year, the respect I have for the position I'm in where I can express myself has really sunk in. I'm so happy I've been able to get involved with this challenge. And getting to sing with an orchestra, it's magnificent. I'm so excited about what's to come."

Meimi Tamura

"I can't contain my excitement at a genre collaboration between classic, which is the foundation of music, and pop which is strongly tied to Shibuya. I think I'm going to start feeling tense at getting to perform alongside everyone in the Tokyo Philharmonic Orchestra and singers of all different kinds of music. We don't have a lot of freedom today during the pandemic, but I will work my hardest so that I can deliver love through music from the city of Shibuya."

Kayoko Yoshizawa

"My chest roars and having the opportunity to perform along side Japan's oldest and longest-running Tokyo Philharmonic Orchestra at the legendary Orchard Hall. It's my first time experiencing singing with an orchestra, so I'm looking forward to seeing how the songs will be structured, and how my voice will sound, when we do it."