Enjoy a BBQ at Beer Garden on Rooftop in Roppongi
A beer garden serving authentic BBQ cuisine will open for a limited period of time from April 23 on top of Ark Hills South Tower where a luxurious rooftop garden sits.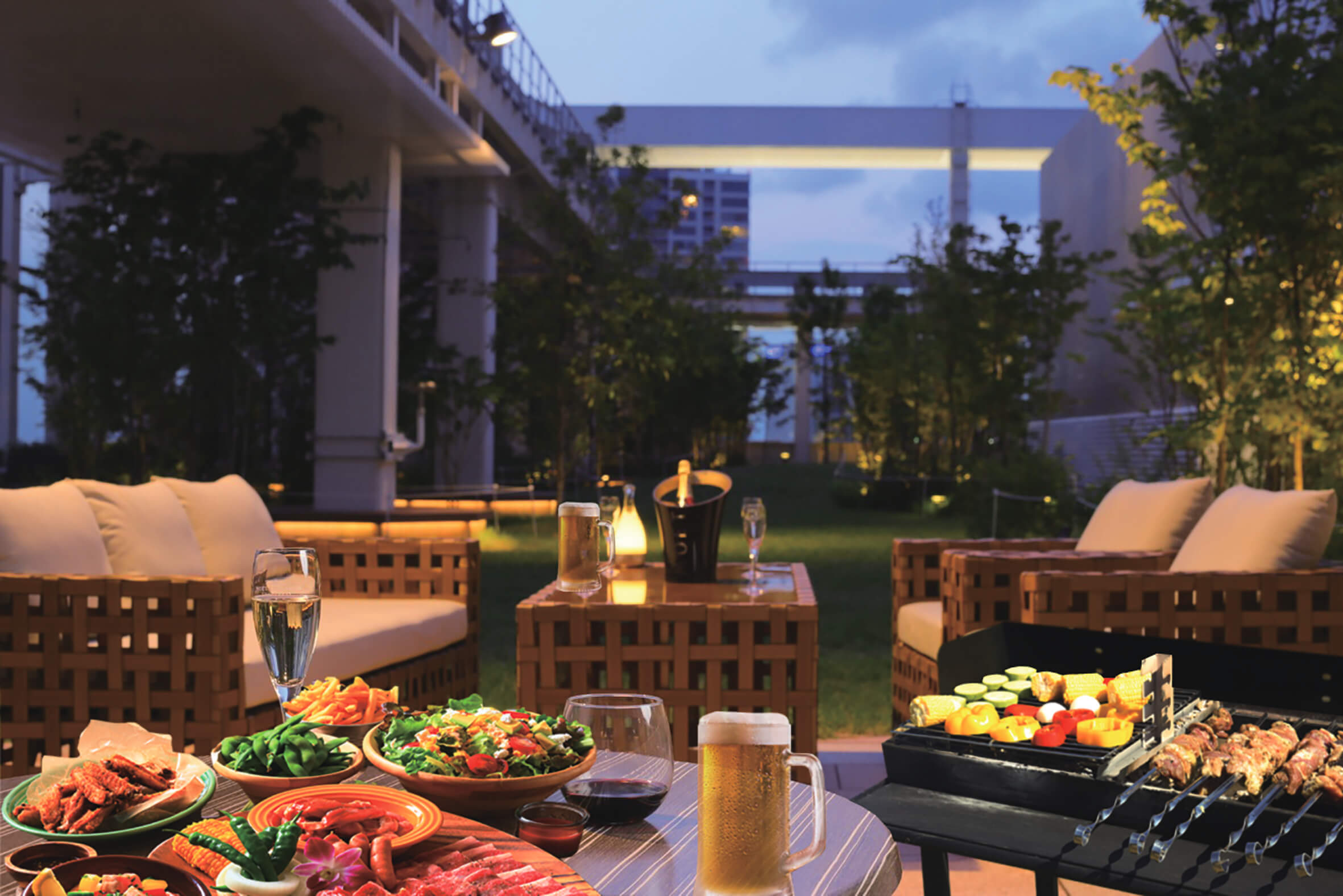 Despite being in the middle of the big city, the garden has a freeing, spacious feeling with plenty of greenery and even sofa seats.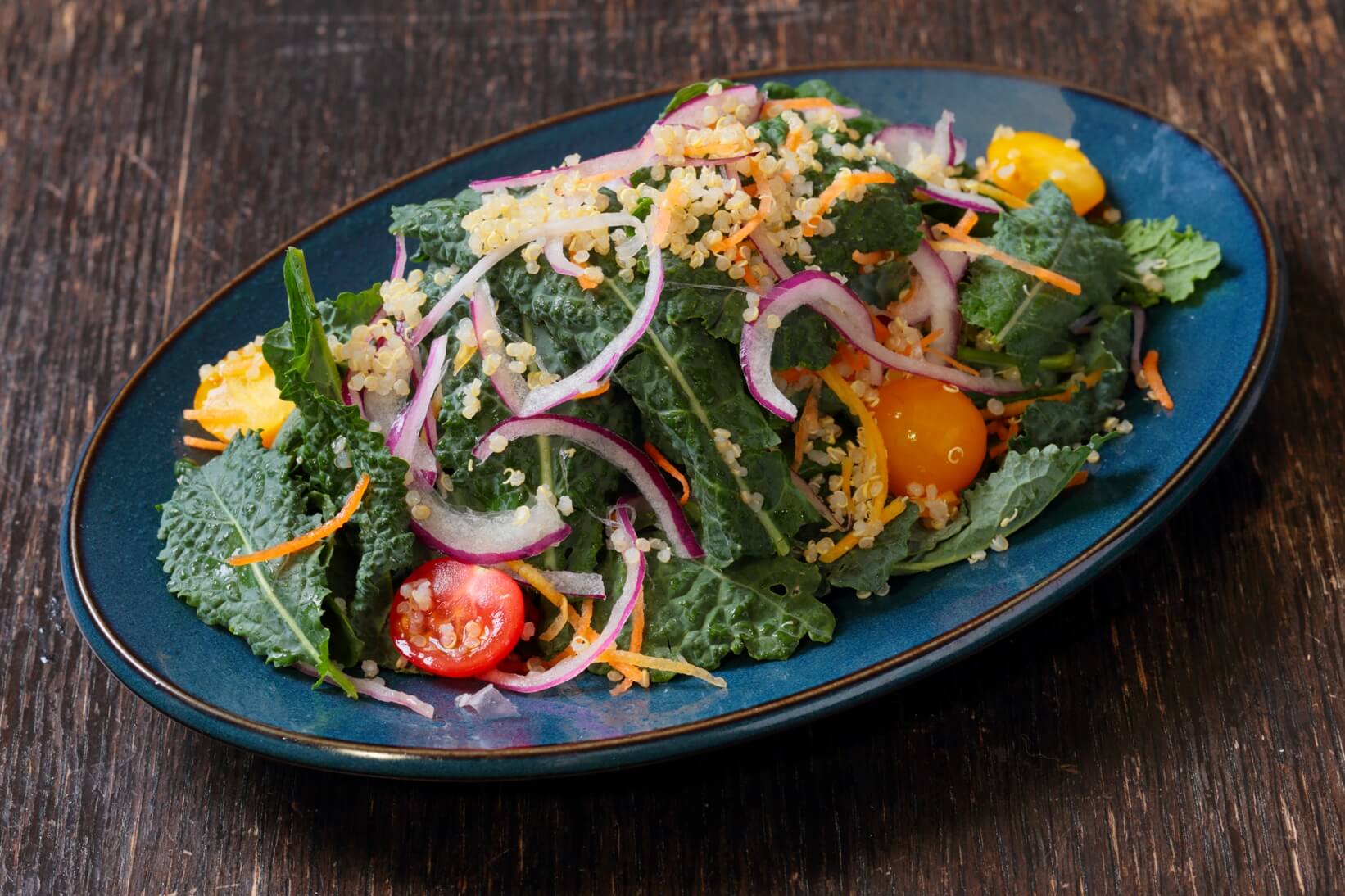 Food includes filling T-bone steak that uses carefully selected Iwanaka roasted pork shoulder, as well as a selection of seafood and vegetables.
In addition, downstairs in the same building, you can buy meat to take to the BBQ too. Choose your favourite ingredients and enjoy cooking it on the barbeque yourself. Of course, you can use it just for à la carte and drinks too.
The plan includes the 'Casual BBQ Course' (¥4,800 for 2+ people) where you can enjoy beef, pork and chicken; the 'Premium BBQ Course' (¥6,500 for 2+ people) that includes a T-bone steak, seafood and more; and the cook-it-yourself option (¥3,300). There's also drinks to be enjoyed with each course as well as all-you-can-drink wine.
Step away from the hustle and bustle of the busy city a little and enjoy a top-tier BBQ atop a lush rooftop garden.
■Information
ARK HILLS SOUTH TOWER ROOFTOP LOUNGE ~Roppongi BBQ Beer Garden~
Address: Ark Hills South Tower Sky Park, 1-4-5 Roppongi, Minato, Tokyo
*Please use the direct elevator on the path behind the B1F Ark Kitchen 'Etsubo' (笑壷)
Running: April 23, 2018 – September 30, 2018
Opening Hours: 17:00-23:00
*[April-June] Saturdays 12:00-23:00 / Sundays & Holidays 12:00-22:00
*[July-August] Saturdays 15:00-23:00 / Sundays & Holidays 15:00-22:00
*[September] Saturdays 12:00-23:00 / Sundays & Holidays 12:00-22:00
TEL: 03-5549-1550 (*Reception opens April 20)
No Fixed Holidays. (Except during bad weather.)
Homepage: http://arkhills.beergardens.jp/
Booking: https://www.tablecheck.com/shops/
RELATED ENTRIES
Gifts Galore as Roppongi Hills Welcomes the Christmas Market Again For 2020

Christmas has sleighed into Roppongi Hills again this year, beginning with the Keyakizaka-dori Illuminations on November 13. The Christmas Market is also set to return to Oyane Plaza on November 28.

2020 marks the 14th run of the Roppongi Hills Christmas market which is inspired by the the famous Stuttgart Christmas Market in Germany. Visitors can sift through around 1,500 miscellaneous Christmas goods, enjoy German mulled wine and sausages, and more.

At the West Walk, visitors will also find an enormous 6.5m tall Christmas tree to complement the warm, cosy, festive atmosphere of the holiday season event.

Information

Roppongi Hills Christmas 2020
Running: November 13, 2020 – December 25, 2020
Location: Roppongi Hills (Keyakizaka-dori, West Walk Floor 2F, Oyane Plaza, and elsewhere)

Christmas Market 2020
Running: November 28, 2020 – December 25, 2020
Times: 11:00-21:00
Location: Oyane Plaza
Roppongi Hills Official Website: https://www.roppongihills.com/en/

SOAK: Tokyo's New Entertainment Restaurant & Bar Opens Bookings

Japanese creative company BAKERU has opened bookings for the new entertainment restaurant and bar SOAK which is set to open on November 13, 2020 on the top floor of MIYASHITA PARK's new brand hotel "sequence MIYASHITA PARK" in Shibuya, Tokyo. The restaurant will served up a 'Japanese innovative' menu made by Takeshi Nagashima of Nishiazabu 81 and Hideaki Nagaya of L'Effervescence.

An otherworldly restaurant and bar serving Japanese innovative cuisine

"BUILD NEO TOKYO" is the theme of SOAK. SOAK welcomes by Takeshi Nagashima of Nishiazabu 81 which delivers performance style-entertainment to customes, and Hideaki Nagaya of L'Effervescence, who was chosen for "JAPANESE CUSINE TOP 5 CHEF IN HONG KONG." Bartending will be Takashi Goto who has worked as the main bartender at Sake Bar DECIBEL in New York and Shampoo in Shinjuku Golden Gai.

An event and party space which can hold up to 100 people

Located just a 3-minute walk from Shibuya Station, SOAK can be used as a party and event space with a maximum capacity of 100 people whether it be a wedding reception or a gathering of friends, family, or business, as well as for events, catering to any and every need. The space was designed by Noiz, a leading interior designer in Japan. The monuments were designed by contemporary artist Akira Yoshida, while the audio design is by Acoustic Engineering and the music is selected by Hirokazu Yamasaki from the post-rock and instrumental band Toe.

OYU: The rooftop terrace offering a panoramic view of Shibuya

Take in a panoramic view of Shibuya atop the rooftop terrace, and enjoy the pool either in the sunlight or shrouded luxuriously in the night with gorgeous illuminations and a glass in hand.

The pre-opening is set for November 13, 2020, but this is subject to change depending on the state of the pandemic.

Information

SOAK

Pre-Opening: November 13, 2020

Address: MIYASHITA PARK North Floor 18F, 6-20-10 Jingumae, Shibuya, Tokyo

Opening Hours: 17:00-24:00 (Last Orders 23:30)

Closed: Mondays

TEL: 03-6427-9989 (17:00-22:00)

Official Website: https://soaks.tokyo/

The Promised Neverland Cafe to Serve Up Themed Food and Drink in Tokyo

A special exhibition centred on the popular manga series The Promised Neverland will take place at Roppongi Hills Tokyo City View in Tokyo from December 11, 2020.

The Promised Neverland is a manga series written by Kaiu Shirai and illustrated by Posuka Demizu. The series was published in Weekly Shonen Jump and concluded with its final volume on June 15, 2020. A live-action film will be released in December while the anime adaptation's second season will air next year.

The exhibition will explore and celebrate the world of The Promised Neverland in detail, with displays, illustrations, early conceptions, and much more. A special 19-page manga episode written by Kaiu Shirai and illustrated by Posuka Demizu will also be shown.

Fans at the exhibition can also dine at CAFE GRACE FIELD,  the series-themed cafe opening up temporarily at Cafe THE SUN. Let's take a closer look and see what fans can expect to see at the cafe.

CAFE GRACE FIELD Collaboration Cafe

Illustrative photo showcasing the cafe

The Promised Neverland is set inside Grace Field House, an orphanage in a forest that houses children with no relatives. It's here that we meet the main characters: Emma, Norman, Ray, and Mom. CAFE GRACE FIELD is inspired by Grace Field House and the children who live in it, with food based on the characters and certain episodes in the series, a cafe latte you can order and get a free coaster with, and many other dishes, drinks, and desserts exclusive to the exhibition.

The Menu

Isabella's Burger | ¥1,480 (Tax Included)

A hearty hamburger inspired by Isabella, the Mom of Grace Field House, filled with a fat patty, tomatoes, and lettuce. It's served with chips which are topped with a key that opens all doors in the house.

Emma's Omelette Rice | ¥1,380 (Tax Included)

A serving of omurice (rice-filled omelette) which features Emma's trademark lock of hair that sticks up and orange edible flowers scattered over the tomato sauce, all to capture Emma's smiley personality.

Norman's Farm Green Curry | ¥1,580 (Tax Included)

A spicy green curry based on Norman standing in the fields of the forest. The plate includes the pen Norman finds which belongs to William Minevra, as well as the name Minevra written in Morse code around the outside of the dish.

Ray's Final Book Sandwich | ¥1,550 (Tax Included)

This dish is inspired by the scene when Ray gives Emma the last book he reads before escaping the house. The sandwich itself is made to look like the book and is filled with egg salad, crunchy fried fish, and tomatoes.

Full Score Parfait | ¥1,450 (Tax Included)

An assortment of ingredients based on the three main characters in the series who receive a full score: Emma (orange jelly), Norman (panna cotta), and Ray (chocolate pudding and cake). A parfait that's not overly sweet and displays each of the three characters' I.D. Numbers which are used for identification in the series.

Little Bunny Shortcake | ¥1,350 (Tax Included)

A mixed berry shortcake with Conny's precious Little Bunny on top. The bunny is made from milk pudding and sat on a bed of yogurt cream-filled fluffy sponge.

The House's Lantern Drink | ¥1,050 (Tax Included)

A lantern-style dessert drink with everyone from Grace Field House, topped with chocolate whip, frozen yogurt, and two pieces of orange inspired by Emma's hair.

The Promised Pendant Drink | ¥1,050 (Tax Included)

A refreshing combination of ginger ale, Calpis, and Blue Curaçao topped off with apple flavoured ice. The blue and green gradation of the beverage is based on the pendant given to Emma by Mujika, a key item of the story.

Emma's Cafe Latte, Norman's Cafe Latte, Ray's Cafe Latte | ¥850 Each (Tax Included)

Three cafe lattes with Emma, Norman, and Ray print on them. Every cup ordered gets you an original coaster. There are three coaster designs, each given randomly for every drink order.

Twitter Campaign – Christmas Edition Cafe Latte

Running: December 11, 2020 – December 25, 2020

From December 11-25, fans who answer the official Twitter quiz correctly have the chance to order the Christmas Edition Cafe Latte. Every cup ordered gets you a special coaster.

©Kaiu Shirai・Posuka Demizu /Shueisha

Information

THE PROMISED NEVERLAND SPECIAL EXHIBITION

Running: December 11, 2020 – January 11, 2021

Opening Hours: 10:00-22:00 (Last Entries 21:30)

Location: Roppongi Hills Tokyo City View Sky Gallery

Address: Roppongi Hills Mori Tower Floor 52F, 6-10-1 Roppongi, Minato-ku, Tokyo

Exhibition Website: https://yakuneba-ten.jp/

*Information about this event is subject to change without notice. Please visit the exhibition's portal site or Roppongo Hills Mori Tower's official website for the latest updates, cautions, and measures against COVID-19.

Tokyo's Mickey Mouse Exhibition 'THE TRUE ORIGINAL & BEYOND' Previews 5 Japanese Artworks

The Asahi Shimbun and Nippon TV are set to host an exhibition centred on Mickey Mouse at the MORI ARTS CENTER GALLERY in Roppongi, Tokyo, from October 30, 2020 to January 11, 2021, in celebration of 90 years since Mickey Mouse's screen debut. The exhibition will showcase works shown at the Mickey: The True Original Exhibition held in New York in 2018-2019.

Before the exhibition opens, five participating Japanese artists have each revealed their never-before-seen artworks which will be on display.

The Tokyo exhibition will be a travel back through time, looking at Mickey Mouse from the past to the present. It will be split into three zones: "The Origin," "The True Original," and "Beyond." The five artists showcasing their work early will be featured in the "Beyond" zone and include Tomoko Oshima, Kosuke Kawamura, Nana Soeda, Calligrapher MAMI, and WAKU. Below are their featured pieces along with their comments.

Tomoko Oshima | Comment

"What's fascinating about Mickey Mouse is, for reasons I can't begin to work out, how he became a part of each person's life. I was raised in a household that banned cartoon characters, so it always felt like something unobtainable. Mickey Mouse is like a hero to all of us. He's dazzling and radiant, a kind of being I can't look directly in the face of. When working on my Mickey Mouse art [for the exhibition], my concept was to create a Mickey that's special only to me, so I challenged myself to turning that Mickey Mouse that everyone feels happy looking at and loves into my usual art style."

Oheya (Bedroom), Tomoko Oshima

Kosuke Kawamura | Comment

"What I find fascinating about Mickey Mouse is that no matter how old I get, he always transports me away from the real world to a world of dreams. He's an idol of mine. I even have my own collection of merchandise I've been collecting over the years. For the exhibition, I needed to creating something for the Beyond [zone], so I tried shaping Mickey Mouse from how I see him in my head. I've always made sure to balance my artwork in such a way that it can be seen in two ways. When you stand close, you can see the detailed composition, but when you step away, it looks different. This time around I gave myself a little challenge and made the silhouette of his face and hands using flowers. If you get close to it you'll see that it's made up of lots of flowers, but stand from afar and you'll be able to see the facial expressions and his pointing figure. I'd like people to give both a go, so when you've looked at it up close then take a step back."

Untitled, Kosuke Kawamura

Nana Soeda | Comment

"I feel Mickey Mouse's appeal from his long history and how he has changed overtime, so I tried to express these aspects in the piece I made. The theme for it is centred on Mickey Mouse in the future, so when I was thinking about what he might look like in the future, I looked to past [designs] and tried fixing them up. So in my piece there's a trace of looking back at past Mickey Mouse while giving him an update. Creating those 'futures' made me feel like I was walking through my own past and processes. You can't know exactly what's to come in the future even for someone as internationally popular as Mickey Mouse. But by learning from past memories and mistakes, you can draw on those to create a future, don't you think? That's something I wanted to convey in this piece, and I did so by creating something that's close to the Mickey Mouse of the past with both 2D and 3D surfaces. The Mickey Mouse I drew is the one of ages past that looks completely different to his appearance today. But those look at it might feel something newer about it than older. That, or they might feel uncomfortable seeing him in a way they're not used to. I want people to take their time looking at both and feeling whatever they feel when they do."

LOVE, Nana Soeda

Calligrapher MAMI | Comment

"I've captured Mickey Mouse's silhouette as its own kanji by using calligraphy. His appearance is iconic worldwide, and by making him recognisable through this common language, I've tried to create a new kanji, effectively breaking the language barrier of calligraphy, something which is difficult in itself to overcome for people. Another thing with calligraphy is that you can write the same piece hundreds of times which means it can be fine tuned over and over. I believe that overlaps with Mickey Mouse's design as he has too has evolved for a hundred years. But by no means have his designs he just spring out of existence immediately. He has undergone trial and error through the times, and always shines bright. It's because of everyone who will see my piece as this exhibition that I've been able to create something I can feel from the heart."

ZEN Mickey, Calligrapher MAMI

WAKU | Comment

"I think the appeal of Mickey Mouse lies in the fact that people around the world all remember him from their childhoods. We form memories during our childhoods, and ever I've been able to recognise those memories inside of me, Mickey Mouse was something that was always close to me. When I see three circles together, Mickey Mouse's face comes into my mind. He might be the first internationally recognisable symbol. I felt that the affinity between symbolism and neon signs is very high. So for my piece, I incorporated the techniques used for traditional Japanese neon signboards, something which I see less of these days. I took that and created the three Mickey Mouse circles using light."

Untitled (Still Being Worked On), WAKU

Information

MICKEY THE TRUE ORIGINAL & BEYOND
Running: October 30, 2020 – January 11, 2021

Time: 10:00-20:00

Venue: MORI ARTS CENTER GALLERY (Roppongi Hills Mori Tower Floor 52F)

Entry Price: General ¥2,800 / Junior & High School Students ¥2,000 / Elementary School Students ¥1,200 / Preschoolers – Free
Official Website: mtob.exhibit.jp

SEL OCTAGON TOKYO: Roppongi's Night Club and Lounge Revamps and Reopens

SEL OCTAGON TOKYO—Japan's first 'private booth lounge club'—has reopened after undergoing a revamp and is set to deliver the latest in cutting edge technology together with an incredible DJ line-up once again to the people of Roppongi in Tokyo.

SEL OCTAGON TOKYO's luxury space has been given a pop makeover to serve what they are calling 'luxury pop.' They mean to serve up night life in a new and fun way for clubbers.

The night club and DJ bar has done a first in Japan by removing the dance floor and replaced them with socially-distanced seated areas with sofas and chairs. The club also opens at 8pm everyday (except Sundays) so that even those catching the last train or coming from work can make it in time to party.

The 'lounge club' was designed under the South Korean creative director of OCTAGON who has also cemented popularity in some of the world's biggest night life hubs such as Ibiza, Miami, Las Vegas, Seoul, and more.

The space is split into individual private booths so that clubbers can enjoy a safe night. SEL OCTAGON TOKYO also benefits from a high quality sound system to blare out plenty of booty-shaking dance music.

The club is taking all the necessary precautions and outlined by Japan's Night Club Entertainment Association including providing face masks, alcohol gel, taking people's temperature, keeping the venue sanitised, and so on. Before entering the actual club, guests must also pass through an anti-bacterial mist gate.

There's also a high-efficient ventilator system in place that stays on the entire time, renewing the air in the room every 4-6 minutes.

Information

SEL OCTAGON TOKYO
Address: AXALL ROPPONGI B1F, 7-8-6 Roppongi, Minato-ku, Tokyo

Opening Hours: [Mon-Thur] 20:00-03:00 / [Fri-Sat] 20:00-4:30

Closed: Sundays
Official Website: https://sel-octagon-tokyo.jp/

*Those under the age of 20 are not permitted entry

*You must take photo ID with proof of age

*Opening hours and days subject to change depending on events

The Promised Neverland Special Exhibition Arrives in Tokyo This December

A special exhibition centred on the popular manga series The Promised Neverland will take place at Roppongi Hills Tokyo City View in Tokyo from December 12, 2020.

The Promised Neverland is a manga series written by Kaiu Shirai and illustrated by Posuka Demizu. The series was published in Weekly Shonen Jump and concluded with its final volume on June 15, 2020.

The exhibition will explore and celebrate the world of The Promised Neverland in detail, with displays, illustrations, early conceptions, and much more. A special manga episode will also be shown.

Entrance Exhibition

A towering display of every manga book cover will be on show, spanning 6 meters tall and 17 meters across. A photo spot for fans to take pictures with their favourite characters will be placed at the entrance area. Tokyo's night sky will also provide a beautiful backdrop.

Tickets

Tickets to the exhibition will go on sale via LINE Tickets on October 5, 2020. Limited edition tickets will also be sold which comes with a special booklet. And to reduce the risk of COVID-19 spreading, visitors must book a time and date in advance when purchasing their tickets. Full details are available here in Japanese.

Merchandise & Themed Food

Fans can also get their hands on a selection of exclusive and rare merchandise. The exhibition will also open CAFE GRACE FIELD, a collaborative cafe serving up food themed on the series.

©Kaiu Shirai・Posuka Demizu / Shueisha 

Information

THE PROMISED NEVERLAND SPECIAL EXHIBITION

Running: December 11, 2020 – January 11, 2021

Opening Hours: 10:00-22:00 (Last Entries 21:30)

Location: Roppongi Hills Tokyo City View Sky Gallery

Address: Roppongi Hills Mori Tower Floor 52F, 6-10-1 Roppongi, Minato-ku, Tokyo

Exhibition Website: https://yakuneba-ten.jp/

Mickey Mouse Exhibition 'THE TRUE ORIGINAL & BEYOND' to be Held in Roppongi

The Asahi Shimbun and Nippon TV are set to host an exhibition centred on Mickey Mouse at the MORI ARTS CENTER GALLERY in Roppongi, Tokyo, from October 30, 2020 to January 11, 2021, in celebration of 90 years since Mickey Mouse's screen debut. The exhibition will showcase works shown at the Mickey: The True Original Exhibition held in New York in 2018-2019.

 

Walt Disney's concepts and ideas are formed around innovation, creativity, imagination, and storytelling. And one character who walked that journey with him and continues to this day is none other than the iconic Mickey Mouse, who since making his first appearance in Steamboat Willie in 1928, has gone on to be a symbol of the Walt Disney Company loved by people the world over.

Mickey: The True Original Exhibition in New York

The Mickey: The True Original Exhibition held in New York looked at how Mickey Mouse has influenced art and pop culture over the years, covering everything from Steamboat Willie which hailed as Walt Disney's first black and white sound film to over 100 colour short animations, artwork, and more.

Keiichi Tanaami – "Mickey's Japan Tourism"

Javier Sanchez Medina – "Studio for Mickey's hands"

The exhibition was ran from November 2018 to February 2019 and saw installations from over 20 international artists including New York-based artist Daniel Arsham and Los Angeles-based artist and graphic designer Brian Roettinger.

Brian Roettinger – "(L)imitation of Sound"

DRx – "3000% Mickey Be@r"

The Tokyo exhibition will be a travel back through time, looking at Mickey Mouse from the past to the present. It will be split into three zones: "The Origin," "The True Original," and "Beyond."

The Beyond zone will welcome original artwork from five Japanese artists.

 

Original Merchandise – Pin Badge

Original Merchandise – Ballpoint Pen

The exhibition's museum shop will have exclusive Mickey Mouse merchandise for sale, as well as pre-sales on other items. See new official goods from works like Steamboat Willie and Fantasia as well as items designed by Japanese artists. It's a chance to see Mickey in a variety of different ways.

Free eco-bag

Visitors to the exhibition will also receive one of four original eco-bags for free upon arrival.

Information

MICKEY THE TRUE ORIGINAL & BEYOND
Running: October 30, 2020 – January 11, 2021

Time: 10:00-20:00

Venue: MORI ARTS CENTER GALLERY (Roppongi Hills Mori Tower Floor 52F)

Entry Price: General ¥2,800 / Junior & High School Students ¥2,000 / Elementary School Students ¥1,200 / Preschoolers – Free
Official Website: mtob.exhibit.jp

Sip Sparkling Wine and Other Drinks Among Tokyo's Nightscape With Sarabeth's HIGH TEA TERRACE NIGHT

The Tokyo branch of New York-based restaurant chain Sarabeth's has announced a special autumn event that goes by the name 'HIGH TEA TERRACE NIGHT.' Set to run from September 23 to October 31, customers will be able to sit on a rooftop terrace in the evening with Tokyo's towering cityscape surrounding them while drinking sparkling wine and other all-you-can-drink free-flow alcoholic beverages—high tea style.


High tea refers to post-dinner evening tea time. At Sarabeth's, customers can look forward to dining on a special set menu for grown-ups with alcohol and other treats.


High Tea Style Set Menu With Free Drink | ¥5,000 (Before Tax)

Served on an afternoon tea stand, tuck into six different appetisers, meatball sliders, and truffle flavoured French fries. For the main dish, there's steak made in a red wine sauce and boletus mushrooms. Free drinks include sparkling wine, red and white wine, beer, high balls, cocktails, soft drinks, and more.

Feel the evening breeze of autumn while indulging in a special high tea experience in Tokyo.

Information

Sarabeth's Tokyo – HIGH TEA TERRACE NIGHT

Running: September 23, 2020 – October 31, 2020

Location: Sarabeth's Tokyo

Address: 1-8-2 Marunouchi, Chiyoda-ku, Tokyo

Serving Hours: 17:00-20:30
TEL: 03-6206-3551
*Free -flow drinks are all-you-can-drink for 90 minutes

*Reservations required by 16:00

Official Website: http://www.sarabethsrestaurants.jp/

Harajuku's New Carbonara Restaurant Serves Pasta Japanese Style

A new spaghetti carbonara restaurant by the name of Nama Carbonara opened in Harajuku, Tokyo on September 17, 2020.

The restaurant opened in the same building as Harajuku's popular fresh cream shop MILK and bubble tea shop Mot Tram. The restaurant makes its own fresh flat pasta everyday and uses fresh, rich cream sourced from Hokkaido.

The current menu lineup consists of six dishes, from classic carbonara to Japanese twists. Let's take a look at some of them.

Classic Carbonara | ¥790

Walleye Pollack Roe Japanese Carbonara | ¥1,090

Freshly Grated Cheese & Bacon Carbonara | ¥1,090

Seafood, Avocado & Basil Carbonara | ¥1,190

Discover a brand new world of carbonara like never before at Nama Carbonara in Harajuku.

Information

Nama Carbonara (生カルボナーラ専門店 原宿店)

Grand Opening: September 17, 2020

Address: THE SHARE 1F, 3-25-18 Jingumae, Shibuya, Tokyo

Opening Hours: 11:00-19:00 (Last Orders 18:30)

TEL: 03-5772-8858

Official Website: http://www.opefac.com/

Roppongi Hills' Exquisite Autumn 2020 Sweets and Desserts Are Something Else

Roppongi Hills, the popular development project in Tokyo's Roppongi district home to shops and restaurants, has revealed a lineup of some of its autumnal sweets and desserts that customers can expect to sink their teeth into this year.

The finger-licking collection ties into the coming season with its pantry of autumn-time ingredients from chestnuts from the city of Tamba in Hyogo to black soy bean, purple sweet potato powder, chestnut sauce, and more.

KISSHOKA Dormitory – Roppongi Hills North Tower (B1F)


Sweet Potato & Apple Parfait | ¥1,404

Hailing from Gion, Kyoto, KISSHOKA Dormitory is serving up their 'Sweet Potato & Apple Parfait,' a divine mix of purple sweet potato powder-dusted meringue, tea-flavoured jelly, apple granita, purple sweet potato tiramisu, and plenty of other seasonal treats. The candied sweet potato is oven baked to draw out the sweetness even more. Pour over the apple sauce that comes with it for even more flavour.

Ukeian – Roppongi Hills North Tower (B1F)


Chestnut Castella | ¥2,160 (Tax Included)

Ukeian's castella confection is popular for its rich flavour and moist texture. For a limited time only, the scrumptious cake-like dessert arrives in a chestnut flavour. The subtle sweetness of the egg goes well with the chesnut. The shop farms their own eggs from their chickens in Ishikawa Prefecture.

Shiseido Parlour | Roppongi Hills North Tower (B1F)


Autumn Cheesecake (Chestnut) | Three – ¥990, Six – ¥1,998


Shiseido Parlour is a symbol of Ginza, and has whipped up an autumnal cheesecake made with rich cream cheese, chestnut sauce, and a biscuit base made with wheat flour from Hokkaido. It's layered with a full-bodied chestnut paste and baked.

*Available while supplies last

Jiichiro | Roppongi Hills North Tower (B1F)

Jiichiro's baked up two different flavoured baumkuchen: chocolate and berry.

Jiichiro & cacao's Bamkuchen (Dark/White) | ¥1,994 (Tax Included)

The shop has teamed up with chocolate shop 'cacao' to create both dark and white chocolate variants of their delicious baumkuchen.

Berry Baumkuchen | ¥1,188 (Tax Included)

The pastry of the berry baumkuchen is laced with raspberries and strawberry liqueur. Its surface is coated with a raspberry nappage.

Bicerin | Roppongi Hills North Tower (B1F)


Iced Chocolate with Gianduja | ¥700 (Tax Included)


This drink by long-standing cafe Bicerin is exclusive to Roppongi Hills. It takes their signature beverage 'Bicerin' which has rich dark chocolate sauce and turns it into an iced drink topped with fluffy fresh cream and hazelnut flavoured gianduja.

If you're in Tokyo this autumn, then be sure to stop by Roppongi Hills for your fill of sweets and desserts.

Okinawa: Summer BBQ Plan Opens at Southern Beach Hotel & Resort Okinawa With Swimming Pool

Southern Beach Hotel & Resort Okinawa has opened a new plan that includes an evening meal, BBQ, and accommodation at the beach hotel and resort.

Southern Beach Hotel & Resort Okinawa is in a favourable location—just a 20-minute drive from Naha Airport in the city of Itoman. It's a 3-minute drive from Roadside Station Itoman, the largest farmers and fish market in Okinawa, and within 10-minutes drive of the new 'iias' shopping complex that opened in June this year, DMM Kariyushi Aquarium, and Okinawa Outlet Mall Ashibinaa.

The hotel's impressive garden pool is 70 meters wide and is shaped in a unique way with five different levels of water spanning the entire length. Families flock to the pool in the summertime as the sun shines down and sparkles on the water.

The new plan includes access to the pool in the evenings right up to 9:00pm, allowing guests to cool down in the pool without having to worry about getting sunburned, as well as a delicious dinner to be enjoyed after fun in the pool.

The open air garden BBQ includes 90 minutes of all-you-can-eat meat, fish, and other delights to tuck into as the sea breeze caresses you.

Guests can also choose a buffet option instead which makes use of local Okinawan ingredients.

If you're in Japan this summer, and are looking for the beach resort experience, then hit up Southern Beach Hotel & Resort Okinawa.

Information

Southern Beach Hotel & Resort Okinawa – BBQ Plan

Running: August 15, 2020 – September 30, 2020

Includes: Dinner (BBQ or Buffet)

*Guess access to the pool is free

*Please choose your dinner time in advance

Official Website: https://www.southernbeach-okinawa.com/

Dine at Harajuku's New Tarako Spaghetti Restaurant Tokyo Tarako Spaghetti

Tokyo Tarako Spaghetti opened its all-new, second branch in Harajuku Omotesando on July 31, 2020. The restaurant opened its first branch back in January this year.

To commemorate the opening of the new restaurant, it is serving up two brand new tarako (cod roe) spaghetti dishes made with Japanese dashi.

Tarako & Kombu Umami With Dashi Spaghetti | ¥990 (Before Tax)

The first new dish is a combination of tarako, kombu, and dashi spaghetti. This dish adds a Japanese flair to it by combining tarako spaghetti with tarako boiled in soy. The full flavour of the kombu is extracted when the dashi is poured over, creating an irresistible flavour.

Three Fish Egg Tarako Spaghetti | ¥1,390 (Before Tax)

The second new dish on the menu is the "Three Fish Egg Tarako Spaghetti" which combines lots of tarako with toppings of salted salmon roe and flying fish roe. There's a whopping 100g of fish eggs on there, so you won't be going hungry with this filling, colourful serving of spaghetti.

Discover new kinds of tarako spaghetti dishes at Tokyo Tarako Spaghetti Harajuku Omotesando.

Information

Tokyo Tarako Spaghetti Harajuku Omotesando

Address: MS Bldg. 2F, 6-7-16 Jingumae, Shibuya, Tokyo

Opening Hours: 11:00-23:00 (Last Orders 22:00)
TEL 03-6803-8688

Official Website: https://www.tokyotarako.com