Yohji Yamamoto & New Era® Team Up to Release New Skull & Rose Pattern Items
New items have arrived in Yohji Yamamoto and New Era's® collaborative series and are available from April 18.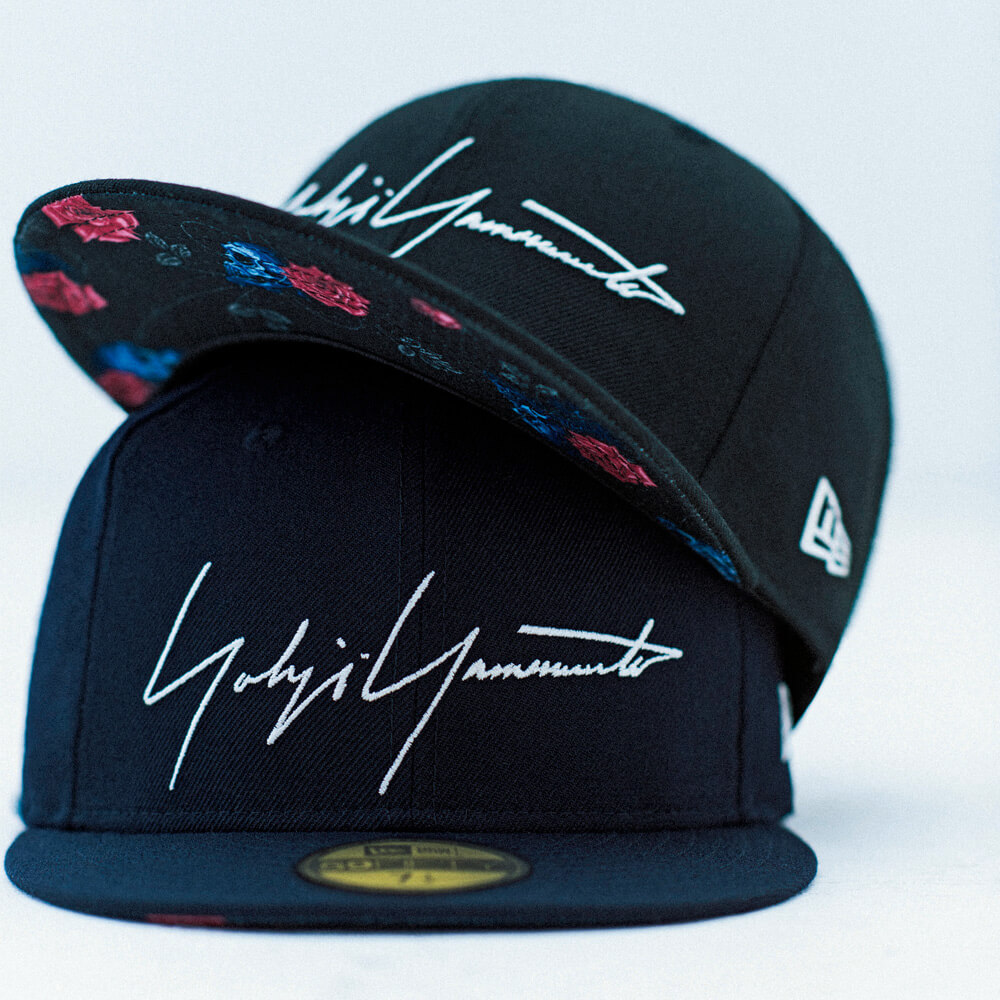 The key motif of this season's release is the skull and rose design that was featured Yohji Yamamoto Homme in the fall and winter season back in 2014. The new line-up includes caps, a rucksack, t-shirts and hoodies.
59FIFTY® – ¥15,000 (+tax) each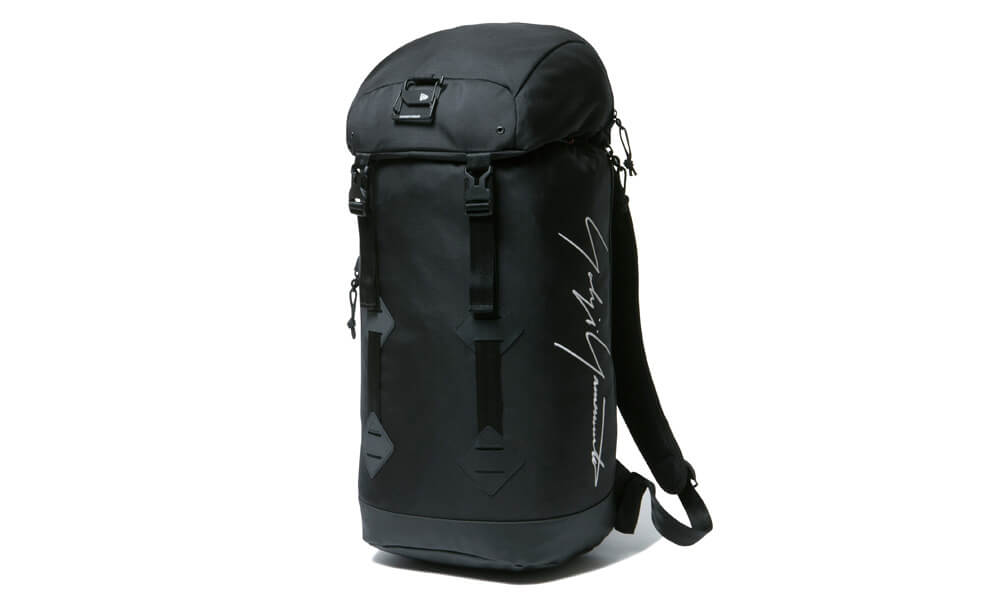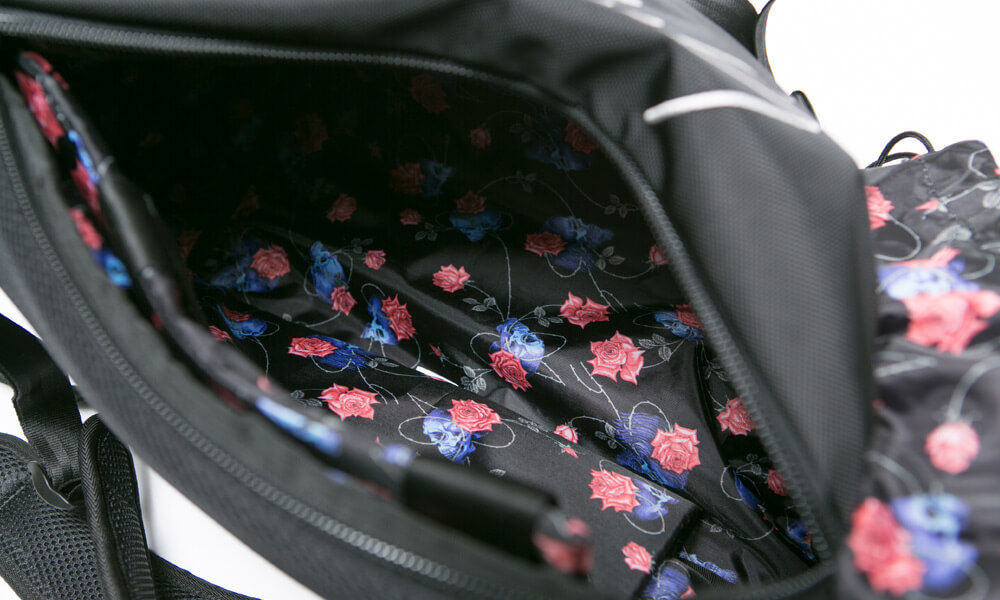 Rucksack – ¥34,000 (+tax)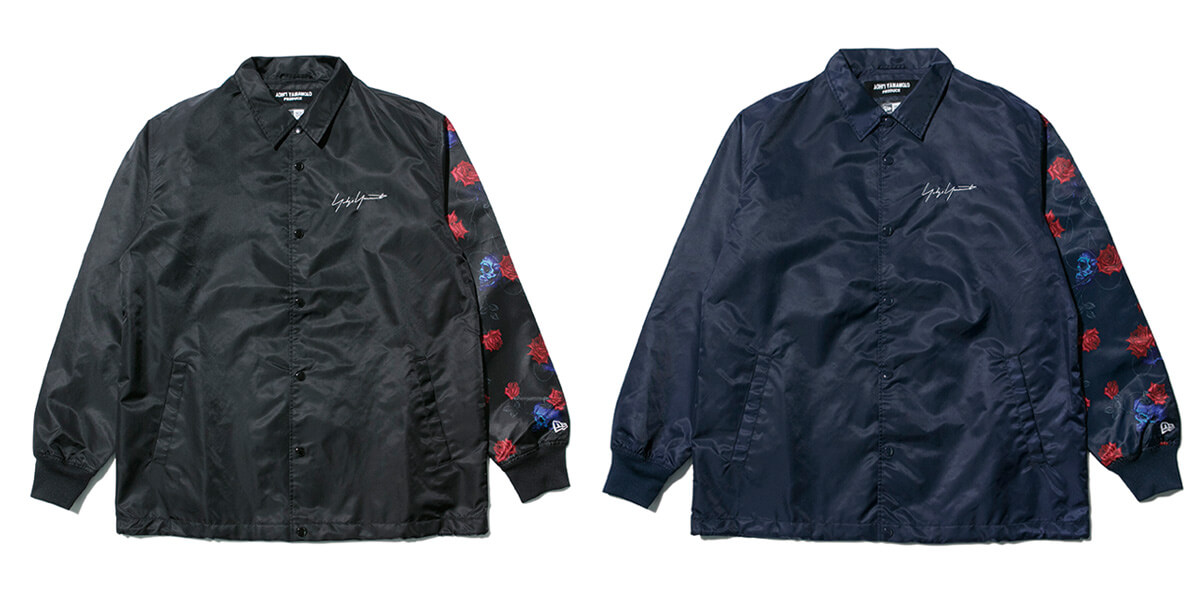 Coach Jacket – ¥38,000 (+tax)
The skull and rose patterns on the brims and linings of the clothing items will no doubt up the ante in your fashion style.
Cotton Tee – ¥16,000 (+tax) each

Sweat Pullover Hoodie – ¥30,000 (+tax)
You can't overlook the t-shirts or jackets either, which also feature the simple logo like on the black hoodies.
The items in this line can be purchased from Yohji Yamamoto company stores as well as at New Era® Tokyo, New Era® Osaka, New Era® Fukuoka, New Era® Kyoto, and via the New Era® Online Store. They are gaining rapid popularity so make sure to check them out ASAP.
■InformationYohji Yamamoto × New Era Collaboration Series
On Sale: April 18, 2018
Available: Yohji Yamamoto company stores, New Era® Tokyo, New Era® Osaka, New Era® Fukuoka, New Era® Kyoto, New Era® Online Store
New Era Official Website:
http://www.neweracap.jp
RELATED ENTRIES
Artist Takashi Murakami and New Era to Release First Collaboration Collection

World-renowned artist Takashi Murakami and international headwear brand New Era have come together to release their first collaborative collection.

Murakami's embroidered artwork appears on New Era's iconic hats, and to prepare for this unique collaboration, artwork combining the icons of both companies will also appear on select products. For those who don't wear hats, apparel and bags will also be available at New Era's online store and select stores nationwide. The collection went on sale in Japan on January 1, 2022.

Yohji Yamamoto's Brand GroundY Releases Demon Slayer Collaboration Items

Yohji Yamamoto's brand Ground Y has announced a collaboration with the globally popular series Demon Slayer: Kimetsu no Yaiba.

The new collection highlights the essence of Japanese craftsmanship, and each piece is made in Japan with Japanese fabrics. 

Tanjiro Kamado

Nezuko Kamado

Kyojuro Rengoku



This collection features the characters Tanjiro Kamado, Nezuko Kamado, and Kyojuro Rengoku, each drawn in a new style by ufotable. Yamamoto's Ground Y aims to create new fashion possibilities in a 'genderless' and 'ageless' style that can be worn by anyone, and these pieces are no exception.

More details on the collection including the product lineup and release date will be announced in late January 2022, so stay tuned!

Yohji Yamamoto S'YTE releases its first collaboration collection with Netflix's Stranger Things

Exclusive to Yohji Yamamoto's official web store, THE SHOP YOHJI YAMAMOTO, "S'YTE" launched its first collaboration with "Stranger Things", which has become a worldwide hit and a social phenomenon since its first season in 2016 and season 4 is scheduled to be released in the summer of 2022. The collection is available at THE SHOP YOHJI YAMAMOTO.

Line-up

Coach jacket

Engineer jacket

Sweatshirts

Long Sleeve T-Shirt

Shirts 

 

Long Shirts

Jacquard Knit Pullover

Jacquard Knit Pants





Set in the small town of Hawkins in the 1980s, Stranger Things is a spectacular adventure that follows the mysterious disappearance of a young boy named Will and the sudden appearance of a mysterious girl named Eleven. The combination of the dramatic development with respect to the classic movies of the 80's, the tense thriller depiction, and the exciting friendship and adventure of the children, and the original graphics with the dark elements that S'YTE is known for, resonate to create a unique collection of items.





The film focuses on the Upside Down (the other side of the world), where horrible experiments and monsters are being conducted at the national laboratory, which is an important factor in the story of "Stranger Things. The dark side, which seems like a fantasy but certainly exists, is expressed in S'YTE's unique interpretation through the use of motifs such as decaying plants and trees.

Don't miss the special collection available only here.

Globally Popular Anime Demon Slayer: Kimetsu no Yaiba To Collaborate With New Era

NEW ERA, an international headwear brand, has released a collaborative collection with the hugely popular Demon Slayer: Kimetsu No Yaiba anime, based on the manga by Gotouge Koyoharu. The collaboration will be available in NEW ERA® STORE's nationwide and online from August 19, 2021. 

The lineup is made up of 37 different items, with many themed around characters from the show or featuring the logo.

Demon Slayer: Kimetsu No Yaiba Collaboration page: https://www.neweracap.jp/collections/demonslayer


If you're a Demon Slayer fan then make sure to check out this special collaboration!

Information

Demon Slayer: Kimetsu No Yaiba x NEW ERA

Availability: NEW ERA® STORE nationwide & online

Official Site: https://www.neweracap.jp 

Yohji Yamamoto x Dr. Martens Collaboration Launches

Yohji Yamamoto teamed up with Dr. Martens to release the 'TARIAN BOOTS' Autumn/Winter 21-22 collection on July 14.


The boots are a restyling of Dr. Martens' iconic 8-EYE BOOT. The uppers feature triangular eyelets and are made from smooth and soft leather. The shafts are embossed with Yohji Yamamoto's signature logo, and the all-new lightweight and durable TARIAN outer soles are used. These boots are the first to use these new soles, so don't miss out.

Information

Yohji Yamamoto x Dr.Martens
Released: July 14, 2021

Where: YOHJI YAMAMOTO POUR HOMME / THE SHOP YOHJI YAMAMOTO / Dr. Martens Aoyama, Harajuku, and WITH HARAJUKU / Elsewhere

Buy online from July 17, 2021 at 12:00pm (JST) @ https://theshopyohjiyamamoto.jp

Dress Like EarthBound's Ness With New Era's Hat Collection

New Era has announced its first collaboration with the Mother video game series, also known as EarthBound outside Japan. Two hats, one inspired by Ness's hat from Mother 2, and a 'SMAAAASH!!' version, will be released at the Mother no Hiroba pop-up shop at Shibuya PARCO as well as at participating TOCHIBI stores in Japan on July 1.

NEW ERA® 9FIFTY™ SMAAAASH!!/Ness – ¥7,700 Each (Tax Included)

Both hats feature New Era's iconic 59FIFTY® model, which was first released in 1954, and feature the 9FIFTY™ snapback adjuster. One is coloured red and blue with a white top, just like Ness, and the other is full black with the word 'SMAAAASH!!' on the front.

The Mother no Hiroba pop-up shop will be open at Hobo Nichijo on the 8th floor of Shibuya PARCO in Tokyo from July 1 to 11. EarthBound fans can get their hands on a range of related merchandise.

©SHIGESATO ITOI / Nintendo ©HOBONICHI

Information

MOTHER x New Era Collection

Released Date: July 1, 2021

Product Details: https://www.1101.com/n/s/mother2_newera_pre

MOTHER no Hiroba Pop-Up Shop

Running: July 1, 2021 – July 11, 2021

Opening Hours: 11:00-20:00

Location: Hobo Nichijo (Shibuya PARCO Floor 8F)

Address: 15-1 Udagawacho, Shibuya, Tokyo

Entry: Free

Re:Zero x New Era® Cap Collection Features Emilia & Rem Designs

Japanese online retailer ARMA BIANCA released a new collection of caps by New Era® in collaboration with the anime series Re:Zero − Starting Life in Another World featuring Emilia and Rem designs.

 

The Line-Up

Emilia | ¥8,228 (Tax Included)


The cap features the letters 'EMT' decorated with Emilia's hairpin. The underside of the cap is decorated with various scenes of Emilia from the anime series along with the words 'Emilia-tan,' 'Seriously,' and 'Angel' in Japanese. The tip of the cap also has the New Era logo on it.

Rem | ¥8,228 (Tax Included)


The front of Rem's cap has 'FROM 0' embroidered on the front and scenes of the popular character underneath. It also has phrases she says written in English including 'Let us start over from here,' 'From one…,' and 'No.' This cap also bears the New Era logo.

The caps have a casual and simple design to them, making them easy to coordinate with outfits while also celebrating the globally-popular anime.

©長月達平・株式会社KADOKAWA刊/Re:ゼロから始める異世界生活2製作委員会

Netflix's Devilman Anime Series Gets Online Virtual Reality Exhibition

An exhibition centred on the Devilman manga series by Go Nagai, the 1972 Devilman anime adaptation, and Netflix's 2018 DEVILMAN crybaby anime adaptation, is set to take place on the online exhibition platform Virtual Utopia from April 28 to May 31.

What to look forward to

*Visuals are of an exhibition still in development

*Visuals are of an exhibition still in development

A devilish experience split into 11 areas

Devilman has been entertaining readers and anime-lovers for almost half a decade. The exhibition will depict the comparisons between humans and demons of the series in 11 different areas, each recreating scenes that are sure to be instantly-recognisable to fans.

Main Area: Heart of a Demon / Heart of a Human

The main portion of the exhibition is split into four areas which fans will find themselves going back to numerous times, and in different orders, giving each visitor their own unique perspectives and interpretations. There's also a hidden area which can only be accessed by those who have seen the 'special exhibit.' There's also a free-to-enter area with messages from the creators.

Go deeper into the VR Devilman Exhibition with the voice guide
Forget your usual guides, this exhibition incorporates voiceover guides to walk people through the exhibition. For an extra fee, fans can have Megumi Han, who plays Miki Makimura in DEVILMAN crybaby, and Tomokazu Seki, who for this exhibition is playing Psycho Jenny, guide them through the different areas.

*Visuals are of an exhibition still in development

Users can download the Virtual Utopia app for free, and the exhibition can be attended even without a VR headset. There will also be talks by the author and other notable people in the industry which can be watched live on YouTube, so anyone can get involved.

Ground Y T-Shirt Collaboration

The exhibition is also collaborating with Yohji Yamamoto's fashion brand Ground Y on six original tees.

 ©永井豪/ダイナミック企画
TVアニメ版「デビルマン」©ダイナミック企画・東映アニメ―ション
DEVILMAN crybaby        ©Go Nagai-Devilman Crybaby Project
©VRデビルマン展実行委員会

Yohji Yamamoto 'PRISMATIQUE' Pop-Up Shop Opens in Tokyo and Osaka

Yohji Yamamoto POUR HOMME is opening two pop-up shops by the name of PRISMATIQUE where customers can get their hands on a selection of unisex t-shirts inspired by art motifs from the brand's Archive Collection announced last year. The Osaka-based Hankyu Umeda pop-up shop is now open until March 30 while the Hankyu Mens Tokyo shop will open from April 7 to 13.

The line-up is a revival of art motifs from Yohji Yamamoto's 2004 spring/summer collection which was based on Taisho Roman as well as the 2007 fall/winter collection or t-shirts with graphics featuring strong messages on them.

There will also be some cut and sewns, shirts, and other items with designs from Yamamoto's 2018 autumn/winter collection made in collaboration with Japanese painter Suzume Uchida which has ghostly imagery to it.

Information

Yohji Yamamoto Limited Shop – "PRISMATIQUE"

Osaka Pop-Up Shop

Where: Hankyu Umeda Floor 1F Koto Koto Stage 11

Running: March 24, 2021 – March 30, 2021

   

Tokyo Pop-Up Shop

Where: Hankyu Mens Tokyo Floor 1F Main Base

Running: April 7, 2021 – April 13, 2021

Official Website: https://www.yohjiyamamoto.co.jp/

Yohji Yamamoto's Brand Ground Y Releases Collection in Collaboration With New Era

Yohji Yamamoto's brand "genderless and ageless" fashion brand Ground Y is releasing a new clothing collection in collaboration with New Era at Ground Y stores, THE SHOP YOHJI YAMAMOTO, and select dealers on March 22.

The Line-Up

9THIRTY™ | ¥8,800 (Tax Included)

Logo Cotton Tee | ¥12,100 (Tax Included)

Logo Cotton Hoodie | ¥17,600 (Tax Included)

The line-up takes New Era's "9THIRTY™" Spring/Summer 2021 collection and adds Ground Y's logo in a metal plate. The plate is simple yet double almost as an accessory in its stylish look.

Yohji Yamamoto x PORTER Limited-Edition Bags Release From Yoshida & Company

To celebrate the 85th anniversary of Japanese bag and accessory manufacturer Yoshida & Company, Yohji Yamamoto and PORTER collaborated to release a special bag collection on Friday (March 5) in limited quantities.

2WAY HELMET BAG (Large) – ¥98,000 (Bef0re Tax) / 2WAY HELMET BAG (Small) – ¥72,000 (Before Tax) / 2WAY SHORT HELMET BAG  ¥83,000 (Before Tax) / 2WAY VANITY POUCH ¥69,000 (Before Tax)

The line-up features stylish bags equipped with unique fasteners that cater both function and design. The bags have a 'thick' and 'heavy' look to them, something that's distinctively Yohji Yamamoto.

Black is used as the main colour, one that is symbolic of both brands. A deep matte texture is fitted in three layers, while the handles are also a matte black made from steer hide. The removable chain fasteners are a handy addition to let you freely choose their length. Plus, they look super flashy.

Each of the three bags have a removable inside pocket which can be used by itself as a pouch. They are all embroidered with Yohji Yamamoto's signature logo and branded with PORTER's brand tag.

Information

Yohji Yamamoto x PORTER 

Released: March 5, 2021

Where: Yohji Yamamoto Aoyama / Yohji Yamamoto Nagoya PARCO / Yohji Yamamoto Daimaru Kobe

Online Store: https://theshopyohjiyamamoto.jp

New Era, who are known for their headwear series, started developing high-quality bags and apparel in recent years. They have now developed their very first randoseru backpack. 

A randoseru is a kind of firm and sturdy backpack often used by elementary school students. Its most appealing and distinctive features are the large smooth flap and slightly rounded corners. 

Randoseru: ¥75,000 (Before Tax)

This randoseru backpack was developed to hype up the daily lives of new students eagerly anticipating the start of the 2021 academic year.

Colour samples from New Era's 59FIFTY® baseball cap visor sticker inspired the black and gold colour scheme. New Era's logo designs can be seen all over the bag. It even comes with a cap clip for you to carry your headwear. The new randoseru bags are set for release in April 2020. 

This fashionable randoseru bag is full of beautiful details and is just what you need to start your next school year.