Idea goods brand Bibi Lab® have announced sales of a human-sized cat house so you can embrace your inner kitty!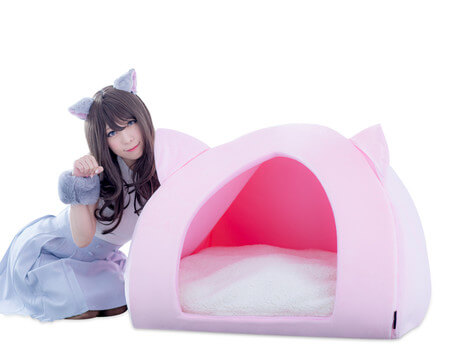 Bibi Lab's policy is to faithfully adhere to developing products wanted by people, creating things such as sailor uniform style roomwear and wearable blankets for winter. They fulfil the hidden desires of the modern person. Riding the bandwagon of the cat boom that has developed in recent years, they have paid attention to people's wish to become like cats. They put out a questionnaire to find out the reasons behind this.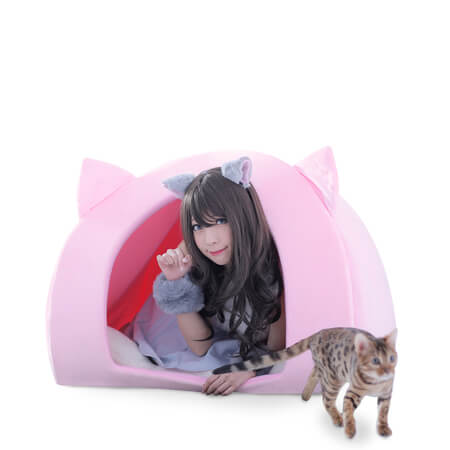 The questionnaire results showed that people were envious of the cat lifestyle and that they also desired to do things like bask in the sun and take an afternoon nap when they become tired in their everyday lives. It also identified people's mentality in wanting to become cute no matter what. The questionnaire showed that 77.5% of the people who answered had experienced wanting to become a cat at some point. It also brought to life the fact that 10.4 people post on social media "I want to be a cat" (猫になりたい) every hour, which rose to approximately 250 people in one month.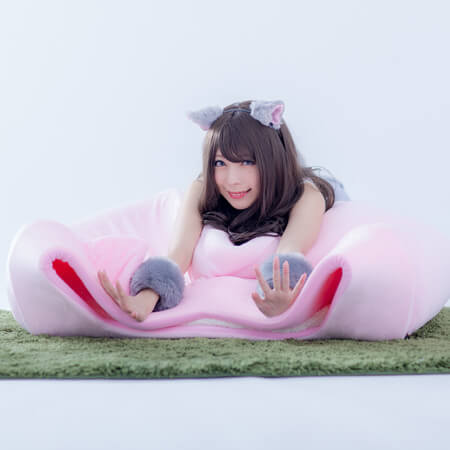 That's where the human-sized pet house comes into play. The company suggested that if people have time to liberate from themselves and be a cat for a while, then the modern person today, who lives a busy and stressful life, can heal themselves. So they developed the pet house with cat lovers in mind and incorporated in every detail.
Together with cooperation from companies that actually produce goods for pets, the resized human pet house is made just like a cat house would be made – everything from the materials to the shape and design. Based on the nature of cats liking to fit into small spaces, the human pet house is also made in just the right size for people. And when you're not using it, you can fold it up compactly and store it for next time.
The inside is made from raised nap and is soft to touch. The outside is made from smooth boa. Both the outside and inside are soft on the skin. The walls are approximately 3cm thick and filled with cotton and absorb surrounding sound and light well. So you can relax comfortably just like a cat!
Get your paws on Bibi Lab's® new human-sized pet house and relax like a cat to your heart's content.
■Information
Human-Sized Pet House (人間用ペットハウス)
Price: ¥11,700 (suggested pre-tax retail price)
RELATED ENTRIES
Cute Cat-Shaped Mango Cheesecake Arrives at Neko Neko Cheesecake

Neko Neko Cheesecake released its new seasonal 'Neko Neko W Cheesecake Mango' on Tuesday. Neko Neko Cheesecake is a sister brand of Neko Neko Shokupan by the same company, ALL HEARTS COMPANY, which serves cat-shaped bread.

Neko Neko W Cheesecake Mango | ¥2,430 (Tax Included)


The cute cheesecake is packed full of seasonal mango in the form of a mango and passion fruit sauce layered on top of the biscuit base. The cake is topped with fresh mango, lending a juicy and refreshing flavour to the sweet and tangy cake.

This tropical mango delight is one of many delicious cakes by Neko Neko Cheesecake. Be sure to check out our other coverages on the shop.

Tokyo Mew Mew New Anime Cast Music Group Smewthie Performs Live

In promotion of the upcoming new anime series adaptation of Tokyo Mew Mew New, which is releasing in 2022, the cast hosted an event titled '2nd MEW♡ting' on Saturday May 22 where they read their lines aloud to fans.

The event was held on the same date as Masaya Aoyama's birthday – the male love interest of the series protagonist Ichigo Momomiya. There was a section of the event where Ichigo spoke about the cake she made for Aoyama the day before.

This was Smewthie's first event with a live audience. They performed full versions of bitter sweet darling and Resolution of colors for the first time, amongst other fun things such as a segment similar to a Japanese variety show.

'bitter sweet darling' was the group's first single

Smewthie「bitter sweet darling」Music Video


Smewthie「bitter sweet darling」Dance Performance Video


bitter sweet darling: Track Download ¥250 / Full Single Download ¥1,350 / His-Res Track Download ¥400 / Hi-Res Full Single Download ¥1,800

bitter sweet darling is available on music streaming and download services.

Will you be watching Tokyo Mew Mew New when it airs next year?

©征海美亜・吉田玲子・講談社/「東京ミュウミュウにゅ~」製作委員会
©征海美亜・吉田玲子/講談社

Neko Neko Shokupan x Samansa Mos2 Clothing Collaboration Released

Fashion brand Samansa Mos2 joined paws with the cat-themed bread and pastry store Neko Neko Shokupan to release their first collection together at Samansa Mos2 stores and the online store CAN ONLINE SHOP on May 14.

The Line-Up

Half-Sleeve Photo Print T-Shirts
Colours: Off-White/Unbleached/Beige
Price: ¥3,190 (Tax Included)

Half-Sleeve Monogram Print T-Shirts
Colours: Off-White/Yellow/Brown
Price: ¥3,190 (Tax Included)

Half-Sleeve Back Print T-Shirts
Colours: Off-White/Yellow/Brown
Price: ¥3,190 (Tax Included)

Back print tee design

Shokupan Print Hoodie
Colours: Beige/Khaki
Price: ¥4,290 (Tax Included)


Kid's Line

Photo Print T-Shirt
Colours: Off-White/Yellow
Price: ¥2,530 (Tax Included)

French Flare T-Shirts
Colours: Beige/Khaki
Price: ¥2,530 (Tax Included)

Miscellaneous

Embroidered Canvas Tote Bag
Colours: Unbleached/Beige
Price: ¥3,850 (Tax Included)

Handkerchief
Colours: Beige/Purple
Price: ¥660 (Tax Included)

Reversible Shoulder Pouch
Colours: Beige/Khaki
Price: ¥3,190 (Tax Included)

Bottle Holder
Colours: Beige/Khaki
Price: ¥2,750 (Tax Included)

Mobile Ring Holder
Colours: Beige/Grey
Price: ¥1,650 (Tax Included)

Neko Neko Shokupan are known for their rich and milky cat-shaped bread which uses milk and zero water. They're a hugely popular bakery brand who often find themselves across social media pages including Instagram. This marks their first collaboration with Samansa Mos2 who celebrate their 35th anniversary this year.





The collection features key visuals taken from the Neko Neko Shokupan brand. Items include a variety of tees and hoodies as well as other miscellaneous must-grabs like tote bags, handkerchiefs, bottle holders, and more. There's even a children's line-up as part of Samansa Mos2's kid brand Samansa Mos2 Lagom so parents and their children can coordinate cute matching outfits.





Look felinely-fashionable this summer with the Samana Mos2 x Neko Neko Shokupan collection.

 

Neko Neko Shokupan, a Japanese company that makes cat-shaped bread, is releasing a new limited-time blueberry flavour for the entire month of June at all branches.

Neko Neko Shokupan Blueberry | Single Slice ¥842 (Tax Included)

Their bread arrangements are super popular

The June-exclusive blueberry bread uses blueberry jam in the dough. One bite fills your taste buds with sweet and fruity ecstasy. It can be enjoyed as it is, or made even more delicious by toasting and adding a spread of butter which elevates the sweetness of the blueberry even more.

The cat-shaped bread, which is made with milk, can be decorated with chocolate pens and other decorations to create a unique and original design. Their bread arrangements are super popular on social media. Perfect as a sweet treat to yourself or a gift to someone.

If you're in Japan this June, don't miss out!

Information

Neko Neko Shokupan Blueberry

Price: Single Slice ¥842 (Tax Included)

Available: At all Neko Neko Shokupan branches

Official Website: https://nekoshoku.allhearts.company

Neko Neko Cheesecake Releases New Cat-Shaped Mikan Orange Flavoured Cake

Neko Neko Cheesecake is set to open pre-sales for its new Nyan Cheese Mikan cheesecake at Pastel branches of Neko Neko Cheesecake on April 22 before rolling it out at all Neko Neko Cheesecake branches.

Neko Neko Cheesecake is a sister brand of Neko Neko Kuu Pan from the same company which serves cat-shaped bread.

Nyan Cheese Mikan | Single Slice: ¥237 (Tax Included)

Nyan Cheese Mikan | Box of 4: ¥1,080 (Tax Included)

The cheesecake is made with Brie de Meaux, aka the king of cheeses, and cooked at a high temperature to add a gorgeous browned surface. They contain rich juice from mandarin oranges to give them a refreshing kick perfect for the spring season. A perfect snack or post-dinner dessert.

Cat Themed Beauty Tool Series 'Nyarming' Releases in Japan With Cute Feline Designs

Kai Corporation released its new cat-themed beauty tool series Nyarming in Japan on Monday (March 15) at drugstores, home centres, and elsewhere.

Cat-lovers' beauty routines are about to get even more exciting

The collection comes as the next rendition of Nyammy, a cookware brand by Kai Corporation in February 2017 with cat designs. The series has sold over 900,000 units since its release. Nyarming is the newest entry to Kai's cat line-up with nine cute beauty tools that any cat lover will go feline-feral for.

 

The Nyarming Collection

 

Cat Eyelash Curler | ¥715 (Tax Included)

A cute eyelash curler featuring a round body and cat ears, paying respect to our beloved kitties without being too obvious about it. But these cat ears aren't just for show – they help put your eyelids up so you can catch the hairs from the eyelash hairline properly. The curler is a compact size, just 7cm.

 

Cat Fringe Clip | ¥400 (Tax Included)

Tie your fringe up with this adorable cat paw clip. Perfect for when you're doing your makeup, working at the desk, and pretty much any situation.

Cat Hairbrush | ¥660

This cat paw hairbrush features a soft paw-like cushion lined with brush bristles which stimulate the hair and scalp. Great for when you need to brush your hair before shampooing or if you're going to blow dry or style it.

Cat Makeup Brush | ¥1,210 (Tax Included)

A cute cat paw makeup brush for applying foundation and blush. The paw takes on the colour of the product you use, making it look even cuter.

 

Cat Hair Turban | ¥1,045 (Tax Included)

A simple but high quality hair turban that can be conveniently used for applying makeup, washing your face, or relaxing at home.

This is just a select look at a long list of products available in the new Nyarming series – check out Kai's official website for more info.

Cute Fishing Cat Figures Reel Their Way to Capsule Toy Machines Across Japan This Summer

Japanese figure brand G Suta is releasing a new collection of cute figurines of cats fishing with fishing rods at capsule toy vending machines across Japan at the end of June.

5 Designs (Mixed/Munchkin/Calico/Scottish Fold/Norwegian Forest) – ¥200 Each (Tax Included)

These cute furballs are perfect for sitting on the sides of desks, tables, computers, as well as on shelves and elsewhere. And you of course don't need to worry about feeding them as they can catch their own fish themselves!

Information

Fishing Cats

Japanese Product Name: 釣り日和~猫たちのひまつぶし~

Release Date: Late June 2021

Price: ¥200 (Tax Included)

Designs: 5

Where: Capsule toy vending machines found everywhere across Japan

Official Website: https://yell-world.jp/

Disney Japan Celebrates The Aristocats' Marie Day & Cat Day With Cute Feline Merch

Walt Disney Japan is releasing a new collection of merchandise of its famous feline characters in line with Japan's Cat Day and Disney's O'Malley Day, both of which fall on February 22. The items will be released at Disney Stores in Japan on February 16 but pre-sales will hit select shops and Disney Japan's online store shopDisney on February 12.

©Disney

Loungewear ¥5,060 / Mat ¥4,400 / Vanity Pouch ¥2,860 / Sweatshirt ¥4,290 / Snowdome ¥10,780 / Figurines <Dinah> <Marie> <Figaro> ¥2,420 Each / Figurine <Cheshire Cat> ¥2,640 / Cushion ¥4,180 / Mug ¥1,650

Hand Mirror ¥1,760 / Plushie Key Chain ¥2,750 / Smartphone Case ¥3,520 / Mini Towels ¥660 (Prices Include Tax)

Familiar kitty faces from some of Disney's most celebrated animated films can be seen all around in the collection, including cats from The Aristocats, Cinderella, Alice in Wonderland, Pinocchio, and more. Pink is the base colour for the collection, perfect for the forthcoming spring season.

The line-up is a must-grab for any fan of Disney's cats, from figurines and a mug to a cushion, sweatshirt, vanity pouch, and more.

©Disney

Information

Cat Day Merchandise
Pre-Sale Release Date: February 12, 2021

Pre-Sale Locations: Disney Store Sendai Toei Plaza / Disney Store Shibuya Koen-dori / Disney Store Kyoto Shijo Kawaramachi / Disney Store Shinsaibashi

General Release Date: February 16, 2021
Product Page: http://shopDisney.jp/cat-day/2021/

Sailor Moon Eternal Anime Film Promoted With Luna and Artemis Cheesecakes

Neko Neko Cheesecake, a bakery chain in Japan which cooks up cute desserts and pastries shaped like cats, is promoting the release of the two-part anime film Sailor Moon Eternal with two cheesecakes reminiscent of Luna and Artemis. The cakes will be sold from February 11 to March 25.

Sailor Moon Nyan Cheesecake (Mango) | ¥1,380 (Before Tax)

Sailor Moon Nyan Cheesecake (Strawberry) | ¥1,380 (Before Tax)

The cakes arrive in fruity mango and strawberry flavours, available both in-store at Neko Neko Cheesecake branches and via the online store All Hearts Mall in Japan. Both are also safely wrapped up and packaged in a cute box featuring a sailor uniform before being placed in a bag that has Luna and Artemis huddled together and sat atop a crescent moon.

The first film in the Sailor Moon Eternal series was released on January 8, 2021, and the second on February 11, 2021.

©武内直子・PNP/劇場版「美少女戦士セーラームーンEternal」製作委員会

Sailor Moon Eternal's Second Anime Film Promoted With Luna Shaped Bread

Japanese bakery Neko Neko Shokupan is promoting the release of the second in the two-part anime film series Sailor Moon Eternal by baking up a bread inspired by everyone's favourite feline: Luna. The bread will be sold from February 11 to March 25.

Neko Neko Shokupan Luna Bread w/ Chocolate Pen | ¥1,200 (Before Tax)

The bread is made of pastry laced with black cocoa powder. Luna's ears are strawberry flavoured and she  of course has her iconic crescent moon atop her forehead. She arrives safely packaged in a cube-shaped box decorated in night sky stars and the moon. This box is placed in an eye-catching bag with little Sailor Moon details that are sure to be familiar to any fan, including Luna herself as well as Artemis.

The bread is available in-store at Neko Neko Shokupan branches and via the online store All Hearts Mall in Japan

The first film in the Sailor Moon Eternal series was released on January 8, 2021, and the second on February 11, 2021.

©武内直子・PNP/劇場版「美少女戦士セーラームーンEternal」製作委員会

Cat Shaped Bread Releases at Neko Neko Shokupan For Hinamatsuri Festival

Neko Neko Shokupan is celebrating Japan's annual Hinamatsuri festival, also known as Doll's Day, by releasing a set of three limited-edition flavours of its popular cat-shaped bread. It is now available via their online store until March 3, 2021.

Strawberry / Plain / Matcha – ¥4,600 (Tax & Shipping Included)

Neko Neko Shokupan Hinamatsuri Strawberry

Neko Neko Shokupan Hinamatsuri Plain

Neko Neko Shokupan Hinamatsuri Matcha

Neko Neko House

The cute set includes pink-coloured strawberry, white-coloured plain, and green-coloured matcha breads which are available for delivery at addresses in Japan. They arrive in a cute house-shaped box.

Cat Day 2021: Japan Celebrates the Day of Cats With Pop-Up Shops and Events

BS TV Tokyo is celebrating Japan's Cat Day, which falls on February 22, by opening pop-up shops at ten Book1st stores and two Marui stores which will run from February 1 to 28.

The pop-up shops will feature a feline-filled wealth of reading material and merchandise based on popular cat characters in Japan, like Tom & Jerry, Kuroro, Nanana, and more. And if you head to the Nakano branch of Book1st and visit their 2nd floor cafe "Cafe nota nova," there'll be some decorative cat-themed displays on show. During the pop-up shops' openings, all who buy goods and books related to the event will receive a free folder too.

If you love cats, and are in Japan this month, then don't miss out on this special event in the run up to Cat Day!

Information

Cat Day Pop-Up Shops
Running: February 1, 2021 – February 28, 2021

Book1st Participating Branch List

Locations: Shinjuku, Nakano, Aobadai, LUMINE Kita-Senju, LUMINE Kagagoe, Mosaic Mall Kohoku, Shapo Ichikawa, Bono Sagamiono, Hankyu Nishinomiya Gardens, Ebista Nishinomiya

Running: February 1, 2021 – February 28, 2021

Marui Participating Branch List

Marui Kichijoji (February 16 – 28)

Shinjuku Marui Annex (February 22 – 28)

Event Details: https://www.bs-tvtokyo.co.jp/catday2021/