Musubizm and the Chocolate Factory!
Valentine's Day, a.k.a February's main event. How did you spend yours this year?
Valentine's Day this year at the MOSHI MOSHI BOX was spent with idol group Musubizm who held an event called "Musubizm and the Chocolate Factory" on the second floor of the building.
Fans waiting for the event to start formed a huge line outside MOSHI MOSHI BOX. Standing in line were many female fans and foreign fans. Many fans attended the event in spite of the rain, but their enthusiasm warmed up the event. The members of Musubizm arrived at the event dressed in clothes reminiscent of the film "Charlie and the Chocolate Factory". The members had a lot of fun talking with fans as they handed out chocolate fondue and drinks to everyone.
There were gifts to be won including photos of the members that came with chocolate and personal belongings from the members themselves, all of which could be obtained in the chocolate lucky dip. Everyone was focused and tried their best to win something! There was even a moment when the manager became impatient because the members were letting people try lots of times! Musubizm were able to interact with lots of fans and did fan photos and signings.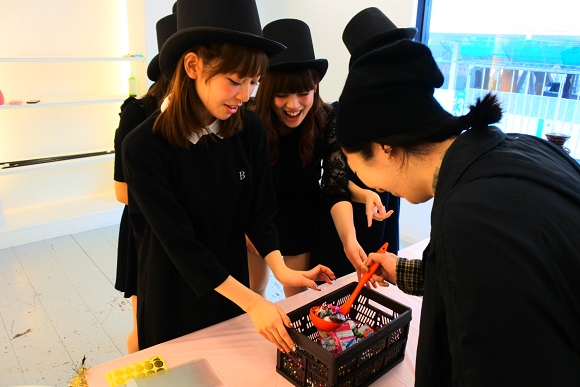 The event was bustling from start to finish. Maybe everyone there had an even more happy valentine's than the people in town!?
Musubizm are currently planning to hold more events at MOSHI MOSHI BOX in the near future. They also have various upcoming concerts, so be sure to check out their schedule!
Musubizm will be performing one live show every month at Ebisu CreAto as part of their "Musundeika Night '16" tour. The next concert will be held on February 24th.
Musubizm Official Website
http://musubizm.asobisystem.com/
RELATED ENTRIES
FRUITS ZIPPER Releases New Valentine's Day Song 'Hapi Choco' along with Music Video

The popular idol group FRUITS ZIPPER has released its long-awaited new single Hapi choco (Happy Chocolate), just in time for Valentine's Day.

The group hopes the song will become the new Valentine's Day anthem. Hapichoco was written by Shou Yamamoto, who previously wrote the group's smash-hit second single Watashino Ichiban Kawaiitokoro, which currently has over 600 million views on TikTok.

The light-hearted track is a love song following a woman celebrating Valentine's Day.

Fans who watch the music video may recognize Sako Makita's signature choreography. The artist also choreographed the dance for Watashino Ichiban Kawaiitokoro, and the new video completely captures the adorable aura of the FRUITS ZIPPER members. The music video premiered at 20:00 on February 1.

Hapi choco will be performed live for the first time at the FRUITS ZIPPER 1st One Man Tour 2023 -WINTER- ♡BE AT THE HEART♡concert on February 3. Tickets are completely sold out for the ReNY Limited show in Nagoya on February 3, the men-only WWW X show in Tokyo on February 9, and the women-only performance on February 10. VIP tickets for the extra capacity Namba Hatch performance in Osaka on February 5 and the tour finale at LINE CUBE SHIBUYA in Tokyo on February 12 are also sold out. Only general admission tickets are available for these two shows.

From February 1 to February 14, a limited-time FRUITS ZIPPER Valentine pop-up shop is being held on the 5th floor of Laforet Harajuku. Fans will be able to purchase exclusive items, see the group's costumes, and leave notes on a giant board for the members to see. Don't miss it!

For the latest FRUITS ZIPPER news, follow the group on Twitter (@fruits_zipper).

Information

<Single Details>
Hapi Choco – FRUITS ZIPPER (9th Single)
Release Date: February 1, 2023
Streaming URL:

<Tour Information>
■FRUITS ZIPPER 1st One Man Tour 2023 -WINTER- ♡BE AT THE HEART♡
Date: February 3, 2023 *Sold Out
Venue: ReNY limited
Time: Doors open 17:30 / Show starts 18:30
Contact: Sunday Folk Promotion (052-320-9100) *Open daily 12:00-18:00

Date: February 5, 2023
Venue: Nanba Hatch
Time: Doors open 16:30 / Show starts 17:30
Contact: Kyodo Information (0570-200-888)

FRUITS ZIPPER 1st LIVE TOUR 2023 WINTER 〜FRUITS DAY〜 *Sold Out
Date: February 9, 2023
Venue: Shibuya WWW X
Time: Doors open 18:00 / Show starts 19:00
Contact: HOT STUFF PROMOTION (03-5720-9999) *Open weekdays 11:00-19:00

FRUITS ZIPPER 1st LIVE TOUR 2023 WINTER 〜ZIPPER DAY〜 *Sold Out
Date: February 10, 2023
Venue: Shibuya WWW X
Time: Doors open 17:30 / Show starts 18:30
Contact: HOT STUFF PROMOTION (03-5720-9999) *Open weekdays 11:00-19:00

[Tickets]
VIP (Standing): ¥15,000 (Tax Included, Drinks Separate)
General (Standing): ¥5,000 (Tax Included, Drinks Separate)

■FRUITS ZIPPER 1st LIVE TOUR 2023 WINTER -TOUR FINAL –
Date: February 12, 2023
Venue: LINE CUBE SHIBUYA
Time: Doors open 17:00 / Show starts 18:00
Contact: Sunrise Promotion Tokyo (0570-00-3777) *Open weekdays 12:00-15:00

[Tickets]
VIP (Reserved Seats): ¥18,000 (Tax Included) *Sold Out
General (Reserved Seats): ¥6,500 (Tax Included)

General Sales: 1/14, 10:00~
Sales URL: http://l-tike.com/fruitszipper/

■Notes
・Up to 2 tickets per person per purchase. (Young children not permitted.)
・Tickets will be electronic.
・The Tokyo performance on February 9 will be men-only.
・The Tokyo performance on February 10 will be women-only.
・Transferring or reselling tickets for a fee without the consent of the event
organizer is prohibited.

FRUITS ZIPPER Valentine Pop-Up Shop
Running: February 1 – February 14, 2023
Venue: Laforet Harajuku 5F, MAKE THE STAGE
*Closed on February 7, February 8

Details Here
https://www.laforet.ne.jp/pop_up_shop/fruitszipper_2301/

<FRUITS ZIPPER>
The fresh new idol group FRUITS ZIPPER, created as a part of ASOBISYSTEM's KAWAII LAB project, is aiming to introduce Japan's ever-growing idol culture to the world. The producer of the group is model and celebrity Misa Kimura, who is also the general producer of KAWAII LAB. A lover of idols for years, Kimura previously served as the leader of the idol group Musubizm.
The group's name combines FRUITS, meaning 'to bear fruit,' and ZIP, meaning 'to give energy.' Under the concept 'from Harajuku to the world,' FRUITS ZIPPER will transmit what they call 'NEW KAWAII' from Harajuku, an area known for fashion and individuality, to their growing global fanbase.

Twitter:https://twitter.com/fruits_zipper
Instagram:https://instagram.com/fruits_zipper
YouTube:https://www.youtube.com/channel/UCW8Q9LBGGBgK6a-u0C0h95A
TikTok:https://vt.tiktok.com/ZSen7dJAT/
Facebook:https://www.facebook.com/FRUITSZIPPER/

MANON Releases the Last of Four Consecutive Monthly Singles, 'gabber gabber hey!!'

Cutting-edge female artist MANON has released the fourth of four consecutive monthly releases! The song gabber gabber hey!! was released on streaming services on January 27.

This happy, hardcore track contains elements of the 2000s rave scene and has a catchy beat that's sure to be a hit during live performances. The song was co-written by trackmaker kiraku who has worked with MANON on all other consecutive releases.

The single's artwork was done by 3D creator SINBIOX with Mark Robinson returning to create the logo art.

<Comment from MANON>
"My final consecutive release, gabber gabber hey!!, is here⭐️

I've been wanting to try this Gabber style of music for a while now! The song was inspired by my image of the girls from Winx Club after they become rave girls, dancing until morning.

This song has happy hardcore elements like those found in GALCHAN MODE, and listeners can just bounce to their heart's content. The artwork this time was done by SINBIOX, a 3D artist I've been seeing on Instagram forever, and the logo was done yet again by Mark Robinson. The two collaborated to create incredibly cute cover art💕 I hope you listen to the track!" ^_−☆

Information

gabber gabber hey!! – MANON (Digital Single)
Lyrics: MANON / Prod.: kiraku
Streaming Date: January 27, 2023
Streaming URL: https://ssm.lnk.to/ggh

<Information on 4 Consecutive Monthly Releases>

Fake Friends (Single 1)

https://ssm.lnk.to/FakeFriends

aura (Single 2)

strong zero gravity (Single 3)

FYA'M' from Multimedia Project aoppella Releases Music Video for A Capella J-Pop Cover of UNISON SQUARE GARDEN's 'Sugar Song and Bitter Step'

aoppella, a new vocal multimedia project from KLab, tells the story of eleven high school students discovering the art of a cappella. On January 23, KLab released the music video for the group's third a capella J-pop cover of UNISON SQUARE GARDEN's Sugar Song and Bitter Sleep on YouTube.

In addition, the project will celebrate its second anniversary with an event on Mary 27 and 28.

 

Sugar Song and Bitter Step – UNISON SQUARE GARDEN (J-Pop Cover)

The cover transforms the popular track into an unbelievable a cappella performance highlighting the unique lyrics with the member's powerful voices.

The music video shows the members of FYA'M' walking around the city in their personal fashion. As mature as each of the boys may be, they're still high schoolers with their own youthful personalities!

Story
It was on that unforgettable day that the boys found themselves changed.

In front of them were ordinary high school students just like them. There were no flashy costumes or musical instruments.

But the moment they began to sing a surreal harmony filled the air and the crowd went wild.

"We want to sing like that! We want to shine, too!"

High school students captivated by the art of a cappella aim for the top in the exclusive high school a cappella contest called 'aoppella.' Watch as they try to perfect their pitch–the show is about to begin!



©KLab

Information

Kanadezaka Private School A Cappella Club FYA'M'
Maito Coresawa (Yuki Ono)
Mitsuo Ayase (Toshiyuki Toyonaga)
Akira Shigaki (Wataru Urata)
Asaharu Soenji (Takuya Sato)
Yui Nekoyashiki (Daiki Hamano)
Fukami Shinkai (Shugo Nakamura)

Original Song: Sugar Song and Bitter Step – UNISON SQUARE GARDEN
Lyrics/Composition: Tomoya Tabuchi
A Capella Arrangement/Mix: zakbee
Video: Kusumi

aoppella!? -2nd Anniversary Party-
Date
May 27, 2023
*The exhibition and shop will be open on May 27 and May 28

Venue:
Yokosuka City Bunka Hall
https://www.yokosuka-bunka.info/
Details: https://web-dev.aoppella.com/news/230122/

Official Site: https://www.aoppella.com/

VTuber Group NIJISANJI EN to Hold First Live Event in April 2023

In May 2021, the NIJISANJI EN project appeared as a part of the overall umbrella of NIJISANJI VTubers. This April, these English-speaking talents will hold their first live event titled COLORS. A total of 19 performers will appear on April 8 and 9, with the Pastel Stage being held on the 8th and the Vivid Stage being held on the 9th. Don't miss these fully 3D AR performances!

Online tickets are on sale now, and fans can buy tickets for either a single day or the full two days. The performances can be watched as many times as you like during the viewing period, and the first part of the event will be broadcast for free on YouTube and Nico Nico Live.

Information

COLORS (NIJISANJI EN AR LIVE) – Pastel Stage & Vivid Stage
Dates
April 8, 2023 at 12:00JST (Pastel Stage)
April 9, 2023 at 12:00JST (Vivid Stage)
Performer Details and Ticket Info: https://event.nijisanji.app/EN_COLORS

SKI-HI and NTV Launch New Major Project, Theme Song 'D.U.N.K' Streaming Soon

SKY-HI and NTV have announced a new major project titled D.U.N.K. -DANCE UNIVERSE NEVER KILLED-. The large-scale project aims to promote SKY-HI and other Japanese vocal and dance groups around the world.

The project will be broadcast on YouTube and other video streaming platforms and fans can expect content other forms of media content as well. D.U.N.K. will feature exciting content that blends music and dance along with conversations with artists, behind-the-scenes extras, and collaborative ventures.

The project will start on February 1, 2023 on NTV with an interview with SKY-HI about the project's launch and a few chats with participating artists. This will be followed by a large-scale live event over three days on March 5, March 11, and March 12 featuring a lineup of incredible artists.

The theme song D.U.N.K. will be released on all streaming services on February 3, 2023. The track promises to be a killer tune that will make all of Japan dance and will inspire people to follow their dreams. With straightforward lyrics, impressive rap, and emotional vocals, get ready to tune in to this track early next month!

Information

D.U.N.K. – SKY-HI (B-ME)

Release Date: February 3, 2023

D.U.N.K. -DANCE UNIVERSE NEVER KILLED-

Premieres February 1, 2023

Official Site: https://dunk.dance

Netflix Releases Trailer for Sci-Fi Anime Series Make My Day, Announces Voice Cast

Netflix will begin streaming the sci-fi anime series Make My Day on February 2, 2023. The series is an adaptation of an original story by manga author Yasuo Ohtagaki, known for Moonlight Mile and Mobile Suit Gundam Thunderbolt. Shoji Kawamori, the mechanical designer on the Macross series, and Kiyotaka Oshiyama, known for his work on DEVILMAN Crybaby and Chainsaw Man, are acting as mechanical designers for the series.

The sci-fi action series follows a collection of characters on a tough mission across an icy planet where terrifying creatures suddenly appear to attack humans.

A gripping trailer and collection of screenshots have been revealed ahead of the series premiere. Fans can anticipate voicework by Masaomi Yamahashi (Jim), Ayahi Takagaki (Marnine), Kazuhiro Yamaji (Walter), and Akio Ohtsuka (Commander Bark).

Netflix has also announced that Atsuko Tanaka, known for her role as Motoko Kusanagi in the Ghost in the Shell series, will be playing the role of Cathy Beck, a government officer on the planet Coldfoot.

The writer of the series, Yasuo Ohtagaki, has stated that James Cameron's Aliens was his inspiration for the work, remaking that the horror film challenged the 80s industry standard of splatter movies.

The snowy, ice-covered planet Coldfoot is home to a precious energy-rich ore called "Sig." On the surface, the planet seems to be a crime-free utopia, but in reality, prisoners are used for back-breaking Sig mining. Jim, a young prison guard, rushes to the site of a sudden mining accident to find a mysterious creature attacking the humans.

In the trailer, Cathy explains that the planet's atmosphere is poisonous and the surface is completely frozen. "This is a white hell that rejects living beings," she continues. "Only those who are suicidal should consider escaping."

When the swarm begins attacking with abandon, viewers are left asking one question: can people survive such a desperate situation? Walter claims that their actions have "opened up the cauldron of Hell," and it's hard to imagine so many different people coming together to combat something so terrifying and unknown.

"When crafting a story around the sudden appearance of monsters, I was constantly thinking about Aliens 2," Ohtagaki commented. "It challenged the expectation that every sci-fi horror film in the 80s needed to be a splatter-fest."

The series is a love letter to the science fiction genre. Cameron's Aliens was far from his last mega-hit, with the current Avatar sequel making headlines around the world.

"When I was developing the story, I focused on not taking the viewer's perspective off of Jim, the main character," Ohtagaki continued. "I wanted people to become emotionally involved in this story by experiencing it through his eyes and ears. I was influenced by first-person action RPGs."

To combat the swarm of monsters, humanity must rely on science and technology.

The eye-catching design of the mecha seen in the trailer is reminiscent of Mobile Suit Gundam Thunderbolt and Macross while also being more modern and realistic.

"Logical and realistic mecha design is my forte, and that's the direction I wanted to take in this work," said Ohtagaki. "In Mobile Suit Gundam Thunderbolt, we set the stage and carefully went through a creative process to find out what kind of human drama could evolve on that stage. We did the same thing here, creating Coldfoot and imagining what kinds of people might live there. That process makes things more realistic." Will the mecha in this series be a help or a hindrance to humanity?

"Although this is a sci-fi monster tale, Make My Day is also about Jim's growth as a person. In the process of battling through this terrible situation, he learns about friendship and love. He becomes stronger, he takes on more responsibility, and he creates his own family-like bonds," Ohtagaki concludes.

Tune in to Make My Day when it premieres on Netflix early next month!

Soundtrack for BLUE GIANT Jazz Manga Film Adaptation Coming Soon

In 2013, Shinichi Ishizuka's BLUE GIANT manga series hit the scene. Serialized in Big Comic, the series has sold over 9 million copies to date. Readers have fallen in love with the author's depiction of emotion and Ishizuka has even influenced the real-world jazz scene with his creation. BLUE GIANT will be adapted into an anime film coming to theaters on February 17, and the staff's dream of bringing real jazz at max volume to the masses will finally come true.

The world-renowned pianist Hiromi Uehara oversaw the film's music. The authentic jazz heard in the film's trailer has already become a hot topic, and the original soundtrack will be released on February 17, the same day as the film's release.

Hiromi Uehara has been a close friend of Shinichi Ishizuka for years, and even before the film adaptation was announced, she had privately composed an original song for JASS, the trio formed by the main character Dai Miyamoto. Uehara wrote, performed, and produced the entire soundtrack including the songs FIRST NOTE, N.E.W., and WE WILL.

  

Saxophonist Tomoaki Baba will play the saxophone for the character Dai, who aspires to be the best sax player on Earth. Auditions were held in cooperation with Universal Music, featuring leading players from Japan and abroad. Baba was an easy choice, wowing judges with his large sax and powerful performance. Shun Ishiwaka, the drummer of the band Millennium Parade, will play the drums for Dai's classmate Shunji Tamada.

 

More than 30 top-class classical and jazz musicians participated in the soundtrack's production, including a string section conducted by Miho Hazama and led by members of Hiromi Uehara's Piano Quintet.

Hiromi Uehara also wrote the original track BLUE GIANT, used as the film's end-roll song. "When I was doing the recording for this film, this melody suddenly popped into my head. I became obsessed and immediately wrote it down," Uehara said. "I was so inspired by the BLUE GIANT film that I created this song that same day. Of course, I had to title it the same thing!"

The soundtrack contains 29 songs and is perfect for listening to while you enjoy a quiet winter night at home. Don't miss it!

Aggretsuko Season 5 to Premiere on Netflix in February

The popular Netflix animated series Aggretsuko will return to Netflix for Season 5 on February 16, 2023. Ahead of the show's premiere, a new visual and trailer have been released.

 

Official Trailer

Aggretsuko follows a 25-year-old red panda named Retsuko who hates her job and is easily stressed. She only feels true peace while singing karaoke, where she transforms into a death metal star. The series originally launched on Netflix in 2018 and quickly became a global sensation.

Season 5 will be the final season of the series and will focus on the relationship between Retsuko and Haida following the events of the fourth season. Haida is now living a reclusive life and spending his free time playing games and hanging out online. On the other hand, Retsuko is trying to deal with her newfound fame and the many expectations people have of her. One day, a suspicious man who claims to be a member of the Diet comes to recruit Retsuko.

Be sure to tune in for the exciting conclusion!

To celebrate the release of the final season, the OTMGirls girls will perform at Sanrio Puroland.

Information

Aggretsuko Season 5 on Netflix

Airing: February 16, 2023
Available exclusively on Netflix
Netflix Page: www.netflix.com/aggretsuko
Episode Count: 10 (Each episode 15 minutes)

 

Last Live ~Let's Do a Big ATM Calculation for the Final Time!

Date: February 12, 2023

Time: Doors Open 15:00 / Show Starts 16:00
Venue: Sanrio Puroland's Discovery Theater
Performers: Aggretsuko / OTMGirls
Order Period: January 25, 12:00 – February 5, 23:59

Purchase Period: February 8, 12:00 – 30 minutes prior to showtime
Details: https://www.puroland.jp/liveshow/2023_otmgirls/

BAND-MAID to Perform as Opening Act for THE LAST ROCKSTARS' U.S. Tour

Rock group BAND-MAID has been chosen as the opening act for THE LAST ROCKSTARS' first live concert in the U.S., THE LAST ROCKSTARS Live Debut 2023 Tokyo – New York – Los Angeles, starting February 3, 2023.

THE LAST ROCKSTARS' U.S. shows in New York on February 4 and Los Angeles on February 10 are sold out. Reaction to the group has been incredible, leading to an additional New York show on February 3. To make things even more exciting, BAND-MAID will perform at all three U.S. shows.

THE LAST ROCKSTARS (Paris Mix) Music Video

BAND-MAID has become overwhelmingly popular around the world. In the United States, the band recently performed at AFTERSHOCK FESTIVAL 2022, one of the largest music festivals in the country. They also served as a supporting act for GUNS N' ROSES during the legendary band's Japan tour in November. This year, the group will once again perform at a selection of music festivals in the states, including Sonic Temple 2023 in Ohio and Welcome to Rockville 2023 in Florida.

This time around, BAND-MAID will perform as the opening act for one of the most impressive rock bands in recent memory. THE LAST ROCKSTARS is composed of YOSHIKI, HYDE, SUGIZO, and MIYAVI, making it a superband like no other. This will be the first time the newly-formed group will perform in the U.S.

The Ariake Arena concert on January 27 was broadcast live on WOWOW and was also streamed in movie theaters throughout Japan. The February 10 show in Los Angeles will also be streamed, so be sure to tune in!

Pokemon GO Launches Second Hills Campaign in Japan, New CM Set in Fukiya, Okayama and Starring Mitsuki Takahata Airing Nationwide

A new commercial for Pokemon GO's second 'Let's GO to the Hills' campaign is now airing nationwide, calling on all players of the smartphone game to work up a sweat while exploring new scenery around Japan. Set in the Fukiya district of Takahashi, Okayama, the ad stars the popular actress Mitsuki Takahata. The 'Let's GO to the Hills' campaign focuses on hills and slopes, and players might find some fun new Pokemon on their travels.

The new commercial began airing nationwide on January 20, and its setting–the Fukiya district of Takahashi, Okayama–has flourished since the Edo period as a leading copper and red ocher producer. Red ocher is a byproduct of copper production and is used in many traditional Japanese crafts, even called Japan Red by some.

Several popular Pokemon appear alongside Takahata in the ad, including Chimchar, Fletchling, Hisuian Voltorb, Nyabby, Darumaka, and Charizard. Be sure to listen out for Takahata's Okayama accent!

From January 20 until July 19, a 4-meter-high real-world PokeStop will appear at the former Fukiya Elementary School in Fukiya Furusato Village. Yes, it will be linked to the game as well!

Curtains and tapestries featuring Pokemon silhouettes and dyed Japan Red will also appear in the village, and each will point the way to real PokeStops. While it might be a little off the beaten path, come enjoy Fukiya and see what kinds of Pokemon you can find!

©2023 Niantic, Inc.
©2023 Pokémon. ©1995-2023 Nintendo/Creatures Inc. /GAME FREAK inc.
ポケモン・Pokémon は任天堂・クリーチャーズ・ゲームフリークの登録商標です。

Information

'Let's GO to the Hills' – Fukiya Furusato Village, Okayama Ver.
CM Broadcast Start Date: January 20, 2023
Broadcasting Area: Nationwide
Official Site: https://www.pokemongo.jp/

SUGA of K-Pop Supergroup BTS Appears in the Final Episode of '10 Favorites – Ryuichi Sakamoto'

 Photo by zakkubalan ©2022 Kab Inc.

On January 17, 2022, beloved composer Ryuichi Sakamoto celebrated his 70th birthday. The artist continues to battle cancer, and as a way to encourage and empower him, the commons label launched a special anniversary website titled 10 Favorites – Ryuichi Sakamoto. The site features appearances from major artists and creators who have cited Sakamoto as an inspiration, listing their ten favorite works by the composer alongside their unique perspectives and thoughts. The 25th and final installment features SUGA of the popular K-pop boy band BTS.

Comment from SUGA (BTS)

「어릴적 부모님 손에 이끌려 '마지막 황제' 재개봉을 간 적이 있었습니다.
그 때 음악에 압도 되었다는 느낌을 처음 받았고 12살 음악을 만들기 시작하며 사카모토 류이치 선생님의 음악을 많이 듣고 샘플링을 하며 꿈을 키웠습니다.
저에게 수많은 영감을 준 뮤지션들은 많지만 사카모토 류이치 선생님은 더 많은 꿈을 꾸게 해주신 분입니다 (저는 참고로 코다 다큐멘터리의 재해대피소에서 연주한 Merry Chistmas Mr. Lawrence live 버전을 가장 좋아합니다)
부디 건강하세요 선생님.



"When I was young, my parents took me to see The Last Emperor. That was when I first experienced the feeling of being awed by music. I began composing music when I was twelve and dreamed about my future while listening to your music, even sampling some of it.

There are many musicians who have inspired me, but you are one of the people who has influenced me the most. (For reference, my favorite Sakamoto piece is the live performance version of Merry Christmas Mr. Lawrence that was performed in the area impacted by the 2011 earthquake, which appears in the documentary CODA). Mr. Sakamoto, please stay healthy."

Previous contributors to the project include Shinro Ohtake, Goro Inagaki, Banana Yoshimoto, Shiro Takatani, Yukihiro Takahashi, Akira Asada, Kiko Mizuhara, Haruomi Hosono, Yuima Nakazato, Ryu Murakami, LEO, UA, Shin'ichi Fukuoka, U-zhaan, Lee Sang-il, Ryoji Ikeda, Hiroshi Fujiwara, Kei Wakabayashi, Shinichiro Watanabe, Kiichi Fujiwara, Miki Nakatani, Daito Manabe, Taeko Ohnuki, and Hirokazu Koreeda.

Fans of Sakamoto's works should feel free to peruse the site, which includes English translations of the guest's selections and thoughts.

Information

10 Favorites – Ryuichi Sakamoto

FRUITS ZIPPER Valentine Pop-Up Shop to Open at Laforet Harajuku

Laforet Harajuku will host a pop-up shop inspired by the up-and-coming idol group FRUITS ZIPPER from February 1 until February 14! The FRUITS ZIPPER Valentine Pop-Up Shop will be found on the 5th floor MAKE THE STAGE area.

FRUITS ZIPPER debuted in April 2022 and embodies a simple concept: "From Harajuku to the World." The group's second single Watashino Ichiban Kawaiitokoro exploded in popularity on TikTok, pulling in over 600 million views. In February, the girls will embark on their first solo concert tour in Tokyo, Nagoya, and Osaka. This is the first FRUITS ZIPPER-inspired limited-time shop, and during the event, visuals of the group's members will be displayed in the show windows found on the first floor of Laforet Harajuku.

◆About the FRUITS ZIPPER Valentine Pop-Up Shop

When entering the venue, fans will be greeted by a 5-meter-wide board where visitors can write and attach their messages to the FRUITS ZIPPER members on heart-shaped cards. Costumes that the members have worn on stage will also be on display, allowing fans to see each stitch up close.

Exclusive items featuring new photos of the members will be on sale at the pop-up shop. Fans can enjoy seeing the girls in their own personal style, and these items will only be available during the event! Starting February 4, tour merch for the group's upcoming solo concert series will also be available for purchase.

◆Collaboration with Fruit Sandwich Specialty Store 'Fruits Box Daikanyama'

Last year's popular collaboration with Fruit Box Daikanyama, a well-known fruit sandwich shop, is happening again in 2023! Fans can find the Collaboration Gift Box for sale, including seven baked meringue goods each featuring one of the member's colors. The box also comes with snapshots of the members, and for a few lucky fans, these snaps might be signed! The idol group and sandwich shop have also teamed up to create the Collaborative Lucky Grab Bag Lottery, including popular FRUITS ZIPPER goods and original items from Fruits Box Daikanyama. The lucky first-prize winner will receive a special set of all available February tour merchandise in all sizes.

◆Member Appearance Planned on Valentine's Day

On February 14, the final day of the pop-up shop, the members of FRUITS ZIPPER will make an appearance! Guests will be able to participate in the first-ever hands-on event with the members, so keep an eye out for more details!

Stay up to date with the latest FRUITS ZIPPER news at the official Twitter page (@FRUITS_ZIPPER).

FRUITS ZIPPER Pop-Up Shop Exclusive Goods


Random Photo – Valentine pop-up ver. (21 varieties): ¥330 (Tax Included)


Random Pin – Valentine pop-up ver. (7 varieties): ¥500 (Tax Included)


Random Purikura Stickers – Valentine pop-up ver. (14 varieties): ¥600 (Tax Included)

Information

FRUITS ZIPPER Valentine POP-UP SHOP
Running: February 1 – February 14, 2023
Venue: Laforet Harajuku 5F MAKE THE STAGE
*Closed on February 7 and February 8

[Fruits Box Daikanyama Collaboration Goods]
Collaboration Gift Box: ¥3,500 (Tax Included)
Collaborative Lucky Grab Bag Lottery: ¥1,500 per try (Tax Included)

Check out more details about the pop-up below!
https://www.laforet.ne.jp/pop_up_shop/fruitszipper_2301/

Stay up to date:
FRUITS ZIPPER Official Twitter
https://twitter.com/FRUITS_ZIPPER/

<Tour Information>
FRUITS ZIPPER 1st LIVE TOUR 2023 WINTER

Date: February 3, 2023
Venue: ReNY limited
Time: Doors open 17:30 / Show starts 18:30
Contact: Sunday Folk Promotion (052-320-9100) *Open daily 12:00-18:00

Date: February 5, 2023
Venue: Nanba Hatch
Time: Doors open 16:30 / Show starts 17:30
Contact: Kyodo Information (0570-200-888)

FRUITS ZIPPER 1st LIVE TOUR 2023 WINTER 〜FRUITS DAY〜
Date: February 9, 2023
Venue: Shibuya WWW X
Time: Doors open 18:00 / Show starts 19:00
Contact: HOT STUFF PROMOTION (03-5720-9999) *Open weekdays 11:00-19:00

FRUITS ZIPPER 1st LIVE TOUR 2023 WINTER 〜ZIPPER DAY〜
Date: February 10, 2023
Venue: Shibuya WWW X
Time: Doors open 17:30 / Show starts 18:30
Contact: HOT STUFF PROMOTION (03-5720-9999) *Open weekdays 11:00-19:00

FRUITS ZIPPER 1st LIVE TOUR 2023 WINTER -TOUR FINAL –
Date: February 12, 2023
Venue: LINE CUBE SHIBUYA
Time: Doors open 17:00 / Show starts 18:00
Contact: Sunrise Promotion Tokyo (0570-00-3777) *Open weekdays 12:00-15:00

Buy tickets for all shows here: https://l-tike.com/artist/000000000899959/