6 Kawaii Stationery Items in Japan: Masking Tape, Labels & More!
Japan's range of stationery has proven popular even with tourists coming from overseas for its great functionality and array of kawaii designs.
Let's take a look at some of the cute and convenient stationery you'll only find in Japan.
Animal Speech Labels & Memo Pad
Paperable is a Japanese stationery brand who have release two new products from Village Vanguard: 'Animal Voice Labels' and the 'Cat Voice Memo Pad.' They are designed to make it look like the animals are saying something to you. There are 6 versions of the memo pad each featuring a different cat and all with different expressions, like grinning and impudent. Make use of whichever one you need to, depending on how you feel on a certain day.
■Information
Paperable Animal Voice Labels – ¥378 (Tax Included)
Paperable Cat Voice Memo Pad – ¥486 (Tax Included)
Village Vanguard Online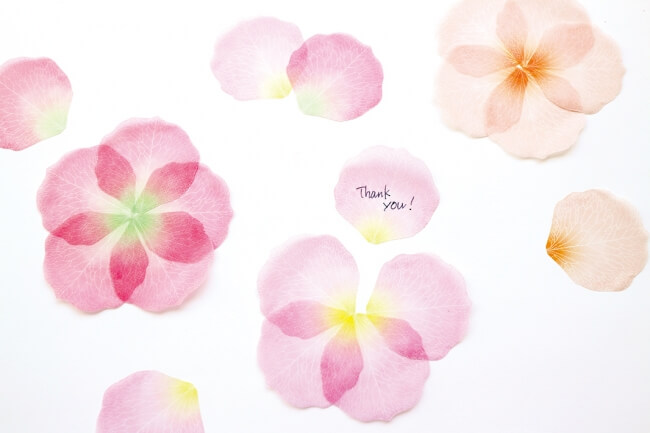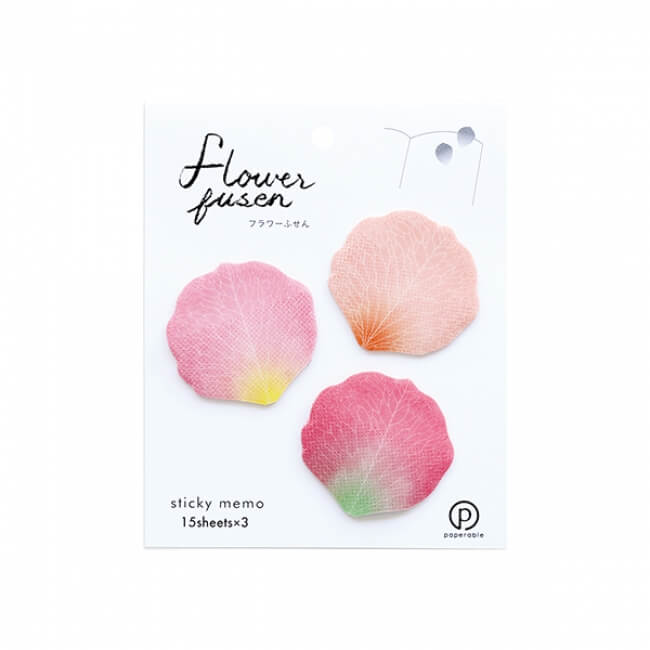 Beautifully Translucent Labels
These are also by the same stationery branch, Paperable. They're made to look like real flower petals. They can be used to index things and add decoration to your memo pad or notebook, or to jot down a few words. There's also a leaf version. The leaf veins really bring the labels to life. Both are see-through and look gorgeous.
■Information
Paperable Flower Labels – ¥486 (Tax Included)
Paperable Leaf Labels – ¥486 (Tax Included)
Village Vanguard Online
Masking Tape – Always Sold Out Online
You can now pick up beautiful, delicate-looking hydrangea masking tape from Village Vanguard, Japan's flower of the rainy season. You can even combine each flower along the tape to make up a bigger and colourful hydrangea flower. Try making your own.
■Information
Masking Roll Stickers (Hydrangea) – ¥432 (Tax Included)
Village Vanguard Online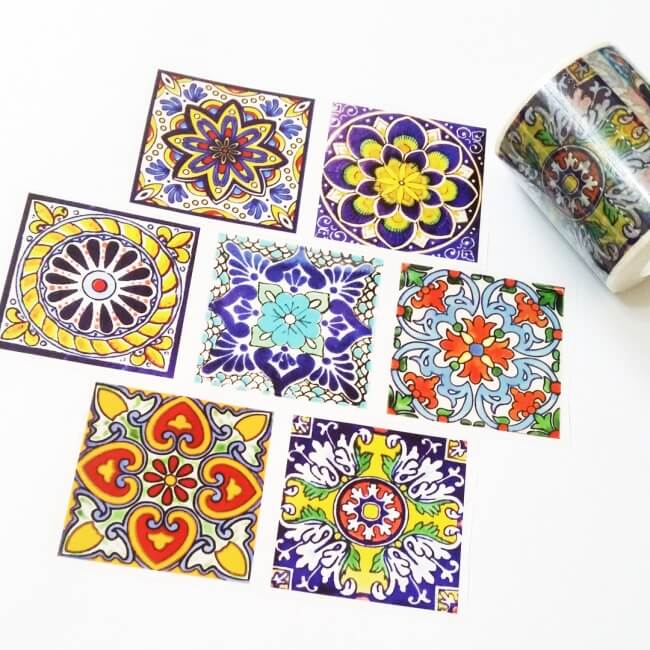 Beautiful Masking Tape Like Tiles Seen in Morocco, Turkey and Mexico!
This unique masking tape is also available at Village Vanguard and created by Taiwanese designer Chang Hao Hsueh. They are based on tiles seen around the world like in Morocco and Turkey which are made using old traditional methods. It can be used on lots of things to pretty them up such as small notebooks, pads, and even glass bottles or make-up boxes! You'll be sure to find one that you like.
■Information
Tail Masking Tape – From ¥756 each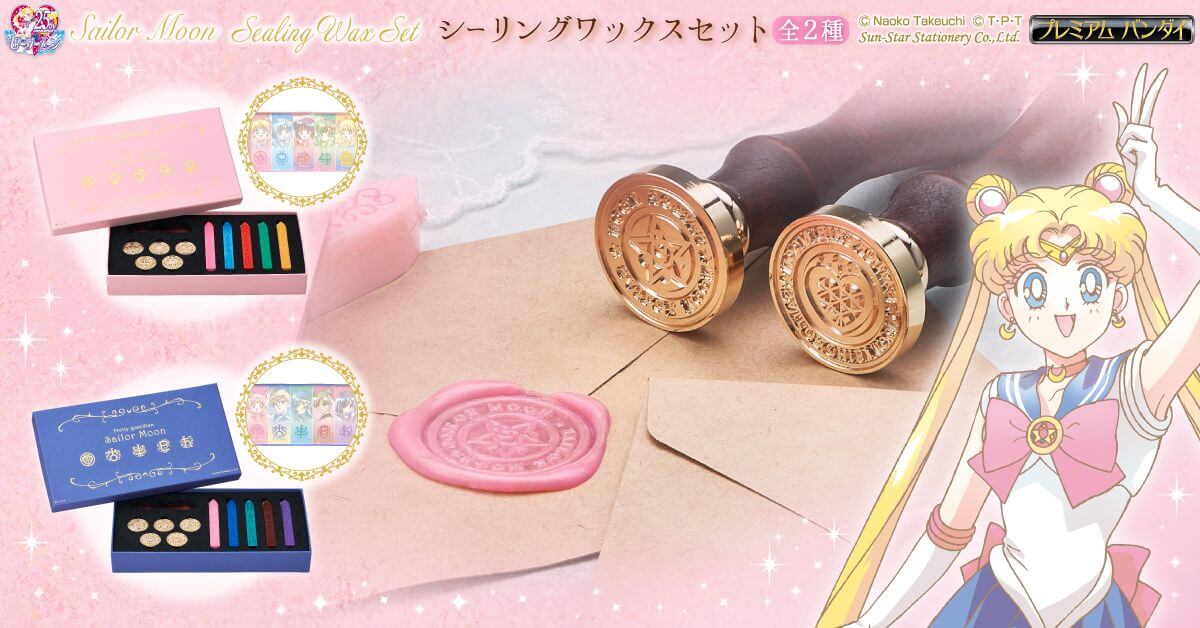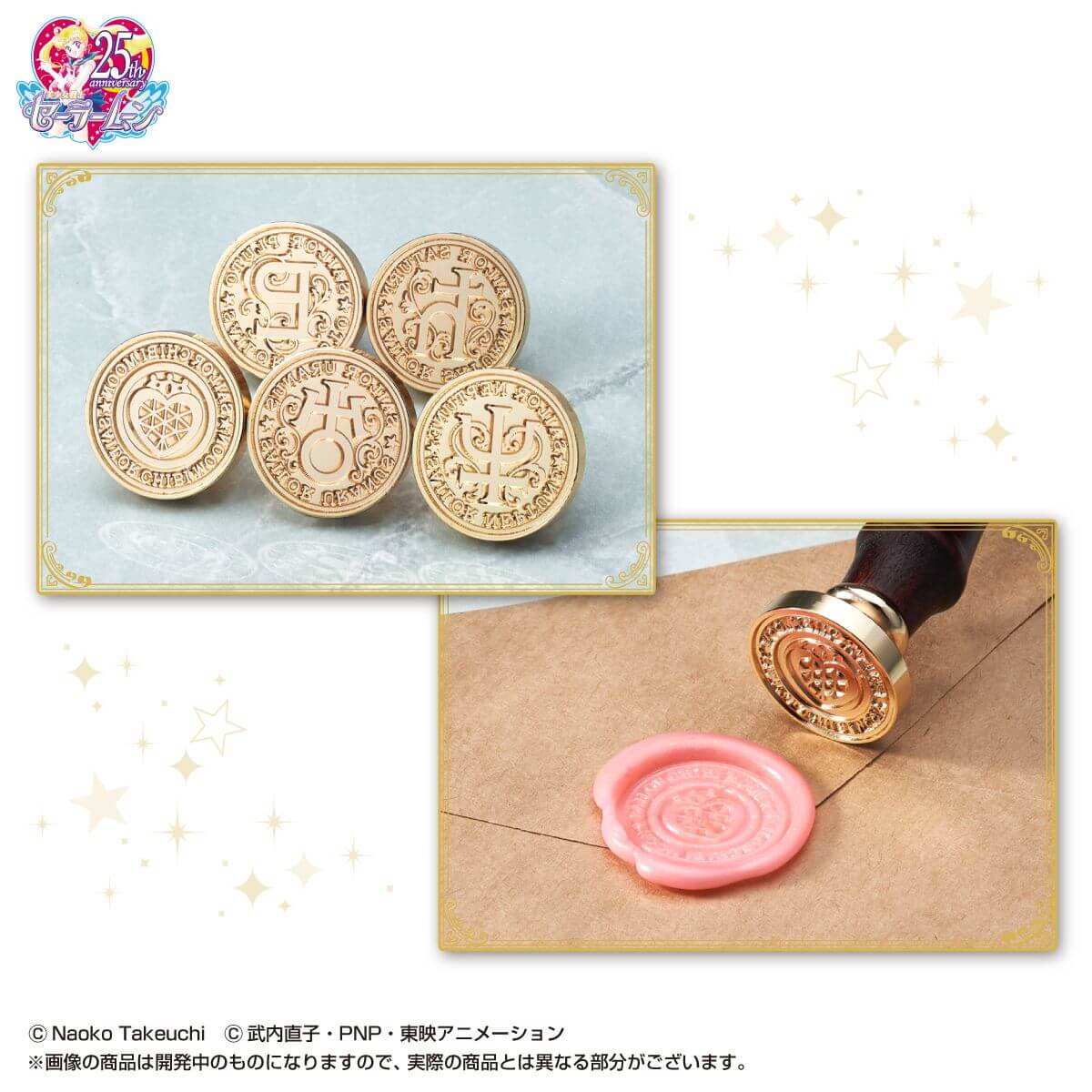 Sailor Moon Sealing Wax – Pretty Up Your Letters & Invitations
Over on the shopping website Premium Bandai they are selling Sailor Moon inspired wax which you melt and seal envelopes with. There are two different sets. Each comes with five metal stamps with different stamp designs, such as the Crystal Star and Planetary Symbols. These are limited in quantity so be sure to order yours quick!
■Information
Sailor Moon Sealing Wax Set (2 Varieties)
Price: ¥13,500 each (Tax Included) (Shipping & Handling Fee Not Included)
Premium Bandai: http://p-bandai.jp/?rt=pr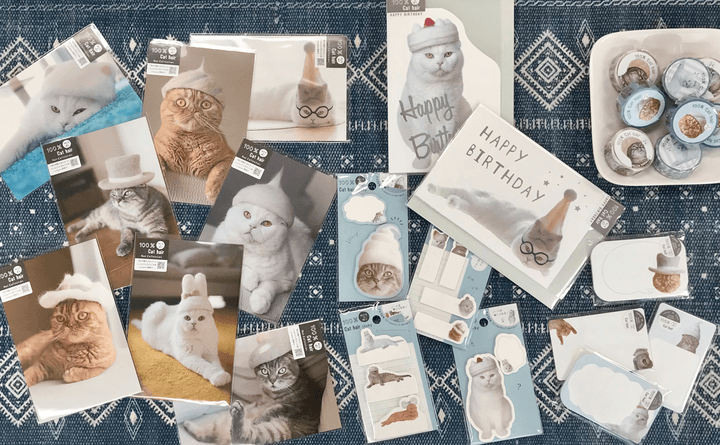 Rojiman's 3 Cats Turned Stationery!
Rojiman owns three Scottish Fold cats who have become something of a hit online, even being picked up by overseas media. The hats each of them wear are actually made from hairs collected during their brushing sessions. This new '100% Cat Hair' series includes stationery inspired by the trio including cards, tags, masking tape and more. Make your study sessions or work fun with these items!
Did you enjoy this list? Be sure to get your hands on all the cute stationery you can when in Japan, whether for yourself or as a gift!
RECOMMENDED ENTRIES
Popular Nail Salons in Harajuku & Trending Nails by 5 Popular Models

There must be a lot of people out there wondering how to do their nails for spring and summer this year. At the MOSHI MOSHI BOX Harajuku Tourist Information Center we've directed many foreign tourists to popular nail salons.

So, we're compiling a lot of some of the popular locations you'll find in Harajuku! Check them out alongside the list of trending nail styles by popular models that follows.

HOME
This is a nail and eyelash salon who offer a huge range of top class eyelash extensions and high-quality nail painting art. They position themselves as your indispensable partner, leading you on the way to drawing out your natural beauty, offering new a lifestyle. The comfort at the salon is outstanding, set up in an open environment with plenty of light. And the fact that they can do both your nails and hair is enticing!

■Information

HOME

Address: 5-29-9 Jingumae Shibuya-ku, Tokyo F3 302

Opening Hours: 10 am – 10 pm (Monday – Friday)

10 o'clock – 19 o'clock (Saturday / Sunday / holiday)

TEL: 03-6418-9059

Website:http://home-harajuku.com/

Anranju
This place is open from 10am to 10pm, so you can even pop in after a bit of sightseeing. You can never get tired of their gel nails which come in designs based on what's trending each month, as well as their variety of nail parts and colours. Customers can take in art with them to show the staff, so we recommend Anranju who want to enjoy their nails done exactly in accordance with what they like.

■Information

Anranju

Address: 1-17-5 Jingumae, Shibuya, Tokyo

Opening Hours: Weekdays 10:00-21:00 / Weekends & Holidays 10:00-19:00

Closed: New Year's Holiday

TEL: 03-6804-3073

Website:

http://anranju-nail.com

Cocotte Harajuku
This nail salon is recommended for people to want to get their nails done like their favourite artist during a concert, as well as character art nails, intricate nails, and more. The staff have a lot of experience with nails and have done so many that it's impossible to count them. They are very talented, and their designs are constantly incorporating the newest trends.

■Information

Cocotte Harajuku

Address: Cocotte Harajuku B1F, 3-28-10 Jingumae, Shibuya, Tokyo

Opening Hours: Weekdays 11:00-22:00 / Weekends 11:00-21:00

No Fixed Holidays

Website:

https://ameblo.jp/cocotte-nail/

Trending Nails by 5 Popular Models


Yuri Suganuma: Primary colours and glitter make cute, flashy nails
Yuri Suganuma went for different colours across all her nails. Changing the colours of each nail is impactful and gives a pop vibe. As a pointer, glitter using glitter colours makes them look fashionable, doesn't it!



Saki Shibata: Attractive nails made with dull colours
Dull colours are aplomb and raise your level of maturity. Shibasaki is using gentle, organic nails from Ambiente, so this one's recommended for people who like to do their own nails.


Misa Kimura: Supporting the springtime vibe with nail art
Misa Kimura is serving spring with her nail art. The holographic nails raise the level of their gorgeousness. Take note of the top coat which is matted!



Mei Nagasawa: Sweet and lovely nails with hearts and pink
Mei Nagasawa's beautiful nails use pink as the base colour. The little hearts popped on there are super cute, aren't they? ♡ This design will completely up the appeal of your girliness, so try it for yourself.


Ayumi Seto: Girly dots and rainbows
The dot and rainbow design matches Ayumi Seto's image perfectly. They're completely coated in glitter, making them shine and look cute when hit by the light. Colourful nails work well with simple outfit co-ords!

Did you enjoy this list? Use these trending designs by models as a reference and enjoy creating your spring and summer nails!

10 Useful Travel Items You Can Buy in Japan at 100-Yen Shops

Japan's 100-yen shops garner much attention even amongst foreign tourists for their massive range of useful items. Their shelves are also filled with plenty of things you would find convenient to have during your trip in Japan. Let's take a look at some of the travel goods you can pick up there – at a very reasonable price. You'll be glad you had some of these!

1.Pouch

The ¥100 pouch is a convenient little thing to store away items like cosmetics, toiletries and such. If you buy one of the transparent ones, then it becomes even more convenient as you can see the contents and locate what you need without hassle. There's many to choose from – they come in big and small sizes, and cute-looking ones have been on the increase recently. It's nice to have so much choice, so pick your favourite!

2.Zipper Bag

The zipper bags sold at Daiso, one of Japan's most popular 100-yen shops, have simple, very smart designs. They're useful for storing bathroom items, chargers and other cords, and other knick-knacks. They're popular with people not only for travelling but during everyday life too.

3.Vacuum Storage Bags

Vacuum storage bags are an old standby in travelling. There's ones for grabs with cute designs, and the whole vacuum part of it is a lot of fun. You can pack away bulky towels and clothes nice and compactly. The only problem is that the compaction force wears away gradually on long trips, so be sure to have some backups prepared for peace of mind.

4.Cushion Case

The cushion case protects your electronic devices from damage. They are a must-have for digital cameras, laptops etc. It's good to check the feel of your cushion case when choosing one. If you pick one extra cushiony then you can rest assured your devices will be safe. There's a plethora of designs and sizes to pick from!

5.Wet Wipes

You can even buy wet wipes at the 100-yen shop, an absolute must-have even in regular life. Can Do's bacteria eliminating type wet wipes have kawaii designs like ninja and samurai. They're even sold at Seria, another 100-yen chain. Those with kids will be pleased with this item.

6. Eye Mask

We recommend this one for those who struggle to sleep when going on a trip. Can Do have even kawaii-fied eye masks. From standard types to fun, amusing types, sift through the range and pull out one that you like most. They might even make a good souvenir.

7.Neck Pillow

There's nothing better than being hugged by a neck pillow when sleeping on a bus or plane. They lighten the load on your neck, so there's plenty of people that make regular use of them. Choose from pillows filled with beads, cotton, and even ones that you can fill with air which are also convenient for carrying around.

8.Raincoat

If you find yourself in a downfall of rain at your travel destination and are in need of a raincoat but want something cute, then how about taking a trip to Daiso? They sell a mix of different raincoats with cross designs, half-moon designs and more. They're the perfect thickness too so they're something you can make use of regularly.

9.Selfie Stick & Remote Camera Shutter

Selfie sticks have made their way to 100-yen shops recently, and they even sell remote camera shutters! Get all the tools you need for taking memorable photos at the 100-yen shop.

10.Tripod

Tripods for your smartphone? You betcha! They are compact and not a hassle to carry at all. Can Do tripods are stable, and best of all, you can change the angle of your camera freely. Take some fun pics!

Was this list useful? There's plenty more convenient and useful items where that came from at Japanese 100-yen shops. Make sure you pop into one and stock up.

MOSHI MOSHI BOX Staff Recommends: 6 Tasty Souvenirs at Shinjuku Station

It's safe to say that a lot of people who travel around Tokyo use Shinjuku Station. There's a lot of souvenir shops around there, but it can be difficult to know what to buy.

In this article, the staff over at the MOSHI MOSHI BOX, Harajuku's tourist information center loved by travelers, will introduce you to some places to pick up a great souvenir around Shinjuku station, all easily accessible via train lines and the shinkansen!

Ruki's Recommendations (Spanish Staff) – "BAKE CHEESE TART"
They have a crispy and fluffy texture! They're sweet and really delicious.

They're tasty as they are, but I recommend eating them hot when the shop opens, that's when they're best♡

Minimal's Recommendations (Hong Kong Staff) – Cream Puffs at "Choux d'Enfer Paris"
Cute, bite-sized cream puffs! The outside sugar is crunchy and the dough is light.

They have regular flavours like custard and chocolate, but also Japanese-style flavours including cherry blossom and matcha.

Banako's Recommendations (Chinese-Speaking Staff) – "Ginza Cozy Corner"
Ginza Cozy Corner sells delicious western-style confectioneries. I recommend their matcha flavoured yakikashi (baked sweets)! They're made with carefully selected high quality ingredients such as Uji matcha and Uji houjicha that will make you feel relaxed. You can enjoy a combination of traditional Japan and western-style confectionery!

Midori's Recommendations (Miss ID Semifinalist) – Pochiokaki at "Hyouhyouan"
These crunchy rice crackers come in decorative envelopes with beautiful Edo designs! They can of course be given as a New Year's gift, and are a sign of good luck as a celebratory present. The rice crackers are also made of a rare mochi rice from Toyama Prefecture. They will satisfy kids and adults alike.

Ellie's Recommendations (English-Speaking Staff) – Namasasara at "Yui"
This shop sells cute bite-sized Japanese sweets. You can buy them from inside NEWoMan which is a shopping facility directly connected to Shinjuku Station. Each and every one of their fine confectioneries are carefully handmade by experts. They sell sweets individually too, so I recommend them as a little present!

Shiota's Recommendations (Director of MOSHI MOSHI BOX) – An Chocolate at "L'OLIOLI 365"
"An Chocolate" is a steamed dessert made with red bean and chocolate. The center has two layers and the bottom is a red bean and chocolate mousse. They have plenty of flavours including apricot jam, caramel, matcha and more.

Did you enjoy the staff's list?

If you find yourself stuck on what to buy as a gift, then be sure to reference this article. Have a wonderful trip in Tokyo♫

MOSHI MOSHI BOX staff recommends 6 Tokyo souvenirs!

Tokyo Station is a station used by many tourists. When you visit Tokyo, of course, you will want to buy some souvenirs. But you may wonder, what souvenirs are "good" Tokyo souvenirs?

In this article, the staff of MOSHI MOSHI BOX Harajuku Tourist Information Center, who love to travel, will introduce to you some recommended souvenirs which can be bought in and around Tokyo Station.

"Ohana no Babaroa Ball Cake"recommended by our Spanish staff, Luki.

I am sure that this gift is suitable to be given to women who loves flowers.

The product uses eatable flowers and has a gorgeous looking/splendid taste.

"Torotoro Yaki Cup Cheese" recommended by our Hong Konger staff, Minimal.

A very popular product where some days about 4,000 pieces are sold in a day! The combination of the melty cream cheese and crunchy cookie tart is awesome.

You can enjoy the product by heating it or cooling it.

"Siretoco Doughnut"recommdend by our Chinese-speaking staff, Banako

Many cute animals are place on top of a doughnut and of course, the doughnuts taste good.

Each animal is very cute and there are Tokyo Station-limited variations!

"Tokyo Banana – Banana Yogurt Flavor" recommended by the Miss ID Semi-Finalist, Midori.

Did you know that a new version of Tokyo Banana (a very famous sweets item of Tokyo), a collaborative item with the panda cub in Ueno Zoo called Xiang Xiang, was released!?

The flavor of the product is banana & yogurt. Eating this item will feel a bit "mottainai"to eat. That is, it looks too cute to be eaten because the illustration of the panda cub is so cute!

"Gomatamago" recommended by our English-speaking staff, Ellie.

This sweets item is a standard souvenir of Tokyo. The black sesame paste, and black sesame jam are wrapped inside a castella sponge cake and the whole cake is coated with a white chocolate.

The splendid harmony of the 4 layers is addictive. The shape of the product which looks like an egg is very cute♡ The name, Gomatamago means, "goma" = "sesame" and "tamago"="egg."

"Tokyo Hiyoko" recommended by the director of MOSHI MOSHI BOX, Shiota.

A standard Tokyo souvenir dessert comprised of a sweet bean jam wrapped in a soft dough.

Don't miss the various of flavors which are sold for a limited time offers!

How did you like our MOSHI MOSHI BOX staff recommended Tokyo souvenirs? Please refer to this article when you are not sure which Tokyo souvenir to buy. Let's have fun in Tokyo!

MOSHI MOSHI BOX staff recommends Osaka souvenirs!

Osaka is known as a popular sightseeing spot in Japan. So, when you visit Osaka, of course, you will want to buy some souvenirs. But you may wonder, what souvenir is a good souvenir to buy in Osaka.

In his article, the staff of MOSHI MOSHI BOX who love to travel, will introduce to you some recommended souvenirs which can be bought in and around Osaka Station.

"Nakanoshima Caramel Scotch recommended by our Spanish staff, Ruki.

It looks like a cookie but it is a snack which includes caramel and almonds.
The crunchy texture of scotch is superb. The blue box is very cute too.

◼︎Information
Nakanoshima Caramel Scotch
Available store: Entrée Marche Osaka
Address: 3-1-1, Umeda, Kitaku, Osakashi, Osaka
Business hours: 6:00 to 13:00
TEL:06-6440-1122

"batondor" recommended by our Hong Kong staff Minimal


A special stick dessert with only eight sticks in a box.
The taste of the product is very thick compared to "Pockies" which can be bought at convenience stores and it has the flavor of butter. It is a great match with alcohol!

◼︎Information

batondor Hankyu Umeda Store

Address: B1F, Umeda Honten, 8-7, Kakutacho, Kitaku, Osaka

Business hours: Friday, Sutarday – 10:00 to 21:00

Sunday to Thursday – 10:00 to 20:00

TEL:06-6361-1381

URL:

http://www.glico.co.jp/batondor/index.html

"Fueki Pudding" recommended by our Chinese-speaking staff, Banako


A pudding using the motif of the good-old Fueki paste container. The container can be used as an accessory case or interior. I am planning to buy it for my friends when I visit Osaka next time.

◼︎Information
Fueki Pudding
Available venue: Inside Osaka Station
Price: 700 yen – two pieces (tax not included), three pieces – 1,200 yen (tax not included)
TEL:06-6648-4678

"Tenten Hitokuchi Gyoza" recommended by the Miss ID Semi-Finalist Midori


I always buy this product when I visit Osaka. I don't cook at all but this gyoza (dumpling) is very easy to make.
It is recommended to put it into a pot during the cold season!

◼︎Information

Tenten Hitokuchi Gyoza

Available stores:
Entrée Marche Osaka
Available hours: 8:00 to 24:00

Seven-Eleven Heart in  JR Osaka Station North Store
Available hours: 7:00 to 24:00

Seven-Eleven Heart in  JR Osaka Station Access Bridge Store
Available hours: 7:00 to 23:00

Seven Eleven Heart in JR Osaka Station Midosuji South Entrance/Exit Store
Available hours: 7:00 to 23:00

Seven-Eleven Heart in JR Osaka 11th Gate Store
Available store: 7:00 to 21:00

"Jagariko Takoyaki Aji" recommended by English-speaking staff, Ellie


Takoyaki is one of the most famous foods of Osaka. As you might know, Jagariko is a very popular snack among Japanese people but this flavor has a thick flavor of takoyaki.
It is fairy cheep and it is a very "Osaka-like" product which is suitable to be bought as a gift for your friends!

"Rikuro Ojisanno Omise – Yakitate (freshly baked) Cheese Cake" recommended by the curator of MOSHI MOSHI BOX Shiota.

A tasteful cheese cake famous in Osaka. You can watch the staff of the shop making cheese cakes! It is recommended to warm this cake up before you eat it. Of course, you can also enjoy the product after cooling it down inside a refrigerator.

◼︎Information

Rikuro Ojisan no Omise Daimaru Umeda Store

Address: 3-1-1, Umeda, Kitaku, West Osaka / Japanese/Western dessert floor, B1F of Daimaru Umeda Store

TEL:0120-57-2132

URL:

http://www.rikuro.co.jp/

How did you like our MOSHI MOSHI BOX staff recommended Osaka souvenirs? Please refer to this article when you are not sure which souvenir to buy. Let's have fun in Osaka, a city which has lots of delicious food and unique items.

Don Quijote: The Most Popular Store Among Foreigners in Japan for Souvenirs!

Don Quijote is the biggest discount chain store in Japan. It's always bustling with foreign tourists for its wide selection of bargains, ranging from food to electronics, variety goods like costume and merchandise, and pretty much anything you can imagine. Items in-store are duty free and all branches have a foreign currency service. For people coming from overseas to Japan, Don Quijote stands at the top as the best and easiest place to shop.

So what are the most popular products bought at Don Quijote? Let's take a look.

Japanese Snacks & Sweets

You can be spoiled for choice with Japanese snacks and sweets as there are so many popular ones to choose from. There are even tourists who buy 10-20 packets in one shop as gifts to their friends. One particularly popular choice is Kororo, a soft candy made with 100% fruit juice. They are loved for their cute appearance and real fruit flavour. Another popular pick are Japanese KitKats, which are known for their unique flavours including matcha, wasabi, sake and more.

Japanese Medical Supplies

A lot of foreign tourists buy Japanese medical supplies in bulk to take back home. "Strong Wakamoto" is a digestive medicine that is very popular. There are a lot of Japanese people that aren't too familiar with this product, but it's well-known in other places – in Taiwan, for example, you'll see it advertised in commercials. It's sold in Taiwan too, but because it's about NT$ 200 cheaper (¥600) in Japan, the number of people buying from Japan is on the rise.

Kitchenware

A popular gift for mothers in Japan from Don Quijote is the "Ceramic Knife" which is praised for its ease-of-use. There's a selection of different sizes and colours, and you can also buy them divided for different purposes too. They also sell a range of useful items for the kitchen too, like food containers – perfect for giving to people.

 Beauty Products

Hairdryers by Panasonic are commonplace with people overseas and of course in Japan too. "Botanical Shampoo" ranked number one in the hair care categories of Japan's major mail-order business. Although there's no added silicon, it's said that the shampoo provides a gently moist finish. It's become a very popular product in Asia, including South Korea and Taiwan.

Sake

Don Quijote has a large alcohol section which serve as a great gift to friends, including nihonshu, shochu, cocktails and more. A brand of nihonshu called "Dassai" is ranked among the most popular drinks ever since it was showcased on Taiwanese television. The price changes depending on the variety of sake you go for, so you can split your purchases appropriately between those you are gifting.

Did you enjoy this article? If you're buying souvenirs from Japan, then Don Quijote is a perfect place to seek something out!
RELATED ENTRIES
Sailor Moon Store to Open at Paseo in Sapporo, Hokkaido for Limited Time Only

Kiddy Land will be holding the "Sailor Moon store -petit-" at Paseo, a shopping center connected directly to Sapporo Station in Hokkaido, for a limited time only from December 17 to March 27, 2022.

Sailor Moon store -petit- is a traveling branch of Sailor Moon Store, which gathers all the products of Sailor Moon series. During the period, there will be rewards for purchasing the products, so take this opportunity to visit the Sailor Moon Store.


© Naoko Takeuchi
© 武内直子・PNP/劇場版「美少女戦士セーラームーンEternal」製作委員会
© 武内直子・PNP・東映アニメーション

Tottori Prefecture's White Rabbit of Inaba Wins Top Prize in Japan's Indie Souvenir Contest

From July 29 to August 11, over 320,000 people from around Japan voted for their favorite lesser-known local souvenir. Sponsored by Japanese e-commerce site Mercari, the contest highlighted 47 unique goods from around the country, one for each prefecture. The winners have been announced, and the White Rabbit of Inaba from Tottori Prefecture has won first place, receiving more than 60,000 votes.

A music video-style web commercial featuring the winning product is now being produced to support the shop and particular region of Tottori. The music will be performed by electro-pop group Frasco.

In Japan, the rabbit is known for bringing good fortune, and has been a beloved symbol since ancient times.  The white rabbit in particular, featured in the local Izumo myth 'The White Rabbit of Inaba,' plays a major role in connecting the characters Onamuchi-no-kami and Princess Yakami. In 1968, the famous confectionery 'White Rabbit of Inaba' was created in the hopes of bringing good luck to those visiting the area.

Much like how an indie music group has a small group of hardcore fans but may not be well-known outside of small circles, these indie souvenirs are popular with locals, but may not be known to those outside the community. On the official website, fans can see their favorite treats displayed on what looks like album covers as an homage to this fitting comparison.

On social media, there was incredible support for the project from all kinds of people: those who made the souvenirs in the first place, those who love their local area, and those who were seeing these treats for the first time and dying to try them.

Which of the 47 souvenirs would you be most happy to receive?

Sailor Moon Eternal Inspired Face Mask Protects and Looks Kawaii

Bandai Namco Group released a new Sailor Moon Eternal themed face mask as part of their 'CHARA-MASK' line for adults on Premium Bandai on June 14.





CHARA-MASK Sailor Moon Eternal | ¥2,200 (Tax Included)

The face mask, based on the Sailor Moon Eternal anime film, was designed in collaboration with Sailor Moon's author Naoko Takeuchi. It's lined with sparkly rhinestones to give it a cute finish.

Bandai's CHARA-MASK series features reusable masks fitted with anti-odour and anti-bacterial filters which can be swapped out. They are also made from comfortable light mesh fabric, can be washed, and worn for long periods of time. They are sized at 100mm in width and 130mm in height.

©︎ 武内直子・PNP/劇場版「美少女戦士セーラームーンEternal」製作委員会

Information

CHARA-MASK – Sailor Moon Eternal

Released: June 14, 2021 (Available while supplies last)

Delivery: October 2021

Disney's Mickey & Friends Teams Up With Tokyo's Souvenir Sweet Tokyo Banana

Disney SWEETS COLLECTION by Tokyo Banana, a joint confectionery shop between GRAPESTONE and Tokyo Banana, released its new Mickey & Friends collection on Thursday.

Tokyo Banana Mickey & Friends Collection | ¥1,300 (Tax Included)

Mickey, Minnie, Donald, Daisy, Goofy, and Pluto join hands in a heart-warming new collection of Tokyo Banana, a cream-filled sponge cake and the official souvenir sweet of Tokyo's official souvenir sweet: Tokyo Banana.

 

Mickey & Friends arrive in all the colours of the rainbow

The colourful packaging features the Disney group of best friends including Mickey, who loves his friends, his girlfriend Minnie, the anger-prone Donald, stylish Daisy, silly Goofy, and trusty Pluto.

Six cute patterns decorate the sponge cakes

There are six super cute Mickey & Friends designs you could get in your Tokyo Banana, and each one is random. They are filled with chocolate banana-flavoured custard cream.

Collect all the postcards

All boxes of these treats come with two of eight possible postcard designs which you can use for sending to someone or even as room decoration.

 © Disney

Pokémon x Tokyo Banana Expands Across Japan

The Pokémon Tokyo Banana confection series launched its first two products that it ever released at Yume Town, Yume City, LEC, and Yume Mart branches in the South-west most part of Honshu, Shikoku, and Kyushu on May 14.

Pikachu Tokyo Banana (Banana Flavour) | Includes 2 | ¥292 (Tax Included)

Eevee Tokyo Banana (Caramel) | Includes 2 | ¥292 (Tax Included)

Heart-shaped tail ends

Six different packaging designs each for Pikachu and Eevee

Tokyo Banana are popular cream-filled cakes and are the official souvenir sweet of Tokyo. The Pokémon series turns these fluffy treats into cute confections for you to enjoy with your favourite Pokémon during snack time.

Pikachu was the first to enter the Pokémon Tokyo Banana series who was turned into a banana custard cream-filled sponge cake. The second was Eevee with the fluffy sponge a delicious caramel macchiato flavour and filled with sweet banana custard cream

The confections are both branded with adorable heart-shaped tails, and each comes with one of six possible packaging designs.

©2021 Pokémon. ©1995-2021 Nintendo/Creatures Inc./GAME FREAK inc.
ポケットモンスター・ポケモン・Pokémonは任天堂・クリーチャーズ・ゲームフリークの登録商標です。

TIGER & BUNNY Anime-Inspired Stationery and Merch Releases in Japan

Fans of the TIGER & BUNNY anime series won't want to miss out on the new "TIGER & BUNNY Pop'n HERO" stationery and merchandise collection released by MOGURA ENTERTAINMENT's character themed stationery brand MOGURA Bungu on MOGU MALL on Monday.

The 10-piece collection features original designs and motifs of the main eight characters that appear in the series. Items include folders, letter sets, hand towels, bags, and more.

The Full Line-Up

Limited-Time 4-Piece Set

A-Set: ¥4,180 (Tax Included) / B-Set: ¥4,180 (Tax Included)

Those who order either the A or B set of four items will receive a free original sticker.

Freebies with every order

For every ¥2,000 spent on items in the TIGER & BUNNY Pop'n HERO collection, fans will receive one of the above eight possible hero stickers.

Matcha and Latte Cookies and Drinks Released by Yojiya

Kyoto makeup brand Yojiya is now selling its own collection of snacks and drinks which it released via its website last week.

Yojiya Matcha Sandwich Cookies | ¥1,400 (Tax Included)

Yojiya Cafe Latte Chocolate Cookies | ¥1,350 (Tax Included)

Yojiya Matcha Milk | ¥950 (Tax Included)

Yojiya's snack line-up is made with the idea of being able to enjoy high-quality food products at home. Their collection includes crunchy matcha and cafe latte cookies along with matcha milk, the latter of which is made with famous Uji matcha from Uji, Kyoto. Perfect for a tea/coffee break or as a souvenir.


Rurouni Kenshin x Hello Kitty Collaboration Launching to Promote Manga's Upcoming Live-Action Films

In promotion of the forthcoming live-action films Rurouni Kenshin: The Final and Rurouni Kenshin: The Beginning, both of which will be released on April 23 and June 4 respectively this year, the series is rolling out a collaboration with Sanrio's globally-beloved character Hello Kitty on April 14.

Original Merchandise

Rurouni Kenshin x Hello Kitty Plush Toys (2 Designs) | ¥3,850 Each (Tax Included)

Rurouni Kenshin x Hello Kitty Plush Toys (4 Designs) | ¥2,750 Each (Tax Included)

Rurouni Kenshin x Hello Kitty A4 Folder Set | ¥495 (Tax Included)

Rurouni Kenshin x Hello Kitty Bottle | ¥1,540 (Tax Included)

Rurouni Kenshin x Hello Kitty Tote Bag | ¥2,200 (Tax Included)

Rurouni Kenshin x Hello Kitty Ballpoint Pens & Mechanical Pencils (2 Designs) | ¥770 Each (Tax Included)

Rurouni Kenshin x Hello Kitty Hand Towels | ¥1,430 (Tax Included)

Rurouni Kenshin x Hello Kitty Pins (6 Designs) | ¥330 Each (Tax Included)

Rurouni Kenshin x Hello Kitty Acrylic Stands (8 Designs) | ¥715 Each (Tax Included)

Rurouni Kenshin x Hello Kitty Sweets Paradise Collaboration Cafe

Menu Excerpt

Kenshin Hello Kitty Beef Bowl / Battousai Hello Kitty Omurice

Enishi Hello Kitty Orange Crepe / Tomoe Hello Kitty Anmisu / Kaoru Hello Kitty Strawberry Pancake

Acrylic Mascot Key Rings

10 Designs

Plush Toys

This marks the second collaboration between Rurouni Kenshin and Hello Kitty, the first taking place back in 2014 in promotion of Rurouni Kenshin: The Legend Ends. Fans can get their hands on a collection of cute merchandise with Hello Kitty dressed as various characters from the series, as well as tuck into a themed menu which will first be served at Sweets Paradise Ueno ABAB from April 22 before rolling out to six more Sweets Paradise branches in Japan.

©和月伸宏/集英社 ©2020 映画「るろうに剣心 最終章 The Final/The Beginning 」製作委員会

Sablé Shortbread Cookie Shop Sablé MICHELLE Opens First Tokyo Branch in Ikebukuro

Sablé MICHELLE opened its first Tokyo branch inside Seibu Ikebukuro last Friday to serve up their cute and colourful baked treats for the people of Japan's capital.

Voyage Sablé New York

Voyage Sablé Netherlands

Voyage Sablé Hawaii

Voyage Sablé Tokyo

Voyage Sablé Gift (Contains 3)

Voyage Sablé Air Male (Box of 6)

Cake Sablé Tin (Small Size)

Cake Sablé Bag Type (Contains 2)

Fleur Sandwich Sablé (Contains 4)

Fleur Sandwich Sablé Bag Type (Contains 2)

Cute Demon Slayer: Kimetsu no Yaiba Stationery Collection Includes Notebooks, Pencil Cases, and More

Ichiban Kuji is releasing a new stationery set themed on the popular anime and manga series Demon Slayer: Kimetsu no Yaiba at bookshops, Animate stores, and elsewhere in Japan on March 13.

Ichiban Kuji is a popular brand of kuji, sure-win lucky draw games in Japan where fans are guaranteed to win a piece of merchandise.

Demon Slayer: Kimetsu no Yaiba Stationery Collection

Promo Video


The Merchandise at a Glance

A-Prize: Pencil Case

B-Prize: Set of 3 Pens

C-Prize: Stickyle Compact Scissors (3 Designs)

D-Prize: A5 Notebooks (11 Designs)

E賞:和紙風クリアファイル 全15種 A4サイズ

Last Prize: Bamboo Pencil Case

The A-Prize is a pencil case inspired by Nezuko and Tanjiro, the B-Prize is a set of three different pens coupled with a metal charm, the C-Prize is the Stickyle compact scissors, and the D-Prize is a gorgeous collection of A5 notebooks.

(C)吾峠呼世晴/集英社・アニプレックス・ufotable

Experience Okinawa From Tokyo Station to Shin-Osaka Station at Tokai Kiosk's Fair

Tokai Kiosk Company has announced a Kyushu and Okinawa themed fair which will run at all branches of Tokai Kiosk from Tokyo Station to Shin-Osaka Station starting on March 2. Customers will be able to enjoy a range of local foods and products from Kyushu and Okinawa.

Kyushu Okinawa Fair Poster

A Look at Some of the Available Products

Salted Shiroi Tabekko Doubutsu

Sugar Butter Sand Tree – Amaou Strawberry Butter

Okinawa Bireley's Ishigaki Island Pineapple

Sausage & Egg Yuzu Kosho Sandwich

This is just a peek of what will be available to try from Kyushu and Okinawa this spring. If you're travelling in Japan this March, then don't miss out.

Information

Kyushu Okinawa Fair

Japanese Event Title: 旅行気分で「うまい!」を楽しもう!九州・沖縄フェア

Running: March 2, 2021 – March 22, 2021

Where: Bellmart Kiosks, Grand Kiosks, Gift Kiosks, and Kiosks from Tokyo Station to Shin-Osaka Station

Official Website: https://www.kiosk.co.jp

Aromatic Kamakura Raw Chocolate Brand to Open New Branch in Nagoya

MAISON CACAO, the company behind the aromatic raw chocolate brand of the same name, will open a store on floor B1F of JR Nagoya Takashimaya on March 3, 2021. It will be the brand's first permanent shop in Japan's Tokai region.

The company held a special Valentine's event from late January to Valentine's Day where MAISON CACAO made the second most sales. They also enjoyed other sold out products, and showcased some exclusive indulgences like the gold leaf-adorned "Aroma Raw Chocolate ARMOUR" and "Aroma Raw Chocolate STRAWBERRY" as well as the all-new "Cacao Butterland."

The Nagoya Line-Up

Aroma Raw Chocolate AMOUR | ¥6,000 (Before Tax)

Exclusive to this new Nagoya branch of MAISON CACAO, these "AMOUR" chocolates are all handmade using techniques that have been passed down through the company. The dark chocolates are wrapped in luxurious gold leaf and have a fruity, sweet, and bitter combination. One box contains a generous serving of 16.

Cacao Butterland | ¥2,000 (Before Tax)

MAISON CACAO uses cacao beans from Columbia to bake its menu. These gooey treats are made with cacao butter and chocolate caramel with a double layering of dark and white chocolate. A rich and filling serving of six comes in a box.

 

Aroma Raw Chocolate STRAWBERRY | ¥2,200 (Before Tax)

Also a Nagoya-exclusive, these strawberry variants are made with intensely sweet JApanese amaou strawberries white combine with the fragrance cacao butter and white chocolate for a refreshing taste. You get 16 in a single box.

But Wait, There's More…

Raw Chocolate Butter Cake | ¥3,500

A cake made with velvety chocolate butter cream packed with roasted nuts, raisins, and caramel chips.

Rich Raw Chocolate Tart STRAWBERRY | ¥2,000

Yet another exclusive to Nagoya, these crunchy tarts are lathered in amaou strawberry chocolate and filled with runny and fruity amaou strawberry cream. A box comes with three included.

Other Popular Goodies Available While Supplies Last

Aroma Raw Chocolate MAISON (Grape) | ¥2,400 (Before Tax)

Babka | ¥2100

Raw Gateau Chocolate | ¥2500 (Before Tax) 

Information

MAISON CACAO

Grand Opening: March 3, 2021

Location: JR Nagoya Takashimaya Floor B1F

Address: 1-1-4 Meieki, Nakamura-ku, Nagoya-shi, Aichi

Opening Hours: 10:00-20:00

MAISON CACAO Official Website: https://maisoncacao.com/