GARNiDELiA Conclude Solo Tour in China & Announce Japan Summer Tour
GARNiDELiA released their third studio album G.R.N.D. this year on March 28. Since April, they have been on a solo tour titled GARNiDELiA stellacage Tour 2018~G.R.N.D.~ which began in Osaka and concluded on May 5 at Music Zone @ E-Max in Hong Kong.
Just recently, the J-pop/rock duo performed to their largest audience of close to 2,000 fans at Nakano Sun Plaza Hall in Tokyo. The solo concert in Hong Kong was their first ever.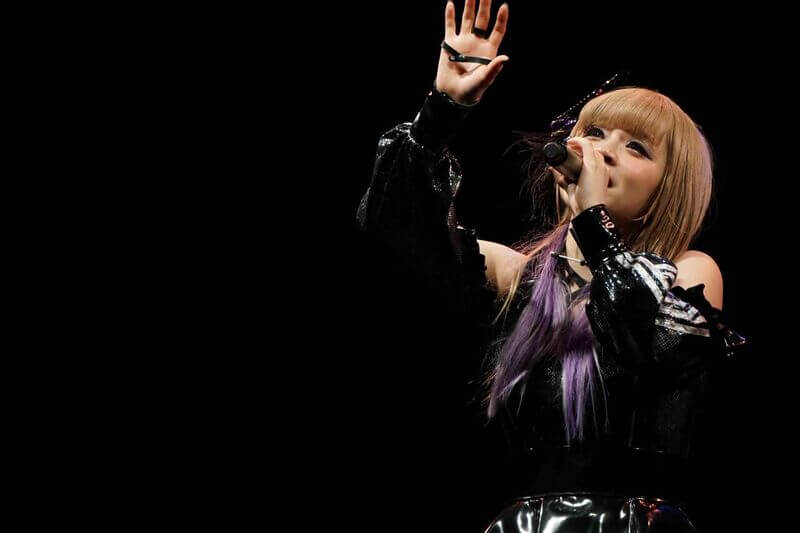 Together with the encore, the set-list stretched 17 songs. Fans howled with joy when MARiA spoke to them in Cantonese,
For the encore, they performed Ai Kotoba and Gokuraku Jodo during which everybody sang along to the Japanese lyrics, confirming GARNiDELiA's surge in popularity in Hong Kong.
Gokuraku Jodo is an immensely popular song in Greater China. MARiA announced, "We brought that song with us to sing and dance with everybody at the end, but I have something I want to do with everyone so let's practice!" She came together with everyone at the show and danced, marking the night's climax.
As this solo concert in Hong Kong shows, GARNiDELiA is gaining popularity not only in Japan but overseas too.
The duo's popularity is especially remarkable in Greater China. The dance videos that MARiA posts online have a combined total of 88 million views worldwide.
GARNiDELiA will embark on their biggest tour to date this summer where they will perform in 10 locations in Japan that they have never been before.
Stay tuned for the latest updates on GARNiDELiA!
■Information
GARNiDELiA stellacage Tour 2018~G.R.N.D.~
Venue: Music Zone @ E-Max (Hong Kong)
Date: May 5, 2018
Time: 19:00 DOORS / 19:30 START
Tour Schedule
http://www.garnidelia.com/live/
3rd Album – "G.R.N.D."
Released March 28, 2018
Price:
[First Press Limited Edition A] ¥3,685 (+Tax)
[First Press Limited Edition B] CD+DVD ¥3,315 (+Tax)
[Regular Edition] ¥2,870 (+Tax)
GARNiDELiA Official Website
RELATED ENTRIES
MARiA from GARNiDELiA and luz Release Duet Track, Music Video

GARNiDELiA vocalist MARiA released the music video for Cafe Latte no Uta, her duet track with luz, on June 15, 2022.

The track will be included in the singer's second solo album Memories, which will go on sale on June 22 and is now available on streaming services. Cafe Latte no Uta was composed by PENGUIN RESERACH's kemu with lyrics written by both Horie and luz.



Cafe Latte no Uta feat. luz


A release event has also been announced, scheduled to take place on June 22 at Tower Records Shibuya. The singer will hold a solo concert at Toyosu PIT on July 3. In exciting news, MARiA will be performing in an upcoming stage play, Quantum, which will be performed in Tokyo and Osaka for 23 total shows.

Although still very active in her work with GARNiDELiA, MARiA has been breaking new ground in her solo work, collaborating with a number of artists and creators. Keep an eye on what she does in the future!



Comment from MARiA

"I had a meeting with luz and kemu, and when we started chatting, we decided that since our voices are more adult, it would be perfect if we made a more sexy song. 

All three of us have lived our lives as part of internet culture, so this song really shows off our history with all of its strengths!

This is a song best listened to with headphones on–we really used our breath a lot, especially in the gaps between the music.

Be sure to enjoy the perfect harmony between me and luz!"

Information

Moments

Release Date: June 22, 2022

Limited Edition (CD+Blu-ray): ¥4,950 (Tax Included)

Standard Edition (CD Only): ¥3,300 (Tax Included)

GARNiDELiA Official Site: https://www.garnidelia.com/

GARNiDELiA Provides Theme for Soukai Tenki Nintendo Switch Game

Musical duo GARNiDELiA will perform the theme song Souten for the upcoming Nintendo Switch title Soukai Tenki, scheduled to be released in 2022. The song was also used in the recent Soukai Tenki stage play. 

Soukai Tenki is an adventure game with character designs by Teita and a scenario by Yuumi Yamada. The title is listed as a mixed-media project by Otomate, Toho Animation, and Plus81. 

In November 2021, GARNiDELiA released their new album 'Duality Code.' The duo is currently participating in a nationwide tour. 

 

Comment from GARNiDELiA

We're very thankful to be given the opportunity to provide the theme song for Soukai Tenki.

 

Although the characters are separated, love is a powerful force that will always bring people together.

 

This incredible realization led us as we created the song.

 

I hope that this song inspires those who listen to it.

MARiA

This song was inspired by the battles and bonds between men in a world shrouded in darkness.

We created this song with both strength and sadness in mind, and I hope that it sets the stage for the characters' stories. 

toku

 

©滄海天記プロジェクト

Information

Soukai Tenki (Nintendo Switch / Nintendo Switch Lite)

Releasing 2022

Soukai Tenki Stage Play ~Introduction: The Moon Crashing Into Darkness~

Running: December 8 – December 13, 2021

Address: THEATRE1010 (SENJU MILDIX Ichiban-kan 11F, 3-92 Senji, Adachi-ku, Tokyo)

Soukai Tenki Stage Play Official Site: https://soukaitenki-stage.com/

GARNiDELiA Official Site: https://www.garnidelia.com/

GARNiDELiA Releases Music Video for 'my code' From New Album

On November 17, musical duo GARNiDELiA released the music video for the song my code, the main track from their newly-released fifth album 'Duality Code.' This marks the duo's first release since moving to the Pony Canyon label. Members MARiA and toku explained that much of the album was inspired by quarantine, and how the two, so used to traveling and performing in different areas, felt trapped and uncertain about the future. 

my code Music Video

 

The two have also been working on solo projects, and have brought many of their new skills and talents to the table in this new album. This album aims to take them back to their roots, while also showing what the future could hold. 

Along with the release of the album and music video, an exciting announcement has been unveiled: GARNiDELiA will be going on a nationwide tour starting on December 5. The GARNiDELiA stellacage tour 2021-2022 "Duality Code" tour will hit five cities, and both MARiA and toku have released comments ahead of the tour's start date. 

Comments from GARNiDELiA

This is MARiA from GARNiDELiA. 

I've reunited with toku after working solo for a while. 

This is the first GARNiDELiA album release in just over one year. 

I wanted to really express my feelings in this work, and I wanted to do so confidently. 

I'm proud of what we've made. 

These songs were written with a brighter future in mind, imagining what it would be like to tour for the first time in two years. I can't wait to meet you, and share my feelings through the tracks on 'Duality Code.' 

   

MARiA





After a year, we're so proud to announce our fifth album!

In the past year, we've both worked on our respective solo careers, and we've learned so much that we can apply here and now to this new tour and to our music. 

Please listen to 'Duality Code!' 

toku

Information

Duality Code

Release Date: November 17, 2021

Streaming Links: https://lnk.to/GARNiDELiA_streaming

Limited First Edition (CD+Blu-ray): ¥4,950 (Tax Included) 

Regular Edition (CD Only): ¥3,300 (Tax Included)

Canime Limited Edition (CD+Concert Blu-ray): ¥9,900 (Tax Included) 

GARNiDELiA Official Site: https://www.garnidelia.com/

GARNiDELiA Releases Music Video for Otome no Kokoroe, Album Preorders Open

Pop-rock duo GARNiDELiA will release their fifth original album Duality Code on November 17, 2021, the duo's first since moving to Pony Canyon. Ahead of release day, the music video for Otome no Kokoroe has been uploaded to YouTube! 


Otome no Kokoroe is the opening theme song for the Taisho Otome Fairy Tale anime series, currently airing on TV Tokyo. The track is now available to stream. 

Featuring a brass band, this is a new kind of pop song for MARiA and toku that captures the story of the series. The music video was produced by MARiA herself and features the singer in a retro-modern Japanese outfit with Taisho-era flair. 

Otome no Kokoroe Music Video

This will be the first album released since the duo moved to Pony Canyon and their first album in a year. The two have been working on solo activities, and this new album marks a return to GARNiDELiA's roots while also utilizing new skills learned over the past twelve years. 

After the release of the album, GARNiDELiA will start a 5-city tour starting at CLUB CITTA in Kawasaki, Kanagawa on December 5, 2021. 

Information

Duality Code

Release Date: November 17, 2021

Streaming Links: https://lnk.to/GARNiDELiA_streaming

Limited First Edition (CD+Blu-ray): ¥4,950 (Tax Included) 

Regular Version (CD Only): ¥3,300 (Tax Included) 

Limited Edition (CD+LIVE Blu-ray): ¥9,900 (Tax Included) 

Official Site: https://www.garnidelia.com/

GARNiDELiA to Perform Opening Theme for Taisho Otome Fairy Tale Anime Series

Pop-rock duo GARNiDELiA will be performing the opening theme song for the upcoming Taisho Otome Fairy Tale anime series, set to begin airing October 8. The title of the track is Otome no Kokoroe, and a bit of the song can be heard in the recently-released third trailer.

GARNiDELiA is composed of Maria, the lead vocalist, and toku, the group's composer. The two made their major debut in 2014, and have contributed to a number of anime series in the past. Since moving to the Pony Canyon label in 2021, GARNiDELiA is planning on a number of new collaborations and releases.

 

The Taisho Otome Fairy Tale anime series is based on the manga of the same name, serialized in Jump Square from 2015 until 2017. Written and illustrated by Sana Kirioka, it tells the story of a wealthy boy, Tamahiko Shima, who, after becoming handicapped after a terrible accident, is sent to live in the countryside, away from his well-off family. It's there that he meets Yuzuki Tachibana, sent to be his bride. The two become closer, and Tamahiko begins to heal from the many scars of his youth.

 

 

Comments from GARNiDELiA

"Each character in this story is incredible and unique in their own way.

I'm honored to be singing the theme song for this amazing work, and doing so has made me feel more and more attached to it as the story progresses.

I hope the song conveys the beauty of a woman and love, and the strength of caring for someone with all your heart.

I hope the audience enjoys this song as much as I do, and that you enjoy it as you watch the series!"

"This track is a big-band tune in true GARNiDELiA style, inspired by the characters in this incredible story and their ever-changing emotions. This opening is a new challenge for us, and we hope you enjoy it!"

 

 

©桐丘さな/集英社・大正オトメ御伽話製作委員会

GARNiDELiA's MARiA Announces Second Photobook Release 'THIS IS'

Frontwoman MARiA of Japanese pop rock duo GARNiDELiA has announced that her second photobook collection THIS IS will be released on August 6, 2021.

MARiA has continued to grow and mature as an artist since her first photobook MARiAL hit shelves a year and a half ago. In this beautiful new 120-page collection, she dons a whole range of different outfits from a gorgeous crimson red dress to a pretty tutu dress, a traditional kimono serving the Japanese aesthetic, and more. It's a graceful and emotional insight into both MARiA as a woman and an artist. The art direction and shoot was conceived by top Japanese photographer Muga Miyahara whose artistic work has taken him across Japan and overseas.



In 2020, MARiA celebrated the 10th anniversary of GARNiDELiA by taking charge of the artwork, lyrics, and outfits for the duo's releases. She also became a model for numerous fashion brands in Japan and started gaining more fans overseas. On Weibo, the China's version of Twitter, she has over 2.85 million followers, putting her in the Top 3 most popular Japanese female artists on the service.

Last month, MARiA released her hit first solo album Utamonogatari which invites many big guest musicians on board such as Masayoshi Mamazaki, Hotaka Yamashita (Ikimonogakari), Yohei Hashiguchi (wacci), and more.は



MARiA's work doesn't just stop at GARNiDELiA, a duo known for producing many songs for anime series. She continues to evolve, challenging herself to new forms of expression. Be sure to check out her new photobook THIS IS when it drops on August 6.


Information

MARiA – "THIS IS"

Release Date: August 6, 2021

Publisher: Pony Canyon

Photographer: Muga Miyahara

Type: Hardback Cover

Pages: 120

MARiA Official Website: https://www.garnidelia.com/special/maria/

Concert Review: LiSA, GARNiDELiA, ReoNa & More Perform at SACRA MUSIC's Music Festival

SACRA MUSIC―a music label under Sony Music Labels―held a music event entitled SACRA MUSIC FES.2019 -NEW GENERATION- at Makuhari Messe in Chiba on Saturday May 18 and Sunday May 19. This non-stop live show housed a 360° stage in the centre of the venue on which artists signed to the label dazzled a total of 12,000 fans across the weekend.

This was the first live event of its kind by SACRA MUSIC. The show's subtitle "New Generation" refers to artists both signed to the label and the new generation of artists leading the music scene into the future. The line-up feature a diverse array of talent and genres spanning voice actors to rock bands, idols, virtual YouTubers and more.

The line-up for both days included ASCA, Ayano Mashiro, =LOVE, Luna Kaguya, GARNiDELiA, ClariS, Soma Saito, SawanoHiroyuki[nZk], Sangatsu no Phantasia, Spira Spica, TrySail, halca, PENGUIN RESEARCH, and ReoNa. A live band of skilled musicians dubbed the "SACRA BAND" also took to the stage to aid in performing various hits songs and anime songs. Virtual YouTuber Luna Kaguya performed as an opener, and EGOIST also made a surprise performance on screen, fusing the 2D world with the 3D world.

Several special collaborations also took place throughout the festival where artists banded together to perform covers as well as perform each others' songs. This included ClariS x TrySail, Mikiha (Spira Spica) x halca, Soma Saito x Yoji Ikuta & Shota Horie (PENGUIN RESEARCH), GARNiDELiA x Ayano Mashiro, and ASCA x ReoNa.

At the end of the first night, Eir Aoi appeared as a secret guest to perform three songs including her first single Ryuusei. At the end of the second night, LiSA was the secret guest, who performed several songs including her latest number Gurenge. The two also came together to sing each of their respective hits IGNITE and Rising Hope.

A teaser video was also shown for two new SACRA MUSIC projects titled BATON=RELAY and Tenka Soul. The concerts are only set to continue growing bigger and better.

MMN Interview: GARNiDELiA discuss their popularity in China as they embark on 2019 Asia tour

GARNiDELiA is a Japanese pop rock duo made up of singer MARiA and composer toku. Since forming in 2010, they have come to build a huge online presence collecting well over 100 million music video views.

The pair are currently in the midst of their 2019 "Kyoki Ranbu" Asia tour. In their home country of Japan they are well known for their back catalogue of hit anime songs, but did you know they are boast immense popularity in China too? They in fact hold the No. 1 spot on both the country's music streaming service QQ Music and video sharing website Bilibili. This came about after they uploaded their dance video for Gokuraku Jodo which features dancing from GARNiDELiA's own MARiA and two others, Miume and 217. This was the first dance video in what has come to be a series of ongoing videos. The video, which was originally posted YouTube, was reposted onto Bilibili by Chinese fans which kindled a blaze of excitement surrounding GARNiDELiA. Since 2014, the duo's overseas activity has continued to grow. We spoke to both of them about how after their solo show in China they went on to enjoy a surge of popularity in the country, from collaborations with popular mobile games and online animations to being invited to countless events.

Text: Fukuryu (Music concierge)

Translator: Joshua Kitosi-Isanga

https://twitter.com/MARiA_GRND/status/1114520109110808576

 

――GARNiDELiA's popularity in China is something amazing, isn't it?

MARiA: We never imagined it would become as it has done. The online world is amazing. You never know that there could be a chance on there somewhere. It began with our video being reposted online, something we didn't know about, and word about us spread.

――Things online spread both like word-of-mouth on the street and like media news.

MARiA: That's true. We uploaded Gokuraku Jodo on YouTube. For us, we saw it as having uploaded it quite a long time ago, but on Bilibili in China it's at its peak popularity right now. So it felt strange. Not a lot of information about Chinese culture comes into Japan, does it? Even when we had a show scheduled [in China], we felt anxious the entire time wondering how many people would turn up. 'There's no way we can do something like a solo show, is there?' We think thought like that. But when we got there was packed. My impression of going there for the first time was, 'Wow, this is amazing!'

上海謝謝🙏
#garnidelia# #stellacage# #stellacageasiatour# #shanghai# 場所: Bandai Namco Shanghai Base 万代南梦宫上海文化中心 https://t.co/AnJ6mpnaFu

— toku✡🤖GARNiDELiA (@toku_grnd) April 6, 2019

――When was your first solo concert in China?

MARiA: May 2017, but we were on edge whether we'd made fans. After that we were invited to events in China for what felt like, and we came to realise that we might actually be popular! That's why we were allowed to headline the Bilibili event despite being Japanese. It began to sink in after that, so we wrote the song Tougen Renka which is a nod to China. Our YouTube views also began to rapidly grow as did the comments not just from China but from various countries. It strengthened our want to spread around the world.

――You were active overseas even before you had the chance to do all of these things in China, weren't you?

MARiA: Yes, in the anime culture side of things.

――Even though your entryway was anime, your popularity grew from the phenomenon surrounding your dance video series.

MARiA: That's right. Up until Gokuraku Jodo became a hit in China, we were strongly associated with anime. As well as that, we were also give the chance to go to lots of different events overseas. We thought, if we're being invited to this many events outside of Japan, we must be spreading Japanese culture as Japanese people, and so we wrote the Japanese-style song Gokuraku Jodo. We had France, Europe and the West in mind when writing it rather than Asia, but it hit the with people mark in China.

――How did it feel to perform in China?

MARiA: Depending on what country we're in we completely change the set list. If it's somewhere like America or Europe we go for EDM. Rather than song arrangements like in the dance video series we go for songs that are more like hard club music. If it's an anime event, we focus on anime songs. But since our Chinese fans came to know about us from our dance video series we mainly focus on those songs. We'll even perform Gokuraku Jodo twice, it's the one that got our name out there. They go crazy. It makes me think how much they really like us. I am so thankful.

――Are you popular on Chinese video streaming sites like Bilibili and music subscription services like QQ Music?

MARiA: We've reached No. 1 on them. We're so thankful for it. They're always excited when we release new material.

――Wow, that's amazing.

MARiA: On Bilibili, we're ranked No. 1 not in the music section but overall. I was really amazed.

toku: They've even let us headline the Bilibili event two years in a row.

――You've really made your name known.

MARiA: I wonder about that. There are lots of people on the internet and a lot of material coming out every day. I'm thinking many things about what to do next while being conscious about how difficult it is to stand out from the rest. Thanks to Gokuraku Jodo, Chinese businesses have taken notice of us. As a result, we've had talks with them about doing theme songs for Chinese anime and video games, and the number of people who know about us has increased. We're so grateful.

大好きみうめ217とおおお😭♥️
この二人と一緒にパフォーマンスできるのほんっとに嬉しい幸せなの。2人が一緒で本当によかった。2人に出会えて本当によかった✨今日は沢山助けてもらったよぉ😭ありがとう。明日は北京!がんばろーーーっ✊🏻✊🏻✊🏻🇨🇳 pic.twitter.com/nbXlCBlvrl

— ☪️ʚメイリアɞ起死回生🦄 (@MARiA_GRND) April 6, 2019

――Do you know Chinese?

MARiA: About that. I actually studied Chinese once before an interview. It's a hard language to study. But the fans who come to our shows study Japanese for us. We're spoiled when it comes to that [Laughs]. I more or less study every day.

――The townscape of China seems to be evolving doesn't it? The speed of their technological development is so fast.

MARiA: It's even more flashy than Japan. Having an LED screen as part of the equipment in a venue is natural to them. Even if you're watching [us live] on Bilibili they are fanatics when it comes to video editing. Their craft is high level. It feels high tech.

――So how about making a high tech dance video?

MARiA: We'd need to work hard for that to happen.

――Getting to take your music overseas is a musician's blessing isn't it?

toku: It sure is. It was one of my dreams, but I never expected it to happen. Fortunately because of that I want ring our songs through different countries.

―― So this tour is taking you to Hong Kong, Shangai, Beijing, Singapore, Chongqing, Shenzhen, Taipei, and then Japan?

MARiA: Yeah. It's our first time in Singapore. This tour is in support of our album Kyouki Ranbu. What gave us the opportunity to go on tour in Asia in the first place was of course in part due to our songs in collaboration with anime series, but I also believe it's because of the songs in the dance video series. We want to take the songs in that series and put on a tour where we can dance wildly with everyone just like the name of the album suggests.

――Your goals as a band will grow in the future, won't they?

MARiA: It feels like a future that we never imagined three years ago is spreading before us right now. Our situation changes every single time we release something, so although I think it can be tough catching up with one of our releases, or our circumstances, I'm happy that there are people waiting for something new from us.

――The comments people write have been amazing, haven't yet?

MARiA: They really have. Another thing is that we need to evolve, not just now, but five years from now too. This year marks five year since our major debut. When we arrive at 10 years I want us to be doing an Asia tour and performing overseas. And at bigger venues. I want our music to reach lots of countries. If we want that to happen we have to be thinking every day.

――You'll need the language acquisition.

MARiA: We will. I also want to increase the number of places where people can remember our faces, not just in videos. We have just reached 1 million followers on Weibo [Chinese Twitter]. We were at around 300,000 only just a little while ago. The number increasing like that it's a common occurrence. I couldn't keep up. I was like, 'Whoa, hold on.' The speed was crazy.

――Do you use Chinese on there too?

 

MARiA: I try my best to write in Chinese, but I end up mixing it with Japanese.

toku: When that happens our fans translate it for us. We're thankful for that.

MARiA: For sure. Our fans even translate it into Japanese. But we shouldn't take advantage of or depend on it.

――You released your new single REBEL FLAG in Japan on March 13. It's a hard, fast-paced number.

toku: There was a request from the anime producers for a rock sound. It's quite us, like it's come full circle to where we started. It's also a compilation of 5 years of being together.

MARiA: This song is the ending theme for the TV anime series Magical Girl Spec-Ops Asuka. We read the script thoroughly and wrote the song about the protagonist Asuka's feelings while looking back out how we've continued to fight through things ourselves. We've had a battle with categorising ourselves. We've always thought that we don't want to fix into a single box when it comes to genres. Like, you can't pinpoint our individuality. Everyone who has come to know about us has done so differently. There are people who know us from anime or online and probably even fashion. The song is filled with our determination and readiness, like we're saying we've got a lot left to give.

――If you were to send a message to your Chinese listeners going on your tour what would you say?

MARiA: Everyone in China has widened our possibilities. They have given us so many chances, and I am grateful for that. Our activity there is split about half and half with Japan, so it feels like a second home country. That's how much everyone in China means to me, I love them. I'm happy we get to perform at so many places on this tour. I want to go and meet with everyone lots this year too, not just on tour but at upcoming events and elsewhere too . I look forward to seeing you all.

toku: People in China are really perceptible to new things. They have great strength to acquire the things they really like and want. If our music fits into that, then I would love for more people to hear us. Thank you so much for everything as always.

――Your Asia tour will continue in Singapore on April 13, Chongqing on May 11, Shenzhen on May 25, Taipei on June 1, and finally Omiya Sonic City in Japan on August 3.

MARiA: We will also perform at our label's event "SACRA MUSIC FES.2019 -NEW GENERATION-" at Makuhari Messe on May 18. Speaking of which, our overseas fans actually come to see us in Japan too. It's easier to buy our CD's in Japan. And when we do things like signings at release events lots of people from their countries too. CD's are a kind of merchandise. And our songs can also be streamed overseas. If you're Japanese or living abroad, please look forward to GARNiDELiA touring, our merchandise and performances at events.

Information

stellacage Asia Tour 2019 "Kyoki Ranbu"

2019/4/13 @ Zepp@BIGBOX, Singapore

2019/5/11 @ Impact Motion Live House, Chongqing

2019/5/25 @ A8 Livehouse, Shenzhen

2019/6/1 @ Legacy Taipei, Taipei

2019/6/23 @ PENNY LANE 24, Hokkaido

2019/6/30 @ Namba Hatch, Osaka

2019/7/7 @ Diamond Hall, Aichi

2019/7/27 @ DRUM LOGOS, Fukuoka

2019/8/3 @ Sonic City, Saitama

GARNiDELiA Official Website: http://www.garnidelia.com/

GARNiDELiA Embarks on the Biggest Asia Tour of Their Career

Since their debut, GARNiDELiA have spun a string theme songs for popular anime series including ambiguous for Kill la Kill and Désir for Fate/Apocrypha. Most recently they released their 10th single REBEL FLAG on March 13 which is used as the ending theme song for Magical Girl Spec-Ops Asuka.

The pop rock duo finally embarked on their long-awaited tour solo entitled stellacage Asia Tour 2019 "Kyoki Ranbu". It began at Mynavi Blitz Akasaka in Tokyo on March 21.

The 13-date tour is being used to promote their compilation album Kyoki Ranbu which is a collection of songs from their popular online dance video series such as Gokuraku Jodo which has over 45 million views on YouTube.

During the Akasaka show the duo announced that the tour finale will take place at SONIC CITY in Omiya, Saitama on August 3. Pre-sale tickets are now on sale over on the band's fan club "galaxia" until March 31 at 23:59 (JST).

photo by Kiseki Michiko

Information

stellacage Asia Tour 2019 "Kyoki Ranbu"
2019/3/21 @ Mynavi BLITZ Akasaka, Tokyo
2019/3/30 @ MacPherson Stadium, Hong Kong
2019/4/6 @ BANDAI NAMCO SHANGHAI BASE, Shanghai
2019/4/7 @ Tango Live House, Beijing
2019/4/13 @ Zepp@BIGBOX, Singapore
2019/5/11 @ Impact Motion Live House, Chongqing
2019/5/25 @ A8 Livehouse, Shenzhen
2019/6/1 @ Legacy Taipei, Taipei
2019/6/23 @ PENNY LANE 24, Hokkaido
2019/6/30 @ Namba Hatch, Osaka
2019/7/7 @ Diamond Hall, Aichi
2019/7/27 @ DRUM LOGOS, Fukuoka
2019/8/3 @ Sonic City, Saitama

GARNiDELiA Official Website: http://www.garnidelia.com/

GARNiDELiA Perform Theme Song for Miko Note Mobile Game

GARNiDELiA are set to release their new single REBEL FLAG on March 13 which is being used as the ending theme for the ongoing anime series Magical Girl Spec-Ops Asuka which began airing in January this year. The single is coupled with another track, PASSION, which has been announced to be used as the main theme for the mobile game Miko Note.

Miko Note follows the everyday lives of shrine maidens living under the same roof. It features 3D drawings created by Japanese illustrator Shirabi. The game is set to be released in Japan sometime this year.

GARNiDELiA will promote their new single with a series of release events in Tokyo, Kanagawa, Aichi and Osaka.

The pop rock duo will embark on their biggest Asia tour to date stellacage Asia Tour 2019 "Kyoki Ranbu" starting in March.

GARNiDELiA Announce CD Release Date of Magical Girl Spec-Ops Asuka Ending Theme 'REBEL FLAG'

GARNiDELiA have revealed they will release their 10th single REBEL FLAG on March 13, 2019. The song is used as the ending theme for the ongoing anime series Magical Girl Spec-Ops Asuka which began airing this month.

The CD cover features vocalist MARiA holding up her 'rebel flag' with the band's name written on there. Release events for the single have also been announced and will take place in Tokyo, Kanagawa, Aichi and Osaka.

The duo will embark on their biggest Asia tour to date stellacage Asia Tour 2019 "Kyoki Ranbu" from March. Further details for the tour are to be announced in the near future.

Information

REBEL FLAG

Release Date:  March 13, 2019

First Press Limited Edition (CD+DVD): ¥2,000 (Before Tax)

First Press Regular Edition (CD): ¥1,200 (Before Tax)

Limited Pressing Edition (CD+DVD): ¥1,600 (Before Tax)

Digital Download: https://lnk.to/f_Uwl

REBEL FLAG Release Events

The events will include a talk and CD signing by the band. Details can be found below.

http://www.garnidelia.com/info/archive/?503276 (Japanese)

stellacage Asia Tour 2019 "Kyoki Ranbu"
2019/3/21 @ Mynavi BLITZ Akasaka, Tokyo
2019/3/30 @ MacPherson Stadium, Hong Kong
2019/4/13 @ Zepp@BIGBOX, Singapore
2019/6/23 @ PENNY LANE 24, Hokkaido
2019/6/30 @ Namba Hatch, Osaka
2019/7/7 @ Diamond Hall, Aichi
2019/7/27 @ DRUM LOGOS, Fukuoka

GARNiDELiA Official Website: http://www.garnidelia.com/

Magical Girl Spec-Ops Asuka Official Website: http://magical-five.jp/

©Makoto Fukami・Seigo Tokiya / SQUARE ENIX・"Magical Girl Spec-Ops Asuka" Production Committee

GARNiDELiA Releases Magical Girl Spec-Ops Asuka Ending Theme 'REBEL FLAG'

It was revealed in December that GARNiDELiA's new song would be used as the ending theme for the ongoing anime series Magical Girl Spec-Ops Asuka which began airing this month.

The song, entitled REBEL FLAG, has now been released digitally along with a music video.

"REBEL FLAG" YouTube Edit Version

The duo will embark on their biggest Asia tour to date starting in March. Be sure to check out their new song and music video if you're heading to one of their shows.

Information

REBEL FLAG

Digital Download: https://lnk.to/f_Uwl

stellacage Asia Tour 2019 "Kyoki Ranbu"
2019/3/21 @ Mynavi BLITZ Akasaka, Tokyo
2019/3/30 @ MacPherson Stadium, Hong Kong
2019/4/13 @ Zepp@BIGBOX, Singapore
2019/6/23 @ PENNY LANE 24, Hokkaido
2019/6/30 @ Namba Hatch, Osaka
2019/7/7 @ Diamond Hall, Aichi
2019/7/27 @ DRUM LOGOS, Fukuoka

GARNiDELiA Official Website: http://www.garnidelia.com/

Magical Girl Spec-Ops Asuka Official Website: http://magical-five.jp/

©Makoto Fukami・Seigo Tokiya / SQUARE ENIX・"Magical Girl Spec-Ops Asuka" Production Committee