BABYMETAL's 2018 World Tour Begins-Japan Date Also Announced
BABYMETAL's highly anticipated 2018 world tour finally began at Uptown Theater in Kansas City on May 8.
Last month, the band announced Episode VII of the Metal Resistance, revealing seven metal spirits of the Dark Side known as "The Chosen Seven," who aren't bound by the laws of space and time.
Only the Fox God knows who they are, when and where they will appear, and in what form. Now, after a long wait, the first night of the tour has finally taken place.
The girls also surprised everybody by dropping a new music video for their new song Distortion, as well as it being available to purchase digitally, the day before the tour began.
Together with the start of a new story of the Dark Side and Apocrypha, the new release showcases BABYMETAL with a new style different from what we know.
In addition to the seven solo shows of the US leg of the tour, they will also perform at Rock on the Range in Columbus on Stage Two as the first Japanese headliner.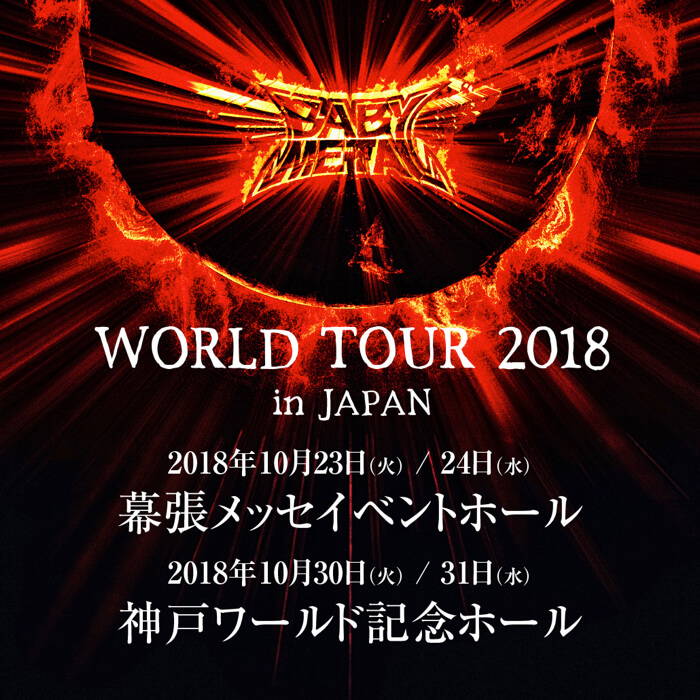 Dates for Japan have also been added to the tour schedule. They will perform at Makuhari Messe Event Hall in Tokyo on October 22 and 23 before heading to Osaka to take over Kobe World Memorial Hall on October 30 and 31.
Make it a priority to witness BABYMETAL live – rest assured you won't be disappointed!
■Information
BABYMETAL WORLD TOUR 2018 in JAPAN
23.10.18 @ Makuhari Messe Event Hall
24.10.18 @ Makuhari Messe Event Hall
30.10.18 @ Kobe World Memorial Hall
31.10.18 @ Kobe World Memorial Hall
*Full details to be announced at a later date.
BABYMETAL WORLD TOUR 2018
【US Leg】
08.05.18 @ Uptown Theater, Kansas City, MO
10.05.18 @ ACL Live at the Moody Theater, Austin, TX
11.05.18 @ House of Blues, Dallas, TX
13.05.18 @ Revention Music Center, Houston, TX
15.05.18 @ The Tabernacle, Atlanta, GA
17.05.18 @ The Fillmore, Charlotte, NC
18.05.18 @ Marathon Music Works, Nashville, TN
20.05.18 @ "Rock on the Range", Colombus, OH
【Europe Leg】
01.06.18 @ Rock am Ring, Nuremberg, Germany
02.06.18 @ Rock im Park, Zepplinfield, Nuremberg, Germany
04.06.18 @ Music Hall, Innsbruck, Austria
05.06.18 @ TivoliVredenburg, Utrecht, Netherlands
06.06.18 @ TivoliVredenburg, Utrecht, Netherlands
09.06.18 @ "Download Festival 2018", Donington Park UK
BABYMETAL Official Website
http://www.babymetal.com/en/