THE VERY HUNGRY CATERPILLAR CAFE in Ginza to release new menu items
The café named, HARAPEKO AOMUSHI (THE VERY HUNGRY CATERPILLAR) CAFE representing the world of THE VERY HUNGRY CATERPILLAR announced that they will release new menu items. The items will be available from the 21st of May (Mon.).
The café is opened in Ginza for a limited time offer. The size of the café is small (only 40 seats). However, the café is gathering much attention with 1,000 customers visited, within a week since opening. TV programs have reported about the café's high-quality menu items and its growing popularity.
The well-made interior of the café representing the world of the picture book and the menu items created under the theme of "offering exciting and fun foods" are gaining huge popularity.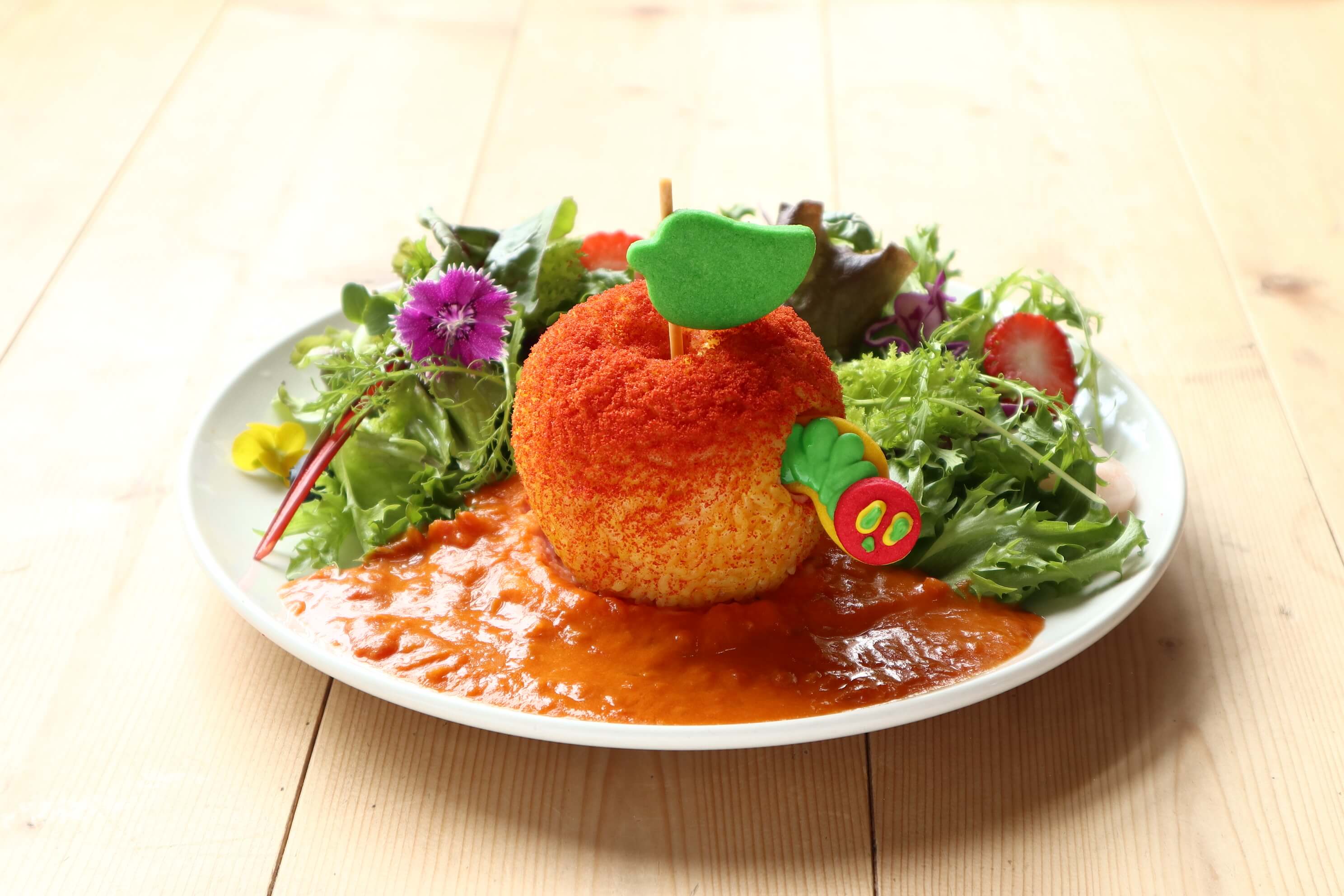 Ringo wo Hitotsu Tabemashita (I ate an apple)
Price: 1,580 yen
Futoccho Aomushi no Cheese Cake (Fat caterpillar's Cheese Cake)
Price: 1,200 yen
Otsukisama no Jelly Tea (Moon jelly tea)
Price: 800 yen
Ohisama no Jelly Tea (Sun jelly tea)
Price: 800 yen
Mizutama to Choucho no Lemon Cheese (Polka-dot and butterfly lemon cheese)
Price: 1,180 yen
The new menu items have a fresh look, matching the start of summer. I am sure that you will break out in a smile after seeing these precisely-made, cute new menu items.
Why not visit the renewed HARAPEKO AOMUSHI CAFÉ!
■Information
HARAPEKO AOMUSHI CAFÉ
Address: Sunday Branch Maronie Gate Ginza 1 (4F) (2-14, 2nd Avenue, Ginza, Chuoku, Tokyo)
Period: 2018/1/18 (Thurs.) to 8/31 (Fri.)
Business hours: 11:00 to 21:00
*Reservations must be made for those of you who want to visit the cafe before 17:30. Making reservation is unnecessary for those of you who are planning to visit the café after 17:30.
TEL:03-3567-3366
Website:http://www.harapecocafe.com
RELATED ENTRIES
Sylvanian Families and Tower Records Open Collaboration Cafe in Omotesando

Tower Records Cafe is known for collaborating with a number of unique properties at their Omotesando location. Starting November 3, the 'Pop-Up Cafe: Exciting Autumn Concert' will be serving guests some adorable dishes in conjunction with the Sylvanian Families line of animal toys! The event will take place in two stages, and will continue until November 23, 2021. 

Collaboration Menu

Persian Kitten's Sparkling Star Stew: ¥1,490 (Tax Included) 




Walnut Squirrel Style Honey Nut Chicken: ¥1,490 (Tax Included) 




Forest Fruit Salad: ¥1,320 (Tax Included) 




Baby Rabbit Chocolate Pancakes: ¥1,320 (Tax Included) 




Baby Deer's Heart French Toast: ¥1,490 (Tax Included)




Panda-cotta with Fruit: ¥1,320 (Tax Included) 





Choose a Hot Drink (Latte/Cocoa/Milk): ¥890 (Tax Included) 

Exciting Autumn Concert Original Takeout Bottle: ¥980 (Tax Included)




Souvenir: Baby Animal Set

Table Mats

Merchandise

Sylvanian Melodies 1

Sylvanian Melodies 2

Baby Animal Camping Series (9 varieties)

Those purchasing goods will receive an original sticker. 

Those reserving a spot at the cafe will receive an original sticker. 

Sylvanian Families is a line of collectible animals made of flocked plastic, originally released in Japan in 1977. Made to place inside dollhouses, these little creatures have remained popular worldwide since release. This cafe will feature original goods and dishes, including five dishes inspired by the members of the marching band shown in the event's main visual. Inside the store, there will be large dolls and an original diorama that can only be seen during the Omotesando event. 

Information

Pop-Up Cafe – Exciting Autumn Concert

Tower Records Cafe

1st Stage: November 3 – November 12, 2021

2nd Stage: November 13 – November 23, 2021

Address: Imon Harajuku Building 2F (6-3-9 Jingumae, Shibuya-ku, Tokyo) 

Details: https://tower.jp/article/news/2021/10/14/c101

Official Site: https://tower.jp/

New Anime Series Visual Prison Inspires Limited-Time Cafes in Tokyo and Osaka

One of the most highly-anticipated anime series this season is Visual Prison, and to celebrate the show's premiere, a collaboration cafe will open in Tokyo and Osaka for a limited time! Fans won't want to miss out on the delicious visual-kei inspired menu, perfect for sharing on Instagram. The cafe will also feature limited-edition merchandise with original designs of the show's characters. 

Menu

[O★Z]  Azure Hamburger Plate: ¥1,650 (Tax Included) 

[LOS†EDEN] Jet Black Fruit Sandwich: ¥1,650 (Tax Included) 

[ECLIPSE] Moon White Risotto: ¥1,650 (Tax Included) 

Ham & Egg German Pancake: ¥1,650 (Tax Included)

Crimson Moon Pancakes: ¥1,320 (Tax Included) 

Pannya Parfait: ¥1,430 (Tax Included) 

Guil's Affogato: ¥990 (Tax Included) 

Drinks

Robin/Ange/Guiltia/Eve: ¥990 each (Tax Included)

Jack/Mist/Saga/Elizabeth: ¥990 each (Tax Included)

Dimitri/Hyde: ¥990 each (Tax Included)

Original Merchandise

Pin (Random, 10 varieties): ¥550 (Tax Included) 

Acrylic Stand (Random, 10 varieties): ¥990 (Tax Included) 

Acrylic Keychain (Random, 10 varieties): ¥715 (Tax Included) 

Mini Character Acrylic Stand (Random, 10 varieties): ¥990 (Tax Included) / Sticker Set (Includes 10): ¥1,089 (Tax Included) 

Clear Poster (O★Z): ¥1,089 (Tax Included) 

Clear Poster (LOS†EDEN): ¥1,089 (Tax Included) 

Clear Poster (ECLIPSE): ¥450 (Tax Included) 

Swizzle Stick (O★Z/(LOS†EDEN/ECLIPSE): ¥990 each (Tax Included)

Those who make a reservation in advance will receive a random invitation (3 varieties) to enjoy the cafe and one random original coaster (10 varieties) per drink order. 

Visual Prison tells the story of vampires masquerading as visual-kei musicians. The series began airing on October 8 in Japan and is currently available to watch on Funimation in the west. Will you be watching?


(※)TVアニメーション『ヴィジュアルプリズン』

©Noriyasu Agematsu,Afredes/Project VP

Information

Café de VISUAL PRISON

Location/Running: 

Omotesando, Tokyo: BOX cafe&space Omotesando

October 21, 2021 – November 21, 2021

B1F Pine Under Flat, 5-13-2 Jingumae, Shibuya-ku, Tokyo

Shinsaibashi, Osaka: Shinsaibashi contact

October 29, 2021 – November 21, 2021

1-6-24 Kitahorie, Nishi-ku, Osaka

Reservations begin October 11 at 18:00 (First come, first served) 

Reservation Fee: ¥715 (Tax Included) *Up to 4 seats per reservation. 

*Those who reserve in advance will receive special bonuses!

Online Shop Open: October 21, 2021 at 10:00 – November 21, 2021 at 23:59

Online Shop: https://cafe-de-visualprison.jp/online_store

Official Site: https://cafe-de-visualprison.jp/

no mark.Café in Tokyo Collaborates with Parent-Child Art Unit Musee du Aouvre

Located in an old traditional Japanese house in Kiyosumi Shirakawa, no mark.Café has a cozy ambiance for guests looking to escape the hustle and bustle of the city. From October 15 until November 30, the cafe is collaborating with the parent-child art unit Musee du Aouvre, and thirteen works from the group's blog will be on display throughout the building. A campaign will also be held, giving visitors the chance to receive some original coasters and a small wind God figure to sit on the side of a coffee cup. 

Campaign Present A. Aouvre Coaster / B. Aouvre Wind God Figure

The cafe aims to be a place where guests can enjoy art as they relax, and to further this idea, they will be collaborating with a number of artists in the 'CAFE DE ART' project. 

The first collaboration is with Musee du Aouvre, an art unit consisting of a father and son duo who copy famous works of art. These aren't just any forgeries–they are incredibly adorable and pay proper homage to the original creations. Thirteen works will be selected from the pair's blog and will be exhibited under the title 'The no mark.Café Great Counterfeit Exhibition.' A 2022 calendar and postcards of the works will be on sale at the store, and videos will provide information about the original works of art. Visitors can also participate in the Twitter and Instagram campaign to win a special collaborative item!

Enjoy a Weather and Time-based Cream Soda at the Newly Opened 'Cafe Amayadori'

The Oarai Tourism Omotenashi Promotion Council opened Cafe Amayadori, a rain and healing themed coffee shop, on September 18 2021. The shop was opened as a challenge and is located in the Umimachi Terrace Tourist Information Center.

Cafe Amayadori

Cafe Amayadori Menu

Cafe Amayadori Tote Bag

You can clearly hear the sound of the rain from inside the store, while the served cream soda changes based on both the weather and the time. On clear days where the sun is shining, you can order the traditional green-color  'Blue Sky Cream Soda,' while on rainy days you can order the blue 'Rain-color Cream Soda.'

The cafe also serves a wide variety of Japanese and Western meals and desserts, each cooked using local Oarai produce. Morning and lunch specials are also available, meaning you can easily work your visit around your own schedule.

The concept of the cafe is "Rain." You can dash into the cafe as if you're looking for shelter from the weather before sitting down to eat and drink in the calm space, emphasized by the soothing music that plays in the background. While the soundtrack depends on the day, the sound of rain is often played. However, the sounds played on rainy days are a little different to the usual. True to its name, the cafe can create a comfortable Amayadori (lit. rain shelter) no matter what the weather!

'rain coat studio' is a group of creators who have been working on 'rain' themed events and designs since 2016. The group was formed with the idea that "when it rains, our activities are limited due to the dull weather. On the other hand, the rain represents the season and soothes those who listen to it's sound." 

The group aims to create music, events, artwork, and more, that are cool like the rain but still convey a kindness. The 'rain coat studio' came up with the idea of a coffee shop as a way to try creating a restaurant business that followed their ideals.

The signature item on Cafe Amayadori's menu is the 'Weather Cream Soda.' The flavor depends on whether the weather is clear, rainy, and after-rain, but can also depend on the time – They even offer special drinks for 'Morning Fog' and for drinking in the evening, along with a limited-time 'Seasonal Cream Soda. 

The cafe doesn't just serve Cream Soda! Customers who would like a full meal can also order from a selection of Japanese food, Western food, and desserts. A limited edition tote bag is currently on sale to commemorate the opening of the cafe.

Why not try relaxing on a rainy day at Cafe Amayadori?

Information

Cafe Amayadori

Address: Uramichi Terrace, 301 Sakuramichi, Oarai-cho, Higashi-Ibaraki-gun, Ibaraki *Directly connected to Oarai Station

TEL: 029-352-2715

Opening Hours: 09:00 ~ 17:30 (subject to change) 

Closed: Mondays, Holidays (subject to change) 

Official Site: http://rain-sound.com/cafe

Tokyo Revengers Featured in 10th Installment of Anime-Inspired Cooking Project Anicook

AniCook, a project by CookpadTV using anime to make cooking more fun, is holding its 10th collaboration with the extremely popular anime series Tokyo Revengers! The event will be held from October 29 until November 23, and will feature characters from the show dressed in original cafe staff costumes serving up themed foods. Reservations are now open, and those coming to the cafe on Halloween might just get a surprise gift!

Menu

Food

Desserts

Drinks

Stickers gifted for each food and dessert order (8 varieties) / Postcards gifted for drink orders (8 varieties) 

Exclusive Merchandise

CookpadTV continues to lead the way in quality collaboration cafes across Japan and has arranged each dish with specific characters in mind. The concept this time around is 'one-bite knockout,' with each menu item made to be so tasty guests will be KO'ed instantly, as if they've just been kicked by Mikey himself. 

Tons of xclusive merchandise will also be on sale, so don't miss out! These will also be available on the CookpadTV website. 

*Please note that the design and color of the exclusive merchandise are subject to change. 

©和久井健・講談社/アニメ「東京リベンジャーズ」製作委員会

Information

cookpadLive Tokyo Revengers

Address: Shinsaibashi PARCO 5F (1-8-3 Shinsaibashisuji, Chuo-ku, Osaka) 

Running: October 29 – November 23, 2021

Hours: 11:00-21:00

Please make reservations on the official website. 

E-commerce site: https://cookpadtv.stores.jp/

Official Site: https://cookpadlive.cafe/collabo11

Sumikko Gurashi Themed Cafes Open in Tokyo, Osaka, and Aichi to Commemorate Second Theatrical Movie

To commemorate the release of the their second movie, 'Sumikko Gurashi: Aoi Tsukiyo no Mahou no Ko,' Sumikko Gurashi will be opening the limited-time 'Night Party with Sumikko' cafe in Osaka on October 20, Tokyo on October 21, and Aichi on November 11.

 

(Advance Reservation Benefit Only) Original Invitation with Postcard (Five types)

Menu

Tokage's Night Party Curry: ¥1,430 (Tax Incl.)

Shirokuma's Warming Hot Rice Casserole: ¥1,430 (Tax Incl.)

Five's Recommended Children's Lunch: ¥1,650 (Tax Incl.)

Magician's Party ~Açai Bowl~: ¥1,430 (Tax Incl)

Aoi Tsukiyo's Fruit Punch: ¥1,100 (Tax Incl.) + ¥220 for one mini ice cream

Sumikko's Pudding Ice Cream: ¥880 each (Tax Incl.)

Starry Drink: ¥990 each (Tax Incl)

Dolomite Coaster

Hot Café Au Lait: ¥880 (Tax Incl.)

Original Goods

Acrylic Keyholder (Random out of five): ¥770 (Tax Incl.)

Phosphorescent Sticker (Random out of eight): ¥605 (Tax Incl.)

Acrylic Stand (Random out of five): ¥880 (Tax Incl.)


Muddler (Three types): ¥1,100 each (Tax Incl.)

Mug Cup: ¥1,980 (Tax Incl)

Purse: ¥1,100 (Tax Incl.)

Fluorescent Pen Set: ¥1,100 (Tax Incl.)

A5 Clear File Duo: ¥605 (Tax Incl.)

Bandanna: ¥1,870 (Tax Incl.)

The Sumikko Gurashi characters are beloved by both adults and children for their gentle touch and tone. Their first movie, 'Sumikko Gurashi Tobidasu Ehon to Himitsu no Ko' was released in November 2019 and received great popularity. The sweet story of the Sumikko's adventures through a story-book world attracted over 1.2 million viewers across Japan.

The heartwarming cafe menu includes "Tokage's Night Party Curry," "Shirokuma's Warming Hot Rice Casserole," Five's Recommended Children's Lunch,""Magician's Party ~Açai Bowl~," "Aoi Tsukiyo's Fruit Punch," "Starry Drink," and more. The cute, Instagrammable dishes feature the characters who feature in the movie, which tells a mysterious story that begins under a blue moon in the Sumikko's hometown. A lineup of limited edition goods and perks will also be available, adding to the movie excitement.

 

Enjoy a cute, social-media friendly meal and original merchandise at the exciting Sumikko Gurashi cafe!

©2021 Japanese Sumikko Gurashi Association Film Club

Information

Sumikko Gurashi Cafe

Date/Store

Tokyo: BOX cafe&space Tokyo SolaMachi (Previously TOKYO BOX cafe&space Tokyo SolaMachi)

October 21 ~ December 5 2021

1-1-2 Tokyo Sky Tree Town Solamachi 1F, Oshiage, Sumida-ku, Tokyo

Shinsaibashi, Osaka: kawara CAFE&DINING Shinsaibashi

October 20 ~ December 5 2021

1-4-3 Shinsaibashi OPA 9F, Nishishinsaibashi, Chuo-ku, Osaka City, Osaka

Aichi & Nagoya: BOX cafe&space Nagoya LACHIC 1F (Previously NAGOYA BOX cafe&space A) 

November 11 ~ December 12 2021

3-6-1 LACHIC Basement 1F, Sakae, Naka-ku, Nagoya City, Aichi

Reservation Fee: ¥650 (¥715 incl. tax) *Reservation comes with benefits *Up to four seats can be reserved per application.

Cafe Online Shop opens November 11 12:00 until December 12 at 23:59

Reservations & Official Site: https://sumikkogurashi-movie-cafe.jp 

Official Twitter: https://twitter.com/cafe_sumikko 

Online Shop: https://sumikkogurashi-movie-cafe.jp/online_store 

90 Year Old Renovated Public Bath-turn-Cafe 'Rebon Kaisaiyu' to Hold Collab Exhibition with Illustrator Miyaoka Chigav

Tokyo, Taito-ku based public bath cafe Rebon Kaisaiyu has announced a collaboration exhibition with illustrator Miyaoka Chiga, held between October 10 (public bath day) and October 24 2021, titled "Yu."

 

Rebon Kaisaiyu is a renovated public bath which was built 90 years ago, now transformed into a cafe serving home-roasted specialty coffee and handmade ice cream. The wooden tag shoe boxes, watch seats, ceilings, clocks, and Mt. Fuji paintings from the public bath have been preserved, retaining the comfort and warmth of the original building. 

The space was designed around the concept of "connecting memories through a cafe," striving to become a spot where locals could relax once more, connecting the building with the people of the new generation. The relaxing cafe has 16 seats available and is located only a five minute walk from Tokyo Metro Hibiya Station.

The collaboration exhibition will be filled with artwork using iconic public bath motifs. Miyaoka's gentle illustrations are sure to soothe your heart, immersing you in the warmth of "Yu" (public baths). Why not relax in this unique cafe with a comforting mug of hot coffee.

Information

Rebon Kaisaiyu x Miyaoka Chiga Collaboration Exhibition "Yu"

Duration: October 10 ~ October 24 2021 

Opening Hours: Weekdays 12:00 ~ 19:00 / Weekends, Holidays 11:00 ~ 19:00 (*Based on Rebon Kaisaiyu's opening hours.)

Admission Fee: Free (*Please order one item from the cafe if you decide to use the seats.)

Official Site: https://www.rebon.jp/ 

Matsuya Ginza to Hold Largest-ever Exhibition of Drawings from Chihayafuru Manga

Yuki Suetsugu's manga series Chihayafuru continues to be a massively popular series in Japan and abroad since its start in 2007. Now, the largest-ever collection of the artist's original drawings will be on display at Matsuya Ginza from December 27, 2021, until January 17, 2022. 

Chihayafuru tells the story of Chihaya, a girl aiming to become the greatest competitive karuta player in Japan. Karuta is a Japanese card game, requiring players to memorize a collection of 100 classical poems in order to play. The Chihayafuru manga series has greatly boosted the popularity of competitive karuta in Japan. Generations of readers have been sucked in by the inspiring and romantic tale, and the series has grown to include an anime adaptation and a live-action film. With the series approaching completion, the three main characters, Chihaya, Arata, and Taichi, will take center stage at this expansive exhibition. 

With more than 500 items on display, guests are invited to take a look back at the story's origins. Some pieces were created for the exhibition, while others will be shown in color for the first time. While the drawings may be the main focus, the exhibition will also include notes, setting materials, and behind-the-scenes footage. 

©末次由紀/講談社 

Information

Chihayafuru Exhibition

Running: December 27, 2021 – January 17, 2022 (Closed January 1) 

Address: Matsuya Ginza 8F Event Space

Advanced Tickets will be available from Lawson Ticket until December 26, 2021

Tickets/Details: https://chihayafuru.exhibit.jp

Official Site: https://www.matsuya.com/ginza/

Snow White with the Red Hair Celebrates 15th Anniversary with Akihabara Cafe

The popular manga series Snow White with the Red Hair is celebrating 15 years with its first-ever collaboration cafe, opening October 22, 2021. The series began serialization in 2006 and has sold over 5.4 million copies to date, also inspiring a two-season anime series released in 2015 and 2016. 

Reservations will be open on October 8 at 19:00, and visitors can expect a fully-themed menu and a number of original items only available at the cafe during the event period!

Cafe Bonuses

For each food or dessert order, guests will receive a random original postcard (3 varieties) 

15th Anniversary Snow White with the Red Hair Collaboration Cafe Original Postcard

15th Anniversary Snow White with the Red Hair Collaboration Cafe Original Postcard

15th Anniversary Snow White with the Red Hair Collaboration Cafe Original Postcard

For each drink order, guests will receive a random original coaster (5 varieties) 

15th Anniversary Snow White with the Red Hair Collaboration Cafe Original Coasters

*All bonuses will be given at random. 

*Available while supplies last. 

Menu at a Glance

Fancy Briouat: ¥650 (Tax Included) 

Meat Dumplings and Mochi Soup from Lilias: ¥1,000 (Tax Included) 

Shirayuki's Special Quiche: ¥1,000 (Tax Included) 

Lilias-style Grilled Tomatoes on Bread: ¥1,100 (Tax Included) 

Crepes from Lilias: ¥1,000 (Tax Included) 

Apple Parfait:  ¥1,000 (Tax Included) 

Delicious-looking Sweets from Lata: ¥850 (Tax Included) 

Snow White's Apple Pie: ¥1,000 (Tax Included) 

Original Merchandise

Clear Folders, Set of 2: ¥880 (Tax Included) 

Framed Magnets (5 varieties): ¥880 (Tax Included) 

Character Board: ¥6,600 (Tax Included) 

Acrylic Diorama: ¥4,400 (Tax Included) 

Postcard Set: ¥2,640 (Tax Included) 

Tapestry: ¥3,300 (Tax Included) 

Premium Art Reproductions (10 varieties): 24,200 each (Tax Included) 

©あきづき空太/白泉社

Information

15th Anniversary Snow White with the Red Hair Collaboration Cafe

Running: October 22 – December 28, 2021

First Run: October 22 – November 24, 2021

Second Run: November 25 – December 28, 2021

Address: Hakusensha Cafe, B1F (1-4-1, Kanda Awaji-cho, Chiyoda-ku, Tokyo)

Reservations for First Run Open on October 8, 2021, at 19:00. 

Where to Reserve: https://app.collabocafe.tokyo/tabs/cafe/detail/63d9d007-08d2-4311-a016-61048dd8d14f

*If open seats are available, guests without a reservation will be seated on a first-come, first-served basis.

Official Twitter: https://twitter.com/hakusensha_cafe

Official Site: https://clarines-kingdom.hakusensha-cafe.com/

'Shiseido Parlour Ginza Salon de Cafe' Reveals Limited Autumn Dessert Menu

The 'Shiseido Parlour Ginza Salon de Cafe' has announced that between October 1 and October 31 2021, customers can enjoy a limited edition Autumnal sweets menu. This year their menu includes the Jersey milk 'Japanese Chestnut Mont Blanc Parfait from Kyushu' and the 'Shine Grape Fruit Sandwich.' There will also be two special additions to the menu to celebrate the 96th Azuma Odori.

Japanese Chestnut Mont Blanc Parfait from Kyushu using Jersey Milk: ¥2,500 (Tax Incl.)


 

Strawberry Parfait using "Koihime" strawberries from Nagano's Hatake Kobo: ¥2,100 (Tax Incl.)

 

Weekday / Limited Quantity Products

Shiseido Parlour Story: ¥2,600 (Tax Incl.) (Drink Incl.)


Shine Grape Fruit Sandwich with grapes from Iizuka Orchard: ¥1,700 (Tax Incl.)

Shinbashi Color Ice Cream Soda: ¥1,150 (Tax Incl.)


The Japanese Chestnut Mont Blanc Parfait is made using Jersey milk ice cream, chestnut cream, and fresh cream, along with the "Koihime" Fruit Sandwich, made using Kashu "Koihime" Strawberries are available on both the regular and limited Shiseido Parlour Ginza menus. Meanwhile, the luxurious Shiseido Parlour Story and the seasonal Shine Grape Fruit Sandwich, filled with various Autumnal fruits and centred around the grape, are only served on weekdays and holidays in limited quantities.

In the late Meiji Era, Shinbashi geisha were often seen wearing blue and green kimonos, with the color combination being coined Shinbashiiro (Shinbashi Color.) The elegant and retro Shinbashi Color Ice Cream Soda recreates the iconic look using green apple syrup, lemon, and ginger ale, topped with a traditional vanilla ice cream.

 

 

 Immerse yourself in the season with a feast of Fall sweets in Ginza.

Information

Shiseido Parlour Ginza Salon de Cafe

Address: Tokyo Ginza Shiseido Building 3F, 8-8-3, Ginza, Chuo-ku, Tokyo

Opening Hours:

Tuesday to Saturday:  11:00 ~ 21:00 (L.O. 20:30)

Sunday, public holidays: 11:00 ~ 20:00 (L.O.19:30)

Closures: Mondays (excluding public holidays), New Year 

Yojiya Hosts Very First 'Yuzu Fair' Combining Cosmetics Stores with Cafes

Yojiya will be hosting the very first Yuzu Fair, an event combining cosmetics stores and cafes, on October 9 2021. Limited edition Yuzu oil-blotting paper and handmade Yuzu hand creams will be available at the beauty stores, while the cafes are full of tasty drinks and sweets. You can discover the charms of Yuzu at each Yojiya store! 

 

Makeup & Miscellaneous Goods' Store Products


Yuzu Oil-blotting Paper

Yuzu Hand Cream


Yojiya Hand Cream Set

Yuzu Bath Oil

Aromatic Wood

Cafe

Yuzu Parfait

Yuzu Cheese Daifuku

Yuzu Maritozzo

Yuzu & Chocolate Shake

Tea Crepe – Yuzu Tea

Twitter Campaign Bonus: The first 500 people to enter will receive a special Yojiya Yuzu logo sticker.


In 2020, due to the Covid crisis, Yojiya had to make the tough decision to cancel their annual Yuzu series. While the customers were disappointed, Yojiya was convinced that in Autumn 2021, they would be able to welcome their customers into their stores once more for a care-free experience. The event took a year to organize, but has become something even more powerful than the regular Yuzu series.

The cosmetics store staff and cafe staff joined together into one team to create the projects, which has the theme of "Yuzu at Yojiya ~ Enjoy Beauty and Food!~." Not only can you find limited edition products at the fair, you can also partake in the various campaigns that Yojiya has announced in order to spread the Yuzu love, so be sure to check them out.

Fill your heart and stomach with Yuzu this Autumn at the Yojiya Yuzu Fair!

 

Information

Yojiya "Yuzu Fair"

Date: October 9 2021

Online Shopping: https://www.yojiyacosme.com/ 

Official Site: https://www.yojiya.co.jp/  

 

Yojiya Yuzu Fair Campaigns

 

Twitter Retweet Campaign

The first 500 people to show that they have retweeted the campaign tweet on the Yojiya official Twitter (@yojiya1904) will receive a free Yojiya Yuzu logo sticker. *Only 500 stickers are available.

Yellow Challenge

Those who wear yellow items to the fair and make a purchase can try their luck in a dice game. Players will receive small prizes depending on what number they roll.

Stamp Rally

1.You will receive a stamp card with a ¥500 coupon upon purchasing select items in any of the event products at the Yojiya store or at their cafe and crepe stores.

2.Upon visiting both stores with your card and purchasing one or more items after receiving your card, you will receive a small prize. In addition, 10 lucky customers will receive a limited edition stainless steel bottle through a lottery.

Stamp Rally Duration: October 9 ~ November 30 2021

LOVOT Cafe Celebrates First Anniversary with Limited Time Desserts and Merch

The huggable next-generation pet robot LOVOT was first released one year ago, and to celebrate, some limited time merchandise and sweets are now on sale!

LOVOT LOVOT Anniversary Dessert Plate, available until October 31, 2021

Autumn Only! LOVOT LOVOT Chicken Plate with Mushroom Sauce, available until November 30, 2021

Coaster / Postcard / Clear Folder

LOVOT Cafe Original Coaster / LOVOT Cafe Original Smartphone Case

LOVOT Cafe Original Tote Bag / LOVOT Cafe Original T-Shirt (Unisex)

LOVOT Cafe Original Case / LOVOT Cafe Original Handtowel 

LOVOT Cafe Original Ballpen with Charm / LOVOT Cafe Original Mug

LOVOT Cafe Original American-style Cookie / LOVOT Cafe Original Natural Plate

LOVOT Cafe Original Pin

 

Featured in the special Dessert Plate is a loveable cake with LOVOT's face, along with mini rolls, mini cupcakes, and vanilla ice cream with fruit on top. The LOVOT cake is made with milk chocolate and coffee mousse, along with chocolate streusel for a more mature flavor that isn't overly sweet. Those who visit the store on or after October 1 will receive a limited-edition novelty drawing while supplies last. Coasters and postcards will also be given away on a first-come, first-served basis from October 1 until October 15, while clear folders will be gifted on or after October 16. 

The goods for this collection are based on the theme of 'LOVE is here,' so please look forward to these sweet collectibles and many more years of LOVOT!

Information

LOVOT Cafe

Address: LAZONA Kawasaki Plaza 2F (72-1 Horikawa-cho, Saiwai-ku, Kawasaki, Kanagawa)

Hours: 10:00-20:00 M-F / 10:00-21:00 Weekends and Holidays (Last Seating at 19:00)

Official Site: https://lovot.life/