Information on Cherry Blossom Events! Come and Enjoy the "Nihonbashi Sakura Festival"!
The "Nihonbashi Sakura Festival" will be held in the Nihonbashi area from Friday March 18th, 2016~Sunday April 10th, 2016. At this Hanami (flower-viewing) festival, you can enjoy food and take in the scenery while traversing the cherry blossom blooming streets of Nihonbashi, such as "Edo Sakura-dori" and "Nihonbashi Sakura-dori", a traditional pastime both historical and modern. Let's have a look at 3 of these upcoming events, all of which are free!
1) Sakura dancing in the snow storm "Japanese Sakura Highway"
Countless cherry blossoms in full bloom will be seen. A fantastic and whimsical display of cherry blossoms will fall on the paths, as if it has been enveloped by a snowstorm of petals. If you share photos you have taken onto Instagram with the hashtag #日本橋 桜フェス, you will have the opportunity to print it out with a device that will be available.
Date/Time: Friday March 18th~Sunday April 10th, 11:00~23:00 (film to be shown 17:30~20:00) (subject to change)
Location: Nakadori
Price: Free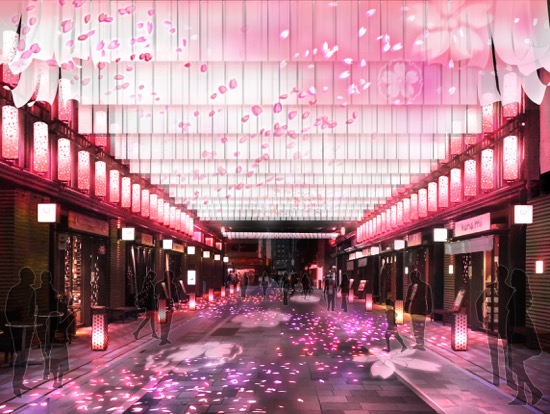 2) Enjoy a 2 day original menu from  long-established shops "Nihonbashi Sakura Stalls"
For just two days, restaurants affiliated with the "Nihonbashi 344 Association" and restaurants in COREDO Muromachi 1 & 2 will be open for special service. As you watch the tanzaku (long cards on which Japanese poems are written) along the cherry blossom paths flutter with the blow of the spring breeze, you can enjoy a special menu designed just for this occasion.
Date/Time: Saturday March 26th~Sunday March 27th (12:00~18:00)
Location: Around Fukutoku Shrine (Nakadori, Ukiyo-shoji)
Price: Free (there is a special charge for food and drink)
※In case of rain, the event will still go ahead. In case of a storm, the event will be held in the underground walkway of Edo Sakura-dori.
3) 3 Day Excursion of Nihonbashi "Nihonbashi Sakura Bus"
The "Nihonbashi Sakura Bus" will tour the springtime Nihonbashi area. Those riding the bus will be able to enjoy seeing all of the places around Nihonbashi celebrating Hanami.
Dates: Saturday March 19th~Sunday April 10th (weekends and national holidays only)
※Service will not run on April 3rd
Locations: Nihonbashi area
(You can take the bus from: COREDO Muromachi, Nihonbashi Mitsukoshi-mae; Hamacho Park, Meijiza-mae、 Ningyocho, Amazake Yokocho; Nihonbashi Takashimaya-mae; Tokyo Station, Yaesu Exit)
※Hamacho Park (Meijiza-mae) and Tokyo Station (Yaesu Exit) are drop-off only
Time: 11:00~17:00
Operating bus: Trolleybus
Price: Free
There are many other events to be enjoyed as part of the Nihonbashi Sakura Festival. Be sure to visit Nihonbashi this year for Hanami!
ーーー
The following event pages for the festival will go online at the end of February.
■ Japanese version: http://www.nihonbashi-tokyo.jp/sakura2016/
■ English version: http://www.nihonbashi-tokyo.jp/en/sakura2016/
RELATED ENTRIES
One Piece x New Era® Collaborate On Limited Edition Rucksacks

Headwear and apparel brand New Era® is collaborating with the internationally-beloved hit anime series One Piece, which turned 20-years-old on Sunday (October 20), to release a stylish new rucksack from the PREMICO webstore.

The rucksack takes inspiration from the Straw Hat Pirates and fuses it with New Era's iconic street fashion style.

The bag's outer pocket features delicate embroidery of the crew's skull logo as well the name "STRAW HAT" in all-caps.

The interior design of the rucksack features a print of an old-fashioned map and bears a cushioned pocket with plenty of room for stashing your tablet, notebook laptop or other items.

There's also a side pocket for carrying a bottle. The charm dangling from the outside pocket features a ship anchor for that extra pirate aesthetic.

The bag comes in a black colour with a standard unisex silhouette, meaning it can easily be incorporates in a wide variety of styles.

Each bag also comes with a cap clip with the One Piece logo on one side and the New Era logo on the other.

This is a limited edition rucksack with only 2,000 being made, making this a must-grab for all fans!

©️Eiichiro Oda / Shueisha・Fuji TV・Toei Animation

Information

NEW ERA x ONE PIECE Official Rucksack Collaboration

Release Date: October 21, 2019

Delivery: Mid January 2020

Price: ¥19,800 (Does not include tax or shipping fee)

Quantity: 2000

Official Website: https://iei.jp/op48pr/

Sleep With the Orca Whales With Kamogawa Sea World's Night Stay Program

Kamogawa Sea World is offering a different kind of aquatic experience later this year with its new "Adult Night Stay" program which will run for 5 set days between December 7, 2019 and January 18, 2020 for those aged 18+.

The program offers a chance to take a photo with the beluga whales as well as watch a special performance from the orcas, which is available to those participating in the night stay as well as guests staying at Kamogawa Sea World Hotel. The aquarium also has some other night-time plans in store which you can't experience during daytime hours.

During dinner, you'll get to watch the orcas swim from the window while dining and chatting with the feeder and trainer of the orcas. The semi-course dinner was conceived by head chef Yamamoto and is made with seasonal ingredient.

After food, enjoy gazing at the giant "Endless Ocean" tank.

Below is the schedule for the two days.

Day 1

・Tropical island behind-the-scenes study

・Pet the beluga whales (includes photo)

・Special orca performance

・Semi-course dinner with feeder and trainer

・Night adventure

・Bathe (At Kumogawa Sea World Hotel or neighbouring facility)

・Stay in front of endless ocean tank

Day 2

・Watch the dolphins

・Breakfast at the Ocean restaurant

・Free roam of the aquarium

Information

Adult Night Stay

Running: December 7, 2019 / December 14, 2019 / January 11, 2020 / January 12, 2020 / January 18, 2020

Age: 18+ years

Capacity: 35 people per day (First-come, first-served)

*Sign-up will run until 10 days before each set day

*If there are less than 20 people for a set day the program will not run

Price: ¥16,500 (Tax Included) *Includes rental of orca design sleeping bag rental

Accommodation: Sleeping in front of the Endless Ocean tank (except December 7 where it will be on the Rocky World floor)

Food: Includes dinner and breakfast

*Dinner includes course dinner and one drink

Sign-Up: Phone bookings open from October 26, 2019 at 10:00 (first-come, first-served)

TEL: Kamogawa Sea World – 04-7093-4803 (10:00-16:00)

Details: http://www.kamogawa-seaworld.jp/aquarium/program/night.html

Kamogawa Sea World

Address: 1464-18 Higashichō, Kamogawa, Chiba

Official Website: http://www.kamogawa-seaworld.jp

Concert Review: ReoNa Announces 2020 Japan Tour at Zepp Tokyo Grand Finale Show

ReoNa turned 21-years-old on Sunday (October 20), and on the same day, she graced Zepp Tokyo with her first-ever solo performance there entitled ReoNa ONE-MAN Live "Birth 2019". The show was the grand finale to her "Colorless" tour―also standing as her first nationwide tour―and enjoyed a sold-out venue of 2,700 screaming fans.

As the crowd waited in anticipation of the birthday girl's entrance, a chorus of tranquil classical music enchanted the floor, something which has become a staple at ReoNa's solo shows. The stage sat below a chandelier, and the stage basked in colourful lights, signifying the rebirth of a new ReoNa who has just wrapped up her "Colorless" tour. The music shifted all of a sudden, and more light rained down, signalling the beginning of the incredible night. The crowd waited with bated breath, and the sound of a piano reverberated throughout the room before ReoNa finally revealed herself. The first song she sang as her 21-year-old self to open the night was Kaibutsu no Uta. This track is special for the fact that it was the first original single to be released by ReoNa as an artist.

Original because ReoNa's music career began when she performed the singing voice for Kanzaki Elza in the anime series Sword Art Online: Gun Gale Online. The singer performed over a two-hour set for fans which was comprised of both original songs, songs as "Kanzaki Elza starring ReoNa," as well as a cover of Bad Day by Daniel Powter. It was her longest show to date.

The set was built on the set list for her "Colorless." Tracks included a special strings arrangement of ALONE, as well as a very special version and first-ever performance of the Sword Art Online 10th anniversary theme song Till the End for which a chorus team of 12 people helped sing, and for which a fragrance was sprayed throughout the room.

From the moment ReoNa stepped out onto the stage until the curtain call, herself and the audience were 1-on-1. She expressed her heartfelt at the end of the night with a deep bow, which fans responded to with a roaring round of applause.

At the end of this incredibly successful night, ReoNa announced an all-new solo tour entitled "A Thousand Miles" which will begin in February 2020. The tour will take her to all of the Zepp venues across Japan. Pre-sale tickets for this all-seating-reserved tour now available on ReoNa's official fan club accessible via her website.

photo by 山本哲也

Information

ReoNa ONE-MAN Concert Tour 2020"A Thousand Miles"

■Dates/Venues

・February 29, 2020 @ Sendai GIGS (Miyagi Prefecture)

OPEN 17:15 / START 18:00 Enquiries: 022-217-7788 (Kyodo Tohoku)

・March 5, 2020 @ Landmark Hall (Kanagawa Prefecture) *Girls-only concert

OPEN 18:30 / START 19:00 Enquiries: 03-5720-9999 (Hot Stuff Promotion)

・March 8, 2020 @ Zepp Sapporo (Hokkaido)

OPEN 17:15 / START 18:00 Enquiries: 011-623-5555 (Mount Alive)

・March 14, 2020 @ Zepp Fukuoka (Fukuoka Prefecture)

OPEN 17:15 / START 18:00 Enquiries: 0570-09-2424 (Kyodo West)

・March 20, 2020 @ Zepp Nagoya (Aichi Prefecture)

OPEN 17:15 / START 18:00 Enquiries: 052-320-9100 (Sunday Folk Promotions)

・March 21, 2020 @ Zepp Namba (Osaka)

OPEN 17:00 / START 18:00 Enquiries: 06-6341-3525 (Yumebanchi)

・March 27, 2020 @ Zepp Tokyo (Tokyo)

OPEN 17:00 / START 18:00 Enquiries: 03-5720-9999 (Hot Stuff Promotion)

Fan Club Pre-Sale Tickets

Running: October 20, 2019 at 20:00 (JST) – October 30, 2019 @ 23:59 (JST) *Up to 2 tickets per person

Purchase: http://reonafc.com/

ReoNa Official Website: http://www.reona-reona.com/

Tokyo Disney Resort Gives a Peek at its New Year's Merchandise

Tokyo Disney Resort is set to celebrate the coming new year with a string of events that will run from January 1 to 5 next year. In anticipation of the forthcoming celebrations, it has given guests a special snippet into a new range of Disney official New Year's merchandise which will be released ahead of 2020 on December 2, 2019 at Tokyo Disneyland and Tokyo DisneySea.

Win Wonderful Prizes With the New 'Tin of Dreams'

Tin of Dreams – ¥2,020

For the first time ever, Tokyo Disney Resort is bringing out its new 'Tin of Dreams' filled with a lucky assortment of goodies to bring happiness and love to the new year. These golden tins include an original and New Year's-exclusive towel and card. The soft towel has embroidered on it Mickey and Minnie as Japanese 'daruma' which is a traditional Japanese doll that symbolises good luck.

Each tin also has a ticket inside which will have a different kind of dream written on it from small to special. Depending on which dream you get, you'll receive one of the following prizes:

・Special Dream: One night in the Special Room on the Standard Floor at the Disney Ambassador® Hotel. The date of the stay is January 30, 2020 – January 31, 2020. The room type or date cannot be changed.

・Big Dream: Ticket to exchange for Tokyo Disney Resort park merchandise

・Middle Dream: Ticket to exchange for popcorn (Regular box)

・Small Dream: Original seal (with Mickey Mouse daruma design)

*Exchange tickets can be used at select locations around the park and are valid until March 31, 2020

Penmanship Set & Daruma Memo Pad

Penmanship Set – ¥12,000

Get your hands on this special penmanship set for writing your New Year's cards and letters to people. It comes with a brush and ink.

Daruma Memo Pad – ¥20,000

This memo pad features a special design which reveals a daruma Mickey and Minnie once you've used all the sticky notes. This means you don't have to throw the pad itself awayーit can be used as an ornament! *This is available to purchase on the Tokyo Disney Resort app only.

New Year's Goods Aplenty

New Year's Pine Decoration – ¥1,900

Figure (Dream Daruma w/ New Year's Message) – ¥800

Osenbei – ¥1,600

There are countless other celebratory items to grab this year at Tokyo Disney Resort too, including a pine decoration (which is indispensable during the New Year in Japan), a figure containing a New Year's message in it, snacks, and more.。

What are your dreams for 2020? Set them in stone by celebrating at Tokyo Disney Resort.

*Photos are for illustrative purposes only

©Disney

Information

Tokyo Disney Resort New Year's Merchandise

Available: Grand Emporium at Tokyo Disneyland® / Emporio at Tokyo DisneySea®

Official Website: https://www.tokyodisneyresort.jp/en/index.html

*Product designs and prices subject to change without notice

*Products available while supplies last

Anime Fashion Apparel Brand SuperGroupies Releases Yu-Gi-Oh! Bags

SuperGroupies is a fashion apparel brand which fuses traits from your favourite anime series into fashionable jewellery, clothing and other fashion items. A new Yu-Gi-Oh! product lineup has just been released and includes Yugi Muto, Seto Kaiba  and Yusaku Fujiki-themed bags.

Yugi Muto Backpack

"My duty is to carry this bag!"

Take a close look at this bag and you will notice that it would be the perfect bag for Yugi Muto. 

From the star-shaped studs and the chain stitch that will remind you of the Millennium Puzzle to Yugi's catchphrases such as "IT'S MY TURN" and "HERE WE GO, MY OTHER SELF!", the bag is full of subtle details .

Seto Kaiba Shoulder Bag

"My bag is more perfect that you could ever imagine."

How would you like to carry around a bag that looks like Seto Kaiba's attache briefcase? The front of the shoulder bag bears the Kaiba Corporation logo. The star studs from the Japanese title of the series (遊☆戯☆王) have been included in the design. 

Open the bag and you will notice the lining is decorated with the KC logo and the Bue-Eyes White Dragon. English translations for Seto's key battle phrases such as "Pulverization!" "Honorable Death!" and "Applause" are also printed on the lining. 

Each bag is full of subtle and elegant detail to represent each character. If you are a Yu-Gi-Oh! fan, make sure to check them out. 

©高橋和希 スタジオ・ダイス/集英社・テレビ東京・NAS 

Information

Yu-Gi-Oh! Collaboration Bags

3 Designs: Yugi Muto Backpack, Seto Kaiba Shoulder Bag, Yusaku Fujiki Bag

Reservation Period: October 21, 2019 – November 11, 2019 (12:00)

Shipping: End of February 2020 (Subject to change)
Retail Price: ¥13,800 each (before tax)

Special Edition Website: https://www.super-groupies.com/feature/yugioh_06_bag 

Shibuya Halloween Event Returns From the Dead Featuring Yasutaka Nakata, SHINTARO, and more

Halloween is just around the corner and every year, Shibuya is plagued with groups of friends ready to party in their Halloween costumes. 

SOUND MUSEUM VISION is a club located on Dogenzaka in Shibuya and its annual tradition is to throw a grand and exciting Halloween event which will rake in all the zombies, ghosts and monsters that lurk the streets.

This year on the third day of the event, Yasutaka Nakata and SHINTARO will be taking to the stage as DJs to blast away the darkness. The event will also feature special guest comedians Kuro chan from the comedy trio Yasuda Dai Circus and Ringo chan. Live acts include musicians Rei©hi and Yayoi Daimon. 

Get in your Halloween costumes and make sure to check out this zombie hotspot. 

Information

VISION HALLOWEENPARTY 2019

October 31, 2019

Doors Open: 21:00

Discount price if you come in costume: ¥2500

Tickets on the door: ¥3500

 

Lineup

Special Guests: Kuro chan, Ringo chan

DJs: Yasutaka Nakata, SHINTARO

Live Acts: Yayoi Daimon, Rei©hi

Drag Queens: NOBLE*, Gyuko Matsuzaka

and much more.

Website: http://www.vision-tokyo.com/event/vision-halloweenparty-2019

GINZA SIX Christmas 2019: Christmas Cake, New Art by Klaus Haapaniemi & More

Ginza's biggest shopping complex GINZA SIX is celebrating Christmas this year with an upcoming event entitled "Celebration of Life: Hoshi no Umi no Shukusai" (A Festival Under a Sea of Stars) which will take place from November 5, 2019 to December 25, 2019.

Celebration of Life: Hoshi no Umi no Shukusai

The visuals for "Celebration of Life: Hoshi no Umi no Shukusai" were created by Finnish artist Klaus Haapaniemi. The work is titled "Astral Sea" and Haapaniemi arranged the art specifically for the event. It features animals and living beings floating through space amongst the stars, each moving to the rhythm of the stars' revolution. With this grand work, Haapaniemi has created a new myth that makes one think of space and how it connections to the lives of humans.

The space and time-transcending "Lightning Whales" which appear in the Astral Sea will be suspended from the shopping centre's atrium, and tapestries of Haapaniemi will also be draped down the centre, turning GINZA SIX itself into its own Astral Sea. The 10-meter long Lightning Whales floats have been designed in such a way that it looks like they are flying through space. Additional artwork can also be found in the front entrance, show window on floor B2F, and elsewhere.

Klaus Haapaniemi x GINZA SIX Christmas Collaboration Items

Several stores inside GINZA SIX are also releasing items in collaboration with Haapaniemi.

Mimuro Sugi Junmai Daiginjo Imadeya Ginza Limited Edition Model – ¥3,000 @ Imadeya Ginza

This Junmai Daiginjo is part of the Mimuro Sugi Roman Series developed by a sake brewery in Nara. This transparent drink retains the delicate flavour of the rice and leaves a beautiful lingering aftertaste. It's best enjoyed with some tasty food.

Available: November 5, 2019 – February 29, 2020 (While supplies last)

Lightning Whales Frozen Fruit Bar – ¥600 @ PALETAS

These new frozen fruit bars from PALETAS are inspired by Haapaniemi's Lightning Whales. The bar's fantastic colouring is taken from the Astral Sea, while its flavour is blueberry gelato with salt. It's decorated with gold leaf and silver leaf.

Available: November 5, 2019 – January 31, 2020

Gloves – Whale Embroidery ¥9,000 / Swan Embroidery ¥10,000 @ Ginza Tsutaya Book Store

Gloves are a must-have during winter, and these ones come with whale and swan embroidery. You're sure to grab people's attention with these gorgeous fits.

Available: November 8, 2019 – December 25, 2019

*Listed prices don't include tax. Items subject to change without notice.

Christmas Cake & Party Food

Ginza is known for its long list of gourmet restaurants, serving food from around the world. This holiday season, GINZA SIX has plenty of Christmas delights lined up.

Noel Neige – ¥4,630 @ Pavlov Pâtisserie

This gorgeous, light cake uses cream for its snowy landscape, topped with bright-red strawberries.

Panettone Babbo Natale – ¥7,407 @ Café Cova Milano

Cova's panettone is made with a secret recipe that has been handed down since the beginning of the 19th century.

Assorted Mini Sandwiches – ¥3,704

This assortment of mini sandwiches are the perfect choice for Christmas parties, filled with a variety of delicious ingredients like smoked salmon, caviar, pastrami, and more.

*Listed prices don't include tax.

This is just a small look at what GINZA SIX has in store for this Christmas. If you're spending the holiday season in Tokyo, be sure to stop by.

Information

GINZA SIX

Address: 6-10-1 Ginza, Chuo Ward, Tokyo

Opening Hours: Shops/Cafes (B2F-5F) 10:30-20:30 / Restaurants (6F, 13F) 11:00-23:00

*Business hours differ from shop to shop.

No Fixed Holidays (But shops and restaurants will be closed on August 26, 2019)

Access: Directly connected to Ginza Station via the Tokyo Metro Ginza Line, Marunouchi Line and Hibiya Line.

TEL: 03-6891-3390
Website: http://ginza6.tokyo/

Pokémon Shirts Original Stitch Collection Gets Overhaul

Back in February, American custom shirt brand Original Stitch, which offers over one billion design customisations, launched a collaboration with the Pokémon franchise. That very same Pokémon Shirts collection has received a product overhaul

The line-up offers two options: either a shirt featuring one of the original 151 Pokémon, or a plain shirt which you can fully customise. Orders are made online and delivered to your home.

The collection is launching in the US this time around. To celebrate and help promote the collaboration, you'll find four Pokémon Shirts designs in the Pokémon GO style shop: Snorlax, Vileplume, Lickitung, and Magikarp.

There are three styles of this short-sleeved shirts to choose from just as before: the Dress Shirt, Casual Shirt, and Relax Shirt. To ensure that each shirt matches  any occasion, all the patterns for each style have been revamped.

Dress Shirt

Made to fit the body line, the dress shirt is made for the business scene. It works best as an inner to a suit or other formal dress. The shirt retains the same high level of quality as before, with the bust line and space around the arm length being altered. Its revision has made it so it caters to more people's needs.

Casual Shirt

The casual shirt is of course made for everyday wear. The waist line has no shape and the shirt has been made more roomy to create a more overall loose fit. By wearing the shirt untucked you can create an even more stylish silhouette. The collar is also now more compact.

Relax Shirt

The relax shirt has more of a box silhouette than the casual shirt, as well as an open collar. This style is perfect for trips and travel. The body line has been made more loose and they have gotten rid of the waist line shape. The lining of the collar has been changed too, resulting in a more relaxed look.

Larger sizes have also been added to the collection including 3XL, 5XL, and 7XL. Full details can be found on the Original Stitch Support Centre page.

There are also now 10 colours to choose from, including colours from before as well as redesigned ones, meaning there's plenty of customisable options.

Even the buttons have been improved. They are still as colourful as ever but have been made into more of a pop style to match what you'd expect from a Pokémon shirt. There are 11 colours to choose from, but for an extra ¥500 you can get one of 8 marble buttons as pictured in the lower row above.

Try designing your very own Pokémon shirt!

©2019 Pokémon. ©1995-2019 Nintendo / Creatures Inc. / GAME FREAK inc.

Pokémon, ポケットモンスター and ポケモン are registered trademarks of Nintendo, Creatures Inc. and GAME FREAK inc.

Information

Pokémon Shirts
Types: Men's / Women's
Styles: Dress Style / Casual Style / Relax Style
Sizes: XS/S/M/L/XL/XXL/3XL/5XL/7XL
Customisable Parts: Body/Collar/Back Collar/Cuffs/Back Cuffs/Pockets
*Crest customisation no longer available in line with revamp
Price: From ¥10,000 (Does not include shipping charges)
Orders: 151 Pokémon Shirts + 10 Plain Shirts
Available Countries: Japan/Us/Hong Kong/Taiwan/Singapore/Malaysia/Philippines/India/Indonesia

Official Website/Orders: https://ja-jp.originalstitch.com/pokemon/

Tokyo Skytree Announces Dream Christmas 2019 Event Schedule

Tokyo Skytree is starting Christmas early this year as it announces a new event titled Dream Christmas 2019 which will take place in Tokyo Skytree Town® from November 7 to December 25.

Illuminations

Illuminations ©TOKYO-SKYTREETOWN

Christmas Lighting & Solami Zaka ©TOKYO-SKYTREETOWN

Skytree Town will be adorned in 500,000 individual illuminations, inspired by the people we treasure spending time with during Christmas.

Christmas Tree

The Sky Arena, too, will be decorated in Christmas lighting, and will house its first ever real fir Christmas tree.

Christmas Market 2019

Christmas Market (Picture from 2018 market) ©TOKYO-SKYTREETOWN

There will also be huts inside the Sky Arena draped with warm lighting and selling various Christmas food and desserts, as well as beer and other beverages.

Tokyo Skytree Christmas Lighting

Left: Candle Tree / Right: Champagne Tree ©TOKYO-SKYTREE

Tokyo Skytree will light up in two different designs: the Champagne Tree which is made to look like the world's biggest Christmas tree, and the Candle Tree.

SKYTREE ROUND THEATER®

SKYTREE ROUND THEATER©TOKYO-SKYTREE

Tokyo Skytree's Tembo Deck, which is located on the 350th floor, is known for its 110-meter long, 2-meter tall "Round Theater" which projects digital images and videos onto the windows so they look like a giant screen. All-new special Christmas visuals have been prepared for the holiday season.

Merry Christmas Stickers

Merry Christmas Stickers ©TOKYO-SKYTREE

If you say "Merry Christmas" to one of the Santa hat-wearing staff members in Tokyo Skytree you'll get an original sticker as a present.

This is just a small peek at some of the exciting things happening at Tokyo Skytree Town® this year. If you're spending Christmas in Japan's capital this year, be sure to pay a visit.

Information

Illuminations

Running: November 7, 2019 – December 25, 2019

*Select illuminations running until March 8, 2020. Illuminations subject to alterations depending on certain events and other circumstances.

Time: 16:00-24:00

Location: Around Tokyo Skytree Town

Christmas Market 2019

Running: November 7, 2019 – December 25, 2019

*Menus and other services set to change on November 29, 2019

Location: Sky Arena (Tokyo Skytree Town Floor 4F)

Tokyo Skytree Christmas Lighting

Running: November 7, 2019 – December 25, 2019 (Except November 12, 2019)

Time: [Nov 7-11] 17:00-22:00 / [Nov 13-Dec 25] 17:30-22:00

SKYTREE ROUND THEATER®

Running: November 7, 2019 – December 25, 2019

Time: 17:30/19:00/20:30/21:00 (*4 times a day approx. 3 mins each)

*Times will change to three sessions at 18:15/20:30/21:00 during Christmas Love Song live shows

Location: Tokyo Skytree Tembo Deck (Floor 350F)

Merry Christmas Sticker Present

Running: November 7, 2019 – December 25, 2019

Location: Tokyo Skytree Tembo Deck and elsewhere (1 per person while supplies last)

Tokyo Skytree Town® Official Website: http://www.tokyo-skytreetown.jp/english/

Kaori's Easy Recipe: Learn to Make Mickey Mouse Pancakes

With just a small bit of ingenuity, turn everyday food into something cute using Kaori's easy recipe! With a few simple ideas, an ordinary recipe magically transforms into a cute dish.

In this recipe, I made Mickey Mouse pancakes from the Face Art ga Kawaii Pancake Pan Mickey Mouse set you can buy on Belle Maison. You hear a lot of different tips and tricks on how to make the perfect pancake with your batter, so I'll show you a combined recipe to make yours as beautiful as possible♡

1. Ingredients (Makes 7-8 pancakes)

400g hot cake mix

300ml milk

1 large egg (approx. 52g)

15g honey

2. Mix the egg and milk together well. Add the hot cake mix slowly to ensure it does not become lumpy. Next, add the honey and mix. If you have time, leave to stand for 30 minutes on the side.

3. For the next step, please see the video I made below.

Heat the pan well without any oil.

Once heated, place the pan on a wet cloth once to remove the residual heat, turn the flame down to a medium, and pour in your mix.

Once your mix is in the pan, reduce to a low heat, put the lid on and leave to cook.

Once the surface is dry, cook the back side of the mix in another pan which you have already heated.

Done!

Belle Maison sells Minnie Mouse and Winnie the Pooh versions too. Try making your own Disney pancakes!

Kaori invites you into her world of character-themed food dishes in her recipe series. Be sure to check out her Instagram where she has uploaded many pictures of her character dishes!

Profile

Kaori Kubota (@kaopan27)
I live in Hokkaido and I love to make character themed foods, desserts and pastries♡

I want to see my family smile, so I enjoy putting in a bit of effort to make character foods and changing food into something cute♡

You can see more of my character foods and character bento boxes on my Instagram page→@kaopan27

©️Disney

Tokyo Disneyland & DisneySea Release Winter Clothing Collection

Tokyo Disney Resort dropped its new "White x White" collection of warm and fluffy clothing for the winter season yesterday (October 18). The 16 item line-up incorporates different materials perfect for the cold weather, like sheep boa, corduroy, knitwear, and more.

Mittens – ¥2,500

These cute mittens are fitted with bonbons inspired by Mickey Mouse's ears.

Since these are mittens, you can take your fingers out if you need them to check your phone!

Hat – ¥2,900

The hat is made from sheep boa and corduroy and the ear parts can be worn up or down. When worn up, both sides reveal a Mickey Mouse hand design.

Earmuffs – ¥2,400

The collection also includes earmuffs and a tote bag made from fur, a corduroy Minnie Mouse headband, and other snow-white items fitting for wintertime.

Women's Coat – ¥11,800 (Medium/Large)

Women's Jacket – ¥9,800 (Medium/Large)

Both the coat and jacket will go on sale on November 1. They are both made from sheep boa and have cute Mickey Mouse quilting on the front.

Stay warm this winter with Tokyo Disney Resort's White x White collection.

*Product designs and prices subject to change without notice

*Available while supplies last

©️Disney

Scotland-Approved Hello Kitty Tartan Bags to be Released by Sanrio

Scotland has given the seal of approval for Sanrio to release six new Hello Kitty bags with tartan designs in-store and online on October 24.

Red Tote Bag – ¥4,500

The classy collection is perfect for the autumn/winter seasons and can be worn for general daily use with their subtle, nonchalant Hello Kitty designs.

Navy Tote Bag – ¥4,500

The designs were accepted into The Scottish Register of Tartans. Sanrio now have four original tartan designs recognised by the register.

The registration began in 2009 where they received approval from the register for the rights to a pink Hello Kitty tartan design to celebrate her 35th anniversary. Three new designs were subsequently added each year between 2016-2018 and were used for Hello Kitty birthday commemoration merchandise, a bag series worn by parents and children, and more.

Black Tote Bag – ¥4,500

There are two types of bags in this new collection including the standard tote bag and a two-way mini tote bag, both which come in red, navy and black colours for a total of six. They are nice and roomy to carry your everyday things.

Red 2-Way Mini Tote Bag – ¥4,000

Though the mini tote bag is on the smaller side, it has a 13cm gusset so holds plenty too. It also comes with a removable shoulder case strap so you can coordinate it how you like.

Which bag do you want for the autumn/winter season?

*All listed prices include tax

© 1976, 2019 SANRIO CO., LTD.