Information on Cherry Blossom Events! Come and Enjoy the "Nihonbashi Sakura Festival"!
The "Nihonbashi Sakura Festival" will be held in the Nihonbashi area from Friday March 18th, 2016~Sunday April 10th, 2016. At this Hanami (flower-viewing) festival, you can enjoy food and take in the scenery while traversing the cherry blossom blooming streets of Nihonbashi, such as "Edo Sakura-dori" and "Nihonbashi Sakura-dori", a traditional pastime both historical and modern. Let's have a look at 3 of these upcoming events, all of which are free!
1) Sakura dancing in the snow storm "Japanese Sakura Highway"
Countless cherry blossoms in full bloom will be seen. A fantastic and whimsical display of cherry blossoms will fall on the paths, as if it has been enveloped by a snowstorm of petals. If you share photos you have taken onto Instagram with the hashtag #日本橋 桜フェス, you will have the opportunity to print it out with a device that will be available.
Date/Time: Friday March 18th~Sunday April 10th, 11:00~23:00 (film to be shown 17:30~20:00) (subject to change)
Location: Nakadori
Price: Free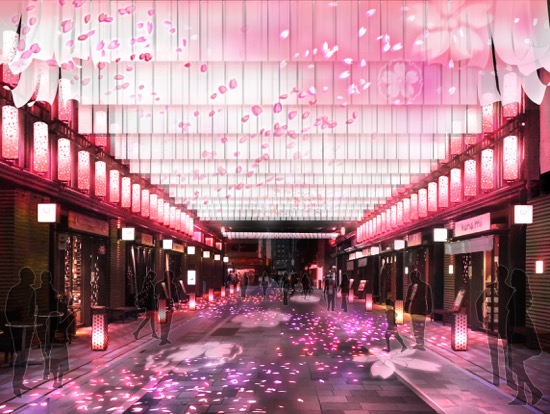 2) Enjoy a 2 day original menu from  long-established shops "Nihonbashi Sakura Stalls"
For just two days, restaurants affiliated with the "Nihonbashi 344 Association" and restaurants in COREDO Muromachi 1 & 2 will be open for special service. As you watch the tanzaku (long cards on which Japanese poems are written) along the cherry blossom paths flutter with the blow of the spring breeze, you can enjoy a special menu designed just for this occasion.
Date/Time: Saturday March 26th~Sunday March 27th (12:00~18:00)
Location: Around Fukutoku Shrine (Nakadori, Ukiyo-shoji)
Price: Free (there is a special charge for food and drink)
※In case of rain, the event will still go ahead. In case of a storm, the event will be held in the underground walkway of Edo Sakura-dori.
3) 3 Day Excursion of Nihonbashi "Nihonbashi Sakura Bus"
The "Nihonbashi Sakura Bus" will tour the springtime Nihonbashi area. Those riding the bus will be able to enjoy seeing all of the places around Nihonbashi celebrating Hanami.
Dates: Saturday March 19th~Sunday April 10th (weekends and national holidays only)
※Service will not run on April 3rd
Locations: Nihonbashi area
(You can take the bus from: COREDO Muromachi, Nihonbashi Mitsukoshi-mae; Hamacho Park, Meijiza-mae、 Ningyocho, Amazake Yokocho; Nihonbashi Takashimaya-mae; Tokyo Station, Yaesu Exit)
※Hamacho Park (Meijiza-mae) and Tokyo Station (Yaesu Exit) are drop-off only
Time: 11:00~17:00
Operating bus: Trolleybus
Price: Free
There are many other events to be enjoyed as part of the Nihonbashi Sakura Festival. Be sure to visit Nihonbashi this year for Hanami!
ーーー
The following event pages for the festival will go online at the end of February.
■ Japanese version: http://www.nihonbashi-tokyo.jp/sakura2016/
■ English version: http://www.nihonbashi-tokyo.jp/en/sakura2016/
RELATED ENTRIES
OMOTENASHI MATSURI Festival to Deliver Japanese Culture to the World in Free Twitch Live Stream

OMOTENASHI BEATS has announced that it is set to serve Japanese culture to the world with its new DJ party event "OMOTENASHI MATSURI" which is set to stream live on Twitch on June 7, 2020.

OMOTENASHI BEATS is a project that fuses Japanese music with DJ culture. Its concept is to get people visiting Japan to experience Japanese culture and to deliver Japanese music to the rest of the world.

The event will be completely free to watch to everyone around the world on Twitch.

OMOTENASHI MATSURI / Official Trailer 

The DJ line-up OMOTENASHI MATSURI is as follows:

DJ KOO: A resident DJ with a career spanning 40 years who is also the leader of Japanese pop band TRF.
Motsu: Former member of m.o.v.e, a band with many a hit song including the Around the world which was used in the anime series Initial D.
DJ Arisa Komiya: Also known as the voice actress of Aqours member Dia Kurosawa in Love Live! Sunshine!!
DJ Zu from i☆Ris: A member of i☆Ris, a music unit formed of voice actresses and idols.
Shinichiro Kamio: The voice of Rio Mason Busujima from rap project Hypnosis Mic.
DJ Miyu Takagi: The voice actress for Shinobu Inuyose from the multimedia project D4DJ.
MIMORI from kolme: A member of kolme who write and produce their own music.
Tsunko: A cosplayer, anime song DJ, and the voice actress of Miyake Aoi from D4DJ.
Asanyan: DJ and multi-talent from social media.
DJ CAESAR from TOKYO: Produced Mobile Suit Gundam 40th Anniversary BEST ANIME MIX and is a huge name in the anime song scene.

10 big names will grace the line-up of the event. This will also be the first time Shinichiro Kamio and MIMORI have performed as DJs.

Tropical Flavoured Pikachu Puré Gummies Dropping This Summer

Japanese confectionery company Kanro has revealed its new limited-edition, tropical flavoured Pikachu gummies which it developed in collaboration with Pokémon for its Puré gummy range. They will be released in Japan on June 2, 2020.

The sweet and chewy tropical gummies are made with pineapple juice which is the main flavour, mango juice, and banana juice. They also added a soda flavour for that Pikachu thunderbolt kick (and to balance the flavours!)

They come in limited-edition Pikachu shapes

A packet of these gummies includes the classic heart-shaped Puré gummy sweets as well as Pikachu-shaped ones. There are also four packet designs all featuring original and exclusive Pikachu illustrations.

Additionally, for a limited time, the regular lemon, grape, and muscat grape Puré gummy packaging feature Pikachu's paw prints on the front and back. There are even hidden Pikachu-shaped gummies inside these regular packets.

Pikachu online promotion

The product is being promoted over on the official Puré Twitter page. Pikachu is set to take over the page this June with promotional videos.

Fate/Grand Order: Camelot -Wandering; Agateram- Anime Film's Main Theme Details Revealed

Fate/Grand Order The Movie Divine Realm of the Round Table: Camelot is an upcoming two-part anime film series, with the first part Wandering; Agateram set for release on August 15, 2020. The series is based on the popular mobile RPG game Fate/Grand Order which has over 50 million downloads worldwide.

It has been revealed that the first film's main theme is entitled Dokuhaku ("Monologue") which is written and sung by Maaya Sakamoto and composed and arranged by Takahito Uchisawa of J-rock band androp. Uchisawa previously collaborated with Sakamoto on her 24th single Replica. Nasu Kinoko, the creator of the Fate series, said that the song influenced him when he was writing the scenario for Divine Realm of the Round Table: Camelot, and that it's a popular song amongst players of FGO.

It was also revealed that Maaya Sakamoto will perform the second main theme for the Fate/Grand Order game. Titled Katsudou, the lyrics were written by Sakamoto, it was composed by Koga Shohei of yourness, and the song was arranged and music performed by yourness.

Maaya Sakamoto | Comment

"I asked the director how he wanted me to portray the last scene of the first film and how best to connect it to the second. I gave seriously thought to the song's role as a main theme song and came up with this song, 'Dokuhaku.' When you see that final scene in the theatre, I'm sure you'll be staring at the credit roll unable to even stand as you process the many different emotions swirling inside Bedivere. I think the song we've written is a suitable match for that final moment. Be sure to experience it in the theatre."

©TYPE-MOON / FGO6 ANIME PROJECT

Information

Fate/Grand Order The Movie Divine Realm of the Round Table: Camelot (Wandering; Agateram / Paladin; Agateram)
Wandering; Agateram Release Date: August 15, 2020
Official Website: https://anime.fate-go.jp/ep6-movie/

Japan's Manga Artists Join Hands For New Manga Project Depicting Life During COVID-19

Over 50 manga artists in Japan are coming together for the launch of the new "MANGA Day to Day" project which will depict daily life during the novel coronavirus (COVID-19) pandemic.

The project is set to roll out for free in mid-June on Twitter and Comic Days. A teaser by famous manga artist Tetsuya Chiba (Ashita no Joe; Notari Matsutarō) was released on May 22, 2020.

A related project entitled "Day to Day" is also taking place over on the Japanese literature news website TREE where over 50 popular authors have penned writings and essays on the restrictions of today's everyday life. In addition to Japan, both projects have caught the attention of overseas news media and websites too. Like the related "Day to Day" project, "MANGA Day to Day" will have one new manga strip released for free each day on Twitter and Comic Days. A piece entitled Akudama by Tetsuya Chiba is already available to see over on the project's official Twitter account.

People's lives have changed drastically as a result of the pandemic. To pass down this time in history to the next 100, or even 200 years, the pieces contributed to the "MANGA Day to Day" project will be compiled into a book that's scheduled for release in early 2021. A special edition of the book will also be compiled featuring both the manga and writing pieces.

Be sure to follow the Twitter account below to keep up to date.

Subaru Shibutani Documentary DVD, Blu-ray and Photobook to Cover Singer's Solo Career

Subaru Shibutani is a Japanese singer and actor who began his solo career last year. Since going solo, he has travelled the world while writing music. In April 2019, he announced the launch of his music label "World art." His first album Nisai hit shelves in October the same year, and in January this year he embarked on his first live tour across Japan and Asia.

Now, a feature length documentary covering all of this is set to be released on July 1, 2020.

The documentary film is entitled Nisai to 364 Nichi ("Two Years and 364 Days) and will be released in Japan on DVD and Blu-ray. Subaru Shibutani's staff have over 500 hours of footage to use for the documentary, which will cover the recording of the Nisai album, behind-the-scenes of his live tour—which was unfortunately cut short due to the COVID-19 outbreak, forcing dates in Asia and the finale in Osaka to be cancelled—and more. Shibutani's past year has been edited into a detailed 3-hour feature for the film.

Documentary Film 「二歳と364日」〈Documentary of 二歳〉 SPOT映像

A photobook will also be released alongside the DVD and Blu-ray featuring photos taken from the singer's live shows.

To promote the upcoming releases, Shibutani's live performance of Boku no Uta taken from the first day of his tour at Makuhari Messe was uploaded to his YouTube channel. Check it out below.

Subaru Shibutani – "Boku no Uta" [Official Live Video]

Re:Zero Mobile Game 'Lost in Memories' Pre-Registrations Open

Sega is set to release its first ever mobile game Re:Zero − Starting Life in Another World Lost in Memories for Android and iOS this year. The game is based on the popular anime series Re:Zero − Starting Life in Another World.

Pre-registrations for the game opened on May 22, 2020, and over 50,000 people have registered so far. A new teaser preview and details on the game have also been released.

What's 'Re:Zero − Starting Life in Another World Lost in Memories' About?

The video game is based on the popular light novel series Re:Zero − Starting Life in Another World. Players will take the role of series protagonist Subaru and relive the experiences of the anime's story. They will experience the turning point of the "IF" story, i.e. "What if I had chosen differently…?" Players' choices will affect the story, which will also have woven into it new and original contentーwith everything written by the light novel's author Tappei Nagatsuki. Interact with your favourite characters, engage in battles, and level up.

Pre-Registration Campaign

Sega had several tiers of gacha tickets to give out to players depending on the number of people who pre-registered. For exceeding 20,000, players will receive an item called "Rem ★3" and 10 gacha tickets, plus three extra for breaking 50,000 pre-registrations.

A new teaser video was released for the game which features its main theme song Reloaded which was used as the ending theme for season two of the Re:Zero − Starting Life in Another World anime series.

nonoc Comments (Extracts from video comment)

"I've been given the opportunity to sing the Re:Zero theme song Reloaded for the game. The song is about the mental state of the protagonist Subaru, how fate is divided left and right for him, and how he has had to 'reload' is life countless times. I sing about how prepared he has to be in choosing so many different paths, so be sure to pay attention to the song and lyrics. Please look forward to both the game and the song."

nonoc's Full Comment: https://sgap.ps/C8Qdri

Re:Zero Author Tappei Nagatsuki is writing this adventure RPG

The game features a turn-based battle system. Players will combine their characters and skills for epic battles, and there's also auto and fast modes for lighter play. Players will get to see their favourite characters from the original story fight with high quality animation. They can also create parties with sub-characters and enemies from the anime series.

©Tappei Nagatsuki・KADOKAWA / Re:Zero − Starting Life in Another World 2 Production Committee
©SEGA

Information

Re:Zero − Starting Life in Another World Lost in Memories

Release Date: 2020

Platform: iOS/Android

Price: Base game is free (paid items available)

Genre: Adventure/RPG

Official Website: https://re-zero-rezelos.jp

*Listed company names and product names are registered trademarks of their respective companies.

Demon Slayer: Kimetsu no Yaiba Collaborates With Baby Star Ramen Noodle Snack

Oyatsu Company has teamed up with the popular TV anime series Demon Slayer: Kimetsu no Yaiba to release limited-edition packaging of its popular Baby Star Ramen dried noodle snack. The product released on May 25, 2020 in Japan.

Demon Slayer: Kimetsu you Yaiba

Demon Slayer: Kimetsu you Yaiba is a manga series written and illustrated by Koyoharu Gotōge which follows Tanjiro Kamado who becomes a demon slayer after his family is killed and his younger sister Nezuko turns into a demon. It was serialised in Weekly Shōnen Jump from 2016 and recently concluded with its 20th volume on May 18, 2020. It has shipped 60 million copies. The upcoming anime film Demon Slayer: Kimetsu no Yaiba the Movie: Mugen Train will continue the story of the anime series's first season when it drops on October 16, 2020.

Baby Star x Demon Slayer

The collaboration will be for the ume kombu onigiri (plum kelp rice ball) flavour of the popular Baby Star snack, which just so happens to be a favourite of Demon Slayer's main character Tanjiro. You get the refreshing taste of the plum and the delicious flavour of the kombu.

There are four packaging designs to find as pictured above, each featuring familiar faces from the anime series.

A campaign is also being held for 400 fans to win an original Demon Slayer A2 poster. Each pack of the snack features an application mark on the back which they can use to sign up. This is being held in Japan only. Full details can be found on the campaign website.

©Koyoharu Gotouge / Shueisha・Aniplex・ufotable

Information

Demon Slayer Baby Star Ramen (Ume Kombu Onigiri Flavour)
Weight: 50g
Price: Open Price

Release Date: [May 25, 2020] Japanese Convenience Stores / [June 15, 2020] Japanese Supermarkets
Campaign Website: https://www.oyatsu.co.jp/campaign/kimetsu_poster/

Famous Japanese Matcha Company Collaborates With Japan's Convenience Stores

With shops and businesses temporarily closed as a result of lockdown measures in Japan, Japanese convenience store chain FamilyMart decided that since people can't as easily get their hands on authentic matcha right now, they would collaborate with the famous matcha company Kanbayashi Shunsho Honten to stock some authentic matcha treats on its shelves. They were released at FamilyMart branches across Japan on May 19, 2020.

Umami Matcha Parfait

The parfait begins with a soft sponge bottom and is then layered with milk mousse and matcha mousse before being topped with matcha jelly, red bean paste, and other tasty accompaniments.

Umami Matcha Cheesecake Baumkuchen

The matcha baumkuchen is made using authentic Uji matcha and is baked to look like a cheesecake. You get the full rich matcha kick with this one.

Hidetoshi Kanbayashi (Kanbayashi Shunsho Honten) | Comment

"We use a blend of first-grade Uji matcha and top it with jelly and matcha mousse. We have made it in such a way that you can enjoy the full flavour and aroma of the matcha itself. Please enjoy."

Information

Kanbayashi Shunsho Honten Umami Matcha Parfait
Price: ¥298 (Tax Included)
Released: May 19, 2020
Available: FamilyMart convenience stores across Japan (except Okinawa)

Kanbayashi Shunsho Honten Umami Matcha Cheesecake Baumkuchen
Price: ¥298 (Tax Included)
Released: May 19, 2020
Available: FamilyMart convenience stores across Japan (except Okinawa)

FamilyMart Official Website: https://www.family.co.jp/

MOSHI MOSHI PLAYLIST: J-Pop Songs For The Start Of Summer | May 2020 #2

MOSHI MOSHI NIPPON is now on Spotify, and every week, we plan to post a new playlist with a different theme, focusing on music from Japan. If you love J-music, or are new to J-music, be sure to give us a follow.

MOSHI MOSHI NIPPON Spotify: Follow Us

Nogizaka46 – Toki Toki Meki Meki


The kind of super cute and energetic idol song you want to listen to at the start of summer!

Kobukuro – Summer rain

Kobukuro is a music duo which never fails to disappoint when it comes to charming vocals and beautiful guitar melodies.

Natsume Mito – Odekake Summer

A feel-good track with an addictive melody that reminds you of summer.

 Leo Ieiri – Kimi ga Kureta Natsu


A sad love song that was used as the main theme song for the Japanese drama series Koinaka.

SiD – Natsu Koi

A groovy love song that's also SID's classic summertime track.

Aimer – Ref:rain

This song is known for being used as the ending theme for the anime series After the Rain.

RIP SLIME – Rakuen Baby

Rakuen Baby is one of those songs everyone plays when summer arrives. The catchy hook will have you singing along in no time.

DAOKO x Kenshi Yonezu – Uchiage Hanabi

This is the theme song for the movie Fireworks, Should We See It from the Side or the Bottom? This song compares the feeling of not wanting to let go with the image of fireworks soaring away out of reach in the evening sky.

LiSA – Datte Atashi no Hero.

This rock song is the ending theme song for the popular anime My Hero Academia and is overflowing with vibrant summer energy.

Vickeblanka – Natsu no Yume

This urban and mellow track is a story about one summer where a hesitant man has feelings for a free-spirited woman.

YUI – Summer Song

From the gentle breeze of the beach to laughter and good memories, YUI's Summer Song represents the excitement we feel as summer peaks round the corner and we get ready for another summer of fun.

Ai Otsuka – Kingyo Hanabi

Going to a fireworks festival with your lover is a key ingredient to enjoying a Japanese summer. In this song, Ai Otsuka compares her emotions to "goldfish fireworks" which illuminate the face of her lover for a split second and fade away gracefully.

Dempagumi.inc – Otsukare Summer

Dempagumi gets the summer vibes flowing with Otsukare Summer. The song reflects the excitement of leaving behind those stressful exams and busy days to celebrate freedom that summer brings us.

GReeeeN – Kiseki

This love song is accompanied by a baseball-themed music video – a Japanese summer sport bound to get you excited for summer.

w-inds. – Backstage


This tropical song and video will fill you with refreshing beach vibes and is perfect to listen to while basking in the sun.

As summer is just round the corner, this playlist is the perfect way to get refreshed with Japanese summer vibes. We will be releasing a new playlist every week so stay tuned!

Information

MOSHI MOSHI NIPPON Spotify: Follow Us

The Day I Became a God TV Anime Series Cast and Staff Revealed

It has been announced that Yoshiyuki Asai (Charlotte) is directing the upcoming TV anime series The Day I Became a God, and that Ayane Sakura (My Hero Academia; Your Lie in April; Non Non Biyori) will voice the main female protagonist.

The Day I Became a God is an upcoming anime series being produced by P.A.Works and Aniplex. It is the third original anime series conceived by Key following Angel Beats! and Charlotte. It will be released this October.

The Day I Became a God Official Promotional Video


The story follows Hina, a girl who awakens as a god, who foresees the end of the world. This leads her to choose a boy, a companion to watch over until the end arrives.

©VISUAL ARTS / Key / "The Day I Became a God" Project

tofubeats Collaborates With DJ Q and Gaidaa On Red Bull Check Your DMs

tofubeats appeared on the first episode of Red Bull Check Your DMs, a reality show by Red Bull which connects artists around the world together online for the first time and has them make a song together remotely. He collaborated with UK music producer DJ Q and Netherlands singer Gaidaa to create an original track named All In.

Red Bull Check Your DMs – Episode 1


This was the first time the three artists had met each other, all of whom have different nationalities as well as work on different styles of music, from hip-hop and electronic to singer, rapper, and track maker. Just how did these three individuals create a new song from scratch? All they need is talent, inspiration, and an internet environment for this unique project which coincides with today's digital age.

The show welcomes a whole host of artists, from this episode's tofubeats, music producer DJ Q, and singer Gaidaa to bassline DJ Flava D, rappers Ms Banks and Burna, Canadian electronic music producer Ryan Hemsworth, South Korean singer CIFIKA, Diamond Vargas from Australia, Girl Ultra from Mexico, Phil Speiser and Palazzo Beats from Austria, Wow Jones from the USA, Yartze from Puerto Rico, and more.

Red Bull Check Your DMs is available to watch for free on YouTube and the Red Bull TV app. A new episode will air every Friday.

The music video for Inochi no tabekata (How to eat life) by Eve has been released. Known for his intricately animated music videos, Eve has amassed over 1.7 million followers on YouTube. Inochi no tabekata is from Eve's album Smile which was released in February this year and is still in popular demand.

This ambitious project is the result of Eve's first ever collaboration with animator Mariyasu. The song was even adapted to perfectly synchronise with the video. Like all of Eve's music videos, you just can't miss out on seeing this.

Inochi no Tabekata Music Video


Eve's album Smile is available on a number of streaming services. If you love sophisticated and catchy tunes, Eve's mesmerizing world is waiting for you.