SCANDAL released their 8th studio album HONEY this year back in February. In support of the album, the band embarked on a tour across Japan titled SCANDAL TOUR 2018 "HONEY" which concluded at Kobe International Hall in Hyogo Prefecture on May 25.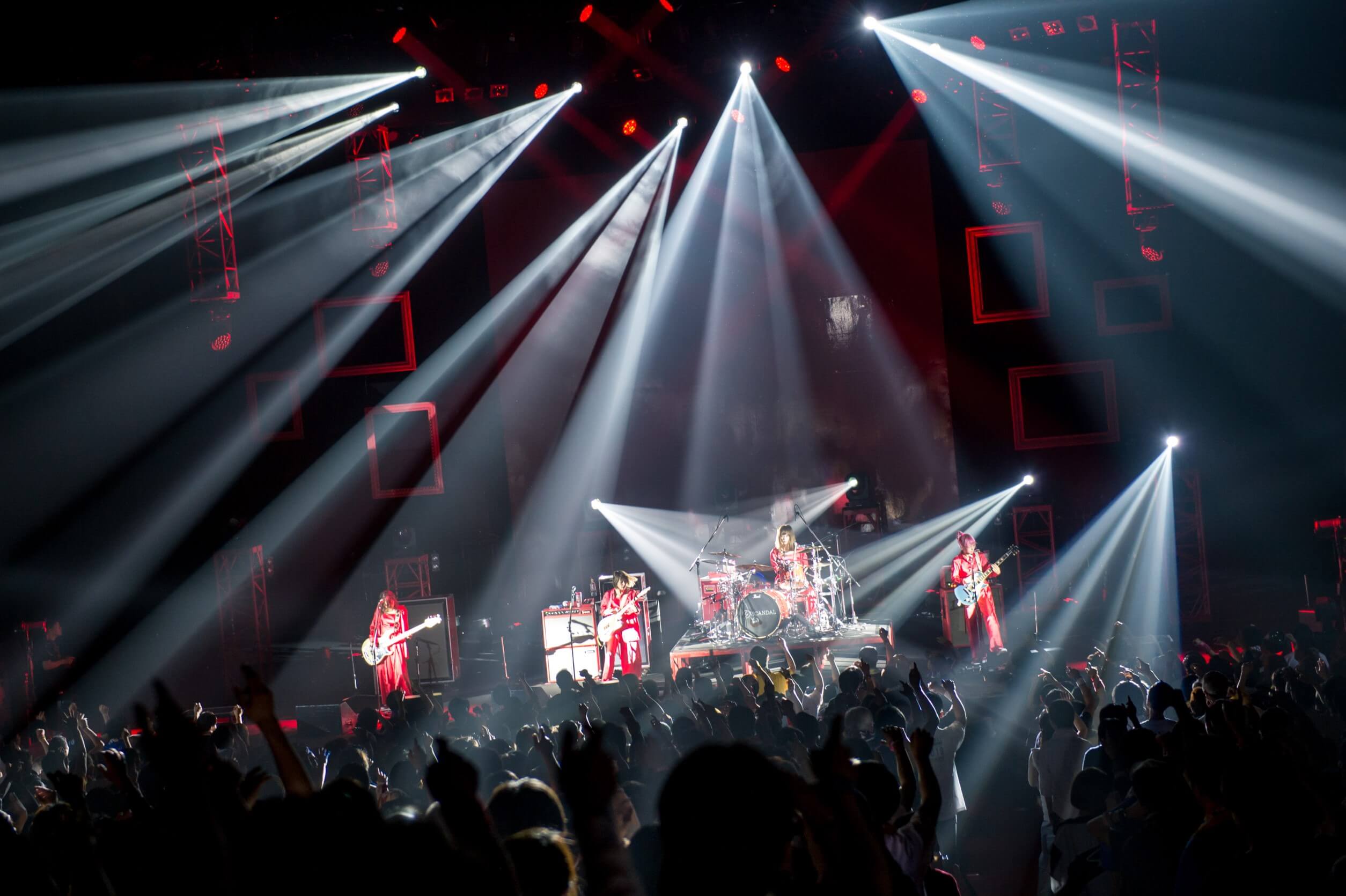 The stage set was dyed in a chic red, with the members' amps and drum shells even taking on the same colour, made special for this tour. As the crowed cheered and screamed in anticipation for the band's entrance, the members stepped out onto stage donning HONEY's theme colour – red.
The first song of the night was HONEY's lead track Platform Syndrome. They continued with another rock track from the album, OVER. Things changed up a bit as they pulled out SCANDAL BABY, which featured on the band's greatest hits album last year and voted as the fans' number one favourite. The curtains fell after this song, which if this was a normal performance would signal the end of the show―but this is SCANDAL.
After a brief chat with the crowd, the girls displayed their impressive talents with a string of medium rock numbers that have an inner fortitude. This included Oh! No! where Mami (guitar/vocals) takes on the role of lead vocals, Can Beer with Tomomi (bass/vocals) on lead vocals, Short Short from their latest album, Mado o Aketara which was arranged by Mizuki Masuda, and the hugely popular Departure for which the members wrote and composed everything together for the first time.
Next on the list was something a little different. The members answered questions which fans posted on the fan club with the theme 'things you want SCANDAL to shed light on across the country in these times.'
SCANDAL then went on to play Electronic Girl from HONEY which is a song they can be proud of having improved the most on this tour. This was followed by their classic hit Everybody Say Yeah! which signaled the start of the show finale. The last block included a variety of new ones and oldies, including Shunkan Sentimental, Flashback No.5, Take Me Out, Koisuru Universe, amongst others. It felt like it was all over in an instant.
After a riotous call of an encore, the members stepped out one last time. "SCANDAL is celebrating 10 years this autumn since our major debut! We haven't made a special celebration of the day since our major debut until now, but the number '10' has a natural sense of gratitude in it. We will prepare an appropriate setlist to give thanks. We'll be waiting for you at the live club houses," they said happily to the fans, offering up the announcement of a new tour.
The encore consisted of Sisters, Image, and LOVE SURVIVE, wrapping up the band's 23-date hall tour.
SCANDAL will continue to tour in support of the album. They will tour Asia from June including mainland China before heading to the US and Mexico this fall.
■Infomation 
 New Album – "HONEY"
Released: February 14, 2018
Price:
Limited Pressing Edition (CD+T-Shirt) – ¥5,700 (Tax Included) *T-shirt produced by AMIAYA
First Press Limited Edition (CD+DVD) – ¥3,700 (Tax Included)
Regular Edition (First Press Packaging) (CD-Only) – ¥3,200 (Tax Included)
"HONEY" Trailer:https://youtu.be/IWhoDwKDzfc
"HONEY" Download:https://erj.lnk.to/-gqrHWN
SCANDAL ASIA TOUR 2018 "HONEY"
Location: Hong Kong
Venue: MacPherson Stadium (http://macstadium.hkpa.hk/)
Date: June 10, 2018
Time: 20:00 (Local Time)
Location: Beijing
Venue: TANGO (http://www.clubtango.cn/)
Date: June 15 ,2018
Time: 19:30 (Local Time)
Location: Guangzhou
Venue: TUTU (https://site.douban.com/gztutu/)
Date: June 17, 2018
Time: 20:00 (Local Time)
Location: Manila
Venue: SMX Convention Center (http://www.smxconventioncenter.com/)
Date: June 24, 2018
Time: 19:00 (Local Time)
Location: Taipei
Venue: Clapper Studio (http://clappertw.wixsite.com/clapper/studio)
Date: June 30, 2018
Time: 19:00 (Local Time)
SCANDAL US & Mexico Tour 2018 "Special Thanks" 
Location: New York
Venue: PlayStation Theater(www.playstationtheater.com)
Date: September 5, 2018
Location: San Francisco
Venue: The Regency Ballroom(www.theregencyballroom.com)
Date: September 7, 2018
Location: Anaheim
Venue: House of Blues(www.houseofblues.com/anaheim)
Date: September 9, 2018
Location: Dallas
Venue: The Bomb Factory(www.thebombfactory.com)
Date: September 16, 2018
*Details for Mexico and ticket information will be released at a later date.
SCANDAL TOUR 2018 – 'Kanshasai'
11.02 @ Zepp Nagoya, Aichi
11.03 @ Zepp Nagoya, Aichi
11.10 @ Zepp Osaka Bayside, Osaka
11.11 @ Zepp Osaka Bayside, Osaka
11.16 @ Zepp Sapporo, Hokkaido
11.20 @ Zepp Tokyo, Tokyo
11.21 @ Zepp Tokyo, Tokyo
Ticket Prices: Reserved Seating ¥4,860 (Tax Included) + 1 Drink Fee
*4 tickets per person for each date.
*Tickets required for those aged 4 and above.
SCANDAL MANIA Pre-Release: May 25 @ 22:00―June 11 @ 23:59
*To purchase, you must sign up as a member (fee charged) by May 31.
*New members that sign up between May 21-May 31 can apply for pre-release tickets from June 7.
SCANDAL Official Homepage: http://www.scandal-4.com/
Album Website: http://www.scandal-honey.com/