Hatsune Miku Symphony 2018-2019 Tickets Now On Sale & Main Visual Revealed
A countdown was recently posted on the official Hatsune Miku Symphony 2018-2019 website which ticked down to noon on June 4, revealing the release of pre-sale tickets for Tokyo and Osaka. The main visual was also unveiled, revealing the performer line-up.
The tickets will come with the same designs as last year and will come with limited-edition merchandise and pamphlet with a special sheet. As well as that, new under-18 tickets are also available this year at ¥3,900. There's also an accommodation plan available with limited-edition merchandise available on a first-come, first-served basis from July 2.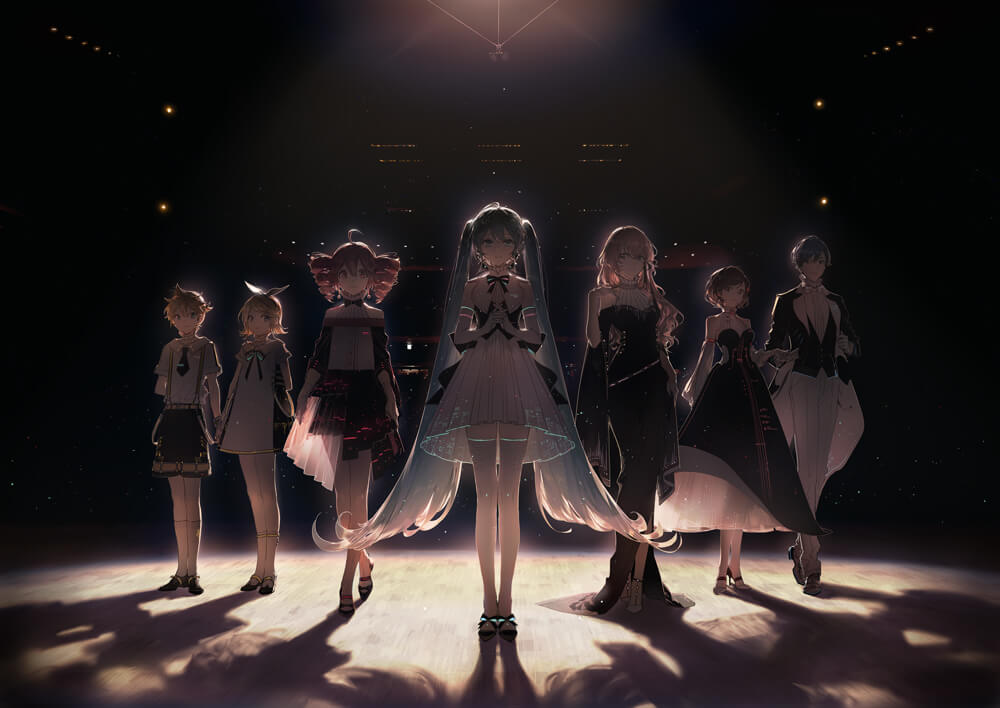 The main visual drawn by illustrator Rella reveals that Hatsune Miku isn't alone. She will be joined by Kagamine Rin, Kagamine Len, KAITO, MEIKO, as well as Megurine Luka―who's soon to celebrate her 10th anniversary―and Kasane Teto. Each member is donning original outfits. This is the first time these seven characters will perform together for this event.
The official website has been updated and is now available in multiple languages. Head on over there and experience the symphonic world of Vocaloid.
■Information
Hatsune Miku Symphony 2018-2019
1st Pre-Sale Tickets
Ticket Window: June 4, 2018 @ 12:00 – June 11, 2018 @ 23:59
http://w.pia.jp/t/mikusymphony-1819/
Price:
Special Seats (Ticket designs, limited-edition merchandise, pamphlet) – ¥14,800
S-Seats – ¥9,000
A-Seats – ¥8,000
U-18 Seats – ¥3,900
2nd Pre-Sale Tickets (Raffle Draw)
Ticket Window: June 18, 2018 @ 12:00 – June 25, 2018 @ 23:59
・U-18 seat ticket window from June 18 @ 12:00 to June 25 @ 23:59.
・U-18 seat tickets for those born after April 2, 1999.
・A form of ID is required, e.g. student card, insurance card or something with proof of age.
・Reserved seating (applicable from A-Seats and beyond).
・Parents/guardians who wish to watch the show with someone under the age of 18 must purchase an U-18 Seat ticket for the person under 18 and an A-Seat ticket.
Accommodation Plan w/ Limited Edition Merchandise
Ticket Window: July 2, 2018 @ 12:00 – July 23, 2018 @ 12:00
・Accommodation plan for S-Seats.
Hatsune Miku Symphony 2018-2019
Tokyo Show
Venue: Pacifico Yokohama
Date/Time: November 24, 2018 @ 17:00 OPEN / 18:00 START
Osaka Show
Venue: Orix Theater
Date/Time: January 25, 2019 @ 18:00 OPEN / 19:00 START
Hatsune Miku Symphony Official Homepage: http://sp.wmg.jp/mikusymphony/
Hatsune Miku Symphony Official Merchandise: https://store.wmg.jp/w036
RELATED ENTRIES
Sanrio Puroland to Hold First Virtual Music Festival

Get ready for your trip to Virtual Sanrio Puroland! For the first time ever, Sanrio is teaming up with U.S. company VRChat for an entirely virtual music festival, SANRIO Virtual Fes in Sanrio Puroland on December 11 and December 12, 2021. Guests will be able to enjoy the event using a VR Headset, a PC, or a smartphone. 

The concert space will feature both live and virtual artists (VTubers), as well as popular Sanrio characters in a massive five-story underground space beneath Virtual Sanrio Puroland. Participants will also be able to transform their avatar into the Sanrio character of their choice during the event! High-fiving other concert-goers will result in an explosion of Hello Kitty bows, and there will be plenty of surprises during the music performances, so don't miss it!

The lineup for the event includes Kizuna AI, Hatsune Miku+PinocchioP, AKB48(Team8), CHiCO with HoneyWorks, Haneru Inaba, Kaede Higuchi, KMNZ, VALSHE, Hakushi Hasegawa, YuNi, Pasocom Music Club, Mom, Megu Shinonome, AMOKA, Yukichi Kasaku/men, LAUSBUB, and Kinu. Plenty of Sanrio characters will also make appearances, including Hello Kitty, Cinnomoroll, Kuromi, Cogimyun, and Hapidanbui. 

Who are you looking forward to seeing perform in this adorable virtual space?

©'21 SANRIO ©'21 SANRIO SP-M © '21 SANRIO S/F・G 著作(株)サンリオ
©AKB48 ©Kizuna AI ©BANDAI NAMCO Arts Inc.  ©ANYCOLOR, Inc. Art by KEI ©Crypton Future Media, INC.

Information

SANRIO Virtual Fes in Sanrio Puroland

Dates: December 11 & 12, 2021

Stream Open at 15:00, Show airs from 17:00-22:00

Location: Virtual Sanrio Puroland

Official Site: https://v-Fes.sanrio.co.jp

Music Festival Celebrating 10 Years of Senbonzakura Announced

Senbonzakura continues to be one of Hatsune Miku's most popular songs, even ten years after its initial release. To celebrate an entire decade of the song, a special live performance will be held in Chiba featuring a number of popular performers who have performed Senbonzakura sometime over the past ten years. 

The first round of acts have just been announced, and the event will take place at the Maihama Amphitheater in Chiba on November 21, 2021. 

Performers include Vocaloid producer and bassist of Wagakki Band Asa, talented female vocalist +α/Alfakyun., violinist and cosplayer Ayasa, and massively popular YouTuber UMI☆KUUN. Also appearing is Sachiko Kobayashi, an enka singer who performed Senbonzakura at the 66th Kouhaku Uta Gassen New Year special in 2015, and Marasy, a pianist who performed the song in a 2013 Toyota Prius commercial. The MCs for the show include streamer-turned-pro host Hyakka Ryoran and voice actress Saki Fujita, who performs the character voice for Hatsune Miku. 

Those who purchase a ¥30,000 (Tax Included) ticket will receive a commemorative golden happi coat and will guarantee a seat in the first five rows of the venue. The ¥15,000 (Tax Included) ticket will include a pink happi coat. General admission will cost ¥8,500 (Tax Included). 

More information regarding the second round of performers will be released soon, along with more details on exclusive merchandise to be sold at the venue. 

Information

Senbonzakura 10th Anniversary Festival ~The Fearlessly Fashionable Revolution!~

Date: November 21, 2021

Address: Maihama Amphitheater (Chiba)

Doors open at 14:00, show begins at 15:00

Live Performers

Asa/+α/Alfakyun./Ayasa/UMI☆KUUN/Sachiko Kobayashi/Marasy, and more!

MC

Hyakka Ryouran/Saki Fujita

Senbonzakura Festival Site: http://senbonzakurafes.com/

Senbonzakura 10th Anniversary Site: https://whiteflame.jp/10th-senbonzakura/

Hatsune Miku Magical Mirai 2021 Official Album on Sale, Copies Limited

KARENT, the Vocaloid music label, just released the official album for Hatsune Miku's Magical Mirai 2021 concert! The album release comes prior to the Magical Mirai 2021 concert tour, set to be held at Intex Osaka and Makuhari Messe in October and November. 

The tracklist includes the event's theme song Hatsune Creation Myth, produced by cosMO, and Kaito's 15th-anniversary track Rainy Snow Drop by Re:nG. The album is a mash-up of songs by tons of different Vocaloid personalities and includes the bonus track HappY EnD, a fan favorite. A DVD containing a special music video of the theme song will be included, and some fans may even find a live ticket to the concert in their CD case! Specific stores carrying the album will be giving away specific bonuses while supplies last, so be sure to check the official website. Copies are extremely limited–don't miss out!

Art by 左 © Crypton Future Media, INC. www.piapro.net

Cafe Opens to Celebrate 10th Anniversary of Hatsune Miku's Song 'Senbonzakura'

Manga cafe Akihabara Nagomido will hold a limited-time collaboration cafe to celebrate the 10th anniversary of Vocaloid Hatsune Miku's popular song Senbonzakura! The event will run from September 30 until November 7, 2021. 

Menu at a Glance

Drinks (with coaster and muddler) *Muddler can be taken home. 

Senbonzakura Rice Curry: ¥1,390 (Tax Included) 

Full-Bloom Sakura Parfait: ¥1,390 (Tax Included) 

Collaboration Cafe Limited Gacha Goods

Limited-edition Pins (8 varieties): ¥400 per spin (Tax Included) 





Gacha Lottery Prize: B2 Poster

Goods

Senbonzakura Mug: ¥1,500 (Tax Included) 

Senbonzakura Bag: ¥1,500 (Tax Included) 

Senbonzakura B2 Tapestry: ¥3,000 (Tax Included) 

 

Senbonzakura Acrylic Stand: ¥1,900 (Tax Included) 

Senbonzakura Light-Up Acrylic Stand: ¥2,500 (Tax Included) 

Senbonzakura x Akihabara Nagomido Castella (Plain): ¥1,000 (Tax Included)

Senbonzakura x Akihabara Nagomido Castella (Cherry Blossom): ¥1,000 (Tax Included) 

Kurousa-P Acrylic Keychain: ¥700 (Tax Included) 

Kurousa-P Acrylic Stand: ¥800 (Tax Included)

Lacquered Chopsticks: ¥3,300 (Tax Included) 

Lacquered Bookmark: ¥770 (Tax Included) 

WAKUPITA Mask (2 varieties, Miku Crest & Butterfly and Sakura): ¥1,000 each (Tax Included)

Guests can enjoy various cherry blossom displays throughout the event space, so be sure to stop by if you're in the area!

Hatsune Miku and GUMI's Popular Duets to be Compiled In New Vocaloid Album

Vocaloid speciality label KARENT has announced that the upcoming "Digital Stars feat. MIKU & GUMI Compilation CD" album will be available for pre-order from September 13, 2021. The physical copy will be released on October 27, followed by the "Digital Stars feat. MIKU & GUMI" online music event, scheduled to be held on November 21. The music video for the event theme song "Unsung Melody" was uploaded prior to the CD pre-order date announcement.

Unsung Melody

The album starts with 'Unsung Melody,' a song written by monaca:factory, and is full of popular duet songs featuring Hatsune Miku and GUMI (Megpoid), such as 'GETCHA!' and 'Sayonara no Asa,' along with a selection of remixes. You can enjoy 12 songs unique to the 'Digital Stars' album, featuring club scene leaders such as DJ Shimamura and Dubscribe, as well as Vocaloid producers from Japan and overseas.

The physical album will come with store-specific freebies, featuring artwork by illustrators Souda and Mawaru Sanso. The goods include clear files and cans badges, depending on the location.

 

Art by のう © Crypton Future Media, INC. www.piapro.net © INTERNET Co., Ltd.

※VOCALOID is a registered trademark of Yamaha Corporation

Racing Miku 2021 Inspires Three New Perfumes, Now Available for Pre-Order

Perfume distributor Fairytail has started selling three new fragrances based on Racing Miku 2021! The items went on sale August 2 through the company's online shop and Amazon. 

RACING MIKU 2021 Eau de Parfum: ¥3,080 (Tax Included)

RACING MIKU 2021 Eau de Parfum Private: ¥3,080 (Tax Included)

RACING MIKU 2021 Eau de Parfum Tropical: ¥3,080 (Tax Included)

RACING MIKU 2021 Fragrant Hand Gel Set: ¥990 (Tax Included)

Racing Miku is a popular incarnation of the Vocaloid Hatsune Miku, created to support those in motorsports. Since 2010, she has been the mascot character for the Hatsune Miku GT Project, and is drawn by a different creator each year. These three fragrances each feature a unique portrait of the symbolic character, and were drawn by popular illustrator Morikura En. 

The RACING MIKU 2021 Eau de Parfum is sporty and cool, with notes of citrus that give off a crisp and refreshing scent. The Eau de Parfum Private is more feminine, with a gentle aura of bergamot and citrus, followed closely by elegant notes of rose and peony. If you're looking for a perfume perfect for summer, the Eau de Parfum Tropical is a more powerful fragrance characterized by the bursting sweet scents of mango and passionfruit. Which one do you think would suit you the best? 

Also on sale, the easy-to-carry fragrant hand gel set is perfect to pop in your purse and use while you watch the race. The set comes in two designs: the super cute Racing Miku 2021 Nendoroid version, or the sleeker GOODSMILE RACING version. 

After smelling just one of these scents, you'll want to collect them all!

Project Sekai's MORE MORE JUMP! Releases First Single

MORE MORE JUMP! released their first single Idol Shineitai! More! Jump! More! on music streaming and download platforms on June 23. The song is also available as background music for posting on TikTok and Instagram.

MORE MORE JUMP! is an all-female idol group in SEGA's mobile rhythm game Project Sekai: Colorful Stage! feat. Hatsune Miku. More information about the single is available on the MORE MORE JUMP! section of Crypton Future Media's Voclaloid music label KARENT.

© SEGA / © Colorful Palette Inc. / © Crypton Future Media, INC. www.piapro.net All rights reserved.

Information

MORE MORE JUMP! 1st Single "Idol Shineitai! More! Jump! More!"

Released: June 23, 2021

Download: iTunes, Amazon Music, Oricon Music Store, music.jp, Recochoku, mora, OTOTOY, mysound

Stream: Spotify, Apple Music, YouTub Music, Amazon Unlimited, LINE MUSIC, d hits, Utapass, ANiUTa, AWA, KKBOX, RecMusic

Available as BGM on TikTok & Instagram

Project Sekai on KARENT: https://karent.jp/special/pjsekai

Project Sekai: Colorful Stage! feat. Hatsune Miku

Platforms: iOS/Android
App Store: https://itunes.apple.com/app/id1489932710
Google Play: https://play.google.com/store/apps/details?id=com.sega.pjsekai


HATSUNE MIKU Digital Stars 2021 Online Event Announced For August

Crypton Future Media has announced that the 'HATSUNE MIKU Digital Stars 2021' online music event will take place on August 29, 2021 as part of their Digital Stars project. The club event sees fans come together to party online.

Merchandise for the event is available to buy on HOBBY STOCK between May 20 and June 10.

The HATSUNE MIKU Digital Stars 2021 Compilation, a CD which is part of the annual Digital Stars series, was also released at music stores in Japan on May 18.

For more information on the event, check the official website below.

Sakura Miku Blossoms On Merchandise at Hirosaki Sakura Matsuri 2021 in Aomori

Japanese anime, game, and hobby merch site CharaAni released a new collection of Sakura Miku merchandise on Monday in collaboration with the Hirosaki Sakura Matsuri 2021 festival.

Hirosaki Sakura Matsuri 2021 x Sakura Miku Line-Up

Folders | ¥450 Each (Tax Included)

Tapestries | ¥3,500 Each (Tax Included)

Acrylic Stands | ¥1,500 Each (Tax Included)

Holographic Pins | ¥550 Each (Tax Included) *Blind box, designs are random

Reversible Blankets | ¥5,500 Each (Tax Included)

Scarf Towel (Art by iXima) | ¥2,000 (Tax Included)

Happi (Art by iXima) | ¥6,000 (Tax Included)

Hand Towel (Art by Mamo) | ¥1,000 (Tax Included)

Motel Key Ring (Art by iXima) | ¥1,500 (Tax Included)

Teacups | ¥1,700 Each (Tax Included)

Flat Pouch (Art by iXima & Mamo) | ¥2,500 (Tax Included)

Drum Bag (Art by iXima) | ¥6,500 (Tax Included)

Full Graphic T-Shirt (Art by Morichika) | ¥5,500 (Tax Included)

Full Graphic Zipper Hoodie (Art by Hechima) | ¥9,900 (Tax Included)

Fashion Mask (Art by iXima) | ¥2,200 (Tax Included)

Desk Mat (Art by iXima) | ¥3,300 (Tax Included)

Shitakawa Rayaki Dove Whistle | ¥2,200 (Tax Included)

Music Box: "Haru o Matsu Hito" – PolyphonicBranch feat. Hatsune Miku

The Sakura Miku x Hirosaki Sakura Matsuri 2021 collection invites on board four artists: iXima, Mamo, Hechima, and Morichika who have created original artwork for the line-up. The items can be bought both at the festival and online.

The collection also includes Sakura Miku-inspired dove whistles made by Shitakawa Rayaki Tsuchi Ningyo, a clay doll company that has been around for over 200 years. The company began in the latter half of the Edo Period when Takaya Kanegura, who had learned how to make ceramics in the town of Chikuzen in Fukuoka, was employed by the Hirosaki Domain to build a furnace.

Miku fans can also get their hands on a music box which features an original song created for the festival called Haru o Matsu Hito ("Person Waiting For Spring"). It features artwork by iXima.

Art by iXima / Mamo / へちま / もりちか © Crypton Future Media, INC. www.piapro.net

Hatsune Miku Features in Pocari Sweat Promotion as Official Ambassador

Otsuka Pharmaceutical released a 30-second video titled "Netsunarero" on their official YouTube channel on May 6 announcing Hatsune Miku and members of Leo/need from the Project Sekai Colorful Stage ft. Hatsune Miku mobile game as the official ambassadors for the Japanese sports drink Pocari Sweat.

The importance of "Netsunare"

The video stresses the importance of netsunare – sweating in order to get used to the heat during summer. Leading the promoting of this message is Hatsune Miku who is followed by Leo/need, MEIKO, Mirai Akari, Fuji Aoi, and YuNi. The video features the original song Waiting for Clear Weather created by Orangestar for the Project Sekai Colorful Stage ft. Hatsune Miku mobile game. The popular track has been streamed over 1.9 million times as of April 2021.

The Character Line-Up

Since December 2019, Otsuka Pharmaceutical has appointed Hatsune Miku, MEIKO, Leo/need, MEIKO, Mirai Akari, Fuji Aoi, YuNi, and other familiar faces as official ambassadors for Pocari Sweat to spread information on how to overcome Japan's hot summer weather to the world. It is part of the beyond2020 project which Otsuka describes: "With an eye to 2020 and beyond, this cultural program will contribute to the creation of a legacy befitting a maturing society that will make the next generation proud, through Japan's strength which consists of its local and diverse culture."

Leo/need from Project Sekai Colorful Stage ft. Hatsune Miku

Project Sekai Colorful Stage ft. Hatsune Miku is a mobile game for iOS/Android. The members of Leo/need include guitarist and vocalist Ichika Hoshino, keyboardist Saki Tenma, drummer Honami Mochizuki, and bassist Shino Hinomori. They will release their first single on June 9, 2021.

Twitter Campaign

Otsuka Pharmaceutical is also holding a Twitter campaign in Japan as part of the promotion where 200 random people can win a box of seven 500ml Pocari Sweat bottles for cooling down in the summer heat.

How to Sign Up

Step 1: Follow Pocari Sweat on Twitter @pocarisweat_jp

Step 2: Retweet or quote any of Pocari Sweat's posts featuring the hashtag #ネツナレろ ("Netsunarero")

Running: May 6, 2021 – May 19, 2021 (Japan Only)

Campaign Site: https://pocarisweat.jp/action/pocarimiku/netsunarero/

© SEGA / © CP / © CPM / © Mirai Akari Project / © YuNi / © Fuji Aoi

Vocaloid's Sakura Miku and Virtual Singing Friends Collaborate With Illustrator Shirabi

A new collection of Sakura Miku merchandise has been released for the Spring 2021 season. The collection features original artwork by Japanese illustrator Shirabi and is available to purchase on ARMA BIANCA.

 

Sakura Miku is joined by her Vocaloid friends Kagamine Rin, Kagamnine Len, Megurine Luka, MEIKO, and KAITO in this collection which uses the main visual drawn by Shirabi for the Sakura Miku Pop-Up Shop that ran from March 19 to April 4 at the AMNIBUS STORE in Shinjuku Marui Annex in Tokyo.

Here's a select look at some of the items up for grabs, all of which is sure to be a cute feast for the eyes of Vocaloid fans.

Acrylic Key Rings: ¥650 Each (Before Tax) / Whole Collection ¥5,850 (Before Tax)

Affix your favourite Vocaloid to your bag or decorate your room with these key rings featuring the most popular Vocaloid characters individually and in pairs.

Bonus Item

If you buy the whole box of key rings, you'll also get this bonus limited-edition key ring featuring the entire cast.

Zipper Hoodies | ¥5,980 Each (Before Tax)

The hoodie collection is a simple pullover type perfect for wearing at home, outdoors, at anime events and concerts – pretty much anywhere!

Mobile Batteries | ¥4,500 Each (Before Tax)

A lightweight and compact battery that's handy for when your device is running out of juice.

Changing Mug | ¥2,980 (Before Tax)

A mug which changes its design when you pour a hot drink inside. Enjoy twice the amount of Miku when making your morning coffee.

Check out the mug in action in this video below.

Wappa Bento Box | ¥5,480 (Before Tax)

Take your lunch to work out enjoy a meal outdoors with this bento box that's made from wood. It has that distinct natural wood feel and smell to it.

Coin Purse | ¥1,800 (Before Tax)

Keep your coins or other little bits and bobs safe in this cute and compact purse.

Check out the link below for the full list of merch.

Art by しらび © Crypton Future Media, INC. www.piapro.net

Cute Hatsune Miku Artwork by Esther Kim Releases for MikuWorldCollab

As part of MikuWorldCollab, a project launched to have the internationally-beloved virtual singer collaborated with famous overseas IP's, popular Korean-American illustrator Esther Kim has teamed up with Crypton Future Media to release a super cute piece of artwork of Miku.

Miku is joined by Esther Bunny, an adorable bunny created by Esther Kim. Kim was born in Los Angeles and spent her teenage years in Tokyo. Her multicultural background has influenced her art which has led to collaborations with popular fashion and cosmetic brands in South Korea, Japan, and elsewhere.

Kim has cute and stylish touches to Miku and Esther Bunny. The illustration will be released on merchandise sometime this year. Another illustration by a designer at Crypton will also be released in the near future.