The Peak Season is Now for 9,000 Japanese Iris Plants Blooming in Sakura Castle Ruins Park
The peak season for Japanese irises is about to arrive. 9,000 plants of all different colours including purple, yellow and white will decorate Sakura Castle Ruins Park.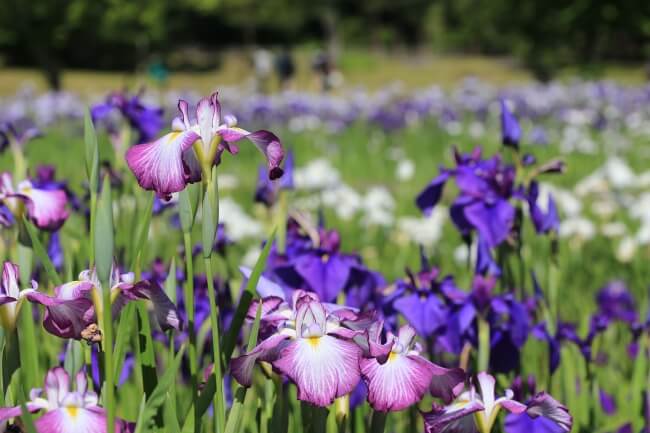 Sakura Castle was built in the Edo Period in the city of Sakura in Chiba Prefecture. The Japanese iris is a symbol of the castle town, and you can enjoy them now at the castle ruins.
The irises will also battle for bloom with surrounding hydrangeas. The flowers that grow in the rainy season are a sight to behold whether on a clear day or a wet day.
There's also a festival taking place for the irises at the castle on June 9 and 10. The ruins will bustle with people enjoying the food and drink booths.
Enjoy a day out with family and friends alongside Sakura's famous Japanese irises at the site of Sakura Castle.
■Information
Sakura Castle Iris Festival
Location: Sakura Castle Ruins Park (Free Entry + Free Parking)
Date: June 9, 2018―June 10, 2018
Time: 10:00-16:00 (will take place even if it rains)
TEL: 043-486-6000 (Sakurashi Sight Seeing Information Center)
RELATED ENTRIES
Spring's Arrived Early in Chiba as the Strawberry Picking Season Begins

Chiba Prefecture is one of the leading places in Japan for growing strawberries. Thanks to its warm climate, the prefecture enjoys hearty a strawberry harvest, which it celebrates with strawberry-picking events and markets across the prefecture. The true fun in strawberry picking in Chiba is that you get to taste a variety of different types, all ripe, there and then, so you can compare flavours.

To further promote the wonderful world of its succulent strawberries, Chiba Prefecture has set up a special website, and is also hosting a photo campaign entitled "Chiba Strawberry Fair 2020." This is also the season to try an original type of strawberry grown in Chiba Prefecture called the "Chi-Ba Berry."

Check out Strawberry Fields Chiba's special website

The Strawberry Fields Chiba website has a wealth of information on strawberry varietiesーincluding the "Chi-Ba Berry"ーas well as places to pick strawberries in the prefecture, places selling strawberries, and more. If you're interested in finding out more about strawberries in Chiba, then check out their website below.

Strawberry Fields Chiba Official Website: https://chiba-ichigo.jp

Chiba Strawberry Fair 2020

People who post a photo on Instagram of their time in Chiba enjoying the strawberries with the hashtag #ちばいちごフェア2020 ("Chiba Strawberry Fair 2020") have the chance to win the above-pictured Chi-Ba Berry-kun plush toy. The campaign is running until February 29, 2020.

Strawberry picking season in Chiba runs until May, so if you're planning a trip there this year, make sure you don't leave without trying the prefecture's famous strawberries.

5 Must-Visit Beautiful and Romantic Lantern Festivals in Japan | 2020 Edition

The season for Japan's enchanting and romantic lantern events has finally arrived, and the line-up this year is diverse, from events where lanterns are the main attraction to lantern-lined festivals and Japanese matsuri festivals.

Hankyu Travel International compiled a list of these events , and we've pulled out some of the best ones for you.

Hanamaki Hoshi Meguri no Yoru | Iwate Prefecture

This year marks the third run of "Hanamaki Hoshi Meguri no Yoru," an event held during winter for guests staying at Hanamaki Onsen. The event is comprised of many elements, including fireworks, folk entertainment, and more. People will also write wishes and messages or draw pictures on their lanterns before sending them up into the winter night sky. Afterwards, they can enjoy a dip in the hot springs at Hanamaki Onsen to warm themselves up and unwind from the day.

Running: January 26, 2020/February 22, 2020/February 11, 2020/February 16, 2020/February 24, 2020

Location: Namari Ski Center
Address: Nakadaira-36-1 Namari, Hanamaki, Iwate

▼Hanamaki Hoshi Meguri no Yoru Tour
https://www.hankyu-travel.com/kokunai/keyword/%E3%81%AF%E3%81%AA%E3%81%BE%E3%81%8D%E6%98%9F%E3%82%81%E3%81%90%E3%82%8A%E3%81%AE%E5%A4%9C/?p_baitai=9599

China Lantern Festival | Chiba Prefecture

Tokyo German Village is hosting its second China Lantern Festival, inspired by the typical traditional festivals held in China during spring. A selection of 30 lantern installations of varying sizes made by the world's biggest lantern maker Lantern Group have been set up in the 50,000 square meter area. Pieces include lanterns over 10 meters long and high, lanterns floating on the water, moving lanterns, and more.

Running: November 23, 2019 – April 5, 2020

Location: Tokyo German Village

Address: 419 Nagayoshi, Sodegaura, Chiba

▼Tokyo German Village Tour
https://www.hankyu-travel.com/kokunai/keyword/%E6%9D%B1%E4%BA%AC%E3%83%89%E3%82%A4%E3%83%84%E6%9D%91/?p_baitai=9599

Tsunan Yuki Matsuri | Niigata Prefecture

Since 2012, the people of Tsunan in Niigata have raised sky lanterns into the sky to pray for the revival from the disaster that the Tohoku earthquake brought in 2011. It is a two-day festival, with the first day of the event taking place at night, and the second being the main day of the festival. The festival is so popular that tickets never fail to sell out quickly every year. It brings with it a host of events, from the lanterns to the snowboard straight jumping tournament, the hanging of snow lanterns, snowmobile rides, and more.

Running: March 14, 2020 (There will also be a lantern event the night before on March 13, 2020)

Location: New Greenpia Tsunan

Address: 12300 Akinari, Tsunan, Nakauonuma-gun, Niigata

▼Niigata Tsunan Sky Lantern Festival Tour
https://www.hankyu-travel.com/chubu-hokuriku/niigata/lantern/?p_baitai=9599

Nagasaki Lantern Festival | Nagasaki Prefecture

This festival was originally held during the Chinese New year by the people of Nagasaki Chinatown, but in 1994 it was given the name "Nagasaki Lantern Festival." To date, it has been attended by over 1 million people. This year, around 15,000 lanterns of varying sizes are set to light the streets. Taking place across several areas, some standout pieces include the peach-coloured lanterns at Nagasaki Chinatown, the ceiling lanterns at Hamanomachi Arcade, the water lanterns at Nagashimagawa Park, and more. On weekends, there are also parades, traditional Chinese performance, and other exciting events. And if you head to Nagasaki Confucian Shrine (also known as Koshi-byo), you can offer a love lantern to pray for happiness in your relationship.

Running: January 24, 2020 – February 9, 2020
Locations: Nagasaki Chinatown/Central Park/Tojin Yashiki/and elsewhere
Address: Various places throughout the city of Nagasaki

▼Nagasaki Lantern Festival

Hankyu Travel International Tour: Hankyu Travel International

Nagasaki Tourism Page: https://travel.at-nagasaki.jp/en/what-to-see/62/

Ryukyu Lantern Festival 2019-2020 | Okinawa Prefecture

Murasaki Mura Ryukyu Kingdom Theme Park is known for having originally been used as the set for several historical drama series, and was subsequently turned into a theme park after filming was finished. The Ryukyu Lantern Festival welcomes a variety of different lanterns, including Chinese lanterns, paper lanterns, various Asian lanterns, and more, each of which bring a completely different atmosphere depending on the area you are in. This year sees the welcome return of the annual lantern contest where 45 individual lantern pieces are exhibited. There are also different street performances every day on the Night Lantern Stage, as well as projection mapping displays, the Night Lantern Cafe, and more.

Running: December 1, 2019 – March 31, 2020

Location: Murasaki Mura Ryukyu Kingdom Theme Park

Address: 1020-1 Takashiho, Yomitan, Nakagami-gun, Okinawa

Murasaki Mura Official Website: https://murasakimura.com/

Be part of one of Japan's many beautiful lantern festivals this year and witness some seriously breathtaking night scenes.

Sleep With the Orca Whales With Kamogawa Sea World's Night Stay Program

Kamogawa Sea World is offering a different kind of aquatic experience later this year with its new "Adult Night Stay" program which will run for 5 set days between December 7, 2019 and January 18, 2020 for those aged 18+.

The program offers a chance to take a photo with the beluga whales as well as watch a special performance from the orcas, which is available to those participating in the night stay as well as guests staying at Kamogawa Sea World Hotel. The aquarium also has some other night-time plans in store which you can't experience during daytime hours.

During dinner, you'll get to watch the orcas swim from the window while dining and chatting with the feeder and trainer of the orcas. The semi-course dinner was conceived by head chef Yamamoto and is made with seasonal ingredient.

After food, enjoy gazing at the giant "Endless Ocean" tank.

Below is the schedule for the two days.

Day 1

・Tropical island behind-the-scenes study

・Pet the beluga whales (includes photo)

・Special orca performance

・Semi-course dinner with feeder and trainer

・Night adventure

・Bathe (At Kumogawa Sea World Hotel or neighbouring facility)

・Stay in front of endless ocean tank

Day 2

・Watch the dolphins

・Breakfast at the Ocean restaurant

・Free roam of the aquarium

Information

Adult Night Stay

Running: December 7, 2019 / December 14, 2019 / January 11, 2020 / January 12, 2020 / January 18, 2020

Age: 18+ years

Capacity: 35 people per day (First-come, first-served)

*Sign-up will run until 10 days before each set day

*If there are less than 20 people for a set day the program will not run

Price: ¥16,500 (Tax Included) *Includes rental of orca design sleeping bag rental

Accommodation: Sleeping in front of the Endless Ocean tank (except December 7 where it will be on the Rocky World floor)

Food: Includes dinner and breakfast

*Dinner includes course dinner and one drink

Sign-Up: Phone bookings open from October 26, 2019 at 10:00 (first-come, first-served)

TEL: Kamogawa Sea World – 04-7093-4803 (10:00-16:00)

Details: http://www.kamogawa-seaworld.jp/aquarium/program/night.html

Kamogawa Sea World

Address: 1464-18 Higashichō, Kamogawa, Chiba

Official Website: http://www.kamogawa-seaworld.jp

Stroll the Edo Streets as an Elegant Samurai and Make Tea in the Feudal Lord's Residence

Sakura, Chiba is home to important cultural heritage and even what is also known as the "Samurai Town". Now you can stroll around the beautiful old streets of Sakura dressed as a Samurai, attend a relaxing zen session and even take part in a tea ceremony as part of a limited period tourist plan. The Samurai tour is mainly aimed at foreigners, however Japanese people who are curious about samurai culture are also more than welcome to join. 

Sakura Castle Samurai Stroll

In 2016, Sakura became one of the four cities of the Hokuso region to be designated as a Heritage site under the title "An Edo Travelogue through Four Hokuso Cities" for its preservation of the old Edo culture. Old buildings full of secrets can be spotted all over the town, creating the old atmosphere of the Edo period. Embrace the elegant remnants of the Edo period with a relaxing stroll in Samurai clothing. Who knows what you might discover.

Your relaxing stroll will be led by a tour guide who knows a lot about the history of Sakura. This is a wonderful opportunity to take beautiful pictures of the historical Samurai house (Bukeyashiki). Your tour guide will also show you Hiyodorizaka, which is a natural path lined with a dense forest of tall bamboo trees where Samurai are said to have often pass by. Every year, the bamboo and wooden sword martial arts sessions in the program are also very popular. 

◇ Running:

October 26

 November 9, 23

 December 14, 21

January 11, 25

February 8, 22

March 12, 28

April 9, 25

May 9, 16

◇ Times: 9:30 ー 12:30

 *The program will still run in bad weather excluding stormy or severe weather.

◇ Prices:

¥6,500 per person (Includes lunch voucher and entry to the samurai house)

* ¥6,000 per person when you purchase tickets as a group of 3 or more.

◇ Tickets

Reservation Website: https://www.govoyagin.com/ja

Apply Directly to Sakura City Tourism Association

TEL: 043-486-6000

Email: sakurashi-kankou@catv296.ne.jp

* Phone calls will be answered in Japanese only.

Zen Meditation and Tea Ceremony in the House of a Feudal Lord

There are also guided zen meditation and tea ceremony sessions which are available for a limited period only. These guided zen meditation and tea ceremonies will take place in the Kyuhottatei ー one of Japan's most preserved traditional-style feudal lord residences. This luxurious Edo-style mansion was built 130 years ago and is classified as an Important Cultural Property.  

◇ Running:

October 16,

November 7, 19

December 6, 18

◇ Times: 9:00 ー 12:30

 *The program will still run in bad weather excluding stormy or severe weather.

◇ Prices:

¥10,000 per person (Includes lunch voucher, entry to the Kyuhottatei and tea ceremony participation fee.)

◇ Tickets

Please enquire directly to the Sakura City Tourism Association

TEL:  043-486-6000

Email Address: sakurashi-kankou@catv296.ne.jp

* Phone calls will be answered in Japanese only.

If you are curious about Edo Samurai culture, you won't be disappointed by this program.

Tokyo Disney Resort to Unlock A Whole New World in 2020: New Area, New Attractions, New Adventures

Tokyo Disney Resort will be telling the guards to open up the gates to an enormous number of brand new attractions, events and much more all at once on April 15, 2020. Over the course of the year, there will be so many exciting events and programs all over the resort that you will be wanting to waltz into Disney Resort® every day. This is the perfect chance to experience your perfect Happily Ever After. 

In short, Alongside the numerous seasonal programs and events, Tokyo Disneyland will be expanding Fantasyland. A new area will be built inside it called New Fantasyland, which is dedicated to the Disney film Beauty and the Beast. There will even be a new attraction called 'Enchanted Tale of Beauty and the Beast', an indoor theatre called 'Fantasyland Forest Theatre', and much more. Along with the new Fantasyland developments, Tomorrowland will be home to the new ride 'The Happy Ride with Baymax' and Toontown is getting an attraction called Minnie's Style Studio. 

New Disneyland Attractions to Open on April 15, 2020

New Attraction: Enchanted Tale of Beauty and the Beast

There will be a brand new large-scale attraction dedicated to the Disney classic Beauty and the Beast. Enter the picturesque village of medieval France where Belle resides. Embark on a journey through the film in a dancing teacup and become part of famous scenes as the nostalgic movie music embraces you. You will want this beautiful moment to last forever.

 New Indoor Theatre: Fantasyland Forest Theatre

This is the first ever full-scale indoor theatre to ever be built at Disneyland and it will reside in Fantasyland. The theme of the theatre is travelling the wonderful world of music with your favourite Disney characters. The live performances to take place on the stage will be undoubtedly dynamic and intense. 

Minnie Mouse Meet and Greet Facility: Minnie's Style Studio

For the first time in forever, Tokyo Disneyland is setting up a greeting facility for Minnie Mouse to greet guests. Head to Toontown to meet fashion designer Minnie Mouse in her beautiful costumes. Make sure to get a picture with her! 

*Toontown, where Minnie's Style Studio is located, will be presented by Kodansha Ltd.

The Happy Ride with Baymax

If you're a fan of Big Hero 6 then this ride is for you. Your favourite personal medical healthcare companion Baymax will pull you along on a thrilling and rather unpredictable journey. 

* The Happy Ride with Baymax is presented by Daihatsu Motor Co., Ltd.

Seasonal Events

Tokyo DisneySea 'Disney Easter' Special Event

March 27- June 12, 2020

Tokyo DisneySea has some incredibly exciting news: The Usapiyo chicks are due to hatch in time for Easter! These mysterious chicks with bunny ears are sure to have your heart hopping with happiness. They will be taking part in a show held at the Mediterranean Harbor. The Usapiyo will be joining Mickey Mouse and the gang to celebrate spring and fill your heart with excitement and fun. 

 

Tokyo Disneyland Special Program: 'Happy Fair with Baymax'

June 4 – November 1, 2020

This program will take place in Tomorrowland and will see the park filled with decorations, photo spots, merchandise and menu items themed on Big Hero 6. Your excitement levels are bound to inflate dramatically!

These are just a few exciting events that 2020 holds in store. Be Prepared for some fun!

*All images in this article are illustrations. 

©Disney

Gamers! Rally Your Teammates For A New Quest: TOKYO GAME SHOW

The TOKYO GAME SHOW is in a league of its own. It is a mecca for gamers who cannot get enough of Japanese games and entertainment. This is where Japan's major game publishers from all kinds of platforms unite to put on an enormous exhibition. 

This includes the opportunity to explore games that are yet to be released as well as hear new announcements about the direction developers are steering the future of gaming. There's no lagging behind. This is a major event for the gaming industry, raking in leagues of heroes every year. 

On August 28, a total of 2,417 game booths were announced, which is the largest number the event has ever seen in its history. This event is home to games on a range of platforms including for console, smartphone and PC. The enormous variety of genres includes the most cutting-edge and latest trends including Esports, VR and much more.

For those of you who love cosplay, this event is your chance to finally meet your fantasy. The outside area of Hall 9 will have a Cosplaying Area Stage where two events will take place: a cosplay fashion show and a gathering. 

On Saturday 14th, Hall 1 event stage will hold the Cosplay Collection Night@2019 event where participants and event staff will take over the stage in game character cosplay. Spectating is free, so feel free to watch as each cosplayer dominates the entire stage, showing off their excellent craftsmanship and skills as they walk the runway and strike a pose definitely worth saving in your highlights! 

On Sunday 15th at 2:30 pm, cosplayers will take to the stage in units of two or more to put on a dance or combat show that you just cannot critically miss out on. 

Schedule:

September 14 (Sat)  From 12:00 ー Cosplay Runway  From 15:30 ー Cosplay Runway

September 15 (Sun) From 13:30 ー Cosplay Runway From 14:30 ー Cosplay Dance and Combat Shows From 15:30 ー Cosplay Runway

The Gathering is where cosplayers can interact with one another and have photos taken ー the perfect opportunity to send those friend requests. On September 14, a gathering dedicated to the Final Fantasy Tales Series will take place on the Cosplay Area Stage. On September 15, there will be gatherings for the Dynasty Warriors and Samurai Warriors series.

Schedule:

September 14  13:00-13:30 Final Fantasy Series Gathering  14:00-15:00 Final Fantasy Tales Series Gathering 

September 15 12:30-13:00 Dynasty Warriors and Samurai Warriors Series Gathering

More information on the exhibitions, booths and events will be announced on the morning of September 12 so please check it out. 

There is no better way to multi kill your time than to spend the entire day at TOKYO GAME SHOW 2019 ー get your tickets and GLHF!

Information

TOKYO GAME SHOW 2019

Event Information

Business Days*: September 12 & 13, 2019 (10:00~17:00)

*Business Days are open to industry and press only.

Public Entry*: September 14 & 15, 2019  (10:00~17:00)

*Doors may open at 9:30 am according to conditions on the day.  

Venue: Makuhari Messe (Mihama Ward, Chiba)

Exhibition Halls 1-11/ Event Hall/ International Conference Hall

Entry Fee: Advanced tickets: ¥1,500 (after tax)

On The Door: ¥2,000 (after tax)

Those under Elementary School age can enter for free (public entry days only)

Official Website: https://expo.nikkeibp.co.jp/tgs/2019/en/

Tokyo Disney Resort Reveals Its Spooky Halloween Programme and Character Costumes

Get ready for some spooky fun as Tokyo Disney Resort® transforms for the 52-day-long horrifically exciting Disney Halloween from September 10 to October 31. Head to DisneySea to be captivated by the new harbor show Festival of Mystique, or get spooked out of your skin at the Spooky "Boo!" Parade at Disneyland. Today, we will be revealing the spooky looks of both parks.

Tokyo DisneySea Festival of Mystique Costumes

Working with the main theme of a medieval European halloween, inspiration has been taken from the living creatures and waves at the port town Porto Paradiso. 

Mickey Mouse's costume inspiration comes from the the bones and scaly body of a sea creature. He will also be seen wearing a broach decorated with beautiful jewels. 

Minnie Mouse's costume resembles that of a medieval princess. You will see her in a fancy hat that bears beautiful pearls. Her costume is covered in scales on the chest and on the back which really suits her.

Tokyo Disneyland's Spooky Boo! Parade Costumes

Disney friends have joined forces with a group of spooky spirits. You just can't miss out on this rare chance to see your favourite Disney characters disguised as ghosts and skeletons. The strange and unusual atmosphere is sure to send a chilling shiver down your spine. 

Mickey and Minnie will be completely refreshing their colourful look. Mickey's necktie and Minnie's skirt are very mysterious and particularly intriguing.  Please come check them out!

Enjoy the beautiful costumes and the fun range of events this Halloween at Tokyo Disney Resort.

©️Disney

Celebrate Hello Kitty's 45th Anniversary at the Hello Kitty Collection Exhibition in Chiba

Lovers of Sanrio and all things Hello Kitty won't want to miss the 45th Anniversary Hello Kitty Collection Exhibition currently being held at Sogo Chiba until August 15.

The event look backs at the kawaii history of Hello Kitty with a huge range of old and new merchandise. There's also photo spots for taking cute photos, a wall of Hello Kitty plush toys, touch interactive digital videos, and much more.

If you're looking to stock up on your collection of Hello Kitty merch then you have around 850 items to choose from including goodies exclusive to the event, pre-sales of items to be released at a later date, and more. There's even a pottery workshop as well as a chance to take your photo with the real Hello Kitty.

Kawaii Chronicles: Hello Kitty Design Museum

Get ready to witness a wide selection of Hello Kitty goods from across generations, including rare and vintage items no longer manufactured. Witness the history of Hello Kitty's kawaii world and how things changed through the years to fit each generation.

Digital Content & Plush Toy Wall

Get interactive with Hello Kitty with the wall mapping – touch the wall and see the visuals change. There's also another wall completely full of Hello Kitty toys which makes for a really cute photo opportunity.

Photo With Hello Kitty

Hello Kitty will be present on August 12 in a beautiful kimono ready to have her picture taken with you! Tickets will be handed out 30 minutes before each session. Spaces are limited so make sure you're on time!

Date: August 12, 2019 at 11:00/13:00/15:00

Location: Floor 6F Event Hall

No. of People: 20 per shoot

Workshop

Paint your very own ceramic Hello Kitty ornament. You colouring it means that yours will be unique and the only one in the world♡

Running: August 7, 2019 – August 15, 2019

Time: 11:00-16:00

No. of People: 30 per day

Price: ¥1,296

Hello Kitty Kawaii Market
Get your hands one one of 850 pieces of Hello Kitty merchandise from plush toys to stationery, interior items and more. Many of these items are exclusive to the exhibition.

Mascot Holder – ¥1,728 (400 Available – 1 Per Person) / Acrylic Key Ring – ¥648 / Mug – ¥1,080 / Hand Towel – ¥756

Replica Classical doll – ¥17,280 / Mini Mascot Brooch (20 Designs) – ¥1,080 Each (1 Per Person) / A4 Folders (Includes 2) – ¥486

Enter the adorable world of Hello Kitty this summer and help her celebrate her 45th anniversary.

Information

45th Anniversary Hello Kitty Collection Exhibition

Running: August 7, 2019 – August 15, 2019

Time: 10:00-20:00 (Until 17:00 on August 15) *Last entries are 30-minutes before closing time

Location: Sogo Chiba Floor 6F Event Hall (1000 Shinmachi, Chuo Ward, Chiba, Chiba Prefecture)

Price: Adults & University Students ¥500 (High School Students & Younger – Free)

*Those with a disability certificate can enter the exhibition for free (including one guardian)

Sogo Chiba Official Website: https://www.sogo-seibu.jp/chiba/

SORAMIDO BBQ: A Premium BBQ Serving at Kasai Rinkai Park in Chiba

Kasai Rinkai Park in Chiba is set to open SORAMIDO BBQ April 16 where you can enjoy a higher grade BBQ with meat, seafood and more all made with fantastic ingredients on a top quality grill.

Kasai Rinkai Park is easily accessible from central Tokyo and looks out over Tokyo Bay and Umihotaru, an artificial island. The BBQ is situated at a wooden terrace deck which lets in the sea breeze and feels like a resort holiday. It can also be used for all kinds of parties.

Food will include top grade meat such as Angus beef, rib eye steaks, pork chops made from Iwanaka pork, vegetable skewers. Other treats include whole-fried broccoli, grilled al ajillo with jumbo mushrooms, tacos and more.

The grill used is by Weber. It's easy to use and rarely overcooks ingredients, keeping the fish and meat juicy and the vegetables sweet and delicious.

SORAMIDO BBQ: ¥6,000 (Before Tax) *3-hour allocation

There are three food plans on offer: the standard "SEASIDE VIEW," "SORAMIDO which comes with lobster, curry and more, and "PREMIUM" which comes with lobster, salmon and other items. Each BBQ course comes with all-you-can-drink soft drinks. You can upgrade to all-you-can-drink alcohol for an extra ¥1,500.

KID'S BBQ: ¥800 (Before Tax)

There's also a kid's option for families. Enjoy a comfortable yet luxurious BBQ surrounded by nature.

Chibi Maruko-chan Store to Open at LaLaport TOKYO-BAY in Chiba

A new Chibi Maruko-chan store is opening for a limited time at the LaLaport TOKYO-BAY shopping park from March 15 to May 8.

Around 400 pieces of Maruko-chan merchandise will be sold including pre-sale of 10 new items featuring cute honey designs of Maruko and her friends.

Tin Candy: ¥800 (Before Tax)

A whole bunch of original items will be sold including blueberry honey, tinned candy and more, all with adorable illustrations.

Limited-edition postcards will also be given out for those who spend over ¥1,000 at the shop (tax included). These are available on a first-come, first-served basis, so don't miss out!

Information

TOKYO-BAY Chibi Maruko-chan Store

Location: LaLaport TOKYO-BAY North Building Floor 2F N-SPOT (2-1-1 Hamacho, Funabashi, Chiba Prefecture)

Running: March 15, 2019 – May 8, 2019

Time: 10:00-20:00 (Until 21:00 on Fridays, Weekends and Holidays)

TEL: 047-404-4303 (*Available from March 14)

More information regarding the event will be posted on the official Chibi Maruko-chan website and social media.

Official Website: http://chibimaru.tv/

©Sakura Production / Nippon Animation

GEAR East Version Music & Dance Performance Show Celebrates 1-Year Anniversary

'Non-verbal performance' show GEAR East Version has run its exceptionally unique show at a small theater in Japan over the past year and will pass its 1st anniversary on December 22, 2018. To celebrate, the cast have recorded messages that will be played in the lobby for a limited period, and limited-edition merchandise will be sold.

GEAR East Version allowed free entry to children back in summer as well as offered a special ¥1,000 senior discount to those aged 60+ in autumn. It has become a new must-visit location in Chiba and enjoys popularity with both adults and children.

Comment: Toshihito Kumagai (Chiba City Mayor)

"I give my heartiest congratulations to GEAR East Version which has turned one-years-old. It has actively endeavored to carry out numerous measures in Chiba including expanding the opportunities for the people of the city to experience and appreciate the excellent culture of the arts. It is a wonderful occasion that this performance will continue to be held. I pray for the continued success of GEAR East Version and the good health and happiness to all of those involved."

Comment: Eimi Naruse (Dempagumi.inc / Fujisaki Ayane: Doll Character)

"Congratulations GEAR East Version on one year! ☆ I went to see this show because Pinky from my group Dempagumi.inc was performing in it. Just about everything was fresh and warm and sparkly. When it was over I just sat there for a while blown away. More than anything though Pinky's doll's hands and feet movements were beautiful and really cute! I definitely want to go and see it again! ☆Honestly, congratulations☆"

Comment: Uki Satake (9nine / Hirona Murata: Doll Character)

"Congratulations on the one-year anniversary! I was especially taken aback by the performance that used lights! It's a show that deeply moves you despite there being no words, so I think it's something that can be enjoyed by men and women of all ages as well as foreigners who don't speak the language. I want everyone to see Hiroro [Murata's] doll character, something you can't see when you go to see 9nine [live] ♡ I want to go again, too!"

Comment: Rika Mayama (Shiritsu Ebisu Chugaku / Ayaka Yasumoto: Doll Character)

"Congratulations, GEAR East on your one-year anniversary! Despite being in charge of talking [to the crowd during concerts for our group] Yasumoto stood up on stage for a non-verbal performance. In the dressing room we have a joke where she moves like a doll for us! So one day I want all of [the group] members to act like dolls at shows!

Information

GEAR East Version 

Location: Chiba Port Theater – Floor 5F, 1-35 Tonyacho, Chuo Ward, Chiba

Performance Times

Fridays – 13:00/18:00

Weekends – 12:00/17:00

National Holidays (From January 2019) – 12:00/17:00

Price: Adults ¥4,200 / University Students ¥3,700 / High & Junior High School Students ¥2,200 / 4-years-old to Elementary School Students ¥2,200

*Listed prices are advance payments. An extra ¥500 is added if bought on the day.

*A Kid's Day performance takes place on the first and third Saturday every month at 12pm (free for those aged 3 and below)

GEAR East Version Official Website: http://portsquare.jp/portcircle/geareast/news/1335

Firefly Viewing Sessions to Take Place at Narita Dream Dairy Farm

Chiba Prefecture's tourist spot Narita Dream Dairy Farm (Narita Yume Bokujo) is holding four firefly exhibitions on June 2 and 3 and July 14 and 15.

The viewing sessions will take place in a specially set up pitch-black room where people can enter to see the magical glows of fluttering fireflies around them, creating an experience like that of being in space surrounded by stars.

The name of the event is Hotaru no Yuube ('Evening Fireflies'), and the days it will be held will see the farm specially open at nighttime where several other events will also take place, including sledging whole surrounded by illuminations, seeing a lit-up area filled with animals, and more.

There are plenty of other events for kids to look forward to as well, including making light-up bouncy balls in June and a firefly research project in July. Enjoy these firefly-related events too before seeing the fireflies themselves.

In the olden days it was common to see fireflies in places close to us like rivers and rice paddies. Now you can see them at a dairy farm―and Narita Dream Dairy Farm is the only place that offers that, giving you the chance to see fireflies up so close!

Why not invited friends and family for this magical experience?

■Information

Hotaru no Yuube ('Firefly Evening')

Address: Narita Dream Dairy Farm, 730 Nagi, Narita, Chiba Prefecture

Running: June 2, 2018 / June 3, 2018 / July 14, 2018 / July 15, 2018

Time: 19:30-21:00 (Last Entries 20:30) *Open until 20:30 on June 3 (Last Entries 20:00)

Price: ¥300 (For those aged 3+. Separate fee applies for entry to the farm.)

Farm Entry Price (From 17:00)

Adults (13+): ¥200

Children (3+): ¥100

No pet fee required for dogs.

TEL: 0476-96-1001

Website: http://www.yumebokujo.com

*Free parking from 17:00.

*5-minutes for each person in the firefly room.