The Biwako Beer Boat sets sail starting from June 20 as part of a summer-only cruise plan at Lake Biwa.
You'll get to experience the full atmosphere of a beer garden while on the water while enjoying the cool breeze of the evening air. Dine on finger food while chugging all-you-can-drink beer or order an all-you-can-eat buffet for ¥5,000 as you gaze at the gorgeous sight of Lake Biwa and the night sky. There's also all-you-can-drink Yebisu Beer.
The name of the cruiser you'll ride is Megumi. She'll be initially be anchored at Otsu Port and open for business at 5:30pm. There will then be two 45-minute cruising sessions which run from 6:30pm-7:15pm and again at 7:30pm-8:15pm after which she will close for the night. You can board while ever the boat is parked at Otsu Port.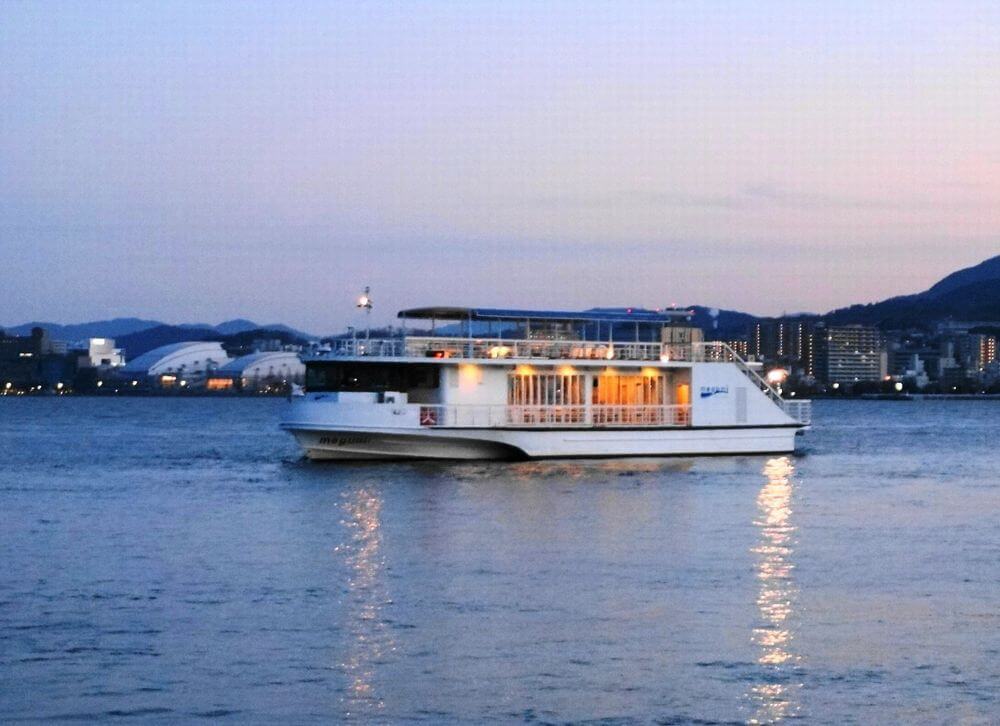 What's better is that you don't have to make a reservation either, just turn up. Board Megumi during the hot summer and bask in the refreshing lake air at Lake Biwa!
■Information
Biwako Beer Boat
Location: Otsu Port (3-minutes on foot from Biwako-Hamaotsu Station via Keihan Electric Railway)
Opening Hours: 5:30pm-8:15pm (Two 45-minute cruising sessions will run at 6:30pm-7:15pm and 7:30pm-8:15pm respectively)
Running: June 20, 2018-September 13, 2018 on Wednesdays, Thursdays and Fridays. There are exceptions however, so please check the company website for details.
Price: ¥5,000 per person (Includes boarding fee, food and drink, and tax) *There is no discount fee for children.
Boat: High-Speed Craft "Megumi" (Approximately 122t, Capacity: 200)
No. of People: 40 maximum (*Reservations not required but you may be refused entry if the boat is full. Please make a reservation if you're going in a group.)
TEL: 077-524-5000 (9am-5pm)
Website: http://www.biwakokisen.co.jp
RELATED ENTRIES
5 Must Visit Cafes in Shiga Prefecture: Coffee, Desserts & Lunch – MOSHI MOSHI NIPPON

Having recommended many cafes to our readers in Kyoto and Osaka, we felt it time to move to another prefecture in the Kansai region of Japan. This time, we're looking at Shiga, and we're joined by Instagrammer

Tiara

who posts photos of their trips around Kansai eating sweets. They have kindly provided us with photos along with explanations of 5 must-visit cafes.

and f CAFE in Moriyama

and f CAFE is popular for its fresh fruit-filled parfaits and assortment of refreshing drinks. The cafe is adorned with many different plants. Up on the second floor is a spacious kid's area, which makes it a popular location for people with children. There are even private rooms you can take your pets in, as well as mini dog park seats where you can sit with your dog.

Morning-Harvested Strawberry Bread / Morning-Harvested Strawberry Latte

Feast on an enormous thick-sliced piece of fluffy bread loaded with a homemade cream that's made with mascarpone cheese and not too sweet, and topped with sweet strawberries, which have their flavour elevated thanks to the cream. The latte is also topped with super sweet strawberries.

▼and f CAFE (アンドエフ カフェ)

Address: 208-5 Futamachicho, Moriyama, Shiga Prefecture

Opening Hours: Lunch 11:00-16:00 / Cafe 11:00-18:00

Closed: Sundays

cafe de Boku in Moriyama

cafe de Boku was actually renovated from an old-time sake brewery with a rich history. It's furnished with lots of antique furniture. Their lunch menu is packed full of healthy vegetables, and they haven't skimped on desserts either, boasting a range of parfaits and tarts made with fruits grown in Shiga.

The parfait I had was topped with a variety of fresh and juicy strawberry called akihime, grown in Dainaka. They go lip-smackingly well with the rich flavour of the milky ice cream. Part of the fun of eating the seasonal parfaits as cafe de Boku is that the parfait changes with each passing season, so it's fun to look forward to what they'll have next time.

The cafe also sells a variety of takeout baked confections, making it a great place to stop by to pick up some nibbles for yourself or to share with friends.

▼cafe de Boku (カフェ デ ボク)

Address: 1-10-2 Moriyama, Moriyama-shi, Shiga Prefecture

Opening Hours: 11:00-17:30

Closed: Thursdays

Cafe Marvel in Otsu

A window seat at Cafe Marvel means you get to watch the trains go past along the Keihan Electric Railway. This beautiful cafe has a wonderful interior with its wooden tables and chairs. They have a unique lunch menu, which is limited to just ten options, and those options change every day. In addition to the mains and soups, there's around six deli-type foods to pick from.

Fried Yuto Shrimp & Crab Cream Croquette With Omurice

I ordered the fried yuto shrimp and crab cream croquette with omurice. The tasty fried shrimps are nice and big, and the cafe's original tartar sauce is to die for. This is a pretty hearty lunch, but it's so delicious you get through it quickly. It might be a good idea to check out their menu sheet which shows what's been served each month, that way you can plan what you want to eat.

▼Cafe Marvel (カフェマーベル)

Address: 5-9 Goryocho, Otsu, Shiga Prefecture

Opening Hours: Not known

Closed Days: Not known

W.Bolero in Moriyama

W.Bolero is a cafe selling luxurious Western-style confections. Tucked away quietly from the hustle and bustle of the city, their dining space has an antique aesthetic. They sell cakes, sweets, chocolate, pastries, and more.

It has been called the number one confectionery shop in Saga because anything you eat there is exquisite. They also allow for takeout.

There is also a branch of this cafe in Osaka, but at the Saga branch, with its warm and welcoming homely vibe, you can enjoy your coffee and cake at one of the terrace seats.

▼W.Bolero (ドゥブルベ・ボレロ)

Address: 48-4 Harimadacho, Moriyama, Shiga Prefecture

Opening Hours: 11:00-20:00

Closed: Tuesdays

Mov's TOWN & COFFEE in Otsu

Mov's TOWN & COFFEE is another cafe with a relaxed atmosphere. It was renovated from a traditional Japanese house, and its interior design is Denmark-made. As well as comfy chairs, they even have sofas, so you can kick back with a cup of coffee or other beverage.

Left: Cafe au Lait / Right: Coffee Jelly

The subtly sweet  coffee beans used for the coffee in the cafe au lait are provided by a coffee roasting company based in Moriyama, Shiga called Comeyasu. The creamy coffee jelly contains a cream sauce with a fragrant kirsch and coconut smell. They also sell a variety of other drinks like healthy organic juices.

▼Mov's TOWN &COFFEE (モヴズ タウン&コーヒー)

Address: 1-56 Miyukicho, Otsu, Shiga Prefecture

Opening Hours: 10:00-8:00

Closed: Wednesdays / Every 3rd Tuesday of the month

We hope you enjoyed this list. If you'd like more recommendations of cafes around the Kansai region then be sure to follow Tiara on Instagram.

Original Text & Photos: @happy_pinkrose_tiara

Translation: Joshua Kitosi-Isanga

*Information written in this article is correct at the time of publishing. For more details on each shop, please visit their official websites and social media pages.

Shaun the Sheep Farm Garden to Open on March 31

A new amusement facility themed on the British stop-motion series Shaun the Sheep named Shaun the Sheep Farm Garden is set to hold its grand opening on March 31, 2019. A special preview was carried out for the press on March 19. In the run up to the grand opening, the park will pre-open for general admission from March 23.

 

The facility is opening adjacent to English Garden Rosa & Berry Tawada, a 5,000m2 farm where you can come into contact with sheep.

This is Japan's first ever permanent establishment for Shaun the Sheep. It will be home to a farmer's house, a sheep shelter, and Shaun himself and his sheep friends will also be present. There is also a cafe on the east side of the facility as well as an event house and more.

Dive into the world of Shaun the Sheep at his Farm Garden!

Information

Shaun the Sheep Farm Garden

Address: 605-10 Tawada, Maibara, Shiga Prefecture

Opening Hours: 10:00-17:00

TEL: 0749-54-2323

Price: General (12 Years Old+) ¥1,000 / Children (3+ Years) ¥500 / Infants (2 Years and below) Free

*Tax included in prices

Official Website:  http://www.rb-tawada.com/farm-map/shaun.html

Rent Out An Entire Japanese-Style House in Shiga Prefecture

Taraichi Tei is an old fashioned Japanese-style inn that has just opened in Makinocho, located in Takashima in the beautiful green prefecture of Shiga. The building is a fusion of ages with the outside bearing the style of a Japanese inn of old and the inside combining tradition with modern.

While IH cooking heaters have played an important role for the irori sunken hearth, kamado cooking range and goemon bathtub, they are now also used in kitchens and plumbing. The inn is also equipped with these. It also has the latest style bath and toilet as it continues to combine elements of a traditional inn with the latest Japanese technology for guests to experience.

The previously vacant building was built over 150 years ago and has been renovated to re-open as a rental house. It is fully decked out with fittings like sliding doors and building materials that offer a true old-fashioned Japanese style house experience.

Bookings come with a meal included. For the winter season they are serving shishinabe boar meat hot pot and in summer they will serve food cooked in the irori. The staff will also prepare rice.

The selling point of the inn is the traditional goemon bath made entirely from Japanese cypress. They also have an alternative bathtub of the latest style. But for the real experience you should try the traditional tub.

If you're travelling to Japan and are looking for that real Japanese experience of staying in an old style house then be sure to check out Taraichi Tei.

Information

Taraichi Tei

Address: 145 Makinochō Kamikaide, Takashima, Shiga Prefecture

Bookings/Enquiries: https://www.taraichi.com/

Terahaku, a website run by Wa-Qoo that offers bookings to stay at temples in Japan, will begin taking bookings to stay at Wa-Qoo Mii-dera from August 1, 2018.

Wa-Qoo is designed to offer guests the experience of what it would be like to stay at a temple and operates to bring the average person closer to temples. It was formally used as a place for monks, Shinto priests and worshippers to stay, but it now accepts travellers and tourists.

The facility has expanded to accommodate the changing times and use by visitors. As well as being able to stay there, you can experience zazen meditation, hand-copying sutras and other cultural aspects of temples. Its a place with rich cultural experience which has led to an increasing number of foreign guests every year.

They are also taking bookings to stay in the priests' temple quarters of Mii-dera Temple which has been renovated. You can see Lake Biwa from the temple which is known as one of the Eight Views of Omi.

If you're looking for a stay full of culture, then be sure to check out Wa-Qoo Mii-dera.

■Information

Wa-Qoo Mii-dera

Address: 246 Onjojicho, Otsu-shi, Shiga Prefecture

Bookings: From August 1, 2018

Bookings can be made on the Terahaku website and via Rakuten LIFULL STAY, Vacation STAY and other hotel booking services inside and outside Japan.

Official Website: https://terahaku.jp

"Okuibuki Snow Resort" in Shiga Prefecture will be opened until April! Let's enjoy skiing and snowboarding

Okuibuki Snow Resort is the largest ski slope in the Kansai Region located in Yonehara-shi, Shiga Prefecture. The site will be opened until the 8th of April.

​During March/April when spring skiing can be enjoyed, it is easy to get to the  ski slope since there is no snow on the roads. You don't have to use winter tires for  most of the time and the weather conditions of the ski slopes are    good for most of the time.

​

Events which offer discount lift tickets will be held on special days and periods such as Couple's DAY, School appreciation Day and Junior/Senior appreciation Week.

In addition, parking fees during weekdays will be free from the 5th of March.

Moreover, a "Garden Chair"area where you can view the slopes, will be installed in the open terrace. Why not enjoy winter sports during this spring season with your family, friends or your boyfriend/girlfriend!

■Information

Okuibuki Snow Resort

Business hours: until 2018/04/08

Address: Okuibuki, Kozuhara, Yoneharashi, Shiga Prefecture

Business hours: 8:00 to 17:00 (detailed information – please refer to the website)

TEL:0749-59-0322

Website:https://www.okuibuki.co.jp/en/