Discover a side to Harajuku you've never seen before on our featured column, MOSHI MOSHI SHOPS!
Bringing new cultural trends through fashion, you're sure to find a fashion item that'll fit your most specific street wear needs at "Kinetics."
Focusing their selection on high-end street wear/casual wear, "Kinetics" is the perfect meeting point for fashion and culture, a spot where you're always bound to fall onto something new. Offering a lifestyle branching from street wear fashion, they've recently been active in collaborating with trend-sparking brands, blossoming themselves into a versatile hub of fashion and culture.
Aside from curating a rich selection full of well-known street brands, they've also got their original brand that also runs under the name Kinetics. Kinetics shop staff speaks, "We set out all the cultural tools such as music, art, and skating onto the table and arrange it to create what we consider "city fashion," we bring together multiple styles such as outdoor, military and distill them into daily wear." They've got a fun selection where you can enjoy every standard item to its last breath by owning its worn out, faded look.
To place an emphasis on the idea of them challenging new boundaries and being fearless in trying something new, they've chosen the word "Kinetics" to shape their brand — and here on MOSHI MOSHI SHOPS, we dig into Kinetics to offer a fresh and ever exciting side to Harajuku.
BENNY GOLD GLIDER TIE DYE TEE
3,628 yen (tax incl.)
Imported brands include NIKE SB, DQM, HUF, SUPRA — major street brands that you've got to dig to discover on the streets of Tokyo, but Kinetics rarely disappoints.
They've got BENNY GOLD, known for their wood/airplane signature motifs; Primitive that has given a large impact on the skate scene and V/SUAL who are known for their impactful fonts used on their t-shirts.
"Obviously it's great to have buyers embrace the street/skate culture, but ultimately we want them to own what they choose to wear" (Shop staff)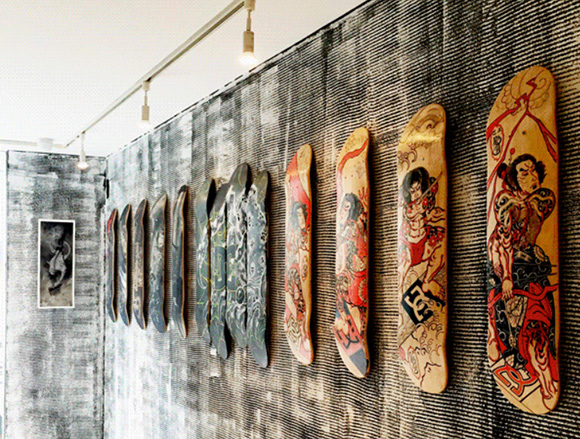 2015 saw the opening of "Kinetics SB," another shop stemming from "Kinetics" that concentrates more on a lineup drawn from the high-end skate fashion boutique. Once you enter the store, skateboards with wild Japanese designs welcome you and surround you, and you'll immediately notice how they've graciously combined the skate culture with a portion of Japan.
Keep an eye out for their latest Kinetics x Columbia collab items out this month!
Kinetics
4-31-2-1F Jingu-mae, Shibuya-ku, Tokyo
Tel: 03-5411-4285
Hours: 11:00~20:00
English OK
7 min walk from Harajuku station (JR Yamanote line) Takeshita exit
2 min walk from Meiji Jingu-mae (Tokyo Metro)
Kinetics SB
Address: 3-24-2 T's-3 Jingumae, Shibuya-ku, Tokyo
tel:03-6447-0351
Hours: 11:00~20:00
English OK
6 min walk from Harajuku station (JR Yamanote line) Takeshita exit
6 min walk from Meiji Jingu-mae (Tokyo Metro)
—
Words: Kenji Yoshida(SHUTTER)
RELATED ENTRIES
Upcoming One Piece Netflix Series Coming in 2023, First Live-Action Visual Revealed

Netflix has announced that it will release the live-action adaptation of One Piece worldwide in 2023.

One Piece is one of Japan's most popular and long-running manga series. Created by Eiichiro Oda, the manga has sold over 500 million copies worldwide.

The series was serialized in Weekly Shonen Jump in 1997, starting with the protagonist Monkey D. Luffy going on a journey with the Straw Hat Pirates to find the One Piece, a treasure that was left behind by the legendary "Pirate King" Gol D. Roger.

The live-action project has gained a ton of attention on social media, with the cast being revealed in 2022. As the world awaits more production news, the first live-action visuals have been released along with the news that the series is coming in 2023.

Following the hugely positive feedback for ONE PIECE FILM RED, fans are ready to see the Monkey D. Luffy once again in the first episode of the Netflix series titled ROMANCE DAWN – Dawn of Adventure-.

In the original series, Luffy, who admires the great pirate Shanks after meeting him in his hometown of Foosha as a child, decides to become the Pirate King, taking to the open seas to make his dream come true.

During his unpredictable adventures, Luffy meets a group of friends who he can always trust.

The newly-released visual shows Luffy (played by Iñaki Godoy) in his trademark straw hat, raising his right fist to the sky.

On his Instagram page, Godoy often posts pictures of his friends and fellow cast members including Mackenyu (Roronoa Zoro) and Jacob Gibson (Usopp). Fans have been largely pleased with the casting choices.

The extraordinary success of ONE PIECE FILM RED made headlines in 2022, as the film topped the yearly box office in Japan. It finally ended its theatrical run on January 29.

Will you be tuning in to the live-action Netflix series?

(C)尾田栄一郎/集英社

KAWAII LAB. Report #18: The Lowdown on FRUITS ZIPPER's New Track 'Happy Chocolate' ♡

FRUITS ZIPPER released the new song Happy Chocolate on February 1, 2023. Happy Chocolate was written by Shou Yamamoto, who previously wrote the group's smash-hit second single Watashino Ichiban Kawaiitokoro, which currently has over 600 million views on TikTok.

In this new report, we sat down to interview the members about their new song Happy Chocolate. Read on to see more about the new track's cute choreography, highlights of the lovey-dovey music video, and much more!♡

–What kind of a song is Happy Chocolate?

Luna: "This Valentine's Day song is packed with tons of cuteness. It's one of those songs you'll catch yourself humming to and can't get out of your head! My favorite lyrics are "I want to reward myself with my love," and "I want to reward myself starting today!" I want to reward myself every day for my hard work."

–What were your first impressions of the song?

Amane: "I thought it sounded so cute and happy. When I heard that it was a Valentine's Day song, I was shocked that it was already that time of year!"

Mana: "I couldn't get the chorus out of my head, and even before I learned the whole thing, I was humming it constantly. I instantly thought that when the song was released, it would be stuck in people's heads for a while!"

–The Happy Chocolate dance is super cute. What do you focus on to make it extra adorable?

Karen: "The video is full of us eating chocolate, and the trick making that extra cute is to focus on how you take a bite!"

Noel: "I think it's pretty easy to make a dance cute if you dance with lots of chocolate in mind! When you're dancing, think about how sweet chocolate is, how much you love it, and how yummy it is! ♡"

–Tell us your favorite part of the Happy Chocolate music video!

Yui: "I hope everyone enjoys this music video with all of us eating chocolate together!
There is a cutout with a hashtag somewhere, so be sure to take a look at it and see what it says.🥰 Personally, I hope you don't miss the face about 3 seconds before the end of the music video!" ♡ (Laugh)

Suzuka: "I love the scenes where everyone is dressed up cooks making chocolate.♡
In the first take, everyone was really cooking without paying attention to the camera. It was a real FRUITS ZIPPER moment (laugh).
Our outfits are so cute too! ♡♡
Also, look at the rings on my fingers, they are so cute!"

–Do you have any messages for the fans?

Yui: "I think this song is an interesting and extremely cute pop song. I think FRUITS ZIPPER shows off so many kinds of kawaii♡ It's NEW KAWAII!" ♡ (Laugh)

Happy Chocolate is a wonderful song that will not only make your heart pound this Valentine's Day, but will also bring you plenty of happiness!

Please listen to it! 🥰"

Karen: "Sweet, sweet, sweet, sweet, please fall in love with Karen!"

Happy Chocolate will be performed live for the first time at the FRUITS ZIPPER 1st One Man Tour 2023 -WINTER- ♡BE AT THE HEART♡ concert. Only general tickets are on sale for the expanded capacity show at Namba Hatch in Osaka on February 5 and the tour's final show at LINE CUBE SHIBUYA in Tokyo on February 12, so grab them while you can!

Atarashii Gakko! Joins Amazon Music's Family Friendly Series 'Hee! Hee! Hoo!"

Amazon Music's first music entertainment show for kids and families to be released in Japan is here! Hee! Hee Hoo! premiered on Prime Video on January 26. The four-member vocal and dance group Atarashii Gakko! is also participating in the project.

Hee! Hee Hoo! is a body-themed four-episode series featuring surreal and psychedelic visuals along with Amazon Music Original music for young kids and their parents. This project was made to entertain and educate babies and children by using original images and music to address the physical changes they'll experience from birth to death and to explain the sensations they feel.

The members of Atarashii Gakko! appear in the first episode, performing the song BABY which was written exclusively for the show.

<Comment from Atarashii Gakko!>
"The theme for this show is so great–the four of us had so much fun coming up with ideas, writing lyrics, and making choreography! I hope even fetuses can enjoy it!!"

Information

Hee! Hee! Hoo!
Streaming on Amazon Prime Video (4 episodes total)
*Anyone with an Amazon.co.jp account can watch.

Episode 1: Aren't Toes Amazing?
Guest: Atarashii Gakko!
Song: BABY
URL: https://www.amazon.co.jp/dp/B0B8MSWK19

Vocaloid Producer Balloon Releases Hatsune Miku's Image Song for Sony's 360 Reality Audio

Keina Suda, also known by his Vocaloid producer name Balloon, has been rising in popularity with the release of the music video for his new track Darling. On May 24, he'll release his second full album Ghost Pop, and his track Hana ni Kaze is being used to promote Hatsune Miku's 360 Reality Audio Experience at the Sony Store. This catchy track will be released on all major streaming services on February 10, 2023. In addition, the cover for the song, created by Avogado6,  has also been revealed.

The song was created exclusively as the campaign song for Sony Store's exclusive Walkman and accompanying headphones featuring exclusive Hatsune Miku designs by Avogado 6. These are available to order now, and starting January 27, Sony Store locations are offering a new listening experience, allowing guests to enjoy Hana ni Kaze with Sony's 3D Reality Audio.

In addition to this listening experience, a special viewing event was held in theater rooms, making guests feel as though they were at a live concert. Reservations were required to participate.

Visit the official Sony website for more information!

Call of Artemis from D4DJ Releases First Album, D4DJ Groovy Mix Cover Tracks Vol. 7 Also Drops

Call of Artemis is a legendary all-girl DJ group from Bushiroad's D4DJ media mix project.

The group is composed of Airi Amano (Nana Mizuki), Shano Himegami (Raychell), Mana Kase (Arisa Komiya), and Toka Takao (Hinako Umemura), all of whom bring incredible power and talent to the stage. On January 25, the group released its first full-length album.

The album is filled to the brim with epic tracks including the new song I don't wanna lose, written by Tetsuya Komuro.

The album also comes with a Blu-ray featuring live footage from D4DJ D4 FES. LIVE – ALL IN, held at the Fuji-Q Highland Conifer Forest on May 28 and 29, 2022, including Michiru Umihara's performance, the performance by Lynx Eyes, and, of course, the show by Call of Artemis. It also includes a making-of featurette.

In addition to the first album by Call of Artemis, D4DJ Groovy Mix Cover Tracks Vol.7 has also been released! The D4DJ project is known for cover songs and fans won't want to miss this 12-song collection ranging from anime and Vocaloid tracks to game music and J-Pop.

©bushiroad All Rights Reserved.

Anime RPG Princess Connect! Re:Dive Gets 31st Character Song CD

The 31st Character Song CD from Cygames' popular smartphone anime RPG Princess Connect! Re:Dive was released on January 25, 2023.

This new release includes the song Knight's Soul sung by Matsuri (Asami Shimoda) and Christina (Chiaki Takahashi), as well as Hatsuyuki Twin Approach by Yori (Sayuri Hara) and Akari (Azumi Asakura). Original karaoke and solo remixes of each song are also included.

These tracks were used as the ending themes for the limited-time Tribal Spirits: Raising Sword and Pride Bridge event, which began last October, and the Happy Happening Happy Twin Angels and Christmas Eve Gift event, which began last November.

The songs are also available to stream on all major music streaming services!

In addition, a music campaign will begin on February 14 to celebrate the fifth anniversary of Princess Connect! Exclusive A3-size posters (2 varieties) will be given to those who purchase the new CD at participating stores while supplies last.

© Cygames, Inc.

Hololive and DECO*27 Music Project holo*27 Reveals Second Song 'Mosh Race' by Sakura Miko and Usada Pekora

holo*27, a new music project collaboration between Hololive and DECO*27, has announced a new track coming to streaming services soon! Mosh Race by Sakura Miko and Usada Pekora has been released on January 27, 2023.

The new rock tune features playful lyrics by DECO*27 and catchy vocals by the two popular Hololive VTubers.

The project will get an official album release on March 15. holo*27 Originals Vol.1 features ten new tracks by DECO*27, while holo*27 Covers Vol.1 features ten covers of classic DECO*27 tracks by Hololive VTubers. The limited-edition release will come with an exclusive shoulder bag only available with this product.

In addition, holo*27 Vol.1 Special Edition will also be released including both albums, a special art booklet, an original sticker set, and an original card.

The jacket artwork for the original album was provided by Miyoshi Yoshimi, while the pop art for the cover album was created by Omutatsu.

The Hololive talents participating in this album include Tokino Sora, Sakura Miko, Hoshimachi Suisei, Yozora Mel, Murasaki Shion, Nakiri Ayame, Yuzuki Choco, Ookami Mio, Nekomata Okayu, Usada Pekora, Shiranui Flare, Kanata Amane, Himemori Luna, Yukihana Lamy, La+ Darkness, Takane Lui, Hakui Koyori, Sakamata Chloe, Kazama Iroha, Moona Hoshinova, Airani Iofifteen, Kureiji Ollie, Takanashi Kiara, Mori Calliope, Gawr Gura, Nanashi Mumei, and Hakos Baelz.

Information

Mosh Race – Sakura Miko, Usada Pekora
Streaming Links: lnk.to/holo27_moshrace

holo*27 Originals Vol.1/holo*27 Covers Vol.1/ holo*27 Vol.1 Special Edition
Release Date: March 15, 2023

Hololive 4th Fes. Our Bright Parade (Supported by Bushiroad)
holo*27 Performance: March 19, 2023
On-site/Stream opens at 12:00 / Show starts at 13:00
Venue: Makuhari Messe, Makuhari Event Hall

▼Ticket Sales
Preorder: https://l-tike.com/st1/hololive2023
General Sales: https://l-tike.com/hololive2023

Hololive 4th Fes. Streaming Tickets
▼Purchase Period
December 2, 2022 – April 19, 2023, 23:59
▼Ticket Sales
SPWN: https://virtual.spwn.jp/events/23031801-jphololive4thfes

e+: https://eplus.jp/hololive4thfes/st/

*The archived performance will be available immediately after the performance and can be viewed as many times as you like until 23:59 on April 19, 2023.
*The archived performance will no longer be available after 23:59 on April 19, 2023, even if you are in the middle of watching.
Official Website: https://hololivesuperexpo2023.hololivepro.com

LE SSERAFIM Holds Debut Showcase to Celebrate the Release of the Group's First Single 'FEARLESS' in Japan

LE SSERAFILM is a five-member girl group consisting of Kim Chaewon, Sakura, Huh Yunjin, Kazuha, and Hong Eunchae. The first girl group produced by BTS's label HYBE and SOURCE MUSIC held a debut showcase event on January 25 to celebrate the release of their first single, FEARLESS, in Japan.

This event was LE SSERAFIM's first showcase in Japan and was an opportunity for the members to greet approximately 2,000 lucky fans. These fans were chosen by lottery from among those who pre-ordered the FEARLESS CD.

Held at Tokyo Dome City Hall, the venue went dark at the beginning of the showcase, prompting the audience of fans to immediately applaud as the intro of Blue Flame -Japanese ver.- began. At the same time, a chess piece was projected onto a large LED chessboard on stage. The crowd only became more and more excited as LE SSERAFIM's logo and the White Baccharis-inspired concept photos of the members appeared before the members appeared in white costumes on stage. The members continued to mesmerize the audience with their incredible performance of Blue Flame -Japanese ver-, and once the song ended and the members left the stage, Masayuki Furuya appeared as the MC, chatting about the hyped K-pop artists, and inviting them back to enjoy a lighthearted chat. Amidst the applause from the audience, the girls introduced themselves for the first time following their debut in Japan and enjoyed a photo shoot for the media. Many members of the press were in attendance to see LE SSERAFIM's memorable debut, and the packed space was a testament to the group's immediate popularity.

When asked how their debut in Korea was comparable to their debut in Japan, Sakura responded quickly. "Even though I have experience debuting in Japan before, today felt more special. I'm a little more nervous. Of course, it makes sense to be a little anxious about starting fresh as a member of LE SSERAFIM, but I'm equally excited because I know that our fans will support us."

The name of LE SSERAFIM's fanbase is FEARNOT. "LE SSERAFIM is an anagram of the phrase 'I'M FEARLESS,' which embodies our goal to keep moving forward and to not be impacted by what anyone says," said the group's leader Kim Chaewon. The members then took turns discussing the tracks included in the Japanese release of the single FEARLESS.

FEARLESS -Japanese ver.-

Kim Chaewon: "This is the Japanese version of FEARLESS, the title track of our debut album in Korea. I think it's the song that best shows what we're all about–we're always moving forward and we refuse to be stuck in the past."

 

Blue Flame -Japanese ver.-

Hong Eunchae: "Blue Flame, which we just performed for the first time on stage, was on our debut album in Korea. Chaewon and Yunjin directly added their lyrics to the original version for the Japanese release, making the song even sweeter."

 

Choices

Kazuha: "The third track, Choices, is LE SSERAFIM's first original Japanese song. It has retro hip-hop and R&B vibe, and I think it's stylish. It has a street culture feel too. This is also our first drama tie-in song! It's the theme for the show How to Spend Money Happily."

The music video for FEARLESS -Japanese ver.- was released at midnight on January 25th. "To portray LE SSERAFIM's goal to always move forward, we thought about chess–the queen can move wherever she likes," said Sakura. "I really hope that everyone enjoys the Japanese version of FEARLESS!"

"The music video was shot with a completely different image in mind when compared to the Korean video," said Yunjin. "We had a lot of fun during the shoot. I have so many favorite scenes, but the final one with the words 'I'M FEARLESS' and the LE SSERAFIM logo might be at the top."

Kim Chaewon also chatted about the photo shoot for the single's cover with a smile. "I wanted it to be different than the Korean cover and I wanted us to show off our new charm. The White Baccharis concept was inspired by what these flowers stand for in flower language, which is 'trailblazing' or 'breaking new ground.' In the Pink Musk photo shoot, we strived to show the fans our more human side. I remember preparing for the shoot by researching what poses would be best for each member."

"I personally think that Kazuha and Eunchae looked so cute. Overall, the Pink Musk shoot was just adorable–I have all of the images saved in my personal picture folder," Sakura said with a grin. She also claimed to have been given a lecture from Eunchae on how to pose, spurring her to start practicing on the spot. The members clearly have an incredibly close relationship.

"Since this is our first single for Japanese fans, we really wanted to share our goals and the freedom we're seeking," said Kim Chaewon. "We'll keep doing our best while performing and creating music, so please support us!" The audience responded with a loud round of applause.

The Q&A corner featured questions collected from fans in advance. When asked about how the members of LE SSERAFIM have prepared for their incredible performances at music award ceremonies and other events, Kim Chaewon quickly responded. "To be honest, I feel like most of us always wish we had done better. We're never satisfied with our current state, so we always worry and talk about how we can make our performances better. This happens right up until we're on stage!"

After the music video for FEARLESS -Japanese ver.- was shown on the big screen, the members reappeared in their White Baccharis concept costumes. The game corner of the event began soon after!

In the first game, Checkmate – Let's Take the King, each member had to complete a mission attached to their selected chess piece. The most exciting part of the event was the group mission, in which each member had to dance with perfect choreography to a very specific moment of Blue Flame -Japanese ver.- The girls also competed in a rock-paper-scissors duel with the MC and a tongue-twister challenge!

After a commemorative photo was taken with the audience, the event came to a close. One by one, the members expressed their gratitude to the fans who had gathered at the venue.

Hong Eunchae: "For me, today was a very exciting and happy day. I'm glad I was able to spend it with FEARNOT. Thank you so much! Make sure to keep your eyes on us!"

Kazuha: "Thank you so much for coming to our showcase today even though it's so cold outside! We'll keep doing our best so we can hang out with you again. Please support us going forward!"

Huh Yunjin: "We're so happy to be making our debut in Japan and we're so excited about what's to come. I want to keep doing things for all the FEARNOTs out there! I love you all!"

Sakura: "Thank you so much for coming to our debut showcase today despite the cold weather and despite it being a weekday. I'm so excited to enjoy more time with the FEARNOT community in all kinds of places in the future, so please keep walking with us. Thank you so much for today!"

Kim Chaewon: Thank you FEARNOTs, for coming to our debut showcase in Japan. Please look forward to all of our Japanese activities in the future!"

The last song began with stylish chess visuals projected on LEDs, and finally, the girls began to perform FEARLESS -Japanese ver.-The first Japan showcase was an incredible success, and the audience watched in awe as the members performed their energetic dance moves. The Japanese version of FEARLESS managed to garner more attention than anyone expected, with some websites selling out of the single during the preorder stage. The track also reached the top spot on the Oricon Daily Chart on January 24.

The debut showcase event will be broadcast on the Amazon Music Japan channel on Twitch on February 20 at 20:00. This will include a behind-the-scenes making-of video and a special interview exclusively available during the stream. Check out LE SSERAFIM's official website for more details!

(P)&(C) SOURCE MUSIC

Information

FEARLESS – LE SSERAFIM (1st Japanese Single)
Release Date: January 25, 2023
Official Japan Site:  https://www.le-sserafim.jp

VTuber Hoshimachi Suisei Releases Long-Awaited 2nd Album 'Specter'

Hoshimachi Suisei, a popular member of the Hololive VTuber group, released her long-awaited second album Specter on January 25, 2023. The album is available for purchase on CD and digitally.

On January 20, Suisei performed her song Stellar Stellar on the YouTube channel THE FIRST TAKE, making her the first VTuber to do so. The video trended worldwide, pulling in over 160,000 views during its premiere and over 5 million views within three days.

Suisei's first album, Still Still Stellar, was released in September 2021. It reached the top spot on numerous charts including the Oricon Weekly Digital Album Ranking and the Billboard JAPAN Downloaded Albums Ranking.

This second album contains 11 songs written by several incredible creators including Ayase, Jin, Tomoya Tabuchi, Nanahoshi Orchestra, and more!

Hoshimachi Suisei

A forever 18 VTuber who deeply loves singing and idols. Her dream is to one day hold a live concert at Nippon Budokan.

With 1.7 million subscribers on YouTube and over 1.1 million followers on Twitter, she's a true star on the rise.

YouTube: https://www.youtube.com/channel/UC5CwaMl1eIgY8h02uZw7u8A
Twitter: https://twitter.com/suisei_hosimati

FRUITS ZIPPER Releases New Valentine's Day Song 'Happy Chocolate' along with Music Video

The popular idol group FRUITS ZIPPER has released its long-awaited new single Happy Chocolate, just in time for Valentine's Day.

The group hopes the song will become the new Valentine's Day anthem. Happy Chocolate was written by Shou Yamamoto, who previously wrote the group's smash-hit second single Watashino Ichiban Kawaiitokoro, which currently has over 600 million views on TikTok.

The light-hearted track is a love song following a woman celebrating Valentine's Day.

Fans who watch the music video may recognize Sako Makita's signature choreography. The artist also choreographed the dance for Watashino Ichiban Kawaiitokoro, and the new video completely captures the adorable aura of the FRUITS ZIPPER members. The music video premiered at 20:00 on February 1.

Happy Chocolate will be performed live for the first time at the FRUITS ZIPPER 1st One Man Tour 2023 -WINTER- ♡BE AT THE HEART♡concert on February 3. Tickets are completely sold out for the ReNY Limited show in Nagoya on February 3, the men-only WWW X show in Tokyo on February 9, and the women-only performance on February 10. VIP tickets for the extra capacity Namba Hatch performance in Osaka on February 5 and the tour finale at LINE CUBE SHIBUYA in Tokyo on February 12 are also sold out. Only general admission tickets are available for these two shows.

From February 1 to February 14, a limited-time FRUITS ZIPPER Valentine pop-up shop is being held on the 5th floor of Laforet Harajuku. Fans will be able to purchase exclusive items, see the group's costumes, and leave notes on a giant board for the members to see. Don't miss it!

For the latest FRUITS ZIPPER news, follow the group on Twitter (@fruits_zipper).

Information

<Single Details>
Happy Chocolate– FRUITS ZIPPER (9th Single)
Release Date: February 1, 2023
Streaming URL: ssm.lnk.to/HappyChocolate

<Tour Information>
■FRUITS ZIPPER 1st One Man Tour 2023 -WINTER- ♡BE AT THE HEART♡
Date: February 3, 2023 *Sold Out
Venue: ReNY limited
Time: Doors open 17:30 / Show starts 18:30
Contact: Sunday Folk Promotion (052-320-9100) *Open daily 12:00-18:00

Date: February 5, 2023
Venue: Nanba Hatch
Time: Doors open 16:30 / Show starts 17:30
Contact: Kyodo Information (0570-200-888)

FRUITS ZIPPER 1st LIVE TOUR 2023 WINTER 〜FRUITS DAY〜 *Sold Out
Date: February 9, 2023
Venue: Shibuya WWW X
Time: Doors open 18:00 / Show starts 19:00
Contact: HOT STUFF PROMOTION (03-5720-9999) *Open weekdays 11:00-19:00

FRUITS ZIPPER 1st LIVE TOUR 2023 WINTER 〜ZIPPER DAY〜 *Sold Out
Date: February 10, 2023
Venue: Shibuya WWW X
Time: Doors open 17:30 / Show starts 18:30
Contact: HOT STUFF PROMOTION (03-5720-9999) *Open weekdays 11:00-19:00

[Tickets]
VIP (Standing): ¥15,000 (Tax Included, Drinks Separate)
General (Standing): ¥5,000 (Tax Included, Drinks Separate)

■FRUITS ZIPPER 1st LIVE TOUR 2023 WINTER -TOUR FINAL –
Date: February 12, 2023
Venue: LINE CUBE SHIBUYA
Time: Doors open 17:00 / Show starts 18:00
Contact: Sunrise Promotion Tokyo (0570-00-3777) *Open weekdays 12:00-15:00

[Tickets]
VIP (Reserved Seats): ¥18,000 (Tax Included) *Sold Out
General (Reserved Seats): ¥6,500 (Tax Included)

General Sales: 1/14, 10:00~
Sales URL: http://l-tike.com/fruitszipper/

■Notes
・Up to 2 tickets per person per purchase. (Young children not permitted.)
・Tickets will be electronic.
・The Tokyo performance on February 9 will be men-only.
・The Tokyo performance on February 10 will be women-only.
・Transferring or reselling tickets for a fee without the consent of the event
organizer is prohibited.

FRUITS ZIPPER Valentine Pop-Up Shop
Running: February 1 – February 14, 2023
Venue: Laforet Harajuku 5F, MAKE THE STAGE
*Closed on February 7, February 8

Details Here
https://www.laforet.ne.jp/pop_up_shop/fruitszipper_2301/

<FRUITS ZIPPER>
The fresh new idol group FRUITS ZIPPER, created as a part of ASOBISYSTEM's KAWAII LAB project, is aiming to introduce Japan's ever-growing idol culture to the world. The producer of the group is model and celebrity Misa Kimura, who is also the general producer of KAWAII LAB. A lover of idols for years, Kimura previously served as the leader of the idol group Musubizm.
The group's name combines FRUITS, meaning 'to bear fruit,' and ZIP, meaning 'to give energy.' Under the concept 'from Harajuku to the world,' FRUITS ZIPPER will transmit what they call 'NEW KAWAII' from Harajuku, an area known for fashion and individuality, to their growing global fanbase.

Twitter:https://twitter.com/fruits_zipper
Instagram:https://instagram.com/fruits_zipper
YouTube:https://www.youtube.com/channel/UCW8Q9LBGGBgK6a-u0C0h95A
TikTok:https://vt.tiktok.com/ZSen7dJAT/
Facebook:https://www.facebook.com/FRUITSZIPPER/

MANON Releases the Last of Four Consecutive Monthly Singles, 'gabber gabber hey!!'

Cutting-edge female artist MANON has released the fourth of four consecutive monthly releases! The song gabber gabber hey!! was released on streaming services on January 27.

This happy, hardcore track contains elements of the 2000s rave scene and has a catchy beat that's sure to be a hit during live performances. The song was co-written by trackmaker kiraku who has worked with MANON on all other consecutive releases.

The single's artwork was done by 3D creator SINBIOX with Mark Robinson returning to create the logo art.

<Comment from MANON>
"My final consecutive release, gabber gabber hey!!, is here⭐️

I've been wanting to try this Gabber style of music for a while now! The song was inspired by my image of the girls from Winx Club after they become rave girls, dancing until morning.

This song has happy hardcore elements like those found in GALCHAN MODE, and listeners can just bounce to their heart's content. The artwork this time was done by SINBIOX, a 3D artist I've been seeing on Instagram forever, and the logo was done yet again by Mark Robinson. The two collaborated to create incredibly cute cover art💕 I hope you listen to the track!" ^_−☆

Information

gabber gabber hey!! – MANON (Digital Single)
Lyrics: MANON / Prod.: kiraku
Streaming Date: January 27, 2023
Streaming URL: https://ssm.lnk.to/ggh

<Information on 4 Consecutive Monthly Releases>

Fake Friends (Single 1)

https://ssm.lnk.to/FakeFriends

aura (Single 2)

strong zero gravity (Single 3)

FYA'M' from Multimedia Project aoppella Releases Music Video for A Capella J-Pop Cover of UNISON SQUARE GARDEN's 'Sugar Song and Bitter Step'

aoppella, a new vocal multimedia project from KLab, tells the story of eleven high school students discovering the art of a cappella. On January 23, KLab released the music video for the group's third a capella J-pop cover of UNISON SQUARE GARDEN's Sugar Song and Bitter Sleep on YouTube.

In addition, the project will celebrate its second anniversary with an event on Mary 27 and 28.

 

Sugar Song and Bitter Step – UNISON SQUARE GARDEN (J-Pop Cover)

The cover transforms the popular track into an unbelievable a cappella performance highlighting the unique lyrics with the member's powerful voices.

The music video shows the members of FYA'M' walking around the city in their personal fashion. As mature as each of the boys may be, they're still high schoolers with their own youthful personalities!

Story
It was on that unforgettable day that the boys found themselves changed.

In front of them were ordinary high school students just like them. There were no flashy costumes or musical instruments.

But the moment they began to sing a surreal harmony filled the air and the crowd went wild.

"We want to sing like that! We want to shine, too!"

High school students captivated by the art of a cappella aim for the top in the exclusive high school a cappella contest called 'aoppella.' Watch as they try to perfect their pitch–the show is about to begin!



©KLab

Information

Kanadezaka Private School A Cappella Club FYA'M'
Maito Coresawa (Yuki Ono)
Mitsuo Ayase (Toshiyuki Toyonaga)
Akira Shigaki (Wataru Urata)
Asaharu Soenji (Takuya Sato)
Yui Nekoyashiki (Daiki Hamano)
Fukami Shinkai (Shugo Nakamura)

Original Song: Sugar Song and Bitter Step – UNISON SQUARE GARDEN
Lyrics/Composition: Tomoya Tabuchi
A Capella Arrangement/Mix: zakbee
Video: Kusumi

aoppella!? -2nd Anniversary Party-
Date
May 27, 2023
*The exhibition and shop will be open on May 27 and May 28

Venue:
Yokosuka City Bunka Hall
https://www.yokosuka-bunka.info/
Details: https://web-dev.aoppella.com/news/230122/

Official Site: https://www.aoppella.com/