Kagurazaka Natsumatsuri, or the Kagurazaka Summer Festival, will take place at the Kagurazaka Frasco Gallery from July 27 to August 1. The event is aimed at foreign tourists in Japan and offers a chance to experience Japanese culture.
The Japanese National Tourism Organization (JNTO) revealed a record high number of inbound foreigners to Japan in 2017, standing at 28,691,000 (+19.3% from 2016). Furthermore, according to the Consumption Trend Survey for Foreigners Visiting Japan carried out by the Japan Tourism Agency, the main purpose for 24.8% of foreigners' visiting Japan that year was to experience 'Traditional/Modern Japanese Culture' and 'Nature/Scenery Sightseeing.' These statistics were particularly high for those coming from Europe and America.
However, for 'Experience Japanese History/Culture,' 'Nature Tours, Experience in Farming/Fishing Village,' 'Spectator Sport (Sumo, Soccer etc.)' and 'Seasons (Cherry Blossoms, Autumn Leaves, Winter etc.)' there was an average different of 9.5 points between people who were able to do these things and people who weren't able to (and would like to next time). This means that the present situation is there is a demand for outfitting more experience-based opportunities for foreign visitors coming to Japan.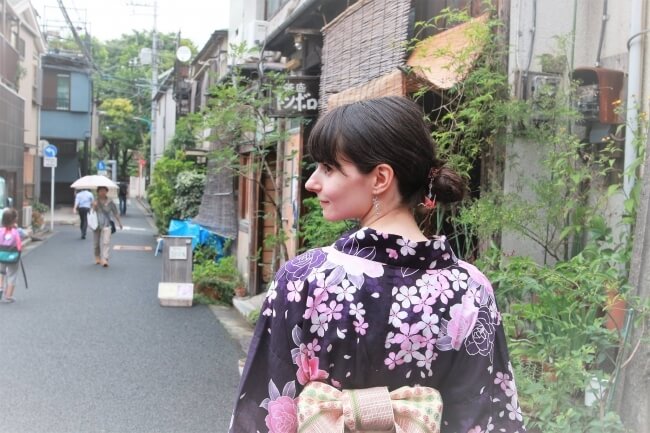 SAMURAI MEETUPS is a non-profit organization who is planning the Kagurazaka Summer Festival. Since October 2014, the organization has held and managed over 150 experience-based traditional cultural events which 4,000 people from 36 countries have participated in. They have also offered support to the municipality in Narita in creating content for inbound foreigners and in terms of marketing and promotion.
For this event, they are renting out Frasco, a famous art gallery in Kagurazaka, where they will create a space to give foreigners a chance to get up close and involved with Japanese culture. They will serve sushi, udon, sake and coffee as well as teach calligraphy, decorate paper lanterns, sell small Japanese accessories and postcards, and much more. It will be packed full of Japanese culture. Additionally, by promoting tourist information related to Kagurazaka, the organization aims to use the opportunity to spread Japanese culture and local charms to the people of the world. They will also prepare content for the locals to enjoy to so they can create the opportunity for international exchange.
Experience what Japanese culture has to offer by getting to know the locals at Kagurazaka Natsumatsuri 2018!
■Information
Kagurazaka Natsumatsuri 2018
Address: Kagurazaka Frasco (6-16 Kagurazaka, Shinjuku, Tokyo)
Date: July 27, 2018 – August 1, 2018
Time: 11am-10pm
Official Homepage: https://sai-kagurazaka-event.storeinfo.jp
Sanuki Udon & Edomae Sushi Reception Party
Address: Kagurazaka Frasco (6-16 Kagurazaka, Shinjuku, Tokyo)
Date: July 29, 2018
Time: Slot 1 – 5pm-7pm / Slot 2 – 7:30pm-9:30pm
Price: ¥3,500 (Includes: Edomae sushi and udon, and the chance to see an udon performance)
No. of People: 25 people per slot. First-come, first-served.
Sign-Up Page: https://saikagurazakaevent.wixsite.com/reception