Bizarre 'Smell Exhibition' to Take Place in Shizuoka, Sapporo and Fukuoka
The Smell Exhibition will take place from July in Sapporo, Shizuoka and Fukuoka and aims to stimulate people's sense of smell, with everything from the disgusting to the pleasant.
This unique exhibition first took place at Nagoya PARCO from November 2016 to January 2017 and again at Ikebukuro PARCO from January to February in 2018. The event was a huge success on both occasions.
Surströmming
Surströmming is a type of fermented Baltic Sea herring originating in Sweden that's been used on YouTube challenges and on Japanese variety show punishment games. You wouldn't be wrong to called this the world's smelliest canned good!
Fermented Tofu
This tofu product is actually eaten in China, Taiwan, Hong Kong and elsewhere. The scent is so intense that one time it caused a train to stop because of people's upheaval.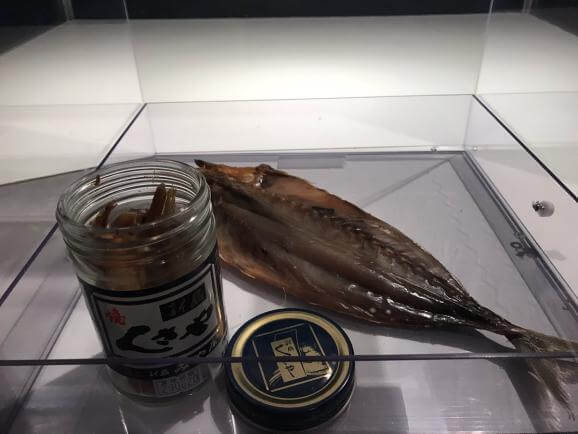 Kusaya
A specialty of the Izu Islands, kusaya is fresh fish dipped in salt water and dried in the sun. There even exists kusaya over 100 years old. Why not try smelling this traditional pungent odor yourself?
Iris
Said to be the most expensive fragrance in the world. It takes 6-7 years to extract the right scent from the root stalks of ameya iris from the Mediterranean Sea.
Musk
This smell used to be collected from musk deer. The scent sticks around for a long time used to be an extremely valuable ingredient for perfumes back then. Today, most musk perfumes are synthetic.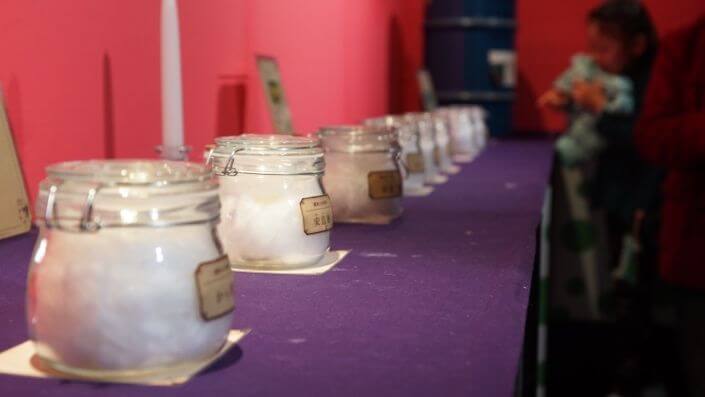 There are plenty other extraordinary smells to look forward to as well, from old people's district body odor to pheromones!
You can get really involved too and pick up an original Smell Exhibition t-shirt or purchase various limited edition items and perfumes with nice smells.
Experience this bizarre, only-in-Japan exhibition this summer.
■Information
・Shizuoka
Running: July 13, 2018 – September 9, 2018
Time: 10am-8pm (Last Entries 7:30pm)
Location: Shizuoka PARCO B1F (6-7 Koyamachi, Aoi-ku, Shizuoka-shi, Shizuoka Prefecture)
Price: Doors ¥800 / Advance ¥700 (Tax Included)
Website: http://nioiten.jp/shizuoka.html
・Sapporo
Running: July 20, 2018 – August 19, 2018
Time: 10am-8pm (Last Entries 7:30pm)
Location: Sapporo PARCO 7F (3 Chome-3 Minami 1 Jonishi, Chuo-ku, Sapporo-shi, Hokkaido)
Price: Doors ¥800 / Advance ¥700 (Tax Included)
Website: http://nioiten.jp/sapporo.html
・Fukuoka
Running: July 20, 2018 – August 26, 2018
Time: 10am-8:30pm (Last Entries 8pm)
Location: Fukuoka PARCO Honkan 5F (2-11-1 Chuo-ku, Fukuoka-shi, Fukuoka Prefecture)
Price: Doors ¥800 / Advance ¥700 (Tax Included)
Website:  http://nioiten.jp/fukuoka.html
RELATED ENTRIES
Japan's Pingu Exhibition to Take Place in Ginza Showcasing Lots of Noot Noot Treasures

This year marks the 40th anniversary of the Swiss claymation children's television series Pingu. Japan is celebrating the milestone with the "Pingu Exhibition" which will take place on the 8th floor of Matsuya Ginza in Tokyo from August 12 to 24.

Original material for Pingu by the show's creator Otmar Gutmann will be exhibited, as well as the actual clay figures, dioramas, storyboards, and more that were used during the filming in Switzerland. Many of the 400 or so items on display have never been shown in Japan before.

There will also be a recorded interview with Seishi Kattou, the only Japanese animator that was working in the Pingu studio at the time. But the fun doesn't end there, as there will even be an AR attraction made using CG and original animations from the Pingu in the City 3D CG film.

A peek into the exhibition

The secret story behind Pingu's creation

Visitors will be able to learn about the author Otmar Gutmann as well as see production materials, storyboards, and other treasured items that give insight into how the creator and studio gave rise to Pingu.

Exhibits: Notes from Otmar Gutmaan, storyboards, clay figures, dioramas, pilot episode screening, and more

The Clay Room

Pingu's iconic exaggerated elastic movements are made possible through the use of clay. These movements play an important part in conveying characters' emotions and are one element of the show's storytelling. These movements will be exhibited in the event's Clay Room where you'll get to see different models morphing into different shapes. These clay figures are all handmade by the Pingu studio staff themselves.

Exhibits: Clay figures, tools, Pingu studio videos, and more

3DCG Animation and Pingu in the future

Pingu in the City is a Japanese 3D CG animated series which used the same style of the original series but instead opted for computer animation, adding a different layer of charm to the internationally adored series. Visitors will be able to enjoy this digital Pingu in a variety of ways.

Exhibits: Digital videos, AR, and more.

There will also be exclusive Pingu exhibition merchandise on sale, as well as pre-sales of Pingu merchandise yet to go on sale.

Shin Sobue (Pingu Exhibition Art Director) | Comment

"This will be the first all-out exhibition for Pingu, a series which has transcended borders from Switzerland and the UK to Japan. This will be a happy exhibition that neatly divides everything for people to enjoy, from its mysterious language to its comical movements, story, and laid-back humour." (Translated from Japanese by MMN)

©2020 JOKER

Information

Pingu 40th Anniversary Exhibition
Running: August 12, 2020 – August 24, 2020
会場: 松屋銀座 8階 イベントスクエア 東京都中央区銀座3-6-1
時間:営業日、開場時間は松屋ウェブサイトをご覧ください。
*最終日は17:00閉場 *入場は閉場の30分前まで
電話番号:03-3567-1211(松屋銀座 大代表)

Official site:http://www.pingu.jp/40th
*展示内容等は変更となる可能性があります。

ピングーアニメ公式サイト:http://www.nhk.or.jp/anime/pingu/

Street Fighter Exhibition at Fukuoka City Science Museum Rescheduled For July

The Street Fighter exhibition "Street Fighter: Ore Yori Tsuyoi Yatsura no Sekai Ten" (Street Fighter Exhibition: The World of Those Stronger Than Me) was originally scheduled to run from March 14 to May 24 but was cancelled due to the COVID-19 outbreak. However, it has been announced that the exhibition has been rescheduled and will take place from July 1 to September 22.

A ticket system is in place where attendees need to book a time and date in advance as a precaution against the novel coronavirus. Tickets can be bought in advance from the exhibition's official website.

Street Fighter is a fighting video game franchise developed and published by Capcom. The first game was released in 1987 for arcades. Street Fighter II was released in 1991 is hailed as a landmark title in the series and would set the standard of fighting games that followed. The latest instalment to the series, Street Fighter V, was released in 2016, with Street Fighter V: Champion Edition following in 2019.

The Street Fighter exhibition is set to display treasured documents and art pieces from the franchise, as well as showcase a cabinet of the arcade games. With full support and cooperation from Capcom, the exhibition is a must-visit for all fans of the influential fighting game.

Here's just a select glimpse of what to expect.

Street Fighter Gallery

This incredible gallery features a physical catalogue of game packages and cases, posters, and much more from across the series.

Memorable Street Fighter Scenes

①BONUS STAGE 2020 in FUKUOKA

Interactive Content: Destroy the car with a Surge Fist

②CONTINUE? Match Loss Facial Expression Collection

EXTRA ROUND: Secrets

A display of initial Street Fighter concepts, logos, character art, backgrounds, and more

CONTINUE: The Legend of Street Fighter Continues to Evolve

Information

Street Fighter Exhibition (Japanese Name: ストリートファイター「俺より強いやつらの世界展」)
Running: July 1, 2020 – September 22, 2020
Closed: Tuesdays (Except August 11/August 18/September 22)
Time: 9:30-18:00 (Last Entries 17:30) (Open until 21:30 from August 7-19)

Location: Fukuoka City Science Museum (4-2-1 Ropponmatsu, Chuo Ward, Fukuoka)
Price: General ¥1,100 / High School & Junior High School Students ¥800 / Ages 4+ ¥500

Official Website: https://streetfighter.artne.jp/

Help Fukuoka's Hotels During COVID-19 With Crowdfunding Project

Fukuoka's tourism industry is suffering greatly as a result of the novel coronavirus (COVID-19) pandemic, and so the city has launched a crowdfunding project to ask for people's help and support.

By donating, you can receive a special ticket which can be used when travel returns to normal which can be used at hotels you have donated towards. The tiers are priced at ¥3,000 and ¥5,000, which will get you tickets priced at ¥3,300 and ¥5,500 respectively to be used in the future. If you're thinking of travelling to Fukuoka, or already had plans booked to go there, then consider donating towards the city.

Fukuoka is a city loved by Japanese people and foreigners alike. It has a rich food culture, incredible festivals, a rich history, and an amalgamation of urban and rural scenery.

Learn About Ito City in Shizuoka Prefecture in This Breathtaking 8K PR Video

A new PR video for Ito City in Shizuoka Prefecture was posted on the city's official YouTube channel on March 2, 2020 as part of Ito City's digital marketing efforts for 2020, and it's already garnered over 21 million views in just over two weeks.

Mount Omuro

Jogasaki Coast

The video was directed and editor Yuki Eikawa who has gained much attention across Japan for his touristic PR video work. It captures the most famous sights across Ito including Mount Omuro and Jogasaki Coast, and showcases the city's food, culture, and incredible natural environments. Check it out below.

ITO City, Shizuoka, Japan in 8K HDR

Learn more about Ito on the city's official website which has a bounty of useful information for exploring everything Ito has to offer.

Cherry Blossoms and Rape Blossoms Compete For Spring at Kusaba River in Fukuoka

The town of Chikuzen in Fukuoka Prefecture is home to a 2km strip of cherry blossom trees which bloom their pink beauty along the Kusaba River in spring. The area sees countless people flock there during the Hanami season to see the trees in full bloom.

But Kusaba River isn't only home to cherry blossoms; it also sees rape blossoms sprout their yellow flowers during springtime, which offers a beautiful contrast to the overhead pink from the cherry trees.

The place is lit up in the eveningsーa great chance to see the cherry blossoms in a different light at night.

Rich verdure lines the whole of Kusaba River, so be sure to visit if you're heading to Fukuoka this spring to see the cherry and rape blossoms.

Information

Kusaba River

Address: 875 Hisamitsu, Chikuzen, Asakura-gun, Fukuoka

Bloom Period: Late March – Early April

Access: 5-minutes on foot from Shincho Bus Stop (新町バス停) via Nishi Tetsu Bus

THE LOCAL COFFEE STAND FUKUOKA: New Coffee Shop Opens in Fukuoka's Hakata Ward

Japan's biggest online coffee publisher Good Coffee is opening a new cafe called "THE LOCAL COFFEE STAND FUKUOKA" in Hakata, Fukuoka.

Good Coffee looks to bring together coffee lovers with all kinds of coffee shops. THE LOCAL COFFEE STAND FUKUOKA will be their second branch of "THE LOCAL COFFEE STAND" in Japan following the branch they opened in Shibuya, Tokyo.

Good Coffee provides a wealth of information and the latest news on where to get delicious coffee inside and outside Japan. They have joint sponsorship and manage the TOKYO COFFEE FESTIVAL where roasters from across the country all come together and serve coffee in a variety of ways, host live performances, and more.


The coffee beans at THE LOCAL aren't roasted in-house. Instead, the head barista, Yuji Otsuki, personally selects roasts every month from shops published on Good Coffee. This is a rare style of coffee shop in Fukuoka where every month, customers can enjoy a different cup of high quality coffee every month from popular roasters inside and outside Japan from the comfort of Fukuoka.

The coffee beans used for the cafe's opening month of March will be drip coffee from GLITCH COFFEE&ROASTERS in Jinbocho, Tokyo and espresso from CRAFTSMAN COFFEE ROASTERS in Shimonoseki, Yamaguchi. Events are scheduled to be held at THE LOCAL COFFEE STAND FUKUOKA every month where baristas and coffee roasters will be invited as guests.

Find your new favourite coffee at THE LOCAL COFFEE STAND FUKUOKA.

Information

THE LOCAL COFFEE STAND FUKUOKA

Address: 2-14-1 Hakataekihigashi, Hakata, Fukuoka, Fukuoka Prefecture

Opening Hours: 9:00-23:00 (*Pre-opening hours)
Access: 5-minutes from Hakata Station's Tsukushi Exit
Official Website: http://thelocal2016.com/fukuoka/

UMI HOTEL ANNEX: The New Luxury Hotel Opens in Shizuoka's Resort Area Usami

Usami is known as the resort area of Ito in Shizuoka Prefecture, and it's here that the new luxury relaxation hotel UMI HOTEL ANNEX, which boasts a horizon-stretched ocean view, has openedーtogether with the new restaurant and bar known as The SEA.

UMI HOTEL ANNEX, a hotel for relaxation

UMI HOTEL ANNEX offers a breathtaking experience for guests with its ocean view, the sounds of the waves, and the natural scent of trees that envelop it. The hotel is on the small side, built with just six rooms, but this opens the door for greater hospitality, consideration, and comfort. If you want to wind down from a long day of travelling, need some adequate sleep, and wish to get away from the hustle and bustle of Japan's busy cities, then UMI HOTEL ANNEX has you covered.

Enjoy a sweeping ocean view

Upon entering a guest room, you are met with an unobstructed view of the sea. All rooms are also equipped with mirrorsーwhich span the entire wallーwhich bring the view of the ocean into your own room too. This means you can sleep soundly while surrounded by the sea, which is just 30 seconds from the hotel. *4 rooms of the rooms offer the ocean view

Rooms also have a pillar made from hiba cypress, a type of tree symbolic of Aomori Prefecture. The pillars not only serve to support the structure of the hotel, but also wrap the room with the natural scent of timber. Hiba is a strong antibacterial and pesticide wood, and its aroma also has a relaxing effect. 

Open-air infinity pool baths with water flowing from the source

The roof is decked out with infinity pool baths with water flowing in from the source. Everything in and around the pools is made from the same Aoyama hibi cypress, including the pools themselves, meaning all rooms enjoy that warm smell of cypress. The pool joins together with Usami Bay, which stretches 1km, offering a feeling of openness like no other. There are even waterproof sofas in the pool rooms for more relaxation.

Amenities galore for a quiet night's sleep

Amenities offered include items by Sansatia, a Bali-based natural cosmetics company. There's also an original line of room wear made from a special Japanese gauze which can also be used in the surrounding area outside too. The linen is provided by Imabari Towel, and the beds by Simmons. There's also bath salts, shoehorns, and more.

All guest rooms are equipped with pots, microwaves, refrigerators, irons, and trouser pressers. There's also coin operated laundry machines, accommodating for those longer stays.

DIOR FROM PARIS TO JAPAN Exhibition Shows Off Dress Line-Up Inspired by Japanese Culture

The DIOR FROM PARIS TO JAPAN exhibition at HANKYU Umeda Store in Osaka began on March 1 where it is set to run until March 22.

The collection features a complete line-up inspired by Japan's rich culture, from dresses serving haute couture to exquisite Lady Dior bags re-interpreted by various artists. This exhibition is a coming-together of DIOR and Japan and expresses savoir faire the way a maison should.

The exhibition is also home to a gift shop selling a range of different items. It also has an audio guide presented by Japanese actress and fashion model Yuko Araki and actor and model Ryusei Yokohama, both of whom were selected as Japan Fashion Ambassadors for this exhibition.

See the worlds of DIOR and Japan collide at DIOR FROM PARIS TO JAPAN.

Information

DIOR FROM PARIS TO JAPAN
Running: March 1, 2020 – March 22, 2020
Location: HANKYU Umeda Gallery (HANKYU Umeda Store Floor 9F)
Address: 8-7 Kakudacho, Kita, Osaka
Entry: Free

Official Website: http://bit.ly/DiorFromParisToJapan

Studio Ghibli Museum Photo Exhibition to be Held at HMV&BOOKS SHIBUYA in Tokyo

A photo exhibition will be held at the HMV Museum in Shibuya from March 6, 2020 for a limited time in promotion of the release of Studio Ghibli Museum's first official photo book, Ghibli Bijutsukan Monogatari ("The Story of the Ghibli Museum").

"Ghibli Bijutsukan Monogatari" Photo Book – ¥3,800 (Exhibition Pre-Sale: March 6, 2020 / General Release: March 20, 2020)

Photography is strictly forbidden at the Studio Ghibli Museum, but this exhibition gives a rare look inside without having to go inside. There will be panels of photos of both inside and outside the museum, a display of miniature figures of characters like the Robot from Laputa: Castle in the Sky, writings from Studio Ghibli film producer Toshio Suzuki, and more. The museum's popular photo spots will also make an appearance at the exhibition for taking a photo next to.

Exclusive Desk Calendar (*Limited to 500 people per day, first-come first-served)

Desk calendars will also be available, featuring the photos used at the exhibition.

Exclusive Exhibition Merchandise

Tote Bag – ¥2,000 / T-Shirt – ¥2,800 / Hanging Scroll – ¥30,000 / Photos (3 Designs) – ¥8,000 Each

Visitors will be able to get their hands on the photo book early at the exhibition, and those who buy it at HMV&BOOKS SHIBUYA will be invited to a signing and talk session on March 7, 2020 on a first-come, first-served basis. The signing will be attended by Kanyada and Toshio Suzuki, who will also be present at the talk event in addition to film director Ryutaro Nakagawa.

Exclusive merchandise will be sold at the exhibition. The exhibition itself encourages people to feel like a lost child, and its layout will reflect that without any set paths or routes.

Dive into the wonderful world of Studio Ghibli at the Ghibli Bijutsukan Monogatari Photo Exhibition.

*Please note that the number of people allowed to enter the exhibition will be restricted due to the ongoing situation surrounding the new coronavirus. This will widen the space between visitors and allow them to enjoy the exhibition in an uncrowded space. More details can be found on the official HMV Museum website.

Information

Ghibli Bijutsukan Monogatari Photo Exhibition

Location: HMV Museum (HMV&BOOKS SHIBUYA Floor 6F)

Running: March 6, 2020 – March 19, 2020

Opening Hours: 10:00-21:00 (Open from 17:00 on March 6, 2020)

Last Entries: 20:30

Entry Price: ¥500 (Tax Included) *Free for preschool children

Event Page (Japanese): https://www.hmv.co.jp/news/article/2002141000/

*Opening hours subject to alteration

*For more details, please check the event page above or HMV&BOOKS SHIBUYA's official Twitter page

Kirby Café HAKATA to Open Permanently in Fukuoka's Canal City Hakata

The second permanent Kirby Café, themed entirely on Nintendo's popular video game series Kirby's Dream Land, is set to open in Canal City Hakata in Fukuoka on March 12, 2020.

Kirby Café HAKATA has its own story that the cafe is based around. One day, Kirby motioned Whispy Woods to help him collect the tools needed to open another Kirby café. Together with Whispy Woodsーwho appears in the cafeーKirby will serve hospitality to his customers.



The food menu includes the same stone oven baked pizzas serve at Kirby Café TOKYO.

Kirby Café Stone Oven Baked Dessert Pizza ~Whispy's Caramelised Apples~: ¥1,380 (Before Tax)

Kirby Café Stone Oven Baked Dessert Pizza ~Waddle Dee's Freshly-Picked Chocolate Bananas~: ¥1,280 (Before Tax)

As well as standard savoury pizzas, the café includes a selection of dessert pizzas made with fresh fruit. The flavours of the dessert pizzas here are exclusive to the Hakata branch of Kirby Café.



Kirby's Home: ¥1,980 (Before Tax)

Kirby's High-Spirit Helping Parfait: ¥1,580 (Before Tax)


There are lots of cute food dishes and desserts to enjoy at Kirby Café. Kirby's Dream Land home has also been turned into a dessert, and there's also a cute parfait which Kirby himself helped make.



Kirby Café Hakata Exclusive T-Shirt – Kirby & Home: ¥3,400 (Before Tax)


Fans can also pick up a selection of new and exclusive Kirby merchandise, and an original Kirby Café soundtrack created by HAL Laboratory will play in the café.

Priorities are given to those who book a table in advance, which can be done on the café's official website starting on February 25, 2020.

Get sucked into the world of Kirby and inhale your food like he does at the all-new Kirby Café HAKATA.


Information

Kirby Café HAKATA

Grand Opening: March 12, 2020

Address: Canal City Hakata North Bldg. B1F, 1-2-1 Sumiyoshi, Hakata, Fukuoka, Fukuoka Prefecture

Opening Hours: 11:00-23:00 (Last Orders 22:00)

Official Website: https://kirbycafe.jp/hakata/
*Kirby Café is a character café managed by BENELIC CO.,LTD. under the license of WARPSTAR Inc., a copyright management company entrusted by Nintendo / HAL Laboratory, Inc.

Yellow Coloured Minnie Mouse Cafes to Open in Tokyo, Osaka, Nagoya & Fukuoka

A new line of Minnie Mouse cafes are set to open in Tokyo and Osaka from February 28, 2020 and Nagoya and Fukuoka from February 29, 2020 for a limited time. Named "OH MY! MINNIE MOUSE," the cafes are an official collaboration between Disney and the Japanese cafe chain OH MY CAFÉ.

The cafe takes on the theme of Minnie Mouse being a living, breathing icon of today with a positive lifestyle. This is represented through the yellow colouring of the cafe, which features her iconic polka dots as well as ribbon taking on a yellow colour. Tuck into a cute menu line-up and get your hands on some cafe-exclusive Minnie Mouse merchandise.

Original Menu

Cheerful Burger – ¥1,990

This healthy burger is packed full of vegetables with a black bun made in the image of Minnie's silhouette. Feel as energised as Minnie with one bite of this tasty burger.

Beef Hash Ribbon Rice – ¥1,390

Inspired by Minnie Mouse's iconic ribbon, this hearty dish is a beef stroganoff plated with rice and veg. The ribbon is so cute it almost seems a waste to eat!

Fruit Sandwich – Single ¥990/ With Plate ¥2,790

An absolute must-order if you're wanting a dessert. This sandwich is piled with fresh fruits creamy yoghurt, sprinkled with poppy seeds, and doused in lemon juice.

Fizzy Lemon Squash – Single ¥690 / With Coaster ¥1,390

Charge yourself up with this fizzy lemonade and its refreshing aftertaste.

Relaxing Chamomile Tea – Single ¥490 / With Mug ¥2,090

Kick back and relax after your meal with a cup of chamomile tea♡

Original Merchandise

Heart Badge (8 Designs/Chosen Randomly) – ¥500

Folder – ¥350

Lunch Mat (6 Designs/Chosen Randomly) – ¥650 (*Table reservation required)

Those who book a table in advance will be given one of six possible lunch mats chosen randomly.

If you're in Japan for the spring, then why not stop by the OH MY! MINNIE MOUSE cafe for a Disney treat?

©Disney

Information

OH MY!MINNIE MOUSE

Locations/Dates

Tokyo: OH MY CAFE TOKYO (Tokyu Plaza Omotesando Harajuku Floor 3F, 4-30-3 Jingumae, Shibuya, Tokyo)

Running: February 28, 2020 – April 12, 2020

Osaka: kawara CAFE&DINER Shinsaibashi (Shinsaibashi OPA Floor 9F, 1-4-3 Nishi-Shinsaibashi, Chuo Ward, Osaka, Osaka Prefecture)

Running: February 28, 2020 – April 19, 2020

Nagoya: kawara CAFE&KITCHEN Nagoya PARCO (Nagoya PARCO South Building Floor 5F, 3-29-1 Sakae, Naka Ward, Nagoya, Aichi Prefecture)

Running: February 29, 2020 – April 26, 2020

Fukuoka: Kawara CAFE & KITCHEN KITTE Hakata (KITTE Hakata Floor 9F, 9-1 Hakataekichuogai, Hakata Ward, Fukuoka)

Running: February 29, 2020 – March 28, 2020

"OH MY! MINNIE MOUSE" OH MY CAFE Booking Website: https://mm.ohmycafe.jp/

6 Must Try Soft Serve Ice Creams in Hokkaido – MOSHI MOSHI NIPPON

Hokkaido is home to some seriously sumptuous

desserts

, not to mention their

matcha range

. Today we're looking at 6 unmissable ice creams you can try around Sapporo, because if Hokkaido is known for anything, its the soft serve ice cream.

We are joined once again by

Kei

, a Japanese Instagrammer who posts enticing pictures of the delicious desserts and drinks he has tried at cafes around Hokkaido. He has kindly provided us with his incredible pictures along with a descriptions, which we have translated into English.

UMIERE 2nd in Tanukikoji

UMIERE is credited with lighting the fire on the popularity of mokomoko, or 'fluffy,' soft serve ice cream. Their second branch, UMIERE 2nd, recently reopened after a revamp. As part of their renewal, they have introduced a number of new menu items like shiratama white flour dumplings.

Macaron Soft Parfait – ¥718

I ordered the Macaron Soft Parfait, which is a tower of organic soft serve ice cream, macarons, chocolate sauce, and sponge cake filled with sliced strawberries. The ice cream itself is both refreshing yet rich. As you continue to scoop up mouthfuls from the ice cream cup, the other ingredients gradually reveal themselves: the fresh cream, the strawberries, and the sponge, just like a parfait.

The cafe enjoys a relaxed atmosphere and is a great place to pop into if you're looking for a hideaway.

▼Umiere 2nd (ウミエール)

Address: Marufuku Bldg. Floor 2F, 4-Chome-9, Minami 2 Jonishi, Chuo Ward, Sapporo, Hokkaido

Opening Hours: 11:00-18:30

No Fixed Holidays

Enquiries: 011-211-4738

JB ESPRESSO MORIHICO in Shindohigashi

When talking about coffee in Hokkaido, the name that's likely to pop up is Morihico. And when talking about their most popular menu item sold at their chain cafe JB ESPRESSO, it's their variety of cute ice creams.

JB Soft Cream Pudding à la Mode – ¥450

Based on the Japanese "purin à la mode," a type of Japanese custard pudding served with an assortment of other desserts, this ice cream is custard pudding flavoured and is drizzled in caramel, topped with whipped cream, and crowned with a cherry. And the caramel isn't just sauceーit's crunchy like caramel chocolate, giving the ice cream a variety of scrumptious textures.

The mixed ice cream is one of the specialities of JB, combining milk and chocolate flavours. The milk ice cream is made with milk from Jersey cattle, so is rich in flavour while still being smooth and refreshing. The chocolate is also rich, made from three types of Spanish chocolate.

▼JB ESPRESSO MORIHICO (ジェービー エスプレッソ モリヒコ)

Address: 16-1-1 Kita 34 Johigashi, Higashi Ward, Sapporo, Hokkaido

Opening Hours: 9:00-22:00

No Fixed Holidays

Enquiries: 011-788-2133

Kinotoya Bake (Pole Town Branch) in Odori Park

Kinotoya Bake is located in Pole Town, accessed by walking towards Tanukikoji from Odori Park. They don't sell cooked confections or take like the Kinotoya brand is known for, but rather tarts, apple pies, and ice creams.

The name of this ice cream alone screams Hokkaido, as the prefecture is known for its Gokujo, or "first-rate" milk. It's pretty big as you can probably tell from the photo! This full-bodied milky cream, which is smooth like fresh cream, is the one I'd recommend from the various different ice creams made with Hokkaido milk. And because of its size, your belly is sure to be satisfied afterwards!

▼Kinotoya Bake

Address: Pole Town, 3-Chome, 2 Minami Jonishi, Chuo Ward, Sapporo, Hokkaido

Opening Hours: 10:00-20:00

No Fixed Holidays

Enquiries: 0120-24-6161

TEA SIGN in PARCO Odori Park

TEA SIGN is famous in Sapporo for its tapioca, and at the PARCO branch, they sell it with milk tea flavoured ice cream.

Tapioca Milk Tea Soft Cream – ¥520

You can really taste the flavour of the tea leaves. The ice cream is moderately sweet with a strong black tea taste. The ice cream means it offers a different kind of tapioca experience from your usual tapioca milk tea.

▼TEA SIGN (ティーサイン)

Address: PARCO (Floor B2F), 3-Chome-3, Minami 1 Jonishi, Chuo Ward, Sapporo, Hokkaido

Opening Hours: 10:00-20:00

No Fixed Holidays

TSURU CAFE in Miyanomori

TSURU CAFE is a stylish little cafe in Miyanomori where they serve cooked confections, cakes, and many popular ice cream flavours. As well as the cafe side of TSURU, they also sell artwork and other things by creators.

Flavour Soft Strawberry – ¥830

The "Flavour Soft Strawberry" is a speciality of TSURU CAFE. This towering dessert is layered with ice cream, fresh strawberries, meringue, and strawberry sauce. The milky ice cream is refreshing, and the sweet taste of the strawberries is divine. The flavours are simple, but every thing in the dessert is delicious. The strawberry sauce is served on the side so you can pour over the amount that suites your taste.

▼TSURU CAFE (ツルカフェ)

Address: 5-2-8 Miyanomori 2 Jo, Chuo Ward, Sapporo, Hokkaido

Opening Hours: [Mon-Sat] 10:00-20:00 / [Sun & Holidays] 10:00-19:00

Closed: Wednesdays

COCOBON in Shin-Sapporo

COCOBON is a super popular fruit and ice cream shop that opened in Shin-Sapporo just last year. The ice cream and fruits are mixed together as soon as you put your order in.

I ordered the Belgian chocolate ice cream with walnuts and chocolate cereal. The Belgian chocolate is sweet and its texture is amazing together with the walnuts. If you love chocolate, you'll love the rich flavour of this ice cream.

The shop actually closes when all the stock is sold out, so if you're planning a trip here, be sure to arrive nice and early so as to not miss out.

▼COCOBON (ココボン)

Address: 8-7-30 Aobacho, Atsubetsu Ward, Sapporo, Hokkaido

Opening Hours: 11:00-17:00

Closed: Mondays & Tuesdays

Enquiries: 011-887-8984

Did you enjoy these ice cream scoops? We hope you get to try some of them, and if you want even more dessert recommendations from Hokkaido, be sure to follow 

Kei

 on Instagram.

Photos & Original Text: Kei / 敬 (@607keih)

Translation: Joshua Kitosi-Isanga

*Information written in this article is correct at the time of publishing. For more details on each shop, please visit their official websites and social media pages.

*Food names are translated from Japanese into English where appropriate.