360° Digital Fireworks to Light Up Summer at Maxell Aqua Park in Shinagawa
Maxell Aqua Park Shinagawa is inviting summer in with HaNaBi aquarium by NAKED, an event that will run from July 1st to September 9th with lots of fun things to enjoy including fireworks in the aquarium, goldfish catching, festive paper lanterns, music and more.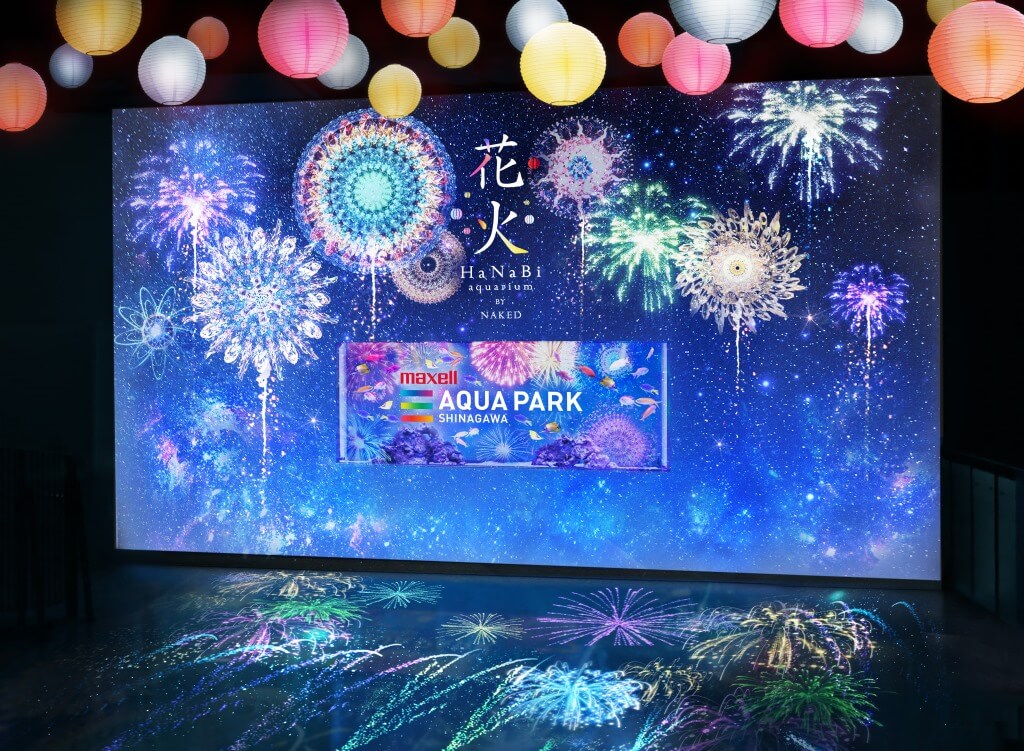 Dancing Fireworks
Projection mapping will be used to decorate the aquarium entrance with countless stars. Touching the walls that enclose the water tanks offers an interactive experience where fireworks will appear wherever you touch.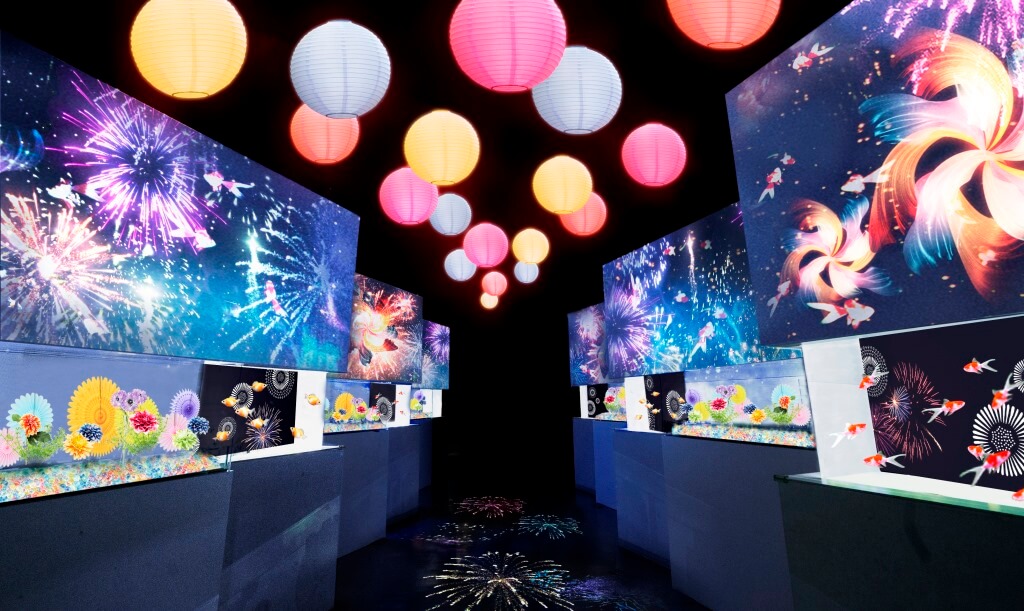 Goldfish Fireworks
Fireworks will twinkle above the tanks where the goldfish swim, and colourful paper lanterns dangling from the ceiling will glow, giving a Japanese summer vibe.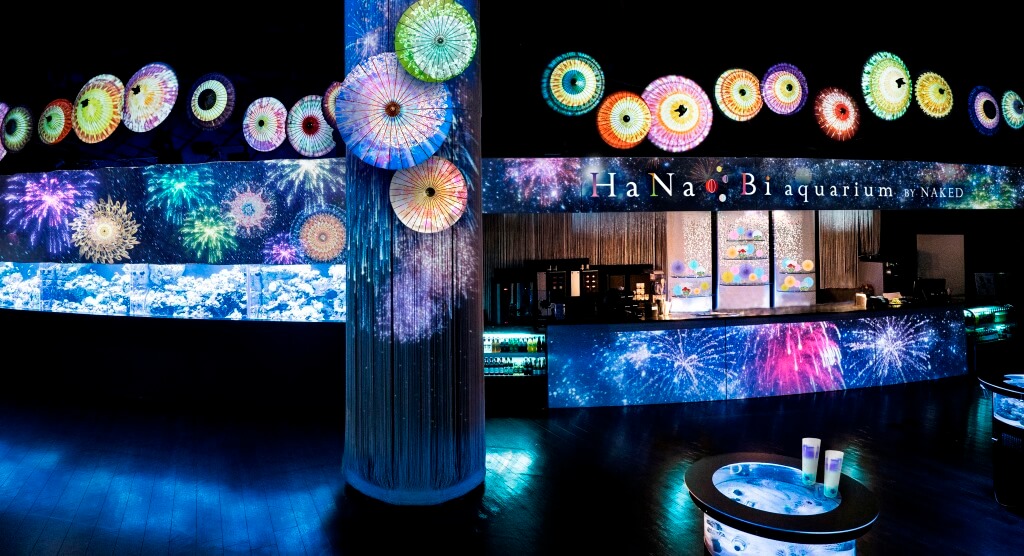 Umbrella Fireworks
There will be a cafe and bar covered in beautiful and magical umbrella fireworks that shine in the dark. There will be special drinks available for the event. Upon ordering a drink at the bar, one of three random firework displays will show.
Digital Fireworks & Nighttime Dolphin Performance
The dolphin performance will combine the dynamic sounds of taiko drums and fireworks to evoke that feeling of festivity. Enjoy a collaboration between dolphins and digital fireworks.
July 1 – August 10 @ 7:30pm / 8:30pm
August 11 – August 15 @ 7:00pm / 8:00pm / 9:00pm
August 16 – September 9 @ 7:30pm / 8:30pm
The contents of this year's event have one upped to elevate that Japanese summer festival atmosphere. Enjoy a seat in the 360° stadium to witness a summer experience available nowhere else but at Aqua Park.
Head to Maxell Aqua Park Shinagawa to witness the latest in innovative technology and entertainment.
■Information
HaNaBi aquarium BY NAKED
Location: Maxell Aqua Park Shinagawa
Address: Inside Shingawa Prince Hotel, 4-10-30 Takanawa, Minato, Tokyo
Running: July 1, 2018 – September 9, 2018
*The opening hours are subject to sudden change without notice. There may also be days where general guests cannot enter due to reservations.
Price: Adults (16+) ¥2,200 / Children (7-15) ¥1,200 / Toddlers (4 and below) ¥700
Official Website: http://www.aqua-park.jp/aqua/index.html
RELATED ENTRIES
Virtual Talent Kizuna Ai to Hold Global Online Fireworks Event

From her debut in 2016 until 2021, Kizuna Ai was the most subscribed VTuber on YouTube, and the one responsible for the term 'Virtual YouTuber.' Now, this legendary star will be holding a concert available to fans of Japanese culture around the world, while also showing off the beauty of a Japanese fireworks festival. The event will take place on Facebook's Oculus, on the Venues app, on September 25, 2021 in Japan. Anyone who has an Oculus Quest can view the concert for free.

Oculus Venues is a VR video platform, allowing users to enjoy a variety of concerts, sporting events, and comedy shows from the front row. There's no need to worry about grabbing expensive tickets or dealing with crowds when you can enjoy your favorite events from the comfort of your own home!

In January 2021, Kizuna Ai announced a contract with UTA (United Talent Agency), one of the four major agencies in the United States. In April and May, she went on her first virtual US tour. Under the theme of connecting with everyone in the world, Kizuna Ai is attempting this new challenge using Oculus to get closer to fans than ever before. As a guest artist, world-renowned performers HANABI will perform, blending traditional Japanese culture with cutting-edge technological art in this one-of-a-kind DJ-directed space.

Will you be tuning in to Kizuna Ai's fireworks concert?

Information

Kizuna Ai Virtual Fireworks Concert

Date: September 25, 2021, 12:00 (September 24, 20:00 PDT)

Where: Oculus Venues

Admission: Free

Restream: To be streamed on YouTube (Date to be announced.)

Official Site: https://www.oculus.com/

Nihonbashi Art Aquarium Museum Closes for Renewal and Relocation

The Nihonbashi ART AQUARIUM will be closed on September 26 2021 to make way for new exhibits and works. The museum is scheduled to be relocated in the first half of 2022.

The ART AQUARIUM Museum opened in Nihonbashi, Tokyo on August 28 202 with the concept of "a museum where life dwells." This will be the largest renewal in the history of the museum Museum, opened by writer and general producer Hidetomo Kimura, with the addition of more exhibits and new and improved interactive areas.

The Nihonbashi Art AQUARIUM Museum opened alongside the 2020 Tokyo Olympics and Paralympic, with the expectations that visitors would come from both within Japan and overseas, thanks to the exhibitions which easily explain and represent Japan's proud traditional culture and performing arts, but due to Covid restrictions, foreign tourists are still unable to enter the country. Despite this, the Museum saw many customers and with the closing of the Olympic and Paralympic Games, the museum will be closed in preparation to relocate to the new ART AQUARIUM. If you want to see the Nihonbashi location for yourself then this is your last chance!

In addition, the "ART AQUARIUM" digital tour is being held from September 12, allowing you to appreciate the Museum in a digital format until the reopening.

Make sure to check out the Nihonbashi ART AQUARIUM while you have the chance!

Information

ART AQUARIUM Museum

Address::1-3-9 Nihonbashihonchō, Chuo-ku, Tokyo

Opening Hours: 10:00~19:00 (L.A 18:30)

Official Site: https://artaquarium.jp

'átoa,' Part Art Museum and Part Aquarium, Opening in Kobe

Blending living creatures with art, átoa, a new urban aquarium, will open in Kobe's Shinkocho on October 29, 2021. New images have just been revealed, and we now have an idea of what the interior will look like!

'átoa' comes from a combination of the words 'aquarium' and 'art,' and as the name suggests, the space will blend over 100 pieces of digital and performance art with 3,000 ocean creatures to provide a never-before-seen experience.  

The exterior of the Kobe Port Museum looks like a contemporary art gallery

The stairway leads guests to a cave entrance, making the visit feel more like an adventure

'MARIN NOTE – The Movement of Life' embodies underwater life 

'ELEMENTS – The Forest of Spirits' welcomes you to a foggy sea of trees

Light cutout show by famed cutout artist Atsumi Sakai

A mysterious walk through a traditional Japanese garden

'PLANETS,' a journey through the darkness of outer space and the deep sea

Food & drink offerings worthy of posting on social media

A spectacular view of the Kobe Bay area
イント

átoa original products on sale

Rokko, the land on which Kobe City sits, is said to have been formed over one million years ago by the upheaval of the Earth and consistent water erosion. The Kobe Port Museum (KPM), where átoa is located, has long attracted visitors with its unique exterior, embodying the ancient origins of the surrounding lands.

átoa will be divided into eight different zones, each with its own theme and distinctive presentation. Visitors will first enter the 'Cave of Beginnings,' where fish-shaped lights reflected on the walls and floor lead you deeper into the space, as if through a kaleidoscope. 

After emerging, 'MARIN NOTE – The Movement of Life,' a visual embodiment of underwater life, will greet you. The sound and scents of the sea will surround guests, with a cylindrical water tank at the center of the room filled with zebra sharks, spotted garden eels, and many more underwater creatures. 

On the second floor, enter 'ELEMENTS – The Forest of Spirits,' a foggy sea of trees straight out of a fairy tale. This is where you can find freshwater fish, amphibians, and adorable tree-dwelling animals not typically found in aquariums, like woodchucks! This is another highlight of átoa: you might find more animals you wouldn't expect!

The third floor houses both 'MIYABI' and 'PLANETS,' where guests can enjoy a 'theatrical aquarium experience.' Discover Atsumi Sakai's famed cutout art in the 'MIYABI' area, meant to simulate a Japanese garden. Enjoy the magical experience of fish swimming just beneath your feet as you stroll along a glass-covered floor. 

The 'PLANETS' area houses AQUA TERRA, one of Japan's largest spherical water tanks, with a diameter of 3 meters. Guests are welcome to ponder the vastness of both outer space and the deepest stretches of the sea. The area is bathed in the light of countless stars thanks to optical fibers embedded in the floor, while mist will continuously pour from above. 

Housed on the fourth floor, an outdoor exhibit, the 'SKYSHORE Sky Garden,' will soothe your soul as you play with only the most adorable marine life, from penguins to otters. This is also where visitors can enjoy the átoa cafe, offering a lineup of Instagram-worthy food and drink. 

The observation deck 'ROOF TOP' also provides a breathtaking view of Kobe. Whether you visit during day or night, take in the views of Kobe Harborland and Meriken Park to your heart's content. A full museum shop will be stocked with adorable plushies and other original products. 

 

Information

átoa
Address: 7-2, Shinkocho, Chuo-ku, Kobe, Hyogo
Open Date: October 29, 2021
Hours: 10:00-21:00 (Open Every Day)
Official Site: https://atoa-kobe.jp

MIDTOWN ART PALETTE Brings Dreamy Digital Artwork to Tokyo Midtown For Summer

Tokyo Midtown's annual MIDTOWN ART PALETTE has returned again for the summer, opening on July 16 and running until September 5. This year, the event delivers a Digital Art Garden with gorgeous dream-like digital artwork.

Digital Art Garden

Last year's event

Experience a distinctively Japanese way to stay cool and refreshed on a wooden veranda with light and mist dancing through the outdoor space inspired by traditional Japanese rock gardens. Find yourself bewitched by an enchanting summer evening as the digital art transforms throughout the day.

This year's event is being held with all proper social distancing measures in place.

Take digital art home with you with AR fireworks

Locate five QR codes dotted around Tokyo Midtown which when accessed via your smartphone will award you with artistic AR fireworks, allowing you to enjoy fireworks with you wherever you point the camera on your screen, including at home.

Japan's Biggest Goldfish Museum Reopens After Refurbishments

The Kingyo Museum, which stands in Nara as the biggest goldfish aquarium and museum in Japan, reopened on April 27 after undergoing refurbishments.

AQUA oasis, an aquatic display and power spot

JAPANESE AQUARIUM DISCO

JAPONE Lane

Goldfish have been tied to Japanese culture since the beginning of the 16th century during the Muromachi Period when they were imported from China. The city of Yamatokoriyama in Nara Prefecture is the oldest location in Japan that has been raising goldfishes.

Due to COVID-19, many summer festivals and events where goldfish would be present have been cancelled up and down the country. That's where Kingyo Museum's renovations come in as a way to bring in tourists and sightseers. The museum has expanded to almost double its previous size to bring in new areas that utilise projection mapping and art, such as the AQUA oasis and the JAPANESE AQUARIUM DISCO which has brought in Japan's first die-cut fish tanks. Visitors can enjoy 38 of Japan' most prominent goldfish species, from familiar faces to rarer kinds.

Information

Kingyo Museum

Reopened: April 27, 2021

Opening Hours: 10:00-18:00 (Last Entries 17:30)

Official Website: https://kingyomuseum.com/

Baumkuchen Served Hot at Your Home Baked Up by Nenrinya

Japanese bakery and confectionery company Nenrinya is releasing a takeout baumkuchen dessert which can be warmed up at home. The baumkuchen was released at Nenrinya's JR Shinagawa Station branch on Monday (February 1) and will be released at their Daimaru Tokyo and Sogo Yokohama branches on February 16.

Hot Baum Shikkarime | ¥432 (Tax Included)

To heat up, you simply microwave it for 30 seconds at 500W. This leaves the inside moist and adds a crunch to the outside, all while helping to emit the sumptuous smell of that butter. It goes perfect with a cup of coffee, tea, or milk. Customise by adding some whipped cream or pour some melted chocolate over.

Information

Hot Baum Shikkarime

Japanese Product Name: ホットバーム しっかり芽

Nenrinya JR Shinagawa Station

Running: February 1, 2021 – April 30, 2021

*Serving from 12:00pm at this branch

Nenrinya Daimaru Tokyo & Nenrinya Sogo Yokohama

Running: February 26, 2021 – February 28, 2021

Nenrinya Official Website: https://www.nenrinya.jp/

Tokyo's Art Aquarium Museum in Nihonbashi Announces Christmas Event

Having only held annual summertime events up to now, Art Aquarium Museum in Nihonbashi, Tokyo, is celebrating Christmas for the first time this year with a series of holiday season festivities.

The Aquarium's first Christmas tree

Art Aquarium Museum will display its very first Christmas tree for the event indoors near the entrance. The tree artwork was created by Hidemoto Kimura using 550 colourful crystals that have been made to look like goldfish. Made from venetian glass, he had them shipped himself from Italy. They are strung in 10 different colours which glow and glisten to create a romantic atmosphere.

Artwork Name: Natale di Pesce D'oro
Running: December 1, 2020 – December 27, 2020
Location: Art Aquarium Museum entrance

Pair tickets for Christmas with alcohol


Pair Ticket (2 People) + 2 Drinks | ¥4,600 (Tax Included)

Those arriving in twos can buy Pair Tickets which come with two alcoholic or non-alcoholic beverages so you can plunge into the magical underwater world of the aquarium while enjoying a drink.

Buy Tickets: https://ticket.artaquarium.jp/en/
Running: November 24, 2020 – December 27, 2020
Validity Period: December 1, 2020 – December 27, 2020
Drinks Menu:

[Alcohol] COEDO Beer / Marihana / Louis Raison Rouge Délice

[Non-Alcoholic] Sanpellegrino Pompelmo / Grapefruit

Christmas menu served up in the lounge and cafe

2-Person Hors d'oeuvre With 2 Drinks | Online Booking ¥4,200, Same-Day ¥5,000 (Tax Included) | Serving: December 18, 2020 – December 25, 2020

The aquarium's lounge restaurant is serving an hors d'oeuvre for pairs of Japanese and western food together with two drinks.

2-Person Christmas Sweets Plate With 2 Drinks | Online Booking ¥3,300, Same-Day ¥3,850 (Tax Included) | Serving: December 1, 2020 – December 27, 2020

The cafe is serving up plate of assorted desserts, perfect for a post-aquarium date.

Christmas Special Cocktail | ¥2,200 (Tax Included) | Serving: December 1, 2020 – December 27, 2020

Both the restaurant and cafe are also serving a seasonal cocktail of chocolate, strawberries, cranberries, and champagne jelly for a sweet and refreshing mix.

Information

Art Aquarium Museum Christmas Event

Address: 1-3 Nihonbashihoncho, Chuo Ward, Tokyo
Opening Hours: 10:00-21:00 (Until 20:00 in December)
No Fixed Holidays
General Admission: Adults (13 and over) ¥2,300 (Tax Included) / After Dark Ticket: Adults (13 and over) ¥2,000 (Tax Included)

*Free for 12 and under
Official Website: https://artaquarium.jp/en/

Tokyo's Fate/Grand Order 2021 Event to Take Place at Ikebukuro Sunshine 60

To promote the upcoming anime film adaptation of mobile RPG Fate/Grand Order's popular episode "6th Singularity: Camelot," an event will take place at SKY CIRCUS Sunshine 60 Observation Deck and Sunshine Aquarium in Ikebukuro, Tokyo from December 4, 2020 to January 31, 2021.

New artwork displayed for the event

A collection of new artwork has been drawn specially for the event. Fans will find life-sized cut-outs of Bedivere, Mashu Kyrielite, Lion King, Gawain, and Lancelot at the observation deck and Ozymandias, Nitocris, and Arash at the aquarium. There will also be voiced panels at the observation deck with newly-recorded lines by Mamoru Miyano (Bedivere) and Takehito Koyasu (Ozymandias). Different voice recordings will be rolled out throughout the duration of the event. This info can be found by following the venue on Twitter @skycircus60.

Anime photos and signed exhibits

The observation deck will also feature photos taken from scenes in the anime series as well as exhibits signed by the character voice actors.

Original Merchandise

Stickers

Pins

Both the observation deck and aquarium will sell their own original merchandise, so fans will want to visit both venues.

Keyword Rally

Keyword Rally answer sheet

Both venues will host a keyword rally where fans will have to fill out their answers of the correct words on the sheets in Japanese. Clearing each one will get them an original card with five different designs from the observation deck and three from the aquarium.

Answer sheets can be bought for ¥600 each from the 60th floor ticket counter at the observation deck and next to the annual passport counter at the aquarium.

Tully's Coffee Collaboration

Tully's Coffee coasters

Both venues have their own branches of Tully's Coffee, a cafe chain. For every ¥800 spent on a transaction you will receive one of eight possible coasters chosen randomly.展

Movie ticket campaign

If you go to see the upcoming Fate/Grand Order movie in Japan and show your movie ticket at either the observation deck or aquarium you can get 20% off your entry to the event.劇

More original merchandise

Starting on December 4, the observation deck will begin selling merchandise tickets in addition to regular entry tickets which include both admission and a piece of merchandise.

©TYPE-MOON / FGO6 ANIME PROJECT

Information

Fate/Grand Order x SKY CIRCUS Sunshine 60 Observation Deck x Sunshine Aquarium

Venues: SKY CIRCUS Sunshine 60 Observation Deck / Sunshine Aquarium

Address: Sunshine City, 3-1 Higashi-Ikebukuro, Toshima-ku, Tokyo

Dates

Observation Deck: December 4, 2020 – January 31, 2021

Aquarium: December 4, 2020 – January 11, 2021

SKY CIRCUSSunshine 60 Observation Deck Official Website: https://sunshinecity.jp/observatory/

Hatsune Miku and Rascal the Raccoon to Collaborate at Magical Mirai 2020 in Osaka

Nippon Animation and Crypton Future Media are set to collaborated for the 4th time by bringing together the popular character Rascal from the Japanese animated series Rascal the Raccoon and VOCALOID. The two companies will release pre-sales of collaborative merch at Magical Mirai 2020 in Osaka from November 27 to 29.

Rascal celebrate hits 40th anniversary back in 2017, the same year his collaboration with VOCALOID began. "Japanese Festival" is the theme for the merchandise line-up which sees the adorable raccoon come together with familiar faces from the VOCALOID roster including Miku, Rin, Len, Luka, KAITO, and MEIKO, all of whom are donning their appropriate festive garbs. There's also a "Firework Festival" collection of merchandise too which was designed in collaboration with Japanese illustrator Omutatsu.

The merchandise will also be released at the official Nippon Animation shop ANi★CUTE in Ikebukuro, Tokyo on December 18, 2020.

Artwork sample

Merchandise sample

Information

Magical Mirai 2020 in OSAKA
Running: November 27, 2020 – November 29, 2020
Venue: INTEX Osaka Buildings 3 and 4
Address: 1 Chome-5-102 Nankokita, Suminoe Ward, Osaka
Official Website: https://magicalmirai.com/2020/
COCOLLABO Official Website: https://www.cocollabo.net/sp/Magicalmirai2020/

Nippon Animation Official Shop ANi★CUTE
Release Date: December 18, 2020
Location: Sunshine City Alpa 2F
Address: 3-1-2 Higashi-Ikebukuro, Toshima-ku, Tokyo
Opening Hours: 10:00-20:00
TEL: 03-6914-2668

PETALS TOKYO: Japan's First Floating Hotel Opens For Business

PETALS TOKYO opened on November 9, 2020 as Japan's first 'floating hotel' on the Tennozu Canal in Shinagawa, Tokyo.

The Tennozu area is connected to Shinagawa-juku, a station famous for its Edo history, which has resulted in a fusion of both traditional and contemporary culture. Situated next to the water, it's a location rich with contemporary art. It's an easy place to reach from Haneda Airport which has granted it an increase in visitors over the years.

PETALS TOKYO is a 'cottage-type' hotel facility situated on the Tennozu Canal. Telephone poles have been set up underground which has given it the benefit of both being within the walking distance of Shinagawa Station and the busy city while enjoying a more natural look. Guest rooms too are loaded with amenities with naturally-derived ingredients and other environmentally-friendly aspects.

PETALS TOKYO and its four multi-coloured boats

Tennozu is a warehouse district that has transformed into an art city. From here emerges PETALS TOKYO, Japan's first floating boat hotel. It consists of four multi-coloured hotel boats anchored beside T-LOTUS M, an event venue on the Tennozu Canal. Its name PETALS TOKYO is inspired by the imagery of lotus petals floating on the water.

Like the houseboats in Amsterdam, which was developed as a city of canals, each of the four boats has been meticulously handcrafted with its own individual design concept. The interiors are all unique and boast a premium feel. Located at a junction between the river and the sea, this canal connects Tokyo, one of the largest cities in Asia, to the world beyond the sea.

If you're looking for a place to stay in Tokyo but don't want to be in the hustle and bustle of the big city, then consider booking with PETALS TOKYO for a stay on the water.

Information

PETALS TOKYO
Address: T-LOTUS 2-1 Higashi-Shinagawa, Shinagawa-ku, Tokyo
Access:
7 minute walk from Tokyo Waterfront Area Rapid Transit Rinkai Line "Tennoz Isle Station" B Exit
8 minute walk from Tokyo Monorail Haneda Airport Line "Tennoz Isle Station" Central Exit

Bookings/Official Website: https://www.terrada.co.jp/en/service/space/petals-tokyo/
TEL: 050-5491-2681 (10:00-17:00)

Jellyfish and the Moon and Stars Come Together at Tokyo's Sumida Aquarium

Sumida Aquarium in Tokyo has announced a special winter event called "Moon & Jellyfish" which will run from November 20, 2020 to February 14, 2020, creating a spectacle that weaves a story of moon jellies in the twinkling night sky.

Moon & Jellyfish will be the first event to take place inside Big Petri Dish, a giant seven-metre tank that opened at Sumida Aquarium in July of this year and houses around 500 jellyfish. The tank's flat appearance allows visitors to look out across the water to see what looks like a sea of floating Moons.

For the event, special visual imagery will be shone onto the ceiling, walls, and floor to weave together a story. On the ceiling, visuals will show a moon jelly growing, like a waxing moon, into a full adult jellyfish. On the walls and floor, ephyra, which are one of the early stages of a jellyfish's lifecycle, will be displayed. They are star-shaped and so will look like stars of the night sky next to the moon jellies.

On Fridays and weekends this December, Sumida Aquarium is also hosting a projection mapping event called Penguin Candy where the penguin pool will be lit with Christmas illuminations to the sound of festive music.

Visitors to the Penguin Cafe will also find a limited-edition winter hot cocoa inspired by the Moon & Jellyfish event, with the tapioca pearls as the jellyfish, a moon marshmallow, and blue mint whipped cream.

Information

Moon & Jellyfish

Running: November 20, 2020 – February 14, 2021

Location: Sumida Aquarium Floor 6F Big Petri Dish

Penguin Candy

Running: Fridays and Weekends in December 2020

Times: ①18:30 / ②19:30 (approx 8 mins each)

Location: Sumida Aquarium Penguin Pool

Official Website: https://www.sumida-aquarium.com/index.html

See Dolphins and Jellyfish in Special Night Time Christmas Performance at Maxell Aqua Park Shinagawa

Maxell Aqua Park Shinagawa has announced that its Christmas event for this year, "Bright Christmas Party," will run from November 7 to December 25.

Maxell Aqua Park Shinagawa is known for its breathtaking events and performances which incorporate digital art using the latest in technology. This Christmas, the aquarium is holding a special night time version of their popular dolphin performance in collaboration with Japanese creative company NAKED, INC. who have created a kaleidoscope of beautiful lights and visuals to deliver a Christmas party that visitors won't soon forget.

Bright Christmas Party: Dolphin performance (Night Version) 

The dolphins will deliver a fantastic Christmas time surrounded by the starry sky with lights, sounds, visuals, and of course the water.

[Weekdays] 18:00

[Weekends] 17:30/19:00

[Christmas Eve & Day] 17:30/19:00

Jellyfish Rumble

The ceiling and walls are all mirrors and house seven towering fish tanks with a variety of jellyfish in them like the moon jelly and Indonesian sea nettle. Visitors can expect to be transported into another world with vivid blue and yellow lights that create an image reminiscent of the stars and night sky.

Christmas beverages

The Coral Cafe Bar will be serving up three drinks and a dessert which are also based on the Christmas starry night sky. These can be drank and eaten around the aquarium so you can enjoy the dolphin performance and other exhibits while you tuck in.

Serving: November 1, 2020 – December 25, 2020

Information

Maxell Aqua Park Shinagawa

Address: 4-10-30 Takanawa, Minato-ku, Tokyo (Inside Shinagawa Prince Hotel)

Official site: www.aqua-park.jp