FAKY to Perform Black Clover Ending Theme Song 'four'
You must have heard of FAKY by now, the four-member Japanese girl group who have enjoyed much success outside of their home country. They made it into the Virtal Top 50 on Spotify not just in Japan, but in the US, UK and Ireland too. Their overseas popularity is growing day by day and their recognition is swelling it a rapid pace.
They have made headlines recently for featuring on the new album NEOTOKYO FOREVER by Elly, also known as CRAZYBOY and as a member of Sandaime J Soul Brothers. The album was released on July 4.
In recent news, it has been announced that FAKY will perform the new ending theme four for the hugely popular ongoing anime series Black Clover.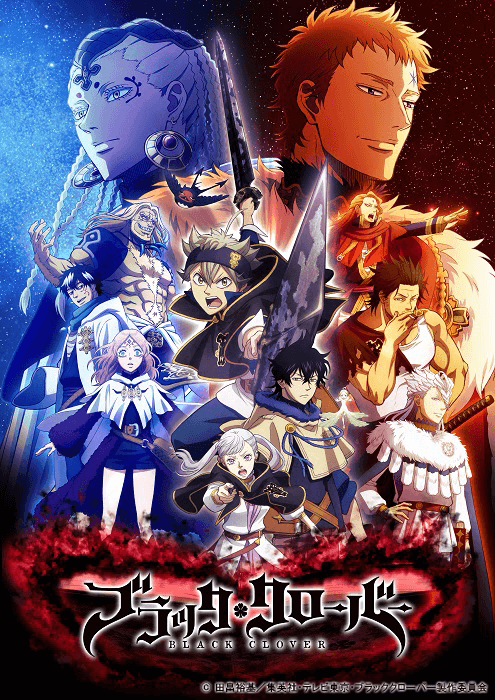 Black Clover is a fantasy shonen manga series serialised in Weekly Shonen Jump that has sold over 6 million copies. It takes place in a world where anyone has the ability to use magic and follows Asta and Yuno, orphans who were abandoned at a church orphanage. The series explores the adventures and growth of Asta, who hasn't been able to use magic since he was born, and Yuno, who wields great magical power. The series has been acclaimed for is captivating magical battle sequences and enjoys fans of all ages and genders.
The new ending theme will debut on July 10. It's a ballad with lots of positive messages, such as being connected even when apart, and always being allies. The lyrics are fitting for protagonists Asta and Yuno and showcase the singing ability of FAKY.
The song will be available for digital download on July 11, the day after we hear it in the series. Additionally, the new opening theme song will be performed by Kumi Koda who is signed to Rhythm Zone, the same record label as FAKY.
FAKY will perform in Mie and Nagasaki this summer for A-Nation 2018 which is being supported by dTV and dTV Channel. The girls have built a reputation for their live performances, so be sure to catch them live if you can.
■Information
FAKY – "four"
On Sale: July 11, 2018配信開始日:7月11日
FAKY -"Who We Are"
Spotify (International): https://spoti.fi/2IHCRgv
iTunes/Apple Music (International): http://smarturl.it/fakywhoweare
FAKY – "Who We Are" Music Video
Tour Dates
A-Nation 2018 supported by dTV & dTV Channel
Venue: Nagashima Spa Land, Mie
Date: July 28, 2018
Time: Open 13:00 / Start 15:00 (*Times are subject to change)
Venue: Huis Ten Bosch Rotterdam, Nagasaki
Date: August 4, 2018
Time: Open 13:00 / Start 15:00 (*Times are subject to change)
A-Nation Official Website
FAKY Official Website
RELATED ENTRIES
TV Anime Black Clover's New Ending Theme by TREASURE Debuts

The new ending theme BEAUTIFUL by TREASURE for the TV anime series Black Clover hit the air on January 5, 2021. The song has been a hit with TREASURE fans around the world as it garners huge attention on social media, with the hashtag "#BlackClover_with_TREASURE" having trended this week.


TREASURE is a South Korean boy band signed to YG Entertainment which is known for some of the biggest names in the K-pop industry such as BIGBANG and BLACKPINK. The band released three consecutive singles in August, September, and November of 2020 as part of their THE FIRST STEP single series which has sold over 700,000 copies. The band also won Best New Act last year at the 2020 Asia Artist Awards and Korea First Brand Awards.

"We are honoured that our first original Japanese song will be used as the ending theme before we make our Japan debut," explains TREASURE. "We express those anime themes of positivity and not giving up on your dream in the song. We'd love it if you enjoyed it together with the series."

Black Clover is a manga series written and illustrated by Yūki Tabata and serialised in Weekly Shonen Jump. The story follows a boy by the name of Asta who is born without magic—something unknown in his world―and his journey to become the next Wizard King. An anime adaptation has been airing since 2017 with its fourth season currently airing.

TREASURE will release their first album THE FIRST STEP:TREASURE EFFECT digitally on January 11, 2021, with the CD edition dropping the following day on January 12.

©︎ 田畠裕基/集英社・テレビ東京・ブラッククローバー製作委員会

Black Clover Anime's Opening Theme by Snow Man Special Music Video Released

Four pieces of news related to the TV anime series Black Clover were announced at the Black Clover Stage of Jump Festa 2021 ONLINE on Sunday (December 20).

1) Special music video for new OP theme 'Grandeur' by Snow Man

A special music video was released featuring the upcoming new Black Clover opening theme Grandeur which is set to feature in the anime series in January for the Heart Kingdom Arc. The video includes footage from the anime series – check it out below.

Snow Man – "Grandeur" Special Music Video


2) Gakuto Kajiwara performs ending theme 'A Walk' live

Gakuto Kajiwara, the voice actor for Black Clover's protagonist Asta, performs the current ending theme A Walk which also comes as his debut single. The voice actor performed the song live at Jump Festa 2021 ONLINE making it his first performance on a big stage. Kajiwara described it as a deeply moving experience having wished to perform live after seen Kankaku Pierrot perform at the first Jump Festa four years ago.

3) Heart Kingdom Arc main visual unveiled

The Heart Kingdom Arc main visual teases the Clover Kingdom battling against the Spade Kingdom with Asta & Yami vs Dante, Yuno vs Zenon, and Noelle vs Vanica.

4) Tatsuhisa Suzuki as Zenon & Yui Ogura as Vanica

It was confirmed that Tatsuhisa Suzuki will voice Zenon and Yui Ogura will voice Vanica. Suzuki said, "I hope to do my very best to make everyone feel good by dragging them into a whirlpool of fear," while Ogura said, "I'm going to awaken the pleasure-seeking individual inside me for these recordings. I'll work hard to fill you all with fear!"

©田畠裕基/集英社・テレビ東京・ブラッククローバー製作委員会

Black Clover's Opening and Ending Themes to be Performed by Snow Man and TREASURE

It has been confirmed that Snow Man and TREASURE will perform the new opening and ending theme songs respectively for Black Clover Starting in January. Snow Man is set to showcase a special anime music video featuring the song at Jump Festa 2021 ONLINE, and there will also be a live streamed performed by Gakuto Kajiwara who voices Asta in the anime series.

Black Clover is a manga series written and illustrated by Yūki Tabata and serialised in Weekly Shonen Jump. The series has over 11 million copies in circulation. The story follows a boy by the name of Asta who is born without magic—something unknown in his world―and his journey to become the next Wizard King. An anime adaptation has been airing since 2017 with its fourth season currently airing.

The series will enter a new arc on January 5, 2021 as part of Season 4 which will introduce the new opening theme Grandeaur by Snow Man and ending theme BEAUTIFUL by TREASURE. Snow Man previously performed the Black Clover opening theme Stories which served as their second single and enjoyed over a million streams. TREASURE is a South Korean boy band with BEAUTIFUL as their first original Japanese song.

Snow Man will reveal a special music video featuring the new opening theme Grandeur at the upcoming online anime festival Jump Festa 2021 ONLINE which is set to begin on December 20, 2020 at 11:30am (JST). Gakuto Kajiwara, the voice of Asta in the Black Clover anime series, will also perform the current ending theme A Walk. If you didn't know, the voice actor is in fact the original singer for that song.

Snow Man | Comment

"We're so happy we get to do another Black Clover opening song. Grandeur is French for splendour. The lyrics talk of plunging forward in the world together with your comrades, things like overcoming your fate and taking your dream in your grip and running with it, and nabbing a world beyond imagination in the palm of your hands. We hope you enjoy the incredible world of Black Clover while listening to our song Grandeur."

TREASURE | Comment

"We are honoured that our first original Japanese song will be used as the ending theme before we make our Japan debut. We express those anime themes of positivity and not giving up on your dream in the song. We'd love it if you enjoyed it together with the series."

©田畠裕基/集英社・テレビ東京・ブラッククローバー製作委員会

Information

Jump Festa 2021 ONLINE – Jump Super Stage: Black Clover
Date: December 20, 2020 at 11:30am-12:00pm (JST)
Line-Up: Gakuto Kajiwara (Asta), Nobunaga Shimazaki (Yuno), Junichi Suwabe (Yami Sukehiro), Kana Yuki (Noelle Silva), Ayane Sakura (Secre Swallowtail)
Watch Here: https://www.jumpfesta.com/stage/

Black Clover

Official Website: http://bclover.jp/

Vickeblanka Drops Official Music Video for Black Clover Anime Op 'Black Catcher'

Having released the new song Black Catcher digitally on January 8, 2020, Vickeblanka just dropped the song's official music video.

Vickeblanka 'Black Catcher' Official Music Video

Committed to releasing a new song digitally every month for three months, Black Catcher marks Vickeblanka's second song release in the project. Black Catcher was written as the season 10 anime opening theme song for Black Clover. The ominous video reflects darkness and urgency, weaving the turbulent story with a sense of awakening. The colours of the video create a world of distorted paradise. 

Although the new Black Clover episodes started airing just yesterday, the video for the opening theme song has already become a big sensation and is already showing signs of becoming the top fighting spirit song of 2020.

A Statement by Vickeblanka

I cannot express just how privileged I feel to have been entrusted with creating the opening theme song for Black Clover for the second time now. The music video is a story of being purified by a small version of oneself. Although part of the video is just me messing around, I hope that viewers can connect with the song through the visuals created by the unique colours and atmosphere. 

Vickeblanka will release a new album called Devil on March 4, 2020 and is also set for Tour de Devil 2020.  Tickets will be available to purchase from event hosts in the respective performance regions.

©Y/STB

Vickeblanka's New Song 'Black Catcher' Revealed as Black Clover Opening 10

Artist Vickeblanka will release a new song called Black Catcher on January 8, marking the second release of the singer's three-month digital song release plan. Black Catcher will be used as the tenth opening theme song for the anime Black Clover.

A strong melody pours out over the dark soundscape of this song. The groaning bassline is punctured by the sharp beat of the drums, over which the guitar melody glides gracefully, entwined with the turbulent yet beautiful piano accompaniment. The fighting spirit of the song rises with the endless strength of the vocals. 

This isn't the first Black Clover opening theme song for Vickeblanka – the artist previously released the song Black Rover as a Black Clover anime opening. The song ranked at number 15 on Spotify's 2019 list of most played Japanese songs overseas. At the moment, the sensational song has been played over 20 million times on streaming services and over 15 million times on just Spotify alone, leaving expectations for Vickeblanka's upcoming track at an all-time high. 

A Statement by Vickeblanka

As a Jump fan, I am extremely honoured to be in charge of a Black Clover opening for the second time now. As the story has progressed significantly since, I put a lot more empathy into this song. It is filled with darkness and a sense of urgency. 

Vickeblanka is set to release the new album Devil on March 4, marking the artist's third ever original album release in a year and four months. As fans reminisce of how we were drawn in by the euphoric world of Vickeblanka's previous album wizard, the complete change of tone with the new album Devil is sure to shock listeners. 

Vickeblanka will also embark on a tour titled Tour de Devil 2020 which consists of eight performances including some in Higashi-Meihan halls. The tour will kick off at Orix Theater, Osaka on April 29 and will arrive at NTK Hall Forest Hall, Nagoya on May 1. The final performance will take place on May 9 at Nakano Sunplaza in Tokyo. Tickets will be available to purchase from event hosts in the respective performance regions.

©Y/STB

Black Clover's New Ending Theme by Kalen Anzai Appears in Anime's TV Commercial

Kalen Anzai has been lauded as a next-generation icon, earning the nickname Posu Gyaru ("Post-Millennial Girl"). Her newest song Jinsei wa Senjō da is currently being used as the latest ending theme for the ongoing hit anime series Black Clover. The track was used in a new goosebump-incuding TV commercial for the show.

 

Kalen Anzai – "Jinsei wa Senjō da" (TV Anime Black Clover Ver.)

The commercial is a compilation of memorable scenes from the anime series woven together perfectly to make it look like the characters are singing the ending theme.

 

The commercial has kindled an excited fire amongst fans of the show, with Japanese viewers commenting such things as, "Asta's singing! They have all the best scenes in there, I'm hyped to watch again!" and "I've never seen a commercial like this before."

Since her debut, Anzai's popularity has spread across Japan: she was featured on the front cover of online and physical Shibuya culture magazine POSTOKYO.JP, was the first female solo artist to feature in the promotional visual for cosmetic brand M·A·C, has appeared on MTV and MUSIC ON! TV and more. Her android-like appearance has even sparked rumours that she is a virtual artist. She has garnered huge attention for both her sound and visual aspect.

Black Clover's New ED Theme 'Jinsei wa Senjō da' Performed by Kalen Anzai

Kalen Anzai made her debut with her single Sekai no Subete Teki ni Kanjite Kodoku Sae Ai Shiteia which was released across digital music platforms on May 1 this year. Since then, her music has been picked up by major music media services, like MTV and MUSIC ON! TV in Japan, who have played her songs countless times.

Since her debut, she has been lauded as a next-generation icon, earning the nickname Posu Gyaru ("Post-Millennial Girl"). Her popularity has spread across Japan: she was featured on the front cover of online and physical Shibuya culture magazine POSTOKYO.JP, was the first female solo artist to feature in the promotional visual for cosmetic brand M·A·C, and more.

Her new single, Jisei wa Senjō da ("Life is a Battleground"), was released digitally on October 1. The song will be used as the new ending theme for the ongoing TV anime series Black Clover.

She has been a longtime fan of the manga series, which has sold over 9 million copies. It is written and illustrated by Yūki Tabata and serialised in Shueisha's Weekly Shōnen Jump magazine.

Speaking about her involvement with the series, Anzai commented: "Everyone in the Black Bull squad is straightforward when it comes to their feelings, and they believe in their friends. It's something that always gives me courage. I'm honoured to have the opportunity to sing the ending theme for a series I love so much."

She continues: "This song is akin to Asta, [touching on things like] the pain felt in the face of adversity, and sewing courage, so I'd be overjoyed if it gets across to people in some way when it plays in the series."

The official music video was posted on avex's YouTube channel and can be seen below.

The music video is Anzai's third in a series of three, following on from Sekai no Subete Teki ni Kanjite Kodoku Sae Ai Shiteia and Dareka no Raise no Yume Demo ii. It's set in a fictional world called "Immersive Society 3.0," based on a near-future created by advanced AR technology. It considers the worry of losing sight of our real selves to create a virtual version.

Anzai teamed up with some of Japan's leading Sci-Fi creators to make this crazy virtual reality feel more real, including acclaimed Japanese CG studio Cafe Group, and Yuki Tsujimoto who has received huge praise for his futuristic visuals.

Anzai's outfit was created by RISA "ribbon" KATO―who is known for her unique style and as a spearhead of street fashion―while her hair and makeup in the video was done by TORI. who is also known for her work as a collage artist. All of the people involved with the music video have helped to elevate its cyberpunk, vaporwave, and avant-garde aesthetic.

Anzai has also teamed up with Tower Records for their Ki ni Naru Ano Ko ("We're Curious About That Artist") promotion for Tower Records Members. The above-pictured poster is now plastered across all Tower Records branches. Anzai is dressed in the music store's red and yellow colours and is serving that post-millennial girl makeup.

With the hype around her surging, we look forward to seeing what Kalen Anzai has in store next. Stay tuned for updates.

©Yūki Tabata / Shueisha・TV Tokyo・Black Clover Production Committee

All-Girl Rock Band GIRLFRIEND Release Music Video For Black Clover OP Theme 'sky & blue'

GIRLFRIEND is an all-girl Japanese pop-rock band made up of four members whose average age is 18. Each of them has a hand in writing and composing all of their tracks and all of them perform vocals.

Their new song sky & blue began being used as the eighth opening theme to the ongoing TV anime series Black Clover on August 6. The CD will hit shelves in Japan on August 28, but in the lead up to its release, the band have dropped a short version of the music video along with a new artist photo and the CD covers for the single.

GIRLFRIEND – "sky & blue" Music Video (Short ver.)

https://www.youtube.com/watch?v=SGJ37P4QNXA

The video was directed by Tsugumi Matsunaga who puts the visuals through a light and pale lens which conjures up a feeling of nostalgia. Within that scene GIRLFRIEND give a powerful musical performance as they show their skills with each of their instruments: SAKIKA on vocals and guitar, NAGISA on guitar, MINA on bass, and MIREI on drums.

The new artist photo and CD covers were also shot by Matsunaga and show GIRLFRIEND in a different light to their usual photos with a lighter atmosphere and softer tones.

The anime edit version of sky & blue will be released as a standalone digital download tomorrow (August 7). The song is produced once again by NAOKI-T who has worked with many artists including singer-songwriter Miwa.

©Yūki Tabata / Shueisha・TV TOKYO Corporation・Black Clover Production Committee

Information

sky & blue

Standalone Release Date: August 7, 2019

Download Price: ¥150 (Tax Included)

*Available via Apple Music, Recochoku, mu-mo and elsewhere

CD Release Date: August 28, 2019

Regular Edition (CD+DVD): ¥1,800 (Before Tax) [AVCD-94599/B]

Regular Edition (CD-Only): ¥1,200 (Before Tax) [AVCD-94600]

GIRLFRIEND Official Website: http://www.girlfriend.band/

Black Clover Official Website: https://bclover.jp/

TV Anime Black Clover's New Opening Theme 'JUSTadICE' Performed by Seiko Ohmori

Japanese singer-songwriter Seiko Ohmori is celebrating five years since her major debut this year with a project entitled "Super Singer 5th Anniversary Handmade Miracle 5!" with which she intends to roll out five different things throughout the year.

The first was her new single Zettai Kanojo feat. Sayumi Michishige which was released on March 13. The second was the announcement of her first ever prefectural tour which begins in June and will take her to 47 all prefectures of Japan.

This time, it has been announced that she will perform the song JUSTadICE which will be used as the new opening theme for the popular ongoing anime series Black Clover. The song was released digitally on April 5, 2019.

Seiko Ohmori – "JUSTadICE" (Anime Version) | TV Anime "Black Clover" 7th Opening Theme

The new anime opening video was also posted on her official YouTube channel.

Ohmori is responsible for having written the lyrics for and composed the track while ANCHOR (ZiNG), who arranged many of her tracks from her album Kusokawa Party, produced the album.

The catchy track has a guitar rock sound backed up by Ohmori's high-pitched vocals laced with her characteristic word play. The lyrics reflect the feelings of the protagonist of the Weekly Shonen Jump series.

The digital song's cover art was created by Kaoru Aoyagi and is very Ohmori-esque.

SOLIDEMO & Sakuramen Perform Black Clover's New Ending Theme

Eight-member all-male vocal group SOLIDEMO and the handsome pack of wagakki-instrument-playing guys in Sakuramen have collaborated on a new song titled My Song My Days which has been announced as the new ending theme for the Black Clover anime series.

The Black Clover manga series has been seralised in Shueisha's Weekly Shōnen Jump magazine since 2015 and has gone on to sell over 6 million copies. It takes place in a world where anyone has the ability to use magic and follows Asta and Yuno, orphans who were abandoned at a church orphanage. The series explores the adventures and growth of Asta, who hasn't been able to use magic since he was born, and Yuno, who wields great magical power.

My Song My Days combines SOLIDEMO's harmonies and Sakuramen's traditional Japanese instruments.

SOLIDEMO Members Comment:

"We have been reading Jump since [the series] was first serialised. We love it so we are extremely honoured to be performing the ending theme! Asta is someone who believes in his dreams and pushes forward in the face of adversity. We borrow that power too. In this collaboration with Sakuramen we get right into the outlook of the series and sing as if we have taken new magic into our hands."

Information

My Song My Days

SOLIDEMO Official Website: https://solidemo.jp/

TV Anime "Black Clover"

Airing on TV Tokyo every Tuesday at 18:25 (JST).

Airing on BS Teleto every Friday at 00:30 (JST)

Black Clover Official Website: https://bclover.jp/

©Yūki Tabata / Shueisha・TV Tokyo・Black Clover Production Committee

TV Anime Series 'Black Clover' Season 2 Opening & Ending Theme Performed by Miyuna

Eggs is a popular Japanese digital music website for indie bands where talented musicians set on music as a career gather. Miyuna is a female high school student and singer from Miyazaki Prefecture who has a page on the website, and it's there that she released a demo song with just her and an acoustic guitar which shot up to No. 1.

The singer was chosen to perform the opening and ending themes to season two of Black Clover which began on October 2.

Miyuna is 16-years-old and has only just entered her first year of high school. She began taking her music career seriously this summer, performing at clubs in her hometown of Miyazaki as well as Fukuoka and even as far as Tokyo. It's just short of 8 months since she began making music with her guitar.

By uploading the demo to Eggs during her early career and communicating in real time with music fans on social media she was able to complete the song. Listeners have shown support for this method of music distribution that turns the regular industry on its head – that a song that hasn't even been completed yet reached number one on both the weekly music and artist rankings.

When Miyuna began performing live in the early summer her overwhelming voice caught the attention of those involved in music immediately. It didn't take long for word on her to spread.

The 16-year-old has now become a big player in the industry with her involvement with Black Clover.

The opening theme song Reckless is now available on most major music streaming websites. It's a fast-paced number that expresses purely the troubles and impulses of a 16-year-old.

Miyuna said the following about her involvement with the series:

"Thank  you so much for letting me be responsible for the theme songs – it's a big task. The protagonists Asta and Yuno leave their small village and embark to the big city to work hard and fulfil their big dream to become the Wizard King. I left Miyazaki Prefecture and am also working hard to fulfil my dream of becoming a singer. The two of them advance toward their dream without being crushed no matter what happens. Seeing that gives me great dreams and aspirations too. And the characters in Black Clover each have their own deep stories.  Their worries and dark sides overlap with me too, and I also get courage seeing them overcome boundaries together with their comrades. I offer these important songs that tells those stories to everyone's hearts with everything I have!"

The fact that the songs overlap Miyuna's own circumstances with Black Clover's story means that the lyrics and melody have an energy and power that only she can express. They are a fitting addition to the anime which is entering its second year.

The ending theme is titled Heaven and Earth and Black Clover is the first place it was heard completed and in full.

Vickeblanka Releases Black Clover Anime Music Video for 'Black Rover'

Vickeblanka is a J-pop singer-songwriter who made his major debut with the single Urara back in April which reached number one on radio charts across Japan. Recently, it was decided that he would perform the main theme song for Shiki Oriori, an upcoming anime movie from animation studio CoMix Wave Films who are known particularly for Makoto Shinkai's movies (Your Name, The Garden of Words).

On May 29, the official anime music video for Black Rover, the third opening for the anime series Black Clover, was released. The music video is the original video used in the series' opening. The song is included on Vickeblanka's Urara single.

It's a fast-paced, heroic song, and the first anime song to be performed by Vickeblanka.

The artist will head on tour in June to perform in six cities. The Aichi and Osaka dates have already sold out. Tickets for the other concerts are now on sale, so if you're thinking of going, be sure to get your ticket quick.

■Information

Vickeblanka – "Black Rover" (Anime Music Video)

​https://youtu.be/8RSfSxkN0ek​

Vickeblanka ULALA TOUR 2018

06.01 @ Sapporo Cube Garden, Hokkaido ― 18:00 Doors / 19:00 Start

06.08 @ Sendai enn 2nd, Miyagi ― 18:00 Doors / 19:00 Start

06.15 @ Fukuoka BEAT STATION, Fukuoka ― 18:00 Doors / 19:00 Start

06.22 @ Nagoya ReNY limited, Aichi ― 18:00 Doors / 19:00 Start *SOLD OUT

06.23 @ Umeda Shangri-La, Osaka ― 17:00 Doors / 18:00 Start *SOLD OUT

06.29 @ Shibuya Tsutaya O-East, Tokyo ― 18:00 Doors / 19:00 Start

All Standing – ¥4,000 (Tax Included) *Plus mandatory drink charge

Tickets now on sale via the following:

E-Plus: http://eplus.jp/vickeblanka18/

Yahoo! Tickets: http://r.y-tickets.jp/vickeblanka1801

Lawson Tickets: http://l-tike.com/bkulala18-lawson/

Ticket Pia: http://w.pia.jp/t/vickeblanka/

P-Codes By Region

Hokkaido 107-221 Miyagi 108-503 Fukuoka 108-343 Aichi 107-529 Osaka 108-546 Tokyo 109-291

Vickeblanka Official Homepage: http://vickeblanka.com/