Naruto, Sasuke & Boruto T-Shirts Released by XLARGE®
Boruto: Naruto Next Generations is a spin-off and sequel to the worldwide hit anime series Naruto that follows the adventures of Boruto, the sun of Naruto Uzumaki.
Both series teamed up with XLARGE® and released a line of t-shirts on July 6.
There are three t-shirt designs: Naruto on top of Gamakichi while in Sage Mode, Sasuke casting Chidori, and Boruto with the OG Gorilla logo. Each design is original and was illustrated specifically for this collaboration.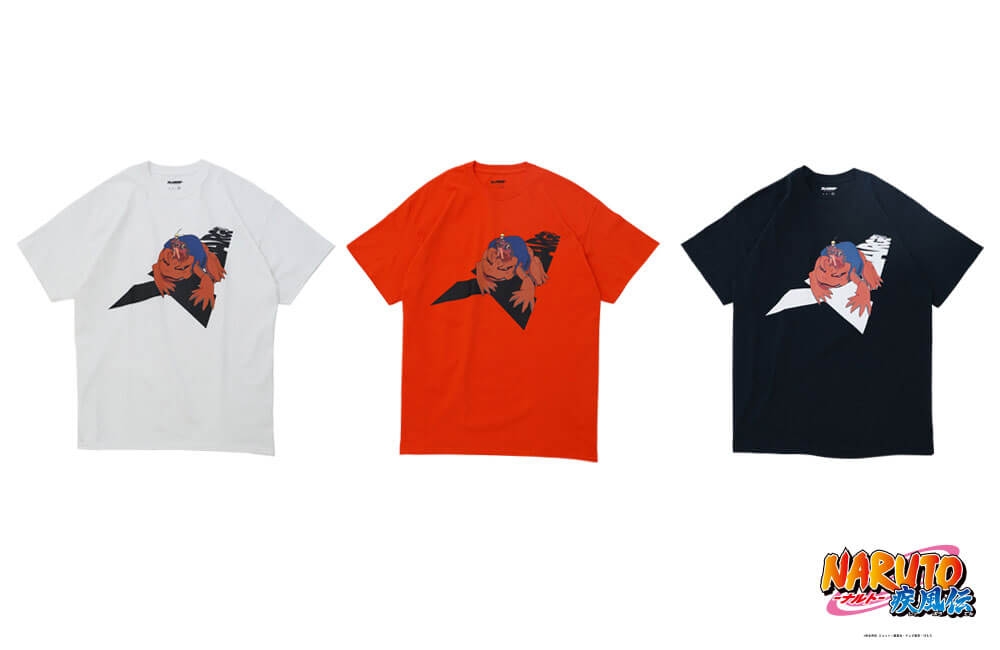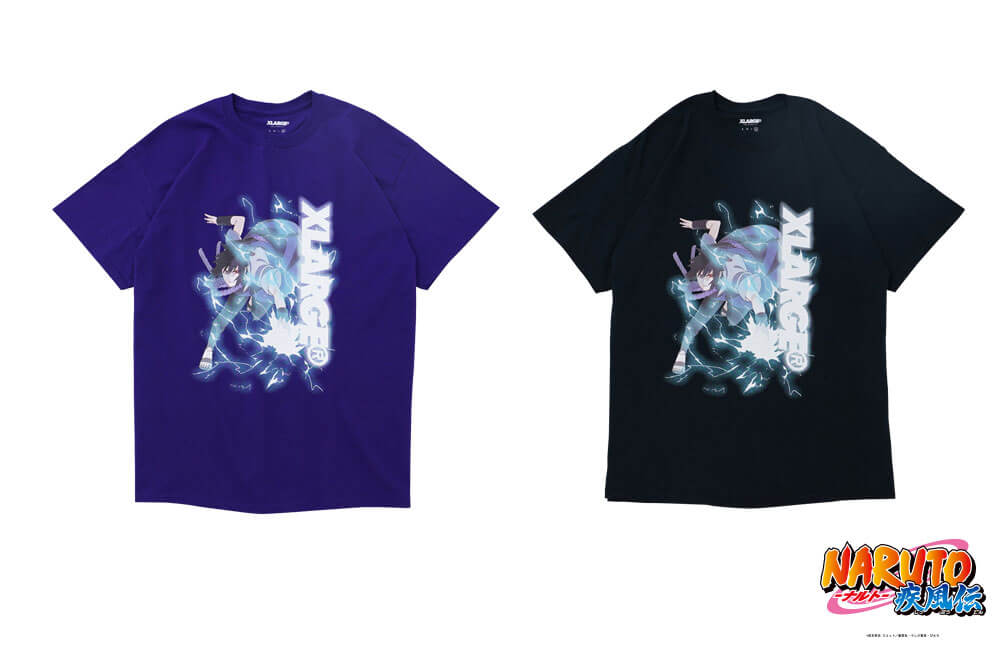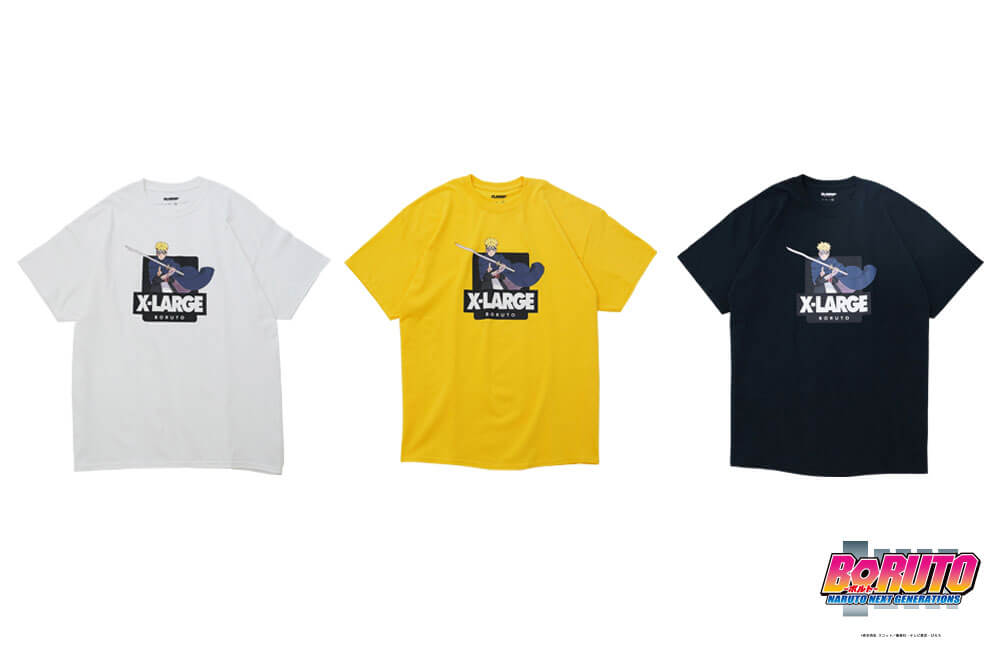 If you're a fan of the franchise then don't miss out on this special collaboration!
■Information
Naruto, Naruto Shippuden, Boruto: Naruto Next Generations & XLARGE® Collaborative Items
Price: ¥5,500 (+Tax)
Available Stores: XLARGE® stores across Japan and official online store Calif
Website: https://calif.cc/brand/xlarge/
RELATED ENTRIES
Celebrate Naruto's Birthday at Fuji-Q Highland's Hidden Leaf Village Theme Park Area

Naruto Uzumaki's birthday falls on October 10, so to celebrate, Fuji-Q Highland, an amusement park in Yamanashi, Japan, is holding a birthday festival for the titular character of the popular anime series. The event will be held at the park's Naruto x Boruto Fuji Hidden Leaf Village area.

Naruto Ramen | ¥1,280 | Available: October 10, 2020 and October 11, 2020

Customers who order the special ramen dish from the ramen bar at the park, which is called Ramen Ichiraku after Naruto's favourite eatery in the series, will get a huge topping of naruto, a type of Japanese steamed fish-paste cake. Only 100 of these hearty dishes will be served a day.

The park is also holding a social media campaign. If they can reach 7,610 followers—a number which can be read as "na-ru-to" in Japanese—this year, then they'll hold a lottery for fans to win a special prize.

Naruto Print Cake / Naruto Team 7 Print Cake

Fuji-Q Highland will also serve up two cakes, one with just Naruto and the other with Naruto and the rest of Team 7 including Sasuke, Sakura, and Kakashi.


Jiraiya / Tsunade / Gaara / Itachi

Lastly, from the end of November, life-sized portraits of Jiraiya, Tsunade, Gaara, and Itachi will be set up at the park for fans to take photos with.

ⓒMasashi Kishimoto Scott / Shueisha・TV Tokyo・Pierrot

Information

Naruto Uzumaki Birthday Festival 2020 – Naruto x Boruto Fuji Hidden Leaf Village
Fuji-Q Highland Official Website (English): https://www.fujiq.jp/en/

Anime Theme Park Nijigen no Mori Announces New Naruto & Boruto Event

NARUTO & BORUTO SHINOBIZATO is an area of Nijigen no Mori—an anime theme park located on Awaji Island in Hyogo Prefecture—with attractions and more based on Naruto and his son Boruto. The park has released information on an upcoming new event in the Naruto and Boruto themed area.

The event in question will celebrate the character Kakashi Hatake's birthday with a special Kakashi and Obito themed escape game. The game will have park guests running around the park looking for panels with hints on how to progress through the game. Just 30 minutes are needed to complete it, and it's not too difficult, so anyone can join in.

Guests who buy a ticket will receive one of four limited-edition mini acrylic stands (pictured above) chosen randomly. Exclusive merchandise will also be sold for the event, and there will be photo spots where Naruto and Boruto fans can take a photo next to Kakashi and Obito panels.

Information

Naruto Shippuden x Escape Game: #004 Kakashi & Obito
Running: August 29, 2020 – October 4, 2020
Opening Hours: 10:00-22:00 (Last Entries 20:00)
Price: ¥1,500 (Tax Included)
*Separate fee to enter Nijigen no Mori charged

Nijigen no Mori
Address: 2425-2 Kusumoto, Awaji, Hyogo

Official Website: https://nijigennomori.com/

Awaji Island's Anime Theme Park Nijigen no Mori Announces NARUTO & BORUTO SHINOBIZATO Summer Events

NARUTO & BORUTO SHINOBIZATO is an area of Nijigen no Mori—an anime theme park located on Awaji Island in Hyogo Prefecture—with attractions and more based on Naruto and his son Boruto. The park's website has posted information about the ninja themed arena's summer events.

Naruto Shippuden Puzzle Solving Game

To celebrate the birthdays of Sasuke Uchiha and Itachi Uchiha, which fall on July 23 and June 9 respectively, a Sasuke and Itachi themed puzzle solving game will be held at NARUTO & BORUTO SHINOBIZATO.


The 30-minute game has guests running around the area to find hints written on panels. There are lots of words and illustrations related to Sasuke and Itachi for the game, so it's a must-experience for fans. Additionally, fans who purchase a ticket will receive one of four possible mini acrylic stands. These are available while supplies last.

Running: July 4, 2020 – August 31, 2020
Opening Hours: 10:00-22:00 (Reception closes 20:00)
Price: ¥1,500 (Tax Included)
*Separate ticket to enter the park required

Boruto's Ennichi

An Ennichi festival will be held themed on Boruto: Naruto Next Generations. There will be six Japanese festival-style yatai carts, traditional Japanese festival games like hitting the target and fishing for water balloons, a workshop to make your own Boruto uchiwa fan, lots of booths for friends and families to have fun, and more. Each booth also is giving out its own unique character stick to visitors. Those who buy a ticket to the event will also receive a Boruto sun visor.

Running: July 23, 2020 – September 30, 2020

Business Hours: 10:00-20:00 (Reception closes 20:00)

Price: ¥500 for 1 turn / ¥1,200 for 3 turns / ¥1,800 for 6 turns (Tax Included)

*Separate ticket to enter the park required

If you're in Japan this summer, why not spend your time together with the characters from Naruto and Boruto at Nijigen no Mori?

©Masashi Kishimoto Scott / Shueisha・TV Tokyo・Pierrot

Jump Force Deluxe Edition Arrives On Nintendo Switch This August

The Deluxe Edition of Spike Chunsoft's fighting game Jump Force published by Bandai Namco Entertainment is set to hit Nintendo Switch on August 27, 2020.

Jump Force is a fighting game that brings together a roster of over 50 characters from popular series the manga magazine Weekly Shonen Jump such as One Piece, Naruto, Dragon Ball, and many more. The game pits the characters in real world locations like New York and Matterhorn and has players battle it out.

The new trailer showcases some of the unique gameplay features which Nintendo Switch players will be able to enjoy, such as being able to play six-player local multiplayer games. The Nintendo Switch edition is packaged with the full game plus Character Pass 1 which introduces nine new characters into the long roster.

Those who pre-order the physical edition of the game will receive three One Piece, Dragon Ball, and Naruto avatar costumes and Frieza's pod as pictured below.

©JUMP 50th Anniversary
©BANDAI NAMCO Entertainment Inc. ©2017 Nintendo

Information

JUMP FORCE DELUXE EDITION Nintendo Switch™
Release Date: August 27, 2020
Platform: Nintendo Switch™
Official Website: https://www.bandainamcoent.com/games/jump-force

*Nintendo Switch and the Nintendo Switch logo are trademarks of Nintendo.

*YouTube is a trademark Google LLC.

Japan's Anime Theme Park Nijigen no Mori Has Naruto, Boruto & Other Exciting Events This June

Nijigen no Mori is an anime theme park located on Awaji Island in Hyogo Prefecture. Here's a list of the latest events running at the park in June.

NARUTO & BORUTO SHINOBIZATO

NARUTO & BORUTO SHINOBIZATO is an area of Nijigen no Mori with attractions and more based on Naruto and his son Boruto. The area celebrated its 1st anniversary on April 20, 2020. The park is currently selling anniversary merchandise as well as other exclusive items. Guests who buy a ticket to the park online will receive a free 1st anniversary postcard.

Opening Hours: 10:00-22:00 (Reception Closes 20:00)

Price: Adults ¥1,800 / High & Junior High School Students ¥1,800 / Children (Elementary School Students & Younger) ¥500
*Free entry for those aged 3 and below

Price: ¥1,280 Each (Before Tax) *6 flavours

There are also beverages inspired by characters from the series.

Price: ¥1,050 (Before Tax)

There is also a special ramen dish you can order inspired by the Akatsuki, the biggest threat to the Hidden Leaf Village.

GRAND CHARIOT Hokutoshichisei 135°, a hotel and glamping facility located in the area, also opened its new Naruto-themed room on June 1, 2020.

The room, called "Hokage no Bessou" (Hokage's Villa), is renovated from one of the resort's buildings, and aims to plunge guests into the world of ninjas. The room takes inspiration from the Hidden Leaf Village and its characters, with references to the series and recreated scenes littered throughout. It also offers exclusive amenities for guests to enjoy.

Guests who stay in the Naruto room receive a free ticket to NARUTO & BORUTO SHINOBIZATO at Nijigen no Mori.

ⒸMasashi Kishimoto Scott / Shuiehsa・TV Tokyo・Pierrot

Crayon Shin-chan Adventure Park

Over at the Crayon Shin-chan shop in Nijigen no Mori, they're selling limited quantities of a "Happy Bag" full of Shin-chan merchandise, from picnic cushions to towels and more for a total of six items.


And for the summer season, the last entries to all attractions at Crayon Shin-chan Adventure Park have been extended. It's a chance to work your body while enjoying the green outdoors.

Opening Hours: 10:00-20:00 (Last Entries 19:30)
Price: Adults ¥4,480 / High & Junior High School Students ¥2,880 / Children (Elementary School Students & Younger) ¥1,180 / Seniors ¥1,440
*Free entry for those aged 4 and below. Please check the official website for weekend and national holiday prices.

Phoenix Night Walk

June 21 is Father's Day, and to celebrate Nijigen no Mori is holding an event on the day based on Osamu Tezuka's manga Phoenix. Dads can attend the event for free. The park is holding a birthday campaign for June for those whose birthdays were in March, April, and May since they were unable to go out due to isolation, as well as for those whose birthdays are in June.

Date: June 21, 2020

Time: 19:30-20:30

Price: General ¥3,300 (Junior High School Students & Older) / Children ¥1,200 (Aged 5-12)2020年6月21日(日)
営業時間:19:30~20:30(季節により異なる)
*Free entry for those aged 3 and below.

Naruto Themed Hotel Room Opens at GRAND CHARIOT Hokutoshichisei 135° in Japan

GRAND CHARIOT Hokutoshichisei 135°, a hotel and glamping facility located in Awaji, Hyogo, opened its new Naruto-themed room on June 1, 2020.

The room, called "Hokage no Bessou" (Hokage's Villa), is renovated from one of the resort's buildings, and aims to plunge guests into the world of ninjas.

The room takes inspiration from the Hidden Leaf Village and its characters, with references to the series and recreated scenes littered throughout. It also offers exclusive amenities for guests to enjoy.

Guests who stay in the Naruto room will receive a free ticket to the popular "Naruto & Boruto Shinobi Zato" attraction at the anime theme park Nijigen no Mori on Awaji Island where the hotel is located.

ⒸMasashi Kishimoto Scott / Shuiehsa・TV Tokyo・Pierrot

Information

Naruto Collaboration Room "Hokage no Bessou"

Grand Opening: June 1, 2020

Time: Check In 15:00-18:30 / Check Out 11:00

Capacity: 5 people

Price: From ¥93,000 (Before Tax/Service Charge Charged Separately)

Official Website: https://awaji-grandchariot.com/

Streetwear Brand XLARGE to Release My Hero Academia Collaborative Clothing

Established in November 1991 in Vermont Avenue los angeles, XLARGE has become one of the leading streetwear brands, infusing a range of culture such as music, art and comics into their designs and pioneering a new direction in fashion. 

 XLARGE is set to release a line of My Hero Academia collaborative clothing with Kōhei Horikoshi – the creator of the popular Weekly Shōnen Jump series (Shueisha. Inc).  

My Hero Academia is set in a world where 80 percent of the world possess some kind of superpower called "quirks". The main character Izuku Midoriya (Deku), who has dreamt of becoming a hero since childhood, discovers that he was born quirkless. After an unexpected encounter with the world's greatest hero All Might, Deku inherits the "One For All" quirk and is able to enter the prestigious hero school U.A. High School where he studies and fights alongside his new classmates to master his quirk. From children to adults, the series has become incredibly popular worldwide and the TV anime is set to release its fifth season. 

S/S TEE DEKU WHITE,BLACK,GREEN / S,M,L,XL / ¥5,500+TAX

S/S TEE ALLMIGHT WHITE,BLACK,NAVY / S,M,L,XL / ¥5,500+TAX

The new clothing series features Izuku Midoriya, his rival from childhood Katsuki Bakugo, the top-class hero Shoto Todoroki and the world's number one hero and Deku's biggest role model All Might. All the illustrations are original and include the XLARGE logo.

MY HERO ACADEMIA DENIM PANT LtINDIGO / 30,32,34,36inch / ¥20,000+TAX

If you're a fan of these new generation Jump characters then this stylish lineup is just what you need. The lineup will be sold from May 2, 2020 on calif and ZOZOTOWN online stores. 

This is perfect for any My Hero Academia fan looking to quirk up their look. 

©Kōhei Horikoshi/ SHUEISHA. Inc, My Hero Academia Production Committee

miwa's Boruto Anime Opening Theme 'Teenage Dream' Music Video Released

The short version of miwa's music video for her new song has been released. Entitled Teenage Dream, the song serves as the new opening theme for the ongoing TV anime series Boruto: Naruto Next Generations.

As the song title suggests, Teenage Dream touches on teenage-hood with its positive forward-facing outlook. Written specifically for Boruto, the melodic rock track features lead guitar from former Megadeth guitarist Marty Friedman.

miwa – "Teenage Dream" Music Video (Short Ver.)

The video was directed by Matajiro Kazeno who also worked on the music video for miwa's song about a broken heart Yozora feat. hazzie. It stars 16-year-old up-and-coming actress Nanoka Hara and was shot in Fukushi, which looks out onto the Seto Inland Sea, and Takehara, two cities in in Hiroshima Prefecture.

The staff acquired cooperation from the locals to shoot in the beautiful location. The video's theme touches on the bittersweet-ness of youth and dreams. At the video's climax, we see a live scene shot at Mirokunosato, a theme park in the foothills of Fujiecho. The winter illuminations of the park are an annual celebration, and were set up for the shooting of the video. Nanoka Hara plays the part of miwa and captures the time when miwa had her long hair when she debuted. miwa herself doesn't actually appear in the video.

Teenage Dream is part of the upcoming double A-side single Storyteller/Teenage Dream which is set to hit shelves on December 25, 2019. First press copies are coupled with a DVD featuring the music video, as well as a bonus live track. The single is now available on major music download and streaming services ahead of the physical CD's release.

Speaking about the music video, director Matajiro Kazeno commented: "The dreams and straight-forward emotions of your teens are about moving forward while wrapped in friendships and love and experiencing both happy and sad things. That's the kind of music video we made, which was shot at Mirokunosato in Tadanoumicho at the Seto Inland Sea of Hiroshima Prefecture. Please enjoy Nanoka Hara's refreshing and lively acting, which is like the rolling winds, together with miwa's singing."

FlowBack to Perform the Next Boruto: Naruto Next Generations Anime Ending Theme

It has been revealed that FlowBack has been put in charge of the ending theme song for the January season of Boruto: Naruto Next Generations.

So far Boruto's themes songs have been created by artists such as Little Glee Monster and miwa. FlowBack's new song has not been released yet; in fact, they've only just revealed the name of the song to be "Fireworks". More information about the song will be released over time.  The new season of BORUTO with Fireworks as its ending theme will be aired from January 12. 

FlowBack will also release a mini concept album called "WINTER TRIP" on Christmas day this year and hold album release commemoration events all over Japan to celebrate. They will even hold a small live performance which is free to attend and a special meeting event. 

A Statement by FlowBack:

We've been watching Naruto since we were children. Seeing Naruto never give up and hearing the anime's theme songs written by other bands has been our source of strength to make this song. Even now as adults, seeing BORUTO never throw away his strong will is a constant reminder to us. Like Boruto, we at FlowBack promise ourselves to shape our own lives with our own hands. We want our song to also become one that stays with people forever, so we're going to deliver it to the world with everything we've got.

Information

Mini Concept Album: WINTER TRIP:

Release in Stores across Japan: December 25, 2019

■ First-Run Limited Edition Version A(CD+PHOTO BOOK)

KSCL- 3230~3231 ¥3,273 + Tax

■First-Run Limited Edition Version B(CD+Blu-ray)

KSCL-3232~3233 ¥3,273 + Tax

■ Regular Edition Version (CD Only)

KSCL-3234 ¥1,727 + Tax

More information on WINTER TRIP album release commemoration events can be found on FlowBack's Official Website: http://www.flowback05.com  (Japanese Only)

New BORUTO Opening Theme Song By miwa Will Inspire Fans to Never Give Up

Singer-songwriter miwa was put in charge of the next opening theme song for popular TV Tokyo anime Boruto: Naruto Next Generations.

miwa made the following statement about her new song:

"This song depicts the attitude of a young, strong-willed and impulsive teenager who wants to live life in their own way and protect someone close to them. The song encourages bold and direct feelings. I hope that viewers who watch Boruto struggle on his journey to becoming a splendid ninja can relate to it in their own way by listening to my song. 

The anime will be broadcast on TV Tokyo every Sunday at 5:30 pm starting from October 6. The new theme song written by miwa will be used for the episodes airing between October 2019 and March 2020.

We are still waiting on more information about the physical and digital release of miwa's new song. This information could be released at any moment, but all we can do for now is wait in excitement for further announcements. 

©️Masashi Kishimoto/Shueisha/ TV Tokyo/ Pierrot

Naruto, Gintama & More―UNIQLO Releases Manga-Inspired T-Shirt Series MANGA UT

Japanese retailer UNIQLO, which owns the T-shirt collection "UT" is developing a subseries called "MANGA UT" which is a collection based on world famous anime and manga. The new collection will be launched at UNIQLO stores nationwide and on the online store from Monday 27th May 2019.

Detective Conan © Gosho Aoyama/Shogakukan, Yomiuri Telecasting Corporation, TMS 1996

BORUTO – NARUTO NEXT GENERATIONS NARUTO-NARUTO – SHIPPUDEN ©Masashi Kishimoto  Scott / SHUEISHA Inc, TV Tokyo, Pierrot Co. Ltd.

This year the collection offers items for women too, so everyone can enjoy an even larger variety of products. This year, Detective Conan, Boruto – Naruto Next Generations and Naruto Shippuden are featuring in the collection for the first time. This will be the first time that a solo Detective Conan item is released.

NARUTO – SHIPPUDEN ©Masashi Kishimoto  Scott / SHUEISHA Inc, TV Tokyo, Pierrot Co. Ltd.

Gintama © Hideaki Sorachi/SHUEISHA Inc, TV Tokyo, Dentsu Inc., BNP, Aniplex Inc.

Yu ☆ Yu ☆ Hakusho original works/Yoshihiro Togashi Yu ☆ Yu ☆ Hakusho (JUMP Comics published by SHUEISHA Inc.) © Yoshihiro Togashi (1990-1994)  ©Pierrot Co. Ltd./SHUEISHA Inc.

As well as original Weekly Shōnen Jump anime such as Naruto Shippuden and Gintama, legendary anime such as Yu ☆ Yu ☆ Hakusho and HUNTER X HUNTER are also part of the collection!

Urusei Yatsura © Rumiko Takahashi /Shogakukan

Ranma ½ © Rumiko Takahashi / Shogakukan

…but there's still more! The collection also features 14 popular Weekly Shōnen Sunday manga/anime such as Urusei Yatsura, Ranma ½ and Inuyasha!

Come check out this T-shirt collection which features Japan's most world-famous anime and manga!

Information

MANGA UT

Release: Monday 27th May 2019

Available at UNIQLO stores nationwide (Japan) and on the online store.

Prices: Men's/ Women's (¥990+ tax)/Kids (¥790 + tax)

Product info: https://www.uniqlo.com/jp/store/feature/uq/ut/mangaut/

New Boruto Opening Theme 'Golden Time' by Fujifabric to be Released Digitally

It has been announced that Fujifabric's new song Golden Time will be released digitally on May 19, 2019.

The song just aired as the new opening theme song for the ongoing anime series Boruto: Naruto Next Generations. The song was written and composed by the band's bassist Shinichi Katō with sentimental lyrics and a melody that has that feeling of of running that Naruto and Boruto songs are known for.

Fujifabric will release their 10th album F on vinyl April 10. When bought on Amazon Japan, this limited pressing record will come with a coaster featuring the album's cover art, and when bought at Tower Records it's coupled with an A3-size poster.

Additionally, fans who purchase the vinyl at either the band's show at Zepp DiverCity in Tokyo on April 14 or Zepp Osaka Bayside on April 19 will receive a signed postcard with a picture of the band members on it.

Information

Golden Time
*Digital download info TBA.

F (LP)

Price: ¥3,500 (Before Tax)

*Limited pressing

Fujifabric LIVE TOUR 2019 "FEVERMAN"

2019/4/14 @ Zepp DiverCity (Tokyo) OPEN 17:00 / START 18:00)

2019/4/19 @ Zepp Osaka Bayside (OPEN 18:00 / START 19:00)

Fujifabric Official Website: http://www.fujifabric.com/

©Masashi Kishimoto, Scott / Shueisha・TV Tokyo・Pierrot