SPYAIR Unveil Anime CD Cover for Gintama Opening Theme 'I Wanna Be…'
Gintama Shirogane no Tamashii-hen is the latest instalment to the Gintama anime series and began airing on July 8. SPYAIR, who perform the opening theme I Wanna Be…, have revealed the CD cover for the limited pressing edition of the single.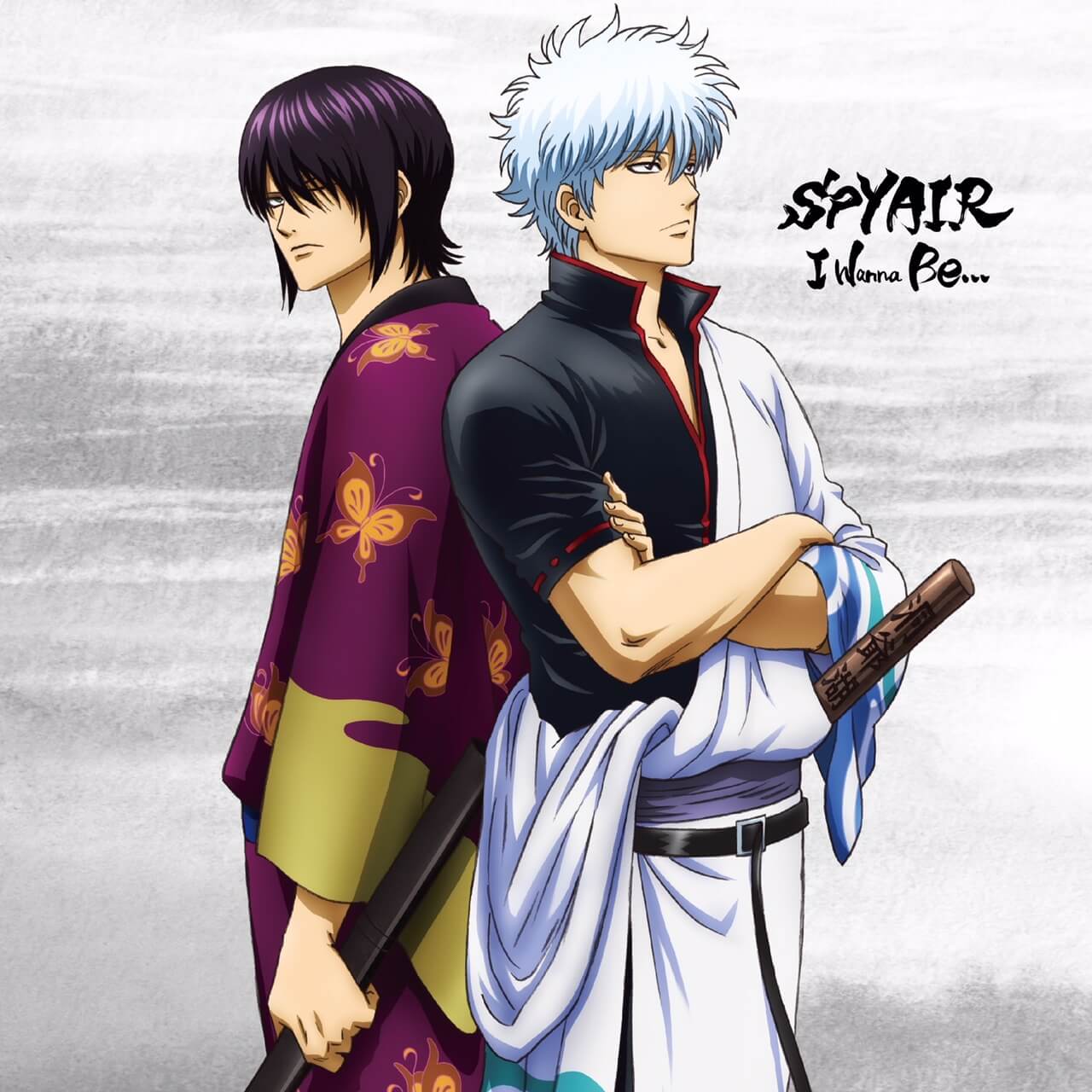 The limited pressing edition features 7-inch Gintama illustrative packaging as well as every single song the band has provided for the series.
In addition to I Wanna Be…, it includes Some Like It Hot!! which came out 7 years ago and is still enjoying healthy sales; Sakura Mitsutsuki which was the second opening to Gintama': Enchousen; Genjo Destruction which was an insert theme for Gintama: The Movie: The Final Chapter: Be Forever Yorozuya; and finally Scramble, the theme song to the PS4® and PS Vita action game Gintama Rumble.
The booklet included features reprints of the anime CD covers for Some Like It Hot!!, Sakura Mitsuki and Genjo Destruction.
The anime size opening theme for I Wanna Be… is now available for digital download.
SPYAIR performed at Jump Music Festa on the weekend at Yokohama Arena to celebrate 50 years of Shonen Jump. The event saw artists affiliated with Shonen Jump series perform their iconic songs.
The band performed all of their Gintama songs to date including I Wanna Be… for the very first time which sparked a huge reaction from Jump fans.
Be sure to check out the anime size version before the full single is released on July 25.
SPYAIR will hold their annual outdoor solo concert JUST LIKE THIS 2018 on July 28. This mark's the fourth run of the show, which will take place at Fuji-Q Highland Conifer Forest. Tickets have already sold out.
■Information
I Wanna Be…
On Sale: July 25, 2018
I Wanna Be… [Anime Size]
Download: https://smar.lnk.to/6T-lkWN
▼Limited Pressing Edition
¥1,852+Tax AICL-3548
*Features anime illustration CD cover.
I Wanna Be…
Scramble
Genjo Destruction
Sakura Mitsutsuki
Some Like It Hot!!
I Wanna Be… [Anime Size]
(c)S/STDBA
▼Regular Edition
*First press editions include digipak.
Price: ¥1,111+Tax AICL-3549
I Wanna Be…
Hold It, Buster 〜Battle of Rap〜
I Wanna Be… (inst.)
Gintama Official Website: http://www.tv-tokyo.co.jp/anime/gintama/
RELATED ENTRIES
Gintama Pop-Up Event Opens at Narita Anime Deck

Narita Anime Deck opened its Gintama pop-up event last Tuesday which is set to run until July 15.

The Narita Anime Deck opened inside Narita International Airport Terminal 2 in November 2019. It's an entertainment facility where travellers from around the world can experience and enjoy Japanese anime culture in various forms such as with character merchandise, food, events, and a variety of photo spots.

The event sees anime series characters Gintoki Sakata, Toshiro Hijikata, and Okita Sougo dressed as pilots and Shinsuke Takasugi as a traveller. These designs are featured on a range of merchandise, decorations, and the food menu.

One must-grab item is the face mask case which arrives in four designs – one for each character.





The food line-up includes the Uji Gintoki Don & Katsudon Hijikata Special Set. This meal and dessert comes with an Uji matcha syrup-covered anko bowl which is based off the food that Gintoki gives to a cat. You can also order a latte featuring latte art of your favourite character. For every item ordered on the menu, you get a free coaster. These come in two design collections: one is available now and will be replaced by the other on June 19.

And if you spend over ¥3,000 on Gintama merchandise at the event, you'll receive a free card. Fans can also get a free lunch mat if they spend over ¥4,000 and the shop or eat-in restaurant and show their receipts.

Information

Gintama Pop-Up Event
Running: June 1, 2021 – July 15, 2021

Location: Narita Anime Deck

Official Website: https://www.animedeck.jp/

Gintama @ Dash Store to Open in Ikebukuro and Osaka This April

The Gintama @ Dash Store pop-up shop is returning to Ikebukuro P'PARCO and Animate Osaka Nipponbashi where fans can get their hands on lots of merchandise of Hideaki Sorachi's manga series Gintama.

Gintama's characters wear blue for the store

Dash Store will sell a range of exclusive items as well as offer pre-sales on upcoming merchandise. The illustration pictured above of the characters in blue hoodies was also drawn exclusively for the store and will feature on a range of items.

For every ¥2,000 (tax included) spent by fans at the store they will receive one of nine possible bromide pictures. And for an extra ¥500, those who buy one or more items can get a special tote bag too.

A look at some of the merch line-up

Acrylic Stands | ¥1,650 Each (Tax Included)

Folders | ¥440 Each (Tax Included)

Acrylic Key Rings | ¥715 Each (Tax Included)

Hoodies | ¥5,500 Each (Tax Included)

©空知英秋/集英社・テレビ東京・電通・BNP・アニプレックス

AmiAmi Announces March 2021 Events Online and in Akihabara

International figure and hobby shop AmiAmi has announced a list of events taking place this month both on their official website and at AmiAmi Akihabara Radio Kaikan.

Events @ AmiAmi Akihabara Radio Kaikan

"Arune no Jikenbo" – AmiAmi Puzzle Solving Fair ~A Riddle From Jishe~

Running: February 27, 2021 – March 31, 2021

Content: For every ¥1,000 (tax included) spent on Arune no Jikenbo merchandise, fans can receive one of four possible postcards.

Event Page: Click Here

Ami Kono Monthly Card Present

Running: From March 1, 2021

Content: If you buy something from AmiAmi Akihabara Radio Kaikan and AmiAmi Akihabara 2nd, you can receive an Ami Kono Monthly Card.

Event Page: Click Here

OBSOLETE Pop-Up Store

Running: March 12, 2021 – March 28, 2021

Content: Receive a free postcard when you spend over ¥2,200 (tax included) on OBSOLETE products.

Details: Click Here

Events @ AmiAmi Online Shop

Gintama The Final AmiAmi Postcard Campaign

Running: From February 22, 2021

Content: Receive one of four possible AmiAmi-exclusive Gintama The Final postcards for every ¥3,000 (tax included) spent on Gintama The Final merchandise.

Campaign Details: Click Here

D4DJ Anime OP & ED Single Simultaneous Release Fair

Running: From February 22, 2021

Content: For every D4DJ CD bought, receive one of 24 possible disk stickers.

Event Details: Click Here

Girls und Panzer das FINALE Episode 3 Campaign

Content: Receive a set of three postcards for every Girls und Panzer CD bought. Also receive an A3 poster for every Girls und Panzer DVD and Blu-ray bought.

Campaign Details: Click Here

©春紫/vaka, Inc.

©amico

©PROJECT OBSOLETE

©空知英秋/劇場版銀魂製作委員会

©bushiroad All Rights Reserved. © Donuts Co. Ltd. All rights reserved.

© GIRLS und PANZER Finale Projekt

©BANDAI NAMCO Entertainment Inc.

Information

AmiAmi Akihabara Radio Kaikan & AmiAmi Online Shop March 2021 Events

Address: AmiAmiAkihabara Radio Kaikan, 1-15-16 Sotokanda, Chiyoda-ku, Tokyo

AmiAmi Online Shop: https://www.amiami.jp/

Shiseido Uno x Ginza The Final Collaboration Launches in Japan

Shiseido's men's hairstyling, skincare, and body-care brand Uno is collaborating with the Gintama The Final to put the main three characters of the anime film on the bottle designs of its Uno Whip Wash product. The items will launch at the end of January in Japan in limited quantities in promotion of the anime film which hit Japanese theatres on January 8, 2021.

Uno Whip Wash Black Gintoki / Uno Whip Wash Scrub Shinpachi / Uno Whip Wash Moist Kagura

The Uno Whip Wash is a quick foaming, creamy facial wash for men which contains charcoal and methyl hydroxide to absorb excess sebum while refining the skin. It's available in three types: Black, Scrub, and Moist, each of which bears Gintoki, Shinpachi, and Kagura designs respectively on the bottles.

Look as good as the anime character trio with a bottle of Uno Whip Wash.

(C)空知英秋/劇場版銀魂製作委員会

Gintama The Semi-Final Anime Shares Promo Trailer For Second Episode

Japan's online dTV service posted a trailer for the upcoming second episode of the net anime special Gintama The Semi-Final which is set to air on January 1, 2021. The first episode was released on January 15, 2021.

The long-awaited prequel airs its first episode

Gintama The Semi-Final is a two-part net anime special exclusive to dTV. It serves as a prequel to the Gintama: The Final anime film which itself was released on January 8, 2021. Although the prequel ironically is being released after Gintama: The Final, which the trailer for the first episode of the two-part special actually made fun of, fans can still enjoy a new adventure with the characters with a story that leads into the final film.

Kondo gets involved in some gorilla rivalry in Episode 2

The second episode sees the Shinsengumi pitching in to help bring the members of Yorozuya back together again after having drifted apart. Hijikata departs Edo to search for Gintoki while Okita maneuvers secretly with the new government. While all this is happening, Kondo is looking after a large number of gorillas, and its involved with a gorilla princess and a gorilla love rival.
The episode will hit dTV on January 20, 2021.

Episode 2 Trailer:

©Hideaki Sorachi/Shueisha・TV Tokyo・Dentsu・BNP・Aniplex

Interview: Gintama The Semi-Final Cast Comments On Prequel Anime's Release

Japan's online dTV service posted a special video interview with the main cast of Gintama: The Semi-Final on Friday (January 15). Tomokazu Sugita (voices Gintoki Sakata), Daisuke Sakaguchi (Shinpachi Shimura), and Rie Kugimiya (Kagura) commented on their history with the beloved anime series and the 15 years they have spent voicing their iconic characters.

We have translated the questions and answers from Japanese below. You can find the video interview itself at the bottom of the page.

Please give us your thoughts on the anime, which is going onto dTV.

Tomokazu Sugita: "I didn't think it would be because the ending of the TV anime series and the film ties together. But the Shinseigumi don't appear all that much, so I'm looking forward to seeing how it all turns out."
Daisuke Sakaguchi: "The gags in the dTV version are getting more serious leading up to the film, but we get Shachi, so let's leave it up to him to make things fun <laughs>."
Rie Kugimiya: "Without the dTV episodes, there'd be no room for preparation, and it would be super serious because of the film, so I hope people enjoy the gag elements of the dTV version and remember how warm and welcoming Gintama can be!"

If you could say one thing to your characters, what would it be?

Tomokazu Sugita: "On the contrary, I don't think it can be put into words. I feel like I want Gintoki to talk with me. It can be hard to perform if I don't find out what he's thinking."
Daisuke Sakaguchi: "I'd say 'Nice work.' He's the tsukkomi [straight man] of the group, which can get exhausting, so I'd want to say, 'Live a comfortable life.' Tsukkomi are kind of sour, so it might actually be more interesting to be an idiot! <laughs>"
Rie Kugimiya: "I think I'd say, 'Keep on living a fun life!'"

Please give a message to fans of the series.

Tomokazu Sugita: "Believe in the things you love. You'll only feel empty if you go and start comparing yourself to others, so treasure the way you love things in a way that you don't hurt yourself or get disappointed, since only you need to know why you love those things. And think about that when watching the Gintama film!"
Daisuke Sakaguchi: "the dTV version is the perfect anime for watching while idling, and I mean that in a good way. It's great for building your hype in the run up to the film or even if you've already seen the film, so you can then say, 'Oh, so this is what is was like leading up to it.' Watch it two, or even three times as you get ready for the film, and love Gintama."
Rie Kugimiya: "Watch the dTV version to warm your heart then head to the theatres to watch the film! I hope to enjoy the finale of Gintama with everyone with horseplay and celebration!"

Video Interview

©空知英秋/集英社・テレビ東京・電通・BNP・アニプレックス

Gintama The Semi-Final Anime Posts New Trailer

Japan's online dTV service posted a new trailer for the upcoming net anime special Gintama The Semi-Final which is set to begin airing on January 15, 2021.

Gintama The Semi-Final

The anime special will air exclusively on dTV and serves as a prequel to the Gintama: The Final anime film which itself was released on Friday (January 8).

The trailer itself apologises for the net special's delay and acknowledges the irony in the prequel being released a week after Gintama: The Final.

Gintama The Semi-Final x Tower Records Cafe

Gintama The Semi-Final is collaborating with Tower Records Cafe to serve up two different themed menus as well as exclusive merch, bonus items, and more. The first menu slot is now over with the second having started on January 8.

Fans who order a ticket to eat the themed food at Tower Records Cafe using Ticket Pia can get their hands on an exclusive coaster.

Collab Menu Postcards – Batch ①

Collab Menu Postcards – Batch ②

Fans will receive a free lunch mat for dining at the cafe on the 2nd slot and can also get their hands on a random bookmark if they order a meal, dessert, and drink at once.

©Hideaki Sorachi/Shueisha・TV Tokyo・Dentsu・BNP・Aniplex

Gintama Themed Cafes to Open in Shibuya and Sapporo in Collaboration With Tower Records

Tower Records is promoting the upcoming release of the anime film Gintama The Final by turning two of its own Tower Records Cafe branches in Sapporo and Shibuya into Gintama-themed spaces serving inspired dishes and selling exclusive merchandise.

Merch Collab

Gintama x  Tower Records Trading Acrylic Key Rings (6 Designs) | ¥800 (Before Tax)


Gintama x  Tower Records Towel | ¥2,500 (Before Tax)

Get your hands on a Gintama x  Tower Records key ring or towel featuring the main cast wearing Tower Records aprons just like the real-life staff at the music store chain. These items are available to pick up at 41 Tower Records stores, three Tower Records Cafes, and their official website.

Cafe Collab

Tower Records Cafe has collaborated with numerous anime series before, but this will be its first with Gintama. Two menus will be rolled out, the first being served from January 1, 2021 to January 14, 2021 and the second from January 15, 2021 to January 24, 2021. The first menu is themed on the series's six main characters while the second menu will be based around Gintama The Final as well as the two-part anime special Gintama The Semi-Final.

Menu ① (Excerpt)


Kagura's Tenshidon With Kombu Salad | ¥1,480 (Before Tax)

Inspired by the heroine of Gintama, Kagura, and served with her favourite vinegar kombu salad.

Toshiro Hijikata's Mayo Chicken Nanban | ¥1,480 (Before Tax)

Hijikata is known for his love of mayo, so it was only right that this mayo chicken nanban be served with three types of mayonnaise.

Gintoki's Week's Worth Of Sugar Parfait | ¥1,380 (Before Tax)

A strawberry-loaded parfait with plenty of sugar content, just how Gitoki likes it.

Kotaro Katsura's Elizabeth Dessert | ¥1,380 (Before Tax)

An Elizabeth crepe with something hidden inside…

Gintoki's Perm Drink | ¥750 (Before Tax)

A cotton candy dessert drink inspired by Gintoki's luscious natural perm.

Shinsuke Takasugi's Blueberry Smoothie | ¥750 (Before Tax)

A cool blueberry smoothie whose delicious flavour comes from it being chilled in the refrigerator.

Menu ② (Excerpt)


Yorozuya's Special Curry | ¥1,480 (Before Tax)

Inspired by the friendship between the three members of Yorozuya, with the white rice representing Gintoki, the pink (sakura denbu) Kagura, and the blue (powdered cheese) Shinpachi.

Sadaharu's Pancakes | ¥1,280 (Before Tax)

Inspired by the pet of Yorozuya, served with three sides representing the three members.

Shinpachi's Ramune | ¥750 (Before Tax)

A ramune based on Shinpachi, topped with a cherry to express his cherry boy-ness!

Takeout-Only Menu

Gintama Quote Omurice | ¥1,280 (Before Tax)

Classic Japanese omurice served with one of six famous quotes in Japanese from the series. Not available at the Nagoya Sakae SKYLE or Umeda NU Chayamachi branches.

Yorozuya Gin-chan's Takeout Drink | ¥900 (Before Tax)

A takeout drink based on Yorozuya Gin-chan with two different coloured jellies at the bottom to represent Shinpachi and Kagura with the white Calpis drink being Gintoki.

Bonus Items


Coasters (6 Designs)

Those who reserve the bonus item ticket at Ticket Pia machines will receive one of six possible Tower Records x Gintama coasters.

Menu ① Postcards (6 Designs)

Menu ② Postcards (6 Designs)

For every item ordered on the menu, you'll get a free postcard. This includes takeout items.

Set of 3 Bookmarkers (6 Designs)

Those who order a food item, dessert, and a drink all together will get a set of three bookmarkers.

Lunch Mat (During Menu ② Servings Only)

Those who dine at the cafe during the second menuy serving will receive a free lunch mat featuring the key visual for Gintama The Semi-Final.

©空知英秋/劇場版銀魂製作委員会
©空知英秋/集英社・テレビ東京・電通・BNP・アニプレックス

Information

Gintama x Tower Records Merch Collab
Pre-Orders: December 10, 2020

Release Date: December 24, 2020
Merch Collab Page: https://tower.jp/gintama/

Gintama x Tower Records Cafe Collab
TOWER RECORDS CAFE Shibuya
Address: Tower Records Shibuya Floor 2F, 1-22-14 Jinnan, Shibuya, Tokyo

Opening Hours: 10:45-20:50
Menu ①: December 24, 2020 – January 7, 2021

Menu ②: January 8, 2021 – January 17, 2021

*Closes at 17:20 on December 31 and closed for the day on January 1 and 2

TOWER RECODRS CAFE Sapporo PIVOT
Address: PIVOT Floor 5F, 4 Chome Minami 2 Jonishi, Chuo Ward, Sapporo, Hokkaido
Opening Hours: 11:20-20:00

Menu ①: January 5, 2021 – January 21, 2021

Menu ②: January 22, 2021 – February 7, 2021

TOWER RECODRS CAFE Nagoya Sakae SKYLE (Takeout Menu Only)
TOWER RECORDS CAFE Umeda NU Chayamachi (Takeout Menu Only)
Menu ①: January 5, 2021 – January 14, 2021
Menu ②: January 15, 2021 – January 24, 2021

Cafe Collab Website: https://tower.jp/gintamacafe

Gintama The Final
Release Date: January 8, 2021
Official Website: https://wwws.warnerbros.co.jp/gintamamovie/

Gintama The Semi-Final (dTV Japan Only)
Episode 1: January 15, 2021

Episode 2: January 20, 2021
Official Website: https://pc.video.dmkt-sp.jp/ft/s0007147?campaign=sgm100149

Gintama The Final Anime Film Collaborates With Mameshiba

To promote the upcoming anime film Gintama The Final, a new commercial is set to hit Japanese television on December 2 in collaboration with merchandise franchise Mameshiba.

Gintama The Final is set to be released in Japan on January 8, 2021. This will be the film's second collaboration with Mameshiba, which will see two commercials with the anime's three main characters Gintoki, Kagura, and Shinpachi turned into Mameshiba characters.

Mameshiba commercial storyboard

Gintama x adidas Collaboration Launches in Promotion of Gintama: The Final Movie

Alpen Co., Ltd. is currently holding its longest brand campaign in collaboration with characters from various media. This time around, it is joining hands with the upcoming anime film Gintama: The Final. A special campaign website launched on November 13 which sees the film's three main characters donning adidas clothes.

adidas x Gintoki x Kagura x Shinpachi

The three main characters of Gintama, Gintoki, Kagura, and Shinpachi, are all wearing sporty items from the 2020 fall/winter adidas CASUAL Collection in the promotional images.

There was much hype amongst speculative Gintama fans in the run up to the collaboration when it was first teased with a picture of Shinpachi's glasses. The post trended on Japanese social media, gaining over 5,000 retweets and over 10,000 likes.

adidas brand has been parodied on numerous occasions in both the Gintama anime and manga with Shinpachi wearing clothes that looked just like the brand's. In promotion of the new film, which will wrap up the series, adidas wanted to do a real collaboration.

The Outfits

Gintoki

​Gintoki is wearing a women's white long jacket over a stand-up collar and with sporty trousers. The colours are reminiscent of his usual style.

Kagura

Kagura's sweater is red just like the Chinese dress she wears in the series. Over it she's layered a beige-coloured long gown together with black pants which bring the look together.

Shinpachi

Shinpachi's navy jersey has the iconic adidas stripes down the sleeves. The combination of the white shirt and sneakers as well as the beige pants makes for a casual look.

Gintama The Final will be released into Japanese theatres on January 8, 2021.

©Hideaki Sorachi / Gintama The Final Production Committee

Gintama's Porori Arc Returns to Japanese TV in the Run Up to Gintama: The Final Movie

The Gintama TV anime series is set to return to Japanese television in the run up to the release of the upcoming film Gintama The Final which will be released on January 8, 2021.

Speficially, TV Tokyo will air the best parts of the Porori arc of the series every Wednesday from October 7, 2020 at 5:55am.

As fans enjoy the gags, action, and drama of Gintama. Porori-hen, a new poster by Hideaki Sorachi, the writer and artist of the Gintama manga, has been released the the upcoming Gintama The Final movie.

Below is a comment released by Hiromitsu Higuchi, producer at Bandai Namco Pictures, speaking about the re-run of the best bits from the Porori arc.

Hiromitsu Higuchi (Producer, Bandai Namco Pictures) | Comment

"Though it hit the air once before late into the nights, I'm happy that it's coming back to be broadcast once again, this time in the evenings! My mind is split in two: I'm happy about it coming back, but also nervous at the challenge of bringing a late-night anime to the air in an evening slot. What's great about the Porori arc is that it probably has the best gags in the Gintama anime series […] Look forward to the movie coming in January 2021 too!"

*Comment translated from Japanese by MMN

©Hideaki Sorachi / Shueisha・TV Tokyo・Dentsu Inc.・BNP・Aniplex
©Hideaki Sorachi / Gintama The Final Production Committee

Dr. Stone, Haikyu!!, & Gintama Theme Songs to be Featured On BURNOUT SYNDROMES Anime Concept Album

Three-piece Japanese band BURNOUT SYNDROMES announced at the finale of their solo tour at Namba Hatch in Osaka, their home city, that they will release an anime concept album of their best anime songs.

Entitled BURNOUT SYNDROMEZ, the record will be released on March 25, 2020, and will feature theme songs they have performed for various anime series, such as Dr. Stone, Haikyu!!, Gintama, and more.

The album will contain a total of 12 tracks, including their latest single PHOENIX which is used as the opening theme for the ongoing TV anime series Haikyu!! To The Top, as well all of their anime songs to date, two new songs, a remix, a rearrangement, and more.

Anime fans can expect to hear some seriously popular tracks like the second opening theme FLY HIGH!! from season two of Haikyu!!ーwhich was the band's debut singleーas well as the season three opening theme Hikari Are. It also includes their third single Hana Ichi Monme which is the first ending theme of Gintama: Shirogane no Tamashii-hen, the first Dr Stone opening theme Good Morning World, and so on.

The album is a must-have for both anime, manga and game fans as well as fans of BURNOUT SYNDROMES. First Press Edition copies of the album come with the band's first-ever Blu-ray which will feature eight music videos and live performances of six songs from their tour last year. It will also include a comic which has the BURNOUT SYNDROMES members as the protagonists of an adventure story.

BURNOUT SYNDROMES will promote BURNOUT SYNDROMEZ with a Japan tour in 2021.

Information

BURNOUT SYNDROMEZ

Release Date: March 25, 2020

First Press Limited Edition (CD+Blu-ray+Comic): ¥4,200 (Before Tax) [ESCL-5366~5367]

Regular Edition (CD): ¥2,500 (Before Tax) [ESCL-5368]

Official Website: https://burnoutsyndromes.com/

Haikyu!! TO THE TOP

Official Website: https://haikyu.jp/

©Haruichi Furudate / Shueisha・"Haikyu!!" Production Committee・MBS