Lead vocalist and guitarist Haruna of all-female Japanese rock band SCANDAL will release her first photo book entitled SOMEWHERE on August 10.
The member has led as the band's front-woman throughout her 20s. She will turn 30-years-old on the day of the photo book's release.
After the band finished their Japan tour, Haruna set off on a trip. "Somewhere" is the word she uses to best describe herself today: that she is always on a journey somewhere that is not here.
The photo collection shows off Haruna's fit and healthy mind and body. She reveals the self-confidence she has acquired as being part of the band, her determination to never feel down when she's frustrated, her forward-facing gaze in any situation, her girly smile, and a gentleness and sadness of someone who's experience real love. All of the featured photos were taken away from the band during her vacations by photographer Tsutomo Ono.
There's also a long interview with her covering topics around the band, her work, and romance. It's the perfect book not only for fans of SCANDAL and Haruna, but young women in the same generation as her too.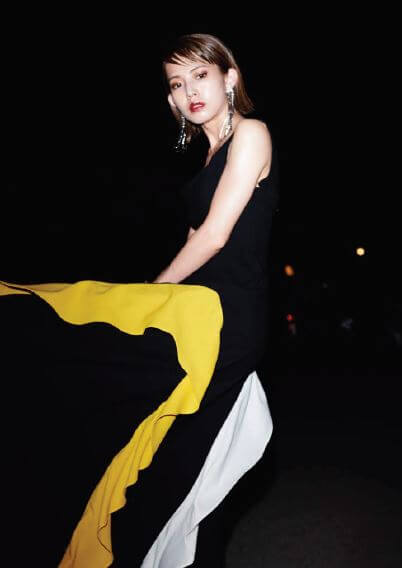 Get your hands on a copy of SOMEWHERE and see Haruna in ways you haven't before.
■Information
"SOMEWHERE"
Publisher: PIA Corporation / Author: Haruna (SCANDAL) / Photographer: Tsutomu Ono
Price: ¥2,500 (+Tax)
Release Date:  August 10, 2018 (subject to change)
Format: B5 / 128-pages
Available at all bookstores, online bookstores and Book PIA in Japan.
Book PIA: http://piabook.com/shop/g/gZ9784835638768/
Amazon: https://amzn.to/2KTs48r
RELATED ENTRIES
SCANDAL Premieres Remote Video Filmed at Home On YouTube For New Song 'Living in the city'

SCANDAL released their new single Living in the city digitally on June 3, 2020. It is the first ever song to be recorded by the band at home.

The song was originally written and composed by SCANDAL bassist TOMOMI during the writing of their latest album Kiss from the darkness which dropped back in February. It's a mellow track that captures an ordinary day in Tokyo. TOMOMI commented that she feels the song will have bigger implications now during the lockdown to when the band wrote the track.

SCANDAL premiered a new remote video for Living in the city which showcases their lives at home during the lockdown.リ

SCANDAL – "Living in the city" Remote Video (Short ver.)

Tickets are also now available for SCANDAL's upcoming livestream performance set for August 21, 2020. The livestream comes in response to the cancellation of all dates of SCANDAL WORLD TOUR 2020 "Kiss from the darkness".

 

TOMOMI | Comment

This song is about an ordinary day living in Tokyo. Tokyo is a city where it feels like if all the switches are always turned off, you'll end up swallowed by a sense of isolation. It's become a place where after 10 years of moving here, I want to say, "I'm home" [when I return]. A lot of the things that have made me who I am today can be found in the ordinary days spend living here. When I realised that, I found myself fallen in love with the place, and I got set to work in encasing those feelings into a song.

When I wrote this song, I never imagined we'd be releasing it at a time like this, but I feel like that now we've begun living a new lifestyle staying at home, this song will have different and much bigger implications to when I wrote it. It helps us rethink how much we really loved those days we took for granted.

We decided to release the song during the midst of our new stay-at-home lives, and so for the first time ever we recorded it all at our homes, and made a remote video to go with it. I hope you enjoy the song as well as seeing the band members in their homes.

SCANDAL Announce 'Kiss from the darkness' Live Stream as World Tour is Cancelled

All planned dates of SCANDAL's world tour SCANDAL WORLD TOUR 2020 "Kiss from the darkness" have unfortunately been cancelled in response to the novel coronavirus (COVID-19).

The band and staff had previously considered postponing the tour, but due to new announcements being released everyday on lockdown measures, as well as restrictions being placed on indoor events, it became difficult to predict how everything would unfold throughout the year, and so it was decided that the tour be cancelled. Information on ticket refunds till be announced at a later date.

However, not all is lost as SCANDAL has announced that they will perform on a special live stream on August 21, 2020—the date of the bands 14th anniversary. Check the details below and SCANDAL's official website for more information.

Information

SCANDAL WORLD TOUR 2020 "Kiss from the darkness" Livestream

Date: August 21, 2020

Time: From 19:00 (JST) (Subject to change)

Ticket Price: ¥3,000

Ticket Release Date: From May 27, 2020 at 22:00 (JST)

Buy Tickets: https://eplus.jp/821/scandal/

SCANDAL Official Website: https://www.scandal-4.com/

SCANDAL Record New Song 'Living in the city' at Home With TOMOMI On Vocals

SCANDAL have announced that their new song Living in the city will be released digitally on June 3, 2020.

The song was originally written and composed by SCANDAL bassist TOMOMI during the writing of their latest album Kiss from the darkness which dropped back in February. It's a mellow track that captures an ordinary day in Tokyo. It's the first song by SCANDAL to be recorded at home and aims to bring "new implications" to those who listen to it.

SCANDAL – "Living in the city" Official Audio

A short version of the track can be heard on SCANDAL's official YouTube channel ahead of the full release.

Information

Living in the city
Release Date: June 3, 2020

*Will be released on all major music download and streaming services including iTunes, Spotify, Apple Music, and elsewhere.

SCANDAL WORLD TOUR 2020 "Kiss from the darkness"
2020/9/4 @ YOYO – Palais de Tokyo, Paris
2020/9/6 @ O2 Academy Islington, London
2020/9/9 @ Musik & Frieden, Berlin
2020/9/17 @ HOUSE OF BLUES, Anaheim
2020/9/19 @ Canton Hall, Dallas
2020/9/21 @ The Masquerade, Atlanta
2020/9/23 @ Queen Elizabeth Theater, Toronto

and more TBA

SCANDAL Official Website: http://www.scandal-4.com/

SCANDAL is set to host an all-new regular show entitled SCANDAL Catch up supported by Meiji Apollo which will begin airing on Spotify Podcasts and JFN PARK every Monday from March 9, 2020.

During the show, the members will talk about the band, their musicianship, private episodes, and more. It's a chance for fans, both longtime and new, to get to know the band even more like an "A to Z." The first episode will be a free talk in which the members decide what kinds of things they want to talk about in future episodes. Confirmed themes and topics include the members talking about their most recent favourite music playlists, as well as a radio drama from the band.

SCANDAL plan to answer lots of messages from listeners during the show too, so be sure to send yours via Spotify or JFN PARK.

Speaking about the show, SCANDAL lead vocalist and rhythm guitarist Haruna said: "Since about a year ago we've all expressed our desire for the four of us to do radio again, since it's been a while, and now we finally get to do it. The [broadcast] will change each week, but since it's on Spotify and the app, you can listen to it whenever you like, so we hope to intrude on people's day a little with it. Be sure to tune in every week!"

SCANDAL Drops New Song 'A.M.D.K.J.' Digitally Along with Music Video

On February 12, 2020, SCANDAL will drop their first ever album via their private label her. The upcoming album entitled Kiss from the darkness includes their new song A.M.D.K.J., which was just dropped on streaming services on January 8. A.M.D.K.J. is also the ending theme song for the Fuji TV anime GeGeGe no Kitarō. The lyrics for this catchy and upbeat song were written by RINA (Dr, Vo) and the music was composed by MAMI (Gt, Vo).

The official music video for the song was dropped at the same time as the song's digital release. The music video was directed by Hiroshi Usui, who is known for his work with a number of big artists. As lights flicker to the rhythm of swaying strips of cloth, the music video unfolds to reveal its cold and dark world, creating the perfect stage for SCANDAL's impactful performance. The choice of colours and lighting is very intriguing and highlights SCANDAL and their expressions in such an amusing way.

'A.M.D.K.J.' Music Video

You will receive a SCANDAL clear file wherever you choose to pre-order your Kiss from the darkness album from. The deadline to pre-order is January 8, 2020 at 23:59. There are many other original pre-order bonus goods out there so if a clear file isn't your thing, there might be something better out there for you.

The album also includes the song Tonight which is the theme song for the TV Tokyo Paravi Drama Series Raise de wa Chanto Shimasu, which is set to air at 1:35 am on January 8. Check it out! 

A Statement by Hiroshi Usui

Although the first line of our project proposal included a silly pun, we managed to pull off something amazing. It must be because the video and the four band members fit so perfectly together. When we were filming the band members individually, they did everything so perfectly. I just wanted to repeatedly call out "nice!" after every single shot.

Information

A.M.D.K.J.
*Available on a number of streaming services, the iTunes Store, Rekchok, mora and other popular music downloading services.

*Available for streaming on Apple Music, LINE MUSIC, Amazon Music Unlimited, AWA, KKBOX, Rakuten Music, RecMusic, Spotify and YouTube Music

Kiss from the darkness

Release Date: February 12, 2020

Regular Edition: CD   VICL-65310, 3,000 + tax

First Press Limited Edition A: CD + DVD   VIZL-1706, 4,000 + tax

First Press Limited Edition A: CD + Magazine   VIZL-1707, 3,800 + tax

Limited Pressing Edition:CD+DVD+GOODS * Comes in a beautiful box   VIZL-1708, 8,500 + tax

SCANDAL Official Website: http://www.scandal-4.com/

SCANDAL's New Song 'A.M.D.K.J. ' to be Used as ED Theme For TV Anime 'GeGeGe no Kitaro'

SCANDAL performed as a headline act on the first day of C3 Anime Festival Asia Singapore 2019ーone of the biggest J-pop events in Asia which took place from November 29 to December 1.

The band performed their single Masterpiece which they dropped back in March, several songs which they wrote for movie and anime series, as well as classic hits that are popular overseas like Shunkan Sentimental, Shojo S, and Yoake no Ryuuseigun.

They also debuted a new track entitled A.M.D.K.J. from their forthcoming album Kiss from the darkness, which will release from their private label her on February 12, 2020. The band announced that the song will be used as the ending theme for the TV anime series GeGeGe no Kitaro which is set to begin airing on January 5, 2020.

Drummer and vocalist RINA wrote the lyrics for A.M.D.K.J., while guitarist and vocalist MAMI composed the music. It's described as an upbeat track with a liberating feel.

Towards the end of the concert, the band performed their latest single Saishuheiki Kimi which dropped just last month as well as their danceable rock number Take Me Out.

SCANDAL are kicking off their 2020 "Kiss from the darkness" tour in March, for which overseas dates are to be added to make it a world tour. More details will be posted via the band's social media and official website in the coming months.

©️Mizuki Pro・Fuji TV・Toei Animation

Information

Kiss from the darkness

Release Date: February 12, 2020

Regular Edition (CD): ¥3,000 (Before Tax) [VICL-65310]

First Press Limited Edition A (CD+DVD): ¥4,000 (Before Tax) [VIZL-1706]

First Press Limited Edition B (CD+Magazine): ¥3,800 (Before Tax) [VIZL-1707]

Limited Pressing Edition (CD+DVD+GOODS+BOX): ¥8,500 (Before Tax) [VIZL-1708]

*To be made available on all major music download services including iTunes Store, Recochoku and mora, as well as streaming services including Spotify, Apple Music, YouTube Music, LINE MUSIC, Amazon Music Unlimited, AWA, KKBOX, Rakuten Music, and RecMusic

☆HMV Exclusive Drinking Tumbler Set

・<HMV Exclusive> Kiss from the darkness – First Press Limited Edition A (CD+DVD) & Tumbler Set: ¥4,800 (Before Tax)

・<HMV Exclusive> Kiss from the darkness – First Press Limited Edition B (CD+Magazine) & Tumbler Set: ¥4,600 (Before Tax)

・<HMV Exclusive> Kiss from the darkness – Limited Pressing Edition (CD+DVD+GOODS+BOX) & Tumbler Set: ¥9,300 (Before Tax)

・<HMV Exclusive> Kiss from the darkness – Regular Edition (CD) & Tumbler Set: ¥3,800 (Before Tax)

Early Bonus: https://www.jvcmusic.co.jp/-/News/A026399.html

Store Bonuses: https://www.jvcmusic.co.jp/-/News/A026399.html

SCANDAL TOUR 2020 "Kiss from the darkness"

2020/3/7 @ Atsugi City Cultural Hall, Kanagawa

2020/3/14 @ Sapporo Kanamoto Hall, Hokkaido

2020/3/21 @ Alios Iwaki Performing Arts Center (Large Hall), Fukushima

2020/3/22 @ Talk Net Hall Sendai (Large Hall), Miyagi

2020/3/28 @ Nagoya Congress Center (Century Hall), Aichi

2020/3/29 @ Konan City Community Hall, Aichi日

2020/4/4 @ Hondanomori Hall, Iwasaki

2020/4/5 @ Niigata TERRSA, Niigata

2020/4/10 @ ROHM Theatre Kyoto (Main Hall), Kyoto

2020/4/11 @ Uenogakuen Hall, Hiroshima

2020/4/17 @ Fukuoka Civic Hall, Fukuoka

2020/4/18 @ Kumamoto Prefectural Theater (Engeki Hall), Kumamoto

2020/4/25 @ NHK Hall, Tokyo

2020/4/26 @ NHK Hall, Tokyo

2020/4/29 @ Beisia Culture Hall (Large Hall), Gunma

2020/5/2 @ Yonago Public Hall, Tottori

2020/5/3 @ Okayama Civic Hall, Okayama

2020/5/5 @ Orix Theater, Osaka

2020/5/6 @ Orix Theater, Osaka

2020/5/23 @ WEST BRIDGE LIVEHALL, Seoul

2020/5/30 @ The ColiseumTM, Hard Rock Hotel Singapore, Resorts WorldTM Sentosa, Singapore

2020/6/06 @ New Frontier Theater, Manila

2020/6/13 @ Lido Connect (Hall 2), Bangkok

and overseas…

*Tickets and details available on SCANDAL's official website

Official Website: http://www.scandal-4.com/

GeGeGe no Kitaro

Initial Broadcast: January 5, 2020

Official Website: http://www.toei-anim.co.jp/kitaro/

SCANDAL Announce New Album 'Kiss from the darkness' Releasing From Their Label her

SCANDAL have announced that they will release their first-ever full length album from their private label her, entitled Kiss from the darkness, on February 12, 2020. This marks the band's ninth album in total and two years since the release of their last, HONEY. They will promote the album with a 19-date hall tour in March.

Regular Edition CD Cover

The new record from Japan's biggest all-female rock band contains 11 songs in total, including all the singles they have released from their private label her: Masterpiece, Mabataki, Fuzzy, and Saishuheiki Kimi.

Speaking about the new album, vocalist HARUNA commented: "I believe people have perceived our new songs as us having challenged ourselves to new things and having experimental parts, but that's not really it. I can say with full confidence that this is seriously our best material yet. The creative energy from the four of us is just bursting at the seams."

RINA, the band's drummer and the member who has written a lot of the song lyrics, commented on the theme of the record: "The ups and downs in our hearts, our strengths, and our weaknesses all serve as seeds to our music and turn into songs. 'No matter what, everything will be okay. Things will work out.' That's the kind of message we put into the title Kiss from the darkness.'

Limited Pressing Edition CD Cover

The album's cover art was designed by collage artist Q-TA who also worked on the band's CD artwork for their March single Masterpiece/Mabataki. Speaking about the new pieces, Q-TA commented: "I added a sense of the girls' innocence which is hidden away inside all of the aggression. I wanted to express not only what's on the outside, but the inside too."

First Press Limited Edition A CD Cover

First Press Limited Edition B CD Cover

The album will be released in four editions: the Regular Edition, First Press Limited Edition A & B, and Limited Pressing Edition. Limited Edition A copies include a DVD featuring a documentary covering the band's journey over the past year since establishing their private label her. B copies include volume 2 of the "her Magazine," the first of which was included with their Masterpiece/Mabataki single and was thoroughly enjoyed by fans.

Limited Pressing Edition copies include a DVD featuring a collection of the band's music videos and a t-shirt featuring the cover artworkーall packaged in a beautiful box. If you pre-order the album in Japan now, you can also get an original folder; and depending where you order from, each store has their own individual bonus items you can get your hands on.

SCANDAL will kick off their 19-date tour at Atsugi City Cultural Hall in Kanagawa on March 7, 2020. They will wrap it up with two shows at the Orix Theater in Osaka on March 5 and 6. More details below and on the band's official website.

Information

Kiss from the darkness

Release Date: February 12, 2020

Regular Edition (CD): ¥3,000 (Before Tax) [VICL-65310]

First Press Limited Edition A (CD+DVD): ¥4,000 (Before Tax) [VIZL-1706]

First Press Limited Edition B (CD+Magazine): ¥3,800 (Before Tax) [VIZL-1707]

Limited Pressing Edition (CD+DVD+GOODS+BOX): ¥8,500 (Before Tax) [VIZL-1708]

*To be made available on all major music download services including iTunes Store, Recochoku and mora, as well as streaming services including Spotify, Apple Music, YouTube Music, LINE MUSIC, Amazon Music Unlimited, AWA, KKBOX, Rakuten Music, and RecMusic

Early Bonus: https://www.jvcmusic.co.jp/-/News/A026399.html

Store Bonuses: https://www.jvcmusic.co.jp/-/News/A026399.html

SCANDAL TOUR 2020 "Kiss from the darkness"

2020/3/7 @ Atsugi City Cultural Hall, Kanagawa

2020/3/14 @ Sapporo Kanamoto Hall, Hokkaido

2020/3/21 @ Alios Iwaki Performing Arts Center (Large Hall), Fukushima

2020/3/22 @ Talk Net Hall Sendai (Large Hall), Miyagi

2020/3/28 @ Nagoya Congress Center (Century Hall), Aichi

2020/3/29 @ Konan City Community Hall, Aichi日

2020/4/4 @ Hondanomori Hall, Iwasaki

2020/4/5 @ Niigata TERRSA, Niigata

2020/4/10 @ ROHM Theatre Kyoto (Main Hall), Kyoto

2020/4/11 @ Uenogakuen Hall, Hiroshima

2020/4/17 @ Fukuoka Civic Hall, Fukuoka

2020/4/18 @ Kumamoto Prefectural Theater (Engeki Hall), Kumamoto

2020/4/25 @ NHK Hall, Tokyo

2020/4/26 @ NHK Hall, Tokyo

2020/4/29 @ Beisia Culture Hall (Large Hall), Gunma

2020/5/2 @ Yonago Public Hall, Tottori

2020/5/3 @ Okayama Civic Hall, Okayama

2020/5/5 @ Orix Theater, Osaka

2020/5/6 @ Orix Theater, Osaka

Official Website: http://www.scandal-4.com/

SCANDAL Release New 'Saishuheiki Kimi' Music Video & Digital Single Download

SCANDAL just dropped a new digital single entitled Saishuheiki Kimi on Wednesday (November 6) from their private music label her.

Their most experimental track to date, the lyrics were written by drummer and vocalist RINA while the music was composed by guitarist and vocalist MAMI.

The band also premiered the music video on YouTube at midnight in Japan on the same date. Flurries of messages whirled in the comment section from excited fans around the world as they watched the timer roll down in anticipation of the video's release.

The music video was directed by Motherfucko who also worked on the band's previous digitally-released single Fuzzy which dropped back in August. The wild video makes use of multicoloured smoke, an energetic performance from the hand mic-wielding vocalist and guitarist HARUNA, and other notable moments.

Speaking about directing the music video, Motherfucko commented: "I wanted the power of the song to sink into the colourful, boorish and edgy visuals. The members' performances in particular are cool and really stand out, so I wanted to focus on them. I hope people can feel the power of SCANDAL's music through this music video."

SCANDAL will hold a special live stream on Abetma TV on November 13 at 19:00 (JST) to make some big announcements. They will also have a feature called "SCANDAL's Bedroom," discuss relationships with popular AbemaTV presenters, and more.

Information

Digital Single – "Saishuheiki Kimi"

Released: November 6, 2019

Download/Stream: https://jvcmusic.lnk.to/saisyuheikikimi

Available on all major streaming services including Spotify, Apple Music, Amazon Music Unlimited and LINE MUSIC, as well as download services including iTunes.

AbemaTV Stream

Title: SCANDAL Release Commemoration Program (Japanese Title: SCANDALリリース記念特番(仮))

Broadcast Date: November 13, 2019

Time: 19:00-20:00 (JST)

Channel: Abema SPECIAL 2

Watch: https://bit.ly/2qk1r3c

SCANDAL Official Homepage: http://www.scandal-4.com/

SCANDAL just dropped their new single Fuzzy which is available across major streaming services and music platforms including Spotify, Apple Music and the iTunes Store. It's a bittersweet love song with lyrics written by drummer and vocalist RINA and the music composed by vocalist and guitarist MAMI.

The song was performed at the finale of their 2019 "Fuzzy Summer Mood" tour at Zepp Tokyo on July 11. The lyrics were released before anyone heard the track and resonated with fans across social media for their relatable content when it comes to love.

The CD cover features a painting which was carried out by the band members on a 3 x 3 meter white sheet on paper.

The music video for Fuzzy was directed by Mother Fucko and follows a couple's melancholic love story. It also features the band members themselves shredding a powerful performance

SCANDAL will hold their first ever YouTube live stream on August 9, 2019 at 20:00 (JST) where they will perform a one-hour studio concert which will include the song Fuzzy. Click here for more details.

Speaking about her work directing the music video, Mother Fucko commented: "The song has both a feeling of sprinting forward and has an air of melancholy to it. The video is shot emotionally and includes shots of a story happening outside of SCANDAL's world as well as musical performances from the band members themselves. I was particular about the 'fuzzy' quality too. I hope people enjoy the coupling of the drama scenes with their nostalgic atmosphere and the powerful band performance scenes."

Information

Fuzzy

Released: August 7, 2019

Download/Stream: https://jvcmusic.lnk.to/fuzzy

​*Available for download via iTunes Store, Recochoku, mora and other major online music platforms

*Available for streaming via Spotify, Apple Music, YouTube Music, Amazon Music Unlimited, LINE MUSIC, AWA, KKBOX, Rakuten Music, and RecMusic

*The music video is also available to watch on YouTube, Apple Music, RecMusic and dTV

SCANDAL Official Website: https://www.scandal-4.com/

SCANDAL Announce YouTube Live Stream of Red Bull Music Studios Tokyo Performance

SCANDAL are set to host their first ever live YouTube stream on August 9 from 20:00 (JST) when they perform a one-hour show at Red Bull Music Studios Tokyo.

The studio performance will feature a long list of tracks including their new song Fuzzy which they performed at the finale of their "Fuzzy Summer Mood" Japan tour on July 11.

SCANDAL will subsequently perform at ROCK IN JAPAN FESTIVAL 2019 the following day on August 10 and SUMMER SONIC 2019 OSAKA the following week on August 18.

Be sure to tune in to their stream to catch them live.

Information

SCANDAL – Fuzzy (Live at Red Bull Music Studios Tokyo) YouTube Live Stream

Date: August 9, 2019

Time: From 20:00 (JST)

Link: https://youtu.be/uzhiCIf3xrA

*The stream will not be archived on the channel

*This is a studio-only show and so there are no tickets to attend the performance

SCANDAL Official Website: http://www.scandal-4.com/

SCANDAL Wrap Up 'Fuzzy Summer Mood' Japan Tour & Announce November Shows

SCANDAL just concluded their Fuzzy Summer Mood tour with the finale being held at Zepp Tokyo on Thursday. The tour took the band to 12 cities across Japan for 15 shows.

For this tour, SCANDAL changed things up by having every show featuring a completely different set list. After each show they posted those set lists onto Spotify so that both fans that attended the show and those who could not could relive the experience.

At the Zepp Tokyo show, Haruna, Mami, Tomomi and Rina were welcomed onto the stage with excited cheers from fans. The night begin with the band performing Masterpiece, their latest single released back in March. Without taking a breather, they followed it up with Take Me Out, LOVE SURVIVE and other upbeat tracks. In the middle of the set they played the city pop number Mabataki for the first time for which the crowd stood intently to listen.

In the second half of the show SCANDAL performed an unreleased new track entitled Fuzzy. Fans shifted from fist pumping to intent listening as the song went from a fast-paced melody to bittersweet lyrics.

This was followed up by Shunkan Sentimental, Awanai Tsumori no, Genki Desu ne and Image amongst a host of others. The last song of the encore was SCANDAL BABY which saw the crowd come together to sing at the top of their lungs.

At the end of the night SCANDAL announced that they will perform again in Tokyo and Osaka this November for a taiban (battle-of-the-bands) tour where they will be joined by fellow artists. This marks their first taiban tour since 2017 when they were joined by UNISON SQUARE GARDEN in Tokyo, 04 Limited Sazabys in Nagoya, and BLUE ENCOUNT in Osaka.

Cameraman: Takeshi Yao

Concert Review: SCANDAL's 2019 Japan Tour Has Different Set Lists For Every Concert

SCANDAL's "Fuzzy Summer Mood" 2019 tour began at Zepp Nagoya on June 1. The tour is set to take the rock band to 12 locations across Japan to perform 15 concerts.

This tour is unique from their other tours however as every date features completely different set list. The unpredictability of what the girls will play is part of the excitement for this summer tour.

SCANDAL headlined HUSH!! Full Music 2019 at Hac Sa Beach in Macau on May 1. The first date of the Fuzzy Summer Mood tour served to usher in Japan's new Reiwa era.

The concert featured the SCANDAL's first performance of Mabataki taken from their single Masterpiece / Mabataki which they released on March 27 under a private music label called "her." The rest of the set list was made up of a string of classic upbeat live tunes as well as songs they haven't performed in several years. The band also performed a new song titled Fuzzy which they have only just finished recording.

The tour will wrap up at Zepp Tokyo on July 11. A number of the shows have already sold out, so if you're in Japan and looking to catch them live be sure to grab a ticket ASAP.

SCANDAL are posting playlists of each set list on the tour over on Spotify, so whether you get to see them live this summer or not you can still be part of the experience.

The above-pictured new artist photo was also released when the tour started. It's the complete opposite of their previous artist photo which was shot in the early morning with each member wearing white clothes. This time we see them donning black outfits and standing on the city sidewalk in the evening.

Photography: Takeshi Yao

Information

SCANDAL TOUR 2019 "Fuzzy Summer Mood"

6/1 @ Zepp Nagoya, Aichi (Open 17:00 / Start 18:00)

6/2 @ Zepp Osaka Bayside, Osaka (Open 17:00 / Start 18:00)

6/6 @ Matsuyama WstudioRED, Ehime (Open 18:30 / Start 19:00)

6/8 @ Takamatsu festhalle, Kagawa (Open 17:15 / Start 18:00)

6/9 @ BLUE LIVE HIROSHIMA, Hiroshima (Open 17:00 / Start 18:00)

6/14 @ Zepp Nagoya, Aichi (Open 18:00 / Start 19:00)

6/15 @ Yokohama Bay Hall, Kanagawa (Open 17:00 / Start 18:00)

6/22 @ Zepp Fukuoka, Fukuoka (Open 17:00 / Start 18:00)

6/23 @ Zepp Osaka Bayside, Osaka (Open 17:00 / Start 18:00)

6/29 @ Zepp Sapporo, Hokkaido (Open 17:00 / Start 18:00)

6/30 @ Obihiro MEGA STONE, Hokkaido (Open 17:30 / Start 18:00)

7/4 @ Niigata LOTS, Niigata (Open 18:15 / Start 19:00)

7/6 @ Sendai PIT, Miyagi (Open 17:00 / Start 18:00)

7/10 @ Zepp Tokyo, Tokyo (Open 18:00 / Start 19:00)

7/11 @ Zepp Tokyo, Tokyo (Open 18:00 / Start 19:00)

Tour Details: https://www.scandal-4.com/live-tour/

Spotify "Fuzzy Summer Mood" Tour Set-List Playlists: https://open.spotify.com/playlist/65LIl0fhilWNrU7SgfMsDk

Masterpiece / Mabataki

Released: March 27, 2019

Download/Stream: https://jvcmusic.lnk.to/masterpiece_mabataki_h

*Available on major streaming services including Spotify, Apple Music, YouTube Music and Amazon Music Unlimited as well as digital platforms including the iTunes Store.

SCANDAL Official Website: http://www.scandal-4.com/