Eevee to Join the Pikachu Outbreak Parade in August 2018
Japan's army of Pikachu is readying themselves to appear at the Pikachu Outbreak: Science Is Amazing event set to take place from August 10 to 16 in the Minato Mirai area of Yokohama.
Pikachu Outbreak began in 2014 and has been held every year since. This year marks the event's 5th anniversary. Every year, packs of Pikachu march from Queen's Square Yokohama to Grand Mall Park, bringing in countless spectators. For the first time ever this summer, an army of Eevee will join the march. You can catch them in the Shinko Chuo Hiroba area. Be sure to confirm the times and locations as the Pikachu and Eevee marches are taking place in different locations.
Additionally, there'll also be a Pikachu march at night too.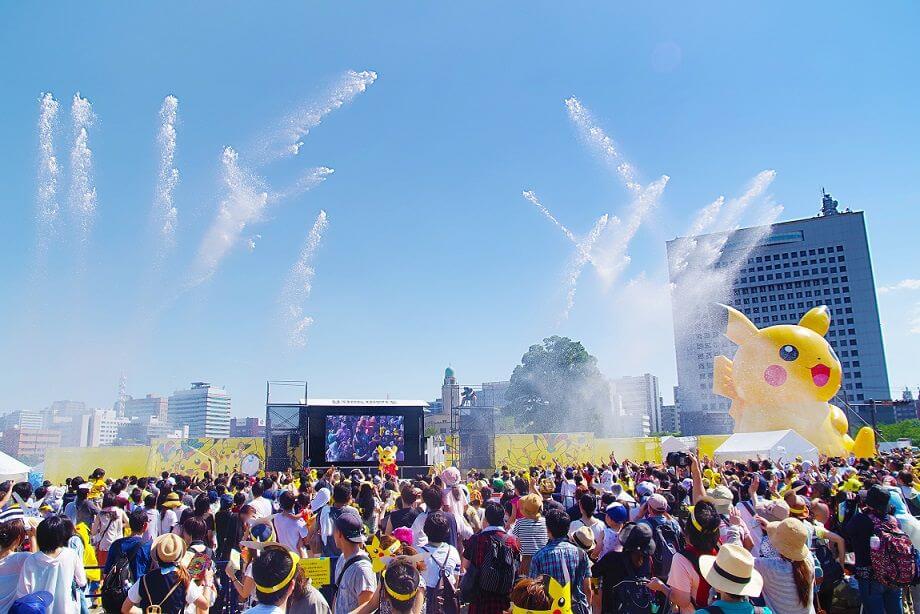 Prepare to get soaked if you roll up to Yokohama Red Break Warehouse as there will be a Pikachu splash event taking place. It promises to be bigger and better than previous years, and will take place during the day and at night this time around.
Pikachus will also greet everyone from boats again this year. Prepare to take some great photos of the Pikachu waving to you atop the water with a gorgeous view of Minato Mirai in the background.
A special night time show is also scheduled to take place. Join the Pikachu Outbreak this summer!
■Information
Pikachu Outbreak: Science Is Amazing
Date: August 10, 2018 – August 16, 2018
Location: Minato Mirai area
Participating Facilities: Queen's Square Yokohama, Yokohama Red Brick Warehouse, Nippon Maru, Nippon Maru Memorial Park, Landmark Plaza, MARK IS Minato Mirai, JR Sakuragicho Station, Sakuragicho Station area, Minato Mirai Line of Minato Mirai Station, Yokohama World Porters, Yokohama Cosmo World, Shinko Chuo Hiroba, Pokémon Center Yokohama
Event Website (Japanese): http://www.pokemon.co.jp/ex/pika_event/
RELATED ENTRIES
Yokohama Bay Sheraton Hotel & Towers Offers Halloween Menu to Enjoy in Lounge and at Home

Yokohama Bay Sheraton Hotel & Towers have announced a Halloween themed menu using seasonal Autumn ingredients. The 'Sweets Parade~ Halloween~' buffet will be held on the second floor of the Seawind lounge on Thursdays and Fridays between October 7 and October 29. In addition, a Halloween version of the popular take-out 'Home de Afternoon Tea' will be available in their basement floor pastry shop Dorer for a limited time between October 1 and October 31.

Lounge 'Sea Window' Sweets Parade ~Halloween~

'Purple Potato Mont Blanc' with Okinawan purple potatoes.

'Shiro-An Yokan' with skulls (front) Mousse Chocolate Marron (back right)

Caramel Coffee (left) / Matcha Anmitsu (right)

'Orange and Strawberry Jelly' with vivid graduation coloring (center)

Pumpkin Tart (front) / Eyeball 'Vanilla Cassis'

Pastry Shop Dorer 'Home de Afternoon Tea ~Halloween~'


Smoked Salmon Salad

Chestnut Rice with Pumpkin


Pumpkin Soup

Assorted Fruits

Five variations of Ronnefeldt Tea / Alain Milliat Strawberry Jam

Lounge 'Sea Window' is back with another charming 'Sweets Parade ~Halloween~'  sweets menu. The menu boasts a lineup of photogenic Halloween sweets, including a glossy 'Purple Potato Mont Blanc' made using Okinawan purple potatoes, a peering eyeball 'Vanilla Cassis,' a pumpkin and almond cream 'Pumpkin Tart,' and a jack-o-lantern themed gradient 'Orange and Strawberry Jelly.' 

There is also a selection of luxurious light meals, each featuring seasonal ingredients, that will offer you a taste of the hotel, including  the pumpkin-filled 'Chestnut Rice' and 'Pumpkin Soup', and the 'Chestnut Danish.'

For the first time, pastry shop Dorer will be offering a 'Home de Afternoon Tea ~Halloween~' experience, allowing customers to enjoy Halloween sweets from the comfort of their own home. The cute box is filled with a variety of fun sweets and savory snacks such as a 'Purple Potato Mont Blanc,' 'Monster Macarons,' a skull-covered 'Fig Tart' and 'Shining Grape Petit Cream Puffs.' The afternoon tea set makes the perfect gift to any loved ones!

You can visit the lounge and experience a luxurious time at the adult-aimed sweets buffet, gazing through the atrium during the long Autumn evenings, or you can enjoy the colorful afternoon tea set from the comfort of your own living room! 

 

Why not experience a special Halloween in your preferred setting?

Hands-On POKEMON COLORS Exhibition Opening in Osaka for Limited Time

The globally-beloved Pokemon franchise is celebrating 25 years throughout 2021. Throughout the year, the POKEMON COLORS exhibition has opened in cities throughout Japan, bringing a barrage of bright colors, fantastic art, and Pokemon-themed activities to fans nationwide. As guests move throughout the event space, various projections and images around them change, with popular Pokemon characters popping up and flooding the world around them in color. Now, the POKEMON COLORS exhibition is set to open in Osaka beginning September 30. 

Exhibition Preview


Concept Video


COLORS ROAD

COLORS LAKE

COLORS FOREST

COLORS CITY

COLORS CIRCLE

Inspired by the more than 800 Pokemon species in the franchise, the POKEMON COLORS project uses sensors placed throughout the event space to track visitors movements, altering the images, music, and lighting accordingly. Meant to be a combination of pop culture and minimalist digital art, it's an experience like no other. 

160 unique goods will be available at the exhibition, from apparel and art pieces to cell phone cases and office supplies. Be sure to check it out if you're in Osaka this fall!

©2021 Pokémon. ©1995-2021 Nintendo/Creatures Inc./GAME FREAK inc.

Information

POKEMON COLORS

Running: September 30 – October 20, 2021

Address: Daimaru Museum Umeda 15F 

Hours: 10:00AM – 8:00PM (Last entry at 7:00PM) 

Official Site:  https://pokemon-colors.com/

Pokemon Shirts to Release 35 New Designs, Total of 386 Patterns Now Available

Pokemon Shirts have become massively popular since their release in 2019. A collaboration between American custom shirt brand Original Stitch and the Pokemon franchise, these customized tops now ship worldwide, and have people showing off their favorite characters in and out of the office. Now, 35 new Pokemon patterns are available, meaning that 135 total Pokemon from the Ruby & Sapphire titles are available. This brings the total amount of patterns available to 386.

New Design Preview

The creatures from Pokemon Ruby & Sapphire are being released over four installments, each with a specific theme. The theme of this fourth release is 'Sky,' and flying Pokemon are being added to the lineup, including Rayquaza, Latias, Latios, and Deoxys.

The key visual for the new promotion was created by Shiseido's top hair and makeup artist Tadashi Harada, and was inspired by the dragon Pokemon Rayquaza.

Which Pokemon are looking forward to seeing on a fresh new shirt?

New BT21 Cafe Coming to Tokyo, Yokohama, Nagoya, Osaka, and Okinawa

The 9th BT21 Cafe ~Relaxing Holiday~ will be open for a limited time in six venues across Tokyo, Yokohama, Nagoya, Osaka, and Okinawa. If you're a fan of these adorable LINE FRIENDS, just take a look at the menu items and goods on offer!

Main Visual

The Menu

Chicken and Orange Hot Sandwich: ¥1,760 (Tax Included) 

Grilled Vegetable Curry: ¥1,870 (Tax Included)

Tandoori Chicken Tacos: ¥1,870 (Tax Included)

Scrambled Eggs with Smoked Bacon: ¥1,870 (Tax Included)

Mug Collection

Combo Meals

Pistachio and Chocolate S'mores: ¥1,540 (Tax Included)

Cinnamon Apple Pie: ¥1,540 (Tax Included)

Maple Lemon German Pancake: ¥1,650 (Tax Included)

Mixed Berry German Pancake: ¥1,650 (Tax Included)

Strawberry Mojito/Kiwi Mojito/Peach Mojito: ¥990 each (Tax Included)

Coffee (Iced/Hot) / Black Tea (Iced/Hot): ¥550 (Tax Included)

Original Merchandise 

Pins (Random, 7 designs): ¥660 (Tax Included)

Acrylic Keyrings (7 designs): ¥770 (Tax Included) / Clear Folder: ¥440 (Tax Included)

Stickers (7 designs): ¥770 each (Tax Included) / Placemat (2 designs): ¥1,000 each (Tax Included)

Swizzle Stick (7 designs): ¥990 each (Tax Included) / Tote Bag: ¥1,650 (Tax Included)

Canvas Pouch: ¥1,980 (Tax Included) / Mini-towel (7 designs): ¥990 each (Tax Included)

Bandana (2 designs): ¥1,320 each (Tax Included) / Marshmallows: ¥972 (Tax Included)

Customers who book a table in advance will receive a randomly selected A5-size clear folder and a random clear coaster for each drink ordered.

The first installment of the 9th BT21 Cafe run, ~MY LITTLE BUDDY~, began in July 2021. The menu and goods, based on cute babies and their friends, received rave reviews. 

 

~Relaxing Holiday~ is inspired by summer and being outside with friends. Menu items look like what people may eat while camping, and the original character art features your favorite BT21 characters eating their favorite foods. Various soups and desserts are available in cute souvenir cups, and anything ordered is perfect for posting on social media!

Which menu item looks the most delicious to you? 

 

*Images for reference only. 

©BT21

Information

BT21 Cafe 9th Run ~Relaxing Holiday~

Tokyo 1:
Address: SHINJUKU BOX café&space Lumine EST (B1F 3-38-1 Shinjuku, Shinjuku-ku, Tokyo)
Running: August 28, 2021 – October 3, 2021

Tokyo 2:
Address: HARAJUKU BOX Alta (3F 16-4 Jingumae 1-chome, Shibuya-ku, Tokyo)
Running: September 16, 2021 – October 31, 2021

Yokohama:
Address: Collabo_Index Lumine Yokohama (6F 2-16-1 Takashima, Nishi-ku, Yokohama, Kanagawa)
Running: September 1, 2021 – October 3, 2021

Nagoya:
Address: Nagoya Box café&space (B1F LACHIC, 3-6-1 Sakae, Naka-ku, Nagoya, Aichi)
Running: September 30, 2021 – November 7, 2021

Osaka:
Address: Shinsaibashi contact (1-6-24 Kitahorie, Nishi-ku, Osaka)
Running: August 27, 2021 – September 23, 2021

Okinawa:
Address: OKINAWA BOX café&space (Naha OPA 2F, 1-20-1 Izumizaki, Naha, Okinawa)
Running: September 3, 2021 – October 3, 2021

Official Site: https://2021-2.box-cafe.jp/

BT21 is a globally popular cast of characters from LINE FRIENDS.
*The products and menu items produced and sold by LEGS COMPANY, Ltd. are the result of an official license agreement with LINE FRIENDS Co., Ltd. and may not be reproduced or sold without permission from LINE FRIENDS Co., Ltd. 

POKÉMON COLORS Exhibition Coming to the Kansai Region

The Daimaru Umeda store in Osaka will house the popular POKÉMON COLORS exhibition beginning on September 30, 2021. The event has been running at the Matsuya Ginza department store in Tokyo since July 22, celebrating the franchise's 25th anniversary. 

COLORS ROAD

COLORS LAKE

COLORS FOREST

COLORS CITY

COLORS CIRCLE

Original Goods

Clear Bag with Pouch: ¥3,850 (Tax Included)

Poké Ball iPhone Case for iPhone SE, 7, 8 (8 Colors Available): ¥1,980 (Tax Included)

Art Deli Key Visual: ¥4,400 (Tax Included)

Acrylic Keychain (9 varieties): ¥1,100 Each (Tax Included)

Poké Ball Long Sleeve or Short Sleeve Patterned Shirt / White Short Sleeve Patterned Shirt / Black Long Sleeve Patterned Shirt
Long Sleeve: ¥6,600 (Tax Included) / Short Sleeve: ¥5,500 (Tax Included)

Ballpoint Pens/Mechanical Pencils (8 varieties each): ¥385 Each (Tax Included)


Pikachu Design Pouches – Assorted Pokemon Design Pouches | Small: ¥1,650 Each, Large: ¥3,300 Each (Tax Included)

The POKÉMON COLORS exhibition is a bright and vivid interactive project which welcomes visitors to participate in four activities, along with an art installation. 

The COLORS ROAD activity has guests pedaling along on a bicycle, pressing a button on the handlebars to avoid passing Pokémon, while COLORS LAKE offers the chance to fish for some popular creatures. COLORS FOREST involves shaking large inflatable trees to cause nuts to fall and hidden Pokémon to appear. COLORS CITY involves throwing balls at a massive screen in the hopes of startling some adorable monsters into view. 

The art installation COLORS CIRCLE fills the room with bright colored lights and sound effects, with Pokémon moving around on 12 monitors displayed in a spherical pattern. The venue itself was designed with a circular theme in mind, with the logo and artwork for the event specially made to fit the simple theme of 'colors.' 

Special goods will be on sale at the exhibition, so Pokémon fans shouldn't miss out. Which Pokémon would you like to see? 


©2021 Pokémon. ©1995-2021 Nintendo/Creatures Inc./GAME FREAK inc.
Pokémon is a registered trademark of Nintendo, Creatures and Game Freak.

Information

POKÉMON COLORS

Running: September 30, 2021-October 20, 2021
Location: Daimaru Museum, Daimaru Umeda Store (15F)

Event Details: https://dmdepart.jp/museum/umeda/pokemon_colors/

Official Site: https://pokemon-colors.com/

Tickets

Lottery Open: August 18, 10:00-August 25, 23:59
Results Announced: August 27, after 15:00 (Exchange period open until opening date of event.)

General Sale Advanced Tickets Available: August 28, 10:00-September 29, 23:59

General Sale Same-day Tickets Available starting September 30, 10:00

Tickets available at Lawson and Ministop convenience stores until 23:59 the day before the event. 

*Reservations can be made until 22:00 via PC or smartphone

More Details: https://l-tike.com/event/pokemon-colors

Japan's Poké Lid Project Lays Down New Manhole Covers in Hyogo Prefecture

Three new Pokémon manhole covers were unveiled in Awaji, Hyogo Prefecture on August 11, as part of the Poké Lid project. The new designs depict the legendary Pokémon Lugia, Bayleef, Aromatisse, and Cloyster. These are the first Poké Lids to be placed in Hyogo. 

Including these new additions, the total number of Pokémon-themed manhole covers across Japan is now 201. The project began with the installation of a Eevee manhole cover in Ibusuki City, Kagoshima Prefecture in December 2018. 

Each one features completely original Pokémon art, and going on a pilgrimage to visit each of them has become a popular new fad. The project aims to promote local tourism by using these internationally-loved characters. 

There are also plans to turn each cover into Pokéstops, used in the popular location-based Pokemon GO smartphone game. 

Which Poké Lid would you like to find first? 

©2021 Pokémon. ©1995-2021 Nintendo/Creatures Inc./GAME FREAK inc.

Pokemon, Pokémon and Pokémon are registered trademarks of Nintendo, Creatures and Game Freak.

Udon x Slowpoke Collaboration Event "Slowpoke Paradise in Kagawa 2021" Coming Soon

The Udon Prefecture x Slowpoke collaboration event "Slowpoke Paradise in Kagawa 2021" will be held in Kagawa prefecture between August 10, 2021 and February 28, 2022. Slowpoke will be appearing at various events and feature on local goods throughout the campaign, alongside a multitude of special projects including a photo contest with special prizes.

Slowpoke is a popular character from the Pokémon series. Slowpoke's Japanese name, Yadon, sounds similar to the word udon, plus it's tail is known to taste sweet, so a special themed Wasanbon candy has been made especially for the event. Kagawa prefecture is currently experiencing a water shortage, adding a deeper meaning to the legend that the rain falls when Slowpoke yawns. 

Slowpoke has officially joined the Udon prefecture PR Team, promoting local products both within Japan and overseas in order to boost regional revitalization efforts.

Slowpoke is waiting for you at the airport! Get on the Slowpoke Bus!

You can live the Pokémon dream with the new Slowpoke Marugame Airport Limousine Bus. Both the bus exterior and interior feature a Slowpoke design, while the bus is numbered 810 (read as Yadon), making for a fun way to travel between Takamatsu Airport and JR Marugame Station!

Slowpoke Photo Contest

Take a photo with your favorite Slowpoke plushie or merch to be in with a chance of winning limited Udon Prefecture x Slowpoke original prizes. You can enter by using the competition hashtag.

Check out the official Udon Prefecture Slowpoke Club Twitter (@Udonken_Yadonbu) for more details.

Slowpoke Collaboration Goods

Slowpoke's Island Light ¥700 (Tax Included)


Slowpoke Wasanbon ¥594 (Tax Included)


Kagawa Prefecture and Slowpoke collaboration goods are now available to purchase! You can find them at the Kagawa Ritsurin'an Gift Shop, Shikoku Shop 88, and a selection of other local stores.

Slowpoke Collaboration Menu


Fried Slowpoke ¥220 (Tax Included)

For the duration of Slowpoke Paradise in Kagawa 2021, you can find fried Slowpoke in a variety of local stores. Store details are available on the event website.

You've gotta catch all of the Slowpoke goodies next time you visit Kagawa!

 

©2021 Pokémon. ©1995-2021 Nintendo / Creatures Inc. / GAME FREAK inc.
ポケットモンスター・ポケモン・Pokémonは任天堂・クリーチャーズ・ゲームフリークの登録商標です。

Limited Time THUNDERBOLT PROJECT by FRGMT & POKÉMON POP UP STORE

THUNDERBOLT PROJECT, a joint project between Fujiwara Hiroshi and POKÉMON, will be opening a pop up store at Shinsaibashi PARCO between August 11 and 22, 2021.

The project started in 2018 and has gained international popularity, hosting events in New York, Ginza, Shibuya, Beijing, Shanghai, and Taipei.

The pop up store will be opening in Tokyo, Sendai, Kanagawa, Nagoya, and Hiroshima from August 7, while the Shinsaibashi PARCO store will open on August 11.

The pop up store line-up features Piplup, a Pokémon beloved by all.

Alongside apparel and miscellaneous goods, you will be able to purchase limited handmade popsicles from Hokkyoku, a long-established Kansai-based store that opened in 1945. The popsicle packaging will feature a special THUNDERBOLT PROJECT design, with 3 flavors to choose from; Milk, orange, and azuki. 

 

Check out the official Instagram (@tb_project) for the full lineup.

©2021 Pokémon. ©1995-2021 Nintendo/Creatures Inc./GAME FREAK inc.
ポケットモンスター・ポケモン・Pokémonは任天堂・クリーチャーズ・ゲームフリークの登録商標です。

Information

THUNDERBOLT PROJECT BY FRGMT & POKÉMON POP UP STORE

Location: Shinsaibashi PARCO 1F – THE WINDOW SHINSAIBASHI

Availability: August 11 ~ August 22, 2021

Opening Hours: Check the Shinsaibashi PARCO homepage for details

Access: Check the THUNDERBOLT PROJECT Instagram (tb_project) for details.

ALTERNATIVE POP UP INFORMATION
Tokyo MONTOAK

Availability: August 7 ~ August 22 

Location: 6-1-9, Jingumae, Shibuya, Tokyo

Instagram: @montoak_omotesando

*The cafe and pop up store are separate.

Aidhi M.D.STORE 

Availability: August 7 ~ August 22

Location: 2-6-15-2F,  Osu, Naka, Nagoya City, Aichi

Instagram: @m.d.store_jbv

Ishikawa mezzanine

Availability: August 7 ~ August 22

Location: 86-1-2F, Tatemachi, Kanazawa City, Ishikawa

Instagram: @milestones_official

Miyagi ReVoLuTioN

Availability: August 7 ~ August 22

Location: 2-10-10 2F, Chuō, Aoba City, Sendai, Miyagi

Instagram: @revolution_sendai

Hiroshima ref.

Availability: August 7 ~ August 22

Location: 8-18, Fukuro-machi, Hiroshima City, Hiroshima

Instagram:@ref.store_

Second Pokémon Room Summer Vacation Project comes with Original Themed Recipes

Cosmos Hotel Management have announced a new Pokémon Room option at APARTMENT HOTEL MINIMARU, complete with special Pokèmon original recipes. APARTMENT HOTEL MINIMARU is a hotel service that offers spacious rooms and kitchen spaces, ideal for families and large groups.

You can make lasting summer memories as you cook adorable themed meals as a family in their incredible new Pokémon themed room.

Original Recipe (preview)

The dining and sleeping areas of the impressive new room are covered in Pokéball motifs, while the cute Pokémon appear to be playing hide and seek throughout the wallpaper. You'll be greeted by a giant Snorlax plushie on the bed and have your food served on Pokèmon themed plates and cups – Perfect for Pokèmon lovers! The room will be available at MINIMARU in Tokyo, Kyoto, and Osaka.

Following their Pokémon Card Game Sword & Shield / Family Pokémon Card Game free summer vacation project, MINIMARU have prepared several original recipes for guests of the new Pokémon Room. Try making some cute Pokémon dishes and desserts in the kitchen for yourself, with recipes including Pikachu Omurice and more!

The Pokémon Room offers 7 special dinner and snack recipes for parents and children to make during their stay. The ingredients are easily obtained at the local supermarkets and cooked in the kitchen space. You can even share your handmade masterpiece on social media using the hashtag #ポケモンルームレシピ (pokémonroomrecipe).

©2021 Pokémon. ©1995-2021 Nintendo / Creatures Inc. / GAME FREAK inc.
ポケットモンスター・ポケモン・Pokémonは任天堂・クリーチャーズ・ゲームフリークの登録商標です。

Naruto and Boruto Summer Event Begins at Nijigen no Mori

Nijigen no Mori, an amusement park located on Awaji Island in Hyogo, began a summer event at its Naruto and Boruto-themed zone on July 22 which is set to run until September 30.

Event-exclusive stickers

The event includes a huge water gun event where 25 litres of water will be sprayed to cool down guests during the hot summer event. With themed character panels displayed around the park, join Naruto and the gang, including Zabuza and Haku, for some summer fun. All guests receive a free original sticker too.

© 岸本斉史 スコット/集英社・テレビ東京・ぴえろ

Information

NARUTO&BORUTO SHINOBI-ZATO
Running: July 22, 2021 – September 30, 2021

Location: Nijigen no Mori

Opening Hours: 10:00-18:00
Price: Free (But park entry payment required)
Official Website: https://nijigennomori.com/naruto_shinobizato/

Pokémon Postboxes Arrive in Yokohama For a Whole Year

Japan Post Service has teamed up with Pokémon to set up three postboxes with Pikachu, Eevee, and Piplup designs in Yokohama. They first opened on July 7, 2021 and will be available until June 30, 2022.


Yokohama is no stranger to Pokémon as it is the city that hosts the annual Pikachu Outbreak event, one which is set to return this year from August 7-13. It is also one of the cities taking part in the Poké Lid project to place Pokémon manhole covers across Japan.

And if you post your letter in the postbox pictured below, located in Yokohama Port Post Office, your envelope will be stamped with a special Pokémon stamp.

Information

Pokémon Postboxes

Locations: 2 at Yokohama City Hall / 1 at Yokohama Sakuragi Post Office
Running: July 7, 2021 – June 30, 2022

Pokémon Stamp Post Service

Location: Yokohama Port Post Office
Running: July 7, 2021 – June 30, 2022

POKÉMON COLORS Exhibition Opens at Matsuya Ginza

Matsuya Ginza opened its POKÉMON COLORS exhibition on July 22 which is set to run until August 11. The event is a kaleidoscope of bright colours and shapes of Pokémon and Pokémon motifs, with four activities and one installation to enjoy, as well as 160 original pieces of merchandise for fans to buy.

Logo mark

Art Deli Key Visual | ¥4,400

Pikachu Design Pouches – Assorted Pokémon Design Pouches | Small: ¥1,650 Each, Large ¥3,300 Each

Get your hands on a range of vivid and stylish Pokémon items, take photos at the many different photo spots dotted around the event, and learn the latest news about the Pokémon franchise.

Indigo dye art piece

Dangling from the first floor atrium is a 20-meter Pokémon art piece made by the dye group BUAISOU who used the traditional Japanese art of indigo dyeing to create it.

©2021 Pokémon. ©1995-2021 Nintendo/Creatures Inc./GAME FREAK inc.
ポケットモンスター・ポケモン・Pokémonは任天堂・クリーチャーズ・ゲームフリークの登録商標です。

Information

POKÉMON COLORS

Running: July 22, 2021 – August 11, 2021

Location: Matsuya Ginza – Floor 8F

Opening Hours: 10:00-20:00

Official Website: https://pokemon-colors.com/