Ice Cream Shop Panapp Opens in Harajuku for a Limited Time
Panapp is an ice cream made by Glico which turned 40-years-old this year. To celebrate, the Panapp Parfait Shop has opened at BOK Gallery on Takeshita Street for a limited time and will remain open until August 19.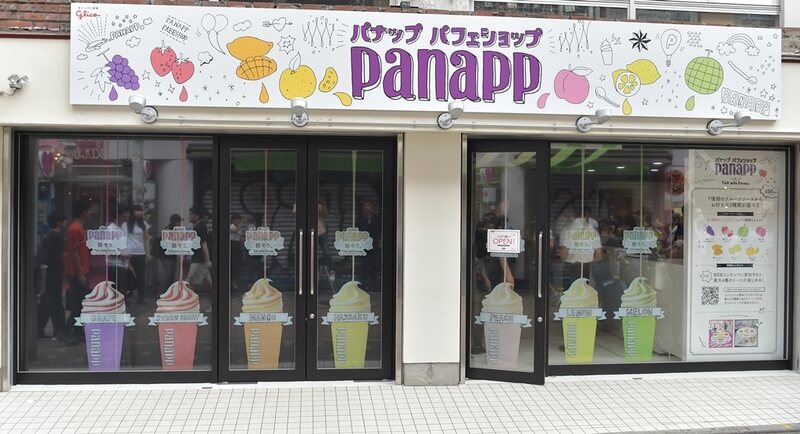 Panapp is described as the perfect bonding treat for parents and children. The shop was created under the concept of kids and their parents talking together while enjoying Panapp ice cream.
There are 7 fruit sauces to choose from: grape, strawberry, melon, white peach, mango, lemon and orange.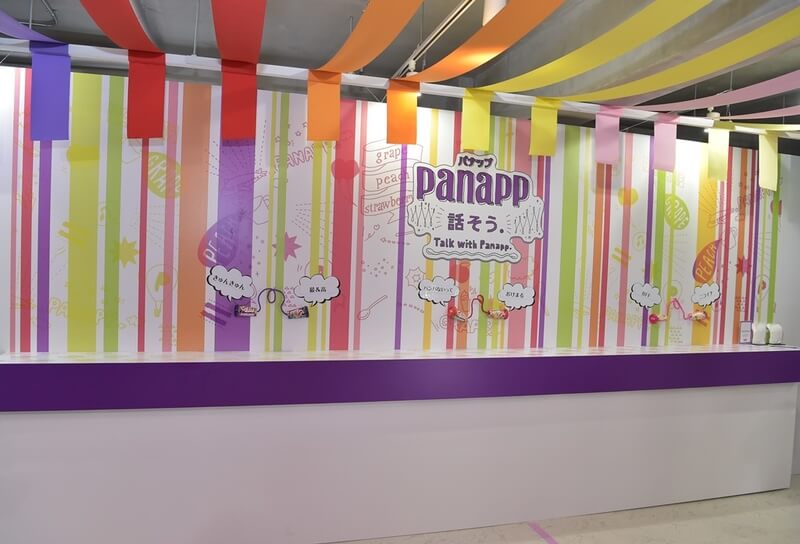 Choose your favourite sauce and drizzle it onto freshly-made ice cream to create a colourful panapp. There's also a photo spot in the shop to take a commemorative picture.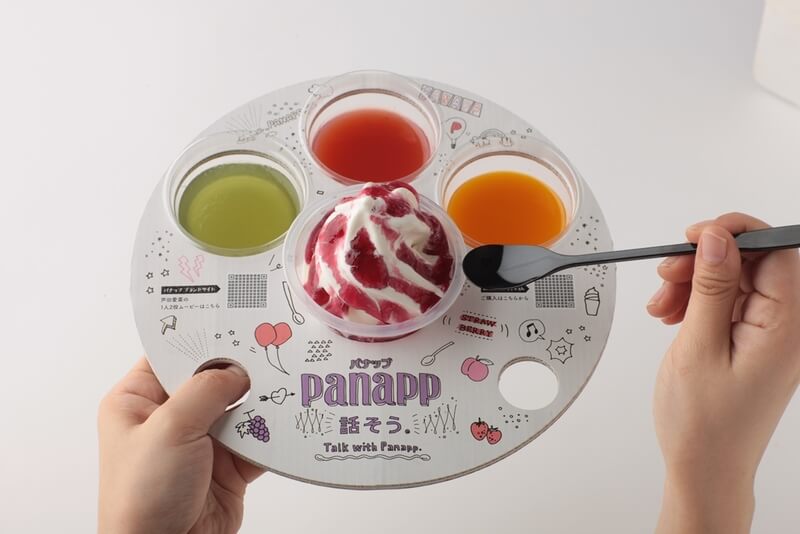 Cool down this summer with your own original panapp whether you're going with the kids, friends or that special someone!
■Information
Panapp Parfait Shop
Running: July 27, 2018 – August 19, 2018
Opening Hours: 10:00am-8:00pm
Location: BOK Gallery Takeshita Street (Tousen Harajuku 1F, 1-16-6 Jingumae, Shibuya, Tokyo)
Menu: Original Ice Cream – ¥350 (Tax Included)
・3 Fruit Sauces
(Choose up to 3 fruit sauces from 7 flavours)
RELATED ENTRIES
See KAWAII MONSTER CAFE HARAJUKU's New MONSTER X Girls

KAWAII MONSTER CAFE HARAJUKU has announced MONSTER X, a new roster of characters who are like sisters to the cafe's MONSTER GIRLS and are personifications of popular areas in the cafe: Mushroom Disco, Bar Experiment, and the Mel-Tea Room.

The theme and decor of KAWAII MONSTER CAFE HARAJUKU imagines customers inside the belly of a monster. But this is no ordinary digestion, as customers are pulled into a crazy and vivid world of colours. The cafe is split into various areas where you'll find the new MONSTER X girls: the colourful mushroom forest Mushroom Disco welcomes MUSH, the bewitching jellyfish Bar Experiment says hello to JELLY, and the candy-filled Mel-Tea Room beckons MELTY. Let's take a look at who these MONSTER X girls are.

MUSH

MUSH's theme is "Cheer." Her dress and hairstyle is fitted with lots of round mushrooms. She's here to cheer everybody up with the power of her vivid, Harajuku-esque colours.

Area: Mushroom Disco

Mushroom Disco is a giant forest of colourful, poisonous mushrooms and plants from outer space.

JELLY

JELLY's theme is "Deep." Her dress and hairstyle personifies the bar which take son the image of a luminous deep sea jellyfish. Her glittery cool beauty will captivate all who see her.

Area: Bar Experiment

An enormously bright, glistening jellyfish has wrapped itself around this bar which also couples as a laboratory where people can experiment with different drinks.

MELTY

MELTY's theme is "Sugary." Her name speaks for her droopy dress and hairstyle which looks like it's melting. She will heal all with her sweet and overwhelming aura.


Area: Mel-Tea Room

Follow the ants along the sugar trail and you'll find the tea party room adorned with ice cream, chocolate, and macarons.

Fashion x Entertainment x Virus Precautions

KAWAII MONSTER CAFE HARAJUKU will continue to entertain customers while taking all the necessary COVID-19 precautions. The staff will coordinate masks to their outfits fitting of the KAWAII MONSTER CAFE while still paying respect to the spirit of Harajuku's fashion style which encourages people to enjoy fashion however they like. When you look back at the history of Harajuku's street fashion, decorative masks and gas masks have always been around, so it will be business as usual at the KAWAII MONSTER CAFE.

Jokin Dance (Bacteria Elimination Dance)

Before your meal at the KAWAII MONSTER CAFE, the MONSTER GIRLS will pay a visit to your table and invite you to join in doing the Jokin Dance (Bacteria Elimination Dance). KAWAII MONSTER CAFE HARAJUKU is an entertainment restaurant, and so it can make even taking precautions against something like COVID-19 a fun time.

Kyary Pamyu Pamyu Steps Up As Harajuku's Beauty Square Ambassador

On June 18, WITH HARAJUKU, a shopping complex located in front of Harajuku Station, opened its Shiseido beauty facility "Beauty Square" on the first floor. To strike a chord with beauty-loving millennials across the country, Kyary Pamyu Pamyu has been appointed as the shop's ambassador. With "beauty diversity" as its main theme, Shiseido's top hair and makeup artist Tadashi Harada is also getting involved by launching a variety of beauty projects.

Harajuku Shiseido Beauty Square Ambassador Video:



Before the facility celebrated its grand opening, Kyary Pamyu Pamyu stepped through its doors, visiting the makeup counter and enjoying the fun interactive features such as the large LED screen located in the centre which displays endless videos.

The concept of Beauty Square is to become an interactive space to discover beauty, have fun, and share your experiences. Along with the sale of cosmetics, customers can enjoy digital interactive experiences to connect with the world of beauty or treat themselves to a makeover at the hair and makeup salon, which will glamour up your look in the bat of an eye.

From transforming your look to digital interaction, this is the perfect day out for fashion-lovers from all over the world.

Information

Beauty Square (Shiseido Beauty Square)
Open: June 18, 2020
Address: 1-14-30, Jingumae, Shibuya, Tokyo
Phone Number: 03-5413-7717 (Main Number)
Business Hours: 11:00 – 20:00 *Current business hours: 11:00 – 19:00
No Fixed Holidays

Official Website: https://beautysquare.tokyo/?rt_pr=trg20

Beauty Square: Discover Your Inner Beauty at Harajuku's New Beauty Salon

Shiseido is set to open its new beauty salon Beauty Square inside WITH HARAJUKU on June 18, 2020. WITH HARAJUKU is a shopping centre located in front of Harajuku Station in Tokyo.

Beauty Square's concept aims to have people discovering their beauty, having fun, sharing experiences, and learning the latest in the scene. Visitors will be able to purchase cosmetics and makeup products, participate in interactive digital content, experience the salon where hair and makeup artists will beauty up customers, and more. Focused on younger customers, Beauty Square is a place to find your inner beauty, and what better place to do it than in Harajuku—Tokyo's hub for youth fashion, beauty, and culture?

Beauty Square is split into 4 separate zones: the Go-Live Zone, Brand Zone, Installation Zone, and Salon Zone. Let's take a look at each in detail.

Go-Live Zone

In this area, the real world and digital world collide: enormous LED screens and signs fill the area where a variety of content will be broadcast, like hair and makeup tips from the Salon Zone artists. Influencers will visit the Go-Live Zone everyday and stream live.

Brand Zone

Brand Zone is the shopping area of Beauty Square featuring a lineup of numerous Shiseido group brands, like Laura Mercier, SHISEIDO, SHISEIDO PROFESSIONAL, Dolce & Gabbana Beauty, NARS, bareMinerals, IPSA, Cle de Peau Beaute, THE GINZA, and more. The Brand Zone also offers a one-on-one counselling service carried out by beauty consultants.

Installation Zone

This is the entertainment space filled with immersive artistic content like towering LED screens, kinetic lights that move up and down, moving lights, as well a tie-up with the 3D avatar social media app ZEPETO for customers to interact with, and more. Events and pop-up shops will also open in this area.

Salon Zone

Makeup artists who honed their skills and craft at the hair and makeup academy and studio SABFA will be customers' one-on-on producers, carrying out personal hair and makeup styling. Talks will also be held.

The restaurant and lounge SHISEIDO PARLOUR THE HARAJUKU opened up on the 8th floor on June 16, 2020, where people from around the world can enjoy the traditional taste of SHISEIDO PARLOUR.

Japanese international superstar Kyary Pamyu Pamyu has also been appointed the ambassador f Beauty Square. She will be promoting beauty in various forms throughout the year with the theme "Beauty Diversity."

Information

Beauty Square
Grand Opening: June 18, 2020

Address: WITH HARAJUKU Floor 1F, 1-14-30 Jingumae, Shibuya, Tokyo

Opening Hours: 11:00-20:00

No Fixed Holidays
TEL: 03-5413-7717

Official Website: https://beautysquare.tokyo/

*Website available in English, Japanese, and Chinese

Seiko Watches to Open 2 New Stores in WITH HARAJUKU

Seiko Watch Corporation has announced that it's opening two new shops simultaneously inside WITH HARAJUKU in Tokyo's hub for fashion and culture Harajuku on June 17, 2020: Seiko Boutique WITH HARAJUKU and Seiko Prospex Boutique WITH HARAJUKU.

Seiko launched its "Seiko Boutique" chain of stores in 2004 which are situated in major cities around the world and offer the full experience of the Seiko brand. It currently has around 80 branches worldwide. Seiko also opened its newest "Seiko Prospex Boutique" branch in Ginza last year, making it the third branch in the world.

At Seiko Boutique, customers can enjoy looking through the brand's many watch varieties, such as Grand Seiko which offers leading watch functionality and a sophisticated design, Seiko Astron which hails as the first GPS solar watch, the popular casual Seiko 5 Sports watches, and more.

From Left: SNE537PC / SNE533PC / SNE535PC

From Left: SRPD35KC / SRPD31KC / SRPD33KC

To commemorate the opening of the two new shops in WITH HARAJUKU, Seiko will sell a limited 10 number of watches each from 6 models that are currently unavailable in Japan.

Information

Seiko Boutique WITH HARAJUKU / Seiko Prospex Boutique WITH HARAJUKU
Grand Opening: June 17, 2020

Address: WITH HARAJUKU 1F, 1-14-30 Jingumae, Shibuya, Tokyo

Opening Hours: 11:00-20:00 (Until 19:00 on June 17)

No Fixed Holidays
TEL: 03-6271-5061

Official Website: https://www.seikowatches.com/jp-ja

KAWAII MONSTER CAFE HARAJUKU Re-Opens Just As Colourful As Ever

KAWAII MONSTER CAFE HARAJUKU finally reopened with reduced hours on June 13 after its temporary closure as a result of the novel coronavirus (COVID-19) outbreak. For the first time ever, the colourful cafe and restaurant will be offering takeout options, as well as opening its secret room where one group of people per day, if it's someone's birthday, can enjoy a birthday meal plan.

Harajuku Kawaii Birthday Party Set

The birthday set is available to order for takeout or delivery. The jaw-dropping line-up includes one of three main courses, such as the fat and juicy "MANGA MEAT," a vibrant chopped jelly salad, sliders with colourful buns, and more. For dessert, there's enjoy the symbol of the KAWAII MONSTER CAFE: the "Colourful Poison Cake (Chemical)" which can be customised to come with a birthday message. Order for takeout, delivery, or even enjoy it at the KAWAII MONSTER CAFE.

Harajuku KAWAII Birthday Party Set (Serves 3-4): ¥12,000 (Before Tax)

Chopped Jelly Salad

Served in a cup, this root vegetable salad is dressed with a ginger Caesar dressing.

Colourful Pop Slider

Colourful buns (Red, Blue, Yellow Green) topped with multifarious ingredients.
Red: Smoked Salmon & Cream Cheese Slider
Yellow: Egg Salad Sandwich-Style Slider
Green: Lemon Dressed Tomato, Cucumber & Avocado Vegetable Slider
Blue: Roast Beef & Marble Cheese Slider

Apple Pie Sweets Pizza

This dessert pizza is topped with cheese, sliced apple, and jam and sprinkled with cinnamon before being baked. It's finished with honey and cream cheese.

Party Monster (Hors d'oeuvre)

A monster volume of finger food including onion rings, chicken nuggets, fried potatoes, and popcorn shrimp.

Choose Your Main

or MANGA MEAT

Mozerella cheese and minced meat wrapped in pork belly, lathered in teriyaki sauce, and served on the bone. The kind of meat you drool at in manga and cartoons!

or MEAT MEAT MEAT

A popular main at the KAWAII MONSTER CAFE with beef, pork, and chicken combined with vegetables and wrapped up.

or Roast Chicken (1 Whole Chicken)

The chicken is stuffed with colourful tomatoes, mozzarella cheese, and potatoes before being baked in the oven.

Colourful Birthday Cake (Chemical)

An original sponge cake created by the KAWAII MONSTER CAFE filled with strawberries and chocolate chips and lathered in multicoloured bites of cheese cream. You can add a message on the cake for free too.

Harajuku KAWAII Home Party Set (Takeout/Delivery Only)

This home party set will take the world of KAWAII MONSTER CAFE into your very own home.

Harajuku KAWAII Home Party Set (Serves 3-4): ¥10,000 (Before Tax)

Chopped Jelly Salad

Colourful Pop Sliders

Apple Pie Sweets Pizza

Party Monster (Hors d'oeuvre)

MEAT MEAT MEAT (Teriyaki Sauce or Basil Sauce)

*For an extra ¥1,080, you can add the Roast Chicken (1 Whole Chicken) or MANGA MEAT

The set also comes with 4 plates, chopsticks, hand wipes, a box of issues, and 4 balloons. You can also check out a video of one of the cafe's Monster Girls how to make some cute balloon art at home.

Other Takeout Options

As well as sets, the KAWAII MONSTER CAFE has plenty of individual menu items you can order for takeout too. Let's take a look.

MONSTER Box Sandwich: ¥3,500 (Smoked Salmon & Teriyaki Chicken/Tuna Mayo & Potato Salad/Ham & Cheese With Fresh Lettuce)

This box of sandwiches is nothing short of colourful, packed full of tasty healthy ingredients.

Colourful Poison Cake Chemical Whole Size: ¥4,000 (Before Tax)

Party Party Monster: ¥3,000 (Before Tax)

MANGA MEAT (60g): ¥4,000 (Before Tax)

Colourful Pop Sliders: ¥2,500 (Before Tax)

Pink Cat Room: Children's Birthday Plan in the Secret Room

The secret Pink Cat Room is loved by customers of KAWAII MONSTER CAFE, both Japanese and foreign. They are now offering a children's birthday plan for one group per day.

Children's Birthday Plan: Adults ¥4,000 / Kids ¥2,000 (Before Tax)

Cold Dish: Duck Carpaccio
Appetiser: Smoked Salmon Carpaccio
Fried Dish: Fried Assortment (Fries/Nuggets/Onion Rings/Popcorn Shrimp)
Hot Dish: Colourful Mini Pop Burger
Pasta: Colourful Rainbow Pasta
Dessert: Colourful Poison Cake Birthday Style
*Reservation only

Information

KAWAII MONSTER CAFE HARAJUKU
Address: YM Square Bldg. 4F, 4-31-10 Jingumae, Shibuya, Tokyo

Opening Hours: 11:30-19:00

No Fixed Holidays
Access: 5-minutes on foot Harajuku Station via JR / 1-minutes on foot from Meiji-Jigumae Station via Chiyoda Line and Fukutoshin Line

Official Website: https://kawaiimonster.jp/

IKEA Harajuku Opens This June With Swedish Convenience Store

IKEA Japan is set to open its first central Tokyo branch in Harajuku this week. Located inside WITH HARAJUKU, and just a 1-minute walk from Harajuku Station, the store will officially open its doors on June 8, 2020.

IKEA Harajuku's features

Sales floors stocked with all your living needs

The sales floors are split into four different themes to cater to customers' living needs: "Sleep" and "Organise" are on the first floor, while "Relax" and "Cook" can be found up on the second floor. IKEA Harajuku also caters to single person households and their lifestyles too, so takes into consideration limited spacing with its items.

Swedish Convenience Store

To support life in the busy city and create a convenient shopping experience, IKEA Harajuku will be home to the world's first "Swedish Conbini," or Swedish convenience store. Eco-friendly items can be bought speedily, including eco bags, ISTAD freezer bags made from plants, plant ramen, and so on—all at an affordable price.

IKEA Harajuku Exclusive Tunnbröd

The convenience store stand will also serve takeout food like cinnamon rolls, plant-based soft serve ice cream, sundaes, and more. There's even the "Sweden Cafe" up on the second floor where they'll sell Tunnbröd, a traditional Swedish-style flatbread topped with various ingredients. This will be exclusive to IKEA Harajuku. The cafe brings together Harajuku's culture of crepes and foods to eat while walking with Swedish culture.

Due to the outbreak of the novel coronavirus (COVID-19), and to limit people in the shop, a ticket system will be place. Employees will also be using masks, and staff will use face shields when serving customers. The shop will also be practicing social distancing and asking people to wear masks.

Information

IKEA Harajuku

Address: WITH HARAJUKU, 1-14-30 Jingumae, Shibuya, Tokyo

Grand Opening: June 8, 2020

Opening Hours: 10:00-21:00

Access: 1-minute on foot from Harajuku Station via JR Line / 1-minute on foot from Meiji-Jingumae Station via Tokyo Metro

IKEA Harajuku Official Website: http://www.IKEA.jp/harajuku

Cute and Chic Leather Wallets & Purses Released at Tiffany @ Cat Street in Harajuku

Tiffany & Co. released a new collection of small leather products at its Harajuku concept store Tiffany @ Cat Street on Wednesday.

What is Tiffany @ Cat Street?

 Tiffany @ Cat Street is a concept store that opened in April 2019 which is set to remain open for just 3 years. It is the company's first concept store to open in Japan. The shop showcases the wit, creativity, and timeless charm that Tiffany & Co. is known for, as well as a shopping experience in an interactive environment. It stocks everything from Tiffany's iconic collection from jewellery to home goods, accessories, and more. The line-up and designs also change themes on occasion. Tiffany @ Cat Street also has a cafe on the top floor.

Continental Flap Wallet – ¥72,000 (Before Tax)

Coin Pouch – ¥36,500 (Before Tax)

The small leather product line-up is made from high-quality Italian leather coloured in that eye-catching Tiffany blue. Each item is also stamped with the store's signature cat motif.

Card Case – ¥24,500 (Before Tax)

Compact Wallet – ¥55,000 (Before Tax)

The four variations are the perfect gift to yourself or someone you hold dear to you.

Be sure to stop by Tiffany @ Cat Street the next time you're in Harajuku.

Information

Tiffany @ Cat Street

Address: 6-14-5 Jingumae, Shibuya, Tokyo

Opening Hours: 11:00-19:00

Cafe Opening Hours: 11:30-18:30 (Last Orders 18:00)

Access: 5-minutes on foot from A4 exit of Meiji-Jingumae Station (Tokyo Metro Chiyoda Line/Fukutoshin Line) / 10-minutes on foot from Omotesando Exit of Harajuku Station

Official Website: https://www.tiffany.co.jp/jewelry-stores/cat-street/

Harajuku's Rilakkuma Fruits Cafe Entertains Customers With Projection Mapping

"HARAJUKU AR BOX -table projection mapping cafe-," a cafe in Harajuku whose name speaks for itself, has announced its second collaboration with Rilakkuma to bring the new Rilakkuma Fruits Cafe which will open for a limited time from April 3, 2020 to June 28, 2020.

The cafe's first collaboration with Rilakkuma was in December last year. It was called "Korilakkuma Cafe: another me in the mirror" and earned itself many fans for its cute food and decor, but especially for its interactive tables which used projection mapping technology to have Rilakkuma and friends running around people's tables.

Harajuku's Korilakkuma Cafe: another me in the mirror | Food Review: https://www.moshimoshi-nippon.jp/284456

Fruit is the theme of the new Rilakkuma Fruits Cafe, which follows that Chairoikoguma and the other characters have gathered lots of nutritious fruit to fill up the belly of hungry Rilakkuma.

Food

Rilakkuma's Fruit Salad – ¥1,590

Get your fill of refreshing fruit from this fruit salad plate which has Rilakkuma poking his cute face out from behind it all. When you order this dish, you'll need to touch the fruits that appear on the table to give them to Rilakkuma.

Korilakkuma's Apple Cheese Gratin – ¥1,690

A combination of hot apple and melted cheese, you'll find yourself addicted to the sweet and sour mix of flavours. Pick lots of apples with Rilakkuma and company with the projection mapping game. (*Serving April 3, 2020 – May 17, 2020 only)

Chairoikoguma's Orange Burger – ¥1,690

The bun of this hearty burger is branded with Chairokoguma's cute bear face. But what happens when you squeeze Rilakkuma's orange? (*Serving May 20, 2020 – June 28, 2020 only)

Desserts

Rilakkuma's Maku Maku Fruit Tree Parfait – ¥1,590

Korilakkuma's Maku Maku Strawberry Tree Parfait – ¥1,590 (Serving April 3, 2020 – May 17, 2020 only)

Kiiroitori's Maku Maku Peach Tree Parfait – ¥1,590 (Serving May 20, 2020 – June 28, 2020 only)

For dessert, you have a selection of fruit-topped parfaits to choose from featuring Rilakkuma, Korilakkuma, and Kiiroitori.

Drinks

Rilakkuma & Friends Maku Maku Drinks – ¥790 / With Glass – ¥1,990

Warm & Fluffy With Everyone Cafe Latte – ¥890

Pick between one of the cold beverages, or if it's a cold day, warm up with a hot drink. Feel warm and fluffy like Rilakkuma and his friends with a warm beverage after your parfait.

Exclusive Merchandise & Bonus Items

Pin Badges (9 Designs/Chosen Randomly) – ¥400

Acrylic Key Rings (8 Designs/Chosen Randomly) – ¥500

Get your hands on a selection of original merchandise too, including pin badges, acrylic key rings, and more.

Stickers (4 Designs/Chosen Randomly)

Coasters (4 Designs/Chosen Randomly)

Book a table online in advance and receive one of four possible stickers. Order a drink at the cafe and get one of the four coasters!

You're sure to get your five-a-day when you dine at the Rilakkuma Fruits Cafe, opening for spring on April 3, 2020 in Harajuku.

©2020San-X Co., Ltd. All Rights Reserved.

Information

Rilakkuma Fruits Cafe

Running: April 3, 2020 – June 28, 2020

Location: HARAJUKU AR BOX-table projection mapping cafe- (Lucessimo Bldg. Floor 2F, 4-28-28 Jingumae, Shibuya, Tokyo)

Table Bookings: Now Open

*Table Projection Mapping seats for two people are ¥2,960 (before Tax)

Official Website: https://rilakkuma-fruits-cafe.jp/

Pompompurin Celebrates 24th Anniversary With Birthday Menu at the Pompompurin Cafe

Sanrio's popular character Pompompurin is celebrating his 24th anniversary at three branches of the Pompompurin Cafe in Harajuku, Yokohama, and Umeda with a special birthday menu that will be served for the whole month of April.

A special celebratory menu for the floppy-eared golden retriever

The official date for Pompompurin's birthday is April 16. The birthday menu line-up includes two food items, a drink made in collaboration with popular Japanese picture book author Yukako Ohde, and some novelty gifts.

Birthday Menu

Happy Birthday Flower Bouquet Bisque – ¥1,590 (Before Tax)

This cute bisque soup has Pompompurin and Muffin holding a colourful boquet made from broccoli and mashed potatoes made to look like roses. It has a rich but mild flavour, and is both adorable and filling.

Happy Birthday Strawberry Mousse – ¥790 (Before Tax)

The strawberry mousse has a fluffy texture and refreshing, sweet taste. It can be eaten as it is or drizzled with the accompanying raspberry sauce.

Yukako Ohde x Pompompurin Lemonade – ¥550 (Before Tax)

Take a sip from this delicious lemonade from a straw adorned with a cute, warm illustration of Pompompurin by Yukako Ohde.

Exclusive Anniversary Novelty Gifts

Lunch Mat Design

Customers who dine at any of the three cafes during the anniversary celebration will receive a free lunch mat.

Coaster Designs

And those who order the lemonade will receive a coaster with designs illustrated by Yukako Ohde. The designs are different at each branch of the Pompompurin Cafe. You can also receive another special coaster if you spend over ¥1,000 each (tax included) at Pompompurin Cafe Umeda and KIDDY LAND Osaka Umeda. Simply show your receipts at the cafe.

©1996,2020 SANRIO CO., LTD. APPROVAL NO.S605291

Information

■Pompompurin Cafe Harajuku

Address: CUTE CUBE HARAJUKU 3F, 1-7-1 Jingumae, Shibuya, Tokyo

Opening Hours: 11:00-21:00 (Food Last Orders 20:00 / Drinks Last Orders 20:30)

Access: 3-minutes on foot from the Takeshita Exit at Harajuku Station

TEL: 03-5786-0770

■Pompompurin Cafe Yokohama

Address: Yokohama Sotetsu Square, 2-1-5 Minamisaiwai, Nishi-ku, Yokohama-shi

Opening Hours: 10:00-21:00 (Last Orders 20:30)

Access: 5-minutes on foot from West Exit at Yokohama Station via JR Line

TEL: 045-311-6750

■Pompompurin Cafe Umeda
Address: Hankyu Sanbangai South Wing B2F, 1-1-3 Shibata, Kita-ku, Osaka-shi
Opening Hours: Weekdays 11:00-22:00 (Last Orders 21:30) / Weekends & Holidays 10:00-22:00 (Last Orders 21:30)
Access: 3-minutes from Osaka Station via JR Line
TEL: 06-6292-7140

Pompompurin Cafe

Official Website: http://pompom.createrestaurants.com

MUUN SEOUL: Harajuku's Korean Cafe Serving Instagrammable 'Fatcaron' Macarons

MUUN SEOUL is a cafe located along Tonchan-dori Street in Harajuku that serves Instagram-worthy South Korean food.

Photo by Nagisa Kobayashi @popo_318

Photo by Nagisa Kobayashi @popo_318

The cafe sells "fatcarons," a South Korean-style macaron which have proven very popular with young women in Japan.

Photo by Taeco @taecostagram

Fatcarons are larger than the standard macaron. They are topped with things like strawberries, given marble textures, and more to give them a cute appearance. MOON SEOUL serves many different varieties, all of which are standout compared to normal macarons.

Photo by Sara @__sar310

But the fatcaron experience at MOON SEOUL isn't complete without ordering the drink above. It's strawberry milk flavoured, but the milk is whipped until it's fluffy, giving it a taste like no other strawberry milk you've tried. It also has sliced strawberries inside and on top, so if you love strawberries, you'll love this.

Photo by Yuina @popochan726

You can order your fatcarons for takeout too in a clear takeaway box so you can go have a dessert picnic with your friends, and get a great photo of them all together too.

Harajuku's KAWAII MONSTER CAFE Begins Spring Fair 'KAWAII×Sakura×Easter 2020'

If you've never heard of the KAWAII MONSTER CAFE in Tokyo, then you're going to want to visit by the time you see what they're cooking up for spring.

This year, the cafeーwhich is based on the idea of customers being inside the stomach of a giant monster that's eaten Harajuku wholeーis holding a spring fair entitled "KAWAII×Sakura×Easter 2020" which is running from March 13 to April 26. The menu line-up incorporates elements of Japanese spring with a colourful Harajuku twist, from Easter to cherry blossoms.

*Menu item names have been translated from Japanese

Colourful Pop Burger Cock-A-Doodle-Doo Monster – ¥1,680

This new chicken monster burger is stuffed full of delicious goodness, including sukiyaki.

Cherry Blossom Bloom Rice – ¥1,300

The year is 2020, and spring has arrived in Japan. This Earth-inspired blue rice has cherry blossom coloured cheese fondue dolloped on top of it which is sat on a bed of black curry. The spicy curry has delicious burnt caramel inside it.

Tropical Bibimbap – ¥1,200

Bibimbap, the soul food of South Korea. This colourful version is topped with edible flowers and cherry blossom wheat-gluten bread, giving it that springtime feeling. The specially-made monster furikake gives the dish a real spicy kick.

UFO Doughnut Pancakes – ¥1,200

These chewy in-house made doughnuts are filled fat with strawberries, mikan, lemon mousse, and strawberry ice cream. Doughnut pancakes are the latest gourmet indulgence in Harajuku.

Sakura Mousse Piyo Piyo Cake – ¥980

Aka-chan is the name of this newborn monster chick, whose cute face is made from cherry blossom mousse.

Pastel Easter Sakura Rabbit Parfait – ¥2,400

Wearing a cute pointy hat and a colourful dress, this sakura Easter bunny is caked in strawberry, orange, and melon flavoured cream, strawberry ice cream, panna cotta, Japanese pudding, fresh strawberries, and raspberry sauce.

A trip to Harajuku this spring isn't complete without a visit to the KAWAII MONSTER CAFE, so don't miss out on their spring fair.

Information

KAWAII×Sakura×Easter 2020

Running: March 13, 2020 – April 26, 2020

Address: YM Square Bldg. 4F, 4-31-10 Jingumae, Shibuya, Tokyo
Access: 5-minutes on foot Harajuku Station via JR / 1-minutes on foot from Meiji-Jigumae Station via Chiyoda Line and Fukutoshin Line
TEL/FAX: 03-5413-6142/03-5413-6143

Business Hours
Weekdays & Saturday:
[Lunch] 11:30-16:30 (last entry 15:30 / last orders 16:00 – 90 min stay max)
[Dinner] 18:00-22:30 (last orders 22:00)

Sundays & Holidays:
11:00-20:00 (last orders 19:30)

Official Website: http://kawaiimonster.jp

Shiseido Parlour to Open New Restaurant at WITH HARAJUKU in Tokyo

Shiseido Parlour, a pioneer of Japanese-style Western cuisine, has announced that it is opening its new restaurant and lounge Shiseido Parlour The Harajuku on the 8th floor of WITH HARAJUKU, a shopping centre located in front of Harajuku Station in Tokyo, on April 25, 2020.

Goshu no Sosai With Seasonal Ingredients

Main Dish

Shiseido Parlour The Harajuku breathes new life into the Japanese-style Western cuisine that has been cultivated in Ginza for 100 years, serving up a new prix fixe-style fixed price menu that elevates the taste, smell, and appearance of the seasonal ingredients used, from a Japanese way of thinking. This food can be enjoyed with a glass of one of the main wines selected by the restaurant's sommeliers, high-quality tea, and more.

Meals are enjoyed even more by the view offered at the restaurant, where you can see shrine groves of Meiji Jingu Shrine.

Main Dining

Forest Dinner (Chef's Recommendation) – ¥12,000 (Tax Included)

The design concept for the restaurant interior is forests. The restaurant promises a relaxing atmosphere like that of being wrapped amongst the mighty trees of the woods, the cool air blowing, and the rays of the sun spilling through the trees.

The interior design was created by Kazuya Ura, a Japanese architect who was involved with the building plan for the Kyoto State Guest House. The restaurant lounge features glass art on the wall which captures the image of sunlight filtering through the trees. This was created by Japanese glass designer Ikko Itabashi.

Lounge

The chic red lounge offers a view of the garden terrace and faces the direction of Akasaka. Tuck into appetisers and desserts and enjoy sipping on a drink. This is a great place to sit after your meal or for meeting up with someone.

If you're visiting Harajuku during your trip to Japan, why not pop into the new Shiseido Parlour The Harajuku?

Information

Shiseido Parlour The Harajuku

Address: WITH HARAJUKU (Floor 8F), 1-14-30 Jingumae, Shibuya, Tokyo
Opening Hours: 

Dining/Lunch: 11:30-15:30 (Last Orders 14:00)
Dinner: 18:00-22:00 (Last Orders 20:30)
Lounge: 11:30-22:30 (Last Orders 21:30)

Closed: Mondays (Except on public holidays), and closed April 27, 2020
Official Website: https://parlour.shiseido.co.jp/en/index.html