My Hero Academia: Two Heroes 'Long Hope Philia' Anime Music Video Released
A compilation video was released in collaboration with Masaki Suda of clips from the upcoming My Hero Academia: Two Heroes movie. The video features the song Long Hope Philia by the singer which serves as the opening theme.
The video has prompted fans to leave heartfelt comments talking about My Hero Academia's has influenced them.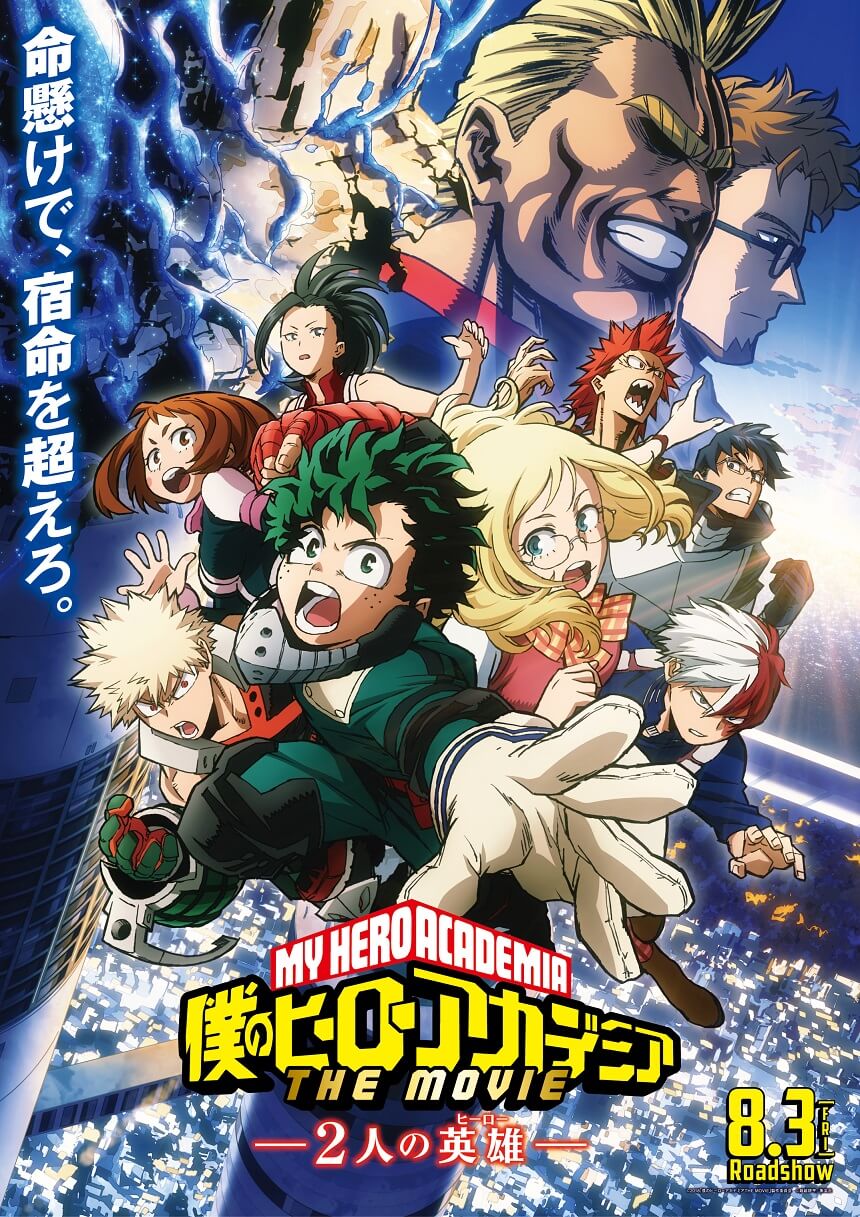 Long Hope Philia was written and composed by Hiromu Akita (amazarashi) and ties in perfectly with the movie's theme of friendship Be sure to check it out in the newly released collaboration video.
RELATED ENTRIES
Eve to Hold Largest-Ever Arena Tour in 2023, Unveils Limited Edition Jacket for Upcoming EP 'Bokurano'

Singer-songwriter Eve has announced his biggest ever arena tour, Eve Arena Tour 2023 Kororon, along with a key visual. This will mark the artist's first tour since the Eve Live Tour 2022, which also merited an additional performance at Nippon Budokan in August 2022. The arena tour will be held for two days at Osaka-Jo Hall in Osaka on August 19 and August 20 and at Pia Arena MM in Kanagawa on August 26 and August 27.

Eve has also released a limited edition jacket for his new Bokurano EP scheduled to be released on March 22, 2023. The EP contains the track Bokurano, the opening theme for the currently-airing season of My Hero Academia. The jacket art is an original drawing by the anime production company BONES.

All first edition copies of Bokurano will include a code that can be used to enter the lottery to snag tickets to the Eve Arena Tour 2023 Kororon.

Information

Eve Arena Tour 2023 Kororon
Date/Venue
August 19 – Osaka-Jo Hall, Osaka / Doors open 17:30, Show starts 19:00
August 20 – Osaka-Jo Hall, Osaka / Doors open 15:00, Show starts 16:30
August 26 – Pia Arena MM, Kanagawa / Doors open 17:30, Show starts 19:00
August 27 – Pia Arena MM, Kanagawa / Doors open 15:00 / Show starts 16:30

Official Site: https://eveofficial.com/

Bokurano (EP)
Release Date: March 22, 2023
Preorder Links: https://tf.lnk.to/Bokurano_EP
Special Site: http://eveofficial-bokurano.com/

Eve's Song Bokurano, the 6th Opening Theme for My Hero Academia, Hits Streaming Services

The sixth opening song for the anime series My Hero Academia, Bokurano, was added to all major streaming services on January 8, 2023. The track is performed by popular artist Eve.

Bokurano – Eve

Eve, a longtime fan of My Hero Academia, claims that the episodes in the second cour of the sixth season hold a "special place" in his heart. "The song Bokurano was created to inspire our favorite battered heroes, pushing them to overcome their hardships together," he said. The track features Eve's signature fast-paced guitar along with the singer's powerful voice and sensitive lyrics. Up-and-coming music video creator niL, who previously worked on Eve's Yuseiboushi, provided the jacket art

In the second cour of the sixth season, the protagonist Izuku Midoriya will face the aftermath of the deadly battle seen during the Paranormal Liberation War Arc. The opening shows Deku with an entirely new aura and fans are sure to be shocked by how the series progresses!

Comment from Eve

"I'm happy to announce that I'll be performing the sixth opening theme for the anime series My Hero Academia. 

The song Bokurano was created to inspire our favorite battered heroes, pushing them to overcome their hardships together. 

I have a personal attachment to this series and I'm so honored that I was asked to write a song for it!"

Information

Bokurano – Eve (Digital Single)
My Hero Academia 6th Opening Theme
Release Date: January 8, 2023
Streaming Links: https://tf.lnk.to/Bokurano

My Hero Academia Underwear Now Available from HIPSHOP

A collaboration has been announced between the popular shop HIPSHOP and My Hero Academia, a popular anime series that has just started its sixth season. The new products will be available at HIPSHOP stores nationwide and online starting on November 11, 2022.

The front of each item has a background pattern inspired by the personality of each of the main characters. The back features HIPSHOP's standard up-angle design. Fans of the series won't want to miss out on these unique and colorful items. 

Those who purchase an item from the My Hero Academia series in-store will receive an original HIPSHOP shopping bag. Supplies are limited, so you'll want to hurry! Six designs are available in total, with each available in M, L, and LL. 

Each pair of underpants is made of a quick-drying, stretchy polyester material that keeps the skin feeling dry. As silly as it may seem,  these would make the perfect gift for the anime fan in your life. 

(C)堀越耕平/集英社・僕のヒーローアカデミア製作委員会

My Hero Academia Pop-Up Shop Opens in Tokyo for a Limited Time

My Hero Academia began its sixth season this month, and to celebrate, a special pop-up store will open at Tokyo Solamachi for a limited time. Fans will be able to grab some neat merch from November 5 until December 2, 2022.

Limited-Edition Collaborative Goods

The new merchandise features unique character nametags drawn exclusively for the shop. Fans can grab all kinds of goods, from acrylic pen stands and pins to clear folders and pouches. 

Purchase Bonuses Available

Guests spending ¥1,000 (tax included) or more will be gifted an original illustration card. Ten designs are available, and each card will be given out at random. 

These new products can also be purchased online at the Tree Village site from November 5 at 9:00 until December 2 at 23:59. Note that the purchase bonus is not available for online orders.

For more details, check out the official website!

©堀越耕平/集英社・僕のヒーローアカデミア製作委員会

Information

My Hero Academia Pop-Up Shop

Running: November 5 – December 2, 2022

Venue: Tokyo Solamachi West Yard, 4F, #4

Tree Village (Official TV Shop)

1-1-2 Oshiage, Sumida-ku, Tokyo

Official Site: https://tree-village.jp

Official My Hero Academia Hanko Stamps Released

Japanese hanko stamp shop HANKOS released a new collection of official stamps with character designs from the anime series My Hero Academia on June 22, 2022!

These order-made hanko stamps, which are used in place of signatures in Japan, let you pick your favorite character to be engraved along with your name or a word written in Japanese.

47 Unique Illustrations

3 Fonts Available

Official Hanko Case

There are 47 different illustrations available to choose from including characters like Izuku Midoriya (Deku), Katsuki Bakugo (Dynamight), Ochako Uraraka (Uravity), Shoto Todoroki (Shoto), Neito Monoma (Phantom Thief), Itsuka Kendo (Battle Fist), Tetsutetsu Tetsutetsu (Real Steel), and Shota Aizawa (Eraser Head).

Customers can choose from three different fonts, from more traditional to more cute. If you don't want to use these stamps as a signature, you don't need to add your name! Feel free to add messages like 'OK,' or 'Thank You,' or any other brief comments.

*Add up to 3 kanji, 5 hiragana or katakana characters, or 6 letters from the Roman alphabet.

Fans can choose from a self-inking type of hanko, perfect for signing for packages, stamping memos, marking personal belongings, and more. You can also choose a more official stamp that can be registered for use at almost all banks in Japan. Both types come with an exclusive case featuring Deku, Dynamite, and All Might.

Which character would you want alongside your official signature? 

©堀越耕平/集英社・僕のヒーローアカデミア製作委員会

Drama Series 'Do Not Say Mystery' Starring Masaki Suda Comes to Blu-ray and DVD, Trailer Released

The Pony Canyon YouTube channel has revealed a new trailer for the DVD and Blu-ray release of the drama series Do Not Say Mystery, scheduled for August 3, 2022.

 

Viewership for the series, which aired in January 2022, broke the all-time record for a commercially broadcast TV drama series and became a hot topic for months after. The DVD and Blu-ray releases will include plenty of extras, including Masaki Suda's birthday event, round table discussions, and more.

The drama was based on Yumi Tamura's manga series of the same name, serialized in Monthly Flowers magazine since 2017. In the story, Kunou Totonou, a perceptive college student who is often forced to think his way out of dangerous situations, is questioned by police after he is suspected of killing his classmate.

@田村由美/小学館 ©フジテレビジョン

Information

Do Not Say Mystery Blu-ray Box

Release Date: August 3, 2022

Price: ¥31,020 (Tax Included)

Do Not Say Mystery DVD Box

Release Date: August 3, 2022

Price: ¥29,260 (Tax Included)

Drama Official Site: https://www.fujitv.co.jp/mystery/

New Mister Donut Collaboration with Gion Tsujiri Inspires TV Ad Starring Masaki Suda

Mister Donut is teaming up with Gion Tsujiri, a traditional green tea maker in Uji, Kyoto, for some tasty new treats starting March 25 for a limited time. Four new items will be available until the end of April. To celebrate the new collaboration, a new TV commercial starring actor Masaki Suda has started airing nationwide.

Fresh Pon de Uji Green Tea

Fresh Pon de Uji Green Tea with Brown Sugar Syrup

Uji Hojicha Warabimochi

Uji Hojicha Mochi with Whipped Cream

In the new ad, Suga is seen in a manly kimono with one of the new products in hand. Remaking on the soft and chewy texture of the new items–which are kneaded with Gion Tsujiri's Uji Green Tea–Suda slowly falls in love with Mister Donut and commands viewers to do the same. How could you not?

Which of these new items look the best? 

Interview

 

――How do you feel about the Fresh Pon de Uji Green Tea and the Fresh Pon de Uji Green Tea with Brown Sugar Syrup?

"They're so crazy delicious. Each of them are so moist and smell so yummy, and the topping…I mean, that's everyone's favorite, right?"


――Speaking of toppings, what are some of your favorites?

"I love garlic and green onion on just about everything. Cheese is also my go-to. Condiments are everything."



――How about the Warabimochi and the Whipped Cream Mochi? 

"I can't get enough of them. I'd definitely buy them myself. They aren't too bitter, and I could really enjoy the rich aroma of the hojicha. It's honestly amazing that Mister Donut can come out with these creative new items so often. This isn't like memorizing lines in a play or following a formula. It must take so much work."


――Do you prefer matcha or hojicha?

"That's really tough. (laugh) I like both. I love the flavor of matcha but I think hojicha has flavors that aren't as common. I find myself eating a lot of chocolate, drinking lattes, or grabbing hojicha more often."


――How did it feel to shoot the Mister Donut commercial in a kimono?

"It was so lightweight, it felt great. The stylist told me that it was entirely made of silk. I typically only wear kimono during rehearsals or things like that, but I'd love to wear something like this during a festival. Someday."



――The new commercial will begin airing during graduation season. Is there anything you'd like to 'graduate' this year since it's the last year in your 20s? 

"That's true, I am almost 30. I hadn't thought about it! In my job, everyone is so polite to me, and I have the habit of leaving things up to other people. I need to be more personally responsible. For example, if I have to be somewhere for a meeting in the morning, I always get up at the last minute. Why don't I get up 10 minutes earlier, you know? I need to be better."

――What would you like to tell those who are coming of age this year? Do you have anything to say to students and working adults who will start new grades and jobs in the spring? 

"As you grow older, you have less and less to do outside of work. I'm really impressed by people who do something consistently during their free time. I thought I should have done something like that back when I was a teenager, so I tried saving ¥500 coins last year. It was hard to do, even though it was something so small. After a year, I had saved up about ¥40,000 and I felt satisfied, so I stopped. But doing something each day outside of work is important."

Information

misdo meets Gion Tsujiri Vol.1
Available: March 25 – End of April

Where to Buy: Participating Mister Donut Stores Nationwide

Official Site: http://www.duskin.co.jp

My Hero Academia Hero's Holiday Fair Begins at Animate

The globally popular My Hero Academia anime series is being featured at the 'My Hero Academia Hero's Holiday Fair' at Animate locations around Japan and online through March 13, 2022.

The My Hero Academia manga series by Kohei Horikoshi has been serialized in Weekly Shonen Jump since 2014, and over 65 million copies have been sold worldwide. The series tells the story of Izuku Midoriya, a boy without superpowers in a world where they have become commonplace. Still dreaming of being a hero, he is scouted by Japan's greatest hero All Might, who chooses Midoriya as his successor. The series celebrated the fifth anniversary of the subsequent anime series last year, spanning five seasons and three films. The sixth season is scheduled to premiere in fall 2022. 


Illustration Card with AR Function

Those spending ¥1,100 or more (including tax) will receive one illustration card with AR functionality (5 varieties) randomly. Products available at the fair include DVDs, books, CDs, Blu-rays, and tons of character-related goods.


Three-sided Case with New Illustration by Character Designer Yoshihiko Umakoshi

Animate Exclusive Bonus Set

Animate Bonuses

New products with newly-drawn designs will be released during the fair, and the Blu-ray and DVD versions of the latest anime film are also on sale now!

©堀越耕平/集英社・僕のヒーローアカデミア製作委員会
©2021「僕のヒーローアカデミアTHE MOVIE」製作委員会 ©堀越耕平/集英社

Masaki Suda Appears in MIKIMOTO's Global Campaign, New Visual and Short Film Released

MIKIMOTO has released new imagery and a new short film of actor Masaki Suda wearing the brand's new jewelry collection 'PASSIONOIR.' A making-of video has also been uploaded to YouTube, and it's hard not to want all of these incredible pieces. 

The Making of 'PASSIONOIR'


The new styling visuals and short movie capture the passion put into the project by Masaki Suda, who is constantly accepting new challenges as an actor. Bringing his unique energy to the collection, new items were released sequentially on December 9, 10, 13, and 14. Over the past six consecutive weeks, a new video has been uploaded by MIKIMOTO highlighting the luxury brand's new items. 

'PASSIONOIR' is a combination of the words 'passion' and 'black,' and black pearls are the centerpiece of the new release. Mixing the innocent beauty of pearls with jet-black power, these pieces are sure to add style to any ensemble. 

MAN WITH A MISSION Perform My Hero Academia Opening Theme, MV Premieres On YouTube

The music video for MAN WITH A MISSION's new single Merry-Go-Round will be premiering on their official YouTube channel at 18:00 on August 21.

Premieres August 21, 18:00~


 

The song is being used as the opening theme for the second cour of anime My Hero Academia's 5th season, which is currently airing on YTV and NTV.

Merry-Go-Round First Edition

My Hero Academia THE MOVIE: World Heroes was a huge hit, showing in 321 cinemas nationwide and overtaking all previous My Hero Academia box office records by exceeding ¥940 million in just four days.

Merry-Go-Round Regular Edition

The anime is extremely popular overseas, while MAN WITH A MISSION have been focusing both within Japan and abroad, adding to the excitement for the new single.

It has been announced that on the day of the premiere, the members will be chatting with the fans in real-time. You can set a reminder to watch the stream using the official URL. If you're a fan then don't miss this!

©堀越耕平/集英社・僕のヒーローアカデミア製作委員会

Information

Merry-Go-Round

Release: September 9, 2021

<Limited First Edition> (CD+DVD) SRCL-11872~11873 Price: ¥1,500 / Tax Incl: ¥1,650

<Regular Edition> (CD+DVD) SRCL-11872~11874 Price: ¥1,000 / Tax Incl: ¥1,100

<Limited Edition> (CD+DVD) SRCL-11875~11876 Price: ¥1,500 / Tax Incl: ¥1,650

New TV Anime My Hero Academia

Official site: https://www.mwamjapan.info/

Utakata-Uta by RADWIMPS feat.Suda Masaki Music Video to Premier on Youtube

The music video for Utakata-Uta (RADWIMPS feat. Suda Masaki),theme song for the blockbuster movie It's a Flickering Life, will be released on YouTube at 22:00 on August 13, 2021.

The video was directed by Suda Masaki and produced by Yamada Kento, who has worked with RADWIMPS multiple times in the past.

You can set a reminder to watch the video as it premiers on the RADWIMPS official YouTube channel.

Utakata-Uta / Official Music Video on YouTube Premier


The Utakata-Uta is the first RADWIMPS feat. Suda Masaki tag-team production, garnering widespread attention from fans and media. The video features Suda Masaki and Noda Yojiro, who play Gou and Terashin in It's A Flickering Life. Their characters work in the same movie studio and discuss their dreams for the future. 

The project started upon the completion of filming, when Noda Yojiro gave the demo to film producer Yamada Yōji as a heartfelt gift.

While it wasn't written as a theme song, the producer was so impressed by the demo that he designated the song as the movie's official theme song, saying "The song connects the past and present, reality and fiction, even reaching heaven. I was convinced that having Suda and Noda, who played Gou and Terashin, singing it would complete the film."

Noda was full of love and respect for the movie, commenting that "When Mr. Shimura died, I wanted to leave something like a lingering scent and weave things such as the emotions that we had felt throughout the lyrics. Even if the world we build is purely a sound, that sound is something that will last forever." 

The song is full of nostalgic melodies and impressive singing from both Noda Yojiro and Suda Masaki, while the lyrics overlap with the feelings and situations of their characters, Gou and Terashin.

 

New RADWIMPS feat. Suda Masaki Track 'Utakata Uta' Coming to Streaming Services

'Utakata Uta,' the theme song for the new movie God of Cinema, will be available on various streaming services at midnight on August 6, 2021, including iTunes and RecoChoku! Performed by rock band RADWIMPS and featuring Suda Masaki of Kamen Rider fame, it's a mellow track which is sure to stir up plenty of emotion. 

The evocative CD jacket was shot by Miko Okada, an award-winning photographer from Iwate Prefecture. Art Director Ryosuke Miyashita was inspired to collaborate with her after seeing a series of her photographs titled 'CELL,' inspired by the lights she saw coming from apartments and homes from a train window. In the same vein, the cover art was based on the abstract concept of how people spend their evenings in different ways, giving a nostalgic and warm feel. The song does the same, making the listener ponder how many different lives intersect and come together. 

As announced by RADWIMPS front man Yojiro Noda on August 2, Suda Masaki will also be performing with RADWIMPS at the upcoming FUJI ROCK FESTIVAL '21 on August 20, 2021. This will mark the first time 'Utakata Uta' will be performed in front of a live audience, so look forward to it!