My Hero Academia: Two Heroes 'Long Hope Philia' Anime Music Video Released
A compilation video was released in collaboration with Masaki Suda of clips from the upcoming My Hero Academia: Two Heroes movie. The video features the song Long Hope Philia by the singer which serves as the opening theme.
The video has prompted fans to leave heartfelt comments talking about My Hero Academia's has influenced them.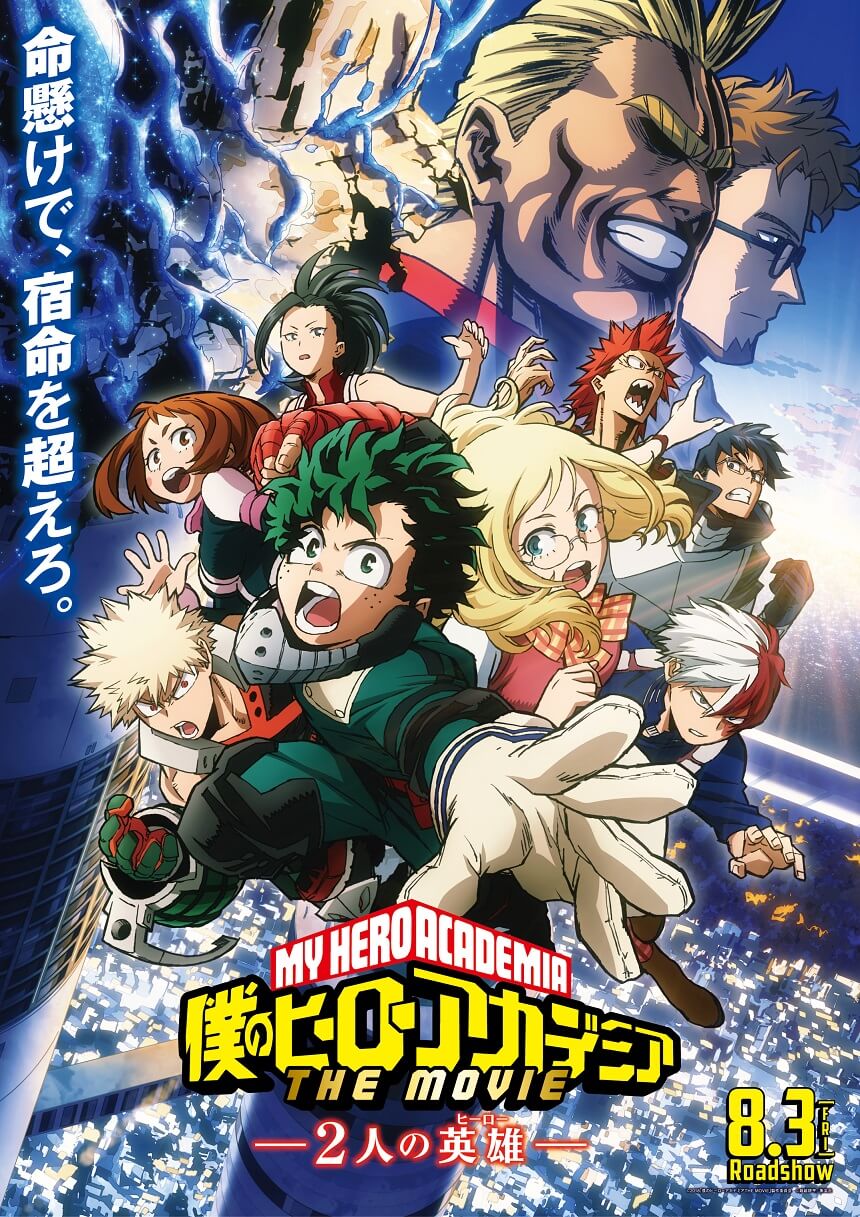 Long Hope Philia was written and composed by Hiromu Akita (amazarashi) and ties in perfectly with the movie's theme of friendship Be sure to check it out in the newly released collaboration video.
RELATED ENTRIES
Streetwear Brand XLARGE to Release My Hero Academia Collaborative Clothing

Established in November 1991 in Vermont Avenue los angeles, XLARGE has become one of the leading streetwear brands, infusing a range of culture such as music, art and comics into their designs and pioneering a new direction in fashion. 

 XLARGE is set to release a line of My Hero Academia collaborative clothing with Kōhei Horikoshi – the creator of the popular Weekly Shōnen Jump series (Shueisha. Inc).  

My Hero Academia is set in a world where 80 percent of the world possess some kind of superpower called "quirks". The main character Izuku Midoriya (Deku), who has dreamt of becoming a hero since childhood, discovers that he was born quirkless. After an unexpected encounter with the world's greatest hero All Might, Deku inherits the "One For All" quirk and is able to enter the prestigious hero school U.A. High School where he studies and fights alongside his new classmates to master his quirk. From children to adults, the series has become incredibly popular worldwide and the TV anime is set to release its fifth season. 

S/S TEE DEKU WHITE,BLACK,GREEN / S,M,L,XL / ¥5,500+TAX

S/S TEE ALLMIGHT WHITE,BLACK,NAVY / S,M,L,XL / ¥5,500+TAX

The new clothing series features Izuku Midoriya, his rival from childhood Katsuki Bakugo, the top-class hero Shoto Todoroki and the world's number one hero and Deku's biggest role model All Might. All the illustrations are original and include the XLARGE logo.

MY HERO ACADEMIA DENIM PANT LtINDIGO / 30,32,34,36inch / ¥20,000+TAX

If you're a fan of these new generation Jump characters then this stylish lineup is just what you need. The lineup will be sold from May 2, 2020 on calif and ZOZOTOWN online stores. 

This is perfect for any My Hero Academia fan looking to quirk up their look. 

©Kōhei Horikoshi/ SHUEISHA. Inc, My Hero Academia Production Committee

Animate's Shonen Jump Fair 2020: My Hero Academia, Demon Slayer, One Piece & More

The series of Shonen Jump are set to fall on the Japanese anime merchandise chain Animate as "Jump Fair in Animate 2020" begins on March 19 and will run until April 12.

Fans can expect exclusive merchandise from various Shonen Jump series, as well as original bonus items when they purchase items from Animate stores across Japan. More on these below.

Bonus Items – Batch ①: Jump Fair Selection (Select Items)

Those who purchase or pre-order any piece of designated merchandise at Jump Fair in Animate will receive one of the pictured cards or other item. You can also get your hands on some of the original Shonen Jump items sold at Jump Festa last year, a popular Shonen Jump festival held every year.

The bonus items will be split into two batches sold at different dates and comprised of 58 items in total. Batch 1 items will drop from March 19 to April 2 and will include merchandise from My Hero Academia, The Promised Neverlandーfor which a live-action film has been green-litーand more. Batch 2 will available commencing April 3 and will include series like One Piece, Demon Slayer: Kimetsu no Yaiba, and more.

If you're a Shonen Jump fan, and are headed to Japan this spring, then don't miss out on Animate's Shonen Jump fair.

©SHUEISHA Inc. All rights reserved.

KANA-BOON Releases My Hero Academia Opening 'Star Marker' On Streaming Services and Unveils Anime Jacket Illustration

KANA-BOON's dropped their new song Star Marker on streaming services on February 1, 2020. 

Star Marker will be the title song for their new single which is set to be released on March 4, 2020. The song was appointed as the opening theme song for the season four culture festival arc of the worldwide trending anime My Hero Academia. The anime opening-length version of the single and video was dropped on YouTube and has already got 2 million views, immediately reaching the top of the rankings and stirring up a sensation. Now there is the unmissable opportunity to hear the entire full version of the song before it physically hits the shelves. 

Along with the advanced single release, the artwork to be used on the jacket has also been unveiled. The Limited Edition Version comes in a My Hero Academia anime-themed jacket where the characters can be seen riding a star, soaring through space on an exciting adventure together – something that fans won't want to miss.

A Statement By Maguro Taniguchi (Gt./Vo.)

Our past selves were painted in our own unique colours – some dark, some bright. The day when we can change the meaning of our colours is approaching us. We can repaint our past selves by painting a colourful future. You are the only person who can shape your future and that makes you a hero. This song was written with the intention of being the theme song for everybody out there listening.

 

©Kōhei Horikoshi/Shueisha Inc./ My Hero Academia Production Committee

Information

New Single: Star Marker

Release Date: March 4, 2020

■ Regular Edition (CD) KSCL-3240/¥ 1,182 + Tax

■ Limited Pressing Edition(CD + DVD) KSCL-3241~3242 / ¥1,500 + Tax

*Comes in a My Hero Academia anime illustration jacket, Digipak

* Limited Pressing Edition available until the end of June

Star Marker: Streaming/ Purchasing Links:

https://kmu.lnk.to/starmarker_cd

KANA-BOON Official Website: http://www.kanaboon.com

KANA-BOON Announces New Single 'Star Marker' As My Hero Academia's Next Anime Opening Theme

After unveiling their greatest hits album KANA-BOON THE BEST just a few days ago, KANA-BOON recently announced their new single Star Marker which is set to release on March 4. Star Marker will be released as a single on the same day as their greatest hits album. The single has also been unveiled to be the new opening theme song for the season four culture festival arc of the worldwide trending anime My Hero Academia. 

Star Marker was written by guest musician Daisuke Kanazawa from the band Fujifabric. The song connects to the world of the anime and is arranged with positive and happy vibes. The keyboard adds a bold and daring touch of flair to KANA-BOON's strong and energetic style. The song is catchy and explores a new side of KANA-BOON.

The new My Hero Academia episodes will start airing from January 25 and fans just can't wait.

The Limited Pressing Edition Version of the single comes in a My Hero Academia anime illustration jacket and will include the creditless video of the opening theme song, making it the perfect gift for any My Hero Academia fan.

A Statement by Maguro Taniguchi (Gt./Vo.)

Our past selves were painted in our own unique colours – some dark, some bright. The day when we can change the meaning of our colours is approaching us. We can repaint our past selves by painting a colourful future. You are the only person who can shape your future and that makes you a hero. This song was written with the intention of being the theme song for everybody out there listening. 

©Kōhei Horikoshi/Shueisha Inc./ My Hero Academia Production Committee

Information

New Single: Star Marker

Release Date: March 4, 2020

■ Regular Edition (CD) KSCL-3240/¥ 1,182 + Tax

■ Limited Pressing Edition(CD + DVD) KSCL-3241~3242 / ¥1,500 + Tax

*Comes in a My Hero Academia anime illustration jacket, Digipak

* Limited Pressing Edition available until the end of June

KANA-BOON Greatest Hits Album: KANA-BOON THE BEST

Release Date: March 4, 2020

■ Regular Edition(2 CDs) KSCL-3246~3247/ ¥3,200 + Tax

■ First Press Limited Edition (2CD + BD + "Time Strip" album notes by Maguro Taniguchi, comes in a three-sided box) KSCL-3243~3245/ ¥5,300 + Tax

KANA-BOON Official Website: http://kanaboon.jp

My Hero Academia

Available on Yomiuri TV and 29 Nippon TV Network Channels across Japan

*Not available in some regions

Every Saturday from 17:30

Season 4 Culture Festival Arc: January 25, 2020

Official Website: https://heroaca.com/

Ryokuousyoku Syakai's New Song 'Shout Baby' Revealed as My Hero Academia's New Ending Theme

In 2019, the four-piece band Ryokuousyoku Syakai released numerous songs that were used as theme songs for films and dramas and celebrated the success of their Japan tour which included their first hall tour. The band is now set to release a new song called Shout Baby which will be used as the new ending theme song for the season four culture festival arc of the worldwide-trending anime My Hero Academia. 

This is the first time Ryokuousyoku Syakai has ever written a song for an anime. The song screams its main message of committing oneself to become stronger no matter how tough the future may be.

Season four's culture festival arc will premiere on January 25 and its ending theme song Shout Baby will be released on a number of digital music services on February 8. The song will be released as a single on CD on February 19 along with a cover of the anime's popular season two opening two theme song Sora ni Utaeba (originally by amazarashi) included as a coupling track. This mark Ryokuousyoku Syakai's first ever release of an anime song cover. 

A Statement by Haruko Nagaya (Vo/Gt)

This song aims to encourage people to question themselves every day: What are you? No matter how tough the future may seem, hold the desire to never give up. You don't know unless you try. The will to become stronger and desire to change yourself will pave the way to success. Channel your unfocused rage into energy. Nobody starts off as the perfect hero. I hope that the song provides strength and motivation to listeners to grow stronger with the characters. 

Information

'Shout Baby' by Ryokuousyoku Syakai

Release Date: February 8*

*Advanced release on digital downloading and streaming services

2nd Single: Shout Baby

Release Date: February 19 

Limited Pressing Edition: ESCL-5341-5342 / ¥1,500 + Tax

Contains CD+DVD, 3-sided box case with anime illustration design (Available until April 30)

First Press Edition: ESCL-5340 / ¥1,000 + Tax

Includes a sticker illustrated by Issei Kobayashi with random design

Ryokuousyoku Syakai Official Website: https://www.ryokushaka.com/

My Hero Academia

Available on Yomiuri TV and 29 Nippon TV Network Channels across Japan

*Not available in some regions

Every Saturday from 17:30

Season 4 Culture Festival Arc: January 25, 2020

Official Website: https://heroaca.com/

My Hero Academia Pop-Up Shop to Open at Ikebukuro Sunshine City in Tokyo

Bandai Namco Amusement is opening a My Hero Academia pop-up shop at the new Namco Ikebukuro facility which itself is set to open this winter at Sunshine 60 Street. The pop-up shop will run for a limited time only from December 20, 2019 to January 19, 2020.

*The pop-up shop will be open before Namco Ikebukuro fully opens

To date, this pop-up shop has hit Shinjuku, Nagoya, Hakata and elsewhere across Japan since March 29 this year. The shop features official designs and illustrations drawn specifically for itself, themes of which include the cool Heroes laughing in the face of adversity, wearing festive headbands and happi coats, and more. These designs feature on exclusive merchandise, and there is even a raffle mini game where fans can win tapestries, pin badges, and other limited edition goodies.

Fans can also get involved in a digital roulette game which has been held at the other pop-up shops, which features a background image featuring the characters from the series, where they can win more items. New prizes will be included at both Nambo Ikebukuro and Namco Umeda.

And to promote the upcoming anime film My Hero Academia – Heroes: Rising, Namco Ikebukuro is holding a campaign for fans to win one of three possible postcard designs from the film.

©My Hero Academia Production Committee ©️2019 "My Hero Academia THE MOVIE" Production Committee ©️Kohei Horikoshi/Shueisha

*The information in this news release is up to date at the time of posting. Information regarding the event is subject to change without notice.

*Photos are for illustrative purposes only.

Information

My Hero Academia Character Pop Store

Running: December 20, 2019 – January 19, 2020

Opening Hours: 10:00-20:00

Address: Ikebukuro Sunshine 60 Street Floor B1F, 1-22-10 Higashi-Ikebukuro, Toshima Ward, Tokyo

Pop-Up Shop Website: https://bandainamco-am.co.jp/chara_shop/heroaca/

My Hero Academia Official Website:  https://heroaca.com/

Campaign Details

To enter the campaign, you must download the Namco App (ナムコアプリ) and follow Namco Ikebukuro as one of your favourites. Those who follow the store will receive a coupon to receive a postcard. If they show this coupon to a staff member at the store, they will receive one of three possible My Hero Academia – Heroes: Rising postcards chosen randomly. Available on a first-come, first-service after Namco Ikebukuro opens. Exclusive to the Namco Ikebukuro branch.

Store Website:  https://bandainamco-am.co.jp/game_center/loc/ikebukuro/

sumika Drops Music Video for My Hero Academia – Heroes: Rising Theme Song 'Higher Ground'

Along with the release of their new single Negai/Higher Ground on December 11, sumika unveiled the song's official music video. Higher Ground is the opening theme song for the upcoming anime film My Hero Academia – Heroes: Rising, which is working up a sensation this winter in Japan. 


sumika – "Higher Ground" Music Video

With a thudding beat and sense of urgency, the action-packed song Higher Ground was written especially for the film, which is set to premiere in Japan on December 20. The song is based on the concept of "everybody raising their flags and proceeding towards the light", which is reflected in the video's usage of colour and beautiful lighting. 

In spring 2020, sumika will face their biggest live event yet—sumika Arena Tour 2020 -Daily's Lamp—which stretches over 10 cities across Japan with 13 live gigs.

The First Press editions of the single even come with irresistible bonuses: The First Press A and B editions of the CD include an application card for pre-sale tickets to "sumika Arena Tour 2020 -Daily's Lamp-" and the First Press Limited Edition A comes with a bonus CD containing a live audio recording of sumika Live Tour 2019 -Wonder Bridge- 2019.10.29 at Zepp Tokyo.

This is exciting news for fans of My Hero Academia and sumika alike.

©️2019 "My Hero Academia THE MOVIE" Production Committee

Information

sumika – New Single "Negai/Higher Ground"

Release Date: December 11, 2019

First Press Limited Edition A (CD+Bonus CD, card sleeve): ¥1,800 (Before Tax) [SRCL-11390〜11391]

First Press Limited Edition B (CD+My Hero Academia Card*): ¥1,500 (Before Tax) [SRCL-11392]

*Four designs available based on Izuku Midoriya and Katsuki Bakugo

Regular Edition (CD-Only): ¥1,000 (Before Tax) [SRCL-11393]

 First Press Bonus

Application card for pre-sale tickets to "sumika Arena Tour 2020 -Daily's Lamp-".

Application Period: December 13, 2019 at 20:00 (JST) to December 16, 2019 at 23:59 (JST)

Includes PlayPASS. Valid until December 10, 2020.

 

CD Bonus (At Participating Stores)

Postcard calendar featuring the CD cover's design.

Participating Stores: https://www.sonymusic.co.jp/Music/Info/sumika/shoplist/191211/

*Priority goes to those who pre-order the CD. Available while supplies last.

*Not available at select branches and online stores. Please confirm availability at the branch or online store. 

 

sumika Official Website: http://www.sumika-official.com/

 

My Hero Academia – Heroes: Rising

Release Date: December 20, 2019

Official Website: https://heroaca-movie.com/

sumika's My Hero Academia – Heroes: Rising Theme Song Single Teaser Trailer Released

A trailer has been released for sumika's upcoming new single Negai/Higher Ground which is set for release on December 11, 2019.

sumika – "Negai/Higher Ground" Teaser

The trailer showcases Negai, which is already receiving recognition not only for its digital release and music video, but as the main theme song for the TV Asahi Saturday night drama Ossan's Love -in the sky-. It also features Higher Ground, the main theme song for the upcoming anime film My Hero Academia – Heroes: Rising, as well as footage taken from the band's concert at Zepp Tokyo on October 29 as part of their 2019 "Wonder Bridge" live tour. The full concert will be included with First Press Limited Edition A copies of the single.

sumika will kick off their "Daily's Lamp" 2020 arena tour in spring next year with 13 concerts across 10 cities in Japan. Those who pick up a copy of any First Press Edition of the singleーA, B or Regularーwill receive an application card for exclusive sign-up to pre-sale tickets to their upcoming live tour. It will mark the band's biggest tour ever, so if you're in Japan next spring, be sure to pick up a copy of the CD for a chance to get your hands on these hot tickets.

©️2019 "My Hero Academia THE MOVIE" Production Committee

©️Kohei Horikoshi/Shueisha

Information

sumika – New Single "Negai/Higher Ground"

Release Date: December 11, 2019

First Press Limited Edition A (CD+Bonus CD): ¥1,800 (Before Tax) [SRCL-11390〜11391]

First Press Limited Edition B (CD+My Hero Academia Card): ¥1,500 (Before Tax) [SRCL-11392]

Regular Edition (CD-Only): ¥1,000 (Before Tax) [SRCL-11393]

First Press Bonus

Application card for pre-sale tickets to "sumika Arena Tour 2020 -Daily's Lamp-".

Application Period: December 13, 2019 at 20:00 (JST) to December 16, 2019 at 23:59 (JST)

Includes PlayPASS. Valid until December 10, 2020.

CD Bonus (At Participating Stores)

Postcard calendar featuring the CD cover's design.

Participating Stores: https://www.sonymusic.co.jp/Music/Info/sumika/shoplist/191211/

*Priority goes to those who pre-order the CD. Available while supplies last.

*Select branches and online stores not stocking the item.

sumika Official Website: http://www.sumika-official.com/

Ossan's Love -in the sky-

Initial Broadcast: November 2, 2019

Official Website: https://www.tv-asahi.co.jp/ossanslove-inthesky/

My Hero Academia – Heroes: Rising

Release Date: December 20, 2019

Official Website: https://heroaca-movie.com/

My Hero Academia Glasses Developed in Collaboration With JINS Dropping on December 12

Glasses brand JINS has teamed up with My Hero Academia once again to release three lines of glasses made in collaboration with the anime and manga series. Orders will open on December 12, 2019.

The new collaboration celebrates the upcoming release of the anime film My Hero Academia – Heroes: Rising on December 20, 2019. It marks a year and a half since the last collaboration held in July 2018 to celebrate the release of My Hero Academia: Two Heroes, another film in the franchise.

The first of the three lines come with five pairs of glasses inspired by five students from class 1-A of U.A. High School: Izuku Midoriya, Katsuki Bakugo, Shoto Todoroki, Ochaco Urara, and Eijiro Kirishima.

Izuku Midoriya

Katsuki Bakugo

Ochaco Urara

Each frame has distinct colours symbolising their respective characters, giving each pair of glasses its own unique personality.

Shoto Todoroki

Eijiro Kirishima

The outer temple parts of the glasses feature a simple design, while the inner design again captures each character with illustrations and logos. And each pair also comes with its own specially-made original case.

Also, during the pre-order period (December 12-24, 2019), select JINS branches have teamed up with iPad to provide a virtual service that puts you into the world of My Hero Academia using JINS' eyewear products.

The second and third lines will release in January and March 2020 respectively and will enable spec-wearers to create their own original glasses online. They will make use of the personal order service JINS PAINT and use original patterns. These will be available in a limited quantity. The second collaboration will focus on Villains while the third will focus on Heroes that are different from those in the first.

Information

My Hero Academia x JINS – Collaboration ①
Line-Up: 5 designs
Price: ¥8,000 (Before Tax) *Includes lens price
Comes With: Case & Cloth
Order Window: December 12, 2019 at 10:00 (JST) to December 24, 2019 at 23:59 (JST)

*In-store orders will run during the time days until store closing times

*Glasses will be shipped in June 2020

*Limited availability and stock while supplies last
*These are made-to-order products and so cannot be exchanged and orders cannot be changed after completing your order
*If paying with a credit card, payment will be taken before the glasses are shipped

Available: On the official JINS website at www.jins.com and JINS branches across Japan (excluding Rim Of outlets)

*If ordering in-store, glasses must be picked up from the store when shipped

Product Page: www.jins.com/jp/collabo/heroaca/

Masaki Suda Releases Video Teaser of Exclusive Tour Performance and More

Following the release of his album LOVE on July 10, 2019, Masaki Suda toured from city to city with the final stop being Zepp DiverCity in Tokyo on September 6, 2019, for a premium live performance for a limited audience. 

 

If you're a fan who missed out on tickets then you're in luck: On Christmas Day this year, Masaki Suda will release a DVD and blu-ray of his premium live performance and more exclusive footage. Suda recently unveiled a teaser of the DVD and blu-ray on YouTube:

Masaki Suda LIVE TOUR 2019 "LOVE" @Zepp DiverCity TOKYO 2019.09.06 Teaser


The DVD is packed with all 19 songs performed that day including Suda's top hits Machigai Sagashi and Sayonara Elegy and even the jaw-dropping moment where Kento Yamazaki, the actor for L from the Death Note live-action series, stepped on stage to commemorate 10 years of Masaki Suda's acting career. The Zepp live performance was the last of five concerts that were held in four cities in Japan. Out of the approximate 200,000 fans who scrabbled for tickets for the premium live performance which marked the end of the tour, a mere 10,000 fans were chosen.


 

The Limited Pressing Edition includes not only a DVD and blu-ray of of the performances, but even comes with a large photo book packed with photos that have never been seen before. The Limited Pressing Edition is currently available to purchase from numerous websites but be quick if you want one because they are in limited supply. 


There is also a number of bonus goods you can get your hands on and some special designs that you don't want to miss out on.

Information

Masaki Suda LIVE TOUR 2019 "LOVE"@Zepp DiverCity TOKYO 2019.09.06 DVD and Blu-Ray

Release: December 25, 2019

Reservations:  https://erj.lnk.to/WZJi5

 

◆ Limited Pressing Edition (DVD+BD)

Contains: Large Photo Book + DVD + BD

Price: ¥9,000 (Before Tax) 

Catalog No.: ESBL-2585~7

≪Photo Book Contents≫

A luxurious collection of unreleased photos taken from rehearsals and main performances 

Reservations: https://erj.lnk.to/kGI1vWN

 

◆DVD Regular Edition

Contains: Tall Case, 3-Sided Case and DVD

*The three-sided case comes in First-Press finish only.

Price: ¥5,000 (Before Tax) 

Catalog No.: ESBL-2588

Reservations: https://erj.lnk.to/LobdKWN

 

◆Blu-Ray

Contains:3-Sided Case and Blu-Ray Disc

*The three-sided case comes in First-Press finish only.

Price: ¥6,000 (Before Tax)

Catalog No.: ESXL-169

Reservations: https://erj.lnk.to/6r2BdWN

Special Bonuses

Here is a list of free bonus merchandise that is included if you purchase LIVE TOUR 2019 "LOVE"@Zepp DiverCity TOKYO 2019.09.06. from certain websites and shops:

■ Sony Music Shop: Original Sticker

■ HMV (Includes HMV & BOOKS Online, some branches not included): Original Poster Calendar (B2)

■TSUTAYA RECORDS* and TSUTAYA Online Shop**: Original A5 Clear File

*Some branches not included

** Clear file only available when reserved on the online shop in advance.

■WonderGOO/ Shinseido* and Shinseido WonderGOO Online: Original Postcard

*Some branches not included

■Amazon.co.jp: Original Tote Bag (Bag Size Excluding Strap: Approximately 260mm X 330mm, Strap Size: Approximately 25mm × 280mm)

■ Rakuten Books: Original Pouch

■ List of shops and online stores which offer an Original B2 Poster: https://sudamasaki-music.com/shoplist/191225/

Masaki Suda Music Official Website: Fhttps://sudamasaki-music.com/

sumika's My Hero Academia – Heroes: Rising Theme Song CD to be Coupled With Tour Ticket Pre-Sale Access

sumika will release their new double A-side single Negai/Higher Ground on December 11, 2019. Those who pick up a copy will receive an application card for exclusive sign-up to pre-sale tickets to their upcoming live tour.

Negai is used as the main theme song for the TV Asahi Saturday night drama Ossan's Love -in the sky-.

Higher Ground will be used as the main theme song for the upcoming anime film My Hero Academia – Heroes: Rising.

sumika will kick off their "Daily's Lamp" 2020 arena tour in spring next year with 13 concerts across 10 cities in Japan. It will mark the band's biggest tour ever, so if you're in Japan next spring, be sure to pick up a copy of the CD for a chance to get your hands on pre-sale tickets.

First Press Limited Edition B copies of the new single will also include one of four possible My Hero Academia cards – two each of Midoriya and Bakugo.

©️2019 "My Hero Academia THE MOVIE" Production Committee

©️Kohei Horikoshi/Shueisha

Information

sumika – New Single "Negai/Higher Ground"

Release Date: December 11, 2019

First Press Limited Edition A (CD+Bonus CD): ¥1,800 (Before Tax) [SRCL-11390〜11391]

First Press Limited Edition B (CD+My Hero Academia Card): ¥1,500 (Before Tax) [SRCL-11392]

Regular Edition (CD-Only): ¥1,000 (Before Tax) [SRCL-11393]/

First Press Bonus

Application card for pre-sale tickets to "sumika Arena Tour 2020 -Daily's Lamp-".

Application Period: December 13, 2019 at 20:00 (JST) to December 16, 2019 at 23:59 (JST)

Includes PlayPASS. Valid until December 10, 2020.

CD Bonus (At Participating Stores)

Postcard calendar featuring the CD cover's design.

Participating Stores: https://www.sonymusic.co.jp/Music/Info/sumika/shoplist/191211/

*Priority goes to those who pre-order the CD. Available while supplies last.

*Select branches and online stores not stocking the item.

sumika Official Website: http://www.sumika-official.com/

Ossan's Love -in the sky-

Initial Broadcast: November 2, 20192

Official Website: https://www.tv-asahi.co.jp/ossanslove-inthesky/

My Hero Academia – Heroes: Rising

Release Date: December 20, 2019

Official Website: https://heroaca-movie.com/

My Hero Academia Event to Take Place at Tokyo Tower

An event is set to take place at Tokyo Tower from December 7 in promotion of the upcoming anime film My Hero Academia: Heroes: Rising, which is set to release on December 20.

If you pick up a Tokyo Tower Main Deck ticket, which takes you up 150 meters in the tower, you'll receive a ticket with a limited-edition design, a folder, and one of six possible stickers as pictured above.

The Main Deck will be decorated with all things My Hero Academia, including original illustrations as well as key visuals for the upcoming movie. There will also be photo panels featuring classic lines said by characters where you can take photos.

A stamp rally will also be held throughout the tower at the event Collect all six stamps and receive one of six possible desk mats.

Stamp Rally

Price: ¥600

Running: Weekdays 10:00-18:00 (Reception Closes 17:30) / Weekends 10:00-20:00 (Reception Closes 19:30)

Available: Stamp Rally counter on the first floor of Tokyo Tower

*Please note that you will also have to pay the entrance fee to the Main Deck to participate

Test your My Hero Academia knowledge with the official quiz taking place on weekends up the outer staircase. Those who take part will be able to take a photo together with Midoriya and Bakugo and will receive a certificate.

Running: Weekends & Public Holidays 10:00-16:00 (Not running during rainy weather)

*A Main Deck entry ticket is required to access the outer staircase. A ticket to the event is also required to receive the certificate

Choose a beverage inspired by your favourite character. Every drink ordered comes with a My Hero Academia coaster.

Location: Cafe La Tour, Main Deck Floor 1F

Opening Hours: 9:30-22:45 (Last Orders 22:00)

Price: ¥600 Each

Don't miss out on the chance to grab some Tokyo Tower-exclusive My Hero Academia merchandise either.

Location: Merchandise Counter, Tokyo Tower Floor 1F

Opening Hours: 10:00-18:00 (Until 20:00 on weekends)

©2019 "My Hero Academia THE MOVIE" Production Committee ©Kohei Horikoshi / Shueisha

Information

Tokyo Tower x My Hero Academia: Heroes: Rising

Running: December 7, 2019 – January 5, 2020

Location: Tokyo Tower (4-2-8 Shiba-koen, Minato, Tokyo)

Event Page: https://itateri.com/heroaca.html