Yuzu Joined By Crayon Shin-chan On Stage to Sing New Song 'Muscat'
Japanese folk rock duo Yuzu held that 2018 arena tour entitled "BIG YELL II ~Great Voyage" at Yokohama Arena on August 4, 5 and 7. They performed their new song Muscat―which was released on August 1―for the very first time in front of fans at the shows.
Mustcat is an upbeat song that serves as the new theme song for the popular ongoing anime series Crayon Shin-chan. In the anime's opening video, a mascot character called Yuzu Man, created by Yuzu's own Yujin Kitagawa, makes an appearance.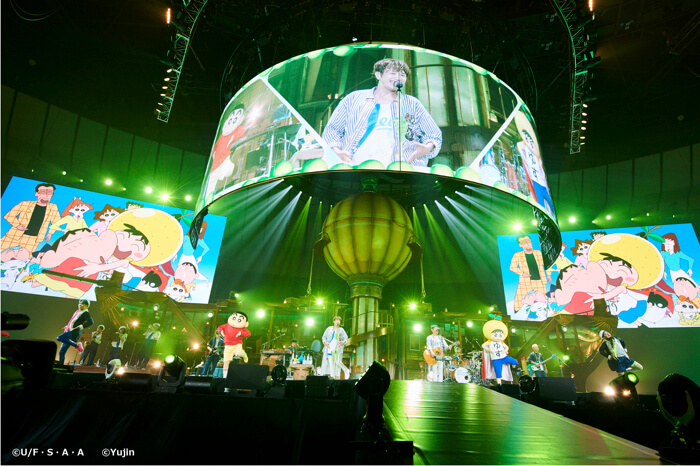 Yuzu Man and Shin-chan both appearaced as special guests at the band's Yokohama Arena performance which the crowd reacted excitedly to. Together with the Yuzu members, the mascots performed their iconic dance created by popular Japanese choreographer Lucky Ikeda. The anime also appeared on the stage screens and the crowd joined in with the dance.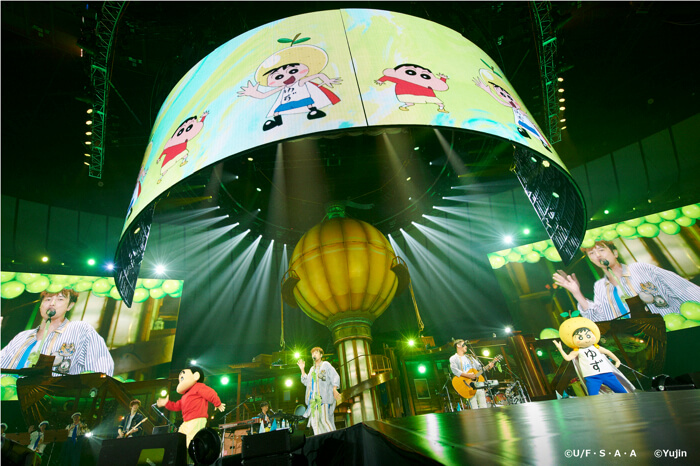 This tour began in April with the Yokohama Arena shows being additional dates. 12,000 fans attended each show which saw changes made from the main tour. Further additional dates have also been announced: they will play at Marine Messe Fukuoka on August 14 and 15 before heading to Osaka-jo Hall on October 21 and 22. They will perform to an estimated 35,000 people.
Fans are looking forward to seeing what kind of performances they have in store for the next set of dates.
■Information
New Single – "Muscat"
Released: August 1, 2018
Regular Edition (CD-Only) – ¥800 (+Tax) [SNCC-89939]
Concert Edition (CD+Original Yuzu Man & Shin-chan Towel) – ¥926 (+Tax) [SNCP-89940]
*The concert edition is sold only at the venues on the ongoing tour.
"Muscat" Special Page: http://yuzu-official.com/pages/muscat
Yuzu Official Website: http://yuzu-official.com
RELATED ENTRIES
30th Anniversary Crayon Shin-chan Exhibition to Open in Ikebukuro

Crayon Shin-chan's 30th Anniversary Exhibition will be held at Ikebukuro Sunshine City starting December 17, 2022. Humorously titled The Adventure in Ass Wonderland, the interactive exhibition will pay homage to the past three decades of the beloved anime series. In conjunction with the event, a key visual drawn especially for this exhibition has also been unveiled.

This special exhibition looking back on the 30th anniversary of the anime series and films will feature many hands-on Crayon Shin-chan projects based on the theme of Shinnosuke's butt. More details will be announced soon, so stay tuned.

Advance tickets for the exhibition will be on sale starting November 17, 2022. The exhibition is also scheduled to travel to other venues in Japan beginning in 2023. See the official website for more information. 

©臼井儀人/双葉社・シンエイ・テレビ朝日・ADK

Crayon Shin-chan and Cinnamoroll Collaboration Apparel Available at AEON

Aeon's fashion brand DOUBLEFOCUS has announced a unique apparel collection featuring Crayon Shin-chan and Sanrio's popular character Cinnamoroll! The collection itself will include 14 items and will release on September 29, 2022. Those interested will be able to purchase these items at over 150 AEON and AEON-STYLE locations around Japan, as well as online. Crayon Shin-chan has been a popular series for decades, and Cinnamoroll has won first place for three consecutive years in the Sanrio Character Awards. 

Many characters from Crayon Shin-chan will be featured in the collection, including Shinnosuke, Himawari, Shiro, and Buriburizaemon. These unique items can only be purchased at AEON stores, and fans can find everything from cushions and key chains to clothing. Be sure to grab your favorite items before they sell out!

 

Ⓒ臼井儀人/双葉社・シンエイ・テレビ朝日・ADK

Ⓒ2022 SANRIO CO.,LTD.TOKYO.JAPANⓁ

Popular Autumn Exclusive Yuzu Series from Facial Blotting Paper Brand Yojiya Available Now

Kyoto-based makeup brand Yojiya will release its popular Yuzu series of goods on October 3, 2022. The company is well-known for its aburatorigami, or facial oil blotting paper. Customers will be able to grab items containing yuzu and featuring autumn packaging, from hand cream to aroma oil. The scent of yuzu can be relaxing, easing anxiety and tension. In addition, special events and campaigns will be held at Yojiya stores for shoppers to enjoy this fall. 

Yuzu Aburatorigami (Facial Oil Blotting Paper)

Yuzu Hand Cream

Yuzu Aroma Oil

Yuzu Bath Salts

Yuzu Aroma Set

The Yuzu Aburatorigami and Hand Cream, which were both extremely popular last year, will feature new packaging in 2022. The blotting paper is made of natural yuzu peel, while the hand cream contains natural yuzu peel oil. 

 

After returning home from work or being out running errands, customers are invited to relax with the citrus scent of yuzu. New products perfect for home use are available this year, including bath salts and yuzu oil perfect for adding to your diffuser. 

 

Many readers from overseas may have never enjoyed yuzu. The next time you're in Japan, seek out this tasty and fragrant fruit!

Grand Chariot Big Dipper 135° Hotel Offers Special Gift for Guests Reserving the Crayon Shin-chan Collaboration Room

The Grand Chariot Big Dipper 135° Hotel is a luxury hotel located within Awaji Island Park in Hyogo Prefecture. The hotel has an incredible Crayon Shin-chan collaboration room, and guests reserving this room will receive an original postcard featuring a new illustration for a limited time starting on August 1, 2022. Those finding Buriburizaemon within the room will receive this exclusive gift only available at the hotel!

Original Postcards

The collaboration room, dubbed 'My Cocoon,' is a one-of-a-kind suite filled with Crayon Shin-chan imagery. Perfect for fans, the room is filled with playful gadgets, a massive skylight, and a large rug in the shape of the dog Shiro. 

©臼井儀人/双葉社・シンエイ・テレビ朝日・ADK ©臼井儀人/双葉社・シンエイ・テレビ朝日・ADK 1993-2022

30th Anniversary Crayon Shin-chan Cakes Available from Cake.jp

Mail order cake shop Cake.jp has unveiled three original cakes celebrating the 30th anniversary of Crayon Shin-chan! The sweets are available to order now.

Crayon Shin-chan Action Kamen Cake

Crayon Shin-chan Shin-chan Family Cake

Crayon Shin-chan: Mononoke Ninja Chinpūden Cake

Crayon Shin-chan is a slapstick comedy series detailing the hilarious daily life of five-year-old Shinnosuke Nohara and his family. 

 

The original manga series began serialization in 1990 and an anime series began airing in April 1992. 2022 marks the 30th consecutive year of the anime series. 


The original manga series has sold over 134 million copies worldwide, and the anime has been dubbed in 30 languages and aired in 45 countries. Shinnosuke has now become a popular character around the world and one that represents Japan.

 

Cake.jp is offering three brightly colored cakes, each depicting different aspects of the Crayon Shin-chan anime series and the most recent film. The cakes are packed with strawberries and are perfect for both adults and children to enjoy!



Crayon Shin-chan: Mononoke Ninja Chinpūden debuted in theaters on April 22, 2022.

©臼井儀人/双葉社・シンエイ・テレビ朝日・ADK
©臼井儀人/双葉社・シンエイ・テレビ朝日・ADK 2022


Upcoming 'Crayon Shin-chan: Mononoke Ninja Chinpuden' Film Inspires Collab Cafe in Osaka

To commemorate the upcoming release of the film 'Crayon Shin-chan: Mononoke Ninja Chinpuden,' a special collaboration cafe is scheduled to open at Seasons & Co Fruits Parlor & Bakery at Osaka LINKS UMEDA! The cafe will be open from April 4 until May 15, and will feature a number of film-inspired dishes and bonus goods for fans to enjoy!

Collaboration Cafe Menu

Shin-chan's Roll Cake 


Silly Ninja! Strawberry, Vanilla & Black Currant Cake 


Ninjas love it too?! Matcha Parfait


Shinnosuke's Birthday Blue Soda 

Ninja Child Matcha Frappe

Bonus: Sticker and Coaster





The upcoming film is a gag-filled ninja action blockbuster featuring everyone's favorite boisterous youth. Shinnosuke will be transformed into a ninja this time around to defeat a mysterious ninja army! Along with the collab menu, fans can also grab some new merchandise and bonuses at the cafe, so don't miss out!

©臼井儀人/双葉社・シンエイ・テレビ朝日・ADK 2022 ※短縮:©U/F・S・A・A 2022

30 Years of Crayon Shin-chan Films Honored in Online Exhibition

The digital service Anique will launch an online exhibition and begin selling limited-edition merchandise on April 15 to commemorate 30 years of Crayon Shin-chan films!

The exhibition will highlight the many characters found in the long-running series, and will also feature an exhibit focusing on the upcoming film Crayon Shin-chan: Mononoke Ninja Chinpūden, coming to theaters on April 22, 2022. 

 

Fans are invited to think back on the last three decades of these classic anime films. 

Visitors can also order goods with limited-edition designs that can only be purchased during the event. By pre-registering your email address on the official website, you can be notified when the new merch goes on sale!

©臼井儀人/双葉社・シンエイ・テレビ朝日・ADK 2022 ※短縮:©U/F・S・A・A 2022

Crayon Shin-Chan's Sengoku Period Winter Adventure Now Open at Nijigen no Mori Amusement Park

Crayon Shin-Chan's Sengoku Period Adventure, a permanent attraction at the Nijigen no Mori Amusement Park in Hyogo Prefecture, has been transformed for the cold winter months until February 27, 2022!

 

During the event, guests will have to dodge the snow-like bubbles with a 99.9% hit rate as they race towards the finish line. Do you think you could handle it?

Information

Crayon Shin-Chan's Sengoku Period Winter Adventure
Running until February 27, 2022
Location: Nijigen no Mori Amusement Park, Awaji, Hyogo Prefecture

Tickets / Official Site: https://nijigennomori.com

Crayon Shin-chan and Adorable Bunny Rabbits Available from Ikumimama Animal Donuts

Ikumimama Animal Donuts has been a popular topic on social media for it's cute creations, many based on popular characters. Now, customers located in Japan can purchase the new Crayon Shin-chan and Otsukimi Usa-chan Donut Sets online! 

Otsukimi Usa-chan Set

Otsukimi Usa-chan (White)

Otsukimi Usa-chan (Pink)

Otsukimi Dango Donuts

Crayon Shin-chan Donut Set

Shin-chan (Normal)

Shin-chan (Sparkling)

Shiro

Buriburizaemon

Himawari

Otsukimi means 'moon-viewing' in Japanese. On the 15th day of the eighth month of the traditional Japanese calendar, it's tradition to hold a celebration to view the harvest moon. The Otsukimi Usa-chan set is perfect to serve during a get-together as you watch the starlit sky with friends. This year, September 21 is the lucky day! Dango, or dumplings, are popular snacks to enjoy during this event, and these coconut-filled Dango Donuts are a fun twist on a traditional treat. 

Shinnosuke, Shiro, Buriburizaemon, and Himawari all make an appearance in the new Crayon Shin-chan collaboration.

Which of these sugary sweets looks the most scrumptious? 

YUZU, 24 Artists to Participate in Japanese Pixel Art Exhibition

Produced by art project production group WATOWA GALLERY, the YUZU x Shibuya Pixel Art YUZUTOWN Special Exhibition will be open at elephant STUDIO in Shibuya starting September 15! The theme of this year's event is 'bringing courage to Shibuya during the Coronavirus pandemic.'

SHIBUYA PIXEL ART, one of the world's biggest pixel art contests and festivals, has been held in Shibuya each year since 2017. The area was called 'Bit Valley' in the late 1990s.

The YUZUTOWN Special Exhibition will commemorate the release of popular J-pop duo YUZU's 15th album, YUZUTOWN. A total of 24 artists will be exhibiting and selling their pixel art creations, including Kazuko Shibuya, who has provided works for some of Japan's most famous fantasy RPGs such as Final Fantasy and Dragon Quest. Shigetaka Kurita, immortalized in the MoMA as the creator of 'emoji,', and eBoy, who provided the album cover for YUZUTOWN, will also be in attendance.

Information

YUZU × Shibuya Pixel Art "YUZUTOWN Special Exhibition"

Running: September 15 – September 30, 2021

Hours: 10:00-19:00

Location: elephant STUDIO (1&2F, 2-7-4 Shibuya, Tokyo)

Admission: ¥1,650 (Tax Included) *Reservations required.

Buy Tickets: https://artsticker.app/events/765 *Reservations now open.

Official Site: https://pixel-art.jp/reboot

Pink Crocodile Waniyama-san from Crayon Shin-chan Gets His Own Holiday

If you watch Crayon Shin-chan, you're probably familiar with the pink crocodile on Shin-chan's favorite snack, Chocobi. On August 2, 2021, a special ceremony was held at the Chocobi Store in SHIBUYA109 to commemorate the establishment of 'Waniyama-san Day!'

Chocobi Chocolate Flavor

Chocobi Strawberry Flavor

Campaign Prize: Rubber Mascot

The lively ceremony was held before the Pop-Up Store's opening to a very excited crowd, and was attended by the larger-than-life mascots of Shin-chan and Waniyama-san. These six limited-edition shops, opening all over Japan, commemorate the 15th anniversary of Chocobi's release. Yummy snacks aren't the only things you can grab at these colorful stores: plenty of original goods featuring Waniyama-san and Shin-chan are available!

Beginning on September 1, 2021, a special campaign will begin, offering shoppers the chance to win an original (and very adorable) rubber mascot! For those who win the jackpot, you'll have the chance to get one of three unique designs. These were created for the 15-year event and can only be obtained through this campaign, so don't miss it!

Event Report

Shin-chan and Mr. Waniyama, the pink crocodile featured on the titular character's favorite snack, attended the ceremony. The two received special certificates marking the occasion, and were happy to pose for the camera.


After the ceremony concluded, the two immediately went shopping for goods in the store. They had a great time picking out some original merch, decorated with their own unique decorations.

As soon as the store opened, people flooded in! Everyone's eyes were glittering as they took in the sight of these new items, and everyone seemed to be having an incredible time. The colorful storefront also attracted plenty of attention, with countless people snapping commemorative photos.

©Yoshito Usui/Futabasha/Shinei/TV Asahi/ADK 2021
©Yoshito Usui/Futabasha/Shinei/TV Asahi/ADK

©臼井儀人/双葉社・シンエイ・テレビ朝日・ADK 2021
©臼井儀人/双葉社・シンエイ・テレビ朝日・ADK

Information

Chocobi Store

Pop Up Store Details:
Chocobi Store in SHIBUYA109
Event Period: August 2, 2021-August 11, 2021
Location: B1F Shibuya109 (2-29-1 Dogenzaka, Shibuya Ward, Tokyo)


Chocobi Store in Abeno Q's Mall
Event Period: August 16, 2021-August 31, 2021
Location: 1F Event Space at Abeno Q's Mall (1-6-1 Abeno-suji, Abeno Ward, Osaka)

Chocobi Store in LOFT Nagoya
Event Period: August 2, 2021-August 16, 2021
Location: 5F LOFT Nagoya (3-18-1 Sakae, Naka Ward, Nagoya) 

Chocobi Store in LOFT Shibuya
Event Period: August 2, 2021-August 19, 2021
Location: 6F LOFT Shibuya (21-1 Udagawa-cho, Shibuya Ward, Tokyo)

Chocobi Store in LOFT Sapporo

Event Period: August 16, 2021-August 31, 2021
Location: Esta 6F, LOFT Sapporo (North 5 Nishi 2-chome, Chuo Ward, Sapporo)

Chocobi Store in LOFT Kobe
Event Period: August 25, 2021-September 15, 2021
Location: 3F Kobe Hankyu Building (8-1-8 Onogara-dori, Chuo Ward, Kobe)

Campaign Details: https://www.bandai.co.jp/candy/chocobi/

Open Period: September 1, 2021 (Ends when all applicable products are gone.)

Official Site: https://www.shinchan-app.jp/chocobi202107/

The Crayon-Shin Chan Nohara Family Get Appointed as Official Restoration Supporters of Kumamoto

In an effort to help support of the restoration efforts in Kumamoto after the 2016 earthquake devastated the prefecture, the Nohara family from the popular manga and anime series Crayon Shin-chan have been appointed official Kumamoto Restoration Supporters. This begins with a PR campaign to help promote tourism in Kumamoto's city of Aso. To celebrate, Shin-chan himself visited the Kumamoto Prefectural Government on July 15.

Shin-chan's mother, Misae, was born and raised in Aso, Kumamoto, while himself and his father Hiroshi were both born in Akira Prefecture. Shin-chan considers Aso his second home, and all of this the reason behind the family's appointment as supporters. The manga series has raised money for Kumamoto numerous times in the past, including for the Crayon Shin-chan 25th Anniversary Exhibition which saw money raised for charity products donated towards relief efforts of the earthquake disaster. This year, the series joins hands with the prefecture once more.

The 2021 summer campaign is being carried with the slogan "I'm fine! ASO." The Nohara family will serve as PR characters to spread the word about Aso. This will include a digital stamp rally that will have people travelling around the prefecture on their smartphones. The app will be released in August, followed by campaign posters, pamphlets, and other promotional material rolling out.

When Shin-chan visited the local government office for his appointment as a supporter, he played the Nintendo Switch game Crayon Shin-chan: Ora to Hakase no Natsuyasumi – Owaranai Nanokakan no Tabi with officials, which also released on the same day. In the game you can visit lots of spots around Kumamoto such as Kumamoto Station, Kusasenri Observatory, Tsujun Bridge, Aso Station, and more.


©臼井儀人/双葉社・シンエイ・テレビ朝日・ADK
©2010熊本くまモン

 ⒸNeos Corporation
Nintendo Switchのロゴ・Nintendo Switchは任天堂の商標です。