BABYMETAL's Live DVD & Blu-ray 'LEGEND – S – BAPTISM XX -' Ranks No. 1 in Sales
BABYMETAL's live concert DVD and Blu-ray release LEGEND – S – BAPTISM XX – was released on August 1 and has reached number one on Oricon's music DVD and Blu-ray sales for August 13. This is their fifth release to do so, and their fourth time they have ranked first in the Blu-ray disc rankings, making them only the fourth female artists to do so.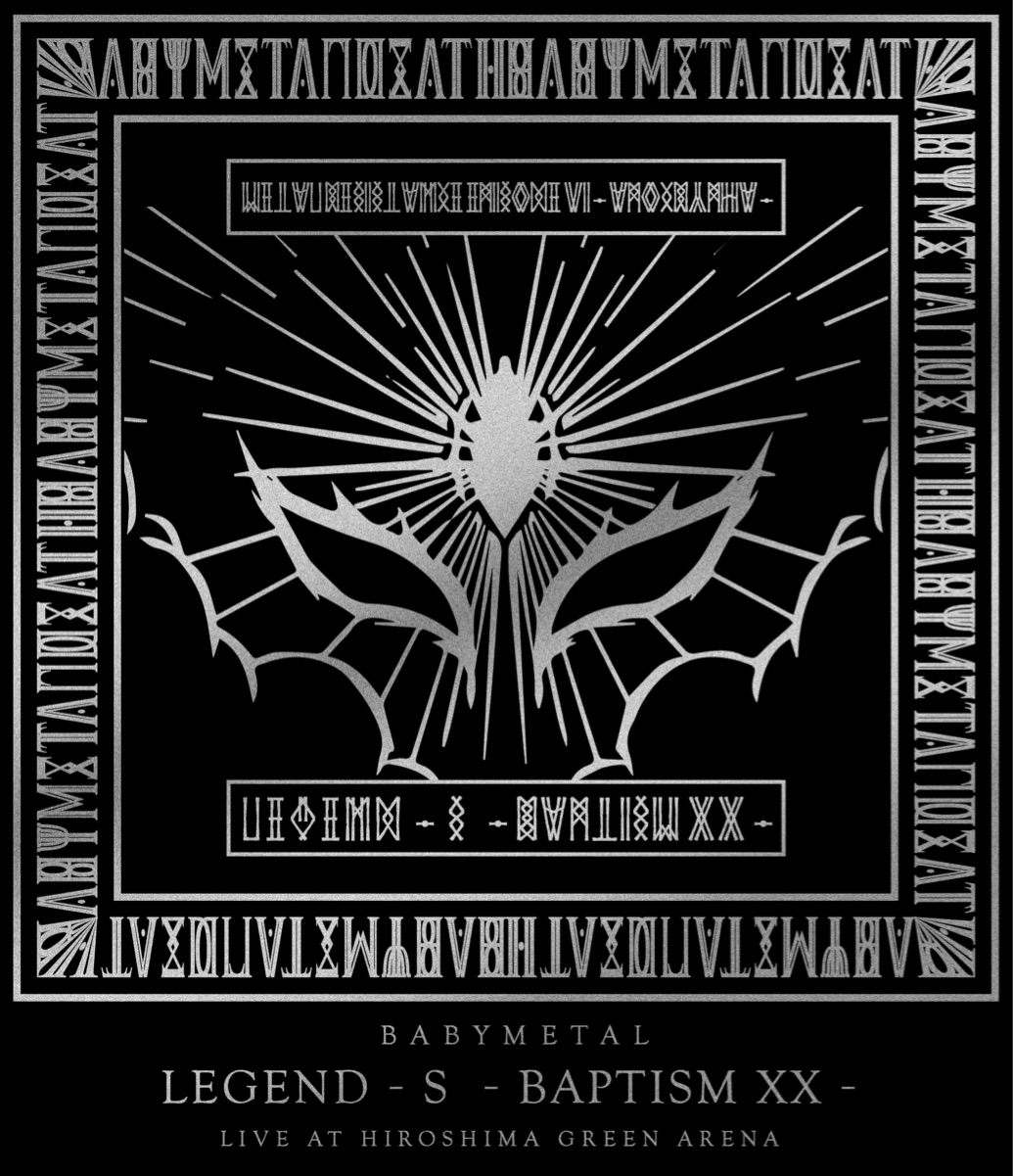 LEGEND – S – BAPTISM XX – features the footage of the band's LEGEND – S – Senrei no Gi –performance at Green Arena in Hiroshima on December 2 and 3 which was nearing vocalist Su-metal's 20th birthday. Fans celebrated with her at this sold out show which featured a 16-song set list.
BABYMETAL recently completed the Europe & US leg of their world tour which saw them perform at numerous rock festivals. They are readying themselves for the Japan leg which begins in October and will take them to Makuhari Messe Hall and Kobe World Memorial Hall.
■Information
BABYMETAL WORLD TOUR 2018 in JAPAN
Date: October 23, 2018 / October 24, 2018
Venue: Makuhari Messe Hall
Date: October 30, 2018 / October 31, 2018
Venue: Kobe World Memorial Hall
*Full details TBA.
Early bird tickets for the Japan leg of the tour are being prepared for the BABYMETAL member's site "THE ONE." Details will be posted on the band's official homepage and the member's site once they have been prepared. These early bird tickets are scheduled to go on sale mid-August.
"THE ONE" is the BABYMETAL member's site which people fan register to and use after purchasing the band's THE ONE (BIG TEE). Becoming a member gives you access to early bird tickets for shows, fan club only merchandise and more. Full details can be found here (Japanese).
BABYMETAL Live Blu-ray & DVD
LEGEND ‒ S ‒ BAPTISM XX – (LIVE AT HIROSHIMA GREEN ARENA)
Blu-ray: ¥8,000 (+Tax) [TFXQ-78162]
DVD:  ¥7,000 (+Tax) [TFBQ-18204]
*First Press Bonus: "- BAPTISM XX -" fan (subject to change)
BABYMETAL Official Website: http://www.babymetal.com
RELATED ENTRIES
BABYMETAL's Live at the Forum DVD & Blu-ray Tops Sales in Japanese Charts

BABYMETAL released their LIVE AT THE FORUM DVD and Blu-ray on May 13 which has gone and ranked in at number one on Oricon's Weekly Music DVD & Blu-ray Disc charts for the May 25 selection. This is the band's 6th release to reach number one on these charts, following LIVE AT BUDOKAN ~RED NIGHT & BLACK NIGHT APOCALYPSE~ on January 19, 2015. They stand alongside behemoth female acts such as Perfume who have reached number one in this category.

LIVE AT THE FORUM features the full 15-song set of BABYMETAL's concert "METAL GALAXY WORLD TOUR LIVE AT THE FORUM" which took place at in front of 17,500 fans at The Forum in Los Angeles on October 11, 2019. Their first US arena show to date, the show was part of their METAL GALAXY WORLD TOUR to promote their third studio album METAL GALAXY which released three days prior to the show on October 8.

Last year saw BABYMETAL take their "METAL GALAXY WORLD TOUR" around the globe. At the end of the tour, the band returned home to Japan for several shows, including two at Saitama Super Arena on November 16 and 17 and Osaka-jo Hall on November 20 and 21. These Japan shows are to be released on a new Blu-ray titled METAL GALAXY WORLD TOUR IN JAPAN and are now available in limited copies to members of the band's fan club THE ONE. Pre-orders are set to close on May 21, 2020 at 23:59 (JST).

BABYMETAL Announces Live at Wembley Stream On YouTube

Back on April 2, 2016, BABYMETAL performed their first ever arena show outside Japan at The SSE Arena, Wembley in London. Fans will now have the opportunity to relive that concert as BABYMETAL has announced that "LIVE AT WEMBLEY" will be released on their official YouTube channel on May 10, 2020 at 23:00 (JST).

The SSE Arena, Wembley has welcomed some of the biggest names in music history from The Beatles to T.Rex, The Rolling Stones, Bon Jovi, Pink Floyd, and more. BABYMETAL hails as the first Japanese artist to perform there.

LIVE AT WEMBLEY – ONLINE LIVE – Trailer

BABYMETAL recently streamed their "LIVE AT TOKYO DOME" show which was watched by fans around the world. The trailer for their "LIVE AT WEMBLEY – ONLINE LIVE" invites fans to don their BABYMETAL T-shirts, make the Fox God sign, and rock out at home. Additionally, for 24 hours, BABYMETAL is restocking some of their old merch online.

BABYMETAL to Participate in YouTube Music Week Stay Home #WithMe Project

BABYMETAL have been announced as part of the line-up for YouTube Japan's upcoming "Music Week Stay Home #WithMe" program which is set to run from April 29, 2020 to May 6, 2020, dates which run through Japan's Golden Week.


The program is being held in collaboration with record labels and popular music artists in Japan. 49 acts are confirmed for the line-up, each of which will stream past live performances at scheduled times using YouTube Premiere on their official YouTube channels.


BABYMETAL are set to post the second night of their "BABYMETAL – LIVE AT TOKYO DOME – BLACK NIGHT" concert held at Tokyo Dome on September 20, 2016. It will be posted on May 1, 2020 at 20:30 (JST).

BABYMETAL – LIVE AT TOKYO DOME – BLACK NIGHT
Premiering: May 1, 2020 at 20:30 (JST)

YouTube Music Week Stay Home #WithMe
*The timetable will be posted on YouTube Japan's official Twitter page.

Use this time to listen to music from your favourite acts in Japanーor perhaps to discover new artists!

Information

YouTube Music Week "Stay Home and Listen #With Me"
Running: April 29, 2020 – May 6, 2020

Taking Place: On artist's official YouTube channels
BABYMETAL Official YouTube Channel: https://www.youtube.com/BABYMETALofficial

BABYMETAL Announce Blu-ray Release 'METAL GALAXY WORLD TOUR IN JAPAN'

Last year saw BABYMETAL take their "METAL GALAXY WORLD TOUR" around the globe. At the end of the tour, the band returned home to Japan for several shows, including two at Saitama Super Arena on November 16 and 17 and Osaka-jo Hall on November 20 and 21. These Japan shows are to be released on a new Blu-ray titled METAL GALAXY WORLD TOUR IN JAPAN and will be available in limited copies to members of the band's fan club THE ONE.

BABYMETAL dropped their 3rd album METAL GALAXY worldwide on October 11, 2020. They promoted it with an enormous tour including their biggest US run to date with 20 showsーincluding their legendary arena show in Los Angeles on the same date as the album's releaseーas well as 17 dates in 11 countries across Europe.

British rock band Bring Me The Horizon joined BABYMETAL for the Japan leg of the METAL GALAXY tour. Their return to Japan gave rise to some seriously electrifying shows performed on an incredible triangular stage with massive LED screens and immersive lighting. The 1 and a half hour sets featured plenty of music from their new record, including DA DA DANCE (feat. Tak Matsumoto) and PA PA YA!! (feat. F.HERO).

The METAL GALAXY WORLD TOUR IN JAPAN Blu-ray will feature the full 14 track set list with footage compiled and edited together from both the Saitama Super Arena and Osaka-jo Hall venues.

BABYMETAL celebrate their 10th anniversary this year. If you're a member of THE ONE, be sure to pick up a copy of the Blu-ray for your collection.

Information

"METAL GALAXY WORLD TOUR IN JAPAN" Blu-ray (Exclusive to THE ONE members)

Price: ¥18,000 (Before Tax)

Stock Number: ONEB-0025

*This Blu-ray is exclusive to members of BABYMETAL's fan club THE ONE.

*Blu-ray does not include performance footage of the support acts.

Orders

Order Window: April 24, 2020 at 18:00 (JST) – May 21, 2020 at 23:59 (JST)

*This product is made-to-order and will not be available to order again after May 21, 2020 at 23:59 (JST)

Delivery Window: From July 16, 2020

Product Page: https://www.asmart.jp/p_90018385

BABYMETAL Official Website: http://www.babymetal.com

BABYMETAL Release Trailer For Live DVD & Blu-ray of Their Performance at The Forum in Los Angeles

BABYMETAL just dropped a trailer on their official YouTube channel for their upcoming live DVD & Blu-ray release LIVE AT THE FORUM which will hit shelves on May 13, 2020.

LIVE AT THE FORUM features the full set of BABYMETAL's concert "METAL GALAXY WORLD TOUR LIVE AT THE FORUM" which took place at The Forum in Los Angeles on October 11, 2019. Their first US arena show to date, the show was part of their METAL GALAXY WORLD TOUR to promote their third studio album METAL GALAXY which released three days prior to the show on October 8.

The trailer features scenes and highlights of the exciting "Metal Galaxy" themed night at The Forum, a venue which has welcomed countless rock and pop acts, such as The Rolling Stones, The Jackson 5, Elvis Presley, and many more.

BABYMETAL – LIVE AT THE FORUM Trailer

A programme will air on WOWOW Live on March 15 at 21:00 (JST) entitled BABYMETAL Live Selection – Odyssey to the METAL GALAXY – which will feature a compilation of BABYMETAL's live performances taken from the 8th chapter of the Metal Resistance. Their epic show at Makuhari Messe will also be shown in April and May.

Information

LIVE AT THE FORUM

Release Date: May 13, 2020

Set List: 15 Songs

Blu-Ray: ¥7,000 (Before Tax)/ ¥7,700 (After Tax) Catalog Number: TFXQ-78181

DVD: ¥6,000 (Before Tax) / ¥6,600 (After Tax) Catalog Number: TFBQ-18224

LIVE AT THE FORUM – THE ONE LIMITED EDITION –

Contents: Blu-Ray (1 Disc, 15 Songs), Live CDs (2 Discs, 15 Songs), APOCALYPSE (64 Pages *Subject to change)

THE ONE Limited Edition: ¥18,000 (Before Tax)/ ¥19,800 (After Tax) Catalog Number: ONEB-0023

Order Window: January 25, 2020 at 11:30 (JST) – March 17, 2020 at 12:00 (JST)

Buy: https://www.asmart.jp/p_90017126

*THE ONE LIMITED EDITION is limited to members of the official BABYMETAL fan club THE ONE

BABYMETAL Official Website: https://www.babymetal.com/en/

Concert Review: BABYMETAL Send 50,000 Fans in Tokyo Into the Metal Galaxy at Makuhari Messe

BABYMETAL's first solo performance of 2020 took place over the weekend on January 25 and 26 at Makuhari Messe International Exhibition Hall in Tokyo. The two concerts were added as extra shows to the Japanese leg of their ongoing "METAL GALAXY WORLD TOUR." They performed for close to 50,000 fans across the two nights, which were filled with anticipation and excitement, and were a display to Japanese fans of the band's honed performance skills as a result of playing around the world.

BABYMETAL released their third studio album METAL GALAXY worldwide simultaneously on October 11, 2019 which they promoted with a US tour, their biggest to date with 20 concerts, which included a performance at The Forum in Los Angeles, USーtheir first arena show in America. They followed the promotion up in November last year with a Japanese leg to the tour, with the Makuhari Messe gigs which took place over the weekend being additions to that leg. Both days sold out all tickets.

Today, we take a look at those two shows, which precede the upcoming European leg of their tour. BABYMETAL threw out the idea of a generic set list with these concerts, instead option for performing both discs from METAL GALAXY, one for each night respectively.

Photo by Taku Fujii

Photo by Taku Fujii

On the first night, Saturday January 25, the theme of the concert was "Power of Light." BABYMETAL's set focused on the songs on the first disc of METAL GALAXY. The performance began with the album's opening track, FUTURE METAL, which at the same time as it begin, the giant LED screens materialised visuals of a metal galaxy, pulling fans space-bound into the galactic world of BABYMETAL.

This was followed by DA DA DANCE (feat. Tak Matsumoto) which saw the members finally step onto stage where they were met with a surge of applause and cheers from fans. They continued with hit tracks Elevator and Shanti Shanti Shanti. And for the first time ever, they performed Oh! MAJINAI (feat. Joakim Brodén) live, during which Sabaton vocalist Joakim Brodén appeared on the LED screens. This was a video made in collaboration with the Sabaton frontman, and served to send the crowd into even greater excitement.

Photo by Takimoto "JON…" Yukihide

Photo by Takimoto "JON…" Yukihide

Other songs played live for the first time included Brand New Day (feat. Tim Henson and Scott LePage), during which the members' silhouettes reflected onto screens as they danced, captivating the crowd, as well as Night Night Burn! which featured flamenco and samba-inspired choreography.

As the gig sped towards its climactic conclusion, BABYMETAL performed the epic track THE ONE, which as the name of the song suggests had the band and the fans come together as one. A lore-packed video was shown during the performance which featured the Avengersーthe dancers who tour with BABYMETALーcoupled with the Kami Band and their thrilling sound. This saw the excitement in the room went from a kindled flame to an outright blaze, and subsequently a fiery eruption when they played Road of Resistance.

Photo by Takimoto "JON…" Yukihide

For night two, on January 26, the theme was "Power of Darkness," which saw BABYMETAL perform 12 songs form the second disc of METAL GALAXY. Day one was supported by the "Eastern Kami Band," but for the second day, fans were greeted by the heavy sound of the "Western Kami Band." BABYMETAL and the Avengers came onto the stage across the flower-decorated floor, beginning the night with IN THE NAME OF.

Photo by Takimoto "JON…" Yukihide

During Distortion (feat. Alissa White-Gluz), the LED screen was dyed a bright-red yellow, and SU-METAL, saying nothing, gazed out into the crowd with a fierce gaze. It was an immersive experience like being in a movie.

PA PA YA!! (feat. F.HERO) followed, which incorporated the use of a moving stage, sending the band towards the audience as fans swung their towels overhead. The Kami Band slowed things down with the flowing, chill groove of Kagerou, after which BABYMETAL performed BxMxC live for the first time which featured rapping parts, combining to create a metal-rap amalgamation.

After playing Syncopation and Headbangeeeeerrrrr!!!!!, BABYMETAL sent the crowd into quiet captivation with Starlight and some enchanting stage lights, as well as the beautiful Shine. Arkadia marked the move towards the final act of the show, just as the song serves as the final track of METAL GALAXY.

Photo by Takimoto "JON…" Yukihide

Some time was set aside to show the same story video as in day one featuring the three Avengers and the two Kami Bands. It was then that the intro to Ijime, Dame, Zettai rang in, and the crowd split into wall of death formation. Moa-metal and the Adventures performed their iconic dash, and then all five of them, with Su-metal included, took to the centre stage to jump together with the fans. Thus concluded the two light and dark-themed concerts performed over the course of two days, and the fans' journey into the Metal Galaxy.

Photo by Taku Fujii

2020 marks the 10th anniversary since the band formed. Be sure to catch them on the road in a city near you as the European leg of the METAL GALAXY WORLD TOUR begins in early February. Check the dates below.

Information

METAL GALAXY

Release Date: October 11, 2019

Limited Edition SUN – Japan Complete Edition (2 CDs+Vinyl Size Jacket): ¥4,500 (Before Tax) [TFCC-86684]

Limited Edition MOON – Japan Complete Edition (2 CDs+Vinyl Size Jacket): ¥4,500 (Before Tax) [TFCC-86685]

Limited Edition – Japan Complete Edition (2 CDs+DVD): ¥4,200 (Before Tax) [TFCC-86686]

Regular Edition – Japan Complete Edition (2 CDs): ¥3,500 (Before Tax) [TFCC-86687]

Vinyl Edition – Japan Complete Edition (2 Vinyls): ¥5,000 (Before Tax) [TFJC-38037]

METAL GALAXY Special Website: https://www.toysfactory.co.jp/artist/babymetal/metalgalaxy20191011/

METAL GALAXY WORLD TOUR

2020/2/3 @ Fryhuset, Stockholm, Sweden

2020/2/4 @ Sentrum Scene, Oslo, Norway

2020/2/5 @ Vega Main Hall, Copenhagen, Denmark

2020/2/8 @ Groß Freiheit 36, Hamburg, Germany

2020/2/9 @ Éysé Montmartre, Paris, France

2020/2/11 @ Gasometer, Vienna, Austria

2020/2/13 @ Carlswerk Victoria, Cologne, Germany

2020/2/14 @ Huxleys, Berlin, Germany

2020/2/16 @ AB, Brussels, Belgium

2020/2/17 @ 013, Tilburg, Netherlands

2020/2/19 @ Barrowland, Glasgow, UK

2020/2/20 @ The Great Hall, Cardiff, UK

2020/2/22 @ O2 Apollo, Manchester, UK

2020/2/23 @ Eventim Apollo, London, UK

2020/2/26 @ House of Culture, Helsinki, Finland

2020/2/28 @ M1, Saint Petersburg, Russia

2020/3/1 @ Adrenaline Stadium, Moscow, Russia

2020/3/22 @ GMM LIVE HOUSE, Bangkok, Thailand

2020/3/27 @ KL Live, Kuala Lumpur

2020/3/29 @ Basket Hall Senayan, Jakarta

2020/4/3 @ NTU Sports Center 1F, Taipei

2020/5/16 @ PULP SUMMER SLAM FESTIVAL, MALL OF ASIA ARENA, Manila

2020/6/5~2020/6/7 @ Rock am Ring 2020, Germany

2020/6/8 @ Stodola, Warsaw, Poland

2020/6/11~2020/6/13 @ Greenfield Rock Festival, Switzerland

2020/6/14 @ Download Festival 2020, Donington Park, UK

2020/6/17 @ Tivoli Ronda, Utrecht, Netherlands

2020/6/19 @ Graspop Metal Meeting, Belgium

2020/6/21 @ Hellfest, France

2020/6/23 @ La Riviera, Madrid, Spain

2020/6/24 @ Razzmatazz, Barcelona, Spain

BABYMETAL Official Website: http://www.babymetal.com/

BABYMETAL To Release Their First Arena Performance in North America on Blu-Ray and DVD

BABYMETAL's first one-band world tour of 2020 is sky-rocketing onwards. They just performed at Makuhari Messe International Exhibition Hall on January 25 and 26, which were extra performances added to the Japan leg of their tour. BABYMETAL have now surprised fans with the announcement of a full live video of their performance METAL GALAXY WORLD TOUR LIVE AT THE FORUM at Los Angeles which took place on October 11, 2019. The concert took place at the same time as the release of their third album METAL GALAXY and marked their first ever arena performance in North America.

The sound of rock and pop music has been resonating through the walls of The Forum for many years. With a capacity of approximately 17,500 people, it is here that the metal sound waves of BABYMETAL's sold out live performance broke the sound barrier.

 

BABYMETAL reigned over the stage before the excited audience, performing a total of 15 songs starting with DA DA DANCE (feat. Tak Matsumoto), for which the music video was released just last year. They also performed other big hits such as Shanti Shanti Shanti and PA PA YA!! (feat. F.HERO). BABYMETAL are making history. If you're a fan who couldn't see them live, this is your chance.

Information

LIVE AT THE FORUM

Release Date: May 13, 2020

Contains: 15 Songs

Blu-Ray: ¥7,000 (Before Tax)/ ¥7,700 (After Tax) Catalog Number: TFXQ-78181

DVD: ¥6,000 (Before Tax) / ¥6,600 (After Tax) Catalog Number: TFBQ-18224

THE ONE Limited Edition: ¥18,000 (Before Tax)/ ¥19,800 (After Tax) Catalog Number: ONEB-0023

Title: LIVE AT THE FORUM – THE ONE LIMITED EDITION –

Contents: Blu-Ray (1 Disc, 15 Songs), Live CDs (2 Discs, 15 Songs), APOCALYPSE (64 Pages *Subject to change)

Orders

ASMART Artist Online Shop

https://www.asmart.jp/p_90017126 

Order Period: January 25 (11:30) – March 12 (23:59), 2020

BABYMETAL LIVE AT THE FORUM Purchase Links:

Pre-orders and Purchase Bonuses

Available for products TFXQ-78181 and TFBQ-18224

・Pre-order bonus: B3 Poster
*Obtain by reserving before April 5, 2020 (23:59)

・amazon Bonus: Lanyard 

・ASMART Bonus: A5 Clear File
・TOY'S STORE Bonus: Badge
・Purchase from other shops to receive an original BABYMETAL postcard
*Bonus item designs will be revealed in the future. 

BABYMETAL Official Website: http://www.babymetal.com/

BABYMETAL Release 'DA DA DANCE' Music Video Compiling World Tour Footage

BABYMETAL just dropped a music video for DA DA DANCE (feat. Tak Matsumoto) which is taken from their third studio album METAL GALAXY.

The video features live footage taken from two concerts: their first US arena show at The Forum in Los Angelesーwhich took place on the same day that METAL GALAXY hit shelves on October 11, 2019ーand their live shows in Japan this month for the Japan leg of their world tour.

BABYMETAL – DA DA DANCE (feat. Tak Matsumoto) (OFFICIAL)

METAL GALAXY dominated the international music charts when it was released. It made it to 13th place on the Billboard Top 200 in the US, and on the same day, BABYMETAL also reached No. 1 on Billboard Top Rock Albums, making them the first Japanese act to do so. METAL GALAXY also stands as the band's second album to make it into the Top 20 of the UK's Official Charts for Rock & Metal Albums, coming in at No. 1, beating their own record and setting the record for Japanese artists. The album debuted at No. 3 on the Oricon Weekly Chart in Japan and dominated the iTunes charts in Japan, the UK, US, and elsewhere around the world.

BABYMETAL are knee-deep in their world tour, with two shows entitled "LEGEND – METAL GALAXY / METAL GALAXY WORLD TOUR EXTRA SHOW" also planned in Japan to take place at the famous Makuhari Messe International Exhibition Hall on January 25 and 26 next year.

They will embark on the Asia and European legs of their tour in February which will include appearances at multiple rock festivals. The full tour schedule can be found below.

Information

METAL GALAXY

Release Date: October 11, 2019

Limited Edition SUN – Japan Complete Edition (2 CDs+Vinyl Size Jacket): ¥4,500 (Before Tax) [TFCC-86684]

Limited Edition MOON – Japan Complete Edition (2 CDs+Vinyl Size Jacket): ¥4,500 (Before Tax) [TFCC-86685]

Limited Edition – Japan Complete Edition (2 CDs+DVD): ¥4,200 (Before Tax) [TFCC-86686]

Regular Edition – Japan Complete Edition (2 CDs): ¥3,500 (Before Tax) [TFCC-86687]

Vinyl Edition – Japan Complete Edition (2 Vinyls): ¥5,000 (Before Tax) [TFJC-38037]

METAL GALAXY Special Website: https://www.toysfactory.co.jp/artist/babymetal/metalgalaxy20191011/

METAL GALAXY WORLD TOUR IN JAPAN EXTRA SHOW LEGEND – METAL GALAXY

Dates: January 25, 2020 / January 26, 2020

Venue: Makuhari Messe International Exhibition Hall

Times: January 25th – Doors 16:30, Start 18:30 / January 26th – Doors 15:00, Start 17:00

Ticket Pre-Sales – 3rd Round
Running: December 16, 2019 at 18:00 (JST) – December 23, 2019 at 23:59 (JST)
Purchase: https://l-tike.com/babymetal/

METAL GALAXY WORLD TOUR

2019/9/4 @ Hard Rock Live, Orlando, Florida

2019/9/6 @ Coca Cola Roxy, Atlanta, Georgia

2019/9/8 @ The Anthem, Washington D.C., Washington

2019/9/11 @ House of Blues, Boston, Massachusetts

2019/9/13 @ The Fillmore, Philadelphia, Pennsylvania

2019/9/15 @ Terminal 5, New York City, New York

2019/9/18 @ The Fillmore Detroit, Detroit, Michigan

2019/9/20 @ Aragon Ballroom, Chicago, Illinois

2019/9/21 @ Myth Live Event Center, Saint Paul, Minnesota

2019/9/23 @ Uptown Theater, Kansas City, Missouri

2019/9/24 @ South Side Ballroom, Dallas, Texas

2019/9/27 @ Ogden Theatre, Denver, Colorado

2019/9/28 @ The Union Event Center, Salt Lake City, Utah

2019/9/30 @ House of Blues, Las Vegas, Nevada

2019/10/1 @ Marquee Theatre, Tempe, Arizona

2019/10/4 @ The Warfield, San Francisco, California

2019/10/11 @ The Forum, Los Angeles, California

2019/10/13 @ Sacramento, California (Aftershock Festival 2019, Discovery Park)

2019/10/15 @ Roseland Theater, Portland, Oregon

2019/10/16 @ The Paramount Theatre, Seattle, Washington

2020/2/3 @ Fryhuset, Stockholm, Sweden

2020/2/4 @ Sentrum Scene, Oslo, Norway

2020/2/5 @ Vega Main Hall, Copenhagen, Denmark

2020/2/8 @ Groß Freiheit 36, Hamburg, Germany

2020/2/9 @ Éysé Montmartre, Paris, France

2020/2/11 @ Gasometer, Vienna, Austria

2020/2/13 @ Carlswerk Victoria, Cologne, Germany

2020/2/14 @ Huxleys, Berlin, Germany

2020/2/16 @ AB, Brussels, Belgium

2020/2/17 @ 013, Tilburg, Netherlands

2020/2/19 @ Barrowland, Glasgow, UK

2020/2/20 @ The Great Hall, Cardiff, UK

2020/2/22 @ O2 Apollo, Manchester, UK

2020/2/23 @ Eventim Apollo, London, UK

2020/2/26 @ House of Culture, Helsinki, Finland

2020/2/28 @ M1, Saint Petersburg, Russia

2020/3/1 @ Adrenaline Stadium, Moscow, Russia

2020/3/22 @ GMM LIVE HOUSE, Bangkok, Thailand

2020/3/27 @ KL Live, Kuala Lumpur

2020/3/29 @ Basket Hall Senayan, Jakarta

2020/4/3 @ NTU Sports Center 1F, Taipei

2020/5/16 @ PULP SUMMER SLAM FESTIVAL, MALL OF ASIA ARENA, Manila

2020/6/5~2020/6/7 @ Rock am Ring 2020, Germany

2020/6/8 @ Stodola, Warsaw, Poland

2020/6/11~2020/6/13 @ Greenfield Rock Festival, Switzerland

2020/6/14 @ Download Festival 2020, Donington Park, UK

2020/6/17 @ Tivoli Ronda, Utrecht, Netherlands

2020/6/19 @ Graspop Metal Meeting, Belgium

2020/6/21 @ Hellfest, France

2020/6/23 @ La Riviera, Madrid, Spain

2020/6/24 @ Razzmatazz, Barcelona, Spain

BABYMETAL Official Website: http://www.babymetal.com/

Concert Review: BABYMETAL Return to Japan After US Tour With an Exhilarating Show

BABYMETAL returned to Japan for two nights on November 16 and 17 at Saitama Super Arena after their 20-date US tour which included their first-ever arena show in the States at The Forum in Los Angeles. Joining them for the Japan leg of their world tour, entitled "METAL GALAXY WORLD TOUR IN JAPAN," were British rock band Bring Me The Horizon, who served to make the show that much more electrifying.

BABYMETAL kicked off their set with FUTURE METAL, the lead track to their latest album, METAL GALAXY. Su-metal, Moametal, and one of their Avengersーthe name given to a trio of backup dancers rotating in place of Yuimetal who departed from the band last yearーstood atop a triangular stage, with a giant LED screen behind them and drowned in mesmerising lighting. With each song, the members pulled fans further and further into the Metal Galaxy.

It was clear for Japanese fans to see how much Su-metal and Moametal have grown in strength and confidence in their performances, having just completed their biggest US tour to date. The crowd in turn reacted with a surging excitement at the band's behemoth performance.

They continued with more songs from the new record, including DA DA DANCE (feat. Tak Matsumoto) and PA PA YA!! (feat. F.HERO), for a thrilling set that lasted an hour and a half.

BABYMETAL dropped their third studio album METAL GALAXY on October 11 and made it to 13th place on the Billboard Top 200 in the US. On the same day, BABYMETAL also reached No. 1 on Billboard Top Rock Albums, making them the first Japanese act to do so. METAL GALAXY also stands as the band's second album to make it into the Top 20 of the UK's Official Charts for Rock & Metal Albums, coming in at No. 1, beating their own record and setting the record for Japanese artists. The album debuted at No. 3 on the Oricon Weekly Chart in Japan and dominated the iTunes charts in Japan, the UK, US, and elsewhere around the world.

BABYMETAL recently added extra shows to the Japan leg of the tour. The additional concerts will take place at Makuhari Messe International Exhibition Hall on January 25 and 26 next year.

Credit: Taku Fujii

Information

LEGEND – METAL GALAXY

2020/1/25 @ Makuhari Messe International Exhibition Hall (Open 16:30/Start 18:30)

2020/1/26 @ Makuhari Messe International Exhibition Hall (Open 15:00/Start 17:00)

Tickets available on BABYMETAL's official website: http://www.babymetal.com/

BABYMETAL Collaborates On Fashion Designer Yohji Yamamoto's Ground Y Collection

2019 is the year of BABYMETAL, with their latest album METAL GALAXY having dropped in October and making them the highest Japanese group/artist to place on the Billboard Top 200 in the US in 56 years. As they continue knee-deep in their ongoing world tour, you might be wondering what else they have in the pipeline.

Well, we can confirm that for you right here and now: they have teamed up with internationally-lauded Japanese fashion designer Yohji Yamamoto on his revolutionary Ground Y collection which boasts a genderless and ageless style.

Pre-sales of the collection will take place at the new Shibuya PARCO which is set to open on November 22. This will be followed by sales at GINZA SIX, Laforet Harajuku, and the online store THE SHOP YOHJI YAMAMOTO.

The collection will bring together the unique world of BABYMETALーa band which has won love the world over and has featured as guest acts on many tours of international artistsーand Yohji Yamamoto, a rebel and innovator in the fashion industry whose DNA is woven into the Ground Y line. The inspiration for this jet black collaborative collection is "galaxy," an homage to BABYMETAL's latest record METAL GALAXY.

There are numerous items in the collection, including a jumbo cut and sewn embroidered with both the BMD FOX APPAREL logoーBABYMETAL's official apparel brandーand the Ground Y logo. There's also a big hoodie featuring a 360° print and BABYMETAL's logo, a draped silk satin long shirt, and more.

MASATOSHI YAMASHIRO snapped the photos in this photoshoot, a Tokyo-based photographer who started his career in LA and New York and works with fashion magazines, advertisements, and more.

Information

Ground Y feat.BABYMETAL "GALAXY" Collection

Items: Long Shirt / Shirt Dress / Jumbo Cut & Sewn / Big Cut & Sewn / Big Hoodie / Big Sweater

Prices: Cut & Sewn ¥25,000-¥28,000 / Hoodie ¥35,000 / Sweater ¥38,000 / Shirt Dress ¥110,000-¥120,000 (All prices tax-excluded)

Release Date: November 28, 2019 (Pre-sales bein at Ground T Shibuya PARCO on November 22, 2019)

▼SHOP INFO:

Ground Y GINZA SIX (Floor 4F, 6-10-1 Ginza, Chuo Ward, Tokyo)
Ground Y LAFORET HARAJUKU (Floor 1F, 1-11-6 Jingumae, Shibuya, Tokyo
Ground Y FaSoLa STARS (Narita International Airport 1, Passenger Terminal Central Building Floor 3F, Narita, Chiba)
Ground Y SHIBUYA PARCO (Floor 2F, 15-1 Udagawacho, Tokyo) *Opens November 22, 2019
THE SHOP YOHJI YAMAMOTO: http://theshopyohjiyamamoto.jp/JP/shop/c/c20

BABYMETAL's 'METAL GALAXY' Dominates International Music Charts

BABYMETAL dropped their third studio album METAL GALAXY on October 11, which it was revealed on Monday to have made it to 13th place on the Billboard Top 200 in the US. The ranking marks BABYMETAL as the highest Japanese group/artist to place on the charts in 56 years, beating Kyu Sakamoto's 14th place back in 1969, and also makes them the highest-ever charting Japanese female group/artist on the list. On the same day, BABYMETAL also reached No. 1 on Billboard Top Rock Albums, making them the first Japanese act to do so. 

BABYMETAL's great charting success dates back to 2016 when they dropped their second album METAL RESISTANCE, which placed No. 39 on Billboard's year-end US Top Hard Rock Albums charts, again marking 53 years since Ryu Sakamoto made it into the Top 40. But METAL GALAXY has beaten that record by a mile.

METAL GALAXY also stands as the band's second album to make it into the Top 20 of the UK's Official Charts for Rock & Metal Albums, coming in at No. 1, beating their own record and setting the record for Japanese artists. The album debuted at No. 3 on the Oricon Weekly Chart in Japan and dominated the iTunes charts in Japan, the UK, US, and elsewhere around the world.

BABYMETAL recently performed an electrifying show at The Forum in Los Angeles on the day the album was released, their first-ever US arena concert.

BABYMETAL will perform in Japan this November as part of the Metal Galaxy World Tour, with shows at Saitama Super Arena on the 16th and 17th and at Osaka-jo Hall on the 20th and 21st. They will be joined by British rock act Bring Me The Horizon who will perform as special guests at the already sold-out shows.

BABYMETAL recently added extra shows to the Japan leg of the tour. The additional concerts will take place at Makuhari Messe International Exhibition Hall on January 25 and 26 next year.

Information

METAL GALAXY

Release Date: October 11, 2019

Limited Edition SUN – Japan Complete Edition (2 CDs+Vinyl Size Jacket): ¥4,500 (Before Tax) [TFCC-86684]

Limited Edition MOON – Japan Complete Edition (2 CDs+Vinyl Size Jacket): ¥4,500 (Before Tax) [TFCC-86685]

Limited Edition – Japan Complete Edition (2 CDs+DVD): ¥4,200 (Before Tax) [TFCC-86686]

Regular Edition – Japan Complete Edition (2 CDs): ¥3,500 (Before Tax) [TFCC-86687]

Vinyl Edition – Japan Complete Edition (2 Vinyls): ¥5,000 (Before Tax) [TFJC-38037]

 

METAL GALAXY Special Website: https://www.toysfactory.co.jp/artist/babymetal/metalgalaxy20191011/ 

BABYMETAL Official Website: http://www.babymetal.com/jp/

BABYMETAL Thrill Los Angeles at The Forum With Their New Album 'METAL GALAXY'

BABYMETAL released their long-awaited third album METAL GALAXY worldwide on October 11, following up from their hit 2016 record Metal Resistance. On this same very day, the band performed their first ever highly-anticipated US arena show at The Forum in Madison Square Garden, Los Angeles.

A slew of artists, from the pop world to the rock world, have performed at the acclaimed venue The Forum. BABYMETAL hail as the first Japanese act to headline the area. The sold-out show saw an electrifying set list of 15 tracks, including songs from their new album such as Shanti Shanti Shanti and PA PA YA!! (feat. F.HERO).

The arena was equipped with a giant wide screen and moving centre stage, all of which BABYMETAL made full use off to pull fans into their Metal Galaxy. Every song was welcomed with cries of cheers and a thundering applause followed by plenty of moshing and fist pumping. It was a monumental night for both the band and their American fans due to the hype leading up to the show.

When METAL GALAXY launched last Friday, it show up to No. 1 on the iTunes metal chart and rock chart around the world, including the US, UK, France, Germany, Sweden and Japan. It also made it to No. 2 on several album charts in the US, UK and Japan.

BABYMETAL will perform in Japan this November as part of the Metal Galaxy World Tour, with shows at Saitama Super Arena on the 16th and 17th and at Osaka-jo Hall on the 20th and 21st. They will be joined by British rock act Bring Me The Horizon who will perform as special guests at the already sold-out shows.

BABYMETAL recently added extra shows to the Japan leg of the tour. The additional concerts will take place at Makuhari Messe International Exhibition Hall on January 25 and 26 next year.

Photos by Taku Fujii

Information

METAL GALAXY

Release Date: October 11, 2019

Limited Edition SUN – Japan Complete Edition (2 CDs+Vinyl Size Jacket): ¥4,500 (Before Tax) [TFCC-86684]

Limited Edition MOON – Japan Complete Edition (2 CDs+Vinyl Size Jacket): ¥4,500 (Before Tax) [TFCC-86685]

Limited Edition – Japan Complete Edition (2 CDs+DVD): ¥4,200 (Before Tax) [TFCC-86686]

Regular Edition – Japan Complete Edition (2 CDs): ¥3,500 (Before Tax) [TFCC-86687]

Vinyl Edition – Japan Complete Edition (2 Vinyls): ¥5,000 (Before Tax) [TFJC-38037]

METAL GALAXY Special Website: https://www.toysfactory.co.jp/artist/babymetal/metalgalaxy20191011/ 

BABYMETAL Official Website: http://www.babymetal.com/jp/