Peach Flavoured McShake Drops at McDonald's in Japan
A new limited edition peach flavoured McShake is going on sale at McDonald's restaurants across Japan from August 22. It's made with white peaches, yellow peaches and nectarines.
McDonald's Japan saw the 'McShake Momo & Momo' released last year which was made with the fruit juice of white and yellow peaches, but this year they've taken it up a notch and added another fruit into the punch.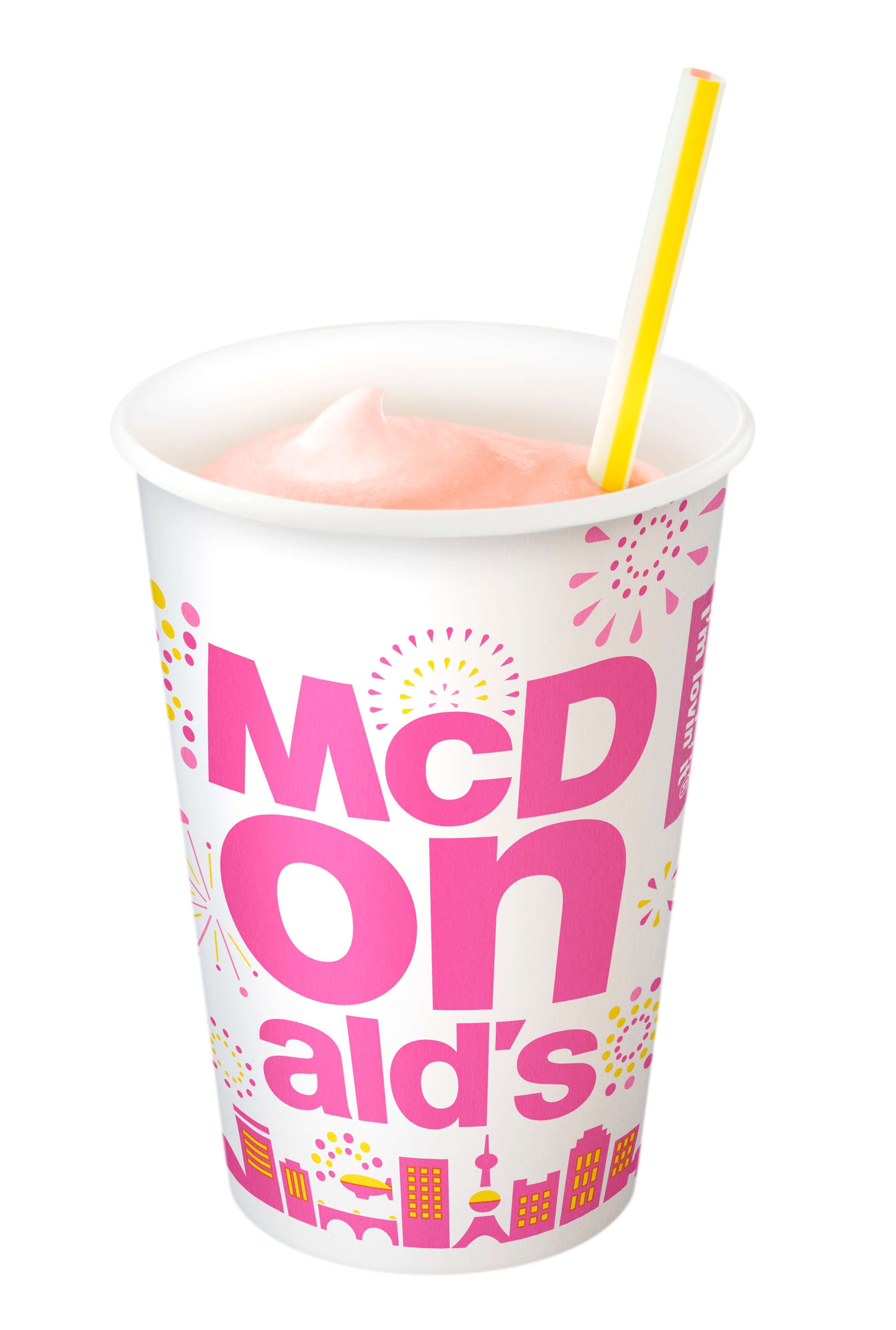 It's a refreshing mix of sweet and juicy white peach, richly sweet yellow peach, and sweet and sour nectarine. By mixing together the juice of these three fruits McDonald's have created the ultimate peach experience. This fruity beverage is perfect for summertime, made with that distinct creamy and delicious McShake flavour.
Additionally, all McShake's now come served in cups with a summertime firework design for a limited period of time.
Beat the heat in Japan with the new McShake at McDonald's!
■Information
3 Peach McShake
Available: August 22, 2018 – Mid-September (subject to change)
Location: McDonald's branches across Japan (select branches not participating)
Serving Time: 10:30am to closing (and until 1:00am at 24-hour branches)
Price: Small ¥120 / Medium ¥200
Website: http://www.mcdonalds.co.jp
RELATED ENTRIES
McDonald's Japan Releases Citron and Pistachio Flavoured Macarons at McCafé by Barista Branches

McCafé by Barista branches of McDonald's in Japan released two new flavours in their macaron series on Wednesdayーpistachio and citronーwhich will be served for a limited time until the end of August this year.

 
The pistachio and citron flavours join McCafé by Barista's colourful macaron series alongside vanilla, raspberry, and chocolate, which cost just ¥150 each.

The pistachio flavour is filled with a pistachio powder-dusted pistachio cream, giving the crunchy macaron a deliciously nutty flavour and fragrance.


The citron macaron is filled with a refreshing and sour lemon cream. Both of the new flavours are the perfect treat for the start of spring and going into the summer season. They're even better with one of McCafé by Barista's high quality coffees.



McCafé by Barista is also serving the "Special Macaron Set" for ¥500 which comes with any two macarons of your choice and a medium hot or iced latte.

Information

Macaron Pistachio / Macaron Citron

Serving: March 25, 2020 – Late August 2020 (subject to change)

Available: McCafé by Barista in Japan

McDonald's Japan Official Website: http://www.mcdonalds.co.jp/

McDonald's Japan Reveals White Chocolate Strawberry Latte and Frappe

McCafé by Barista branches of McDonald's in Japan are set to release three new drinks on February 26, 2020, for a limited time: the "White Chocolate Strawberry Frappe," "White Chocolate Strawberry Latte," and "Iced White Chocolate Strawberry Latte."

White Chocolate Strawberry Frappe – ¥490

The White Chocolate Strawberry Frappe is built up of a sauce made using fresh slices on strawberry and whipped cream, on top of which rests a refreshing milk base also mixed with strawberry sauce. Topping it all off is a squirt of fluffy whipped cream, a drizzle of strawberry sauce, and a sprinkling of white chocolate nibs. The aftertaste of this tasty dessert beverage leaves you feeling refreshed while satisfying your taste buds with its sweet flavour.

Iced White Chocolate Strawberry Latte – ¥390

White Chocolate Strawberry Latte – ¥390

The strawberry sauce and strawberry syrup used in the hot and iced versions of the White Chocolate Strawberry Latte are mixed together with fluffy foamed milk and cold milk to create a succulent strawberry milk. This is finished with whipped cream, more strawberry sauce, and plenty of white chocolate bits. Containing no coffee, these drinks enjoy the subtle sweetness of the white chocolate and the tangy-ness of the strawberry milk.

Refresh yourself this spring in Japan with a cup of McDonald's new White Chocolate Strawberry drinks.

McFlurry and KitKat Come Together in Long-Awaited Collaboration at McDonald's Japan

McDonald's Japan has teamed up with Nestlé Japan to release a KitKat® McFlurry®. It was released on Wednesday at all McDonald's branches in Japan.

It has been seven years since McFlurry® and KitKat® came together in their delicious chocolatey ice cream combination. It was such a hit back in 2007 that it has finally made its fabled return to the delight of sweet-tooth McDonald's customers.

The KitKat® McFlurry® is a simple combination of smooth soft serve ice cream and crushed KitKat®. It's also drizzled in a special sauce made from rich couverture chocolate.

The mix of the wafer-like chocolate KitKat® with the soft serve ice cream is a combination to die for, and the sauce only adds to the mouth-watering flavour.

The dessert will be served in limited-edition cups as pictured above. These cups are limited in stock and will discontinue once all are sold.

Information

McFlurry® KitKat®

Running: February 12, 2020 – Early March 2020 (subject to change)

Available: McDonald's in Japan (Select branches not participating)

Serving: All Day

Price: ¥290 (Tax Included)

*KITKAT and キットカット are registered trademarks of Nestlé Group.

McDonald's Japan Official Website: http://www.mcdonalds.co.jp/ 

McDonald's Japan McCafé by Barista Releases Oreo®︎ Drink Series You Can't Resist

In Japan, McDonald's McCafé by Barista will soon be releasing a new drink series that you won't be able to resist. The new series includes the Oreo®︎ Choco Frappé, Oreo®︎ Hot Café Mocha and Oreo®︎ Ice Café Mocha and it will be released on January 15 for a limited time only.

Mc Café by Barista has developed three new drinks based on their popular Choco Frappé and Café Mocha, to which they have added crunchy Oreo®︎ cookies. The series includes both hot and cold drinks, catering for a range of moods.

Oreo®︎ Choco Frappé

The Oreo®︎ Choco Frappé is back with a rich chocolatey flavour and mellow aroma. This high-quality sweet drink is accented by crunchy Oreo®︎ cookies. With your first sip, the bitter Oreo®︎ flavour will spread through your mouth.

Oreo®︎ Hot Café Mocha


Oreo®︎ Ice Café Mocha

The Oreo®︎ Hot and Ice Café Mochas are brand new drinks. Using their Café Mocha as a base, the drinks are topped with whipped cream, drizzled with a sauce made from high-quality Belgium couverture chocolate, and sprinkled with chocolatey Oreo®︎ cookie pieces. This enhanced Café Mocha is sweet and enjoys the crunchy and bitter goodness of Oreo®︎ cookies.

 If you're in Japan, pop into your nearest McDonald's and try one for yourself!

Information

Oreo®︎ Drink Series

Release Date: January 15, 2020

Prices:

Oreo®︎ Choco Frappé: ¥410 (M), ¥450 (L)

Oreo®︎ Hot Café Mocha: ¥320 (S), ¥360 (M)

Oreo®︎ Ice Café Mocha: ¥360 (M), ¥400 (L)

 

Official Website:http://www.mcdonalds.co.jp/coffee/top.php

McDonald's Japan Releases Their First Ever Dessert Pies Aimed at Adults

McDonald's Japan will release a creamy Belgian chocolate pie and creamy sweet fromage pie aimed at adults at McDonald's restaurants across Japan from Japan 15 for a limited time.

McDonald's Japan's pie series has proven to be very popular over the years. Other pie flavours in the series include the Hot Apple Pie from the regular menu, their limited-period Sankaku Choco Pie and Bacon Potato Pie. Now, McDonald's is set to crown their first pie of the year to be "made for adults". Both pies are packed with delicious and carefully made cream – the perfect petit treat.

The Belgian chocolate cream pie is made from a crunchy pie shell that was kneaded with cocoa powder. The hollow shell is stuffed tightly with Belgian chocolate and is bursting with chocolatey goodness. There is a perfect balance of sweetness and bitterness. 

The sweet cream fromage pie is made from a crunchy shell that was kneaded with parmesan cheese. The pie shell is then filled with cream cheese. In just one delightful bite, enjoy the flavour of parmesan and cream cheese as they blend together. The aftertaste of the parmesan perfectly balances out with the sweet and salty touch of the cream cheese. 

For the first time, McDonald's is even presenting these desserts in packaging that looks like it is aimed at adults. 

The desserts look just as good as they taste so hurry down to your nearest McDonald's for a delicious and crunchy adventure.

Information

Otona no Cream Pie: Belgian Chocolate 

Otona no Cream Pie: Sweet Fromage

Selling: January 15, 2020 – Early February (Subject to Change) 

Selling throughout restaurant operating hours

Price: ¥150 (After Tax)

Available at most McDonald's restaurants across the country 

McDonald's Japan Official Website: http://www.mcdonalds.co.jp/

McDonald's Japan to Release Premium Raspberry White Chocolate Frappe at McCafé by Barista Branches

McDonald's Japan has revealed its new "Premium Raspberry White Chocolate Frappe" beverage which will go on sale at McCafé by Barista branches of McDonald's from December 18 for a limited time.

The drink is part of McCafé by Barista's hugely popular "Premium Chocolate" beverage series, featuring a red and white contrast as part of the holiday season.

A cup of this frappe contains a a specially made frappe sauce which is a mix of white chocolate sauce and milk. Added to that is a raspberry sauce. It's topped with creamy whipped cream and thin and crunchy white chocolate shavings and finished with two chocolate sticks made from a mix of cocoa beans from West Africa including Ghana. The milky white chocolate frappe goes deliciously well with the sweet and sour raspberry. A fitting drink for the holiday season.

Information

Premium Raspberry White Chocolate Frappe

Running: December 18, 2019 – Mid January 2020 (Subject to change)

Price (Tax Included): Regular ¥490 / Large ¥530

Available: at McCafé by Barista branches of McDonald's in Japan

McDonald's Japan Official Website: http://www.mcdonalds.co.jp/

McDonald's to Make Our Dreams Come True with Oreo® Roll Cake

McDonald's Japan is set to grant the Christmas wishes of the Oreo® craving population by announcing its limited-time Oreo® Roll Cake, which will be sold at McDonald's branches across Japan that own a McCafé by Barista from December 4. 

A thick, fluffy blanket of bitter cocoa sponge cake cradles a melt-in-the-mouth cream mixture studded with cocoa cookies. The cake is topped with a bed of crunchy oreo biscuits. Each mouthful will deliver the crunchiness of the cookies, smooth cream and soft sponge all in one go. 

Make the most of your Oreo® Roll Cake experience by going for the ¥500 cake set which includes a medium café latte or americano (hot or cold) and your choice of cake. McDonald's is still selling their popular Marshmallow Cream Tart and Raspberry and Chocolate Cupcake, which can also be ordered as part of the deal. There's no better way to enjoy a cake than with a soul-reviving cup of McDonald's coffee so we highly recommend you take advantage of the deal, which is running until January 14, 2020. 

Information

Oreo® Roll Cake

Price: ¥340 After Tax

Available: December 4, 2019 – End of March, 2020

Selling At: McDonald's Restaurants across Japan with a McCafé by Barista

*Please check the McDonald's Japan Official Website for more information.

Selling Times: During McCafé by Barista Running Hours. *Varies from restaurant to restaurant.

McDonald's Japan to Release Pink Triangular Strawberry and Chocolate Pie

McDonald's Japan is releasing a new strawberry flavour of its popular triangular chocolate pie dessert on December 4, 2019: the Sankaku Choco Pie Amaou.

The chocolate pies have a crunchy exterior made up of layers and layers of delicious pastry. They're filled with warm, melted chocolate to complete the tempting treat.

The new flavour is made with strawberry powder made from Japanese amaou strawberries which are known for their distinct flavour and subtle sweetness and sourness. McDonald's Japan released an ordinary strawberry flavour last year, but this one promises to be even richer in flavour.

The choco pies will be released in a special pink strawberry packaging for a limited time.

McDonald's is also still selling the Sankaku Choco Pie Black which we covered last month. It contains almonds and sweet melted chocolate cream. These are also available for a limited time onlyーuntil late Decemberーso don't miss out on these McDonald's-exclusive treats!

Information

Sankaku Choco Pie Amaou

Running: December 4, 2019 – Early January 2020 (subject to change)

Price: ¥150 (Tax Included)

Available: At most McDonald's branches around Japan

McDonald's Japan Official Website: http://www.mcdonalds.co.jp/

McDonald's Releases Luxuriously Chocolatey Winter Drinks

McDonald's McCafé by Barista serves up delicious coffee around the clock. From November 27, a heart-warming, chocolatey lineup will be arriving in McDonald's restaurants across the country which own a McCafé by Barista. The four new drinks to spice up your winter are: the Premium White Chocolate Frappé, Premium Chocolate Frappé, Premium Hot Chocolate and the Premium Iced Chocolate.


Whether it's a frappé, hot drink or an iced drink, pick your favourite to match your mood.


The Premium White Chocolate Frappé consists of white chocolate sauce and milk mixed with smashed pieces of chocolate. The drink is topped with whipped cream and chocolate sauce made from high-quality couverture chocolate. Finally, two chocolate sticks garnish the drink.White chocolate shavings dust the drink, creating the wonderfully wintery image of snow. Take a sip of this high-quality, Instagram-worthy drink to enjoy the chocolate melt in your mouth. The pieces of chocolate floating in the drink will add a wonderful texture to your experience.

From the left: Premium Iced Chocolate, Premium White Chocolate Frappé, Premium Chocolate Frappé, Premium Hot Chocolate.

 

The Premium Chocolate Frappés, Premium Hot Chocolate and Premium Iced Chocolate drinks are just as luxurious as the Premium White Chocolate Frappé and enjoy the same beautiful toppings.

 

Get in the winter spirit with one of McCafé by Barista's luxurious, winter-limited drinks.  

*The above images are not real and are representations of what the drink will look like. 

Information

Premium White Chocolate Frappé 

Price: ¥490 (M), ¥530 (L) 

Available: November 27 – mid December 2019 (Subject to change)

Premium Chocolate Frappé 

Price: ¥490 (M), ¥530 (L)

Premium Hot Chocolate 

Price: ¥450 (M)

Premium Iced Chocolate 

Price: ¥450 (M)

Available: November 27 – mid January 2020 (Subject to change)

*All prices above are tax included.

*Available to purchase from McDonald's restaurants across Japan which have a McCafé by Barista.

*Find out more information about McDonald's restaurants on their official store locator: http://www.mcdonalds.co.jp/coffee/top.php

*The drinks can only be purchased during McCafé by Barista running times. The running times vary from restaurant to restaurant.

McDonald's Japan to Release Hot Cinnamon Melts Dessert For Wintertime

Roll up to McDonald's in Japan from November 20 to enjoy the return of the delicious Cinnamon Melts dessert, coming to all branches across the country.

McDonald's Melts series is a popular dessert in Japan. It introduced the new Double Chocolate Melts earlier this year. Customers have been waiting for the return of the elusive Cinnamon Melts since 2017, the first time the flavour made an appearance in seven long years. Well, their wish has finally come true. Look forward to tucking into soft pastry glazed with cinnamon sugar and drizzled in a sweet cream cheese syrup.

When customers open a box of these delicious delights, their noses are met with the tempting cent of cinnamon. Served warm, they are the perfect choice for tackling the harsh cold weather.

Compare their test with the Double Chocolate Melts which were released on November 6 and are still available for a limited time, or pair them with a cup of Premium Roast Coffee which the fast food chain revamped this year with a richer and more delicious flavour.

Information

Cinnamon Melts
Price: ¥300 (Tax Included)

Running: November 20, 2019 – Late January 2020 (Subject to change)

Available: At most McDonald's branches in Japan

*Price may vary from branch to branch and for McDelivery

Double Chocolate Melts

Price: ¥330 (Tax Included)

Running: Now Until Late January 2020 (Subject to change)

Available: At most McDonald's branches in Japan

*Price may vary from branch to branch and for McDelivery

McDonald's Japan Official Website: http://www.mcdonalds.co.jp/

McDonald's Japan Unveils Marshmallow Cream Tart & Chocolate Raspberry Cupcake

McCafé by Barista branches of McDonald's Japan will release its new "Marshmallow Cream Tart" and "Chocolate Raspberry Cupcake" on November 6, both of which will be available for a limited time until the end of March 2020.

Marshmallow Cream Tart – ¥340

The tart has a dough base made from baked Graham crackers. It's layered with almond cream and chocolate ganache and topped with marshmallow that has been browned on the top. It offers a delicious variety of textures, from the smooth ganache to the sweet and fluffy cream and crunch tart base.

Chocolate Raspberry Cupcake – ¥340

The cute cupcake is a bitter dark chocolate decorated with a smooth sweet and sour raspberry cream.

You will be able to order either of these desserts as a set with either a regular size hot or iced Americano or latte until January 14, 2020 once they are released.

Information

Marshmallow Cream Tart & Chocolate Raspberry Cupcake

Running: November 6, 2019 – Late March 2020

Available: At McCafé by Barista branches of McDonald's in Japan

Official Website: http://www.mcdonalds.co.jp/shop/barista/

McDonald's Japan Unveils Crunchy Cookies and Cream Triangular Chocolate Pie

McDonald's Japan's deliciously-loved triangular chocolate pie is making a return this year in an all new cookie's and cream flavour, in addition to the regular chocolate flavour, both of which will hit branches across Japan for a limited time from October 15.

The chocolate pies have a crunchy exterior made up of layers and layers of delicious pastry. They're filled with warm, melted chocolate to complete the tempting treat.

This year sees a tasty new entry to the chocolate pie series, one filled with a sweet-smelling vanilla cream containing smashed Oreo® cookies. This creates an enjoyable texture of the smooth cream and the crunchy pie.

There is of course the hugely popular original flavour known as "Black" which contains almonds and sweet melted chocolate cream. Once you order your pie of choice you'll be left wondering where to start eating from!

Each pie also comes served in their own special packaging, both of which are limited in stock.

Information

Triangular Chocolate Pie – Black

Running: October 15, 2019 – Late December 2019 (subject to change)

Price: ¥130 (Tax Included)

Available: At most McDonald's branches around Japan

Triangular Chocolate Pie – Cookies & Cream

Running: October 15, 2019 – Mid November 2019 (subject to change)

Price: ¥150 (Tax Included)

Available: At most McDonald's branches around Japan

McDonald's Japan Official Website: http://www.mcdonalds.co.jp/