Giant Panda Cub at Adventure World in Wakayama Turns 8 Days Old
A female giant panda was born at Adventure World, a wildlife park with a panda exhibition in Shirahama, Wakayama, on August 14, 2018. She turned 8 days old on August 22.
She is the smallest giant panda cub ever to have been born at Adventure World and the first to be born in two years. She is well fed by her mother Rauhin, drinking from her six to seven times a day. Her weight has increased from 75.0g when she was born to 96.0g, and her height from 15.5cm to 18cm. Details as to when she can be viewed by the public will be released at a later date. For now, the mother and child are being observed by the park.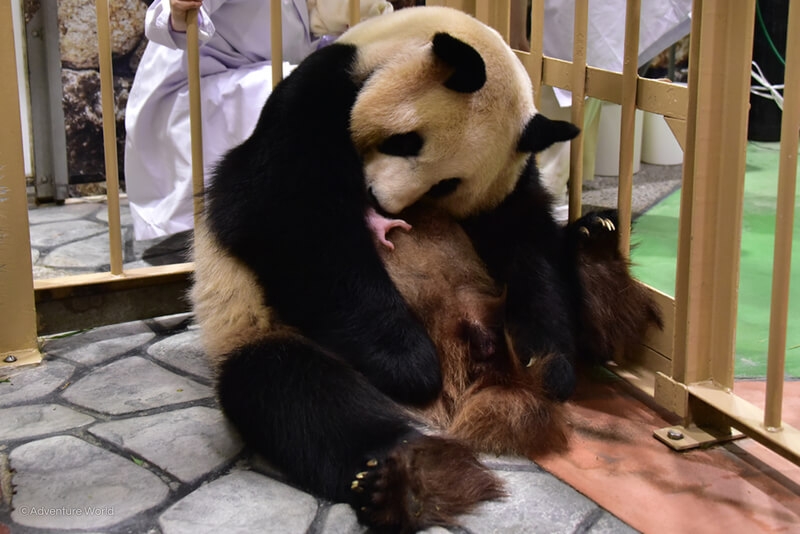 The new cub marks the 16th panda looked after by Adventure World. Rauhin was first born at the park on September 6, 2000. Eleven of the pandas born and raised there have traveled to China. Four of them are used for breeding and have raised twelve children as of November 2017.
There are said to be just 1,800 giant pandas in the wild. To ensure their protection and increase their survival, important research is being carried out to breed them. Adventure World opened in 1994 as the Japanese subdivision of the Chengdu Research Base of Giant Panda Breeding. Both country's worked together and started the world's first breeding lawn for the natural breeding of giant pandas.
The same facility also runs the 'Shiawase Keikaku' (Happiness Plan) which ensures the happiness of the giant pandas and all of the people involved with them.
Let's look forward to the public unveling of the new addition of the Adventure World panda family.
■Information
Adventure World
Address: 2399 Katata, Shirahama-cho, Nishimuro-gun, Wakayama Prefecture
Adventure World Official Website: http://www.aws-s.com/
RELATED ENTRIES
New Desserts Arrive at Tokyo's Panda Themed Cafe Mainichi Panda CAFE by Saryo Ginza Seigetsudo

Saryo Ginza Seigetsudo, a cafe located on the 2nd floor of Matsuzakaya Ueno in Tokyo, has been holding its "Mainichi Panda CAFE" event since October last year where it is serving up panda themed food and drink, selling panda plush toys and books, and the cafe itself is decorated with all things pandas.

Mainichi Panda CAFE by Saryo Ginza Seigetsudo is now introducing four new panda desserts, and its exhibition theme is celebrating the birthdays of Ueno Zoo's giant pandas Xiang Xiang and Lili.

Adzuki Bean & Warabimochi Panda Parfait | ¥1,100

Japanese style parfait topped with panda-shaped ice cream.

Panda Jonamagashi & Matcha Set | ¥1,100 *Only 4 served per day

A Japanese 'jonamagashi' confection made to look like a panda wearing a straw hat.

Panda Pancake-Style Dorayaki w/Orange Peel | ¥1,100 (With Coffee ¥1,430)

Saryo Ginza Seigetsudo's signature dorayaki served pancake style and branded with a cute panda face.

Lemon Yogurt Cake Set | ¥1,210

A slice of refreshing lemon and yogurt cake.

Mainichi Panda Exhibition (Excerpt)

The cafe has a special photo exhibition on display of the cute giant panda family that is housed in Ueno Zoo.

Postcards


Postcard image

The first 100 customers who dine at the cafe each day will receive a free postcard of Ueno Zoo's pandas.

If you love pandas, and have visited Ueno Zoo before, then you won't want to miss a visit to Saryo Ginza Seigetsudo.

Information

Mainichi Panda CAFE by Saryo Ginza Seigetsudo
Address: Matsuzakaya Ueno 2F, 3-29-5 Ueno, Taito Ward, Tokyo
Opening Hours: 10:00-20:00 (Last Orders 19:30) *Opening hours subject to change
TEL: 03-3832-1111

Sanrio Gift's New Shop in Ueno Welcomes Hello Kitty Panda Merchandise & More

Sanrio opened a new gift shop called Sanrio Gift Gate in Ueno on January 24, 2020. This is the 107th branch of the gift shop to open in Japan, following the openning of the Asakusa branch which opened in Asakusa last year. Aimed at tourists both Japanese and foreign, it sells merchandise of Sanrio's popular cast of characters.

You can't miss the shop as a giant Pompompurin embracing a panda suit-clad Hello Kitty are waiting to greet you at the entrance. The panda is a symbol of Ueno due to Ueno Zoo housing giant pandas.

The souvenir shop features a range of Ueno exclusives, including a line-up of six popular Sanrio characters wearing panda outfits.

Plush Toys (6 Designs) – ¥2,200 Each / Small Plush Toys (6 Designs) – ¥1,760 Each

Who could resist one of these cute toys? The bigger ones at 16cm tall and the small ones 11cm. The line-up includes fan favourites Hello Kitty, Pompompurin, Cinnamoroll, My Melody, Kuromi, and Pochacco.

There's also pop-up cards with a variety of designs, including one that opens up into Ameya-Yokochō open-air market, another that turns into Hello Kitty and a panda sat down, and more.

Edo-Tamagawaya x Hello Kitty Pink Tonkotsu Ramen – ¥390

Budoonoki Sanrio Character Baumkuchen – ¥594 Each (Hello Kitty/My Melody/Pompompurin/Cinnamoroll)

The Salt Industry Center of Japan x Hello Kitty Table Salt – ¥248

There's also food and snacks amongst a whole range of other goodies, all perfect as gifts and souvenirs.

Be sure to stop by Sanrio Gift Plaza the next time you're in Ueno.

ⓒ 1976, 1996, 2020 SANRIO CO.,LTD. TOKYO, JAPAN  Original Text: SANRIO CO.,LTD.

*All listed prices include tax. Sold items receive stock turnovers.

Information

Sanrio Gift Gate Ueno
Address: Plaza U Bldg. 1F, 4-8-6 Ueno, Taito Ward, Tokyo

Business Hours: 11:00-20:00 (subject to change – please check website for latest info))

Other: Duty-Free/Payment possible with Alipay and WechatPay.
Shop Information: https://www.sanrio.co.jp/shop/sh8122100/

Izu Shaboten Zoo Opens New Hotel Izushaboten Village

Izu Shaboten Zoo in Ito, Shizuoka has opened its very own hotel Izushaboten Village Petit Hotel which is less than a minutes' walk from the zoo itself, making it an ideal location for those looking to see the animals so they can take their time at their own leisure.

The hotel offers various different rooms, from modern and chic to the Izu Shaboten Zoo Room, Pirate Room and more. Each room has its own unique touch you won't find anywhere else. The hotel also offers an accommodation plan that comes with entry tickets to the zoo.

For food, guests can enjoy dining at La Chic, a new restaurant that opened in spring this year that makes use of homegrown vegetables and produce sourced from contracted farmers. Food is served in a semi-buffet style in mornings and evenings so you can make up your own dish. Non-guests can eat here too if they make a reservation*.

*Reservations for non-guests are dependent on free tables and other conditions. The menu style and ingredients and subject to change without notice.

If you're looking to visit Izu Shaboten Zoo, consider booking a room at their official hotel.

Adventure World Wildlife Theme Park in Wakayama Adopts SmaLingual Multilingual App

Adventure World has announced that it has adopted SmaLingual to the park, a multilingual app designed for foreign tourists and travellers in Japan to help them get around.

SmaLingual is a simultaneous multilingual interpretation service which uses a multilingual speech translation engine. Available in 10 languages including English and Brazilian Portuguese on both phones and browsers, the service translates and interprets both text and speech simultaneously, enabling people to have conversations with each other in different languages. The app's functions also have a language level over TOEIC800, ensuring that you convey the right information correctly.

Using this app means you will be able to read and understand descriptions and explanations written around the park, cautious on interacting with the animals, and so on.

Now guests can enjoy Adventure World with friends and family to the fullest without making a mistake.

Information

Adventure World – SmaLingual

・Park Services Using App: 45

・Adventure World currently accepts 10 languages including Japanese, English, Traditional Chinese, Simplified Chinese, Korean, Thai, Indonesian, Myanmar, Vietnamese, and Brazilian Portuguese

How to Use

①Scan the QR code provided on the park staff's tablet

②Translate your own text or voice using your own smart device

*Guests do not need to install the app if they do not wish. The app can be used online.

Adventure World

Address: 2399 Katata, Shirahama, Nishimuro District, Wakayama Prefecture

Official Website: https://www.aws-s.com/

Experience Tasting Mount Koya's Famous Sesame Tofu at ONAKA PECO PECO in Tsukiji

ONAKA PECO PECO by Rurubu Kitchen is a cafe located in Tsukiji, a district in Chuo, Tokyo. They serve rice balls filled with locally sourced ingredients from various locations in Japan. In the evenings, the rice balls can be enjoyed with delicious sake.

If you visit the cafe right now you'll be able to try sesame tofu (goma tofu) made by the long-running restaurant Kadohama. Sesame tofu is a meibutsu―or "local speciality"―of Mount Koyo.

While it is possible to buy sesame tofu on Kadohama's online store, the only places you can eat them out at is at their restaurant on top of Mount Koya or at select branches of department stores such as Mitsukoshi or Isetan. We visited ONAKA PECO PECO by Rurubu Kitchen for a taste of this exquisite collaboration.

Mount Koya is located in the Ito district of northern Wakayama Prefecture and is home to the town of Koya. The region is encased an abundant mountainous landscape. The Japanese Buddhist monk Kūkai opened the sacred mountain around 1,200 years ago. In 2004, Mount Koya which was registered as a World Heritage Site by UNESCO in 2004 under the "Sacred Sites and Pilgrimage Routes in the Kii Mountain Range" category. It has since become a popular tourist destination with Japanese and foreign travellers alike.

Here is the heavenly menu lineup at ONAKA PECO PECO which is packed full of Kadohama's sesame tofu.

There are five items which are made with the sesame tofu: an onigiri rice ball, crab soup, cold tofu, pork shabu shabu, and a drink.

Time to tuck in and try this famous food which has been enjoyed for many years!

White Vegetables & Steamed Pork Shabu w/ Koji Sesame Tofu Sauce – ¥800

This dish is garnished with a generous serving of fresh white vegetables and succulent meat. It includes lotus root, enoki mushrooms, cauliflower, and pork. It also comes with a white sauce made with sesame tofu, shio koji, and sesame oil. The sauce has a mild flavour in which you can get the full glorious taste of the tofu. It's smooth and refreshing so is a perfect pick for the hot summer.

Sesame Tofu & Plum Cheese-Loaded Rice Ball – ¥250

This rice ball is a flavourful combination of a sesame tofu and plum paste and lots of cheese.

This fat rice ball is wrapped in paper like a hamburger. The rich taste of the tofu and cheese reduces the sourness of the plum, giving it a gentler flavour.

Sesame Tofu & Egg Crab Soup – ¥400

The soup is an amazing combination with the rice ball. It has a miso soup base filled with green onion, enoki mushrooms, and crab. The elastic-y tofu is cut into big satisfying chunks. Its rich, creamy flavour combined with the crab is to die for.

Sesame Tofu & Sweet Sake Jelly Drink – ¥350

The cute white-coloured beverage is a healthy mix of sesame tofu paste and sweet sake. It retains the pulpy texture of the tofu and the aftertaste is super refreshing.

You can order the drink for takeout so you can take a stroll around the streets of Tsukiji.

Kadohama Sesame Tofu – Eat In: ¥300 / Takeout: From ¥240

If you're looking to enjoy the sesame tofu on its own then you've got to try it with either the wasabi and soy sauce or brown sugar. You can also order this to take away too. Each box contains one piece of tofu.

The cafe is also selling exclusive merchandise as part of the collaboration. The collection includes a t-shirt, sacoche bag, and cap. Each item has a simple design making them easy to incorporate into looks.

Easy access to Kadohama's sesame tofu―which is made using traditional cooking methods that have been passed down generations at Mount Koya―can only be enjoyed at ONAKA PECO PECO by Rurubu Kitchen. If you're in Tokyo this summer, then take a trip to Tsukiji district to try this healthy and nutrient-packed tofu.

Model: Ririka Satsuki

Writer: Sayuri Mizuno (MMN Editorial Team)

Photographer: Haruka Yamamoto

Translator: Joshua Kitosi-Isanga

Information

ONAKA PECO PECO by Rurubu Kitchen

Address: 4-7-3 Tsukiji, Chuo Ward, Tokyo (Along Harumi-dori)

Opening Hours: 10:00-14:00 / 17:00-22:00 (Last orders at 22:00)

Closed: Sundays

Access: 10-minutes on foot from Ginza Station / 7-minutes on foot from Higashi-Ginza Station / 5-minutes on foot from Tsukiji Station

Official Website: http://onakapecopeco.com/

Giant 5-Meter Tall Dinosaur Panda Stomps Into Ueno Station

The Dinosaur Expo 2019 began at National Museum of Nature and Science in Ueno, Tokyo on July 13, and in promotion of the exhibition, a thrilling dinosaur themed event is set to take place at the Atre Ueno shopping mall from August 1 to September 30.

Atre Ueno is located inside Ueno Station, and if you roll into the station right now you'd best be careful of the bipedal, carnivorously cute 5 meter high panda-saur. You'll find it on display at the station's Grand Concourse (it's pretty hard to miss!)

You might be wondering why there's a giant panda dressed as a fluffy dinosaur. The reason is that Ueno Zoo has its very own giant pandas which have become a symbol of the town. And the dinosaur our station panda is dressed as is the Deinocheirus, the main showpiece of The Dinosaur Expo.

In promotion of the museum's exhibition, 19 restaurants and cafes at Atre Ueno are serving up their very own dinosaur-inspired meals―both meat for the carnivora and vegetarian for the herbivores―as well as desserts.

Head to Ueno this summer break for your fill of dino fun!

Information

The Dino Expo 2019

Running: July 13, 2019 – October 14, 2019

Location: National Museum of Nature and Science

Opening Hours: 9:00-17:00 (until 20:00 on Fridays and Saturdays)

Official Website: https://dino2019.jp/

Atre Ueno

Address: 7-1-1 Ueno, Taito Ward, Tokyo

Opening Hours: Shops 10:00-21:00 / Restaurants 11:00-22:30

*Select stores have different opening hours

Official Website: https://www.atre.co.jp/store/ueno

Celebrate Ueno Zoo Panda Xiang Xiang's 2nd Birthday With ecute Ueno's Panda Sweets & Merchandise

Shopping centre ecute Ueno has announced that it is holding a campaign entitled "Pandaful Party" from June 3 to June 30 to celebrate the 2nd birthday of Ueno Zoo's popular panda Xiang Xiang. Panda themed desserts, food and merchandise will be sold at various stores throughout ecute Ueno.

Panda Rolled Sushi Set – ¥648 (Tax Included) @ Wakahiro (ecute Ueno)

Sushi-lovers won't want to miss this set of rolled sushi. The three cute pandas all come with three different flavours: fried salmon, minced chicken and egg. Available at the ecute Ueno branch of Wakahiro only.

Panda Baked Sweet Potato (100g) – ¥324 (Tax Included) @ Rapoppo (ecute Ueno)

Aged potatoes are used to make this popular baked sweet potato treat, and these ones have a cute panda design♡

Parent & Child Panda Eclair (1 Eclair) – ¥380 (Tax Included) @ Dolce Felice (ecute Ueno)

These adorable eclairs feature a panda parent and cub on them. They are filled with chocolate custard and a crunchy biscuit.

Panda Case Beans – ¥972 (Tax Included) – Mameya Bankyu (ecute Ueno) *Serving June 3 – June 16 only

Inside these panda cases are black soybeans covered in chocolate and houjicha tea chocolate.

Ueno Assorted Cookies (1 Tin) – ¥1,296 (Tax Included) @ Juchheim (ecute Ueno)

Grab a cup of tea and tuck into these tin of cute assorted cookies with panda motifs on them.

Panda Cocoa (Hot/Iced) – ¥400 (Tax Included) @ UP CAFE (ecute Ueno)

This cup of hot panda cocoa can be enjoyed by both kids and adults alike.

Merchandise includes cute panda salt, fortunes, a squishy and more.

People can also get their hands on this exclusive Pandaful Party shopping bag on June 12, the day of Xiang Xiang's birthday. These are limited in stock so you'll want to start your shop nice and early!

Information

Pandaful Party
Running: June 3, 2019 – June 30, 2019

Location: ecute Ueno (JR Ueno Station)

ecute Ueno

Address: JR Ueno Station Floor 3F, 7-1-1 Ueno, Taito Ward, Tokyo

Business Hours: 8:00-22:00 (*Different for some stores)

Website: https://www.ecute.jp/ueno

Rihga Royal Hotel Tokyo to launch the perfect panda-themed cake for Children's Day!! ♡

From Saturday 27th April to national holiday Sunday 5th May, Rihga Royal Hotel Tokyo's Melissa Cake Shop will be selling the Oyako de panda furu cake, which is perfect for parents and children to celebrate Children's Day!

Every year on the 5th of May, Japan celebrates Children's Day to wish children good health and good luck for the future. As pandas have become particularly popular in 2019, this cake has incorporated this theme, creating the perfect Children's Day cake. The Oyako de panda furu cake is made with careful attention to detail. Even the speed that the mixture is beaten and the resulting texture arising from the fineness of the batter is carefully considered. A melt-in-the-mouth sponge cake filled with strawberries was the ultimate goal.

The smooth and deep-flavour of the cream and chocolate and the overwhelmingly happy baby panda with its parent is an image that is just too cute ♡.

"May the child who eats this cake enjoy days full of happiness and grow quickly to lead a happy and healthy life"  is the intention that the patissier holds close to their heart whilst making each individual cake. This rare cake is perfect for wishing happiness upon a child so make sure to get one!

Information

Oyako de Panda Furu Cake (親子でパンダフルケーキ)


Price: ¥2,200 (price includes tax)
Available at: Rihga Royal Hotel Tokyo (1st floor) Takeout Melissa

Opening hours: 10:00 ー 20:30
Selling: Sat 27/04 ー National holiday Sun 05/05 2019 

※ There is only a limited number of these cakes.

Rihga Royal Hotel Tokyo official website: https://www.rihga.co.jp/tokyo/shopping/melissa

 

Enjoy Hanami With Eimei the Giant Panda at Adventure World in Wakayama

Adventure World in Wakayama is holding a special springtime event from March 28 to April 3 called Hanami With Eimei.

A hanami flower-viewing area will be set up in front of the outdoor breeding centere where Eimei the giant panda lives meaning you get to enjoy the cherry blossoms together with her. The cherry blossoms at the park are scheduled to be at the height of their blossom on March 30.

Bask in the warm spring sun while gazing at the beautiful pink flowers with Eimei.

Information

Hanami With Eimei the Giant Panda

Address: 2399 Katata, Shirahama-cho, Nishimuro-gun, Wakayama Prefecture

Running: March 28, 2019 – April 3, 2019

Time: 10:00-16:00

Adventure World Official Website: http://www.aws-s.com/

Help Name the Baby Koalas at Hirakawa Zoo!

Hirakawa Zoo is home to 12 koalas, the most of any other zoo in the country. Last month, one of the mothers gave birth to three baby koalas who have now crawled into her pouch.

The zoo is located in Hirakawacho, Kagoshima. It houses 1,000 animals of around 140 different species. Some of their most popular residents are the koalas and white tigers. The giraffe site is a popular spot too as people like to snap photos with them and Sakurajima in the background, an active volcano.

The marsupial babies are growing slowly day by day. They are weight each day to keep an eye on their health.

The zoo is now currently taking suggestions from the public to help name the three babies. One is male and the other two are female. Each of them were born on different days and are not related.

Head to the zoo and to the koalas for yourself and help them come up with a name. Full details on how to submit can be found below.

Information

Baby Koala Naming

Running: Until April 7, 2019

Ways to Submit

1. Obtain a naming sheet from the koala site at Hirakawa Zoo. Write your suggestion and post into the suggestion box.

2. Submit via post (post must be received by April 7, 2019)

*When submitting via post please write each koala's name in Katakana as well as your own name, age, address and telephone number. More details can be found on the zoo's website.

*Suggestions not taken by telephone or e-mail.

Names will be picked by the zoo's selection board. Names are scheduled to be announced on April 21, 2019.

Hirakawa Zoo

Address: 5669-1 Hirakawachō, Kagoshima, 〒891-0133 鹿児島県鹿児島市平川町5669-1

Opening Hours: 9:00-17:00 (Last Entries 16:30)

Closed: December 29 – January 1

Homepage:  http://hirakawazoo.jp

*Please note that the baby koalas may not be visible if inside their mother's pouch.

Cute Panda Sweets Releasing at Ginza Cozy Corner, Ueno Park Lueno

The Ueno Park Lueno branch of Ginza Cozy Corner will release their new chestnut flavoured "Panda Yaki" on September 22.

These sweets are cooked fresh right in front of customers in the shape of a panda's face – a reference the giant pandas of Ueno Zoo, the animals which the district of Ueno has almost become synonymous with.

The regular Panda Yaki menu comes with four flavours to pick from: custard, chocolate, adzuki bean paste, and cheese. They are popular with customers for not only being delicious, but extremely cute too.

The new entry being added to the menu is chestnut, a very familiar flavour during autumn in Japan. The cooked chewy pastry is filled with subtly sweet chestnut paste with additional diced candied chestnuts for texture.

You can pick up your own Panda Yaki either as a souvenir or to eat in one gulp while strolling around Ueno. Available this autumn only!

■Information

Panda Yaki (Chestnut)

Price: ¥145 (Tax Included)
Available: September 22, 2018 – Mid January 2019
Shop: Ginza Cozy Corner Ueno Park Lueno (UENO3153 Bldg. 1F, Ueno, Taito Ward, Tokyo)
Opening Hours: [Weekdays] 10:00am-9:00pm [Weekends] 8:00am-9:00pm営業時間:月〜金/ 10:00〜21:00、土日祝/ 8:00〜21:00

*Please be aware that there is a possibility they will sell out.

Ginza Cozy Corner Official Website: https://www.cozycorner.co.jp/index.html

Help Name the Giant Panda Cub at Adventure World in Wakayama

The giant panda cub born at Adventure World on August 14, 2018 has now turned 28 days old.


She is the smallest panda cub to be born at the wildlife park. Staff are monitoring her and her mother Rauhin 24 hours a day. The cub cannot walk yet but she's now able to crawl around in her incubator.

The staff have noted they often see the mother is helping her baby to excrete and also lick her body clean while hugging her. Thanks to her mother's love, the cub's fur has turned a faint pink. She grows bigger and cuter by the day.

Adventure World has announced that it will open the panda to the public and take applications for possible names on September 13. The website for name applications is available in English and Chinese so more people can submit their ideas.

Will you be the one to name her?

■Information

Adventure World

Address: 2399 Katata, Shirahama-cho, Nishimuro-gun, Wakayama Prefecture

Adventure World Official Website: http://www.aws-s.com/

Giant Panda Cub Public Viewing
Location: Breeding Centre (The cub will be with her mother during the viewing so you can see them interacting)

Opening Date: September 13, 2018
Viewing Times: 10:15am-10:35am / 2:40pm-3:00pm

*Viewing times are subject to change depending on the baby's growth. Viewings may also be changed or cancelled depending on her condition.

Giant Panda Cub Naming Applications
Application Window: September 13, 2018 – November 16, 2018

Ways to Apply

①Application paper given at Adventure World
②Application webpage: https://contact-aws.com (Available in English, Japanese and Chinese)

*Names will be selected by Adventure World's Baby Panda Christening Committee.

*The chosen name will be announced at Adventure World and on the park's official homepage.

"Giant Panda Family Site" (Updated Everyday)
You can see the growth record, photos and video footage of the baby panda on the Giant Panda Family Site. Be sure to check it out below.