Winnie the Pooh Glasses Line to be Released by Zoff
To celebrate the Japanese release of Christopher Robin on September 14, glasses brand Zoff have announced a new and original Winnie the Pooh series of glasses. The line will be released in-store in Japan nationwide on September 14. The Zoff online store is taking early orders from August 31.
There are 25 designs to choose from split across two different lines. The London Line features cute prints of the characters on the temple while the Honey Line are made of metal to give a classic look. The series uses exclusive artwork that reflects the story of the movie, and each frame has metal parts that symbolize Pooh's favourite food in the world – honey. The glasses are for both kids and adults alike.
London Line
The colours are the front have been selected so they can be worn in most situations. The sides have a mellow tone and are coloured in a way perfect for co-ordinating with autumn and winter fashion. There are 16 pairs in the line-up with four types and four temple designs. They come in oval, square and stylish fox shapes.
・Frame Shape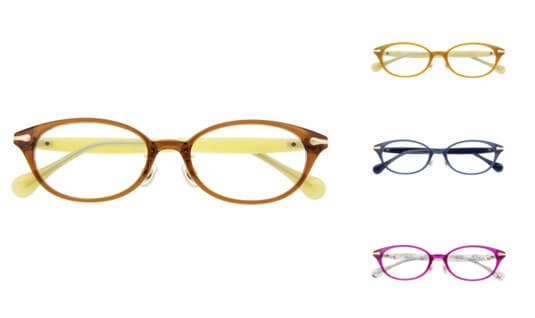 Catalog No.: ZA181051 – Oval shape worn by people across all ages. Leaves a gentle impression.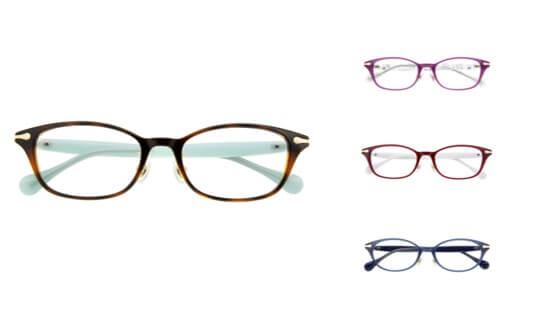 Catalog No.: ZA181052 – Square shape that makes you look smart and punctual.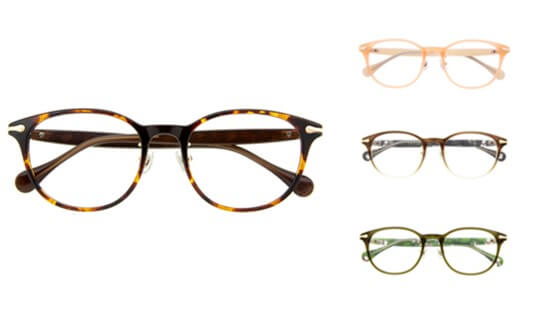 Catalog No.: ZA181053 – Large-shaped glasses that are a trend right now and easy to co-ordinate with glasses fashion.
Catalog No.: ZA181054 – Fox-shaped glasses that bring out femininity and personality.
・Temple Design
The temple designs were drawn specially for the release of the movie. The concept behind them is 'Pooh leaving the forest for the first time and going to London.'

Saying: A city-like vibe with typography of Pooh's famous sayings.
Friends: A fun design featuring Pooh's pals Piglet, Tigger and Eeyore.
Flags: A cool Union Jack design that screams London.
Woods: A relaxing scene inside Pooh's forest.
Honey Line
This line has metal frames and incorporates elements of glasses trends. They give off the shine of melty honey and are decorated with honeycomb studs . This stylish line can be enjoyed not just by Pooh fans but lovers of jewellery too.
Catalog No.: ZS182001 – The fox shape that stops at the eyeline emits a sense of elegance while the frontside honeycomb parts leave an impression of luxury.
Catalog No.: ZS182002 – A sweet design inspired by runny honey with elegant thin rims.
Catalog No.: ZS182003 – This design jumps on the trend of oversized glasses. The honeycomb shaped studs on the sides make you look cool.
Peek into the world of Winnie the Pooh with this new glasses range.
■Information
Disney Collection Created by Zoff "Winnie the Pooh Series"
Available: Zoff stores, Zoff online store, Zoff Rakuten, ZOZOTOWN and elsewhere
Release Date: September 14, 2018
Pre-orders: From August 31 via the Zoff online store
Price: ¥7,000-¥9,000 (Pre-Tax)
*Comes with original design glasses case and cloth.
Types: London Line – 16 Pairs (4 Shapes, 4 Designs) / Honey Line – 9 Pairs (3 Shapes, 3 Colours)
Webpage: http://www.zoff.co.jp/sp/disney-collection
*Winnie the Pooh Series to go live on the website on August 31
RELATED ENTRIES
yonawo and Hikari Shibata Feature in Zoff's Summer 2021 Eyewear Promo

Japanese glasses brand Zoff has announced the release of a Summer Collection in its popular Zoff CLASSIC series which will hit Zoff stores across Japan on April 30, 2021.

The Line-Up

ZA191010_13A1 | ¥5,500 (Tax Included/Includes Lens Set)

ZA191019_50A1 Light Yellow/ZA191019_21A1 Pink | ¥8,800 Each (Tax Included/Includes Lens Set)

ZA201011_21A2 Pink | ¥5,500 (Tax Included/Includes Lens Set)

ZA201012_60A1 Light Green | ¥5,500 (Tax Included/Includes Lens Set)

ZC191009_64A1 Olive/ZC191009_11A1 Light Grey | ¥8,800 Each (Tax Included/Includes Lens Set)

ZC191010_40A1 Ivory/ZC191010_00A1 Clear | ¥8,800 Each (Tax Included/Includes Lens Set)

ZH211001_50A1 Light Yellow/ZH211001_49B1 Tortoiseshell/ZH211001_42A1 Light Brown/ZH211001_14E1 Black | ¥8,800 Each (Tax Included/Includes Lens Set)

ZH211002_72A1 Navy/ZH211002_49A1 Tortoiseshell/ZH211002_23A1 Dark Pink/ZH211002_00A1 Clear | ¥8,800 Each (Tax Included/Includes Lens Set)

ZH211003_72A1 Navy/ZH211003_64E1 Olive/ZH211003_50A1 Light Yellow/ZH211003_18E1 White & Black/ZH211003_12A1 Grey | ¥5,500 (Tax Included/Includes Lens Set)

ZN211006_50A1 Light Yellow/ZN211006_48A1 Brown Gradation/ZN211006_20A1 Light Pink/ZN211006_12A1 Grey/ZN211006_00A1 Clear | ¥8,800 (Tax Included/Includes Lens Set)

ZY212001_57F1 Antique Gold/ZY212001_14F1 Black | ¥8,800 (Tax Included/Includes Lens Set)

ZY212002_43E1 Brown/ZY212002_21E1 Pink | ¥8,800 (Tax Included/Includes Lens Set)

ZY212010_57F1 Antique Gold/ZY212010_56E1 Gold/ZY212010_21E1 Pink/ZY212010_14E1 Black | ¥8,800 (Tax Included/Includes Lens Set)

ZF213005_14E1 Black/ZF213005_48E1 Brown Gradation/ZF213005_68F1 Green Gradation | ¥13,300 (Tax Included/Includes Lens Set)

ZF213006_14E1 Black/ZF213006_21E1 Pink/ZF213006_43E1 Brown | ¥13,300 (Tax Included/Includes Lens Set)

ZF213007_14F1 Black/ZF213007_24E1 Dark Red/ZF213007_41F1 Beige | ¥13,300 (Tax Included/Includes Lens Set)

Zoff CLASSIC is a popular series with a line-up of around 150 different glasses options at any given time, with designs ranging from detailed and authentic vintage looks to more seasonal and trendy modern takes. Also as part of the bigger series is the Zoff SMART CLASSIC range. This one has 44 models made from a fusion of high-functioning titanium and ultem which make each pair a comfortable wear. With glasses and face masks being a common combination today, Zoff's Summer Collection this year is a fresh line-up that doesn't weigh heavily on the eye area, allowing them to stand out above face masks.

Donning the looks for Zoff's summer promo shoot is all four members of the Fukuoka-based Japanese band yonawo as well as model and camerawoman Hikari Shibata. This marks the first time the yonawo members have come together to feature in a promotion like this and is a chance for fans to see them all in glasses.

Zoff is hosting a campaign for 10 lucky people to win a wear of glasses from the Zoff CLASSIC Summer Collection. Check the link below.

Disney: Twister-Wonderland Designer Glasses to be Released by Zoff

Japanese eyewear brand Zoff is collaboration with the mobile game Disney: Twisted-Wonderland to release a collection of seven glasses this April on their official website.

Specially-crafted frames based on the Dorms

The collection features seven different glasses each inspired by a different Dormitory of Night Raven College as seen in Disney: Twisted-Wonderland. The temple, for example, features inlet parts based on the seven Dorms, so fans can represent their favourite while looking stylish at the same time. The coupling glasses cases, too, are branded with a simple yet sophisticated design of the Dorm emblems, and each case even comes with a glasses cloth bearing the names of the students.

The frames and cloth designs up close

Heartslabyul Design | ¥11,100 (Tax Included)

Looking head on at the glasses, you can see crowns on either side, while looking from the sides are playing card marks.

Savanaclaw Design | ¥11,100 (Tax Included)

Thick frames with gold combination colouring and claw marks featured on the sides. This glasses are made using laser technology.

Octavinelle Design | ¥11,100 (Tax Included)

The front and temple have an octopus leg design and the inner side part has a shell. The black and purple make for a striking colour fusion.

Scarabia Design | ¥11,100 (Tax Included)

These glasses look basic at first glance, but gleaming on either side are cobra heads wrapping around the front. The golden temple section features delicate metal engraving.

Pomefiore Design | ¥11,100 (Tax Included)

The metal engravings and crowns on the front sides elevate your countenance without going over the top. The curvy temple also serves to make the wearer look even more beautiful.

Ignihyde Design | ¥11,100 (Tax Included)

An iconic mix of black and blue. The blue temple has a transparency to it, and if you're a fan of Ignihyde, you'll be able to spot the motif on the front sides.

Diasomnia Design | ¥11,100 (Tax Included)

The spinning wheel motif gives the temple a three-dimensional feel. A basic but stylish colour choice perfect for work.

Glasses Case

The glasses case bears the Dorm symbols on the front while the inside has the game title logo.

 

Each glasses cloth is different for each Dorm as pictured throughout

Information

Disney: Twisted-Wonderland Zoff Eyewear Collection

Orders: Open Mid April 2021 (Limited Edition)

Delivery: Late October 2021

Zoff's Disney Design Glasses Collection is Every Disney-Lover's Dream

Japanese eyewear giant Zoff released a new collection of Disney glasses on Friday (March 5) featuring designs inspired by Mickey Mouse, Minnie Mouse, Donald Duck, and Daisy Duck. Official titled the "Disney Collection created by Zoff Happiness Series," the line-up hit all Zoff stores, excluding outlets, and their online store in Japan.

The Line-Up

Mickey Mouse

Casual Line Boston(ZA211001_43A1 | ¥5,500 (Tax Included)

Casual Line Wellington ZA211002_14E1 | ¥5,500 (Tax Included)

Classic Line Wellington ZC211001_14E1 | ¥8,800 (Tax Included)

Classic Line Boston ZC212001_21E1 | ¥8,800 (Tax Included)

Minnie Mouse

Casual Line Boston ZA211001_68A1 | ¥5,500 (Tax Included)

Casual Line Oval ZA211003_43A1 | ¥5,500 (Tax Included)

Classic Line Square ZC212002_43E1 | ¥8,800 (Tax Included)

Classic Line Square ZC212002_21E1 | ¥8,800 (Tax Included)

Donald Duck & Daisy Duck

Casual Line Wellington ZA211002_72A1 | ¥5,500 (Tax Included)

Casual Line Oval ZA211003_44A1 | ¥5,500 (Tax Included)

Casual Line Boston ZA211001_21A1 | ¥5,500 (Tax Included)

Casual Line Oval ZA211003_81A1 | ¥5,500 (Tax Included)

Glasses Case & Glasses Wipe

Mickey Mouse Anti-Fog Spray – ¥800 (Tax Included) / Minnie Mouse Lens Cleaner – ¥800 (Tax Included)

Japan's Leading Glasses Brand Zoff Revamps Logo For 20th Anniversary

Next Wednesday (February 24) will mark the 20th anniversary that Japanese glasses brand Zoff opened its first store in 2001. Since launching, the leading eyewear brand has sought to create a generation when glasses play the leading part in the lives of wearers.

At the core of Zoff has been a desire to create a society where anyone and everyone can enjoy glasses freely and easily. In the wake of their 20th anniversary, Zoff is now set to cement itself as an indispensable brand in society and people's lives by exhibiting new value in glasses as a tool that expands the possibilities of humans, and that doesn't stop at vision correction apparatus. "Eye Performance" is the mantra of Zoff going into their 20-year milestone.

New Logo

To brand that concept, Zoff has create a new logo that features a Siberian husky, something that has become a much-loved symbol of the brand. Their original husky logo was a photo taken by a child. This has been replaced with a new illustration that matches the brand's iconic blue colour.

We look forward to seeing where Japan's leading eyewear brand looks to next as they approach their 20th anniversary.

Stylish and Honey-Sweet Winnie the Pooh Bags and Accessories Released by Maison de FLEUR

Tokyo-based gift shop Maison de FLEUR released a new Winnie the Pooh collection last Friday (January 8) via the online website STRIPE CLUB.

Winnie the Pooh Tote Bag | ¥4,990 (Before Tax)

Winnie the Pooh Round Pouch | ¥3,590 (Before Tax)

Winnie the Pooh Tissue Case | ¥3,290 (Before Tax)

Winnie the Pooh iPhone Case | ¥3,290 (Before Tax) | Case Sizes: 7/8/SE, X/XS, 11, 11pro

Piglet Tote Bag | ¥4,790 (Before Tax)

Piglet Round Pouch | ¥3,950 (Before Tax)

Piglet Tissue Case | ¥3,290 (Before Tax)

Piglet iPhone Case | ¥3,290 (Before Tax) | Case Sizes: 7/8/SE, X/XS, 11, 11pro

Back Design

Zoff Eyewear and Dragon Quest X Launch Slime Collaboration

Glasses brand Zoff launched its Dragon Quest X themed eyewear collection last Friday (December 18). To promote the collection, the Harajuku branch of Zoff will decorate the shop window with Dragon Quest X Online advertising starting on January 2, 2021. On the same date and at the same store, they will also hold a special Twitter campaign for people to win some free Zoff x Dragon Quest X glasses inspired by the Slimes from the game.

Zoff+DRAGON QUEST X

Dragon Quest's Slime Family are known to both players and non-players of the game. The characters come in many different forms like the classic Slime as well as the Bubble Slime, Metal Slime, Slime Knight, and more. The armourers of Dragon Quest have come together to use these slimes to meld legendary new glasses for adventurers.

Slimes, slimes everywhere at Zoff Harajuku!

To promote the Zoff+DRAGON QUEST X collection, the Zoff Harajuku store will be decorated in all things Dragon Quest X Online starting on January 2, 2021. Adventurers are invited to take part in an omikuji lottery draw. Those who draw the highest rank will receive some exclusive Slime merchandise. There are but 10 of these draws to find for just 10 lucky adventurers.

Running: January 2, 2021 from 11:00am (JST) *Until all run out
Location: Zoff Harajuku (Co-Op Olympica Floor 1F, 6-35-3 Jingumae, Shibuya, Tokyo)

Adventurer X & Hero Princess Anlucia life-size panels

In 11 Zoff stores, visitors will find life-size panels of Adventurer X and Hero Princess Anlucia wearing Slime glasses which they can take a photo next to.

Participating Stores
Zoff Ario Sapporo / Zoff Sendai LOFT / Zoff Harajuku / Zoff Seibu Shinjuku PePe / Zoff Nikke Colton Plaza / Zoff AEON MALL Zama / Zoff Marché Grand Tree Musashikosugi / Zoff Nagoya PARCO / Zoff Grand Front Osaka / Zoff AEON MALL Dainichi / Zoff Shinsaibashi PARCO / Zoff AEON MALL Fukutsu

Slime Glasses added in-game to Dragon Quest X Online

Those who buy eyewear from the Zoff+DRAGON QUEST X collection will be able to receive an in-game item code for Slime Glasses which their character can wear. If players buy multiple pairs, they will receive multiple codes which they can use on different characters.

Twitter campaign

To participate in the Twitter campaign to win Slime merch, all you need to do is retweet the tweet that will be sent out on Zoff's official Twitter page @Zoff_INFO on January 2, 2021.

Slime Eyewear Lottery Twitter Campaign
Running: January 2, 2021 – January 11, 2021

Ⓒ 2012-2020 ARMOR PROJECT/ BIRD STUDIO/SQUARE ENIX All Rights Reserved.

JINS Eyewear Launches Official Pokémon Model Design Glasses

JINS is teaming up with The Pokémon Company to release a special collection of glasses at JINS stores and their official online shop on January 1, 2021.

Your Pokémon partner with you wherever you go

The glasses come in four different models – Pikachu, Snorlax, Eevee, and Mew – so your favourite can set out on your Pokémon journey with you and be there wherever you go.

Completely original models capture the Pokémons' designs

The JINS Pokémon Model collection feature original designs and come with an original glasses case. There are plans to launch the glasses globally at JINS stores in the US, China, and elsewhere in the future.

Flagship Model | ¥12,000 (Before Tax)

All the glasses come in four different models: Flagship, Kanto Region, Johto Region, and Kids. The flagship model frames capture the colours of Pikachu, Snorlax, Eevee, and Mew, and each features pixel art of the respective Pokémon. The inner part of the frames also have silhouettes of the Pokémon along with the logo.


Pokémon Trainers will find their stylish glasses cases with a Poké Ball in the front, and inside, Pokémon pixel art.


Kanto Region Model | ¥8,000 (Before Tax)

The Kanto models are based on the Pokémon found in the Kanto Region of the Pokémon world, with Bulbasaur, Squirtle, Charmander, and Pikachu featured on the inner side of the left temple. On the inner right are the same Pokémon including Pikachu not wanting to go into its Poké Ball. This story woven into the glasses is sure to have long-time fans feeling nostalgic.

The top of the grey case has our four pixel friends, and they're featured on the inside too in silver leaf. The glasses cloth has designs of the original 151 Kanto Pokémon.


Johto Region Model | ¥8,000 (Before Tax)

Fans of the Johto Region Pokémon will enjoy these models which are metal combination frames featuring Chikorita, Cyndaquil, and Totodile.


The white glasses case features a sleek design with the logo on it while the cloth has alternating silver and gold Poké Balls.


KIDS MODEL | ¥5,000 (Before Tax)

On the inner part of the frames you'll find Pikachu, Eevee, Mew, Lucario, and Cinderace, as well as Poké Balls on the ends of the temple parts.

Kids Anti-Allergy Models | ¥3,000 (Before Tax)

The anti-allergy models have Pikachu designs and are equipped with hoods that protect the wearer from pollen. A special laser is used to make the hoods to that the glasses feel natural and not uncomfortable on the face.

These last two glasses cases are compatible with the kids models and include a Poké Ball design and Rotom Phone.

Limited-Edition Bag

Glasses come in a special limited-edition bag. These are limited in stock.

© 2020 Pokémon. © 1995 – 2020 Nintendo/Creatures lnc./GAME FREAK inc.
TM, ®, and character names are trademarks of Nintendo.

Zoff Reveals Fate/Grand Order THE MOVIE Divine Realm of the Round Table: Camelot Model Glasses

To promote the upcoming release of the Fate/Grand Order THE MOVIE Divine Realm of the Round Table: Camelot, Japanese glasses brand Zoff is releasing six models inspired by characters from the anime film on their official website on December 4 at 11:00am (JST).

Gawain Model


The frame design comes in blue and black which is reminiscent of Gawain's long, draping cloak. The glasses cloth is blue and white.

Lancelot Model


The frame design is a striking purple colour. It features metal parts in the corners just like the shoulders of Lancelot's armour. The glasses cloth is a military black with purple to capture Lancelot's hair.

Tristan Model


The frame design, including the front bridge and temple, are shaped in such a way to capture Tristan's armour, and coloured just like his colour palette.

Ozymandias Model


The frame design features a gold temple to capture the majestic vibe of Ozymandias.

Bedivere Model


The frame design has a delicate design to make the wearer look gentle.

Mash Kyrielight Model


The frame design has crosses on the side like Mash's enormous shield and is coloured purple.

Bonus Item

Front: Single Character / Back: All Characters

Those who purchase a pair of these glasses will receive a free character card.

All the glasses can be tried on at Zoff Ikebukuro Sunshine City Alpa for a limited time. The glasses are limited-edition and so are available while supplies last.

Winnie the Pooh Themed Cafe 'Hunny's Cafe in Strange Dreams' to Open in Shinjuku

LEGS COMPANY is set to open a Winnie the Pooh themed cafe called "HUNNY'S CAFE in STRANGE DREAMS" in Shinjuku, Tokyo, on October 14, 2020. This date is particularly special because October 14, 1926 is the date in which the first volume of stories about the titular character, Winnie-the-Pooh, was released.


The cafe is being produced by OH MY CAFE and is themed on sending customers into a strange world of dreams, perfect for the long autumn nights.

The Grand Menu

The menu line-up features a whole range of cute drinks, dishes, and desserts inspired by the adorable bear, such as the dream Pooh has of Heffalump and Woozle in Winnie the Pooh and the Blustery Day, food with his face on, and much more.

Pooh's Strange Dream Chicken Burger | ¥1,890, with plate ¥3,480

A healthy steamed chicken burger with a Pooh burger bun and served with a side of edamame potage.

Pooh's Strange Dream Curry Rice | ¥1,590

The secret ingredient of this curry rice is, of course, Pooh's favourite honey. An authentic curry packed full of spices.

Heffalump & Woozle Honey (?) Cream Pasta | ¥1,590, with bowl ¥2,990

A cream pasta made to look like honey that contains vegetables and cream. A dish definitely out of the mind of Pooh bear.

The dishes we have shown so far are available for a limited time from November 20 to December 27 as part of the cafe's "Hunny Fair."

Piglet's Rolling Salad | ¥990

The tiny, cute, and beloved piglet has been turned into a tomato and beetroot salad served in a glass.

Tigger's Hopping Salad | ¥890

The energetic hop, skimp, and jumper Tigger too has his own salad made from pumpkin and carrot.

Eeyore's Grape Yoghurt Drink | ¥890, with coaster ¥1,490

A grape yoghurt drink inspired by Eeyore's colours.

HUNNY'S CAFE Honey au Lait ¥790, with mug ¥2,290

A hot honey beverage to send you into the land of nod and dreams.

Original Merchandise

Pooh fans can get their hands on a selection of different merchandise series, like the cafe logo series, Strange Dreams series, and honey series.

Cafe Logo Series: A4 Folder ¥350 / Sticker Set ¥1,000


Strange Dreams Series: Tote Bags ¥2,200 Each / T-Shirts ¥2,500 Each


Honey Series: Acrylic Key Ring ¥480 / Plush Toy ¥3,600 (Available from November 20)

Bonus Items


Original Lunch Mat (4 Designs)

Customers who book a table in advance and order something from the menu will receive one of four possible lunch mats. And if they spend over ¥2,500 (before tax) on cafe and cafe logo series merchandise, they'll receive one of two possible small mamezara plates too.

© Disney. Based on the "Winnie the Pooh" works by A.A. Milne and E.H. Shepard.

Information

Winnie the Pooh – HUNNY'S CAFE in STRANGE DREAMS

Running: October 14, 2020 – January 31, 2020

Location: STORY STORY, Odakyu Department Store Shinjuku Floor 10F

Address: 1-1-3 Nishi-Shinjuku, Shinjuku-ku, Tokyo
Official Website: https://honey.ohmycafe.jp/

*Photos are for illustrative purposes only

Kaori's Easy Recipe: Learn to Make Winnie the Pooh Pumpkin Soft Cookies

With just a small bit of ingenuity, turn everyday food into something cute using Kaori's Easy Recipe! With a few simple ideas, an ordinary recipe magically transforms into a cute dish.

Halloween in closing in, so for this recipe I'll be using pumpkin to make delicious cookies—crunchy on the outside and moist in the middle. This recipe rolls the dough into a ball, so it's a great alternative for people who aren't good with shaping or cutting cookies.

Ingredients

50g pumpkin (mashed and skin removed)

20g-25g sugar (I used sanonto sugar to bring out the sweetness of the pumpkin, but white sugar is fine too)

30g unsalted butter

A pinch of salt

60g weak flour

1

Combine and mix the steamed pumpkin, room temperature butter, and sugar. Then incorporate the salt and flour and mix again.

2

Now to shape everything. For pumpkin decorations, roll the pumpkin together and create a little depression in the top. Use a toothpick or something similar to create five indents around the outside as pictured above.

To make Pooh Bear, simply roll round and add the ears.

3

Bake at 150℃ for 20-25 minutes. Leave to cool, then decorate Pooh's facial features with a chocolate pen.

Kaori invites you into her world of character-themed food dishes in her recipe series. Be sure to check out her Instagram where she has uploaded many pictures of her character dishes!

Kaori Kubota (@kaopan27)

I live in Hokkaido and I love to make character themed foods, desserts and pastries♡

I want to see my family smile, so I enjoy putting in a bit of effort to make character foods and changing food into something cute♡

You can see more of my character foods and character bento boxes on my Instagram page → @kaopan72

Sailor Moon Eternal Glasses Announced in Collaboration With JINS

JINS, a top eyewear brand in Japan, is teaming up with Sailor Moon in promotion of the upcoming anime film Sailor Moon Eternal which is slated for 2021. Orders for the glasses will open via JINS online shop, JINS stores in Japan, and via Premium Bandai, on September 11, 2020.

Sailor Moon is a shojo manga series written and illustrated by Naoko Takeuchi that was first serialised in Nakayoshi in 1991. The manga has been translated into 17 languages worldwide, and the anime series has been released in 40 countries. Sailor Moon Eternal will be the newest release to enter the franchise.

JINS first collaborated with the series for Sailor Moon Crystal in February 2016 to create a stylish and nonchalant collection of glasses for women who had grown up alongside Sailor Moon.

This new collection is made up of six different pairs of glasses each inspired by the six sailors from Sailor Moon Eternal.

Glasses: ¥12,00 Each (Before Tax) *Comes with prescription lenses, original case, and soft case

The frames of each pair feature little details and references to the Sailors like the items they use. The frames themselves are also in with the latest styles and trends.

But glasses aren't the only thing to arrive in the collection this time around.

Glasses Cases: ¥2,200 Each (Before Tax)

Fans can also get their hands on special glasses cases inspired by the costumes of the Sailors, each with a ribbon on the back and sealed with a metal stud.

Mini Pouches: ¥1,500 (Before Tax)

There's also mini pouches, and like with the glasses cases, are based on the colour schemes of each character. The pouches have metal charms on the side, and inside them are motif designs of the Sailors.

Glass Cords: ¥1,200 (Before Tax)

Finally, the chained glass cords have various references, like stars and the guardian marks of each Sailor. They can also be worn as necklaces, and them being gold means they'll go with almost anything.

Fans will be able to try the glasses on using a virtual service called MEGANE on MEGANE at JINS stores in Japan.

Information

Sailor Moon Eternal x JINS

Order Window: September 11, 2020 at 11:00am (JST) to September 27, 2020
*In-store orders available until September 23 only
*Delivery scheduled for April 2021
*Limited stock
*Made-to-order products, no changes or exchanges available
Sold at: JINS, JINS online shop, Premium Bandai

Product Page: https://www.jins.com/jp/collabo/sailormoon/

Disney Store: Find the Perfect New Year's Souvenirs From Japan

Walt Disney Japan is celebrating the New Year by rolling out a new batch of celebratory character merchandise at Disney Stores across Japan as well as the online website on December 3.

From the quintessential Japanese daruma to pine decorations and more, take home some of Japan with you for friends and family in the form of classic Japanese New Year items made into Disney souvenirs.

Plush Toys: Mickey/Minnie Mouse ¥2,000 Each, Winnie the Pooh ¥2,800, Piglet/Roo ¥1,500, Eeyore ¥1,600, Chip/Dale ¥1,200 Each Mascots: All ¥1,000 Each Memo Pad: ¥650 Pine Decoration: ¥1,500

The line-up includes a selection of daruma-dressed Disney character plush toys, plush toys of Winnie the Pooh, Piglet, Eeyore and Roo in rat costumes for the 2020 Year of the Rat, and more. Perfect as gifts, souvenirs, and for decorating your room and desk.

Celebrate the New Year with your favourite Disney characters.

©Disney ©Disney. Based on the "Winnie the Pooh" works by A.A. Milne and E.H. Shepard. ©Disney/Pixar 

Information

Product Page: https://store.disney.co.jp/c/c5680/ 

*Select branches not stocking these products (*and not available at outlets)

*Available while supplies last

*Product designs, price, release date, branches, and so on are subject to change