Cinnamoroll and Etoile et Griotte to Collaborate at KIDDY LAND Harajuku & KIDDY LAND Umeda
Popular Sanrio character Cinamoroll and apparel shop Etoile et Griotte are set to join hands at the Harajuku and Umeda branches of KIDDY LAND from September 15, 2018.
Etoile et Griotte previously teamed up with Sanrio character Pompompurin at KIDDY LAND by opening a collaborative café there in April 2018. Pompompurin was the winner of the 2015 and 2016 Sanrio Character Awards. The romantic designs of the products there won the hearts of kawaii-loving Japanese girls. There were even items that sold out on the same day, proving its popularity.
Instead of a café this time around, Etoile et Griotte and Cinamoroll will be holding a fair at the flagship stores of KIDDY LAND in eastern and western Japan decked out with collaborative items.
Cinamoroll is a white puppy who was born on March 6, 2002 on top of a cloud in the sky. Sanrio began selling merchandise of the character from 2002. Last year, he celebrated his 15th anniversary.
Cinamoroll took the number one spot from Pompompurin at the 2017 Sanrio Character Awards, and again in 2018. 100 Sanrio characters were entered into the awards this year.
Etoile et Griotte is an up-and-coming brand that sells a range of apparel, stationery and miscellaneous goods, with their concept and tagline being 'Lovable, Sugary and a little bit of Hate.' Their cute and girly items are laced with a bit of maturity and receive much support from Japanese women.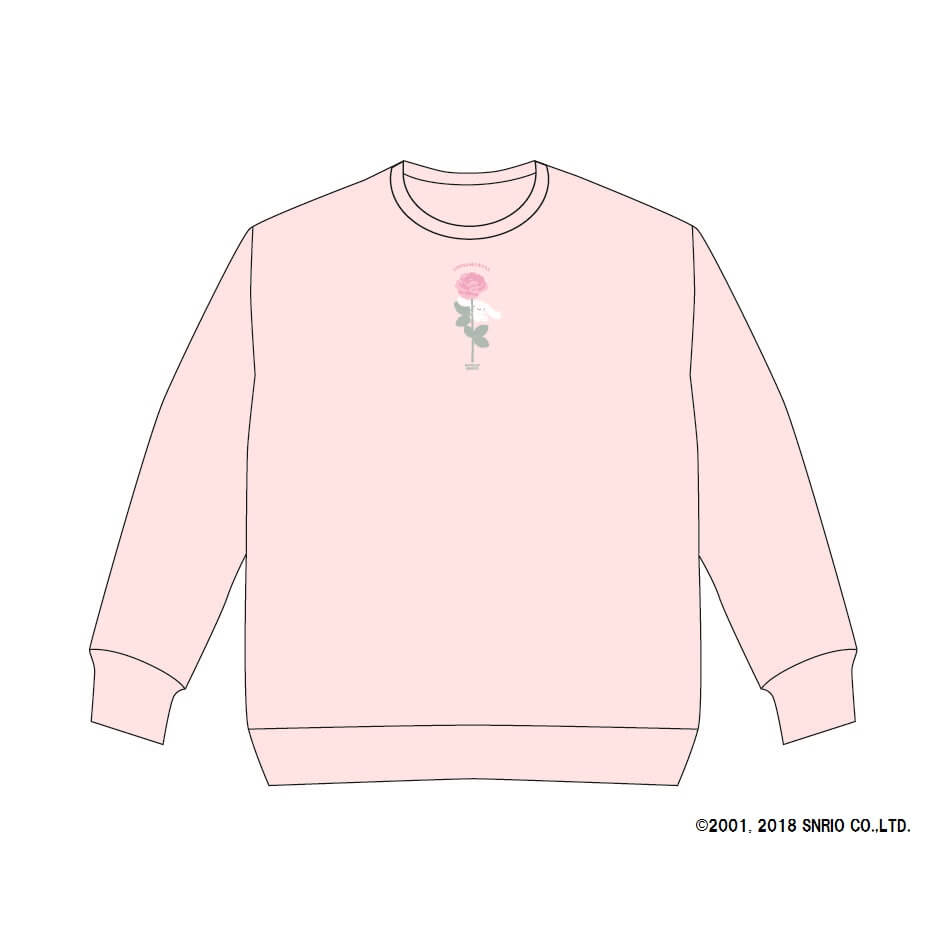 You can look forward to getting your hands on a whole selection of exclusive and limited edition Cinamoroll x Etoile et Griotte items at the fair.
There will also be a limited time photo spot at the Harajuku and Umeda branches of KIDDY LAND which you can follow up with online with the hashtag #つれてってシナモン2018. If you post your photo with this hashtag along with #KIDDYLAND, you'll be entered into the KIDDY LAND Awards for a chance to win prizes.
Also, from September 15, if you spend more than ¥2,000 (including tax) on the collaborative merchandise or any Cinamoroll merchandise you'll receive some special stickers. These will no longer be available after the fair ends, so they're exclusive!
And we can't forget the themed food menu. To celebrate, if you purchase any collaborative merchandise at KIDDY LAND, you'll get a discount ticket you can use in the café. And when you buy something at the café, you'll get a discount ticket to use in KIDDY LAND. Triple collaboration!
Enter the mature and kawaii world of Cinamoroll x Etoile at KIDDY LAND.
RECOMMENDED ENTRIES
Cinnamoroll to Get Themed Café in Sapporo After Being Voted Sanrio's #1 Character

Sanrio's popular character Cinnamoroll recently won the 33rd Sanrio 2018 Character Awards with a staggering 520,224 votes. To celebrate, the blue-eyed, long-eared puppy will get his very own café in Sapporo PARCO which will be open from July 27 to September 10.

In the story of Cinnamoroll, the white puppy happened upon Café Cinnamon where the owner took him in after they saw how much he liked the smell of the cinnamon rolls sold there. When you roll up to the café in Sapporo, you'll be greeted by staff dressed as Cinnamoroll and the owner.

If you order food from the deliciously themed menu, you'll get your very own original lunch mat as thanks, and if you order a drink, you'll receive an original coaster.

Soratobu Cinnamon Curry – With Mug ¥1,590 / Without Mug ¥1,290

In this curry, Cinnamoroll is flying through a green sky with his big ears. The dish is topped with cotton candy clouds which, when mixed with the curry, creates a unique flavour of sweet and spicy. If you order yours with the mug you can take it home with you. They're available at this event only!

Cappuccino Afternoon Nap Beef Stew – ¥1,290

Cappuccino is another character in the Cinnamoroll universe, and here he's become a beef stew. His cute white mouth is his charm point which is made from whipped fresh cream. Dip his bread ears into the stew and enjoy.

Milk Helping with the Cream Pasta – ¥1,090

Milk is the youngest pup in the world of Cinnamoroll, and here he's helping make your cream pasta. There's a sweet potato tart on the side which Cinnamoroll gave to Milk as thanks for helping♥

Fuwa Fuwa Cloud Chiffon Cake & ☆Stardust☆ – ¥1,590

A chiffon cake with fluffy clouds. Eat it together with the stardust your found in the sky!

Mocha's Love♥Fondant Chocolate – ¥1,190

This dessert plate features Mocha showing her love for you. It's topped with ice cream, fondant chocolate, cranberries and other fruity treats for you to find!

Cinammon's One Plate Melted Clouds – ¥1,490 (w/ balloon)

On top of the super hot iron plate is a waffle topped with marshmallows and lots of fruits made to look like a cloud. Eat everything together with Cinnamoroll who's made out of lacto ice♡

 

Soda on Top of a Faraway Cloud in the Sky – ¥990 (w/ keyring)

When you pour your soda on top of the fluffy cloud-like Cinnamoroll, he'll collapse into your drink and make it nice and sweet!

Espresso Gentleman☆Iced Latte – ¥790

Espresso is another Cinnamoroll character, and here's his very own drink: an iced latte. That makes double the espresso! Take a picture with your new moustache when you sip through the straw.

Cinnamoroll Hot Latte – ¥690

This hot milky latte was made by Cinnamoroll for Milk. Delicious, and not to be chugged in one go!

 

Expect lots of kawaii merchandise and other items on the menu too when you head to the Cinnamoroll Café!

■Information
Cinnamoroll Café

Sapporo PARCO 4F・THE GUEST cafe&diner

Address: Sapporo PARCO 4F – THE GUEST Cafe&Diner, 1-3-3 Minami, Chuo-ku, Sapporo-shi, Hokkaido

Running: July 27, 2018 – September 10, 2018

Opening Hours: 10:00am-8:00pm (Food Last Orders 7:00pm / Drinks Last Orders 7:30pm)

Official Website: http://the-guest.com

"Cinnamoroll Café" in Shinjuku and Kyoto will sell Valentine season-limited plates

"Cinnamoroll Café's" Shinjuku Store and Kyoto/Kawaracho Store will sell Valentine season-limited menu items and goods from the 1st of February 2018 (Thurs.) to the 28th of February (Wed.).

They will offer two menus items – "Cinammon e Ai wo Komete♡ Ichigo Choco Doughnut Plate" and "Moca to Chiffon no Dokidoki♡ Ichigo Cocoa."

"Cinammon e Ai wo Komete♡ Ichigo Choco Doughnut Plate" sandwiches fresh strawberries and fresh cream in chocolate doughnuts and is decorated with chocolate sauce and various kinds of berries. The decoration of "Cinnamon" flying around, is very cute.

"Moca to Chiffon no Dokidoki♡ Ichigo Cocoa" is a drink representing the scene where "Cinnamon's" friends "Moca" and "Chiffon" are preparing for Valentine's Day. The heart-shaped toppings and pink-colored strawberries suit with the atmosphere of the Valentine season.

"Valentine Acryl Keyholder" which is a Valentine-limited product will be sold too.

Let's have a great time at "Cinnamoroll Café♡"

■Information

Cinnamoroll Café no Valentine

Period: 2018,02,01 (Thurs.) to 02,28 (Wed.)

Venues: Cinnamoroll Café Shinjuku Store

Cinnamoroll Café Kawaracho Store

・Cinammon e Ai wo Komete♡ Ichigo Choco Doughnut Plate – 1,280 yen + tax

・Moca to Chiffon no Dokidoki♡ Ichigo Cocoa – 700 yen + tax

・Valentine Acryl Key Holder – 680 yen + tax

Store information

Shinjuku Store: http://www.cinnamorollcafe.com/shinjuku/

Kawaracho Store: http://www.cinnamorollcafe.com

An SNS event commemorating the 15th anniversary of "Cinnamoroll" will be held! Yutaro's special videos will be uploaded too.

The participatory photo uploading campaign, "#Tsuretette Cinnamon 2017" will be held from the 6th of September (Wed.) to the 4th of October (Wed.). "Cinnamoroll" is the character which gained the first place in the "2017 Sanrio Character Award."

The videos of Yutaro who is a model and charismatic shop worker who is gathering much attention from a wide range of generations with his unique fashion styles will be released.

Yutaro will release videos which show him taking Cinnamoroll to many places. The videos which show Cinnamoroll, a male puppy like a white cloud and the cute-looking Yutaro will surely provide a feeling of comfortableness to the viewers.

The new series "Cinnamoroll #Tsuretette Cinnamon 2017" which will be released on the 6th of September will offer stuffed toys and special items. Cinnamon and his friends will become puppet finger dolls (soft type). Also, a 2 WAY rucksack which is very soft has a pocket to put the soft toy finger dolls inside will also be offered.

In order to participate in the campaign, you have to follow the official account of Sanrio by Instagram or Twitter. You will be enrolled in the campaign officially after uploading the photos taken with Cinnamon and his friends to hash tags "# Tsuretette Cinnamon 2017" or "# Nokkete Cinnamon." Photos taken by the official application of Sanrio "Sanrio AR Application" or photos using Cinnamoroll collaborative stamps which can be obtained by an application "SNOW " can be upload too.

Watch Yutaro's videos and take Cinnamon and his friends with you when going out to take your favorite photos!

■Information

"#Tsurette Cinnamon 2017" campaign

Applicatable date: September 6th, 2017 (Wed.) to 10:00 ~ October 4th (Wed.) 18:00

Application method: Follow the official account of Sanrio with Instagram "@tsuretette_cinnamon" or Twitter "@cinnamon_sanrio" and upload your photos with Cinnamon and his friends with the hash tags "#Tsuretette Cinnamon" or "#Nokkete Cinammon"

・Yutaro and Cinnamons' "# Tsurette Cinnamon 2017 Yattemita Videos"

1st episode "We are always together!!"

2nd episode "Let's go walking!!"

3rd episode "Me and Yutaro!"

4th episode "Give me a ride Cinnamon!!"

5th episode "I have a good idea!!"

6th episode "Cinnamon Senryu (Japanese style poetry)!!"

・"Cinnamoroll #Tsuretette Cinnamon 2017" series

Release date: September 6th. 2017 (Wed.)

Available stores: Sanrio stores, Sanrio areas inside the department stores etc…

Types of the series: 21 items

Puppet (Cinnamon, Moka) 2,808 yen for each

Stuffed toys (Cinnamon, Moka, Cappuccino, Chiffon, Espresso, Milk) 1,728 yen for each

Finger dolls (Cinnamon, Moka, Cappuccino, Chiffon, Espresso, Milk) 540 yen for each

Soft toy stand 1,080 yen

Wagon-like pouch 2,700 yen

Camera-like pouch 2,808 yen

Face-like purse 1,080 yen

Window-attached Boston bag 4,212 yen

Window-attached 2WAY ruck-sack 5,292 yen

Multi smartphone case 3,780 yen

(tax included – all items)

Cinnamoroll #Tsuretette Cinnamon 2017 campaign site:
RELATED ENTRIES
Yellow Coloured Minnie Mouse Cafes to Open in Tokyo, Osaka, Nagoya & Fukuoka

A new line of Minnie Mouse cafes are set to open in Tokyo and Osaka from February 28, 2020 and Nagoya and Fukuoka from February 29, 2020 for a limited time. Named "OH MY! MINNIE MOUSE," the cafes are an official collaboration between Disney and the Japanese cafe chain OH MY CAFÉ.

The cafe takes on the theme of Minnie Mouse being a living, breathing icon of today with a positive lifestyle. This is represented through the yellow colouring of the cafe, which features her iconic polka dots as well as ribbon taking on a yellow colour. Tuck into a cute menu line-up and get your hands on some cafe-exclusive Minnie Mouse merchandise.

Original Menu

Cheerful Burger – ¥1,990

This healthy burger is packed full of vegetables with a black bun made in the image of Minnie's silhouette. Feel as energised as Minnie with one bite of this tasty burger.

Beef Hash Ribbon Rice – ¥1,390

Inspired by Minnie Mouse's iconic ribbon, this hearty dish is a beef stroganoff plated with rice and veg. The ribbon is so cute it almost seems a waste to eat!

Fruit Sandwich – Single ¥990/ With Plate ¥2,790

An absolute must-order if you're wanting a dessert. This sandwich is piled with fresh fruits creamy yoghurt, sprinkled with poppy seeds, and doused in lemon juice.

Fizzy Lemon Squash – Single ¥690 / With Coaster ¥1,390

Charge yourself up with this fizzy lemonade and its refreshing aftertaste.

Relaxing Chamomile Tea – Single ¥490 / With Mug ¥2,090

Kick back and relax after your meal with a cup of chamomile tea♡

Original Merchandise

Heart Badge (8 Designs/Chosen Randomly) – ¥500

Folder – ¥350

Lunch Mat (6 Designs/Chosen Randomly) – ¥650 (*Table reservation required)

Those who book a table in advance will be given one of six possible lunch mats chosen randomly.

If you're in Japan for the spring, then why not stop by the OH MY! MINNIE MOUSE cafe for a Disney treat?

©Disney

Information

OH MY!MINNIE MOUSE

Locations/Dates

Tokyo: OH MY CAFE TOKYO (Tokyu Plaza Omotesando Harajuku Floor 3F, 4-30-3 Jingumae, Shibuya, Tokyo)

Running: February 28, 2020 – April 12, 2020

Osaka: kawara CAFE&DINER Shinsaibashi (Shinsaibashi OPA Floor 9F, 1-4-3 Nishi-Shinsaibashi, Chuo Ward, Osaka, Osaka Prefecture)

Running: February 28, 2020 – April 19, 2020

Nagoya: kawara CAFE&KITCHEN Nagoya PARCO (Nagoya PARCO South Building Floor 5F, 3-29-1 Sakae, Naka Ward, Nagoya, Aichi Prefecture)

Running: February 29, 2020 – April 26, 2020

Fukuoka: Kawara CAFE & KITCHEN KITTE Hakata (KITTE Hakata Floor 9F, 9-1 Hakataekichuogai, Hakata Ward, Fukuoka)

Running: February 29, 2020 – March 28, 2020

"OH MY! MINNIE MOUSE" OH MY CAFE Booking Website: https://mm.ohmycafe.jp/

J-Pop Group Perfume to Open Fashion Pop-Up Shop 'Perfume Closet' at Laforet Harajuku

Worldwide famous Japanese pop group Perfume are taking their fashion project "Perfume Closet" to Laforet Harajuku where it will run in a pop-up shop from February 20-26 this year.

Perfume Closet is a fashion project helmed by Perfume which aims to connect with fans through Perfume's music by making outfits. This is the fourth time Perfume Closet has opened, and will feature a line-up entitled "Perfume Closet 2020SS" which is part of what Perfume are calling "Phase 2," which started in January this year and centres on clothing. It follows on from "Phase 1" which featured a line-up of miscellaneous items.

SATIN COMBI TRENCH COAT – ¥49,500 (Tax Included) / FLOWER PLEATS DRESS – ¥44,000 (Tax Included)

SHEER COMBI KNIT ¥17,600 (Tax Included) / 2 WAY PLEATS SKIRT ¥35,200 (Tax Included)

RELAX WEAR (LADIES) – ¥16,500 (Tax Included) / PLEATS SLEEVE TEE (WHITE) – ¥9,900 (Tax Included) / SHEER COMBI RELAX PANTS – ¥22,000 (Tax Included)

The pop-up shop will stock a plethora of items made by the Perfume members, who worked on the designs, chose the materials, and crafted the silhouettes. It includes everything from coats to one pieces, blouses, bottoms, as well as unisex items men can wear too like pants, shirts, and more.

Fans of Perfume and fans of Japanese fashion aren't going to want to miss out on the new Perfume Closet, open for one week only starting next Thursday!

Information

Perfume Closet

Running: February 20, 2020 – February 26, 2020

Location: Laforet Harajuku (Floor 2F CONTAINER)

Laforet Harajuku Official Website: https://www.laforet.ne.jp/

IKEA Harajuku to Open in April 2020 as IKEA Japan's First Central Tokyo Branch

IKEA Japan has announced the opening of its first central Tokyo branch. Located inside WITH HARAJUKU, and just a 1-minute walk from Harajuku Station, the store will officially open its doors on April 25, 2020.

Harajuku is the hub of Japanese youth fashion culture, and is known the world over as one of the main tourist spots for those travelling to Tokyo. IKEA is taking its Swedish roots and planting them in the ground of central Tokyo with its spacious new storeーwhich will also have its own cafe.

If you're travelling to Tokyo, make sure to pay IKEA Harajuku a visit during your inevitable Harajuku shopping spree.

Information

IKEA Harajuku

Address: WITH HARAJUKU, 1-14-30 Jingumae, Shibuya, Tokyo

Grand Opening: April 25, 2020

Access: 1-minute on foot from Harajuku Station via JR Line / 1-minute on foot from Meiji-Jingumae Station via Tokyo Metro

IKEA Japan Official Website: https://www.ikea.com/jp/en/

Puro Easter 2020: Sanrio Puroland's Easter Event Will Be 'American Oldies' Themed

Sanrio Puroland is serving its annual "Puro Easter" event once again this spring. Taking on an American oldies taste, this cute-retro combining event will run from March 13 to June 2.

A new show and the return of 2019's hugely successful "Egg'n'Roll Easter" show

Weekends will see the commencement of the "Easter Bunny Race," a new show to determine who will take the place as Sanrio Puroland's number one Easter bunny. You'll have to turn up to the show to see what rabbit characters will be competing!

Running: March 13, 2020 – June 2, 2020 (Weekends, Public Holidays & School Holidays Only)

Location: Wisdom Tree, Sanrio Puroland Floor 1F

Last year's "Egg'n'Roll Easter" show was so popular that it's making a return. It combines nostalgic music and fashion of the American oldies. All of the Sanrio characters performing in the show wear cute Easter themed accessories like bunny ears.

Must-eat Sanrio Easter food and desserts

For the Easter season only, Sanrio Puroland is serving up a colourful food and dessert menu, ranging from waffles topped with banana mix ice cream, whipped cream and chocolate sauce; a curry with blue roux and snow-white omelette, and more.

There's plenty of places to take great photos too, including at the entrance to the third floor of Puroland where there's a juice box wearing adorable bunny ears. You can take a picture that looks like you're enjoying a party together with Hello Kitty and the rest of the Sanrio cast.

There's also a back panel in the first floor entertainment hall with an Easter design which serves as the perfect backdrop for a retro pop photo.

Receive an entry discount by wearing polka dots

Those who arrive to Sanrio Puroland wearing a polka dot outfit will receive am Easter discount when entering the park. This doesn't include small items like bags, shoes, shawls or accessories. Full conditions can be found on the event page below in Japanese.

Experience Easter like never before this year at Sanrio Puroland.

©1976, 2009 SANRIO CO., LTD.  ©1976, 1989, 1996, 1999, 2001, 2004, 2010, 2012, 2020 SANRIO CO., LTD.

Sanrio to Open Official My Melody Shops in Tokyo, Osaka and Nagoya to Celebrate Character's 45th Anniversary

Sanrio has announced that it is opening an official My Melody store to commemorate the popular character's 45th anniversary this year. It will open for a limited time on the first floor of Takashimaya Shinjuku in Tokyo from February 12 to 25.

The store is a must-visit for fans of Sanrio's kawaii white rabbit where they can get their hands on a huge assortment of merchandise, including exclusives, so adorable you'll want to add everything to your collection.

The line-up looks back at My Melody's 45 years in the business. The first 4,000 people to visit the store will be given a limited-edition shopping back, and the first 1,000 people who spend over ¥2,000 (tax included) will receive a free card.
*One card per person, per transaction

The store will also feature interactive projection mapping showcasing My Melody's 45-year history which when touched reacts. On February 15, the designer for the store will be drawing illustrations as well as doing signings for people.

As well as Takashimaya Shinjuku, the shop is set to hit Nagoya's Takashimaya Gate Tower Mall Nagoya and Osaka Takashiyama. Check the dates below, and help My Melody commemorate her 45th anniversary!

©'76, '20 SANRIO 著作(株)サンリオ

Information

My Melody 45th Anniversary Shop
Location: Takashimaya Shinjuku 1st Floor Main Square
Running: February 12, 2020 – February 25, 2020 (Closed February 19)
Opening Hours: [Mon-Thurs & Sun] 10:00-20:00 / [Fri-Sat] 10:00-20:30

Signings
Date: February 15, 2020 (Two Slots – ①11:30 / ②15:00)
No. of People: 20 per slot
Location: My Melody 45th Anniversary Shop
How to Participate:
・Receive a lottery draw ticket to the signing at the shop on the day (February 15) between 10:00-10:20.

・In the case that there are more people who want to join, one person may not receive two tickets for two signings. Additionally, tickets will not be handed out after 10:20.

・Winners and the order they will enter the signing will be announced at 10:20.

・Those who are chosen will receive a "Buyers Ticket." This must be exchanged for a ticket to attend the signing by spending more than ¥4,000 (tax included) at the My Melody 45th Anniversary Shop and handing over your Buyers Ticket.

*Signings and illustrations will only be done on paper and not merchandise.

*Requests for designs cannot be made

・My Melody 45th Anniversary Shop Nagoya
Running: March 25, 2020 – April 7, 2020
Location: Takashimaya Gate Tower Mall 7th Floor Rose Terrace

・My Melody 45th Anniversary Shop Osaka
Running: April 1, 2020 – April 7, 2020
Location: Takashimaya 1st Floor Good Shock Place

Sanrio Official Website: https://www.sanrio.co.jp/

3 Delicious, Mouthwatering Desserts in Osaka Perfect For Instagram

Our news website has already touched on a number delicious cafés in Japan's Kansai region. For those of you who are struggling with their itineraries for their upcoming trip to Osaka, we've got a sweet treat for you: a list of cafés serving up irresistible desserts in Osaka that you must try. 

All the cafés in this article were recommended by Instagram expert Tiara who knows everything there is to know about desserts in the Kansai region. Today we'll be using Tiara's mouthwatering photos to entice you that little bit more. 

Chihiro Sweets Shop/Nishiohashi

This shop belongs to desserts reporter Chihiro, whose reports have even been broadcasted on TV. The financier almond cakes and chocolate cakes here are very popular. You can also order to take out. 

Neoclassic Purin Set (Comes with financier almond cake and hot coffee)


This set includes a Neo Custard Purin topped with homemade vanilla ice cream full of rich vanilla flavour straight from the pod. The firm yet jiggly purin enjoys a rich eggy flavour which harmonises perfectly with the vanilla ice cream. The freshly baked financier almond cake is incredibly tasty . Chihiro's sweets shop opens from 12:00 but the café opens at 13:00 so if you're planning a  trip, make sure to not mix up the times.

▼Chihiro Sweets Shop (ちひろ菓子店)

Address: Floor 1, 1-25-13, Shinmachi, Nishi Ward, Osaka

Opening Hours:
Chihiro Sweets Shop: 12:00 – 19:00
Café: 13:00 – 19:00
No Fixed Holidays
Website: https://chihiroshop.thebase.in

Futsu ni Fruits Tosabori Parlor/ Higobashi

We've covered Futsu ni Fruits Tosabori Parlor in detail because it's just so good. The first floor serves takeout desserts while the second floor is used as an eat-in space. The café menu varies according to the time of day. For example, the morning menu includes toasts with a variety of toppings including fruit. The lunchtime menu introduces Futsu ni Fruits' main eye-catcher: the fruit sandwich. 


Seasonal Fruits Sandwich

 The rich flavour of the fresh cream perfectly embraces the fruity flavours and will leave you feeling refreshed. If a fruit sandwich isn't your thing, there are plenty of other ways to enjoy delicious fruits here. 

▼Futsu ni Fruits Tosabori Parlor

Address: 1-1-30, Tosabori, Nishi Ward, Osaka

Opening Hours:
Floor 1 Takeout: 10:00 – 16:00

Floor 2 Eat-In: 10:00 – 19:00
Closed: Mondays
Website: https://www.instagram.com/futsuunifuruutsu_cafe/

Fukushima Sugar/ Fukushima

Each dessert at this cake shop is handmade. This is the perfect place to enjoy the flavours of the season. Only 10 groups can eat-in per day so if you want to eat in, make sure to reserve in advance. 

Fig Chiffon cake/ Grape Tarts Assortment of 2/ Choux Pastry with Chestnut Cream Filling


The fig chiffon cake is soft and just one bite will fill you with happiness. The cakes are served on the most beautiful wooden plate. The cake menu changes according to the season so if you're interested, check out their Instagram. The showcase is lined with a variety of takeout desserts – you'll be spoilt for choice.

▼Fukushima Sugar

Address: 6 Chome-22-11 Fukushima, Fukushima Ward, Osaka

Opening Hours:
Takeout: From 13:00

Eat-In: 14:00 – 17:00 (Reservation Required)  

*It is possible to get a seat without reservation after 17:00

Closed: Mondays and Tuesdays

Website: https://www.instagram.com/sugar_fukushima/

All of Tiara's recommendations are just so mouthwatering – can you resist?

Tiara's Instagram is full of the most gorgeous cafés. If you're looking for a dessert in the Kansai region, make sure to check out Tiara's Instagram and you're bound to find your dream destination in no time. 

Original Text and Photos: @happy_pinkrose_tiara

*As cafés are constantly updating their menus, please check the official website or social media accounts of the cafés mentioned in this article for the most accurate information. 

Soar Into The Kawaii Dream World of The Little Twin Stars For Their 45th Anniversary

Sanrio's adorable star-themed characters the Little Twin Stars are celebrating their 45th anniversary this year. The adorable twin stars named Kiki and Lala were born into the universe in 1975 in the hyped run up to Christmas. Following their debut in the December edition of Sanrio's monthly magazine Ichigo Shimbun, the years saw their hair colours and designs retouched here and there. The one thing that remains unchanged is the love that connects them to fans all over Japan across three generations.

As Hello Kitty was celebrating her 45th anniversary last year and with My Melody also celebrating her 45th anniversary this year, now it's time for the Little Twin Stars' time to shine. 45th anniversary celebrations include collaboration events and special merchandise themed around the adorable, colourful, twinkling twins which are sure to get your heart fluttering with excitement. More information on these events and merchandise will be revealed in the future. A number of special events will be held at Sanrio Puroland and we are also expecting some new merchandise to hit the shelves at the Sanrio shop this summer. 

Sanrio Puroland: "LittleTwinStars 45th Anniversary"

Sanrio Puroland's Little Twin Stars 45th Anniversary event is set to take place from April 24 – December 31, 2020. The theme of the celebration will be Mainichi Kiki & Lala, Mainichi Kirakira (Sparkle Every Day, Kiki and Lala Every Day).


Want to soar up high into the world of Kiki & Lala? As part of Sanrio Puroland's anniversary celebrations, the attraction Kiki & Lala – Twinkling Tour is being improved to a whole new level, transforming into an even higher dreamy world where you can take photos in Puroland-limited photo booths. The attraction will only be operating on certain days.


Of course, there will be a new food menu serving up meals, desserts and more adorable treats based on Kiki and Lala's theme colours of blue and pink. What's more, Kiki and Lala will also take to the scene dressed in anniversary-limited costumes for a special photo event that your Instagram can't miss out on. Add some sparkling magic to your day and plunge deep into the world of Kiki and Lala.

LittleTwinStars 45th Anniversary

Running: April 24 – December 31, 2020. 

Sanrio Puroland Event Information: https://www.puroland.jp/ts45th/ 

Collaboration with Japanese Comedy Duo Nagareboshi

As Japanese comedy duo Nagareboshi (shooting star) is celebrating 20 years since their debut, they will be collaborating for a second time with Kiki and Lala, brightening up the year even more. Check out the collaboration design that features the four stars in Kiki and Lala's blue and pink themes. Merchandise using this design will be sold at Nagareboshi's Japan tour this year. More information on the tour will be released in the future. The first lineup of collaboration merchandise sold face towels and iPhone cases which became so popular that many items were sold out. If you missed out the first time, this is your chance!

Anniversary Collaboration with Detclear Facial Cleansing Gel: 6 Varieties

Kiki and Lala are collaborating with Detclear: a popular facial cleansing gel formulated for dry, sensitive skin that gently removes dead skin cells and dissolves blackheads. The collaboration Detclear Bright & Peel Peeling Jelly will be released on February 25, 2020 with six Kiki and Lala-themed bottle designs. The designs travel through time from the 1970s which sees our twinkling stars with yellow and brown hair to a retro time with a pink and aqua theme to the adorable magical unicorn theme that came out in more recent years. 

Whether it's an adorable pastel dreamworld design or one of the more nostalgic ones, you are bound to find a bottle that you really love. 

Detclear Bright & Peel Peeling Jelly – Unscented

Price: ¥1,200 (Before Tax)

Release Date: February 25, 2020

Available At: drugstores, general stores, cosmetics shops and official beauty online shops.

Sprinkle some stardust into your life this year for Kiki and Lala's 45th anniversary celebrations.

©'76,'20 SANRIO 著作(株)サンリオ 

Win Hello Kitty & Chibi Maruko-chan Prizes With Sanrio's Lottery Draw

To celebrate the 30th anniversary of the Chibi Maruko-chan anime adaptation, the franchise is teaming up with Sanrio's internationally beloved character Hello Kitty.

For the collaboration, cute and original artwork has been created featuring Hello Kitty and Maruko-chan hanging out together in their everyday lives, a scene that's sure to incite a sense of nostalgia to both kid and adult fans of the longtime anime series.

We see Maruko-chan wearing Hello Kitty's iconic red ribbon, as well as Maruko's grandpa Tomozo Sakura donning a hat inspired by Hello Kitty.

There's also an illustration of the two friends drinking milk bottles together which they bought from Mitsuya in the background, a candy shop that appears in the Chibi Maruko-chan seires.  If you look closely you can see Noguchi peeking her head from behind the shop.

A special lottery draw is set to roll out in Japan at Sanrio stores, department stores stocking Sanrio products, Lawson, MiniStop, Daily Yamazaki, bookstores, and elsewhere from early June 2020. Fans are guaranteed to win a prize, which includes a line-up of nine items as well as a special top prize. Merchandise includes a takoyaki machine, hot plate, bath towel, and more.

Following the lottery draw, more exciting things are set to take place as part of the collaboration.

ⓒ Sakura Production / Nippon Animation

ⓒ 1976, 2020 SANRIO CO.,LTD. TOKYO,JAPAN  著作:株式会社サンリオ

Information

Chibi Maruko-chan x Hello Kitty – Sanrio Lottery

Price: ¥700 (Tax Included) per go

Start Date: Rolling out early June 2020 (Start date differs between stores)

Available: Sanrio products, Lawson, MiniStop, Daily Yamazaki, bookstores, and elsewhere (*Select branches not participating)

Sanrio Character Museum to Open in Tokyo's Roppongi Hills For 60th Anniversary

Sanrio is set to turn 60-years-old in August 2020. To commemorate, the company has announced that it will open a museum called "Sanrio Character Museum" in summer 2020 where it will tour around Japan until 2025. The full dates and locations have yet to be announced, but its first stop will be the Tokyo City View Sky Gallery located on the 52nd floor of Roppongi Hills Mori Tower in Tokyo. Details for this first stop will be revealed sometime next month.

ⓒ '74, '75, '76, '77, '79, '80, '82, '83, '84, '85, '86, '88, '89, '90, '92, '93, '96, '98, '99, '01, '04, '05, '20 SANRIO CO., LTD.

Since its establishment, Sanrio has sought to spread kawaii culture to the world, as well as the message of everybody getting along and being friends. But how have gotten to this point with each passing generation? The museum exhibition will answer that very question, exploring its line-up of over 450 characters Sanrio has created over the years, including the most prominent ones like Hello Kitty, My Melody and Little Twin Stars who have been around for more than 40 years. It will also showcase characters that will be nostalgic to longtime Sanrio fans.

The exhibition will peruse the history of Sanrio from before it created its characters, and delve into the origin of the company's kawaii world. Fans can expect to see valuable prints, products, materials, and more. The exhibition will also include works made in collaboration with some of Japan's up-and-coming and prominent artists. Expect plenty of kawaii, and plenty of what is sure to be invaluable information for Sanrio fans.

Information

60th Anniversary Sanrio Character Museum

Start Date: Summer 2020

*Details TBA at the time of posting this article

Sanrio's Kuromi Begins 15th Anniversary Celebrations With Kuromi Cafe, Merchandise & More

This year, Sanrio is celebrating the 45th anniversary of its popular character My Melody. But she isn't the only one celebrating in 2020, as this year is also Kuromi's 15th anniversary, for which Sanrio has many exciting things planned for fans.

Kuromi first appeared back in 2005 in a television anime series entitled Onegai My Melody. She is known for her black hood with a pink skull on it. She seems like the rowdy type, but she's actually just a cute girlーsomething which has earned her many a fan, both guys and girls.

The Kuromi Cafe opens for a limited time

As you read this article, the official Kuromi Cafe is serving Kuromi-themed food, drinks and desserts to customers at the CHIBA SOGO branch of JUNNU on the first floor "Character Cafe." The menu line-up is inspired by the cheeky white rabbit, taking motifs such as her black hood. The cafe also has a photo spot for you to snap a picture to remember this celebratory day, and you can also pick up some official Kuromi merchandise.

Kuromi's Prim and Proper Curry – ¥1,540 (Tax Included)

Running: Now until March 22, 2020

Location: Character Cafe, JUNNU Floor 1F, CHIBA SOGO, Tokyo

Opening Hours: 10:00-20:00

Valentine's Doughnuts at Floresta Nature Doughnuts

Floresta is selling its first batch of My Melody and Kuromi doughnuts between February 1 and 7, and will be selling a new batch of balled doughnuts in a cup with Flat-kun and Kuromi between February 8 and 14.

 

Batch ①: February 1, 2020 – February 7, 2020

Prices: My Melody/Kuromi – ¥495 Each (Tax Included)

Batch ②: February 8, 2020 – February 14, 2020

Price: Rolled Doughnuts – ¥660 (Tax Included)

Official Website: https://nature-doughnuts.jp/

Merchandise collaboration with ITS'DEMO

All branches of ITS'DEMO in Japan are set to stock their shelves with Kuromi and My Melody items from February 15, 2020. ITS'DEMO is a chain of stores which sell fashion accessories, cosmetics, snacks, and more.

The cute line-up features flower prints which remind one of spring. Hidden within the designs are also motifs and references to each character. There are around 60 items to sift through, including stationery, snacks, and more.

Running: February 15, 2020 – March 9, 2020

Location: ITS'DEMO stores in Japan (*Select branches not participating)

Official Website: http://itsdemo.jp/

Kuromi herbarium bottle and pen by Hibiya Kadan

Hibiya Kadan is now selling a herborium and pen with Kuromi and My Melody designs. The herborium is split into two sections, one with hydrangea and annual baby's breath flowers, and the other with colourful oils. The hand-crafted pen is both a ballpoint pen and herborium in one. Both give you that fresh feeling of plants and flowers, and both are great for personal use or as a gift to someone.

Product Prices (Tax Included) Kuromi Floral Herborium – ¥2,420 / Kuromi Herborium Ballpoint Pen – ¥1,980

Release Date: Now on sale at Sanrio shops and the Sanrio online store. Releasing at Hibiya Kadan in March 2020.

Purchase:

・Sanrio

Select Sanrio shops and the Sanrio online store (https://shop.sanrio.co.jp/)

・Elsewhere

Rakuten: https://www.rakuten.co.jp/sanrio/

Yahoo! Shopping: https://shopping.geocities.jp/sanrio/

Hibiya Kadan shops and online store (https://www.hibiyakadan.com/sanrio/)

Kuromi's first collaboration with muta MARINE

muta MARINE is an ocean-inspired clothing and goods line from luxury good brand muta. They are planning to release the "Black Marine" line together with My Melody and Kuromi in March 2020.

Exhibition: 59th Japan International Boat Show 2020

Location: Pacifico Yokohama

Running: March 5, 2020 – March 8, 2020

Products: T-shirts, eco bags, and more

Available: At muta MARINE stores and the muta online shop (www.mutatokyo.com/)

Celebrate Kuromi's 15th anniversary this year with one of the many things planned for her in 2020♡

ⓒ 1976, 2005, 2020 SANRIO CO .,LTD.  著作:株式会社サンリオ

Visiting @cosme TOKYO in HarajukuーThe Place That Satisfies All Of Your Makeup & Cosmetic Needs

@cosme TOKYO is a new flagship store that opened in front of Harajuku Station in Tokyo on January 10, 2020.

@cosme is a web portal centred on makeup and cosmetics. Offering a wealth of beauty information from a number of perspective, the website lets you see the latest trending items in the makeup world from the word on the streetーby letting people comment on and rank itemsーoffers solutions to skincare and makeup-related problems, and more.

@cosme TOKYO is the first-ever physical store by @cosme. Its floor space spans over 1,300 square meters where it houses an enormous selection of cosmetics and makeup products, from inexpensive and affordable quality items to luxury brands. Since opening, it has become the talk of the town in Harajuku.

It's comprised of three floors, each with their own highlights. Let's go and check it out.

1st Floor: A Hall of Fame for the latest most popular cosmetics

When you walk into the first floor area, the first thing that's sure to catch your eye is the incredible "Best Cosmetic Award Tower," a collection of items that have have won past cosmetic awards for being the best. All the cosmetics are stacked up high in their own little display case.

As you proceed further across the shop floor, there is the "@cosme Weekly Ranking" corner which ranks the most popular items on the website for that week, so customers can always know what products are the best to incorporate into their makeup and beauty routine.

But perhaps the centrepiece of @cosme TOKYO is the "Tester Bar," where customers are free to try out products using the puffs and cotton pads provided. There's also a tap and sink for rinsing. You can't deny how great this service is; without worrying about others, you can try out all the cosmetics to your heart's desire and then buy them if they're to your liking.

There are also smart lockers so you can lock your things away, allowing for your hands to be free while you test makeup and shop. But it doesn't stop there, as there's even a foreign currency exchange machine which caters for 85 currencies in 120 countries.

2nd Floor: Men's cosmetics, beauty equipment, and more

Up on the second floor, you'll find another area that ranks products, this time the ones with the most sales at @cosme TOKYO. Everything is displayed in such a way that it's easy to find products as they are separated by base makeup, mascara, lipsticks, and so on. You'll find pop artwork hand drawn by the staff to highlight products, so enjoy comparing and considering all the different items.

Recently in Japan, men's products have been garnering attention, and so @cosme have created an entire section dedicated to male and unisex makeup items. Picking out makeup with your partner is goals, and now it's finally becoming a reality.

Another area that's popularーwith both Japanese people and foreignersーis one that stocks cosmetics made with naturally-derived ingredients from Japan, as well as products with Japanese-style packaging. It's perfect if you're looking for Japanese-specific items or for gifts and souvenirs.

Also on the second floor are beauty mirrors so you can check yourself out as well as two Tester Bars, so you can try out products here too.

If you have kids, you can drop them off in the kid's area while you shop. There's also bread-feeding rooms and places for changing diapers. They have it all!

3rd Floor: A place to relax exclusive to @cosme app users

The third floor is home to a lounge that can only be used by those who have the @cosme app installed on their phone. It can be used for relaxing or for hanging out with friends. It's hard to find a such a quiet and relaxing place like this so close to Harajuku Station.

If you want to retouch your makeup, there's a powder space you can do that for free, as well as oxygen boxes. This floor is packed full of different great services.

@cosme also has its own points system. One point equals one yen, and you get five for just visiting the store.

Anyone and everyone can enjoy a fun and easy shopping experience

 

Each product in the store has a JAN code on it which when scanned at one of the tablets in store will give you information about that product in multiple languages, including English, Simplified/Traditional Chinese, and Korean. This goes for the map of each floor too, so you can find out what each floor offers without getting lost.

@cosme TOKYO also has free Wi-Fi, and can also ship products around Japan. It offers a comprehensive shopping experience that caters to both Japanese and foreign customers.

You're sure to find many items you like when visiting @cosme TOKYO, so you can't miss out on visiting if you're travelling to Harajuku or Tokyo. Enjoy shopping!

Information

@cosme TOKYO
Opened: January 10, 2020

Address: 1-14-27 Jingumae, Shibuya, Tokyo
Opening Hours: 10:00-21:00
No Fixed Holidays
Official Website: https://www.cosme.net/flagship/

Hello Kitty Collaborates With Japanese Biscuit Brand Tabekko Doubutsu

Sanrio is teaming up with Japan's longtime loved snack maker Ginbis to release a new line of 11 products featuring Hello Kitty. They will go on sale from February 6, 2020 at Sanrio shops across Japan, the online store, and select stores stocking Sanrio products. The collaboration combines the deliciousness of their biscuits, which are a nostalgic snack for Japanese people, with the cuteness of Hello Kitty.

The snack in question is the butter flavour of the popular longtime selling biscuit Tabekko Doubutsu, which are light to eat and come in cute animal shapes with the name of the animal written on them. Hello Kitty is a character known the world over, who celebrated her 45th anniversary last year. But the collaborative product line doesn't just include the biscuits – it includes merchandise too which will be sold as gift sets.

Plastic Mug (2 Designs) & Tabekko Doubutsu Biscuits – ¥700 Each

Two exclusive designs were created for the plastic mugs, including one with Hello Kitty flying an aeroplane over the animals, and the other with her face mixed in with the biscuit shapes.

*Please note that the biscuit packs do not come with biscuits of Hello Kitty's face

Mascot Holder & Tabekko Doubutsu Biscuits – ¥1,650

Mini Handbags (2 Designs) & Tabekko Doubutsu Biscuits – ¥1,100 Each

The mascot holder features Hello Kitty covered in biscuits, and the mini handbags come in the same designs as the plastic mugs. There are also pouches, mini purses, and more, for a total of 11 different items.

Treat yourself or your Valentine's Day sweetheart to an item in this kawaii new collaboration from Sanrio and Ginbis.

©️'76,'20SANRIO ©️Ginbis

*All listed prices include tax