YOSHIKI feat. HYDE to Perform on TV Show 'MUSIC STATION ULTRA FES 2018'
YOSHIKI and HYDE will perform their song Red Swan on the Japanese TV show MUSIC STATION ULTRA FES 2018 on September 17. The song serves as the opening theme song for season three of the ongoing anime series Attack on Titan.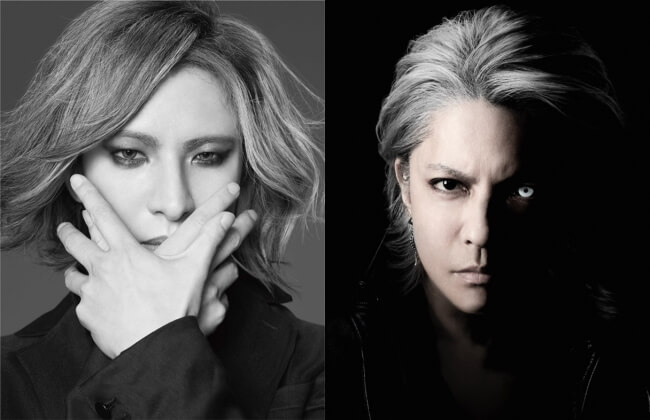 MUSIC STATION ULTRA FES is a popular show in Japan that features an amazing line-up of artists. They have had 45 guests on to date. Season 4 is soon to conclude marking the end of the show.
YOSHIKI of X Japan will perform a special three-day concert at Makuhari Messe International Exhibition Hall from September 28 to 30. He will also perform at HYDE's (L'Arc~en~Ciel, VAMPS) 2018 solo tour which consists of 32 dates in 6 locations.
RELATED ENTRIES
Universal Cool Japan 2020 Finally Begins: Attack on Titan, Monster Hunter World & More

This year's Universal Cool Japan finally opened at Universal Studios Japan on Tuesday, where it is set to run until June 28, bringing together the 'cool' aspects of Japan enjoyed by the rest of the world. Four internationally beloved franchises take the spotlight for 2020: Attack on Titan, Monster Hunter World, Detective Conan, and Lupin III.

A host of lucky guests were able to experience the attractions before anyone else. Today, we hear their review and comments of the all-new rides, attractions, live shows and restaurants centred around the four big contenders which serve to fully immerse fans in their incredible worlds.

Attack on Titan's first XR ride

The Attack on Titan manga series has celebrated its 10th anniversary last year. For this year's Universal Cool Japan, the internationally-acclaimed series welcomes its first ever XR ride, as well as its own "Survey Corps Diner."

Guests wear VR goggles that transport them into a 360° rendering of the world of Attack on Titan, with life-size Titans appearing before their very eyes. Guests ride a roller coaster and fly alongside the Survey Corps. If you've ever wanted to know what it's like to soar up high with ODM maneuver gear, now's your chance. The Attack on Titan XR Ride offers a thrill like no otherーone so tense you'll be left wondering whether you will survive.

■Guest Comment

"It was so much fun! The visuals are breathtaking and connect superbly to the ride's movements. I was completely immersed in the visuals; it really felt like I was riding a wagon. Eren and the Survey Corps members were so cool, and even the horses looked realistic. It was amazing!" (Woman, 20/Osaka Prefecture) *Translated from Japanese

The themed restaurant, "Attack on Titan Survey Corps Diner," is so realistic to a quality you wouldn't believe, with the Survey Corps members' weapons and personal belongings left casually around the place. Guests can feel immersed as they listen to the conversations between the characters will chowing down on their meal, take a photo with life-sized versions of Levi and Hange, and more.

Detective Conan World's two new attractions with Shuichi Akai have fans screaming

At Detective Conan World, fans can expect to see the appearance of the hugely popular character Shuichi Akai who is set to star in the upcoming animated film Detective Conan: The Scarlet Bullet (releasing April 17, 2020). Four rides and attractions can be enjoyed at Detective Conan World, including the manga series' first-ever story-packed roller coaster named Detective Conan x Hollywood Dream: The Ride.

Guests can also look forward to joining Conan solve cases in Detective Conan: The Escape ~The Scarlet Bullet~, an escape game featuring an original story and a live performance by a real cast. Participants will make use of AR technology and solve the cases within the time limit to escape. Expect appearances from familiar faces too like Rachel Moore, Richard Moore, and others.

In Detective Conan x Hollywood Dream: The Ride, you'll be placed in the passenger seat with Akai on the wheel who will use some extreme driving techniques to shake off the criminal. Look forward to plenty of thrills in this immersive experience.

 

■Guest Comment

"Not only do you solve cases, there's also a gaming aspect to the challenges which require the use of the AR terminal. It's also a team game where you work with others, so I enjoyed it with everyone else. A lot of characters make an appearance too, it was so cool." (Female, 20/Osaka Prefecture) *Translated from Japanese

There's also the Detective Conan Mystery Challenge in which guests take a hands-on approach to solve various incidents around the theme park. Harley Hartwell, Kazuha Toyama, and Tomoya's love rival Momiji Ooka are also present in this game with in the form of a real-life cast.

Fans can also tuck into some mystery-themed food at the Detective Conan Mystery Restaurant which combines food and live entertainment. Fans reacted overwhelmingly to the appearance of Masumi Seraーthe sister of Akai. There's also appearances from Amuro Tooru and Serena Sebastian too.

Lupin the Third: The Live

 

Witness a live cast playing the roles of the popular Lupin III, Daisuke Jigen, Goemon Ishikawa XIII, Fujiko Mine, and Koichi Zenigataーthe latter of which is trying to chase down Lupin. It features live entertainment by real cast members who will perform right before guests. The reaction to this live show has been overwhelming as guests feel like they are running through Delancey Street in New York with Lupin in this interactive story.

■Guest Comment

"I was amazed to have been able to see such an amazing show right in front of me. Lupin and the gang came from above, below, left, and right. There were too many good moments. I didn't have enough eyes! <laughs>" (Female, 20/Hyogo Prefecture)

Last year's Lupin III restaurant, Ristorante Amore, has received an upgrade for 2020. Experience being served by Lupin himself, with his gentle approach and know-how when it comes to getting with the ladies, and Goemon Ishikawa XIII, who is aloof and has terrible romance skills. They are serving up authentic Italian cuisine.

Monster Hunter World: Iceborne XR WALK

The Monster Hunter video game franchise is loved the world over, and is appearing once more at Universal Cool Japan after two years. Use interactive VR technology and go hunting in the world of Iceborne, the hit expansion to Monster Hunter World, in an experience so immersive you'll forget about the real world.

©Hajime Isayama・Kodansha / "Attack on Titan" Production Committee

©2020 Gosho Aoyama / Detective Conan Production Committee

© CRAP All rights reserved.

©Monkey Punch / TMS・NTV

©CAPCOM CO., LTD. ALL RIGHTS RESERVED.

書・SISYU

TM & © Universal Studios. All rights reserved.

Attack on Titan T-Shirts, Hoodies and More by WIT STUDIO Dropping on Tokyo Otaku Mode

Tokyo Otaku Mode Inc. has revealed a new line of Attack on Titan with illustrations by WIT STUDIO that will drop on the website on December 7, 2019 at 10:00 a.m. (JST).

T-Shirt: Eren

T-Shirt: Levi

Fans have gotten three seasons so far, and fall 2020 will see the arrival of the final season of the internationally-acclaimed anime series Attack on Titan. To celebrate, fans can get their hands on a variety t-shirt and sachoche bag featuring fan-favourite Levi, as well as a line-up of t-shirts and hoodies decorated with members of the Survey Corps and the Titans.

Hoodie (Front)

Hoodie (Back)

Made with 100% cotton, fans can dress nice and comfy while showing off their favourite series.

Sacoche Bag: Levi

These products will be sold at Tokyo Otaku Mode TOKYO on the 6th floor of Shibuya PARCO as well as via the Tokyo Otaku Mode online shop. They will also roll out at select anime merchandise stores.

The apparel is also scheduled to roll out on the global Tokyo Otaku Mode Shop for fans outside Japan too, so be sure to keep up to date via their website and social media below.

©Hajime Isayama・Kodansha/ "Attack on Titan" Production Committee

Information

Attack on Titan x Tokyo Otaku Mode x WIT STUDIO

Release Date: December 7, 2019 at 10:00 a.m. (JST)

①Available via the Japanese Tokyo Otaku Mode online shop (link TBA). Details TBA on their official Twitter page: https://twitter.com/otakumode_jp

②Available at Tokyo Otaku Mode TOKYO (Shibuya PARCO 6F, 15-1 Udagawacho, Shibuya Tokyo). Open 10:00-21:00.

Tokyo Otaku Mode Global Website: https://otakumode.com/

Tokyo Otaku Mode Global Twitter: https://twitter.com/TokyoOtakuMode

T-Shirts

Price: ¥3,000 Each (Before Tax)

Material: 100% Cotton

Sizes: S/M/L/XL

Hoodies

Price: ¥6,000 Each (Before Tax)

Material: 100% Cotton

Sizes: S/M/L/XL

Sacoche Bags
Price: ¥1,500 Each (Before Tax)
Material: 100% Cotton
Sizes: 30cm x 23cm x 105cm

Universal Cool Japan 2020: Attack on Titan, Monster Hunter World, Detective Conan & Lupin III

It has been announced that Universal Cool Japan 2020 will take place from January 21 to June 28 next year. This year marks the 6th run of UCJ which began in 2015, bringing together the 'cool' aspects of Japan enjoyed by the rest of the world, and enjoys immense popularity every year.

Universal Cool Japan 2020 will see four big titles in Japanese entertainment come together. Expect all-new attractions for all-new experiences.

*The Monster Hunter World: Iceborne x USJ attractions will be announced at a later date

Attack on Titan XR Ride

The Attack on Titan manga series has celebrated its 10th anniversary this year. For the first time ever, the series is getting its own XR Ride in which guests will don VR goggles that will transport them into a 360° rendering of the world of Attack on Titan, with life-size Titans appearing before their very eyes. Guests will ride a roller coaster and fly alongside the Survey Corps. If you've ever wanted to know what it's like to soar up high with ODM maneuver gear, now's your chance.

Running: January 21, 2020 – June 28, 2020

Detective Conan World

Join Conan in the all-improved and revamped Detective Conan World and help him solve cases in Detective Conan: The Escape; ride the new story-filled roller coaster Detective Conan x Hollywood Dream: The Ride which features full voice acting and an immersive plot; run around the park and solve various incidents hands-on with Detective Conan Mystery Challenge; and dine at the Detective Conan Mystery Restaurant.

Running: January 21, 2020 – June 28, 2020

*Full details on the restaurant will be announced at a later date

Lupin the Third: The Live

Lupin the Third made its first appearance at UCJ 2019 and was very well-received. This live show features street live entertainment by real cast members who will perform right before guests. Join Lupin and the characters in the exciting world of the franchise.

Running: January 21, 2020 – June 28, 2020

Monster Hunter World: Iceborne x Universal Studios Japan

The Monster Hunter video game franchise is loved the world over, and is appearing once more at Universal Cool Japan after two years. Use interactive VR technology and go hunting in the world of Iceborne, the hit expansion to Monster Hunter World which has shipped 2.8 million copies worldwide.

Running: Spring 2020 (subject to change)

Image Credit: Universal Studios Japan

HARRY POTTER characters, names and related indicia are © & ™ Warner Bros. Entertainment Inc. Harry Potter Publishing Rights © JKR. (s19)
Despicable Me, Minion Made and all related marks and characters are trademarks and copyrights of Universal Studios. Licensed by Universal Studios Licensing LLC. All Rights Reserved.
Nintendo properties are trademarks and copyrights of Nintendo. © 2019 Nintendo.
TM & © Universal Studios & Amblin Entertainment

©Hajime Isayama・Kodansha / "Attack on Titan" Production Committee

©2020 Gosho Aoyama / Detective Conan Production Committee

© CRAP All rights reserved.

©Monkey Punch / TMS・NTV

©CAPCOM CO., LTD. ALL RIGHTS RESERVED.

書・SISYU

TM & © Universal Studios. All rights reserved.

Japanese Musician YOSHIKI Impresses Prince Charles

Having previously had a picture with Queen Elizabeth II, Japanese musician YOSHIKI is making more and more of an impression on the British royal family. In a recent photograph he posted on Instagram, he is seen with Prince Charles at Buckingham Palace. The photo was taken at a music-related charity event supported by Prince Charles to which YOSHIKI was invited as a guest. 

YOSHIKI and Prince Charles had a conversation that day. The fact that YOSHIKI wrote and performed the 10-year commemoration song for the Emperor of Japan was mentioned and Prince Charles supposedly reacted positively, stating that he would love to have YOSHIKI perform at Buckingham Palace.

YOSHIKI is making an impression on people all over the world so do not take your eyes off him for a second. 

Experience the Attack on Titan VR Game at the MORI Tower Sky Deck in Roppongi Hills

As part of the ongoing Attack on Titan Exhibition FINAL event that is taking place at MORI Arts Center Gallery until September 8, a new addition has been added to the event that will take place from August 6 to September 8.

Titled "Sky Deck ~The Colossal Titan's Invasion~," the event will take place on the open-top roof of Roppongi Hills MORI Tower that will make use of the surrounding environment and utilise AR technology to project the Colossal Titan before your very eyes, up 270 meters high.

What happens when the Colossal Titan himself appears before you in real life? This virtual experience will give you a peek into the cruel and terrifying world of Attack on Titan.

Information

Attack on Titan Exhibition FINAL x Sky Deck ~The Colossal Titan's Invasion~

Location: Roppongi Hills Tokyo City View Sky Deck (Roppongi Hills MORI Tower Rooftop)

Running: August 6, 2019 – September 8, 2019

Time: 11:00-18:00

*Sky Deck opening hours extended to 22:00 (last entries 21:30) on August 25

*Sky Deck opening hours reduced to 17:00 on August 10 due to the firework festival (August 11 if postponed)

*Last entries are 30 minutes before each respective closing time

Price: Sky Deck fee only (AR is free to experience): General ¥500 / Aged 4-12 Years ¥300

*Separate fees are charged for entry to the exhibition, sky deck, and Mori Art Museum

*The recommended age for the AR experience is 7+ years

Full Details (Japanese): http://tcv.roppongihills.com/jp/news/2019/08/3400/index.html

Attack on Titan Exhibition FINAL (English): https://www.kyojinten.jp/en/

Attack on Titan, Seven Deadly Sins, Fairy Tail & Other Anime T-Shirts Releasing at UNIQLO

UNIQLO's graphic t-shirt brand UT are celebrating the 60th anniversary of manga magazine Weekly Shonen Jump with a new t-shirt collection via their sub brand MANGA UT. The t-shirts will go on sale from August 12.

The collection covers six anime series serialised in the popular magazine including Hajime no Ippo, Fairy Tail, The Seven Deadly Sins, Attack on Titan, Negima! Magister Negi Magi, and Shōta no Sushi. Each t-shirt pays homage to its respective series, featuring iconic scenes that have stayed with fans, sound effects, and original designs that capture their worlds.

Hajime no Ippo

Hajime no Ippo is a boxing manga written and illustrated by George Morikawa. It follows Ippo Makunouchi, a shy high school student who suffers at the hands of bullies. He begins a career in boxing in search of the answer to the question "What is strength?" and battles his rivals and those around him to grow as an individual. The t-shirt design captures the lively energy seen in the characters and is surrounded by eye-catching SFX.

©George Morikawa/Kodansha

Fairy Tail

Fairy Tail is a fantasy adventure manga written and illustrated by Hiro Mashima. It follows the dragon slaying wizard Natsu and his tale of growth as part of the Fairy Tail guild. One of the t-shirts features four characters from the guild and the other is a large illustration of Acnologia, the main characters' strongest enemy.

©Hiro Mashima/Kodansha

The Seven Deadly Sins

The Seven Deadly Sins is a fantasy battle adventure series written and illustrated by Nakaba Suzuki. It follows the titular characters each of whom represent the seven deadly sins. There are several t-shirt designs including one featuring Meliodas looking up to the sky and another of him and his comrades out on a peaceful trip. There is even a hand drawn illustration of Hawk, a talking pig and Meliodas's pet, which was illustrated by Suzuki himself and UT's editors.

©Nakaba Suzuki/Kodansha

Attack on Titan

Attack on Titan is an dark fantasy adventure series written and illustrated by Hajime Isayama. The story is set in a world where humanity lives within giant walls which help protect them from towering man-eating Titans. The terrifying t-shirt design features one of the Titans that live inside the walls.

©Hajime Isayama/Kodansha

Negima! Magister Negi Magi

Negima! Magister Negi Magi is an fantasy adventure and harem series written and illustrated by Ken Akamatsu. It follows the story of Negi, a wizard who becomes an English teacher at Mahora Academy, where he helps his class of students overcome their problems. He is also in search of his father who is known as a hero in the world of wizardry. There are two t-shirts, one featuring the main heroine Asuna Kagurazaka, and another of some of the other students in the class.

©Ken Akamatsu/Kodansha

Shōta no Sushi

Shōta no Sushi is a food manga series written and illustrated by Daisuke Terasawa which follows the story of Sekiguchi Shota who works as an apprentice and aims to become a sushi chef. There are two t-shirt designs, one which features the manga's logo and a slice of sushi and the other with the logo and a whole sushi platter.

©Daisuke Terasawa/Kodansha

Show your support for your favourite Weekly Shonen Jump series by picking up one of these awesome t-shirts!

Train Like the Attack on Titan Survey Corps at Lake Sagami Pleasure Forest

If you've ever wanted to feel what it's like to get up high off the ground like a Survey Corps member, you'll want to hit up the amusement park Lake Sagami Pleasure Forest this summer as it has announced a collaboration between its athletic course Muscle Monster and Attack on Titan. The event, entitled Attack on Colosseum: Muscle Monster will take place between July 20 and August 30.

The collaboration is taking place as part of the Attack on Titan Exhibition FINAL event which is currently being held at the MORI Arts Center Gallery in Roppongi until September 8. Fans of series can look forward to taking photos together with each character in the series at the Muscle Monster climbing attraction―which will be decorated in all things Shingeki―as well as get their hands on original merchandise, tuck into themed food and more.

Muscle Survey Corps! ~Join Forces and Exterminate the Titans~
A photo system will be in place as you ascend the Muscle Monster climbing course which will take your photos which can be printed out in original photos and feature members of the Survey Corps like Eren and Levi as well as the various Titans. There will also be life-sized character boards you can take photos with and more.

Location: Muscle Monster entrance
Price: 1 Physical Photo – ¥1,000 / 1 Digital Photo (1 Type) – ¥1,000 / Physical Photo + Digital Photo (5 Types) – ¥2,000

Original Merchandise
No fan of the series is going to want to miss out on the batch of exclusive merchandise being sold with illustrations unique to the event.

Location: Pleasure Station at the amusement park entrance (*Limited supplies available)

Original Pin Badge (5 Designs): ¥380 Each (Tax Included)

Pin one of these exclusive character badges to your bag to represent your Survey Corps team. The designs are chosen randomly.

Original Acrylic Key Ring (4 Designs): ¥490 Each (Tax Included)

Original A4 Folder: ¥380 (Tax Included)

Colossal Titan Attack from the distant Mountains at the top of Muscle Monster
Warn your fellow Survey Corps members of a Colossal Titan attack using AR technology by holding up your smartphone up to the distant mountains at the top of Muscle Monster. You can get a panoramic view of Lake Sagami and Mount Takao from the climbing course's apex.

Attack on Gourmet – Collaborative menu with free gift

Eren's Colossal Titan Extermination Hamburger: ¥1,800 (Tax Included) *Hamburger and side food is 2x the normal amount!

Levi's Clean Cut Meat Curry: ¥1,900 (Tax Included)


Devote Your Heart! Erwin's Power Drink: ¥850 (Tax Included)

Eat lots of food and get one of the special novelty items below!

Ordering from the food menu will get you this original lunch mat.

Getting a dessert will get you one of these four coasters.

There are lots of other things planned for the event too. So gear up, Survey Corps, and head on over to Lake Sagami Pleasure Forest!

Information

Attack on Colosseum: Muscle Monster

Running: July 20, 2019 – August 30, 2019

Event Page: https://www.sagamiko-resort.jp/shingeki2019/

Lake Sagami Pleasure Forest
Address: 1634 Wakayanagi, Midori Ward, Sagamihara, Kanagawa Prefecture

Opening Hours: Weekdays 10:00-16:00 / Weekends & Holidays 9:00-18:00

*Opening hours are different for the summer break, check the official homepage for more details

Price: [Entry] Adults ¥1,800, Children & Seniors ¥1,100 / [Free Pass] Adults ¥4,300, Children & Seniors ¥3,500
Official Website: http://www.sagamiko-resort.jp/

Attack on Titan The Final Season To Be Released in Autumn 2020

On June 30, NHK General TV finished broadcasting season 3 of popular anime Attack on Titan. Following the end of the broadcast, a 15-second trailer was released where we hear Mikasa pleading for Eren to come back. The short video also advertised the release of "The Final Season" which will be broadcasted in the autumn of 2020.

15-second trailer video

Fans are eagerly waiting to snatch up more information to fuel their excitement for the new season. 

©Hajime Isayama, Kodansha Ltd./Attack on Titan Production Committee

Information

Attack on Titan The Final Season

Autumn 2020 release on NHK General TV (subject to change).

Official Website: http://shingeki.tv/season3/

Attack on Titan Exhibition FINAL Will Take Place at Hirakata Park in Osaka

It has been announced that Attack on Titan Exhibition FINAL will be on exhibit at Hirakata Park in Osaka from September 21 to December 1.

It was announced earlier this month that the exhibition is also to take place at the MORI Arts Center Gallery on the 52nd floor of Roppongi Hills MORI Tower from July 5 to September 8. The exhibition serves to plunge fans into the world of Attack on Titan in a number of different ways, from art displays to diorama reconstructions of the world and more.

Advance tickets for the Hirakata Park event will be released on July 1.

Information

Attack on Titan Exhibition FINAL (Osaka)

Location: Hirakata Park, Event Hall 1 (Hirakatakōenchō, Hirakata, Osaka)

Running: September 21 – December 1, 2019 (2 Periods: September 21 – October 27 / October 28 – December 1)

*The exhibited content will be different for both periods

Closed: Wednesdays

Opening Hours: 10-:00-18:00 (Last Entries 17:00)

Attack on Titan Exhibition FINAL Website: http://www.kyojinten.jp

Attack On Titan Exhibition FINAL Full Details Unveiled

Details on what fans can expect at the upcoming Attack On Titan Exhibition FINAL event have been unveiled. The event, which is centred on the entirety of the manga series Attack On Titan, will run from July 5 to September 8 at the MORI Arts Center Gallery on the 52nd floor of Roppongi Hills MORI Tower.

A second key visual for the exhibition was released alongside the announcements featuring the various Titans we have seen in the series to date.

The centrepiece for this exhibition is the first unveiling of "the sounds of the final chapter." This special exhibit will create the scene of the last chapter of the series using only sounds.

Humanity's Choice Exhibition

At the entrance to the exhibition, visitors will choose the path they wish to take. Were you born inside the Wall, or beyond it? Depending on which life you choose, you will follow a different route from the outset. Experience what it's like to be born and live in the world of Attack On Titan.

Attack On Titan's World Reconstructed at the Diorama Theatre

An entire room in the exhibition has been turned into the world of the series thanks to life-size dioramas and a 20 meter screen. Hear the screams of people who have fought the titans as you step into the room and see the course of the battle with your own eyes.

Debuting the Last Chapter's Final Sound

Hear the sound of the series' final chapter which the manga's author Hajime Isayama is currently conceiving.

Over 180 Art Pieces From Entire Series

See over 180 pieces of artwork by Hajime Isayama spanning 10 years including new ones not yet featured in the manga series as well as unpublished pieces and more.

Character Voice Guides

Audio pieces of 13 characters recorded by the voice actors and actresses themselves will guide you through the exhibition including Eren, Mikasa, Armin, Erwin, Hange and Levi

Official merchandise will also be sold at the event including exclusive items created for the exhibition. The first batch of items will be revealed on the exhibition shop's official website in early July.

Be sure to check the website for more details and photos, and enter the world of Attack On Titan!

©Hajime Isayama・Kodansha/Attack on Titan Exhibition FINAL Production Committee
©HK/AOTFE

Information

Attack on Titan Exhibition Final

Location: Mori Arts Center Gallery (Roppongi Hills Mori Tower Floor 52F, 6-10-1 Roppongi, Minato Ward, Tokyo)

Running: July 5, 2019 – September 9, 2019

Pre-Opening: July 5, 2019 – July 7, 2019

First Period: July 8, 2019 – August 4, 2019

Second Period: August 5, 2019 – September 8, 2019

Opening Hours: 10:00-20:00 (Last Entries 19:00)

Exhibition Website: http://www.kyojinten.jp/

Exhibition Merchandise Shop Website: https://reeves.kyojinten.jp/

Attack on Titan Theme Song 'Shinjitsu e no Shingeki' by Linked Horizon CD Cover Revealed

Several of the voice acting cast for the ongoing second part of Attack on Titan season three are currently appearing on a series of live streams over the next few weeks, the first having been on May 20. In the streams the voice cast gave their comments on the band Linked Horizon―who perform the anime's current opening theme Doukei to Kabane no Michi―and their new single Shinjitsu e no Shingeki.

It will be the band's 4th single and is set to drop on June 19. The CD covers for both the Regular Edition and First Press Edition have been unveiled.

The First Press Edition features band member Revo looking out to snow-covered ruins and a road of corpses.

The Regular Edition cover seems to showcase the entrance to a basement. Eren's, perhaps?

When bought at select stores, CDs will come with one of the above-pictured character covers: Eren, Mikasa, Armin or Erwin.

Information

Shinjitsu e no Shingeki

Release Date: June 19, 2019

First-Press Edition: ¥1,389 (Before Tax) [PCCA.04796] *Comes with luxurious CD sleeve

Standard Edition: ¥1,111 (Before Tax) [PCCA.04797]

Linked Horizon Official Website: https://shingeki.linked-horizon.com/

YOSHIKI will perform as a guest act at the Royal Albert Hall in London, England on 11th November 2019 as part of Sarah Brightman's world tour Hymn: Sarah Brightman In Concert.

The Royal Albert Hall is a prestigious venue which opened in 1871. It is a grand and significant building which is a key part of London history. It is also referred to by many as London's greatest venue.

YOSHIKI has performed in many leading American performance venues such as Radio City Music Hall, New York, the San Francisco Masonic Auditorium and The Dolby Theatre, Los Angeles. He has also just performed at two live concerts held at Yokohama Arena last month! To follow, he is now going to be a guest performer at world songstress Sarah Brightman's world tour!

YOSHIKI wrote the music and lyrics for the song Miracle performed by Brightman which was released worldwide. It is ranked in the top 10 in the iTunes classical music charts in 15 countries! The song became known as the masterpiece of her album.

The last time YOSHIKI performed in England was at X Japan Wembley Arena in 2017. X Japan's documentary WE ARE X received lots of film festival awards in many countries. The soundtrack of this documentary reached no.1 on England's rock charts!

In 2014, YOSHIKI held his solo concert YOSHIKI classic at the Royal Festival Hall in London. In 2015, he delighted the audience with his piano performance of Queen's Bohemian Rhapsody at the Classic Rock Awards. He also collaborated with Queen's drummer Roger Taylor, creating the song Foreign Sand which was ranked into the music charts in England.

Recently, YOSHIKI has been involved in writing the theme song for the movie xXx 4; the sequel to the epic movie XXX, which stars Hollywood actor Vin Diesel. He also wrote the theme song for the original film Spycies, which will be released in China countrywide.

No matter where in the world, YOSHIKI has made breathtaking contributions!

Information

<HYMN Sarah Brightman In Concert>YOSHIKI performance schedule

06/02/2019 New York City – Radio City Music Hall

09/03/2019  San Francisco, CA – The Masonic

10/03/2019  Los Angeles, CA – Dolby Theatre

23/04/2019  Yokohama, Japan – Yokohama Arena

24/04/2019  Yokohama, Japan – Yokohama Arena

YOSHIKI official website: https://www.yoshiki.net/