Starbucks Japan Announces Crispy Sweet Potato Frappuccino & Latte® for Autumn
Starbucks Japan have announced the second seasonal beverage in their "Artful Autumn @ Starbucks" drink series. The Crispy Sweet Potato Frappuccino® and Crispy Sweet Potato Latte will be released at most Starbucks branches across Japan on September 13.
The first line of drinks in the series included the Caramely Pear Frappuccino®, Caramely Pear Tea Latte and Caramely Pear Ice Tea.
Sweet potatoes are the perfect autumn-time ingredient that add a crisp texture and rich sweetness to the beverages. To fully bring out the delicious flavour of the potatoes, the drinks include kenpi, a type of candied sweet potato. They are also made with a sweet potato sauce which is made from sweet potatoes that are roasted slowly to draw out their full flavour.
The frappuccino comes with whipped cream topped with a sprinkling of kenpi. The cup also contains kenpi. This allows you to enjoy a crisp texture from the first sip to the very end while indulging in the delicious taste of sweet potato. The sweet potato sauce adds another layer of taste when it hits the espresso shot in the latte. They are a perfect combination.

Customers who purchase either of these beverages will receive an Artful Autumn @ Starbucks® rubber band. These are limited in stock.
*Available with any size.
*Not obtainable with certain coupons.
*Limited edition and will not be available again.
*1 rubber band per beverage.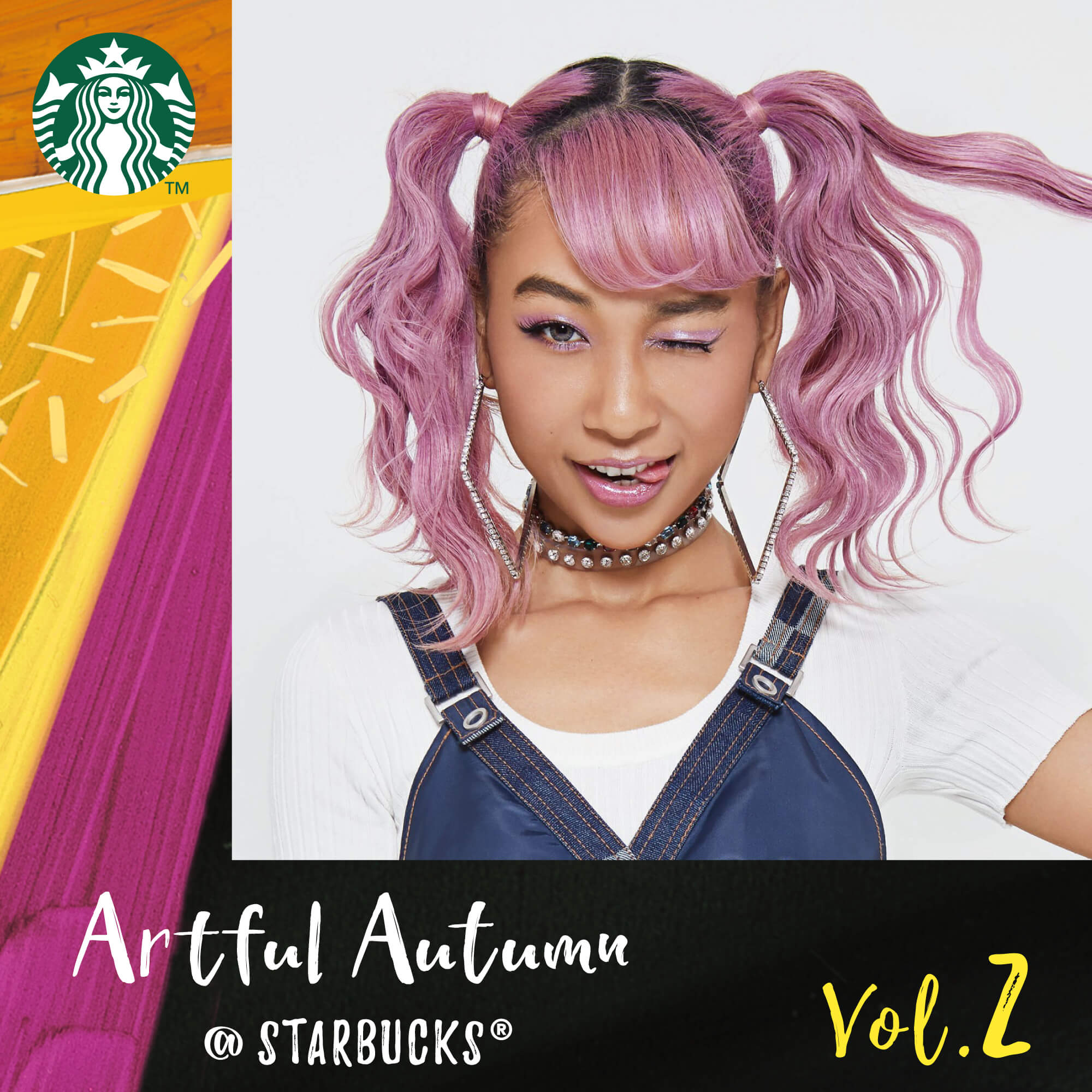 Japanese pop and R&B singer Thelma Aoyama has also teamed up with Starbucks to create an original song playlist for the coming autumn containing 5 songs which can be enjoyed through the Spotify app while in Starbucks. You can listen to them from September 13.
■Information
Crispy Sweet Potato Frappuccino®
Crispy Sweet Potato Frappuccino (Hot/Iced)
Running: September 13, 2018 – September 30, 2018
Available: At most Starbucks branches in Japan
Starbucks Japan Website: http://www.starbucks.co.jp/
STARBUCKS® x Thelma Aoyama Artful Autumn Collection
September 13 *5 additional songs
October 1     *5 additional songs
*All 30 songs can be enjoyed from October 1 to 17.
Full details can be found via the campaign page below (Japanese).
RECOMMENDED ENTRIES
Starbucks Japan Announces 3 New Pear Drinks for Autumn 2018

Starbucks Japan has announced a new line of autumn drinks which they are calling Artful Autumn @ Starbucks®. The three beverages are Caramely Pear Frappuccino®, Caramely Pear Tea Latte and Caramely Pear Ice Tea. They will be available at most Starbucks branches in Japan from August 31, 2018.

These autumntime drinks are all made with pear and maintain the fruit's freshness. To add a bit more flavour they mixed caramel into each one.

Caramely Pear Frappuiccino®
Price: Tall ¥580 (Pre-Tax)
The the whipped cream of this Frappuccino® is topped with extra caramel sauce to initiate that feeling that the first winds of autumn are blowing in.

Caramely Pear Tea Latte
Price: Short ¥440/ Tall ¥480 / Grande ¥520 / Venti® ¥560 (Pre-Tax)
This hot beverage takes the form of English breakfast tea and combines it perfectly with pear. It smells like autumn.

Caramely Pear Ice Tea
Price: Short ¥440/ Tall ¥480 / Grande ¥520 / Venti® ¥560 (Pre-Tax)
A refreshing combination of black tea and pear, this iced beverage cuts through those days where the heat of the sun runs long.

If you purchase any of these drinks at a Starbucks in Japan on August 31, 2018, September 13, 2018 or October 1, 2018, you'll receive a special Artful Autumn @ Starbucks® rubber band as a present based on the drink you purchased. These are available in limited quantities.

*Rubber bands available with any beverage size.
*Rubber bands not available when using certain coupons.
*Rubber bands will discontinue once the offer ends.
*One rubber band obtainable per drink you purchase.

The pear drinks are the first of three new products coming to Starbucks. The two others will be released on September 13 and October 1 respectively.

For now you can look forward to enjoying one of the three new autumn-filled beverages that perfectly marry pears with caramel.

■Information
Caramely Pear Frappuiccino®
Caramely Pear Tea Latte
Caramely Pear Ice Tea
Available: At most Starbucks branches in Japan
Running: August 31, 2018 – September 12, 2018

Website: http://www.starbucks.co.jp

McDonald's Japan to Release 4 Limited Edition Matcha Beverages Including Matcha Latte

McDonald's Japan has unveiled four new beverages that will go on sale from the company's McCafé by Barista chain from September 12 for a limited period. The drinks include Brown Sugar Syrup & Soybean Flour Matcha Frappe, Matcha Latte Frappe, Iced Matcha Latte and Matcha Latte.

Mcdonald's Japan's seasonal autumn-time matcha series of drinks is a huge hit every year. This year they are putting in even more matcha powder from Uji in each of the drinks to make the matcha flavour even more full-bodied.


Brown Sugar Syrup & Soybean Flour Matcha Frappe: M ¥490 / L ¥530

The popular Brown Sugar Syrup & Soybean Flour Matcha Frappe was first brought to McDonald's in Japan last year. It takes the classic matcha latte frappe made with delicious milk farmed in Japan and combines it with rich and flavoursome soybean flour as well as brown sugar syrup from Okinawa Prefecture. It's topped with chewy white rice flour dumplings and whipped cream. It's creamy and irresistible.


Matcha Latte Frappe: M ¥450 / L ¥490

By adding more Uji matcha to the Matcha Latte Frappe they have added an extra layer of richness of the drink. The whipped cream is sprinkled with matcha powder giving it a Japanese-style taste and appearance.


Iced Matcha Latte: M ¥390 / L ¥430

The characteristic of the Iced Matcha Latte is the full-bodied flavour created by the bitter Uji matcha and milk. Like the Matcha Latte Frappe, the whipped cream is complemented by powdered matcha which gives a Japanese flavour to this dessert drink.


Matcha Latte: S ¥350 / M ¥390

The Matcha Latte is decaffinated and combines the flavourful taste of Uji matcha and subtly sweet milk.

Try McDonald's new matcha drinks while in Japan this autumn.

■Information

McCafé by Barista Matcha Series

Location: All Mcdonald's chains with a McCafé by Barista (89 branches as of September 2018)

Available: September 12, 2018 – End of November 2018 (subject to change)

McDonald's Japan Official Website: http://www.mcdonalds.co.jp/menu/barista/

Starbucks Coffee in Japan are introducing their new beverage Matcha S'more Frappuccino® on August 8. The drink is made with American summertime smores and rich matcha.

S'mores are a popular campfire and BBQ treat in the US and Canada that consists of fire-roasted marshmallows and chocolate sandwiched between two graham crackers. Starbucks Japan first introduced a S'more Frappuccino® to branches last year and they were a huge success.

This year, they're combining s'mores which maintain their great flavour and texture with full-bodied matcha and nonfat milk. This refreshing combination is the perfect summer beverage. It contains 1.5 times more matcha than the Matcha Cream Frappuccino® and is served with whipped cream. Together with the crunchy biscuit, crispy freeze-dried marshmallows and baked chocolate, you can enjoy layers upon layers of texture.

Be sure to pick up this Frapp this summer while in Japan to enjoy at the summer and firework festivals.
RELATED ENTRIES
Otome Game Tears of Themis Inspires Limited-Time Cafe in Ikebukuro

From January 14 until February 6, Ikebukuro Sunshine City's E-DINER will feature a special menu inspired by the MiHoYo otome game Tears of Themis. 

Original Food Menu

Minase's Orange Pancakes: ¥990 (Tax Included) / Sakyou's Omurice with Handmade Tomato Sauce : ¥1,100 (Tax Included) / Moritsuki's Avocado Sandwich: ¥1,100 (Tax Included) / Izumi's Fresh Blueberry Parfait: ¥990 (Tax Included)

Original Drink Menu

Non-alcoholic Cassis Orange / Hot Blended Coffee / Matcha Cream Latte / Violet Jelly Soda: ¥880 each (Tax Included)

Purchase Bonus

Guests will receive one random coaster (9 varieties) for each food or drink order.

Merchandise

Acrylic Stand: ¥1,320 each (Tax Included)

Chibi Character Acrylic Stand: ¥1,100 each (Tax Included)

Holographic Pins: ¥550 (Tax Included)

A4-sized Clear Folder Set: ¥770 (Tax Included)

Mug: ¥1,650 (Tax Included)

Masking Tape: ¥440 (Tax Included)

SNS-style Clear Sheet: ¥330 (Tax Included)

B2-sized Tapestry: ¥3,300 (Tax Included)

Canvas Art: ¥4,400 (Tax Included)

Blanket: ¥5,500 (Tax Included) / On sale starting January 24

The Prince of Tennis 20th Anniversary Event to Open at Hakata Marui and Shinjuku Marui Annex

The second pop-up store to commemorate the 20th anniversary of The Prince of Tennis anime series will open at both Hakata Marui and Shinjuku Marui Annex!

Acrylic Figure (8 varieties): ¥1,650 (Tax Included)

Pin (Random, Holographic): ¥440 (Tax Included)

SNS-style Acrylic Keychain (8 varieties, random): ¥660 (Tax Included)



Nameplate Keychain (Rudolf & Ginka / Yamabuki): ¥660 (Tax Included)

Star Pin (Rudolf & Ginka / Yamabuki): ¥550 (Tax Included)

Acrylic Stand (Rudolf & Ginka / Yamabuki): ¥660 (Tax Included)

Fans of the series will be able to find merchandise featuring new illustrations of popular characters at both event spaces and online at the Marui Anime Online store.

© 許斐 剛/集英社・NAS・新テニスの王子様プロジェクト

Information

The Prince of Tennis 20th Anniversary OIOI POP UP SHOP

Hakata Marui
Running: January 8 – January 16, 2022
Location: Hakata Marui 5F Event Space
Hours: 10:00-21:00

Shinjuku Marui Annex
Running: January 28 – February 6, 2022
Location: Shinjuku Marui Annex 1F Event Space
Hours: 11:00-20:30 *Closing at 19:00 on February 6

Marui Anime Online
https://animeonline.0101.co.jp/
Order Period: January 8 – February 7 at 5:59
Shipping Begins in Early April 2022


Details: https://www.0101.co.jp/405/info/index.html?contents_id=0320
Official Site: http://tenipuri.jp/

Nagato Yumoto Onsen in Yamaguchi Illuminated for a Limited Time

From January 28 until February 27, 2022, Nagato Yumoto Onsen in Yamaguchi Prefecture will host the 'Otozuregawa Uta Akari,' a light-up event based on a poem by children's poet Mizusu Kaneko. 

The event will feature poem narration and music, with motifs created by children and students in the city set up to create an unforgettable scene. The 'Uta Akari Gentou Rondo,' a light performance set to a poem reading, and thousands of light bowls created by young people in the city will be  prepared at the venue. 

Sound and Light Entertainment ・Gentou Rondo Area

Welcomed by 3,000 Lights ・Misuzu's Garden Area

Welcomed by 3,000 Lights ・Misuzu's Garden Area

New Area・Dreaming Fish Area

Hage Ware Lampshades・Light of the Earth Area

 

Performances

Misuzu's Garden Area(Onyu, Lawn Area)

About 3,000 elementary and junior high school students in the city created light motifs for the event. Inspired by the timeless poetry of Misuzu Kaneko, these illuminations will warmly welcome visitors.

Otozuregawa Area(Onshinkawa Onsen Park)


Large-scale lighting motifs created by local residents and workshop participants will be installed along the river. The slowly flickering illuminations will seem to float atop the gently flowing water, creating a fantastic scene.

Dreaming Fish Area(Onshinkawa Onsen Park)


In 2022, the event will take up more space on the property. A fish-shaped light will be placed in the center of Onshinkawa Onsen Park, and guests will be invited to see the many sea-inspired works donated by kindergarten and nursery school students.

Light of the Earth Area(NearOntoshoku)


Lampshades made of local Hagi ware will be installed along the riverside path near the hot spring resort. More than 20 of these lampshades were made by local elementary school students along with cooperation from teachers from the Fukagawa Kiln. The crafting school has a history of 360 years in the Minose area near Nagato Yumoto Onsen.

Gentou Rondo Area(Near Bamboo Forest Stairs)


Watch as shadow puppets dance to the music and recitation of poems by Misuzu Kaneko! The lights in the bamboo grove and plaza will playfully change as the night goes on. 

Information

Otozuregawa Illuminations

Running: January 28 – February 27, 2022

Illumination Hours: Sunset (around 17:30) – 22:00

Address: Nagato Yumoto Onsen (Fukawayumoto, Nagato, Yamaguchi)

Entry Free: Free

Aomori's Be Easy Brewing and UNITED ARROWS Release Collaborative Craft Beer

UNITED ARROWS has released its first craft beer in collaboration with Be Easy Brewing, located in Hirosaki City, Aomori Prefecture. The brew is available at the UNITED ARROWS BOTTLE SHOP, which sells select alcoholic beverages from both Japan and abroad. 'Apple Pie Ala Mode' went on sale starting January 2 at the UA BAR on the first floor of the UNITED ARROWS Harajuku flagship store, H BEAUTY AND YOUTH, and the California General Store. 

Be Easy Brewing offers a selection of unique and constantly changing beers using ingredients found in Aomori like apples, strawberries and Tsugaru rice. From IPAs to wheat ales, the company is always experimenting with different styles. This strange collaboration was born after UNITED ARROWS expressed a fascination with the high quality and incredible taste of Be Easy Brewing's beers.

'Apple Pie Ala Mode' is a Berliner Weisse with a slightly sour taste combining apple juice, cinnamon, and vanilla. 

Information

Apple Pie Ala Mode
Price: ¥770 (Tax Included)
Size: 350ml
ABV: 5.5%
Where to Buy: UA BAR(UNITED ARROWS Bar Harajuku 1F), H BEAUTY AND YOUTH, California General Store

※The UA BAR will serve the beer on draft for a limited time.
※There will be no lottery for in-store sales. The beer will be available to purchase starting January 2, 2022.
※Available while supplies last.

BAND-MAID to Embark on 2022 U.S. Tour

Hard rock band BAND-MAID has announced their first U.S. tour in two years! After holding an acoustic online live show on Christmas Day, 2021, the band announced the 2022 U.S. tour on their official website.

BAND-MAID's Christmas live show received a flood of comments from overseas fans and was viewed from over 50 countries around the world. In 2021, the group is making its Hollywood debut in the Netflix original movie 'KATE.'

This will be the rock band's first overseas tour since 2019. Their previous four world tours managed to completely sell out. The dates for the U.S. tour and other details will be announced soon, so stay tuned for more info!

Information

BAND-MAID Official Site: 

All-girl rock band SCANDAL celebrated its 15th anniversary in 2021. On January 26, the group will release their 10th original album 'MIRROR,' and ahead of release, a trailer is highlighting each new track.

Complete Song Trailer for 'MIRROR'

The album will come in four different editions: a standard edition, Special Edition A, Special Edition B, and a Limited Edition. The songs included will be the same for each and will include popular tracks like eternal, ivory, and one more time, as well as seven new tracks for a total of ten songs. 'MIRROR' will include songs written and composed by each member, and the new trailer also teases that each girl will provide main vocals for different tracks. Guitarist MAMI sings ivory, bassist TOMOMI sings The Identity of Love, drummer RINA sings She's a Wave, and vocalist HARUNA is in charge of all other tracks.

The latest installment of SCANDAL's documentary series has also been posted to the group's  YouTube channel and gives a behind-the-scenes look at the making of the album. 

'"her" Diary 2021 on YouTube #12' Documentary Series

Those who purchase the CD will be able to watch an online live show on January 30, 2022. Tickets will be available on a first-come, first-served basis, and fans can apply to attend by preordering or purchasing 'MIRROR" online or at select CD stores nationwide. Check the official website for details.

Shadows House Anime Gets Second Season in July 2022

The anime series Shadows House premiered in April 2021 to immense acclaim. The show tells the story of a dark mansion filled with people attended by Living Doll partners. Emilico, a young and cheerful Living Doll, serves her mistress Kate, and as the two grow closer, a number of dark secrets begin to emerge. The second season will begin airing in July 2022, and a new teaser visual and cast comments have been released.

Cast Comments

Akari Kito (Kate)
Congratulations to everyone on the second season of Shadows House!
 To all the fans anxiously awaiting a second season, I am truly happy to be reprising my role as Kate!
Although the first season of the anime came to an end, the original work has continued, and there are so many scenes I want to see brought to life in season two. I can't wait to see what happens to Kate and Emilico next.
I promise to give my all in my voice work to meet everyone's expectations. I hope you enjoy it!

Yu Sasahara (Emilico)
The time has finally arrived!
The second season of Shadows House is coming!
I can't stop thinking about all the scenes I want to see in the anime…!
I'm looking so forward to performing the role of Emilico again, and I hope the fans enjoy these new adventures!

Ⓒソウマトウ/集英社・シャドーハウス製作委員会

Kyary Pamyu Pamyu to Perform at Coachella 2022

Kyary Pamyu Pamyu will be performing at the world-famous Coachella Valley Music and Arts Festival in Indio, California this April! Scheduled to perform at the event in 2020, Coachella was canceled due to the ongoing pandemic. Back after two years, the lineup of performing artists has been posted to the official site.

This year, Harry Styles, Billie Eilish, and Ye (Kanye West) will be headlining the event, which also includes artists from around the world. Kyary will perform on April 16 and April 23.

Kyary Pamyu Pamyu is celebrating the 10th anniversary of her debut and is set to begin her largest nationwide tour to date on January 16. The artist will be performing 30 shows across Japan.

IDOLiSH7 Celebrates Second Album Release with Tower Records 'NO ANiME, NO LiFE' Collab Campaign

Popular vocal group IDOLiSH7 is celebrating the release of their second album 'Opus' with Tower Records. The 'IDOLiSH7 x NO ANiME, NO LiFE' collaboration campaign will be underway from January 11 until January 24 at Tower Records and TOWERmini locations, as well as Tower Records Online.

IDOLiSH7 is a 7-member male idol group consisting of Iori Izumi, Yamato Nikaido, Mitsuki Izumi, Tamaki Yotsuba, Sogo Osaka, Nagi Rokuya, and Riku Nanase. 'Opus' was released on January 12, and contains recent tracks such as THE POLiCY, the theme song for the third season of the IDOLiSH7 anime series. Two brand-new songs are included on the album, so fans shouldn't miss it!

As part of the collaboration, special posters will be displayed in stores, and band member Riku Nanase will be in charge of the in-store announcements. Those who purchase the album will receive a special receipt featuring a message from the members, and designs will vary from store to store. Nine locations will also be displaying standee panels of the members, perfect for a photo spot!

IDOLiSH7 × NO ANiME, NO LiFE. Special Collaboration Poster

Collaboration Poster


Running: January 11 – January 24, 2022
Locations: Tower Records and TOWERmini locations *Not posted at Vivre Yokohama, Nagoya PARCO, and TOWERmini Morinomiya Q's Mall

Nanase Riku In-store Announcements

Running: January 11 – January 24, 2022
Broadcast Locations: All Tower Records and TOWERmini stores *Excluding Vivre Yokohama, Nagoya PARCO, and TOWERmini Morinomiya Q's Mall


https://www.youtube.com/user/TowerRecordsJapan

Special Receipts

Special Receipt 

A total of seven types of special receipts will be available, with participating members varying by store.
Available: January 11 – January 24, 2022
Applicable Product: IDOLiSH7 – 'Opus' 

Standee Panel Exhibition

Standee panels of IDOLiSH7 members will be on display at participating stores. The members on display will differ depending on the store.
Running: January 11 – January 24, 2022

Tower Records Original Bonus

Oversized Postcard



One oversized postcard will be given for each eligible purchase.
Participating Locations: Tower Records, TOWERmini, Tower Records Online
Applicable Product: IDOLiSH7 – 'Opus' 

Tower Records Exclusive Online Lottery Campaign

Mini Signboard

Cheque-style Card


10 winners will be selected by lottery.
Purchase Deadline: January 24 at 23:59
Applicable Stores: Tower Records Online
Applicable Product: IDOLiSH7 – 'Opus' 

Newly-Released Products

Limited Edition A

Limited Edition B

Standard Edition

Hiroshi Tsuchida and Yui Ishikawa Cast in Platinum End Season Two

Platinum End has been a smash hit. Based on the manga series written by Tsugumi Ohba and illustrated by Takeshi Obata, the team behind Death Note and Bakuman, the anime series will see its exciting conclusion in March 2022. Two new characters are being added to the cast before the big finale!

Masaya Hoshi will be played by Hiroshi Tsuchida, known for dubbing Lee Byung-hun's Front Man in Squid Game and Lightning McQueen in Cars.

 

Manami Yumiki will be portrayed by Yui Ishikawa, known as the voice of Mikasa Ackerman in Attack on Titan and Violet Evergarden in Kyoto Animation's Violet Evergarden.

 

Comment from Hiroshi Tsuchida (Masaya Hoshi)

"This role is so impressive that I can't stand still while standing at the microphone. I've also noticed that our hairstyle and glasses seem to have become even more similar during recording…

I'll try to do my best to change my stupidity into intelligence so I can perform the role of Masaya Hoshi properly." 

 

Comment from Yui Ishikawa (Manami Yumiki)

"Although this is a fantasy world, there are so many realistic characters. It makes you feel like this really could be happening somewhere. While reading the original story, I enjoyed it, but I also felt as though I was being questioned about something. 

The character I play, Yumiki, is a detective at the Metropolitan Police Department. Please look forward to seeing how our new characters interact with the candidates for God!"

 

New episodes of Platinum End begin on January 14, 2022.

©︎大場つぐみ・小畑健/集英社・プラチナエンド製作委員会

Chocolate Specialty Shop Minimal Offering Rare Strawberry and Chocolate Treats

Japan-based chocolate specialty store Minimal is now offering a limited-edition set of gateau chocolates with fresh strawberries from Mei Strawberries in Kagawa Prefecture. These are available for preorder and are perfect for Valentine's Day!

These sweets were a huge hit last year, selling out immediately. The rare variety of strawberries used is only found in 1 percent of Japanese strawberry farms, and these are blended with milk cream and specialty chocolate. 




The strawberry jam found on the top of each chocolate piece is made from these rare Nyohou strawberries.  Originally a small-grained variety, the Nyohou varietals send from Mei Strawberries in Kagawa Prefecture are larger with a beautiful dark-red color. Fragrant, juicy, and sweet, they also have a slight acidity that provide a more complex flavor.


 

To maximize the natural strawberry flavor, the chocolate is made from Madagascar cocoa beans with a more berry-like flavor. Only slightly roasted, the graininess is intact, leaving a more powerful and rich flavor. A milky sweet cream has also been added to the center to provide a better balance.

This is the second year that the company has worked with these strawberries from Mei, and after making a number of prototypes, Minimal has found the best possible way to express these unique flavors in harmony. 


Information

Fresh Gateau Chocolate & Strawberries featuring Mei Strawberries

Price: ¥3,510 (Tax Included)
Release Date:   

Online Store/LINE Preorders: December 24, 2021~

Yoyogi Ueno Store: January 15, 2022

Sales Period: Until the End of February 2022
LINE: https://page.line.me/yrn4346m?openQrModal=true

Official Site: http://mini-mal.tokyo

New Collection Announced Between AAPE BY A BATHING APE and Minecraft

AAPE and Minecraft have teamed up to launch a new men and kids apparel collection on January 1, 2022. The main graphic used to promote the project combines elements from Minecraft's blocks and pixels and AAPE's Moonface.

Lineup

Pullover Hoodie (Camo)

Pullover Hoodie

Crewneck #1

Crewneck #2

T-shirt #1

T-shirt #2

Kids T-shirts

Kids Crewnecks

The collection items feature characters from the popular game including Steve, Alex, and the Creepers, along with AAPE's classic camo design. This is the first time that AAPE's recognizable design scheme has been combined with video game characters.

Men's and kid's sizes are available, making this the perfect collection for families who game together!