Starbucks Japan Announces Crispy Sweet Potato Frappuccino & Latte® for Autumn
Starbucks Japan have announced the second seasonal beverage in their "Artful Autumn @ Starbucks" drink series. The Crispy Sweet Potato Frappuccino® and Crispy Sweet Potato Latte will be released at most Starbucks branches across Japan on September 13.
The first line of drinks in the series included the Caramely Pear Frappuccino®, Caramely Pear Tea Latte and Caramely Pear Ice Tea.
Sweet potatoes are the perfect autumn-time ingredient that add a crisp texture and rich sweetness to the beverages. To fully bring out the delicious flavour of the potatoes, the drinks include kenpi, a type of candied sweet potato. They are also made with a sweet potato sauce which is made from sweet potatoes that are roasted slowly to draw out their full flavour.
The frappuccino comes with whipped cream topped with a sprinkling of kenpi. The cup also contains kenpi. This allows you to enjoy a crisp texture from the first sip to the very end while indulging in the delicious taste of sweet potato. The sweet potato sauce adds another layer of taste when it hits the espresso shot in the latte. They are a perfect combination.

Customers who purchase either of these beverages will receive an Artful Autumn @ Starbucks® rubber band. These are limited in stock.
*Available with any size.
*Not obtainable with certain coupons.
*Limited edition and will not be available again.
*1 rubber band per beverage.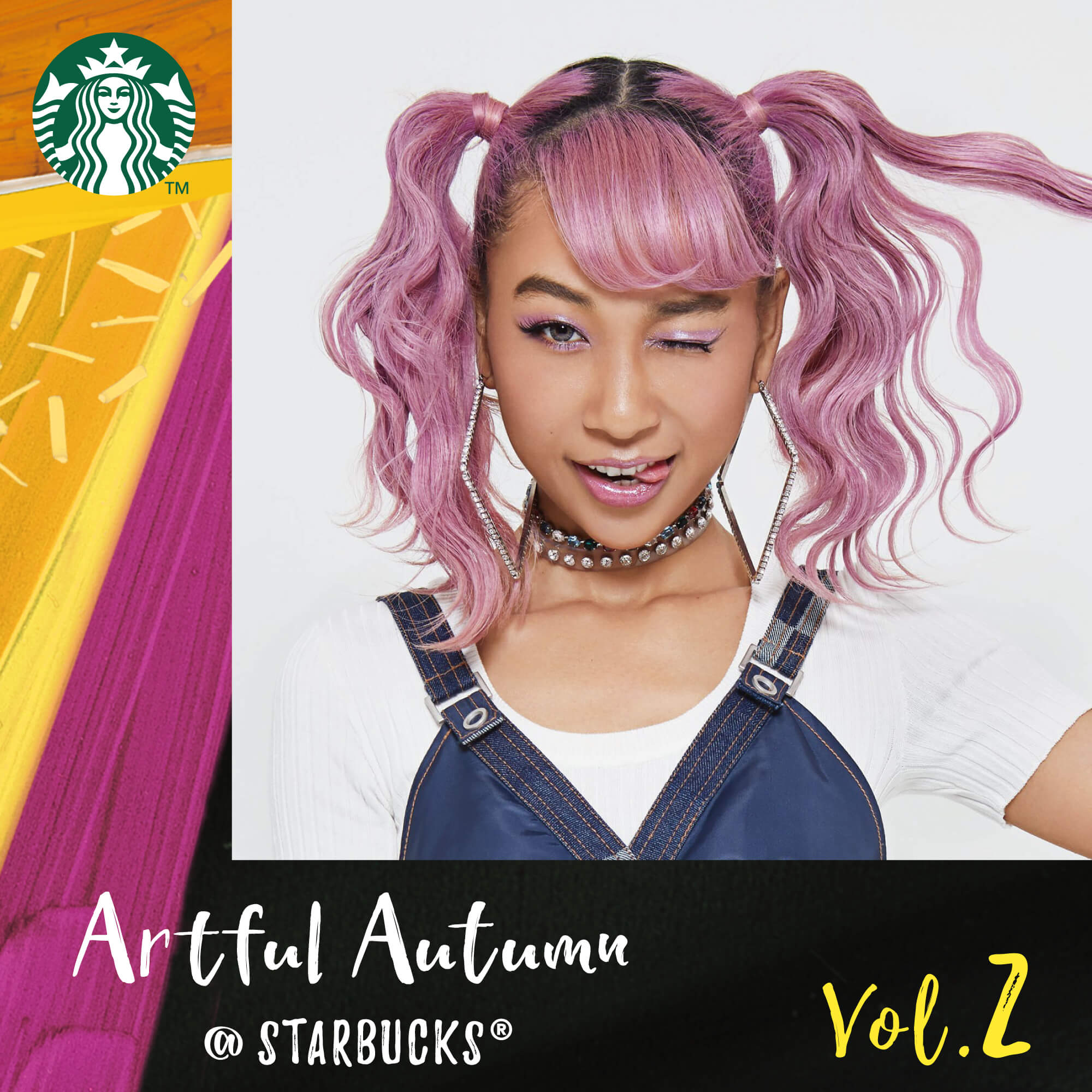 Japanese pop and R&B singer Thelma Aoyama has also teamed up with Starbucks to create an original song playlist for the coming autumn containing 5 songs which can be enjoyed through the Spotify app while in Starbucks. You can listen to them from September 13.
■Information
Crispy Sweet Potato Frappuccino®
Crispy Sweet Potato Frappuccino (Hot/Iced)
Running: September 13, 2018 – September 30, 2018
Available: At most Starbucks branches in Japan
Starbucks Japan Website: http://www.starbucks.co.jp/
STARBUCKS® x Thelma Aoyama Artful Autumn Collection
September 13 *5 additional songs
October 1     *5 additional songs
*All 30 songs can be enjoyed from October 1 to 17.
Full details can be found via the campaign page below (Japanese).
RECOMMENDED ENTRIES
Starbucks Japan Announces 3 New Pear Drinks for Autumn 2018

Starbucks Japan has announced a new line of autumn drinks which they are calling Artful Autumn @ Starbucks®. The three beverages are Caramely Pear Frappuccino®, Caramely Pear Tea Latte and Caramely Pear Ice Tea. They will be available at most Starbucks branches in Japan from August 31, 2018.

These autumntime drinks are all made with pear and maintain the fruit's freshness. To add a bit more flavour they mixed caramel into each one.

Caramely Pear Frappuiccino®
Price: Tall ¥580 (Pre-Tax)
The the whipped cream of this Frappuccino® is topped with extra caramel sauce to initiate that feeling that the first winds of autumn are blowing in.

Caramely Pear Tea Latte
Price: Short ¥440/ Tall ¥480 / Grande ¥520 / Venti® ¥560 (Pre-Tax)
This hot beverage takes the form of English breakfast tea and combines it perfectly with pear. It smells like autumn.

Caramely Pear Ice Tea
Price: Short ¥440/ Tall ¥480 / Grande ¥520 / Venti® ¥560 (Pre-Tax)
A refreshing combination of black tea and pear, this iced beverage cuts through those days where the heat of the sun runs long.

If you purchase any of these drinks at a Starbucks in Japan on August 31, 2018, September 13, 2018 or October 1, 2018, you'll receive a special Artful Autumn @ Starbucks® rubber band as a present based on the drink you purchased. These are available in limited quantities.

*Rubber bands available with any beverage size.
*Rubber bands not available when using certain coupons.
*Rubber bands will discontinue once the offer ends.
*One rubber band obtainable per drink you purchase.

The pear drinks are the first of three new products coming to Starbucks. The two others will be released on September 13 and October 1 respectively.

For now you can look forward to enjoying one of the three new autumn-filled beverages that perfectly marry pears with caramel.

■Information
Caramely Pear Frappuiccino®
Caramely Pear Tea Latte
Caramely Pear Ice Tea
Available: At most Starbucks branches in Japan
Running: August 31, 2018 – September 12, 2018

Website: http://www.starbucks.co.jp

McDonald's Japan to Release 4 Limited Edition Matcha Beverages Including Matcha Latte

McDonald's Japan has unveiled four new beverages that will go on sale from the company's McCafé by Barista chain from September 12 for a limited period. The drinks include Brown Sugar Syrup & Soybean Flour Matcha Frappe, Matcha Latte Frappe, Iced Matcha Latte and Matcha Latte.

Mcdonald's Japan's seasonal autumn-time matcha series of drinks is a huge hit every year. This year they are putting in even more matcha powder from Uji in each of the drinks to make the matcha flavour even more full-bodied.


Brown Sugar Syrup & Soybean Flour Matcha Frappe: M ¥490 / L ¥530

The popular Brown Sugar Syrup & Soybean Flour Matcha Frappe was first brought to McDonald's in Japan last year. It takes the classic matcha latte frappe made with delicious milk farmed in Japan and combines it with rich and flavoursome soybean flour as well as brown sugar syrup from Okinawa Prefecture. It's topped with chewy white rice flour dumplings and whipped cream. It's creamy and irresistible.


Matcha Latte Frappe: M ¥450 / L ¥490

By adding more Uji matcha to the Matcha Latte Frappe they have added an extra layer of richness of the drink. The whipped cream is sprinkled with matcha powder giving it a Japanese-style taste and appearance.


Iced Matcha Latte: M ¥390 / L ¥430

The characteristic of the Iced Matcha Latte is the full-bodied flavour created by the bitter Uji matcha and milk. Like the Matcha Latte Frappe, the whipped cream is complemented by powdered matcha which gives a Japanese flavour to this dessert drink.


Matcha Latte: S ¥350 / M ¥390

The Matcha Latte is decaffinated and combines the flavourful taste of Uji matcha and subtly sweet milk.

Try McDonald's new matcha drinks while in Japan this autumn.

■Information

McCafé by Barista Matcha Series

Location: All Mcdonald's chains with a McCafé by Barista (89 branches as of September 2018)

Available: September 12, 2018 – End of November 2018 (subject to change)

McDonald's Japan Official Website: http://www.mcdonalds.co.jp/menu/barista/

Starbucks Coffee in Japan are introducing their new beverage Matcha S'more Frappuccino® on August 8. The drink is made with American summertime smores and rich matcha.

S'mores are a popular campfire and BBQ treat in the US and Canada that consists of fire-roasted marshmallows and chocolate sandwiched between two graham crackers. Starbucks Japan first introduced a S'more Frappuccino® to branches last year and they were a huge success.

This year, they're combining s'mores which maintain their great flavour and texture with full-bodied matcha and nonfat milk. This refreshing combination is the perfect summer beverage. It contains 1.5 times more matcha than the Matcha Cream Frappuccino® and is served with whipped cream. Together with the crunchy biscuit, crispy freeze-dried marshmallows and baked chocolate, you can enjoy layers upon layers of texture.

Be sure to pick up this Frapp this summer while in Japan to enjoy at the summer and firework festivals.
RELATED ENTRIES
FEMM Releases Tokyo-Based Cyberpunk Music Video for 'Crawl Away'

The mannequin rap duo FEMM has just returned from an expansive European tour through England, Germany, and France.

The main track from their latest album Tokyo Ex Machina, We Got Each Other, managed to chart for 12 consecutive weeks on the major U.S. radio chart MEDIABASE/Activator Chart, and in September, the two will return to Europe to perform in Spain.

The music video for their song Crawl Away, from their upcoming mini-album THE SIX, has been unveiled. The album will be released on August 17, 202.

Crawl Away (Music Video):

FEMM has always had cyberpunk as a theme for its visuals, and this time, the duo decided to collaborate with UK-based concept artist Max Prentis to kick up the retro-futuristic feel. The video is both set in a faraway time and nostalgic, bringing together 80s melodies and flashy visuals of a distant Tokyo.

As the duo continues their activities in Europe and the United States, their new song THE SIX is being used as the opening song for the MBS/TBS drama Ikinokotta 6-nin ni Yoru to, which has just begun airing.

NIJISANJI Fes 2022 Reveals 118 Participating VTubers, New Illustrations

NIJISANJI Fes 2022, the largest NIJISANJI event to date, will be held on October 1 and October 2 at Makuhari Messe in Chiba. Ahead of the festival, ANYCOLOR has announced the 118 VTubers that will be participating, along with new illustrations showing some popular personalities wearing class T-shirts which will be available at the venue.

NIJISANJI Fes 2022 Special Announcement Video
https://youtu.be/st-m1G_DYS8

The image song for NIJISANJI Fes 2022, Hurrah!!, is now available to stream. The music video for the track will feature fan art which will also be displayed at the venue, so get your entries in by August 28!

Illustrations Highlighting Class T-Shirts

NIJISANJI Fes 2022 Image Song, Hurrah!!

Music: Mito Tsukino, Sasaki Saku, Kuzuha, Lize Helesta, Sara Hoshikawa, Minato Fuwa, Axia Krone
Lyrics / Composition / Arrangement: Jin

On the special website, newly-drawn illustrations of the 118 participating VTubers are featured. Each member is a part of a different class, and these class T-shirts will be handed out at random to those with tickets to the event as a bonus. They will also be available for purchase, so don't worry if you don't get the one you want!

▼Green
Manami Aizono, Uiha Aiba, Youko Akabane, Axia Krone, Akane Asahina, Hina Asuka, Momo Azuchi, Kokoro Amamiya, Sayo Amemori, Almal Ars, Katrina Ange, Mugi Ienaga, Inui Toko, Ibrahim, Ichigo Ushimi, Muyu Amagase, Vox Akuma

▼Indigo
Kou Uzuki, Albio Ex, Emma★August, Eli Conifer, Elu, Haruka Onomachi, Oliver Evans, Haru Kaida, Hayato Kagami, Kanae, Shoichi Kanda, Hisui Kitakoji, Gilzaren III, Gwelu Os Gar, Kuzuha, Yotsuba Umise, Aza

▼Blue
Natsume Kurusu, Kuroi Shiba, Mirei Gundou, Tojiro Genzuki, Touya Kenmochi, Akina Saegusa, Ritsuki Sakura, Sasaki Saku, Yuika Shiina, Shellin Burgundy, Rin Shizuka, SisterClaire, Hajime Shibuya, Joe Rikiichi, Tomoe Shirayuki, Akira Shikinagi, Eine

▼Red
Sango Suo, Kana Sukoya, Utako Suzuka, Masaru Suzuki, Aki Suzuya, Miyako Seto, Kirame Sorahoshi, Rion Takamiya, Mito Tsukino, Debidebi Debiru, Kohaku Todo, Dola, Kyoko Todoroki, Kei Nagao, Naraka, Kanato Fura, Elira Pendora

▼Orange
Naru Naruse, Chigusa Nishizono, Sociere Nui, Fuyuki Hakase, Hanabatake Chaika, Sou Hayase, Marin Hayama, Air Harusaki, Kaede Higuchi, Gaku Fushimi, Tamaki Fumino, Furen E. Lustario, Fuwa Minato, Belmond Pandelas, Nei Ponto, Pomu Rainpuff

▼Yellow
Sara Hoshikawa, Himawari Honma, Keisuke Maimoto, Ririmu Makaino, Meme Mashiro, Chima Machita, Mao Matsukai, Moira, Alice Mononobe, Kazaki Morinaka, Rine Yaguruma, Kizuki Yashiro, Karuta Yamagami, Chihiro Yuki, Seraph Dazzlegarden, Mysta Rias

▼Violet
Riri Yuhi, Mahiro Yukishiro, Roa Yuzuki, Kakeru Yumeoi, Ratna Petit, Lize Helesta, Ryushen, Mikoto Rindou, Lain Paterson, Luis Cammy, Levi Elipha, Vincent Leos, Lauren Iroas, Hibari Watarai, Finana Ryugu, Hyakumantenbara Salome

Hello Kitty and Wish Me Mell Inspire Dinner and Dessert Buffet at Keio Plaza Hotel

Starting September 3, Keio Plaza Hotel Tama will offer a special dinner and dessert buffet inspired by the Sanrio characters Hello Kitty and Wish Me Mell. The adorable event will take place at the Jurin restaurant on the 4th floor, and guests will be able to enjoy some cute dishes and desserts inspired by the character's gratitude. The event will run until October 30 and will only be held on weekends and holidays. 

The restaurant's patissier has designed a collection of sweet dishes based on the two characters, from strawberry shortcakes inspired by Wish Me Mell's outfit to pastel-colored cakes and rainbow jello. Cream-filled fruit sandwiches cut to look like Hello Kitty's face are sure to offer guests the perfect photo op! For those wanting something savory, over 15 dishes will be available, including roast beef, pasta and cheese, curry, and more.

Special seats including large stuffed animal versions of Hello Kitty and Wish Me Mell will be available, limited to two tables per day.

Come enjoy a relaxing meal with these two adorable characters!

'My Master Has No Tail' Anime Series Reveals Second Key Visual

A new visual for the upcoming anime series My Master Has No Tail has been revealed! The image features Mameda, the main character, as well as Bunko Daikokutei, Byakudanji Tsubaki, Enshi Kirino, Utaroku Ebisuya, Shirara Tsubaki, and Buncho Daikokutei.

The visual has a retro feel, fitting for the series. The story follows Mameda, a tanuki born in the wrong era. A rakugo master decides to make Mameda his apprentice. 

The series will begin airing on September 30, 2022, and more information will be released in the coming weeks.

2nd Trailer

My Master Has No Tail began as a manga series in 2019. Written and illustrated by TNSK, it's serialized in Kodansha's seinen magazine good! Afternoon. The anime will be directed by Hideyo Yamamoto, known for his work on Cells at Work and Strike the Blood.

ⒸTNSK・講談社/春来亭活動写真部

 

GARNiDELiA Releases Music Video for Cover Version of REBECCA's 'Friends'

GARNiDELiA has chosen REBECCA's legendary track Friends as the ninth song in their ongoing cover series, also releasing a music video.

GARNiDELiA is composed of Maria, the lead vocalist, and toku, the group's composer. The duo's J-pop cover song project was started after the pandemic under the title 'GARNiDELiA Cover Collection,' and many popular songs have been featured so far, including Gurenge by LiSA, Hakujitsu by King Gnu, Pretender by Official Hige Dandism, Haru Yo Koi by Yumi Matsutoya, and Kaikai Kitan by Eve. Unsurprisingly, the project has pulled in over 5 million views.

Friends – REBECCA (Covered by GARNiDELiA)



MARiA does the styling for her musical activities and serves as a producer. For Friends, the artist focused on highlighting the feel of the 80s, the era when the track was initially released.



Check out the GARNiDELiA Cover Collection for some new and classic titles covered by this talented duo!

BE:FIRST Begins Streaming 'Move On' from First Album in Advance

The song Move On from BE:FIRST's debut album BE:1 was released on August 8, well before the album is scheduled to drop on August 31, 2022.

Much like Be Free, which was released on August 1, Move On was a set piece used during THE FIRST audition, from which BE:FIRST was formed. The song was included as a bonus track on the group's second single Bye-Good-Bye, but the song has been newly recorded by the seven members since.

Scream – BE:FIRST (Music Video)

SUNNY BOY acted as the producer for Move On after also producing the lead track Scream, released on July 25. Having worked with artists such as BTS, BLACKPINK, BIGBANG, 2NE1, Namie Amuro, and Daichi Miura, SUNNY BOY worked with SKY-HI to create this incredible track. It has been performed live a number of times to massive fanfare.

Scream, the lead song from BE:FIRST's upcoming album BE:1, reached the top spot on the Billboard Japan Hot 100 Chart last month. The music video has been viewed over 5.5 million times, and there's no doubt that the group's first album will be a massive hit. 

BiSH Releases Highly-Anticipated Music Video for 'Sayonara Saraba'

On August 6, BiSH, known as a 'punk rock band without instruments,' released the music video for their song Sayonara Saraba! The 8th single released across 12 consecutive months will drop on August 31. 

Sayonara Saraba – BiSH (Official Music Video)

Sayonara Saraba was created in collaboration with Taka from ONE OK ROCK and MEG from MEGMETAL and features lyrics written by KENTA from WANIMA. This is the first time BiSH has collaborated with an outside producer for a series of releases, and this electrifying rock number shows a different side of the group. 

The coupling song, A long way to go, was composed by Taka and MEG from MEGMETAL and written by JxSxK. 

The music video was directed by Kento Yamada, who has produced a number of other videos for the group.

The teaser trailer, released previously, shows a stylish video with an eye-catching red and black color scheme.

Sayonara Saraba – BiSH (Teaser)

More information regarding the 9th and 10th consecutive single has been released! The 9th song will be released on September 21, while the 10th will be released on October 26. Be sure to give them both a listen!

Information

Sayonara Saraba

Release Date: August 31, 2022

 

・First Run Limited Edition (Single CD+Blu-ray+Live CD+Photobook)

Price: ¥11,000 (Tax Included)

・DVD Version (Single CD+DVD)

Price: ¥4,950 (Tax Included)

・CD Version (CD only)

Price: ¥1,100 (Tax Included)

BiSH iS OVER! Special Site: https://www.bish.tokyo/BiSH_iS_OVER/

Kyary Pamyu Pamyu, Atarashii Gakko! Participate in Adobe DANCE VIDEO FES

Calling all dancers! Starting August 5, Adobe began the Adobe DANCE VIDEO FES, which is accepting dance video submissions until August 31, 2022. Those wanting to participate will be dancing to one of four songs by a few very unique artists: Dodonpa by Kyary Pamyu Pamyu, Emome no Natsu by Lucky Kilimanjaro, STARLIGHT by iri, and WOO! GO! by Atarashii Gakko! The campaign challenges contestants to create a dance video in which they show off their original dance moves to the song of their choice. These videos can be easily edited using Adobe Premiere Rush, a piece of software that can also be installed on smartphones.

If you're not incredibly confident in your dance moves, don't worry. Rather than contestants being judged on their technical or editing skills, dancers will be evaluated on the amount of fun they have! The event is meant to emulate the excitement of a summer festival, so both beginners and pros are invited to participate. Just record your dance and upload it to YouTube, Instagram, Twitter, or TikTok with the designated hashtag.

If the video you upload is selected by one of the participating artists, it will be featured in the official campaign dance video. Creators will also have the opportunity to appear in the artists' live performances and dance videos in the future.

In addition, a total of 22 entrants will be selected by drawing to receive Sennheiser wireless headphones, a 12-month Adobe Creative Cloud Complete Plan, a pair of tickets to the D.LEAGUE 22-23 season opener, or an Amazon gift certificate worth ¥30,000.

Comments from Participating Artists

Kyary Pamyu Pamyu: "Dodonpa is a song that's perfect for all kinds of dances, so I hope that you'll dance in your own special way! I'm hoping I can find an amazing dancer to perform with me at my Budokan show on October 19, so I'm looking forward to hearing from you!"

Lucky Kilimanjaro: "Our band's concept is to surprise the world every day, so we were so honored that our song was chosen!
We hope you'll express yourself and show us your unique dances!"

iri: "My new song STARLIGHT is a difficult song to choreograph, so I'm really looking forward to seeing the dances you come with!"

Atarashii Gakko!: "We're happy to announce that our song WOO! GO! has been chosen as a track for Adobe DANCE VIDEO FES! I hope you can add some really cool edits to your videos so that they reach the largest amount of people! Whoever submits the most impressive video will get to appear in an official dance video. We're waiting to see your dances!"


Enter this contest with the same energy as if you were participating in a summer festival!

Naruto Anime Series Celebrates 20th Anniversary with Traditional Kokeshi Dolls

To commemorate the 20th anniversary of the Naruto anime series, Usaburo Kokeshi has created two traditional dolls modeled after Naruto Uzumaki and Sasuke Uchiha. The original manga series by Masashi Kishimoto has become a global phenomenon, and fans won't want to miss out on these unique pieces! Preorders are now open.

Usaburo Kokeshi makes each of these pieces by hand, transforming them from children's playthings into traditional works of art. The wood used to create these pieces is from trees in Gunma Prefecture.

Usaburo Kokeshi Doll – Naruto Uzumaki

Usaburo Kokeshi Doll – Sasuke Uchiha


These adorable dolls completely recreate both character's outfits and hairstyles, and the designers clearly focused on the small details. Enjoy these palm-sized versions of your favorite Naruto characters!

©岸本斉史 スコット/集英社・テレビ東京・ぴえろ

Rascal the Raccoon Collaboration Event to Open at Shizuoka's Chibi Maruko-chan Land

Starting on August 11, Chibi Maruko-chan Land in Shizuoka will begin a series of events in collaboration with Rascal the Raccoon! Exclusive merchandise will be on sale during the event period, so fans of either franchise won't want to miss out.

Rascal has come to play in the world of Chibi Maruko-chan! Nakano-san is a little afraid of the animal, but Rascal tries to calm him down. This adorable imagery is everywhere, and everyone's favorite raccoon meets a ton of popular characters from the Maruko-chan anime and manga series, so be sure to take a look!

On opening day, Maruko and Rascal will greet guests at the entrance. A photo session will be available for guests with admission tickets on a first-come, first-served basis.

For a limited time only, the projection mapping area in the park will host a Chibi Maruko-chan Carnival dance event with Maruko and Rascal!

Merch at a Glance

Medical Diary Cover: ¥550 / Pen: ¥550 / Mechanical Pencil: ¥550 / Clear Folder: ¥385

Wet Tissue Pack (2 varieties): ¥550 each / Mini Towel: ¥880 /
Hand Sanitizer Spray: ¥880 / Acrylic Stand: ¥1,430

*Sample Image

A campaign is also underway at Chibi Maruko-chan Land. Those spending ¥2,000 or more on Maruko goods or collaboration goods will receive an original sticker while supplies last.

Come have fun with Maruko and Rascal during this special event!

Information

Chibi Maruko-chan Land

Collaboration Event Dates: August 11-15, 20, 21, 27, 28
*The photo session will only be held on August 11.

Address: S-Pulse Dream Plaza 3F (13-15 Irifunecho, Shimizu-ku, Shizuoka)
Official Website: https://chibimarukochan-land.com/

30th Anniversary Sailor Moon Museum Reveals More Details About Volume 2

The Sailor Moon franchise's 30th-anniversary museum is open from July 1 to December 30 at Tokyo's Roppongi Museum. The series became a global phenomenon in the 1990s and remains incredibly popular with audiences around the world to this day. The museum itself is located near Azabu-Juban, where Sailor Moon took place. 

The exhibition will feature the largest-ever collection of original illustrations by Sailor Moon's creator Naoko Takeuchi. Over 600 items will be on display and the event will also include an 'immersive experience theater' and a 'hologram manuscript exhibit.'

This exhibition is divided into three periods, with Vol. 2 running from September 10 to November 6.

Two Original Illustrations to be Displayed

Goods at a Glance

Acrylic Stand Figure

Pin Collection

Clear File

During Vol. 2, the original color drawings on display will be replaced with 60 new drawings from Part 3 and Part 4 of the original work. The exhibition will include beautiful original color drawings of the 10 Sailor Soldiers, including Sailor Uranus, Sailor Neptune, Sailor Pluto, and Sailor Saturn. Two of the original drawings scheduled to be on display have been teased in advance along with some new original goods that will be available starting September 10. Stay tuned for more information!

(C) Naoko Takeuchi

Information

Sailor Moon Museum

Running: July 1 – December 30, 2022

Vol. 1 – July 1 – September 4, 2022

Vol. 2 – September 10 – November 6, 2022

Vol. 3 – November 12 – December 30, 2022

Hours: 10:00-18:00 (Last Entry at 17:30)

Venue: Roppongi Museum (5-6-20 Roppongi, Minato-ku, Tokyo)

Tickets/Official Site: https://sailormoon-museum.com/

Sanrio Characters Cinnamoroll, Pompompurin, and Pochakko Available as Traditional Japanese Sweets

Cinnamoroll, Pompompurin, and Pochakko are the latest to be picked up by the character-inspired Japanese confectionery series Tabemas. These tasty treats will go on sale at Lawson stores across Japan starting August 2, 2022.

Tabemas Sanrio Characters 2022

Cinnamoroll with Ribbons

Pompompurin with Ribbon

Pochakko with Ribbon

Three of the most popular Sanrio characters have been transformed into traditional wagashi sweets! Pompompurin, Cinnamoroll, and Pochakko are dressed in their finest attire, complete with ribbons. Cinnamoroll's filling is milk-flavored, while Pompompurin is pudding-flavored and Pochakko is filled with banana sweetness. Be sure to take some pictures before chowing down! Honestly, these might be too adorable to eat. 

Information

Tabemas Sanrio Characters 2022

Cinnamoroll with Ribbons

Pompompurin with Ribbon

Pochakko with Ribbon

Release Date: August 2, 2022

Where to Buy: In the chilled desserts section of Lawson convenience stores across Japan

*Not available at Natural Lawson or Lawson Store 100

*Available while supplies last. Some stores may not offer all three products.