Starbucks Japan Announces 3 New Pear Drinks for Autumn 2018
Starbucks Japan has announced a new line of autumn drinks which they are calling Artful Autumn @ Starbucks®. The three beverages are Caramely Pear Frappuccino®, Caramely Pear Tea Latte and Caramely Pear Ice Tea. They will be available at most Starbucks branches in Japan from August 31, 2018.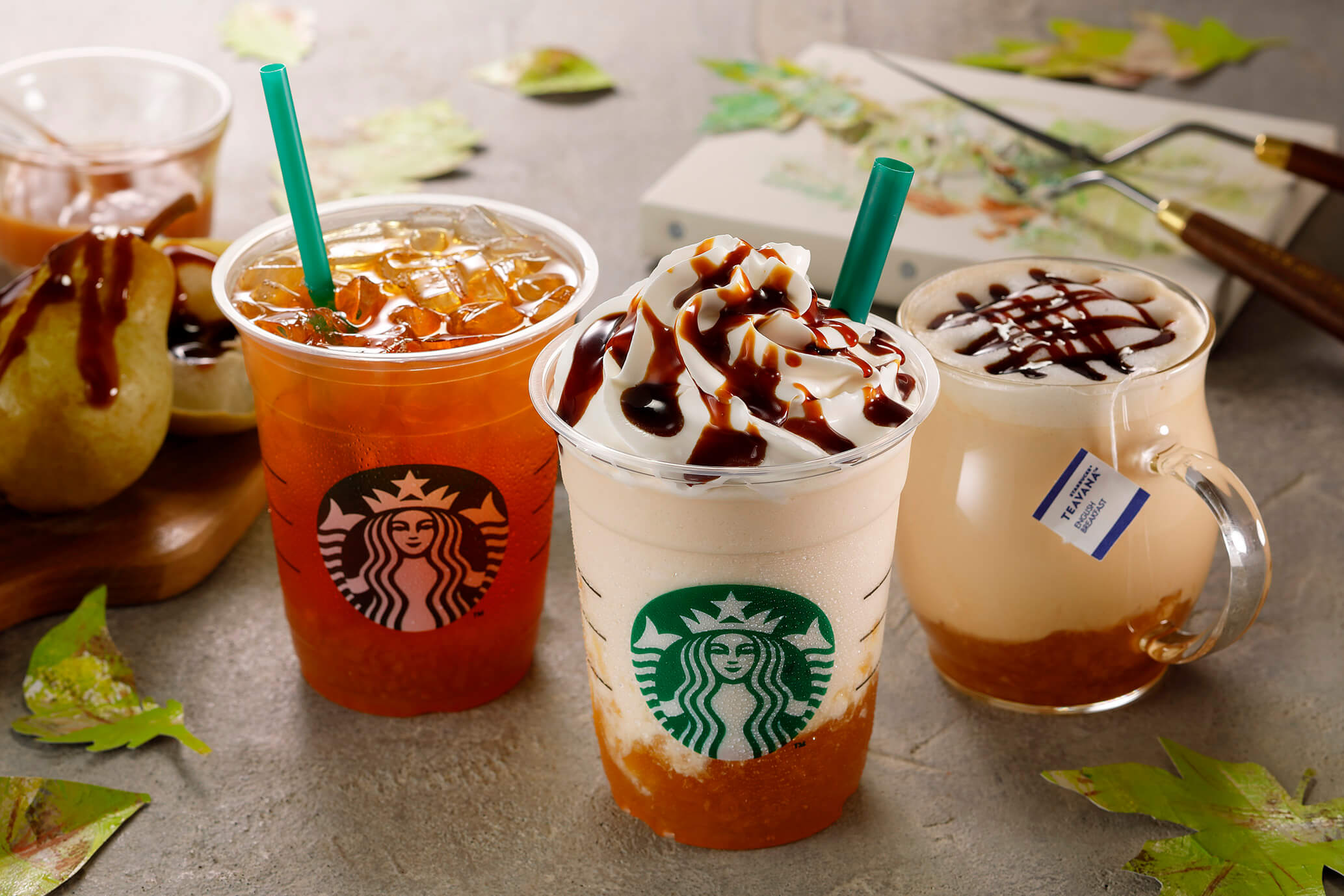 These autumntime drinks are all made with pear and maintain the fruit's freshness. To add a bit more flavour they mixed caramel into each one.
Caramely Pear Frappuiccino®
Price: Tall ¥580 (Pre-Tax)
The the whipped cream of this Frappuccino® is topped with extra caramel sauce to initiate that feeling that the first winds of autumn are blowing in.
Caramely Pear Tea Latte
Price: Short ¥440/ Tall ¥480 / Grande ¥520 / Venti® ¥560 (Pre-Tax)
This hot beverage takes the form of English breakfast tea and combines it perfectly with pear. It smells like autumn.
Caramely Pear Ice Tea
Price: Short ¥440/ Tall ¥480 / Grande ¥520 / Venti® ¥560 (Pre-Tax)
A refreshing combination of black tea and pear, this iced beverage cuts through those days where the heat of the sun runs long.
If you purchase any of these drinks at a Starbucks in Japan on August 31, 2018, September 13, 2018 or October 1, 2018, you'll receive a special Artful Autumn @ Starbucks® rubber band as a present based on the drink you purchased. These are available in limited quantities.
*Rubber bands available with any beverage size.
*Rubber bands not available when using certain coupons.
*Rubber bands will discontinue once the offer ends.
*One rubber band obtainable per drink you purchase.
The pear drinks are the first of three new products coming to Starbucks. The two others will be released on September 13 and October 1 respectively.
For now you can look forward to enjoying one of the three new autumn-filled beverages that perfectly marry pears with caramel.
■Information
Caramely Pear Frappuiccino®
Caramely Pear Tea Latte
Caramely Pear Ice Tea
Available: At most Starbucks branches in Japan
Running: August 31, 2018 – September 12, 2018
Website: http://www.starbucks.co.jp
RECOMMENDED ENTRIES
Starbucks Coffee in Japan are introducing their new beverage Matcha S'more Frappuccino® on August 8. The drink is made with American summertime smores and rich matcha.

S'mores are a popular campfire and BBQ treat in the US and Canada that consists of fire-roasted marshmallows and chocolate sandwiched between two graham crackers. Starbucks Japan first introduced a S'more Frappuccino® to branches last year and they were a huge success.

This year, they're combining s'mores which maintain their great flavour and texture with full-bodied matcha and nonfat milk. This refreshing combination is the perfect summer beverage. It contains 1.5 times more matcha than the Matcha Cream Frappuccino® and is served with whipped cream. Together with the crunchy biscuit, crispy freeze-dried marshmallows and baked chocolate, you can enjoy layers upon layers of texture.

Be sure to pick up this Frapp this summer while in Japan to enjoy at the summer and firework festivals.

Starbucks® Japan New Flavour―Kaga Roasted Green Tea Frappuccino

Starbucks Coffee Japan have begun their new Japan Wonder Project to promote and have people rediscover the wonderful things surround Japan's food culture. The first product to be released as part of this project is a new frappuccino that is made using Kaga 'stick tea' (boucha) from Kaga. The new beverage will be available at most Starbucks branches across Japan from May 30, 2018.

The project searches for the hidden and deep rooted stories of raw materials and culture in Japan. It expands thoughts on things in Japan that are recognised world wide. This time, they looked at Japan's unique tea culture―specifically, the matcha leaf, which is pounded into a powder for drinking. From there, they developed a drink using boucha which started in Kaga. It takes just the stalks of the plant and roasts them to a yellowy-brown colour.

Even today, Ishikawa Prefecture is a region with a rich tea culture and craftwork culture because of the Maeda clan who helped the Kaga Domain prosper. The 'stick tea' was born in this region and became popular from tea stalks being thrown away by Kanazawa tea sellers which were then taken by people, roasted and sold.

The new frappuccino takes the Kaga boucha and makes it into a jelly which is combined with fluffy white chocolate cream.

Try this specially made tea latte for yourself.

■Information

Kaga Bou Houjicha Frappuccino®

Stores: Most Starbucks branches

Available: May 30, 2018―July 19, 2018

Price: Tall ¥620 (pre-tax)

Starbucks Japan Wonder Project

Starbucks Releases Stylish Glass Mugs in Collaboration with Fragment Design

Starbucks Coffee Japan has teamed up with design project Fragment Design led by designer and musician Hiroshi Fujiwara to release two glass mugs under the 'Fire-King' brand. The product will go on sale from August 21, 2018 at select Starbucks branches across Japan as well as the Japanese Starbucks online store.

This is Starbucks' first collaboration with glass tableware brand Fire-King. The company was established in the US in 1942. They create thick, long-lasting glass products. Their milky white coloured 'milk glass' range are noted for their gentle colour and round form and are described as very much being old-fashioned American items. They are collected by fans of traditional American fashion and culture, many of which are also in Japan.

The mugs come in grey and navy, typical colours of Fragment Design, offering a retro and modern look.

Both mugs also stack on top of each other meaning you can buy them as a pair.

Be on the lookout for these mugs at Starbucks Japan later this month.

■Information

Glass Mug Fragment x FIREKING Grey (207ml)

Glass Mug Fragment x FIREKING Navy (207ml)

Price: ¥5,000 Each (Pre-Tax)

On Sale: From August 21, 2018

Available: Starbucks branches across Japan (select stores not stocking), Starbucks online store

*Will discontinue once all have sold.

*One of each colour purchasable per customer.

Website: http://www.starbucks.co.jp/
RELATED ENTRIES
Nakitai Watashi wa Neko wo Kaburu Anime Film to Feature Insert Song 'Yakou' by Yorushika

Studio Colorido's second original anime feature film Nakitai Watashi wa Neko wo Kaburu is set to release in Japan on June 5, 2020. The studio's first feature film Penguin Highway released in August 2018 to critical acclaim (August 2018 release) and went on to win the Japan Academy Prize for Animation of the Year as well as the Axis: The Satoshi Kon Award for Excellence in Animation award at Fantasia International Film Festival for the best-animated feature.

 

It has been revealed that rock duo Yorushika's newest song Yakou ("Walking in the Night"), which was released on March 4, will be featured as an insert song in the film. Yorushika is also performing the film's main theme Hana ni Bourei. The duo have garnered over 290 million music video views without ever having shown their faces. This is their first time writing music for a movie.

The film directors for Nakitai Watashi wa Neko wo Kaburu Junichi Sato and Tomokata Shibayama, spoke with the members of Yorushika, n-buna and suis, about the movie which helped them to write the insert track Yakou which has already garnered huge popularity. The song's music video was created by the film's animation staff, Studio Colorido, and is set in Tokoname, Aichi, where the movie is also set.

Yorushika – "Yakou" Official Music Video


Film director Junichi Sato said of the song: "It plays in a scene where Hinode learns the true feelings of the protagonist Mune. Normally, a relatively calm song would be used in such a scene, but with Yorushika's songs they have a tinge of melancholy to them as well as rhythm, so I thought we'd try it. When I first heard it, I felt that the music went beyond the words and painted the picture in my mind. It's a typical Yorushika song, and I'm happy with the results. The song aligns with Muge and Hinode's feelings and elevates them."

Tomokata Shibayama, also a director on the film, commented: "I remember having a conversation with my fellow director Sato, who is also the sound director, where he said to me, 'It's fine if the song doesn't integrate too much with the film.' Then 'Yakou' arrives, and when I first heard it together with the film visuals, I was really taken aback. It felt like the image we were going for just stretched out in front of me. It captures Hinode's feelings, and brings to mind scenes one by one in your head. I've listened to it every day since then."

©2020 "Nakitai Watashi wa Neko wo Kaburu" Production Committee

Information

Nakitai Watashi wa Neko wo Kaburu

Release Date: June 5, 2020

Official Website: nakineko-movie.com

Ghost in the Shell: SAC_2045 Anime Film Gets Twitter Icons

Ghost in the Shell: SAC_2045 is an upcoming 3D CG animated film set to hit Netflix simultaneously worldwide in on April 23, 2020. The film is being directed by Kenji Kamiyama and Shinji Aramaki at Production I.G and Sola Digital Arts.

Ghost in the Shell is an internationally celebrated series. The original manga, written and illustrated by Masamune Shirow, was first serialised in Weekly Young Magazine 1989, and went on to become a media franchise, spawning a catalogue of animated films beginning with Ghost in the Shell in 1995, which was directed by Mamoru Oshii, as well as multiple anime series, video games, and a live-action Hollywood adaptation.

STORY

The year is 2045, and the after being plunged into an economic disaster known as the "Synchronized Global Default," the world is now engulfed in an AI-led "sustainable war." Major Motoko Kusanagi and her second-in-command  Buttotsu Batou are former agents of Public Security Section 9, an information security and intelligence department. They must get the old team back together again and reassemble Section 9 to counter new forms of cyber threats, namely "post-humans" who have extreme intelligence and overwhelming physical strength.


What are Tachikoma?

The model sheet for the Tachikoma set to appear in the film have been revealed. They are walker robots and combat vehicles equipped with AI that fight alongside the members of Section 9.


Tachikoma are popular within the Ghost in the Shell community. They featured on the front cover of German magazine Highsnobiety alongside Daiki Tsuneta (millennium parade, King Gnu) who will perform the film's opening theme. They have also been turned into figurines.


In Ghost in the Shell: SAC_2045, the size of Tachikoma has changed: they now stand 1.3 meters tall, 2.0 meters wide, and 2.2 meters deepーjust the right size for Batou to ride them.


Hashflags now available on Twitter


Tachikoma Hashflags (Twitter hashtags with emojis attached to them) were released on Twitter worldwide on April 9 and will be available for 3 months. The hashtags to make them appear include #攻殻機動隊SAC_2045, #GhostInTheShellSAC_2045, #渋谷攻殻, #タチコマ, and #tachikoma.

ⒸMasamune Shirow・Production I.G/Kodansha・ Ghost in the Shell: SAC_2045 Production Committee

Evangelion: 3.0+1.0 T-Shirts Releasing by UNIQLO's UT Brand

UNIQLO's graphic T-shirt brand UT it collaborating with the forthcoming anime film Evangelion: 3.0+1.0 to release a collection of T-shirts at UNIQLO stores across Japan and their online store on April 17, 2020.

The film, which is set for release on June 27, 2020, will wrap up the Rebuild of Evangelion film series as the fourth and final entry. The T-shirts in the collection feature completely original and exclusive designs.

Designs take inspiration from memorable scenes

The collection is comprised of 8 original T-shirt designs which were drawn exclusively for UT, ranging from Evanglion Unit-01, Unit-00, and Unit-01 to popular character Kaworu, and the first-ever Unit-00 Berserk mode T-shirt design. Fans of the Evangelion world are sure to appreciate all the little details.

UT x Evangelion UNIQLO 2020 Spring/Summer


Delivered in an exclusive box with the Evangelion font

Those who purchase from the collection via UNIQLO's online store between April 10-23 will have their orders shipped in a special box bearing various words in the "Eva Font," such as the UNIQLO brand concept, the brand name's original "Unique Clothing Warehouse," and so on.

Due to the ongoing situation surrounding the novel coronavirus, select branches of UNIQLO in Japan are closed or have had their opening hours altered. Details can be found on their website.

Information

Evangelion UT

Release Date: April 17, 2020

Price: ¥1,700 (Before Tax)

Designs: 8

Available: UNIQLO stores in Japan / UNIQLO Japan online store

Product Page: https://www.uniqlo.com/jp/ja/contents/feature/ut-eva2020/

*Exclusive boxes come in one design and are available while supplies last

*Product manufacturing and distribution, as well as release date and so on are subject to extensions or change depending on the latest developments surrounding the coronavirus

Miku Ito Releases Plunderer Anime's Opening Theme 'Kokou no Hikari Lonely Dark' Music Video

A short version of Miko Ito's music video for Kokou no Hikari Lonely Dark was posted on the official Columbia Music Japan YouTube channel. The song is used as the second opening theme to the ongoing TV anime series Plunderer.

Miko Ito – "Kokou no Hikari Lonely Dark" (Short Size)

The full version of the music video, as well as the making-of, will be included with the DVD version of Miku Ito's upcoming 7th single of the same name, Kokou no Hikari Lonely Dark, which will be released on May 27, 2020.

The single will include the song Sweet Bitter Sweet Days, as well as the instrumental versions of both this and the title track..

Information

Kokou no Hikari Lonely Dark

Release Date: May 27, 2020
Limited Edition (CD+DVD): ¥1,800 (Before Tax) [COZC-1659~60]
Regular Edition (CD Only): ¥1,200 (Before Tax) [COCC-17769]

Miku Ito Official Website: http://columbia.jp/itomiku/

Official Super Mario LEGO Series Reveals Starter Course and Bowser's Castle Expansion Set

The LEGO Group and Nintendo are teaming up to release a new line of Super Mario themed LEGO. The new "Adventures with Mario Starter Course" and first expansions have finally been revealed. The Start Course release globally on August 1, 2020, but pre-orders are now open.

The LEGO Super Mario collection lets you build your own Mario courses from LEGO bricks. It comes with an interactive LEGO Mario figure you can use while collecting coins. Now you can build levels like in Super Mario Maker in your very own home. The series is set to bring a whole new experience to LEGO play.

TM & © 2020 Nintendo. ©2020 The LEGO Group.

TM & © 2020 Nintendo. ©2020 The LEGO Group.

The Adventures with Mario Starter Course, which was revealed by Jonathan Bennink, Lead Designer at LEGO Group, comes with a LEGO Mario and seven different "Action Blocks" which react in different ways. The starter set serves as the entry point into the LEGO Mario theme, and so showcases the many possibilities one has at their disposal with this entirely new and unique LEGO experience.


TM & © 2020 Nintendo. ©2020 The LEGO Group.

TM & © 2020 Nintendo. ©2020 The LEGO Group.

Two expansion sets were also revealed, including the "Bowser's Castle Boss Battle Expansion Set" and "Piranha Plant Power Slide Expansion Set" which allow for plays to freely expand on their original courses.



TM & © 2020 Nintendo. ©2020 The LEGO Group.

The LEGO Super Mario Start Course will launch globally on August 1, 2020. Pre-orders opened on Wednesday.

TM & © 2020 Nintendo. ©2020 The LEGO Group.

LEGO Super Mario himself has built-in screens on his eyes and mouth to display his reactions, and there's also one on his stomach. He reacts to movement and the action blocks, and is also equipped with speakers to play music and his voice.

TM & © 2020 Nintendo. ©2020 The LEGO Group.

LEGO Mario will pass through the course collection virtual coins, jumping on blocks, fighting Goombas and Bowser Junior, to reach the goal.

An official LEGO Super Mario app is also available which serves as a support function to players' experience. The app connects to LEGO Mario via Bluetooth® and keeps a record of your score, offers a digital guide on assembling the set, and more.

Information

Adventures with Mario Starter Course

・Pieces: 231
・Includes: LEGO Mario / 7 Action Blocks
・LEGO Mario: Colour Sensor / Motion Sensor / Screen Display / Bluetooth® / 2 x AAA batteries (Not Included)

Bowser's Castle Boss Battle Expansion Set

・Pieces: 1010
・Includes: Koopa, Dry Bones, Boo, and Podoboo figures for LEGO Mario to fight / P Switch & Question Blocks
・Expansion set to assemble for LEGO Mario to fight Bowser

Piranha Plant Power Slide Expansion Set

・Pieces: 217
・Includes: Goomba & Koopa Trooper figures which give coins when defeated / P Switch for extending time to reach the goal
・Seesaw expansion set for LEGO Mario to avoid Piranha Plants while collecting coins

LEGO Group Official Twitter: https://twitter.com/LEGO_Group

100 Nichi Go ni Shinu Wani Full Colour Manga Volume to be Released With Sequel Story

The hugely popular Japanese manga series 100 Nichi Go ni Shinu Wani ("The Crocodile Who Dies in 100 Days") has been turned into a full colour volume which released on April 8, 2020.

What's '100 Nichi Go ni Shinu Wani' about?

The story follows a crocodile who lives a normal life and spends ordinary days with his animal companions. He is unaware that he will die in 100 days. The first chapter of 100 Nichi Go ni Shinu Wani, "Day 1," was published on Twitter on December 12, 2019. One new chapter was posted every day, with Twitter followers anxiously awaiting day 100 wondering if the crocodile was really going to die. When the series author and illustrator Yuuki Kikuchi began posting the series, they only had around 10,000 followers. By the time the final chapter was posted on March 20, 2020, that number had skyrocketed to 2 million, and the series as a whole had gained over 17 million likes. It garnered huge attention in Japan during its short 3 month run.



The newly-released full colour volume includes all 100 chapters, as well as a special "Day 0" chapter and 28-page sequel. Several commercials for the release were posted featuring the series official theme song Ikiru ("Live") by Ikimono-gakari and narration by Natsuki Hanae.

Day 1 Ad


Day 4 Ad

Excerpts from the full colour volume

After Day 5

After Day 17

In the current climate with the coronavirus pandemic spread worldwide, 100 Nichi Go ni Shinu Wani teaches us to think about others so we can all survive and get through this. Be sure to check out the series if you have yet to see it. An anime film adaptation has also been green-lit.

©STUDIO KIKUCHI / Shogakukan

Information

100 Nichi Go ni Shinu Wani
Author: Yuuki Kikuchi

Release Date: April 8, 2020

Pages: 136 (A5 Size)

Price: ¥1,000 (Before Tax)
Publisher: Shogakukan
ISBN978-4-09-850125-0

Official Website: https://100wani.life

AmPm's Fruits Basket Opening Theme Lyric Video Released

Since dropping their debut track Best Part Of Us feat. Michael Kaneko in March 2017ーwhich has over 33 million plays on Spotifyーmasked music duo AmPm have garnered fans worldwide. They wrote the opening theme song Prism feat. Miyuna for season two of the ongoing TV anime series Fruits Basket which began airing on April 6.

Fruits Basket is an internationally celebrated series, with the manga having sold over 30 million copies worldwide. A lyric video for the opening theme was posted on the official avex YouTube channel which features clips from the anime series.

AmPm – "Prism feat. Miyuna"

This is the first song with full Japanese lyrics to be composed by AmPm, a group with global following. The chill music fuses beautifully with the warm embrace of Miyuna's vocals.

©Natsuki Takaya・Hakusensha/Fruits Basket Production Committee


Information

AmPm – "Prism feat. Miyuna"

Release Date: April 8, 2020

©℗ A.S.A.B / PLAY RECORDS

Stream AmPm: https://ampm.lnk.to/ampm

 

Fruits Basket – Season 2

Initial Broadcast: April 6, 2020

2nd season Opening Theme: "Prism" by AmPm feat. Miyuna

2nd season Ending Theme: "ad meliora" by THE CHARM PARK

 

Fruits Basket Official Website: https://fruba.jp/

Stay Home: 5 Simple and Delicious Drinks to Try Making While Self-Isolating at Home

Here at MOSHI MOSHI NIPPON, we post news and information about Japan in six languages. Our aim is to deliver a variety of content related Japan for those who love and enjoy Japanese culture.

Right now, people across the globe are in self-isolation as a result of the coronavirus pandemic. The same goes for Japan too, so we've taken this opportunity to create a new series on the website to show how we're spending time at home here in Japan.

The future is yet uncertain, and we hope for normality to return for all of us soon. We created a new articles series called Stay Home with which we hope to take your mind off the situation, even for just a little bit, to help you feel calmer. It might give you some tips on what you can do while spending time at home.

In this edition of Stay Home, we're taking a look at five cute and tasty-looking drinks that are featured with the trending Japanese hashtag #おうちカフェ ("Cafe at Home"). Try making one of these drinks recipes yourself then sit back, relax, and savour every sip.

1: Dalgona Coffee @kaopan

This dalgona coffee recipe was provided by Kaori who has a series here on MOSHI MOSHI NIPPON called Kaori's Easy Recipe where she shows how to create fun and simple character recipes. It has a bitter taste but is temptingly creamy, giving it a flavour you'll become addicted to.

Ingredients

☆Instant Coffee ☆Hot Water ☆Powdered Sugar (Granulated works fine too) ・Milk

Method

1: Add one tablespoon each of all the starred (☆) ingredients into a bowl and whip well.

2: Simply add cold milk to the sweetened coffee and it's finished.

3: Mix while drinking and enjoy.

This dalgona matcha was made by Yuka Onoda. This is a you've got to drink to try if you're not a fan of coffee. The amount of milk will change depending on the size of your mug, so give it a go.

Ingredients

☆2 tbsp sugar ☆1 egg white ☆2 tbsp matcha powder ・8 tbsp fresh cream ・Milk

Method

1: Whip all of the starred (☆) ingredients together well.

2: Mix in fresh cream until it thickens.

3: Pour in your milk and you're done.

3: Cherry Blossom Cream Soda @banakooooo

This homemade cream soda recipe was made by Banako, one of our MOSHI MOSHI FRIENDS who writes articles on cafes and cream sodas in Japan. This is the perfect beverage for those unable to enjoy the cherry blossoms.

Ingredients

・Soda/Carbonated Water・Pink coloured juice・Pickled cherry blossom leaves*・Vanilla Ice cream

*The pickled cherry blossom leaves were bought online

Method

1: Add ice to a glass and pour in the soda.

2: Pour in some pink coloured juice to your liking to change the colour of the water.

3: Add some of the pickled cherry leaves and a dollop of vanilla ice cream.

4: Top with some more pickled cherry leaves to garnish.

Kotone's home cafe drink is a dessert-style beverage made using Oreos. This one's a must-try for anyone who loves Oreos.

Ingredients

・3 Oreos (2 without the cream)・Milk (to taste)・Fresh cream (to taste)

Method

1: Lay two Oreos into a glass.

2: Add the milk. Whip fresh cream and add.

3: Finish by topping with an Oreo.

Chihiro serves us a refreshing orangeade from their home cafe. The perfect refreshment for the arrival of the warm spring weather.

Ingredients:

☆1 orange ☆100g sugar ☆1 tbsp honey ・1 bottle of soda/carbonated water・3 orange slices・2 thyme sprigs

Method

1: Peel the starred (☆) orange, then place that and the rest of the starred ingredients into a bottle that has been sterilised by boiling. Leave in the refrigerator for 1-2 days.

2: Slice three piece of orange and cut them in half.

3: Add the syrup you made from step ① into an ice-filled cup. Pour in the soda/carbonated water and add the orange slices and thyme.

Matcha Flavoured Caffè Latte to be Released by Japan's Popular Chilled Coffee Cup Brand

Mt.RAINIER is launching a matcha flavoured caffè latte in Japan for a limited time starting from April 21, 2020.

Mt.RAINIER launched in February 1993 as a pioneering brand of chilled coffee in a cup. Since then, the company has introduced countless flavours which retain the authentic quality of a drink you would sip on in a cafè. With the number of people working from home rising, Mt.RAINIER is looking to be an easy grab for its customers to refresh and relax them during this time.



With the Olympics being delayed until next year, 2021 is the new year expected for Japan to be in the spotlight. With many people interested and becoming interested in Japanese culture, including the Japanese themselves, the market for providing products to enjoy Japan and its culture is expected to grow. Mt.RAINIER is hopping on board this train with its new "Nippon Color Vibes" drinks series which will include beverages that capture the vibe of Japanese culture. The first drink in the line was cherry blossom flavoured, and the upcoming entry is matcha.


The Mt.RAINIER Matcha Caffè Latte blends together matcha made from leaves carefully selected by tea experts with milk and a shot of espresso.

Information

Mt.RAINIER Matcha Caffè Latte

Price: ¥150

Release Date: April 21, 2020

Location: Everywhere in Japan

Official Website: https://www.mtrainier.jp/nipponcolorvibes/

*The Mt.RAINIER Matcha Caffè Latte will be featured on the website from April 21, 2020 at 11:00 A.M. (JST)

Kodomo wa Wakatte Agenai Manga's Live-Action Adaptation Trailer and Visual Released

Kodomo wa Wakatte Agenai is an award-winning manga series written and illustrated by Rettou Tajima that has been picked up by a number of high-profile names including game designer and copywriter Shigesato Itoi, actress and model Kaho, and idol Nanase Nishino. A live-action adaptation is set to be released in Japanese theatres on June 26, 2020.

The film is being directed by Shuichi Okita (The Chef Of South Polar, A Story of Yonosuke) and will be his debut into adapting a manga series into a live-action film.

Moka Kamishiraishi will play the part of the protagonist Minami. The 20-year-old actress has earned a name for herself in her roles in Stepmom And Daughter Blues and Idaten and is known for her vibrant charm and sound acting skills. 

Kanata Hosoda will play the part of Minami's companion Moji. Hosoda is a newcomer to the industry, but has already garnered huge attention for his role in Yuya Ishii's Machida-kun no Sekai. Other members of the cast include Etsushi Toyokawa, Yudai Chiba, Yuki Saito, and Kanji Furutachi, amongst others.

The film's director Shuichi Okita is known for his work on humorous and warm human dramas, so we look forward to seeing how he portrays Rettou Tajima's masterpiece of a manga.

As excitement kindles, a promotional video has also been released.

The video showcases Minami, an 'ordinary' high school girl who's not so ordinary, and her encounters during the summer. You could say that Shuichi Okita is exploring new territory in his directorial work, and yet it still feels like an Okita film as we see the personalities of the various characters. In the last scene, we see Minami confess. Moka Kamishiraishi has just come out of her teens and so is the perfect match for Minamiーsomeone who is, little by little, maturing into an adult.

Minami and Moji both meet because of their love for the fictional anime series Mahou Sakan Shojo Buffalo KOTEKO. Japanese voice actress Miyu Tomita will play the voice of KOTEKO, the protagonist of that anime series. Daisuke Namikawa, Takahiro Sakurai, Tatsuhisa Suzuki, Show Hayami, and others will also provide their voices for the series. It will be animated by Typhoon Graphics.

A visual for the upcoming film was also released, which has an emotional air to it with Minami's straightforward gaze and the line that reads, "My encounter that summer changed who I am."

Kodomo wa Wakatte Agenai will make both kids and adults laugh and cry when it releases this summer on June 26, 2020.

©2020「子供はわかってあげない」製作委員会 ©田島列島/講談社

©Kodomo wa Wakatte Agenai Production Committee

©Rettou Tajima/Kodansha

DEVILMAN crybaby Themed Stylish Clothing to be Released in Collaboration With Ground Y

Ground Y is a clothing brand conceived by Yohji Yamamoto that claims a new fashion concept: genderless and ageless, which is expressed through synchronising various aspects. The brand is celebrating its 3rd anniversary this year. As part of the commemoration, it is joining hands with Go Nagai's manga series DEVILMAN to release a new line of clothing at the online store THE SHOP YOHJI YAMAMOTO at noon (JST) on April 24, 2020.

Ground Y × Devilman THE SHOP YOHJI YAMAMOTO Limited Collection

The DEVILMAN manga series was first serialised in Weekly Shonen Jump in 1972. It has since gone on to sell over 10 million copies, and even received a popular Netflix Originals anime adaptation in 2018 entitled DEVILMAN crybaby. The story explores the deep question of "What are humans?" through beings like gods and devils. It is considered a monumental masterpiece  of a manga series and has influenced countless manga artists and authors. The series also synchronises with the DNA of Yohji Yamamoto's company, and is a hugely respected title in the industry, which is what led to the collaboration.




Ground Y × Devilman THE SHOP YOHJI YAMAMOTO Limited Collection

"Darkness" is the theme of the clothing collection which includes track jackets, dolman sleeve hoodies, and coach jackets featuring characters like Zenon and Sirène.


Ground Y × Devilman THE SHOP YOHJI YAMAMOTO Limited Collection

Modelling the collection in the key visuals are former Nogizaka46 member Rina Ikoma, who is currently working as an actress, and Yutaro, who himself began his serious acting career in 2017 and is appearing in many popular Japanese dramas.

Sword Art Online: Alicization – War of Underworld's Second Ending Theme to be Performed by Eir Aoi

Japanese singer Eir Aoi's song I will… will be used as the second ending theme for the ongoing TV anime series Sword Art Online: Alicization – War of Underworld starting from April 25, 2020.


Eir Aoi's last collaboration with the Sword Art Online anime series was almost a year and a half ago when she released her song Iris which was the first ending theme for Sword Art Online: Alicization.

A new promotional video was also released for the continuation of Sword Art Online: Alicization – War of Underworld which is currently following the "Alicization Awakening" arc. The video features the debut hearing of ReoNa's new song ANIMA which will serve as the opening theme. Check it out below.


"Sword Art Online: Alicization – War of Underworld" – Final Chapter

Eir Aoi | Comment

"I was given the opportunity to sing the first ending theme 'Iris,' so I am so grateful to be on board again. The theme of this new song 'I will…' centres on being emotionally close to someone you hold dear and walking together with them. It's a ballad that unfolds into something majestic. I hope it's a song that holds close emotionally to SAO and those who watch it too."