Rokkō Alpine Botanical Garden: Witness the Colours of Autumn Illuminated by Lights at Night
The maple trees at Rokkō Alpine Botanical Garden are set to be lit up at an event that will run from October 19 to November 11. The event will enable people to walk the gardens at night to gaze at the illuminated red leaves. Additionally, as part of the 2018 Rokko Meets Art project, another display titled 'The Night Museum' will be held simultaneously where art pieces around the garden will also be lit up.
The hills and mountains in Japan turn into a kaleidoscope of reds, yellows and oranges when autumn comes and the maple trees bloom. Mount Rokkō is at a high altitude and it's here that maple trees blossom almost one month earlier than other town areas including Kyoto. There are numerous varieties of maple tree at Rokkō Alpine Botanical Garden for people to see. You can look forward to seeing the trees change colour from mid-October through mid-November. These bright and beautiful trees will be made even more vivid when they are lit up together with the art installations around the gardens.
Rokkō Alpine Botanical Garden boasts a diverse range of tree species and plants including the maple variety like the Japanese maple and oomomiji as well as the Japanese beech, Japanese larch, shiromoji, rhododendrons and more, all of which come to life in autumnal colours. It is also home to several species that grow in high altitudes like the chinguruma.
The lit-up trees will create a starkly different, more mysterious atmosphere than during the daytime. There is also much anticipation for the exhibition of an art installation by Takahashi Kyota.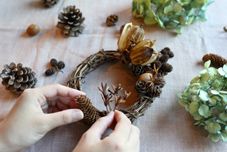 You'll also have the opportunity to use seeds fallen from trees in the garden and dried hydrangeas to make your own wreath. Tools and items will all be prepared for you so you can go hands-free.
A photo seminar will also take place under the refreshing sky of Mount Rokkō. You'll be led around the garden by lecturers of the Japan Alpine Photographers Association and learn how to take photos of the hills and fields. You will observe medicinal plants and learn the charms of plans you would never know by just looking at them.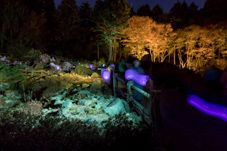 Enjoy the gorgeous colours of autumn this year at Rokkō Alpine Botanical Garden.
■Information
Maple Tree Night Stroll / The Night Museum
Running: October 19, 2018 – November 11, 2018 (*Will be cancelled during storms)
Time: Weekdays 5:00pm-6:30pm / Weekends & Holidays 5:00pm-7:30pm
Guide: From 5:30pm (*Weekends & Holidays only. 30 minutes. Free to participate.)
Location: Rokkō Alpine Botanical Garden (Kitarokkō-4512-150 Rokkōsanchō, Nada Ward, Kobe, Hyogo Prefecture)
Price: Free to participate but you must pay the garden entry fee (Adults ¥620 / Children ¥310 / Seniors ¥520)
Wreath Workshop
Running: October 13, 2018 – November 25, 2018
Open: 10:00am-4:30pm (Reception closes at 4:00pm)
Time: 30 minutes
Location: Alpicola
No. of People: 12 people max per session. No reservations necessary.
Price: From ¥650 (Doesn't include garden entry fee)
Photo Seminar
Date: September 23, 2018 (*Will be postponed to September 30th if it rains)
10:30am-11:00am ― Class on photography
11:00am-3:00pm ー Photography around the garden
Price: Free (Doesn't include garden entry fee)
No. of People: 30 *Now taking telephone reservations
Guide
Dates: October 13 and November 10
Time: 11:00am / 2:00pm (1 hour each)
Price: Free (Doesn't include garden entry fee)
Mount Rokkō Portal Webite: http://www.rokkosan.com
RECOMMENDED ENTRIES
Six recommended autumn color spots in the Tohoku area.

It is said that autumn leaves look more beautiful when the nighttime/daytime difference in temperature is greater.

The Tohoku area has lots of mountains and valleys so there are many places where you can view beautiful autumn leaves! In this article, I will introduce to you some popular spots.

Hirosaki Park (Aomori)

This park has about 1,000 maple trees and 2,600 cherry trees. You can see gorgeous kikuningyo (Japanese traditional dolls) and chrysanthemums at "Hirosakijo Kiku to Kohyo Matsuri" which is held inside the botanical garden of the park.

◼︎Information

Hirosaki Park

Address: 1, Shimoshiroganecho, Hirosakihi, Aomori

Access: 15 minutes on the bus (Fujishiro Eigyosho) departing from Hirosaki Station. The park is close to the bus stop called "Shiyakusyo Mae Koen Iriguchi."

TEL:0172-37-5501

Chusonji (Iwate)

A famous temple which is the mausoleum of Ousyu Fujiwara Family. It is a famous spot which mourns the war deaths. The spot was enrolled as the world's heritage which has many kinds of maple trees.

◼︎Information

Chusonji

Address: 202, Aza Kinutome, Hiraizumi, Hiraizumicho, Nishiiwaigun, Iwate

Access: 5 minutes on car from JR Hiraizumi Station, 30 minutes on car from JR Ichinoseki Station

TEL:0191-46-2211

Dakigaeri Canyon (Akita)

A canyon that has mountain stream running between a virgin forest and bluffs. The view from the bridge called "Kamino Iwa Bridge" and the autumn leaves around Mikaeri no Taki (waterfall) are superb. You can enjoy watching strange-shaped rocks, rapid streams and small/big waterfalls while walking on the walking path.

>>next page

"Sanyabori Koyo Kairo" will be held at Asakusa's best-kept-secret spot, Sanyabori Park. A cherry tree light-up event will be held too

"Sanyabori Park" in Asakusa, Tokyo used to be a channel connecting Oji's Otonashi River and Sumida River. People during the Edo Era passed through the channel by riding on chokibune (traditional boats) to go to Yoshiwara (licensed quarters) and many ukiyoes (Japanese style paintings) depict the sceneries of Sanyabori Park in the Edo Era.

"Sanyabori Koyo Kairo"is a light-up event where the cherry trees in the park are lit up. This event will be held from the 17th of November 2017 (Fri.) to the 26th of November (Sun.).

The committee of the event will install decorated rickshaws and chokibunes inside the park so that visitors can take photos of the cherry trees while riding on these Edo period modes of transport.

"Sanyabori Koyo Kairo" is a popular photo-taking spot where many tourists from both home and abroad gather.

Let's enjoy these cherry trees at nighttime at Asakusa's best-kept-secret-spot.

■Information

Sanyabori Koyo Kairo

Address: Sanyabori Park, area between 7-4, Asakusa, Taitoku (Imadobashi) to 7-8, Asakusa, Taito (Seitenbashi)

Time: 2017,11,17 (Fri.) to 11,26 (Sun) ※ 10 days

<Taking photos while riding chokibune>

11,17 (Fri.) to 11,26 (Sun.) ※10 days

<Period when local food stalls are available>

11,18 (Sat.), 19 (Sun.), 25 (Sat.), 26 (Sun.), 16:00 to 21:00

Access: Tokyo Metro, Toei Chikatetsu, Tobu Sky Tree Line

15 minutes on foot from"Asakusa Station"

15 minutes on foot from "Asakusa Station" Tsukuba Express
RELATED ENTRIES
Kurobe Gorge Trekking Tour Offers Breathtaking Two-Day Trolley Journey

The Kurobe Gorge Trolley in Toyama will offer a special two-day journey through the fall foliage on October 29 and November 1, 2021. 

Atobiki Bridge

Okukane Bridge

Promenade

Babadani Jigoku

On the day of the tour, guests will enjoy a leisurely journey through nature as a Kurobe Gorge tour guide explains the features of the surrounding environment. 

Applause Square Nagoya to Offer Autumn Dinner with Birthstone-inspired Sweets

Wedding venue Applause Square Nagoya will be opening a limited-time restaurant for eight days only during October and will offer some of the most artful desserts you've ever seen. The wedding hall is not normally open to the public, so this will be an opportunity to see this incredible mansion up close while savoring some unique fall flavors. 

Jewel Art Topaz Parfait, made with Rum Raisin and Iced Chestnut Mont Blanc with Orange Parfait, and three Chocolate Bonbons

Six hors-d'oeuvres, each a vibrant and unique color

Sea Bream Vapeur with Eggplant and Chips that resemble Autumn Leaves, paired with Hot consommé soup scented with sherry and served in front of guests

Roasted Chita Pork with Tomato Chutney Sauce and Ginger, covered with Brown Mushrooms


Each of the six hors d'oeuvres were inspired by birthstones. Following are a number of luxurious meat and fish dishes, followed by a rich and abundant parfait filled with autumn flavors.

'Shiseido Parlour Ginza Salon de Cafe' Reveals Limited Autumn Dessert Menu

The 'Shiseido Parlour Ginza Salon de Cafe' has announced that between October 1 and October 31 2021, customers can enjoy a limited edition Autumnal sweets menu. This year their menu includes the Jersey milk 'Japanese Chestnut Mont Blanc Parfait from Kyushu' and the 'Shine Grape Fruit Sandwich.' There will also be two special additions to the menu to celebrate the 96th Azuma Odori.

Japanese Chestnut Mont Blanc Parfait from Kyushu using Jersey Milk: ¥2,500 (Tax Incl.)


 

Strawberry Parfait using "Koihime" strawberries from Nagano's Hatake Kobo: ¥2,100 (Tax Incl.)

 

Weekday / Limited Quantity Products

Shiseido Parlour Story: ¥2,600 (Tax Incl.) (Drink Incl.)


Shine Grape Fruit Sandwich with grapes from Iizuka Orchard: ¥1,700 (Tax Incl.)

Shinbashi Color Ice Cream Soda: ¥1,150 (Tax Incl.)


The Japanese Chestnut Mont Blanc Parfait is made using Jersey milk ice cream, chestnut cream, and fresh cream, along with the "Koihime" Fruit Sandwich, made using Kashu "Koihime" Strawberries are available on both the regular and limited Shiseido Parlour Ginza menus. Meanwhile, the luxurious Shiseido Parlour Story and the seasonal Shine Grape Fruit Sandwich, filled with various Autumnal fruits and centred around the grape, are only served on weekdays and holidays in limited quantities.

In the late Meiji Era, Shinbashi geisha were often seen wearing blue and green kimonos, with the color combination being coined Shinbashiiro (Shinbashi Color.) The elegant and retro Shinbashi Color Ice Cream Soda recreates the iconic look using green apple syrup, lemon, and ginger ale, topped with a traditional vanilla ice cream.

 

 

 Immerse yourself in the season with a feast of Fall sweets in Ginza.

Information

Shiseido Parlour Ginza Salon de Cafe

Address: Tokyo Ginza Shiseido Building 3F, 8-8-3, Ginza, Chuo-ku, Tokyo

Opening Hours:

Tuesday to Saturday:  11:00 ~ 21:00 (L.O. 20:30)

Sunday, public holidays: 11:00 ~ 20:00 (L.O.19:30)

Closures: Mondays (excluding public holidays), New Year 

Starry Night Bonfire Event in Nikko Invites Guests to Relax Under the Full Moon

Nikko-Yumoto, a hot spring hotel located near the picturesque Nikko National Park, will hold a limited-time event starting October 6. On select nights in October and November, guests are invited to sit around a bonfire and enjoy the full moon, new moon, and meteor showers while learning about astrology!

Harvested throughout the autumn months, Natsuotome strawberries grown in nearby Senjogahara are used to make a hot fruit wine to enjoy while gazing at the night sky. A warm drink will be perfect for cold nights in Oku-Nikko, located over 1,500 meters above sea level. In October, the night temperature can be as low as 40 degrees Fahrenheit! For those not wanting something alcoholic, feel free to enjoy some tasty hot cocoa. 

What's the first thing you think of when you see a bonfire? Roasting marshmallows, of course! During the event, a bag of magical powder will be tossed into the fire, turning the flames into different colors. Don't worry–the powder itself contains no harmful substances and is safe for both humans and the environment. 

Information

Starry Night Bonfire

Dates: October 6, October 9, October 20, October 21, November 5, November 18, November 19 / 19:30-20:30

Fee: Free *The event may be canceled in the case of inclement weather. 

Official Site: https://www.qkamura.or.jp/nikko/activity/

Kyoto Brighton Hotel Offers New Morning Plan to Admire Autumn Leaves

The Kyoto Brighton Hotel is offering a special morning plan that will charter temples and shrines exclusively for hotel guests between November 17 and November 30 2021.

 

Hougon-in

Anrakuji

Kitano Tenmagu Shrine

        

Koudaiji

Shisendou

Taizouin

Touji

Even throughout Japan, Kyoto has one of the highest amounts of Autumn leaf viewing spots. This unique viewing plan allows guests to enjoy the vivid autumn leaves by charter, with special permission to visit each spot before it opens to the general public. With this plan, you can experience the wonders of Kyoto in Autumn while avoiding the crowds.

 

The "Morning Plan" proposed by the Kyoto Brighton Hote offers guests the chance to spend a peaceful time in the fresh, dignified early morning air while avoiding the crowds. This popular plan has been running for 20 years.

Not only is the viewing private, but you will also learn more about the area with guidance from the priests and staff. 

After returning to the hotel, you will be treated to a special "Kyoto Breakfast" which uses local ingredients arranged in both Japanese and Western styles. This breakfast will taste even better following the cleansing of body and mind in the crisp early morning air.

 

Why not take part in this purifying "Morning Activity" and immerse yourself amongst the Autumn leaves?

Information

Autumn Leaves Special Morning Activity Plan

Location: Kyoto Brighton Hotel

Duration: November 17 ~ November 30 2021

Official Site: https://kyoto.brightonhotels.co.jp/ 

Autumn Sweet Potato Frappuccino Now Available at Starbucks Japan

Fall is in the air, which means seasonal treats are back at Starbucks! The Sweet Potato Frappuccino will be available at participating Starbucks locations beginning September 22, which also happens to be the first day of autumn. 

The 4th annual Artful Autumn @ Starbucks promotion is back for 2021! This year's concept is 'Made by Earth,' and the lineup of new products features fall ingredients that highlight the bounty of the planet. 

Tall Sweet Potato Frappuccino To-Go: ¥638 / In-store: ¥650

The new drink is filled with the flavor of baked sweet potato, honey, and molasses. Each beverage is made with roasted sweet potatoes that have been cut into pieces, keeping some of their unique texture. Sweet potato flakes sprinkled on top add a bit of crunch!

If you're in Japan, be sure to grab one before they're gone!

Information

Sweet Potato Frappuccino®

Available: September 22, 2021 – October 19, 2021 (While supplies last.) 

Where: Participating Starbucks locations nationwide. 

Official Site: https://www.starbucks.co.jp/

Autumn Scenery Coming to teamLab Forest Fukuoka for a Limited Time Only

The permanent museum teamLab Forest Fukuoka is bringing autumn scenery to the virtual exhibition for a limited time only beginning September 18, 2021. A number of animals made of autumn foliage will be roaming through the space, and you won't want to miss this memorable experience!

teamLab Forest Highlights

Shifting Valley, Living Creatures of Flowers, Symbiotic Lives – teamLab, 2020

Animals of Flowers, Symbiotic Lives II – teamLab, 2019

Soft Terrain and Granular Topography –  teamLab, 2020

Flutter of Butterflies, Ephemeral Life –  teamLab, 2020

The prolific works of the teamLab art collective change with the seasons. In the Forest of Movement, guests can enter the 'Shifting Valley, Living Creatures of Flowers, Symbiotic Lives' exhibit, where creatures made of flowers exist in a three-dimensional space. For this fall event, these flowers will be those found in the autumn months. The 'Soft Terrain and Granular Topography' will display tons of colorful grains raining down on visitors, while the 'Flutter of Butterflies, Ephemeral Life' will change the usual butterflies to have autumn colors as they fly around guests. 

teamLab Forest is a new museum created by art collective teamLab. The museum consists of two sections: the first, 'The Catching and Collecting Forest,' invites guests to explore with their smartphone to capture various unique creatures, while the second, 'The Athletics Forest,' is a physical creative space which asks visitors to use their body to immerse themselves in interactive areas. 

Would you like to visit this distinctive museum in Fukuoka on your next trip to Japan?

Information

teamLab Forest Fukuoka – SBI SECURITIES Co., Ltd.

Autumn Scenery Coming on September 18, 2021

Venue: BOSS E・ZO FUKUOKA 5F, Next to Fukuoka PayPal Dome (2-2-6 Jigyohama, Chuo-ku, Fukuoka)

Official Site: http://forest.teamlab.art

GU Web Commercial Features New Cast in 2021 Fall/Winter Collection

Japanese fast-fashion retailer GU is promoting the 2021 Fall/Winter Collection with a new cast and new image. In a fun and goofy web commercial recently uploaded to YouTube, the five faces of the collection are seen rocking some of the new pieces available now.

In addition to Ayami Nakajo and Sota Fukushi, three new cast members–Noritake Kinashi, Chara, and Yutaro–are joining the 2021 Fall/Winter campaign. The commercial highlights GU's stylish and warm knit cardigans, which are currently a huge trend for autumn.

Using these unique individuals, GU hopes to show that these new pieces can fit anyone of any age, gender, or size. Chara and Noritake Kinashi show that adults can still have fun with their fashion, while Yutaro claims that fashion isn't just following trends, but accentuating your individuality.

In an upcoming commercial set to air on television in October, Ayumi Nakajo, Chara, and Yutaro will be shown in more trending knitwear, while a November commercial will feature all five cast members in easy-to-wear and stylish winter pants.

Which of these new pieces would you like to add to your wardrobe?

Information

GU Web Commercial 'FashiON!'

Out Now

The Westin Tokyo Hotel to Offer Premium Autumn Parfaits for Limited Time

Three delicious desserts are coming to The Westin Tokyo for a limited time! Beginning October 1, visitors to the hotel can enjoy a collection of premium parfaits filled with seasonal ingredients and western liquors unique to the executive bar, simply named The Bar. These will be available until November 28, on Friday, Saturday, Sunday and holiday nights only.

Chocolate Parfait with Figs and Red Berries

Chestnut and Apple Parfait

Chestnut and Hazelnut Mont Blanc Parfait

The chocolate parfait includes whole figs and bright red berries, and is finished with rich port. Calvados was added to the Chestnut and Apple Parfait, allowing guests to enjoy a refreshing combination of nuts, fruits, and mascarpone. The Mont Blanc Parfait includes a fragrant rum from Martinique, and has a richer dessert flavor.

The executive pastry chef carefully layers each parfait by hand, and these unique treats combining flavors of both east and west can only be found at The Westin Tokyo!

Information

Premium Autumn Parfait

Available: October 1 – November 28, 2021 (Only available Friday, Saturday, Sunday & Holidays)

Hours: 16:30-20:00

Price: ¥3,000 each (Tax and Service Charge Included)

Location: Executive Bar "The Bar" (1F)

Reservations: 03-5423-7285

Official Site:www.westin.com

Mister Donut Releases Sweet Potato Treats for Autumn

To ring in the fall season, Mister Donut shops across Japan are now offering five different sweet potato donuts. The scrumptious sweets will be available until the end of November.

Honey Sweet Potato Donut

Honey Sweet Potato with Butter Donut

Purple Sweet Potato Donut

Candied Sweet Potato Donut

Sweet Potato Donut

The final donut on the list, the Sweet Potato Donut, doesn't refer to a typical sweet potato in Japanese, but instead to a popular sweet potato cake. It's topped with sweet potato cream and black sesame.

These sweet potato themed treats have been available for the past three years, and continue to please customers with their simple taste and texture. Each pastry is kneaded with specific types of sweet potato powder, to give it a signature flavor and feel.

New additions to this year's lineup include the Honey Sweet Potato Donut and the Honey Sweet Potato with Butter Donut. By soaking the dough used for these treats in syrup, each bite provides a burst of sweetness while also keeping the texture of a freshly-cooked autumn potato. The Butter Donut is oven-baked with a salted butter-flavored filling.

The Purple Sweet Potato, Candied Sweet Potato, and Sweet Potato Donuts from last year are all making a comeback after immense popularity. Which one would you try first?

Information

Sweet Potato Treats at Mister Donut

Available: August 27 – Late November 2021

Where to Buy: At most Mister Donut shops nationwide

Official Site: https://www.misterdonut.jp

Hankyu Men's Chooses Comedian Eiko Kano as Face of New Collection

Comedian and singer Eiko Kano has been chosen as the new icon for Hankyu Men's 2021 collection. The new concept, "WELCOME TO THE NEW WORLD ~RESPECT FOR THE NORTH~," is heavily inspired by life in the north, and the collection will feature a variety of useful products and services from fashion to lifestyle.

PERFECT LOVE~HANKYUMEN'S VER~




With a humor that transcends age, Eiko Kano has been appointed as the new icon for Hankyu Men's 2021 collection, in the hopes that he can raise people's spirits during the COVID-19 pandemic. In addition to the visuals, an original music video has also been released to convey the northern theme.

Kano originally debuted as the lyricist and composer for band 50TA as a prank segment on popular TV Asahi variety show London Hearts. His first album hit #9 on the Oricon charts, with the most popular track being PERFECT LOVE. His new arrangement of the song, PERFECT LOVE HANKYU MEN'S 2021AW Version, was made for this new collaboration.

Shohei Otani is Brand Ambassador for BOSS 2021 Autumn/Winter Collection

In a new promotion, BOSS is previewing their upcoming 2021 Autumn/Winter Collection with a surprising new brand ambassador: Los Angeles Angels pitcher/batter Shohei Ohtani.

Clad in BOSS's uniquely elegant pieces, Ohtani shows off casual styles and new looks possible only through creative combinations. From a cool leather jacket to a sophisticated wool coat, each detail has been carefully considered for quality, to ensure that a man wearing BOSS is ready for anything.

Wearing the newest BOSS collection, Shohei Ohtani shows off two distinctive looks.

In the first look, Ohtani is rocking a new leather bomber jacket from the Autumn/Winter collection. Made from 100% sheepskin, the piece is smooth to the touch and features luxurious trim, ribbed knitting on the color and sleeves, and plenty of other small details throughout. The structured collar and dark green color make it a perfect choice for the sophisticated man.

For the second look, the baseball star is clad in a relaxed wool coat. This mature and elegant style is achievable with this coat alone, worn here with simple white pants. A versatile piece, wear it over a suit when heading to the office, or with a casual outfit on the go.

How do you feel about the new BOSS 2021 Autumn/Winter collection? Would these pieces fit your personal style?