P→★ (TEMPURA KIDZ) Animal Café Diary #3: Playing With Rabbits at Ra.a.g.f in Harajuku
P→★ of Japanese pop dance and vocal group TEMPURA KIDZ loves animals. This is the 3rd entry to his featured series in which he visits animal cafés around the city.
Ra.a.g.f in Harajuku was his destination this time around where he got to play with bunnies!
The café is just a 5-minute walk from Meiji Jingumae Station via Tokyo Metro lines, 8-minutes from Harajuku Station via the JR line, and within walking distance from all the lines at Shinjuku station, making it a perfect pit stop when sightseeing in Harajuku!
About 15 rabbits live in one room at the large apartment. You pick one that you think wants to play at let them roam around the room. The rule is that you let them out one at a time. They're a territorial animal, so if you let two out they will pick quarrels, and if they're male and female they will end up mating.
Pick a bunny from the cage that wants to play. It costs ¥800 for 30 minutes and ¥1,100 for 60 minutes – both options come with one drink. If you want to stay longer, it's ¥550 per 30 minutes.
The first bunny P→★ picked was the floppy-eared Roko-kun, a male Holland Lop.
The rabbits seek out feed so if you use the food provided they will move closer to you. It's ¥150 for a bunny snack. They have bad eyesight so it's best to hold it close to their face. They also know their own names, so try calling out to a bunch of them.
Rabbits are predatory so they're not good with being hugged. It's strictly forbidden to hold the rabbits in the café, so guide them to your lap with the snack.
Roko-kun kindly came and sat on P→★'s lap! Rabbits hate being touched under the chin and on the belly, so when petting them make sure to do it gently from their heads down their backs.
They seem to be getting along nicely! "He's cute, I want to keep him myself! So fluffy!" said P→★.
The next rabbit that P→★ met was the most handsome of the herd – Purittsu-kun, a male Netherland Dwarf. He's the most popular in the café because he looks just like Peter Rabbit.
Purittsu-kun likes to run around people. It was like he was intending to play with P→★. He was in good health today.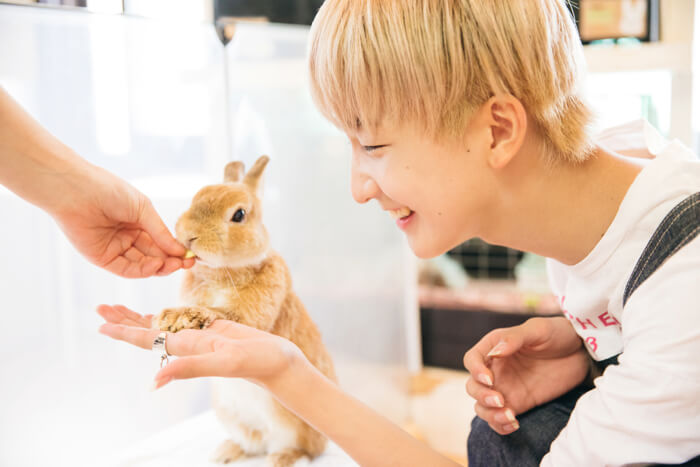 His special skill is handshakes. Try shaking his hands too by timing it when he puts his forefeet up when giving him his snack.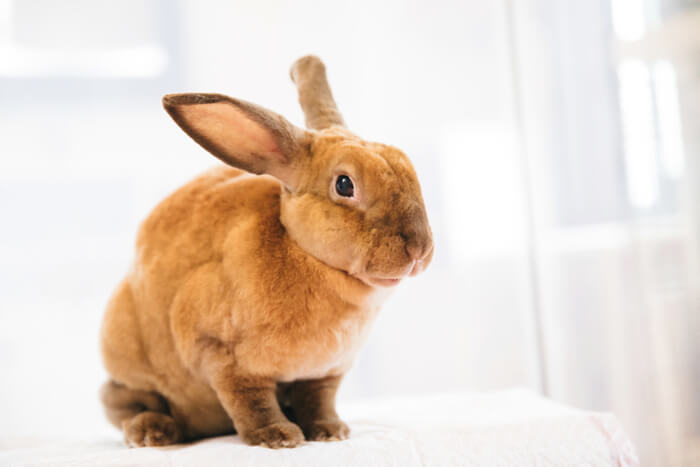 The final bunny of the day is Rakuda-chan, a female mini Rex rabbit. She seems to be the most popular amongst foreign customers. She's chubby around the chin and butt so she looks really fluffy.
She's good with people so she jumped straight onto P→★'s lap!
Rakuda-chan also loves getting a massage from the customers! If  you pet her from her forehead down to her butt she'll lie sprawled across the floor. She's the only rabbit in the café that does this, so she's got a lot of repeat customers!
P→★ was very satisfied having gotten to play with so many bunnies!
"When I was in elementary school I touched a lot of rabbits at Toby Zoo, so I'm super happy I got to pet a lot today! I was also surprised by how different it feels to touch a rabbit with long fur and one with short fur! Rakuda-chan is my favourite. She made me feel a lot better♡ "
There's a lot of other rabbit breeds at Ra.a.g.f too. The kind staff there will show you how to play with them all. "The lady there was really interesting, she attended to the rabbits like she was a nursery school teacher! Be sure to try going there yourself!" said P→★.
You can also buy the rabbits on sale there and they also have a rabbit hotel. There's even rabbit merchandise you can buy, so if you're a lover of bunnies then you absolutely have to visit!
■Information
Ra.a.g.f
Address: Mezon Harajuku 3F, 6-14-15 Jingumae, Shibuya, Tokyo
Opening Hours: Weekdays 12:00-19:30 (Last Entries 19:00) / Weekends & Holidays 11:00-20:00 Last Entries 19:30)
Closed: Every Tuesday
Access: 5-minutes on foot from Exit A7 of Meiji Jingumae Station via Tokyo Metro Line, 8-minutes on foot from Omotesando Exit of Harajuku Station via JR Line, 10-minutes on foot from Exit 13 of Shibuya Station via all lines
Website: https://raagf.com
Model: P→★(TEMPURA KIDZ)@0830_pika
Photo: Kayo Sekiguchi
Text: Sayoko Ishii
Translation: Joshua Kitosi-Isanga
RECOMMENDED ENTRIES
P→★ (TEMPURA KIDZ) Animal Café Diary #1: Making Friends with Otters at HARRY Harajuku Terrace Café!

I love animals!

This is P→★ from TEMPURA KIDZ and welcome to the first entry of my brand new series. I'll be updating occasionally. What's a better way to start a series than to make friends with some otters and hedgehogs in Harajuku? Today, I went to HARRY Harajuku Terrace café to do just that!

It's not just what's inside the café, but its location is also worthy of note – it's just an 8-minute walk from JR Harajuku station and a 5-minute walk from Tokyo Metro Meiji-Jingu station, so it's easy to drop by after a busy day of being a tourist. The wow-factor of this café is the three very sociable otters. This highly successful café draws in customers that come day after day, seeking the ultimate soothing feeling of bonding with their new friends.

All their faces look the same, but you can tell them apart by looking at their tails. The otter called Miku has a thin tail, whereas San has a thick one and Kirara has a flat one. Particularly Kirara is brimming with curiosity and is the one with whom you are mostly likely to interact, if you should pop by!

Full of excitement, the otters reached through the small hole in the tank to ask for food and toys. It was overwhelmingly cute. When they want a treat, they call out with their peculiar squeal. You can purchase snacks for them within the café. If you give them food, your friendship will grow increasingly stronger.

Otter snack prices:

First-time customers: ¥330 (price including tax)

Standard price: ¥540 (price including tax)

As the café name "HARRY" implies, the café has hedgehogs (harinezumi). The hedgehogs heal the tired hearts of all the café visitors. All the hedgehogs are friendly and rarely ever raise their quills at anyone, so you can touch them safely.

Even I can handle a hedgehog!

Even though hedgehogs are rather timid, they can still open their hearts to you! I can't believe that we even touched noses to communicate! It's amazing!

The café was once a pet shop that sold rabbits and other small animals. This is it's first time running business as a café, and that's why you can not only interact with the animals here, but also buy one to keep. The staff also provide important information on how to properly care for the animals and diseases to which they are prone. If you are interested, then please feel free to ask them any kind of question.

There are many other animals in the shop. This is a large French Lop rabbit. 3 months after birth, their bodyweight can even reach up to 7kg. Their droopy ears were so cute and their fur was so fluffy! I was filled with happiness.

…and there were even chinchillas.  They have fluffy tails and look so cute!

I approached them with some grass for them to snack on, and as soon as they saw me, they ran at me full of energy – we even got a photo together! As all the animals at this café are used to people, it's easy to take pictures with them to upload on SNS websites!

The café has such a large variety of food for small animals that was quickly noticed by customers who were interested in buying a pet. You can ask the staff what type of food is appropriate for which animal.

I spent a lot of time surrounded by my favourite animals. I was particularly captured by the otters' cute behaviour! HARRY Harajuku Terrace gives you the opportunity to freely interact with small animals – something that you can't really do at a zoo or anywhere else. If you're in Harajuku, how about stopping by? You may have to wait 30 minutes to enter the café if the store is closed. The café is very popular so I recommend that you reserve in advance!

■ Information

HARRY Harajuku Terrace

Address:Jingu-mae 426 Building floor 3, Jingu-mae, Shibuya, Tokyo

Opening hours:11:00-19:00 (Last entries: 18:30)

Regular closing days: None

Access:8-min walk from JR Harajuku station, 5-min walk from Meiji-jingu station Tokyo metro line

URL:http://www.animalcafe.tokyo

Model:P→★(TEMPURA KIDZ)@0830_pika 

Writer:Ryoichi Komaba

Photographer:Haruka Yamamoto

Translator: Samantha Fernandes

P→★ Animal Café Diary #2: Making Friends with Owls & Hawks at Owl's Garden in Harajuku

P→★ from TEMPURA KIDZ loves animals. This is his featured series in which he visits animal cafés in the city.

In this second entry, he made a trip to Owl's Garden in Harajuku which houses not only owls, but hawks too!

The café can be found behind Tokyu Plaza, a very favourable location since you can stop by after shopping in Harajuku. It's a 6-minute walk from Harajuku Station or a 2-minute walk from Meiji-Jingumae Station. Today, P→★ is wearing an outfit inspired by Harry Potter!

The café interior is styled on an English garden. There are 12 owls and hawks that live there. It's full of natural light and greenery, making it a nice and comfortable place to relax.

There are several price plans. The Standard Plan is ¥1,500 which gets you 60 minutes inside. During that time, you're free to touch the birds, take photos of them and sit them on your arm as much as you like.

P→★ met with the owls first. You can gently touch the top of their head down to their back as well as their chest. This owl is a Chaco Owl.

If you want to hold the birds just ask the staff. You'll be given a glove to wear for the bird to sit on.

P→★ is now holding an American kestrel. This is the only falcon in the café. If you're careful not to move your hand it will stay relaxed on your hand.

This is a barn owl. Apparently lots of customers are captivated by its striking face.

"This one's so fluffy!" commented P→★.

P→★ was particularly interested in this Little Owl (that's the actual name of the species!) Its tiny size is enough to tug your heartstrings♡

Owls save energy and don't move around much, so they're perfect for snapping photos of. That goes for selfies too.

Next is to try out being a falconer. There's a number of cafés where you can come into contact with hawks but not that many where you can actually have one fly over to you, so some customers can spend several hours here.

You begin with your back against the wall and bring your hand up to the same height as your shoulders at the count of 3.

The hawk responded to the signal several meters way and flew right onto P→★'s hand.

It costs ¥500 for one turn which consists of two flights.

"It's like I've become a wizard!" The bird that flew to P→★ is the Harris's hawk. They are known for their intelligence. Hawks are often perceived as scary but they're actually very friendly to humans.

You can enjoy a drink at this café while playing with the owls and hawks. If you make a reservation you get a drink on the house, otherwise it's ¥100. It's better to make a reservation if you're planning to go there.

The earrings they sell there are popular. They're made from feathers that have fallen from the owls at the café. Be sure to find the feather of the bird you like there the most. They also sell a range of other merchandise including a photo collection of the owls.

P→★ was very satisfied with his experience. It was his first time coming into contact with them, and his first time having a hawk fly to him.

"After watching Harry Potter, I wanted to own my own owl. It was a lot of fun interacting with them today. My image of hawks has changed too! If I'm rich in the future I want to have my own pet owl. Until then, I'll be sure to come back here!"

P→★ sure enjoyed Owl's Garden. The café is arranged in a way that makes it easy to take photos. The natural lighting and greenery make it a great choice for Instagram. Be sure to make a reservation if you're interested.

Check out the time P→★ went to Harajuku Terrace Café in his first Animal Diary Café entry here.

■Information

Owl's Garden

Address: Ingresso 2F, 4-31-5 Jingumae, Shibuya, Tokyo

Opening Hours: 10:00am-7:00pm (Until 6:00pm on Tuesdays, Wednesday & Thursdays except on National Holidays)

No Fixed Holidays.

Access: 6-minutes on foot from Harajuku Station via JR / 2-minutes on foot from Meiji-Jingumae Station via Tokyo Metro

Website:https://owls-garden.jp

Model: P→★(TEMPURA KIDZ)@0830_pika

Photo: Kayo Sekiguchi

Text: Sayoko Ishii

Translation: Joshua Kitosi-Isanga

Tokyo Stroll: A relaxing date with Yutaro at Shibuya's Cat Cafe MoCHA!

Our cute model Yutaro finally found some time in his busy schedule to go on a date with me! Today we're heading to a spot where you can cure your fatigue after a long day at work. Our destination for today is a cat café! Today Yutaro took me out to Café MoCHA in Shibuya. This cat café is filled with many sofa seats, from which you can gaze at the scenery of Shibuya at nighttime.

This was my first time at this cat café, but Yutaro's second time. Yutaro quickly proceeded as if he was very familiar with it. We ended up on the second floor of Cat Café MoCHA Shibuya. First, we spent time on the upper floor to meet the cats.

Cats, cats and more cats in so many different places – they were here, there and everywhere! Some stayed sprawled out on the swinging seats whilst some came to cosy up with the humans. This was a great opportunity to get to know them.

All of a sudden…

…When did Yutaro get those cat ears?! Did he do this to get into the cat café mood? With a bushy cat toy in one hand, he got closer to the cats. Notice Yutaro is wearing a sweater with a cat character on it in this photo! I wonder if he decided to wear this because of the cat café… anyhow, it's so cute!

"Caaaaaaats!"

"I've got them all!"

I wonder if it's Yutaro's cat ears that attracted all the cats to gather around him? Yutaro waved the bushy cat toy about with one hand, triggering the playful cats. The sight of it healed my tired heart. ♡

Afterwards, we chilled with some cats on a sofa, purring. The sofa was a great spot to look over the beautiful nighttime scenery of Shibuya. It was very…romantic…

After our break, we went straight back to play mode! It was time to play with the cats!

The cats seemed to gradually get tired after all that playing and then it was back to relaxation mode. Why does this cat choose to sit right behind Yutaro?!

And here's one sitting just like Yutaro!

Little by little, Yutaro and the cats became better friends.

>>next page
RELATED ENTRIES
Harajuku's New Carbonara Restaurant Serves Pasta Japanese Style

A new spaghetti carbonara restaurant by the name of Nama Carbonara opened in Harajuku, Tokyo on September 17, 2020.

The restaurant opened in the same building as Harajuku's popular fresh cream shop MILK and bubble tea shop Mot Tram. The restaurant makes its own fresh flat pasta everyday and uses fresh, rich cream sourced from Hokkaido.

The current menu lineup consists of six dishes, from classic carbonara to Japanese twists. Let's take a look at some of them.

Classic Carbonara | ¥790

Walleye Pollack Roe Japanese Carbonara | ¥1,090

Freshly Grated Cheese & Bacon Carbonara | ¥1,090

Seafood, Avocado & Basil Carbonara | ¥1,190

Discover a brand new world of carbonara like never before at Nama Carbonara in Harajuku.

Information

Nama Carbonara (生カルボナーラ専門店 原宿店)

Grand Opening: September 17, 2020

Address: THE SHARE 1F, 3-25-18 Jingumae, Shibuya, Tokyo

Opening Hours: 11:00-19:00 (Last Orders 18:30)

TEL: 03-5772-8858

Official Website: http://www.opefac.com/

Kyary Pamyu Pamyu's Halloween Look Decorates Shiseido Beauty Square in Harajuku

Following her firework-inspired summer promotion look for Shiseido Beauty Square, Japanese pop icon Kyary Pamyu Pamyu has returned to the beauty facility with an all-new Halloween look, first revealed on Friday.


Kyary is serving a dark romantic world in Harajuku this Halloween, with Gothic hair and makeup that delivers us spook fantasy mixed with a bewitching, fairy tail-like sweetness. The look was brought to life thanks to Shiseido's top hair and makeup artist Tadashi Harada.

Kyary Pamyu Pamyu became the ambassador for Shiseido Beauty Square when it opened back in June. The concept of the beauty facility is centred on having people discovering their beauty, having fun, sharing experiences, and learning the latest in the scene

Information

Shiseido Beauty Square
Opened: June 18, 2020

Address: WITH HARAJUKU Floor 1F, 1-14-30 Jingumae, Shibuya, Tokyo

Opening Hours: 11:00-20:00

No Fixed Holidays
TEL: 03-5413-7717

Official Website: https://beautysquare.tokyo/

*Website available in English, Japanese, and Chinese

LUSH Harajuku Revamps With New 'Slow Bath' Concept

The Harajuku branch of UK cosmetics retailer reopened after a revamp on Friday with its all-new 'Slow Bath' concept. The branch first opened to the people of Tokyo in November 2018.


Since opening, LUSH Harajuku has delivered a LUSH-esque bath product lineup experience, since Japan is known for being a nation of bath lovers. That is now being taken to the next level with the Slow Bath revamp which will stock a wide variety of items for self care and indulgence.

Throw away the needless and make way for mind and body reconnection

LUSH Harajuku is a place that helps you discover new ways to design your daily routine, with face masks to refresh your skin, products to care for your hair, scents for your well-deserved bath time, and more.

Well-being is also a big part of the brand, teaching you to be kind to yourself while you're working everyday, and to look after your mind and body. LUSH Harajuku stocks not only bath bombs and bubble bars, but a selection of items to use while you're in the bath too for some much-needed self care.

Naked items are environmentally friendly

About 60% of LUSH's products are sold 'naked' without packaging in order to reduce on waste in the environment. This also lets the essential oils and natural smells of the products seep throughout and outside the doors of their stores, beckoning people with the pleasant fragrances.

LUSH's "Lush Labs" app also has a function called "Lush Lens." This lets customers scan any naked item which brings up information about that particular item such as what ingredients are used, as well as videos on how to use products and bath bombs fizzing.

If you're ever in Harajuku, be sure to stop by LUSH.

Information

LUSH Harajuku

Address: 1-13-11 Jingumae, Shibuya, Tokyo

Opening Hours: [Weekdays] 12:00-20:00 / [Weekends] 11:00-20:00

Official Website: https://jn.lush.com/  

KAWAII MONSTER CAFE HARAJUKU Celebrates 5th Anniversary With Monster Size Portions

KAWAII MONSTER CAFE HARAJUKU turned 5-years-old in August, and to celebrate the quirky cafe's anniversary, it is now serving monster-size portions until the end of September.

Livening up Tokyo with some Harajuku-style cuisine

Autumn is right around the corner in Japan, a time of outings and travel for many people. Due to the effects of COVID-19, however, people have had to cancel their plans. The KAWAII MONSTER CAFE wants the people of Tokyo to still enjoy themselves this autumn, and so is giving 39% off to all residents of Tokyo. All they need to do is show proof of address.

Super-sized burgers, parfaits & more

Giant King Chopper Burger | Regular Price: ¥12,000 (Before Tax), Resident Discounted Price: ¥7,320 (Before Tax) | Serves: 4-6

You and your friends are invited to challenge yourselves to a gorge on the Giant King Chopper Burger, based on the cafe's mascot character chopper. Served in five-colours in line with the cafe's 5th anniversary, this beast of a burger is a hearty mix of BLT, menchi-katsu, teriyaki chicken, the "MEAT MEAT MEAT" main dish from the dinner menu, and more. It's finished with colourful eggs around the side, and plenty of other hidden treats.

Giant Colorful Parfait | Regular Price: ¥10,000 (Before Tax), Resident Discounted Price: ¥6,100 (Before Tax) | Serves: 3-4

This piled-up parfait combines five of the cafe's popular desserts into one towering delight: "Chemical Cake," "Pink Cat Food," "Melty Pancake," "Little Monster," and "Colourful Poison Parfait."

Enormous, decorated servings fruits

Harajuku Decora Mango Parfait Bowl | Regular Price: ¥5,000 (Before Tax), Resident Discounted Price: ¥3,050 (Before Tax)

Where do you even start? There's mango-loaded ice cream, fat waffles, colourful gummies, chocolate, mango sherbet, panna cotta, cornflakes, fruit granola, mango sauce—the list goes on! If you're mango-mad, you'll definitely fall for this one.

Fluffy Marshmallow Watermelon Frappe | Regular Price: ¥5,000 (Before Tax), Resident Discounted Price: ¥3,050 (Before Tax)

Wrapped with marshmallow foam that's fluffy like a cloud and topped with chopped watermelon, pineapple, and assorted fruits, this is similar to shaved ice. It's also topped with nata de coco.

Frog Melon Cream Sods | Regular Price: ¥5,000 (Before Tax), Resident Discounted Price: ¥3,050 (Before Tax)

Celebrating 5 years of KAWAII MONSTER CAFE HARAJUKU, this frog's tongue is made of milk mousse, melon balls, strawberries, blueberries, and kiwi, which are just tumbling out of its mouth. It's served with a side of jumbo soft serve ice cream and melon soda. Arrange the beverage as you like to create your own fruit cocktail.

KAWAII MONSTER CAFE is also collaborating with YouTubers Briana Gigante and RinRinDoll on drinks and desserts.

90's Japan x Modern Harajuku Culture Come Together in SUPER LOVERS & #FR2's Collaboration

Japanese fashion brand SUPER LOVERS released a collaborative collection online on August 29 together with Tokyo-based brand #FR2's pink shop #FR2UME. The collection will also be sold at #FR2UME in-store from mid to late September this year.

SUPER LOVERS is an 80's inspired brand that was set up by Japanese designer Kousei Tanaka. The brand led Japanese street fashion into the 2000's and has since become one of Japan's top brands, influencing street fashion worldwide. SUPER LOVERS re-launched as a donation-style brand last year to support and giving back to the people of the world who have come to love SUPER LOVERS.

Their new collaboration with #FR2 features a design of the panda character Merry of LOVERS HOUSE as well as an original bunny character who is the face of #FR2. This 90's inspired collection includes T-shirts, hoodies, and even cycling pants.

Information

SUPER LOVERS x #FR2UME

Online Release: August 29, 2020

In-Store Release: Mid-Late September 2020

#FR2UME
Address: Harajuku V1 Bldg. 1F, 4-29-7 Jingumae, Shibuya, Tokyo
Opening Hours: 11:00-20:00

TEL: 03-6455-5422

Official Online Shop: https://ceno.jp/FR2UME/topics/SUPERLOVERS_FR2UME_200828

UGG® and atmos to Open Concept Shop 'UGG@mos' in Harajuku

Sneaker select shop atmos and UGG® have formed a partnership to open the new concept shop UGG@mos in Harajuku, Tokyo on August 29, 2020.

The shop is focused on fashion-conscious 18-25 year old consumers and mixes together street design with UGG's® California DNA brand, which itself is a fusion of modern and natural.

The lineup will of course include UGG® brand shoes, apparel, and merchandise, but also limited edition shoes developed for and exclusively sold at UGG@mos.

To promote the store's grand opening, UGG® and atmos have collaborated with artist and painter Luise Ono, who is known for her colourful and expressive plant works. Check out the video below.

Ono has not only created UGG®-inspired wall art, but has illustration a special design for a collection of T-shirts that will be sold at UGG@mos and online at atmos/atmos pink from August 29, 2020.

UGG x Luise Ono Bird Print T-Shirts | ¥6,000 (Before Tax)

BOTANIST Tokyo's Autumn Vegan Menu Arrives This September in Harajuku

BOTANIST Tokyo, the flagship shop of BOTANIST in Harajuku/Omotesando, has revealed a new limited-time autumn vegan menu which will be served on the 2nd floor BOTANIST Café from September 5 to October 30.

BOTANIST Café has been serving vegan food since September 2018, with meals and desserts made healthy and delicious. Vegan food is hard to come by in Japan, but restaurants and new establishments are beginning to cater to the vegan lifestyle.

This year's limited-time autumn menu is being served to promote the launch of BOTANIST's new vegan line of hair care products. There are two hot soups to choose from as well as three desserts—the sweet treats being the "Banana & Chamomile Pound Cake" made without butter, the rich-tasting "Melt-In-The-Mouth Tiramisu," and the "Sweet Potato Mont Blanc" which is made with whole sweet potatoes.

VEGAN MENU – AUTUMN

Banana & Chamomile Pound Cake | ¥1,000 (Tax Inclusive) *Drink included

Made with sweet ripe bananas and laced with chamomile, this pound cake brings the autumn vibes with the mix of walnuts and finished with smooth soy cream.

Sweet Potato Mont Blanc | ¥500 (Tax Inclusive)

This velvety mont blanc is like you're eating a sweet potato as it is. It's spread with lumps of adzuki beans for added texture.

Melt-In-The-Mouth Tiramisu | ¥650 (Tax Inclusive)

The name of this dessert speaks for itself. It's made with fairtrade coffee beans – and cream cheese which perfectly balances out the bitterness of the coffee flavour.

Sweet Potato Soy Potage | ¥510 (Tax Inclusive)

A rich, melty potage with a smooth texture and subtle sweet after taste. The black pepper adds a delicious bite.

Pumpkin Soy Potage | | ¥510 (Tax Inclusive)

Made using a whole pumpkin, this hearty potage is a perfect combination of bitterness from the pumpkin skin and the natural sweetness from the pumpkin itself. For an extra ¥160 you can order some bread for dipping.

Information

Limited-Time Vegan Menu
Running: September 5, 2020 – October 30, 2020

BOTANIST Tokyo
Address: 6-29-2 Jingumae, Shibuya, Tokyo (1st Floor – Shop / 2nd Floor – Cafe)
TEL: 1st Floor: 03-5766-3777 / 2nd Floor: 03-5766-3778
Opening Hours: 11:00-20:00

Official Website: https://shop.botanistofficial.com/

IKEA Harajuku Announces Collaboration With Virtual Model imma to Commemorate Grand Opening

IKEA has announced a collaboration with Japan's most talked-about virtual model, imma, in promotion of the opening of its new IKEA Harajuku store. From August 28 to 30, imma will help share a vision of happiness in the home to the people of Tokyo in the shop window.

Home for people is a place where one can kick back and relax after a long day's work – to reset the mind and body for the next day. This fact has become increasingly more so in the wake of the pandemic, where we have come to spend even more time there, thus cementing the idea of the home as a haven evermore. But despite its role having changed in recent months, IKEA Japan believes the home is a place where we should spend longer.

With that in mind, IKEA Japan has formed a partnership with imma to commemorate with the opening of IKEA Harajuku. imma is Japan's first virtual model made using CG. She appears at events and shows in Tokyo and around the world, and boasts a following of over 240,000 people on her social media. The partnership will see imma inspiring her fans and young people by showing them how she made her room with IKEA furniture up on the second floor of the store.  She will also dance, do yoga, do cleaning, and more for people to see. She will appear at the store on August 28, 2020

Those unable to visit IKEA Harajuku can still see imma over on IKEA Japan's official website, and there will also be a live stream.

imma | Comment

"I am so excited to hear that IKEA, which I have always loved, will be opening in my neighborhood, Harajuku. In this collaboration, I'm going to share a part of my life that I really value, happiness at home."

Comment Source: IKEA Japan

Laforet Harajuku Celebrates Weekly Young Magazine's 40th Anniversary With Collaborative Fashion Items

15 shops at Laforet Harajuku are set to celebrate the 40th anniversary of Kodansha's Weekly Young Magazine from August 29 to September 13 by selling a range of merchandise from manga series serialised in the magazine.

Over 50 fashion items will be sold from a whole range of different series including, but not limited to, Ping-Pong Club, Initial D, Prison School, My Roomie Is a Dino, Ghost in the Shell, Zashiki Onna, Ciguatera, Kaiji, Flowers & Bees, Himizu, Be-Bop High School, and xxxHOLiC. The line-up ranges from t-shirts to one pieces and more.



Jouetie / 4F
Prison School Hoodie | ¥6,600 (Tax Included)
ⒸAkira Hiramoto /Kodansha


SILAS HARAJUKU / 3F
Ghost in the Shell T-Shirt | ¥6,600 (Tax Included)
ⓒMasamune Shirow / Kodansha

lilLilly TOKYO / B0.5F
Flowers & Bees Sweater | ¥18,480 (Tax Included)
ⒸMoyoco Anno / Cork

Angelic Pretty / B1.5F
xxxHOLiC One Piece | ¥51,480 (Tax Included)
ⓒCLAMP・ShigatsuTsuitachi CO.,LTD. / Kodansha


A special exhibition centred on Weekly Young Magazine will also be displayed up on the 6th floor of Laforet Harajuku at Laforet Museum from August 29 to September 6. Over 30 works from the magazine spanning the past 40 years will be showcased, with a whole line-up of illustrations drawn by over 60 manga artists for the exhibition. Exclusive merchandise will also be sold featuring visuals created by Japanese collage artist Kosuke Kawamura who has put together some special 40th anniversary artwork.

If you're in Tokyo this summer, don't miss out on 'Weekly Young Magazine 40th Anniversary in Laforet Harajuku.'

Information

Weekly Young Magazine 40th Anniversary in Laforet Harajuku
Running: August 29, 2020 – September 6, 2020
Location: Laforet Museum Harajuku
Address: Laforet Harajuku 6F, 1-11-6 Jingumae, Shibuya, Tokyo
Opening Hours: 11:00-20:00 (Last Entries 19:30)
Entry: Free

Exhibition Website: https://www.laforet.ne.jp/special/yanmaga/

Dine at Harajuku's New Tarako Spaghetti Restaurant Tokyo Tarako Spaghetti

Tokyo Tarako Spaghetti opened its all-new, second branch in Harajuku Omotesando on July 31, 2020. The restaurant opened its first branch back in January this year.

To commemorate the opening of the new restaurant, it is serving up two brand new tarako (cod roe) spaghetti dishes made with Japanese dashi.

Tarako & Kombu Umami With Dashi Spaghetti | ¥990 (Before Tax)

The first new dish is a combination of tarako, kombu, and dashi spaghetti. This dish adds a Japanese flair to it by combining tarako spaghetti with tarako boiled in soy. The full flavour of the kombu is extracted when the dashi is poured over, creating an irresistible flavour.

Three Fish Egg Tarako Spaghetti | ¥1,390 (Before Tax)

The second new dish on the menu is the "Three Fish Egg Tarako Spaghetti" which combines lots of tarako with toppings of salted salmon roe and flying fish roe. There's a whopping 100g of fish eggs on there, so you won't be going hungry with this filling, colourful serving of spaghetti.

Discover new kinds of tarako spaghetti dishes at Tokyo Tarako Spaghetti Harajuku Omotesando.

Information

Tokyo Tarako Spaghetti Harajuku Omotesando

Address: MS Bldg. 2F, 6-7-16 Jingumae, Shibuya, Tokyo

Opening Hours: 11:00-23:00 (Last Orders 22:00)
TEL 03-6803-8688

Official Website: https://www.tokyotarako.com

YouTuber RinRin Doll Collaborates With Harajuku's KAWAII MONSTER CAFE On New Drink

Harajuku's KAWAII MONSTER CAFE has announced that it is collaborating with YouTuber, model, and MC RinRin Doll to release a new beverage called "Honey Doll" which will be served at the cafe for a limited time only.

Who is RinRin Doll?

RinRin Doll is a Harajuku-style model based in Tokyo. Originally from Los Angeles, California, she is a lover of Japanese fashion and culture and posts videos related to Harajuku-style lolita fashion and makeup on her YouTube channel.

RinRin's birthday falls on August 2, which in Japanese can be pronounced as hanii or "honey," and so this day is known colloquially as Honey Day. The "Honey Doll" drink will be served at the KAWAII MONSTER CAFE from August 2 to 31. It has a ginger ale base and is filled with honey flavoured jelly and fruits and is topped with purple cotton candy for a deliciously sweet combination.

The first 15 people to order the drink will receive a special badge featuring the cute character "Honey Bunny Bee" who was created for the RinRin Doll & Ribbonita collaboration.

KAWAII MONSTER CAFE is serving fashion and entertainment while practicing and promoting all the necessary measures to help stop the spread of COVID-19.

Be sure to check out RinRin's YouTube channel, including her video on the new Honey Doll drink.

Information

KAWAII MONSTER CAFE HARAJUKU
Address: YM Square Bldg. 4F, 4-31-10 Jingumae, Shibuya, Tokyo

Opening Hours: 11:30-19:00

No Fixed Holidays
Access: 5-minutes on foot Harajuku Station via JR / 1-minutes on foot from Meiji-Jigumae Station via Chiyoda Line and Fukutoshin Line

Official Website: https://kawaiimonster.jp/day/pc/

Sink Your Teeth Into These Beauty Inspired Parfaits at Shiseido Parlour in Harajuku

A colourful line-up of angelic parfaits will be served up at Shiseido Parlour The Harajuku, which is located on the 8th floor of the WITH HARAJUKU shopping centre, from August 18 to October 11.

Made in collaboration with Shiseido Beauty Square, also located in the building, these parfaits are inspired by different popular cosmetic brands.

The parfaits will be switched out every two weeks. The first parfait will be based around the brand bareMinerals. After that it will be NARS, then Laura Mercier, and finally Dolce & Gabbana Beauty. Each sweet treat also comes with samples of cosmetics and fragrances from each respective beauty company.

Lychee Green Beauty Parfait with bareMinerals | ¥1,980 (Tax Included) | Serving: August 18, 2020 – August 30, 2020

The bareMinerals parfait is made with mineral-rich lychee sherbet, healthy ice cream made with tofu, marine blue jelly, ruby grapefruit, orange, mango, and more.

Fig & Berry Chocolate Mode Parfait with NARS | ¥1,980 (Tax Included) | Serving: September 1, 2020 – September 13, 2020

If you're looking for true dark luxury, then tuck into this devilish layering of Belgian chocolate ice cream, strawberry milk sauce, figs, pione grapes, raspberries and a topping of macaron and chocolate.

Japanese Chestnut Tea Gradation Parfait with Laura Mercier | ¥1,980 (Tax Included) | Serving: September 15, 2020 – September 27, 2020

A delightful gourmet marriage of Earl Grey jelly, houjicha ice cream, and chai sauce which creates a nude lip brown colour. This one's topped with Japanese chestnuts, blackcurrants, pomegranate, a macaron, and a swirling chocolate stick.

Blood Orange Exotic Parfait with Dolce & Gabbana Beauty | ¥1,980 (Tax Included) | Serving: September 29, 2020 – October 11, 2020

The final parfait is a vivid combination of sumptuously sweet blood orange sherbet, rose jelly, an 'exotic' sauce, ruby grapefruit, raspberries, mango, a macaron, and to decorate, a red rose.

*Depending on ingredient stock, the parfaits and serving periods are subject to change

*Photos are for illustrative purposes only

Information

Shiseido Parlour The Harajuku

Address: WITH HARAJUKU (Floor 8F), 1-14-30 Jingumae, Shibuya, Tokyo
Opening Hours: 

Dining/Lunch: 11:30-15:30 (Last Orders 14:00)
Dinner: 18:00-22:00 (Last Orders 20:30)
Lounge: 11:30-22:30 (Last Orders 21:30)

Closed: Mondays (Except on public holidays)
Official Website: https://parlour.shiseido.co.jp/en/index.html