Café "Nintama Rantaro Chaya" to open in Tokyo and Osaka
Two limited-time-offer collaboration cafés named "Nintama Rantaro Chaya" (cafés using the motif of the popular TV animation with the same name) will be opened in Osaka and Tokyo. The Osaka café will be opened in "contact" located in Shinsaibashi starting from October 12th (Fri.) and the Tokyo café will be opened in "OMOTESANDO BOX CAFÉ & SPACE" located in Omotesando starting from Octorber 25th (Thurs.).
In the animation story, the principal of the ninja school all of a sudden declares, "To be a full-fledged ninja, you must be able to cook!" So, it is decided that the 3 students, Rintaro, Kirimaru and Shinbei must go to different tea houses for training. Rintaro is to go to a "healthy tea house," Kirimaru is to go to a "powerful tea house" and Shinbei is to go to a "modern tea house."
Seniors of these 3 students and some teachers decide that they will lend a helping hand in the training session, so they go along. Furthermore, the principal declares, "If your tea house does a booming business, I will give you a reward!" And so, a heated cooking competition unfolds.
All menu item prices are the before-tax price.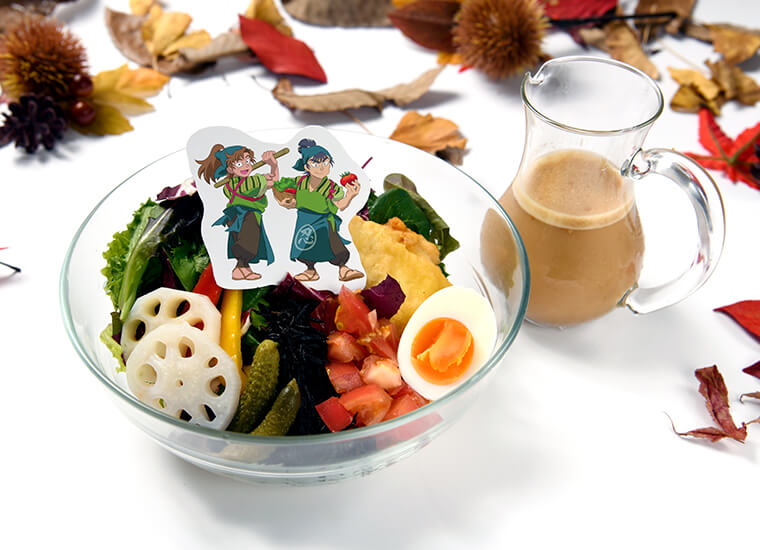 Green salad udon \1,590
Isaku and Kematome's collaborative "vegetable-rich" healthy salad udon. By pouring a seseme sauce on the udon the taste becomes even better.
Stamina rich bowl ~hitsumabushi-style~ \1,390
A high-powered rice bowl made by Choji, Koheita and Monjiro. By scooping a small serving of the rice bowl into a small bowl and pouring the broth over it, you can have a hitsumabushi-style dish.
Takeya and Kukuchi's collaborative tofu hamburg doria (casserole) \1,490
Kukuchi offers you a "modern-tasteing" tofu hamburg doria. The rice placed under the hamburg has a jazzy basil flavor. This comes with Takeya's fresh salad set.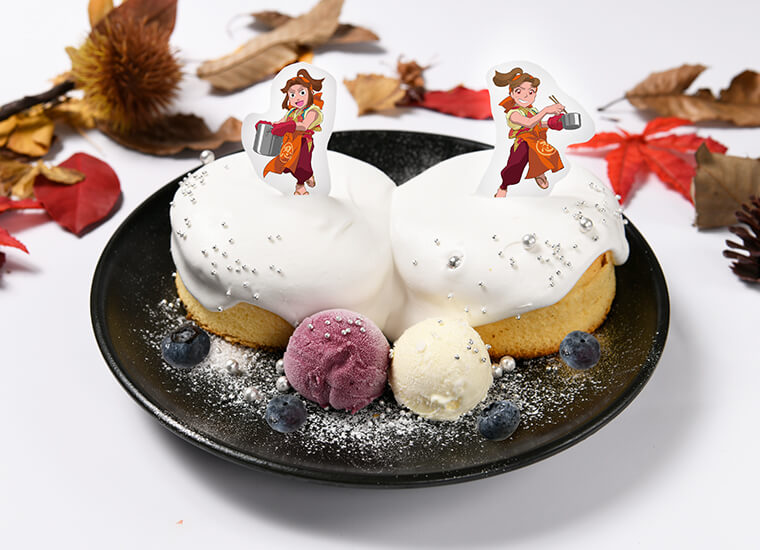 Collaborative dish of a star and an idol. Which character is the most popular? \1,590
A star and an idol dance on the stage! Don't miss Takiya shamaru and Mikiemon's collaborative dream collaboration!
Denko-san's (Yamada teacher) ohagi parfait \1,090
Ms. Yamada, you put a whole ohagi on top of the parfait! Denko-san's powerful parfait.
Doi teacher's "paste" item? Mitarashi parfait \1,090
"Mr. Doi, can you eat paste products?" Actually, this is not a paste product! Here is a Japanese-style parfait with the motif of "oden."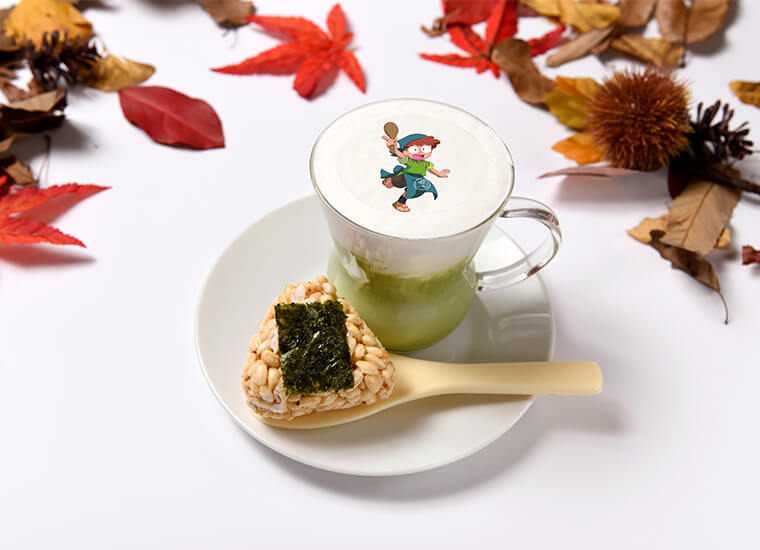 Relaxing matcha latte ~with Rantaro's onigiri-shaped rice cookie   \890
Have a relaxing matcha latte with Rantaro's special onigiri-shaped rice cookie.
Enjoy the numerous other Nintama-style menu items of these 3 different tea houses.
You can also purchase original goods that can only be bought at these cafes. You can also purchase special post cards and egg-shaped key holders. Don't miss this chance to get your very own Nintama Rantaro goods.
Reservations are required and all persons who make reservations will receive 1 original sticker (3 types given out at random).
In addition, special lunch mats (4 types given out at random) will be given to all customers of the café and customers ordering a drink will receive special coasters (22 types given out at random).
All Rintama Rantaro fans, why not come and enjoy these collaborative cafes!
Information
Nintama Rantaro Chaya (Cafes)
Tokyo café
Location: OMOTESANDO BOX CAFE&SPACE
B1F Pine Under Flat, 5-13-2 Jingu-mae Shibuya-ku, Tokyo
Open: October 25th (Thurs.) ~ December 2nd (Sun.) 10:00~21:00
Osaka café
Location: contact 1-6-24 Kitahorie, Nishi-ku, Osaka
Open: October 12th (Fri.) ~ November 25th (Sun.) 11:00 ~ 21:20
Reservations: 650 (tax excluded)
Official website: https://nintama-cafe.jp/
© Amako Sobei / NHK・NEP
RECOMMENDED ENTRIES
TV Anime Grand Blue Themed Café to Open in Ikebukuro

Popular anime series Grand Blue is teaming up with 46 Shokudo to open a collaborative café called Grand Blue Shokudo themed on the series. The café will open on September 3 and run until October 8.

Food Stall Snacks

Kebako's Keba Keba Waffle

The theme of Grand Blue Shokudo is 'a house by the sea.' The menu will be packed with themed food and meals including Food Stall Snacks, Ramen, Nanaka & Chisa's Sisterly Curry, Kebako's Keba Keba Waffle, and more.

For merchandise, they will be selling two sets of pin badges.

The café is expected to be bustling with fans, so you must make a reservation in advance. Those who make a reservation will receive an original coaster as a gift. Those who order at the café will receive another coaster selected randomly from a possible 10 designs per order they make.

Enjoy the last summer of Japan's Heisei Period with the members of Grand Blue!

■Information

Grand Blue Shokudo

Location: 46 Shokudo, 4F Narita Bldg., 1-29-4 Higashi-Ikebukuro, Toshima Ward, Tokyo

Running: September 3, 2018 – October 8, 2018

Opening Hours: 10:30am-9:30pm

Bookings:http://grandblue-shokudo.jp/

Booking Present: Original coaster (1 design)

Booking Fee: ¥300 (Pre-Tax)

Order Present: Customers who order a drink at the café will receive a coaster selected randomly from a possible 10 designs.

TV Anime Series 'Star-Myu' To Get Its Own Themed Cafés in Tokyo & Osaka

In the run up to the premiere of season three of the musical comedy anime series Star-Myu on October 5, two cafés based on the franchise will open in Tokyo (October 31-November 27) and Osaka (November 2-November 27) with the theme of a school festival.

Nayuki's Yakisoba Plate With Spicy Map Sauce – ¥1,180 (Pre-Tax)

The café menu will features dishes inspired by the characters from the show. You can even order the legendary yakisoba nisuto from the series. There's merchandise to get your hands on too, and the café interior will be decked out with school festival decorations to you can feel part of the festive fun.

You must book in advance to enter the café. Those who do book will receive one of five possible stickers selected randomly. Those who order from the themed menu will also receive one of twenty-five possible coasters also chosen randomly.

[Top Left] Hoshitani's Hamburger Curry – ¥1,280 (Pre-Tax) / [Top Right] Tengenji's Sajiki Bento – ¥1,580 (Pre-Tax)

[Bottom Left] Tsukigami's Stawberry  Milk Parfait – ¥1,180 (Pre-Tax) / [Bottom Right] Colour Drinks (Team Otori, Hiragi, Yuzuriha & Sazanami) – ¥800 (Pre-Tax)

[Top Left} Acrylic Key Rings (25 Designs, Random) – ¥600 (Pre-Tax) / [Top Right] Pin Badge (5 Designs) – ¥400 (Pre-Tax)

[Bottom Left] Scene Photos (24 Designs, Random) – ¥350 (Pre-Tax) / T-Shirt (5 Designs) – ¥3,500 (Pre-Tax)

Immerse yourself in the world of Star-Myu at the official themed cafés!

■Information

Tokyo Café

Location: Fujiwara Bldg. B1F, 1-3-24 Higashi-Ikebukuro, Toshima Ward, Tokyo

Running: October 31, 2018 – November 27, 2018

Opening Hours: 10:00am-9:20pm

Osaka Café

Location: KUS Nipponbashi Bldg. 2F/3F, 4-8-16 Nipponbashi, Naniwa Ward, Osaka, Osaka Prefecture

Running: November 2, 2018 – November 27, 2018

Opening Hours: 10:00am-9:20pm

Reservation Bonus: Free Sticker (chosen randomly from 5 designs)

Reservation Price: ¥500 (Pre-Tax)

Menu Order Bonus: Free coaster (chosen randomly from 25 designs)

Reservations: https://hstar-mu-cafe.jp

Banana Fish Café & Bar to Open in Shinjuku on October 5

A café and bar themed on the popular ongoing anime series Banana Fish will open in Shinjuku, Tokyo on October 5 for a limited time.

Like the setting of the anime series, the café and bar too are based on New York. Waiting there to serve customers will be the show's main characters Ash Lynx and Eiji Okumura.

There will also be voice announcements by both characters chatting back and forth for customers to listen to. The first floor will feature a takeout menu and an exhibition of illustrations from the series while the second floor will be home to the café where fans can also get their hands on merchandise.

Customers who book a place at the café will receive an A3 poster randomly selected from 4 possible designs, all of which feature café original artwork.

Customers who go to the café will also receive one of 7 possible film-style bookmarkers as pictured above which collect iconic scenes from the story.

If you order a drink you'll also receive one of 6 possible coasters with super deformed art – the first super deformed art to come out of the series.

The menu will include ramen rice which Ash is seen to eat in the manga, an Eiji style healthy sandwich, and more.

There will also be an original bar menu with plenty to choose from.

Once you've finished your meal get your hands on some of the merchandise including clear files, key rings, stands, jumpers, iPhone cases and more.

Immerse yourself in the world of Banana Fish this autumn!

■Information

Banana Fish Café & Bar

Address: Shinjuku Southern Terrace, 2-2-2 Yoyogi, Shinjuku, Tokyo

Running: October 5, 2018 – December 2, 2018

Opening Hours: 11:00am-9:20pm (80-minutes max. allowed)

*Bookings taken. If there is a seat free on the day however you are permitted entry without booking.

Booking Price: ¥650 (Pre-Tax)

Booking Bonus: A3 Clear Poster (selected randomly from 4 designs)

Other Bonuses: Receive a film style bookmarker for dining at the café. (+more)

Official Website: http://bananafish-cafebar.jp/

©Akimi Yoshida・Shogakukan / Project BANANA FISH
RELATED ENTRIES
Ojamajo Doremi Themed Food and Drinks Releasing at cookpad studio in Osaka

CookpadTV is set to collaborate with the third series of the popular TV anime series Ojamajo Doremi, entitled Motto! Ojamajo Doremi, at the live cooking studio "cookpad studio" in Osaka from June 11, 2020 with an event called "cookpad studio Mahosai" (cookpad studio Magic Festival).

cookpad studio has collaborated with many different anime series up to now and receives much praise from customers.

"cookpad studio Mahou Matsuri" brings Motto! Ojamajo Doremi to life on your plate, making it both visually appealing and delicious. Except for desserts, food and drink can be ordered for takeout so customers can enjoy their treats at home.


All food and drink comes with an original novelty. Exclusive merchandise will also be sold for the event.


When you order food or dessert, you'll get one of the above-pictured stickers, and if you order a drink one of the postcards. There are five designs for each, and the one you get is random so you can look forward to seeing which you get on the day.


cookpad studio will also have three large 65-inch displays which will show cooking videos of the food served during the event being made.

©Toei Animation

3 New Limited-Edition Botanical Drinks to Arrive This Summer at BOTANIST Tokyo

BOTANIST Tokyo, the flagship shop of BOTANIST in Omotesando, has announced a new collection of limited-edition drinks will be served on the second floor BOTANIST Cafe from July 12, 2020. BOTANIST Tokyo is currently closed but it scheduled to reopen on June 1.

There are three new refreshing drinks to choose from, all of which can be ordered for takeout. From apple mint to grapefruit, each beverage us the perfect accompaniment for cooling you down in Japan this summer.

REFRESH MENU


Refresh Soda: ¥600 (Tax Included)

A combination of grapefruit jelly and fizzy soda water make this one of those drinks that you go "Ahh!" afterwards on a hot summer's day. There's also a hint of sweet green apple.

Botanical Melon Soda: ¥800 (Tax Included)

This is a smoothie which blends together two types of melon soda and adds melon jelly and a dollop of ice cream. It's like a dessert in a cup!

Banana & Avocado Refresh Smoothie: ¥720 (Tax Included)

Enjoy the sweetness of banana and sugar beet together with the smoothness texture of the avocado in this smoothie which has apple and mint mixed into it for that refreshing summertime kick.

The cafe's regular menu has also been revised to add three new desserts.

REGULAR MENU


Vegan Waffles w/Drink: ¥800 (Tax Included)

These vegan waffles are healthier for the body if you're looking for some guilt-free indulgence. It's topped with soy whipped cream, maple syrup, and fruits of your choice.

Lemon Cheesecake w/Drink: ¥1,000 (Tax Included)

A crunchy cookie base, a creamy cheese top, and a lemon to top it all off. The combination of the salty flavour with the sour hit is a match made in heaven.

Homemade Rich Pudding: ¥500 (Tax Included)

An in-house made purin, which is a type of Japanese custard pudding. It's a delightful mix of rich egg and subtly sweet soy whipped cream.

Customers who spend over ¥4,000 (tax included) on items in the Refresh Series will also be entered in for a chance to win a "Refresh Soda." The soda is available while supplies last.

Information

REFRESH MENU
Serving: June 1, 2020 – July 12, 2020

REGULAR MENU
Serving: From June 1, 2020

BOTANIST Tokyo
Address: 6-29-2 Jingumae, Shibuya, Tokyo (1st Floor – Shop / 2nd Floor – Cafe)
TEL: 1st Floor: 03-5766-3777 / 2nd Floor: 03-5766-3778
Opening Hours: 11:00-20:00
Official Website: https://shop.botanistofficial.com/

Tokyo's New Skin Care Concept Shop SKINCARE LOUNGE BY ORBIS to Open in Omotesando

SKINCARE LOUNGE BY ORBIS is the debut concept shop by Japanese beauty company ORBIS, and it's set to open in Omotesando this summer. The shop's teaser website opened on May 13 where information on its conception, special content, interviews with the company's partners, and more will roll out in the run up to the grand opening.

ORBIS established themselves in 1984, and in 1987 launched their mail-order service. Since then, their mission has been to "create a world filled with people who are true to themselves, think positively, and lead lives of beauty." They believe in the beauty each of us has inside them and want to unlock its full potential.

SKINCARE LOUNGE BY ORBIS aims to have people learning about their own skin and to unlock its full potential. "Feel," "Learn," and "Take" are the keywords of the concept shop.

The shop's creative directors are Hisato Ogata, who is a designer and innovator at takram, and Momo Kudo of Tokyo-based architecture and interior design studio MMA Inc. They are also supported by George Amano of GEORGE CREATIVE COMPANY.

SKINCARE LOUNGE BY ORBIS has two floors. On the first floor, customers are free to test various products as well as learn about the correct way to look after their skin. The second floor offers skincare treatments, workshops, and various private events. You must be a member on the shop's official app and book in advance for the second floor services.

If you're strolling around the Harajuku and Omotesando area this summer, pop into SKINCARE LOUNGE BY ORBIS and learn all there is to know about proper skin care.

Information

SKINCARE LOUNGE BY ORBIS

Address: 5-7-1 Minamiaoyama, Minato Ward, Tokyo
LOUNGE: 10:00 AM-8:00 PM
JUICE BAR: 8:00 AM-8:00 PM
*Please note that the shop is subject to temporary closure

Official Website: http://www.orbis.co.jp/skincarelounge/

BAPE STORE® To Open in COMME des GARCONS in Osaka's Luxury Brand Hotspot

Japanese fashion label COMME des GARCONS OSAKA has moved to Midosuji in Shinsaibashi, Osaka and is set for its grand opening on April 3, 2020. 

The first floor will be occupied by BAPE STORE® (A BATHING APE®), making it the first ever COMME des GARCONS to house a BAPE STORE®. 

COMME des GARCONS was founded by world-famous fashion designer Rei Kawakubo in 1969. Besides developing a number of world famous brands such as COMME des GARCONS HOMME PLUS, she also founded the multi-brand retailer DOVER STREET MARKET GINZA, becoming a key figure in the world's leading fashion. As the second largest city in Japan after Tokyo and the largest in west Japan, Osaka has remained the economic and cultural epicentre of the Kansai region for centuries. Kawakubo's latest step in the world of fashion is the brand new opening of BAPE STORE® COMME des GARCONS OSAKA along Midosuji street, Shinsaibashi – a main street of central Osaka which is a hotspot of luxury designer shops. 

 

Last year, BAPE STORE® opened in Kyoto, marking a year since BAPE STORE® opened in the Kansai region. The interior of BAPE STORE® COMME des GARCONS OSAKA was done by Rei Kawakubo. This atmosphere and design is completely different to existing BAPE® stores and will also sell limited COMME des GARCONS and A BATHING APE® collaboration merchandise that are not available anywhere else.

If you're in Osaka and love high-end fashion, the brand new BAPE STORE® COMME des GARCONS store and its limited merchandise is worth checking out. 

BAPE STORE®

Information

BAPE STORE® COMME des GARCONS OSAKA

Address: Floor 1 COMME des GARCONS OSAKA, 4-4-21, Minamisenba, Chuo Ward, Osaka

Grand Opening: April 3, 2020

Items Release Date To Be Confirmed.

Special Edition Website: https://bape.com/pages/cdg_osaka/

Harajuku's Rilakkuma Fruits Cafe Entertains Customers With Projection Mapping

"HARAJUKU AR BOX -table projection mapping cafe-," a cafe in Harajuku whose name speaks for itself, has announced its second collaboration with Rilakkuma to bring the new Rilakkuma Fruits Cafe which will open for a limited time from April 3, 2020 to June 28, 2020.

The cafe's first collaboration with Rilakkuma was in December last year. It was called "Korilakkuma Cafe: another me in the mirror" and earned itself many fans for its cute food and decor, but especially for its interactive tables which used projection mapping technology to have Rilakkuma and friends running around people's tables.

Harajuku's Korilakkuma Cafe: another me in the mirror | Food Review: https://www.moshimoshi-nippon.jp/284456

Fruit is the theme of the new Rilakkuma Fruits Cafe, which follows that Chairoikoguma and the other characters have gathered lots of nutritious fruit to fill up the belly of hungry Rilakkuma.

Food

Rilakkuma's Fruit Salad – ¥1,590

Get your fill of refreshing fruit from this fruit salad plate which has Rilakkuma poking his cute face out from behind it all. When you order this dish, you'll need to touch the fruits that appear on the table to give them to Rilakkuma.

Korilakkuma's Apple Cheese Gratin – ¥1,690

A combination of hot apple and melted cheese, you'll find yourself addicted to the sweet and sour mix of flavours. Pick lots of apples with Rilakkuma and company with the projection mapping game. (*Serving April 3, 2020 – May 17, 2020 only)

Chairoikoguma's Orange Burger – ¥1,690

The bun of this hearty burger is branded with Chairokoguma's cute bear face. But what happens when you squeeze Rilakkuma's orange? (*Serving May 20, 2020 – June 28, 2020 only)

Desserts

Rilakkuma's Maku Maku Fruit Tree Parfait – ¥1,590

Korilakkuma's Maku Maku Strawberry Tree Parfait – ¥1,590 (Serving April 3, 2020 – May 17, 2020 only)

Kiiroitori's Maku Maku Peach Tree Parfait – ¥1,590 (Serving May 20, 2020 – June 28, 2020 only)

For dessert, you have a selection of fruit-topped parfaits to choose from featuring Rilakkuma, Korilakkuma, and Kiiroitori.

Drinks

Rilakkuma & Friends Maku Maku Drinks – ¥790 / With Glass – ¥1,990

Warm & Fluffy With Everyone Cafe Latte – ¥890

Pick between one of the cold beverages, or if it's a cold day, warm up with a hot drink. Feel warm and fluffy like Rilakkuma and his friends with a warm beverage after your parfait.

Exclusive Merchandise & Bonus Items

Pin Badges (9 Designs/Chosen Randomly) – ¥400

Acrylic Key Rings (8 Designs/Chosen Randomly) – ¥500

Get your hands on a selection of original merchandise too, including pin badges, acrylic key rings, and more.

Stickers (4 Designs/Chosen Randomly)

Coasters (4 Designs/Chosen Randomly)

Book a table online in advance and receive one of four possible stickers. Order a drink at the cafe and get one of the four coasters!

You're sure to get your five-a-day when you dine at the Rilakkuma Fruits Cafe, opening for spring on April 3, 2020 in Harajuku.

©2020San-X Co., Ltd. All Rights Reserved.

Information

Rilakkuma Fruits Cafe

Running: April 3, 2020 – June 28, 2020

Location: HARAJUKU AR BOX-table projection mapping cafe- (Lucessimo Bldg. Floor 2F, 4-28-28 Jingumae, Shibuya, Tokyo)

Table Bookings: Now Open

*Table Projection Mapping seats for two people are ¥2,960 (before Tax)

Official Website: https://rilakkuma-fruits-cafe.jp/

Pompompurin Celebrates 24th Anniversary With Birthday Menu at the Pompompurin Cafe

Sanrio's popular character Pompompurin is celebrating his 24th anniversary at three branches of the Pompompurin Cafe in Harajuku, Yokohama, and Umeda with a special birthday menu that will be served for the whole month of April.

A special celebratory menu for the floppy-eared golden retriever

The official date for Pompompurin's birthday is April 16. The birthday menu line-up includes two food items, a drink made in collaboration with popular Japanese picture book author Yukako Ohde, and some novelty gifts.

Birthday Menu

Happy Birthday Flower Bouquet Bisque – ¥1,590 (Before Tax)

This cute bisque soup has Pompompurin and Muffin holding a colourful boquet made from broccoli and mashed potatoes made to look like roses. It has a rich but mild flavour, and is both adorable and filling.

Happy Birthday Strawberry Mousse – ¥790 (Before Tax)

The strawberry mousse has a fluffy texture and refreshing, sweet taste. It can be eaten as it is or drizzled with the accompanying raspberry sauce.

Yukako Ohde x Pompompurin Lemonade – ¥550 (Before Tax)

Take a sip from this delicious lemonade from a straw adorned with a cute, warm illustration of Pompompurin by Yukako Ohde.

Exclusive Anniversary Novelty Gifts

Lunch Mat Design

Customers who dine at any of the three cafes during the anniversary celebration will receive a free lunch mat.

Coaster Designs

And those who order the lemonade will receive a coaster with designs illustrated by Yukako Ohde. The designs are different at each branch of the Pompompurin Cafe. You can also receive another special coaster if you spend over ¥1,000 each (tax included) at Pompompurin Cafe Umeda and KIDDY LAND Osaka Umeda. Simply show your receipts at the cafe.

©1996,2020 SANRIO CO., LTD. APPROVAL NO.S605291

Information

■Pompompurin Cafe Harajuku

Address: CUTE CUBE HARAJUKU 3F, 1-7-1 Jingumae, Shibuya, Tokyo

Opening Hours: 11:00-21:00 (Food Last Orders 20:00 / Drinks Last Orders 20:30)

Access: 3-minutes on foot from the Takeshita Exit at Harajuku Station

TEL: 03-5786-0770

■Pompompurin Cafe Yokohama

Address: Yokohama Sotetsu Square, 2-1-5 Minamisaiwai, Nishi-ku, Yokohama-shi

Opening Hours: 10:00-21:00 (Last Orders 20:30)

Access: 5-minutes on foot from West Exit at Yokohama Station via JR Line

TEL: 045-311-6750

■Pompompurin Cafe Umeda
Address: Hankyu Sanbangai South Wing B2F, 1-1-3 Shibata, Kita-ku, Osaka-shi
Opening Hours: Weekdays 11:00-22:00 (Last Orders 21:30) / Weekends & Holidays 10:00-22:00 (Last Orders 21:30)
Access: 3-minutes from Osaka Station via JR Line
TEL: 06-6292-7140

Pompompurin Cafe

Official Website: http://pompom.createrestaurants.com

Dine in Luxury With Truffle Toast at Patisserie SATSUKI in Hotel New Otani Osaka

If you're looking to indulge yourself during your trip to Japan, and happen to be staying in Osaka, then Hotel New Otani Osaka's pastry shop Patisserie SATSUKI has you covered with their new "Spring Truffle Toast" which is made with Bianchetto truffles. Only 5 servings are served per dayーand 10 on weekends and public holidays.

The arrival of Japan's unprecedented bread boom

In recent years, Japan as a country has seen a boom in the baking and serving of bread. NOGAMI, a bread shop in Osaka, is credited with lighting the fire of the "shokupan" boom, a type of fluffy bread in Japan. This has resulted in many more shops opening selling shokupan. In spring 2017, Hotel New Otani Osaka decided it wanted the people of Kansai to buzz about high quality shokupan too, so it developed its French-inspired "Spring Truffle Toast." Since releasing, the bread has continued to sell out, and if you don't place an order for one you won't be able to get your hands on it. Their tasty truffle toast has returned again this year.

Premium toast with loaded truffle

Spring Truffle Toast With Bianchetto Truffles – ¥1,500 Per Loaf (Before Tax)

The ambrosial Spring Truffle Toast lacks nothing when it comes to taste, texture, and smell. The ingredients used to make ordinary bread like eggs, milk, and butter aren't used for the shop's Spring Truffle Toast. Instead, strong flour, yeast, water, and finely chopped spring truffles are used. To bring out even more flavour, truffle butter, pure olive oil, and shortening is used.


The same goes for the crustーeggs and milk aren't used like in ordinary bread. And to prevent the bread from drying out, more time and labour is put into kneading the dough. A lava pot is used to bake the dough. By using far infrared to heat it, it makes the finished bread nice and chewy.


The shop's head chef wanted to ensure that the bread's fragrant smell is preserved when you take the lid off, and so the entire loaf is lathered in truffle oil, which also gives it a moist taste.

The bread can be toasted and enjoyed on its own, and you're guaranteed great flavour and smell, but you can take it to the next level by topping it with a fried egg or scrambled egg to create an extraordinary and filling meal.

These truffles can only be harvested in spring

Truffles are a delicacy in kitchens around the world. The types used for the Spring Truffle Toast are Bianchetto. They are a very popular traditional truffle of Italy and can only be harvested from mid-March to April. As a result, they are extremely rare in Japan, making the toast that much more special.

Information

Spring Truffle Toast With Bianchetto Truffles

Location: Patisserie SATSUKI – Hotel New Otani Osaka Floor 1F)

Available: Until Mid-April 2020

Opening Hours: 10:00-20:00

Price: ¥1,500 (Before Tax)

Sales: Limited to 5 servings per day (10 on weekends and public holidays)

Reservations: 06-6949-3298 (Patisserie SATSUKI)

Official Website: https://www.newotani.co.jp/osaka/restaurant/p-satsuki/bianchetto-truffle-toast

World's Largest Athletic Tower Banpaku BEAST to Open at Expo '70 Commemorative Park in Osaka

Banpaku BEAST is set to open as the largest athletic tower in the world at Expo '70 Commemorative Park on March 15, 2020, standing 24 meters tall.

The hexagonal tower was created by German-based amusement park attraction developers KristallTurm. It has four floors, each of which is its own "athletic area," as well as an observation deck. It is a comprehensive workout tower, offering 120 different kinds of athletic activities such as climbing and slacklining, meaning the fun will never end in a single day, and will have you wanting to go back for more.

The tower makes use of its full height; expect to use your entire body during your ascension, ride barrels, bikes, and more. Safety is guaranteed while still offering a heart-racing experience for those thrill-seekers. The facility can be used by both kids and adults alike who want to test themselves and feel refreshed after a good workout.


See Banpaku BEAST in action in the official video above.

Information

Banpaku BEAST

Location: Expo '70 Commemorative Park, Suita, Osaka

Time: Reception 9:30-15:00 / Open 10:00-16:30

Price: General ¥3,500 / Elementary school children and below ¥3,000
*Separate fee charged for entry to Expo '70 Commemorative Park's Natural and Cultural Gardens (General ¥260/ Elementary school children and below ¥80)
Access: 5-minutes from Expo Memorial Park Station via Osaka Monorail

Official Website: https://www.se-amuse.jp/bampakubeast/

Food Review: Cherry Blossom Afternoon Tea at Q-pot CAFE. in Omotesando

The MOSHI MOSHI NIPPON editorial team took a trip to Q-pot CAFE. to try out their new afternoon tea experience, the "SAKURA Romantic Tea Party," where we were treated to a pink kawaii tea party experience. This afternoon tea is available now until April 26, 2020.

The cherry blossom designed decor and decorations welcomed us to an early spring. We ate in the cafe's "SAKURA Room" for this review, which takes the Q-pot's springtime cherry blossom experience to the next level.

Romantic SAKURA Afternoon Tea Set w/ Drink – ¥2,400 (Serves 1) (Tax Included) *Photo shows tea set for two


The top plate is beautifully adorned with cherry blossom St. Honoré cakes which are filled with a sumptuous gorgeous cherry blossom cream. There is also peach bavarois, strawberry cookies, and Q-pot CAFE.-original rich, cream ganache-filled macarons. The fallen cherry blossom petals on the plate are also in fact chocolate.

Everything on the plate screams kawaii with the considerate attention that is given to all the little details.

The bottom plate is the savoury stuff. We have hearty croissants filled with duck pastrami and cucumber that has been dressed with white wine vinegar. They are served with a white asparagus cream potage soup and skewered olives, mini tomatoes and pickles.

The balance of flavours between the top and bottom plates is exquisite; the savoury food refreshes your palate after the sweet treats on top.

The set comes with a cup of pink cherry blossom tea. Floral and fruity fragrances fill your nose as you go to take a sip, after which your taste buds are treated to the notes of cherry blossom and raspberry. This subtly sweet and refreshing drink is the perfect accompaniment to your dessert and meal line-up. It even comes with a little chocolate petal.

Romantic SAKURA Mont Blanc Plate w/ Drink – ¥2,060 (Tax Included)

The pink mont blanc gives cherry tree vibes. It's made with cherry blossom bean paste cream, rich matcha chocolate, Japanese waguri chestnut, and chestnut cream. When  you fork the fluffy bean paste, you get plenty of chestnut cream and matcha chocolate with it. The sweetness of the cherry blossom bean paste and the subtle bitterness of the matcha go really well together. Q-pot. CAFE offers a selection of original macarons too which you can pick from including strawberry, chocolate, lemon, and melon. We wanted to go as pink as possible, so we went for the strawberry one!

Romantic SAKURA Parfait w/ Drink – ¥1,850 (Tax Included)

This strikingly gorgeous parfait is topped with cherry blossom cookies, cherry blossom meringue, and more. Its tall beautiful form is built up by a selection of ingredients, including Japanese flavours like cherry blossom cream and houjicha sauce. 

But what we want to draw attention to is the transparent jelly in the middle of the glass. If you look really closely, it looks like dancing cherry blossom leaves.

Q-pot CAFE. also has a range of other limited-time menu items, as well as food that looks just like real accessoriesーsomething the cafe is famous for. They also have accessories that look like real desserts, like a sugar cookie or crunchy meringue. Perfect for coordinating a spring look this year.

Make sure to pay a visit to Q-pot CAFE. if you're visiting Tokyo this spring!

Information

SAKURA Romantic Tea Party

Running: March 1, 2020 – April 26, 2020

Online Reservations: Now Open

*Afternoon tea set and hanami plan to be served until March 29, 2020

 

Q-pot. Omotesando

Address: 3-4-8 Jingumae, Shibuya, Tokyo

Opening Hours: 11:00-20:00 (Last Orders 19:30)

Closed: New Year's Holidays

Official Website: https://www.q-pot.jp/eng/

Tokyo & Osaka's Pokémon Cafes Reveal 3rd Line-Up Of Sword and Shield Themed Food

The Tokyo (Nihonbashi) and Osaka (Shinsaibashi) branches of the Pokémon Cafe are releasing their third line-up of menu items in collaboration with Pokémon Sword and Shield which will be served between March 20 and May 29 this year. The second line-up is still available and will be served until March 19.

Pokémon Sword and Pokémon Shield are the latest games in the Pokémon video game franchise and were released for the Nintendo Switch on November 15, 2019. The new menu line-up sees appearances from familiar faces including Pikachu, Eevee, Yamper, Zigzagoon (Galar form), and Eiscue.

*Dish names are translated from Japanese

Gigantamax Pikachu's Naughty Octopous Rice Plate – ¥2,178 (Tax Included)


This hearty portion of octopus rice is made in the image of Pikachu in his Gigantamax form.

Gigantamax Eevee's Smiley Hamburger Stew Plate – ¥2,178 (Tax Included)


A hearty stew made in the image of Eevee in its Gigantamax form.

Yamper's Happy Sandwich Picnic Plate – ¥1,848 (Tax Included)

This picnic-on-a-plate meal features the adorable Yamper, who is served with a tasty salad.

Galar Zigzagoon's Crunchy Cookie Tiramisu – ¥1,738 (Tax Included)

This crunchy cookie tiramisu features a cute recreation of Zigzagoon in its Galar form.

Ice Face Eiscue's Shivering Panna Cotta – ¥1,628 (Tax Included)

As you fork through this cute Eiscue panna cotta, you'll discover a special and delicious treat inside.

Jump into the video game world of Pokémon Sword and Shield at the hugely popular Pokémon Cafes in Tokyo and Osaka.

© 2020 Pokémon.©1995-2020 Nintendo/Creatures Inc./GAME FREAK inc.
Pokémon, ポケットモンスター and ポケモン are registered trademarks of Nintendo, Creatures Inc., and GAME FREAK inc..


Information

Pokémon Sword and Shield – 3rd Menu Line-Up

Running: March 20, 2020 – May 29, 2020

Pokémon Cafe (Nihombashi, Tokyo)
Address: Nihombashi Takashimaya SC East Bldg. 5F, 2-1-2 Nihombashi, Chuo Ward, Tokyo
Business Hours: 10:30-22:00
No Fixed Holidays (Except when Nihombashi Takashimaya SC is closed)
Reservations: https://www.pokemoncenter-online.com/cafe/reservation.html

Pokémon Cafe (Shinsaibashi, Osaka)
Address: Daimaru Shinsaibashi Honkan 9F, 1-7-1 Shinsaibashisuji, Chuo Ward, Osaka, Osaka Prefecture
Business Hours: 10:00-21:30
No Fixed Holidays (Except when Daimaru Shinsaibashi is closed)
Reservations: https://www.pokemoncenter-online.com/cafe/reservation.html

*Reservations available online only. Telephone reservations not available.

DIOR FROM PARIS TO JAPAN Exhibition Shows Off Dress Line-Up Inspired by Japanese Culture

The DIOR FROM PARIS TO JAPAN exhibition at HANKYU Umeda Store in Osaka began on March 1 where it is set to run until March 22.

The collection features a complete line-up inspired by Japan's rich culture, from dresses serving haute couture to exquisite Lady Dior bags re-interpreted by various artists. This exhibition is a coming-together of DIOR and Japan and expresses savoir faire the way a maison should.

The exhibition is also home to a gift shop selling a range of different items. It also has an audio guide presented by Japanese actress and fashion model Yuko Araki and actor and model Ryusei Yokohama, both of whom were selected as Japan Fashion Ambassadors for this exhibition.

See the worlds of DIOR and Japan collide at DIOR FROM PARIS TO JAPAN.

Information

DIOR FROM PARIS TO JAPAN
Running: March 1, 2020 – March 22, 2020
Location: HANKYU Umeda Gallery (HANKYU Umeda Store Floor 9F)
Address: 8-7 Kakudacho, Kita, Osaka
Entry: Free

Official Website: http://bit.ly/DiorFromParisToJapan

Matcha Sweets & Mini Tea Ceremony Experience Coming to The Strings Omotesando in Tokyo

Cafe & Dining ZelkovA is set to offer a new "Japanese Tea Set" service from March 3 to July 2 this year which gives customers a mini tea ceremony experience where they can enjoy a cup of matcha and tuck into some matcha sweets.

Japanese Tea Set – ¥2,600 (Tax Included) *Plus separate 12% service charge

This tea set comes with genuine a nanbu tekki cast iron kettle for pouring hot water and a chasen tea whisk for mixing the matcha powder. Authentic Uji matcha from Kyoto is used which has a wonderfully rich fragrance that reminds you just how good matcha really is.

The tea set also comes with an Uji matcha tiramisu and a rice flour dumpling anmitsu which comes with an assortment of fruits like the setoka citrus and melon, Tokachi adzuki beans, and brown sugar syrup from Okinawa.

Sit either on the sunny terrace or inside with the cafe's high-end interior design and enjoy yourself luxuriously with a cup of matcha and some Japanese matcha treats.

Information

Cafe & Dining ZelkovA

Address: The Strings Omotesando (Floor 1F), 3-6-8 Kitaaoyama, Minato Ward, Tokyo

Serving: March 3, 2020 – July 2, 2020

Opening Hours: [Weekdays] 11:30-22:00 / [Weekends & Holidays] 11:00-22:00

Reservations/Enquiries: www.strings-hotel.jp/omotesando/restaurant/zelkova/