Collaboration café of manga magazine "Ribbon no Furoku 'Kawaii' no Himitsu" will open in Ichigaya, Tokyo
The hybrid conclusive bookstore "honto" will open a collaboration café named "Ribbon no Furoku 'Kawaii' no Himitsu" with the girl's comic magazine "Ribbon" at "DNP Plaza" located in Ichigaya, Tokyo. The café will be opened from October 3rd 2018 (Wed.) to October 22nd (Mon.).
Latte art using "Ribonchan's" mark specially depicted by Yazawa Ai (manga artist) will be served. Ribonchan is a popular character of "Ribbon Mascot Mix." The latte comes with the special event coaster.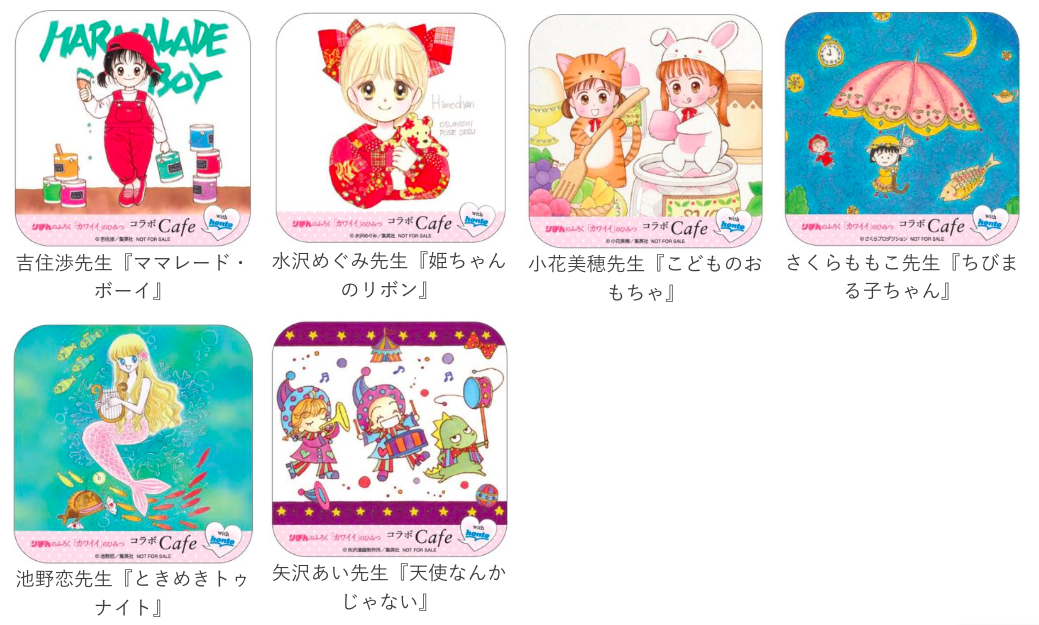 The coaster uses the motifs of the illustrations depicted by popular manga artists including Sakura Momoko.
Also, the magazine/book "Ribbon no Furoku 'Kawaii' no Himitsu" will be sold at the venue and real-sized  appendix and large photos will be exhibited. The whole venue will be filled with the cute atmosphere of Ribbon's appendices.
Plus, the site "honto" has started selling the book that comes with the limited original post card in line with the start of this event, from September 20th (Thurs.).
Moreover, they will offer an original wallpaper for smartphones using the motif of Yazawa Ai's illustration to all members of "honto."
Downloadable period:2018, Semptember, 20 (Thurs.) to October 31st (Wed.)
URL:https://honto.jp/article/hontoplus/kabegami.html
Don't miss this limited event which will for sure be a nostalgic time for all Ribon fans.
Information
"Ribbon no Furoku 'Kawaii' no Himitsu" Collaboration Café with honto
Venue1: DNP Plaza 1F café, 1-14-1, Ichigayatamachi, Shinjuku, Tokyo, DNP, Ichigayatamachi Building
Venue2: 2018,October 3rd (Wed.) to October 22nd (Mon.)
※
holiday – Tuesday
Business hours: 11:00 to 20:00
Entrance fee: free (eating and drinking is not free / reservations must be made)
Amenity (book): "Ribbon no Furoku 'Kawaii' no Himitsu" (Thurs.)
Price: 1,944 yen (tax included)
Amenity: Post card (two kinds)
※
quantity limited
Available page: honto's mail order site
(C)池野恋/集英社 (C)さくらプロダクション (C)水沢めぐみ/集英社 (C)吉住渉/集英社 (C)矢沢漫画制作所/集英社 (C)小花美穂/集英社