Art Event FLOWERS BY NAKED to Take Place at World Heritage Site Nijo Castle
FLOWERS BY NAKED, an immersive art event that fuses flowers and tradition, will take place at Nijo Castle from November 3 to December 9.
The exhibition has pulled in 300,000 spectators to date into a colourful and immersive world of art. Over 50,000 posts with the hashtag #flowersbynaked have been recorded with plenty of photogenic pictures.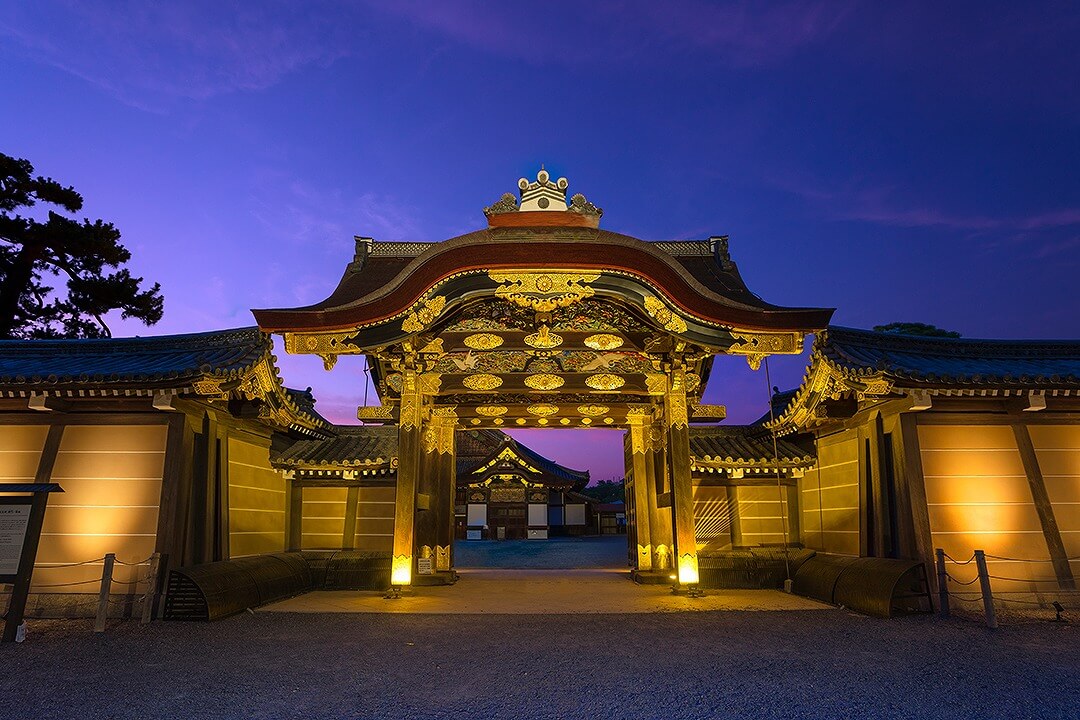 This new holding of the exhibition marks its first appearance in the Kansai region of Japan. Designated as an official World Heritage Site by UNESCO, Nijo Castle will receive a special autumn themed light-up with many of the site's historical architecture used for the exhibition. Visitors will be able to enjoy autumn-time Kyoto to the fullest.
Another event titled Nijo Castle Festival also began on September 28 in the run up to the event which consists of a performance of original sounds and illuminations of the castle buildings and rooms as well as a night tour by an official Nijo Castle guide and more.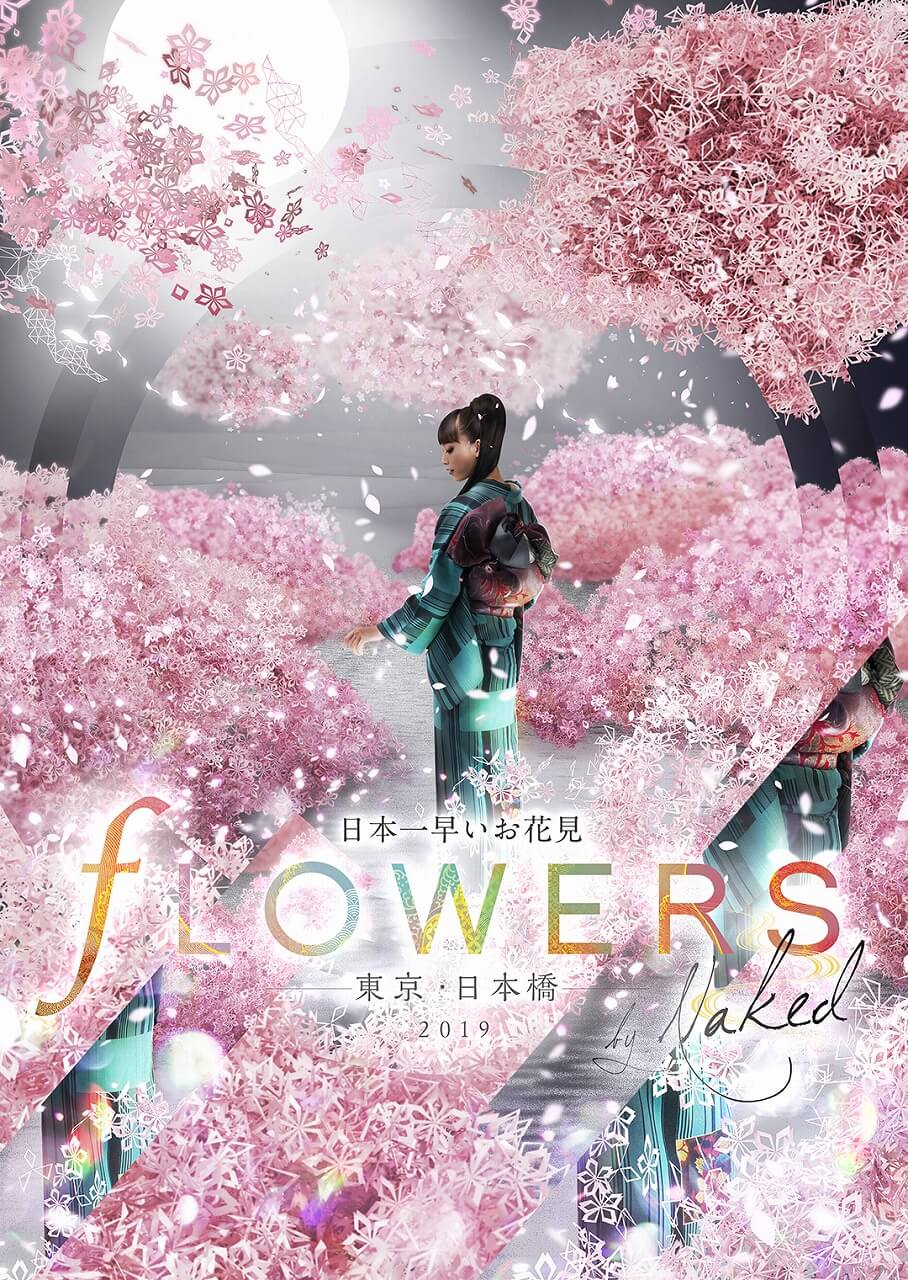 FLOWERS BY NAKED will make its way to Nihonbashi Mitsui Hall in Tokyo on January 29, 2019 where it will run until March 3. This will be the 4th time the event has been held in Nihonbashi. Merging together flowers and tradition, it will give way to a string of traditional Japanese motifs like tearooms, classic poetry and more. Leading artists in a range of traditional Japanese fields will be in attendance too, coming from the worlds of flower arrangement and the traditional incense-smelling ceremony. Collaborative artwork as well as lots of new elements are planned for next year too.
Experience the beauty and creativity of art first-hand at FLOWERS BY NAKED – and at a World Heritage Site.
Information
Special Autumn Light-Up: FLOWERS BY NAKED 2018 at Nijo Castle, Kyoto
Running: November 3, 2018 – December 9, 2018
Time: 17:30-22:00 (Last Entries 21:00)
Location: Nijo Castle
Entry Prices
Advance Ticket: Adults ¥1,000 / Children ¥600 (Available October 13 – November 2)
Same-Day: Adults ¥1,200 / Children ¥800 (Available November 3 – December 9)
Official Website: https://flowers.naked.works/
FLOWERS BY NAKED 2019 at Nihonbashi, Tokyo
Running: January 29, 2019 – March 3, 2018
Time: 10:00-20:00 (Last Entries 19:30) *Subject to change
Location: Nihonbashi Mitsui Hall Coredo Muromachi 1 – 5F (Entrance is on 4F)
Entry Prices
Early Booking Discount: Adults ¥1200 (Weekdays), ¥1,600 (Weekends & Holidays) / Children ¥600 (All Week) – Available October 2nd-14th
Advance: Adults ¥1400 (Weekdays), ¥1,800 (Weekends & Holidays) / Children ¥800 (All Week) – Available October 15th-January 28th
Same-Day: Adults ¥1600 (Weekdays), ¥2,000 (Weekends & Holidays) / Children ¥1,000 (All Week) – Available January 19th-March 3rd
Purchase: http://w.pia.jp/t/flowers-naked/ (P Code: 991-966)
Official Website: https://flowers.naked.works/
RELATED ENTRIES
Grab a Takeout Hydrangea Parfait at Itohkyuemon in Kyoto

Itohkyuemon, one of Kyoto's most famous green tea shops which established in the latter part of the Edo Period, is now serving a takeout hydrangea parfait at its main branch in Uji, Kyoto.

Uji, the city where Itohkyuemon is based, is home to Mimuroto Temple which is famous for its hydrangea. The temple bustles with sightseers and tourists during Japan's rainy season who flock to gaze upon the gorgeous flowers. The tea shop's limited-time hydrangea parfait was first released in 2013 and has gone to become their most popular seasonal parfait every year. So that lots of people can continue to enjoy the popular dessert, Itohkyuemon is offering the parfait as a takeout option so customers don't have to eat indoors.

The parfait is made with matcha and hydrangea mashed sweet potato and hydrangea-coloured crushed jelly, and is topped with leaf-shaped matcha cookies, blueberries, and other colourful treats that bring to mind Uji's rainy season.

Kyoto Tower Hotel Celebrates 110th Anniversary of Randen Tramway Service With Special Hotel Plan

In commemoration of the Randen tramway service's 110th anniversary, Kyoto Tower Hotel introduced an exclusive new one-night hotel plan on Friday at one of its rooms. The Kyoto Tower Hotel Train Room is a themed guest room experience and celebration of Randen's long history.

A look at the Randen Kitano Line

Randen tram photos decorate the guest room

Old train tickets and platform signs

A tatami area, train handles, and train priority seat

Randen Train Room souvenirs for guests

Randen was founded in 1910 and remains the only tramline in Kyoto. It's part of Keifuku Electric Railroad and runs from Shijo-Omiya to Arashiyama. The Randen Train Room is a trainspotter and train otaku's paradise. Inside, guests will find historical photos of trams that have run as part of the Randen service, as well as other train-related motifs like a Randen priority seat chair, carriage handles, and more. There's also a little tatami seating area which is perfect for sitting on and planning your next day's trip, putting out souvenirs you've picked up, or just relaxing. Guests can also watch a DVD on the TV that looks at footage of Randen trains, and even listen to a CD that has train sounds on it.

Information

Randen Train Room

Location: Kyoto Tower Hotel (Room 820)

Running: June 11, 2021 – June 10, 2022

Ace Hotel Kyoto Commemorates 1st Anniversary With Yu Nagaba Exhibition

Ace Hotel Kyoto marked its 1st anniversary on June 11 since opening. In celebration of hitting the milestone, the hotel is collaborating with Japanese artist Yu Nagaba by displaying his work at its gallery until June 30. The works displayed are of the sights and people that Nagaba saw and penned in a memo pad while staying at Ace Hotel Kyoto. All of the illustrations were made for this exhibition and so they are being exhibited for the first time. One of the pieces is also being sold at stickers in the hotel's shop.

Yu Nagaba's work

Yu Nagaba | Comment

"After I heard whispers that Ace Hotel was setting up in Kyoto, I hoped I could do something, so I was happy to take part in this project, but I also spent my time wondering what I could draw, and no ideas came to mind. After pondering I went to find inspiration by deciding to stay at Ace Hotel. I drew what came to mind during my time there as I walked the streets of Kyoto and spent time at the hotel. I drew a total of 49 illustrations in my memo pad. I painted six of my favourites on canvas. I hope people can get a feel for my experiences of Kyoto in these pieces."

Information

Ace Hotel Kyoto x Yu Nagaba

Running: June 7, 2021 – June 30, 2021

Location: Ace Hotel Kyoto (Floor 1F Gallery Space)

Entry: Free
Official Website: https://www.acehotel.com/kyoto/

Japan's Virtual Art Museum 'In ART' Announces Abstract Painting Solo Exhibition by CBA

In ART is a Japanese virtual art museum displaying works by a line-up of specially-selected artists. The museum is accessible through VR where users can not only look at art pieces but watch commentaries by the artists as well as shop at the museum store.

In ART has revealed that abstract painter CBA will be the third in a line-up of solo exhibitions. CBA is a graphic designer with over 20 years of experience and is also active as a musician both in Japan and overseas. They changed jobs to become an artist in 2010, and since then, their unique style which breaks language and cultural barriers has garnered them many fans from outside Japan. Most recently, CBA opened a solo exhibition at Franck Muller Boutique in Madrid, Spain. Their work is inherently universal, getting through to people regardless of age, language, or culture, something which is best appreciated when seen for yourself, and is now observable at In ART.

Some of CBA's works on virtual display

CBA | Comment

-shine on the life- Pray for better life
"The foundation of my work is built on putting together different elements to create something, just like how you would techno music. Colours and shapes elicit emotions and smells. Abstract painting isn't just playing around experimenting or taking chances—it's something that's formed and composed, and I'd love for people to enjoy that aspect when looking at my work. I urge you to enjoy the colours, shapes, and compositions as you would music."

In ART opened as a service offering people the opportunity to spend time enjoying art, even alone in their own house, as well as serving as a platform to support artists. Its aim is to make art a normal part of of everybody's lives, and it does this in the form of a virtual museum which uses 3DCG technology. While it is an art museum, you don't have to pay to enter. You can enjoy artwork at your leisure on your favourite device, and if there's a piece you want to buy, then you can.

Don't miss the abstract work of CBA in their virtual solo exhibition.

Information

CBA SOLO EXHIBITION +Up!
Running: June 7, 2021 – September 7, 2021

Entry: Free and open 24 hours a day
In ART Official Website: https://in-art.jp
In ART Official Museum Shop: https://shop.in-art.jp

Experience a Bath Like Never Before in a Luxurious Private Space at Yadoru KYOTO HANARE

Yadoru KYOTO HANARE is a hotel in Kyoto that blends seamlessly into the town, offering a stay experience that's like living there. For guests who use their baths, they have introduced a new selection of five ingredients to be put into the bath like bath salts. Each comes with a different effect, enhancing your bathing experience beyond getting clean.

Yadoru KYOTO HANARE is continuing to enforce precautions against the spread of COVID-19 so guests can enjoy getting away from home to relax and unwind safely. The hotel has and continues to enjoy many guests during this time who are seeking out some healing. One of the biggest selling points for guests is the hotel's bathing experience. With that in mind, they have set up the Yadoru YUAMI service which allows guests to try a variety of bathing products made by local Kyoto businesses.

'Yuami' is an old Japanese expression for getting in the bath. The word 'yadoru' in the hotel's name is also an old phrase meaning 'to stay at a lodging on your travels.' Yadoru KYOTO HANARE is wanting to have its site feel even more like a traditional Kyoto townhouse for guests to experience, so they are now using the word 'YUAMI' as part of their services.

With Yadoru YUAMI, guests can pick from five different bath products, each wrapped in pouches. Each offers a completely different bathing experience with different benefits and fragrances.

1. Sake Lees

Sake lees from Kyoto's long-standing and historical sake brewery Sasaki Shuzou. Massage the lees in the bathtub while they are still in the pouch to create a milky white water that fills the bathroom with the fragrant smell of sake lees. The ingredients in the lees have a moisturising effect, improve blood circulation, and leave skin looking beautiful.

2. Gyokuro Green Tea

The Kyoto Distillery stands as Japan's first establishment specialising in gin. One of their gins is called Ki no Bi, a Japanese craft gin. Its smell and taste is the result of a combination of 11 kinds of botanical products including gyokuro green tea, junpier berry, and hinoki cypress, all of which are featured individually on this list. Gyokuro is a type of high-grade Japanese green tea and contains theanine which stimulates relaxing, making it perfect for unwinding after a long day.

3. Juniper Berry

Juniper berry is an indispensable ingredient in making craft gin. This bathing product is made with the type that's actually used in making Ki no Bi craft gin. When submerged in the water, the air is filled with the woody, relaxing, and inviting scent of gin.

4. Hinoki Cypress

This bathing powder is also made with the same hinoki cypress used in Ki no Bi which, when put in the water, emits the smells of a forest. Hinoki cypress contains phytoncide which has a relaxation effect, calming the autonomic nervous system and blood pressure.

5. Matcha

Matcha is the quintessential flavour of Kyoto. Guests who check in at Yadoru KYOTO HANARE are offered a cup. They can also bathe in it with Yadoru YUAMI.

Information

Yadoru YUAMI

Release Date: June 1, 2021

Price: ¥1,000 (Before Tax)

Location: Yadoru KYOTO HANARE (Participating Branches: Washi no Yado/Kanade no Yado/Mizunoe no Yado/Roji no Yado)


Book by Telephone: 03-4510-8671
Book by E-mail: kyoto@yadoru.me

*Exclusive to Yadoru KYOTO HANARE guests

Sarutahiko Coffee x BE@RBRICK Limited-Edition Bear Figure Releases

Sarutahiko Coffee reached its 10-year milestone on June 8. To celebrate, the Japanese coffee chain launched a 10 year anniversary promotion on the same day.

The coffee giant released its 10th Anniversary Mocha No.1 Blend and 10th Anniversary Mocha No.1 Superior Java Blend for its first rollout of the promotion. For its second release, Sarutahiko is teaming up with MEDICOM TOY's popular BE@RBRICK figure series to release an original model at its Ebisu and The Bridge Harajuku Station branches as well as its online store.

The palm-sized figure is coloured Sarutahiko's iconic blue colour and features a brown logo on its chest. It's a simple but cute design and is a perfect gift to coffee lovers.

Information

BE@RBRICK x Sarutahiko Coffee Figure

Released: June 8, 2021

Price: ¥1,800 (Tax Included) *Max. 2 per person

Available: Sarutahiko Coffee Ebisu / Sarutahiko Coffee The Bridge Harajuku Station / Sarutahiko Coffee Online Shop

Sarutahiko Coffee Online Shop: https://shop.sarutahiko.co

Sarutahiko Coffee Official Website: https://shop.sarutahiko.co/
*Available while supplies last

Mountain Climbers and Admirers Gather at Mt.TAKAO BASE CAMP Exhibition

Tokyo sneaker culture brand atmos is now holding an exhibition titled "First steps with Salomon Presents by atmos" until June 20.

Mt.TAKAO BASE CAMP is a guest house located just 3-minutes on foot from Takaosanguchi Station. Equipped with showers, lockers, and a cafe/bar, it's a hot spot amongst mountain climbers. It's there that atmos and Salomon are hosting the exhibition in collaboration with UND, an art duo made up of illustrators FACE and SHINKNOWNSUKE, themed on mountains.

Visitors are made with a giant piece of UND art at the entrance window of two hikers. They iwll also be handed an exclusive zine which includes a map of Mt. Takao.

Information

First steps with Salomon Presented by atmos at Mt.TAKAO BASE CAMP 

Running: June 5, 2021 – June 20, 2021

Address: Mt.TAKAO BASE CAMP, 1799-3 Takaocho, Hachioji-shi, Tokyo

Official Website: https://www.atmos-tokyo.com/

Lacoste Announces Artists to Create Art From Second Hand Clothing

Lacoste launched its 'REGENERATION' project in April to turn the brand's second-hand clothes into artwork. The first instalment of the environmentally-considered project received huge praise, finishing collections of old clothing on May 31. The 488 items received will serve as the base for various products and art. The next step is the REGENERATION phase which invites various artists on board.

Upcycle Artists

Marie

Hikaru Matsubara

Furniture Artist

Fuyuki Shimazu




Artists participating in the project include Marie who's active in working against environmental and societal problems through fashion and Hikaru Matsubara who has won awards at various art fairs up and down Japan. The products are planned for release on August 18 with more info set to roll out on Lacoste Japan's official website in the lead up. Fuyuki Shimazu, an artist who makes furniture from cardboard boxes, is also involved in the project. The three artists are working to add value to items that have seemingly lost it by turning Lacoste's second hand clothes into something that can be used by the next person.

Tokyo's Craft Chocolate Shop nel Releases Cacao Kintoki Shaved Ice Desserts

nel craft chocolate tokyo, a craft chocolate shop located in Nihonbashihamacho, Tokyo, released two chocolate shaved ice desserts last Wednesday for the hot summer season. The desserts are also being sold at Saryo Tsukikage, a restaurant inside the hot spring ryokan Yuen Bettei Daita in Setagaya.


Left: Cacao Kintoki | Right: White Cacao Kintoki

Cacao kintoki is a type of shaved ice made with specially-selected cacao beans from Vietnam. It uses a 'bean to bar' method where the shaved ice is made from scratch, roasting the beans fresh to create the dessert.

The two new treats at nel use a chocolate base and add cacao pulp to the mix, adding a natural fruity flavour derived from the bean. Each is also served with a special cacao sauce for extra flavour. The white cacao version is made by combining with in-house white chocolate. It also comes with an Okinawan passion fruit and cacao pulp sauce, resulting in a sour kick and refreshing taste.

Saryo Tsukikage

The open-air baths at Yuen Bettei Daita

A special matcha version of this shaved ice can also be enjoyed while bathing in the open-air baths at Yuen Bettei Daita. It's made with nel's homemade white chocolate as well as dark chocolate, cacao pulp, and specially-selected yame matcha from Shimokita Chaen Ōyama, a cafe in Setagaya.

teamLab Borderless Tokyo Celebrates 3rd Anniversary With Two New Installations

June 21 will mark three years since MORI Building DIGITAL ART MUSEUM: EPSON teamLab Borderless first opened. Located in Odaiba, Tokyo, the digital art museum is commemorating its anniversary with two new installations: Sketch Aquarium: Connected World and Sharing Rock Mass, Transcending Space. Experience digital art, which blurs the lines between reality and fantasy, change in real time as people come into contact with it.

MORI Building DIGITAL ART MUSEUM: EPSON teamLab

Sketch Aquarium: Connected World

teamLab describes this exhibit:

The fish drawn by everyone swim around in this aquarium.

Color in a fish on the paper provided. See the picture you have drawn come to life in the massive aquarium in front of you, swimming together with the fish drawn by other people. If you touch the swimming fish, they will swim away. If you touch the food bags, you can also feed the fish.

The tuna you draw will transcend the boundaries of the artwork and swim out into the Sketch Aquariums and Sketch Oceans of exhibitions around the world. And the tuna drawn in other parts of the world may appear and swim in the Sketch Aquarium right in front of you.

Sharing Rock Mass, Transcending Space

teamLab describes this exhibit:

A rock mass floats in the world of the teamLab Borderless museum in Shanghai. The rock mass floats through the hallway of teamLab Borderless Shanghai and sinks into the wall. The rock mass transcends the physical space of the museum itself, the part that sinks into the wall appears in the world of the teamLab Borderless museum in Tokyo.

When people touch the part of the rock mass emerging in Tokyo, it shines with blue light. This light flows to the rock mass sunken into the wall in Shanghai. When people touch the part of the rock mass sunken into the wall in Shanghai, it shines with a red light which flows to the rock mass here in Tokyo. When red light flows into the rock mass, it indicates that someone in Shanghai is touching the rock mass.

teamLab is represented by Pace Gallery, Martin Browne Contemporary and Ikkan Art International.

Information

MORI Building DIGITAL ART MUSEUM: EPSON teamLab Borderless

Address: Odaiba Palette Town, 1-3-8 AOmi, Koto-ku, Tokyo

teamLab Borderless Official Website: https://borderless.teamlab.art/
teamLab Official Website: https://www.teamlab.art/

*teamLab Borderless introduced a booking system on June 1, 2021 to restrict admissions in an effort to combat COVID-19

These Disney Ceramic Teacups and Plates Are Traditional Kiyomizu Wares From Kyoto

Asahido is now selling a collection of Disney-inspired ceramics made using a traditional Japanese pottery technique known as Kiyomizu which originated in Kyoto.

Winnie the Pooh Hundred Acre Wood Teacup

This collection of teacups features hand drawn designs of Winnie the Pooh and his friends relaxing in their home of the Hundred Acre Wood. They are dyed indigo using a traditional dyeing technique known as gosu which makes the colour run deep into the design. There are cups to pick from, one big and one small and both with different designs. More details here (in Japanese).

Mickey & Minnie Traditional Dyed Pattern Mugs

These smiley teacups are made using the same dyeing technique and feature Mickey and Minnie made from collages of traditional Japanese patterns that have long been used in Kyoto.

Disney Princess Plates

Seven Disney Princesses have been feauted in this hand-painted Kiyomizu ware plate collection, all of which are lined with gorgeous colours including gold. They make for beautiful decorations for any Disney fan's room.

Mickey & Minnie Kiyomizu Dolls

"Rakuyaki" is the name of the hand-mouldered pottery technique used to crafts these Mickey and Minnie Mouse dolls, one which has been used since the Taisho Period. Compared to the other ceramics on this list, these dolls are baked at a lower temperature, giving the colours a softer look. Red and black are classic colour combinations used in this technique, so Mickey and Minnie were the perfect candidates. Only 100 of each will be sold.

The Promised Neverland x Hotel Keihan Room Plan Collaboration Begins

Hotel Keihan launched a new guest room plan in collaboration with the anime series The Promised Neverland at its Tokyo, Kyoto, Osaka, Nagoya, Sendai, and Sapporo branches on Tuesday. It also released a collection of exclusive merchandise which can be bought at each hotel's front desk.

Guest Rooms

Exclusive Merch Line-Up

Pins | ¥550 Each (Tax Included)

Key Rings | ¥550 Each (Tax Included)

Lobby display

The hotel plan was originally scheduled to take place for three months but has been extended by a further month to accommodate for travel restrictions as well as guest demand. New prices have also been introduced to make it more accessible to people. Fans of the anime series can get their hands on a range of items not available anywhere else too including pins, key rings, folders, and more.

The hotel room designs are inspired by both seasons of The Promised Neverland and come with life-size panels, wall decorations, and more, so fans can look forward to getting sucked into the world of the anime series.

(C)白井カイウ・出水ぽすか/集英社・約束のネバーランド製作委員会