Drink Latte Art of Van Gogh, Claude Monet & Hokusai's Famous Paintings at Nescafe Harajuku
Nescafe Harajuku is serving a latte art event titled Nescafe Photo Latte Drinkable Art Exhibition from December 4 to 25 where customers can enjoy their coffee with famous paintings designed on them.
Nescafe released their "Nescafe Photo Latte" on their website last month to rave reviews. It enables people to use a latte art sheet to create latte art of their own of photos, illustrations and messages.
Nescafe Harajuku will have a special booth set up in cafe where customers can order drinks with famous paintings by Vincent van Gogh, Claude Monet and Hokusai on them. These are limited in stock so you'd best grab your coffee quick before they're all gone.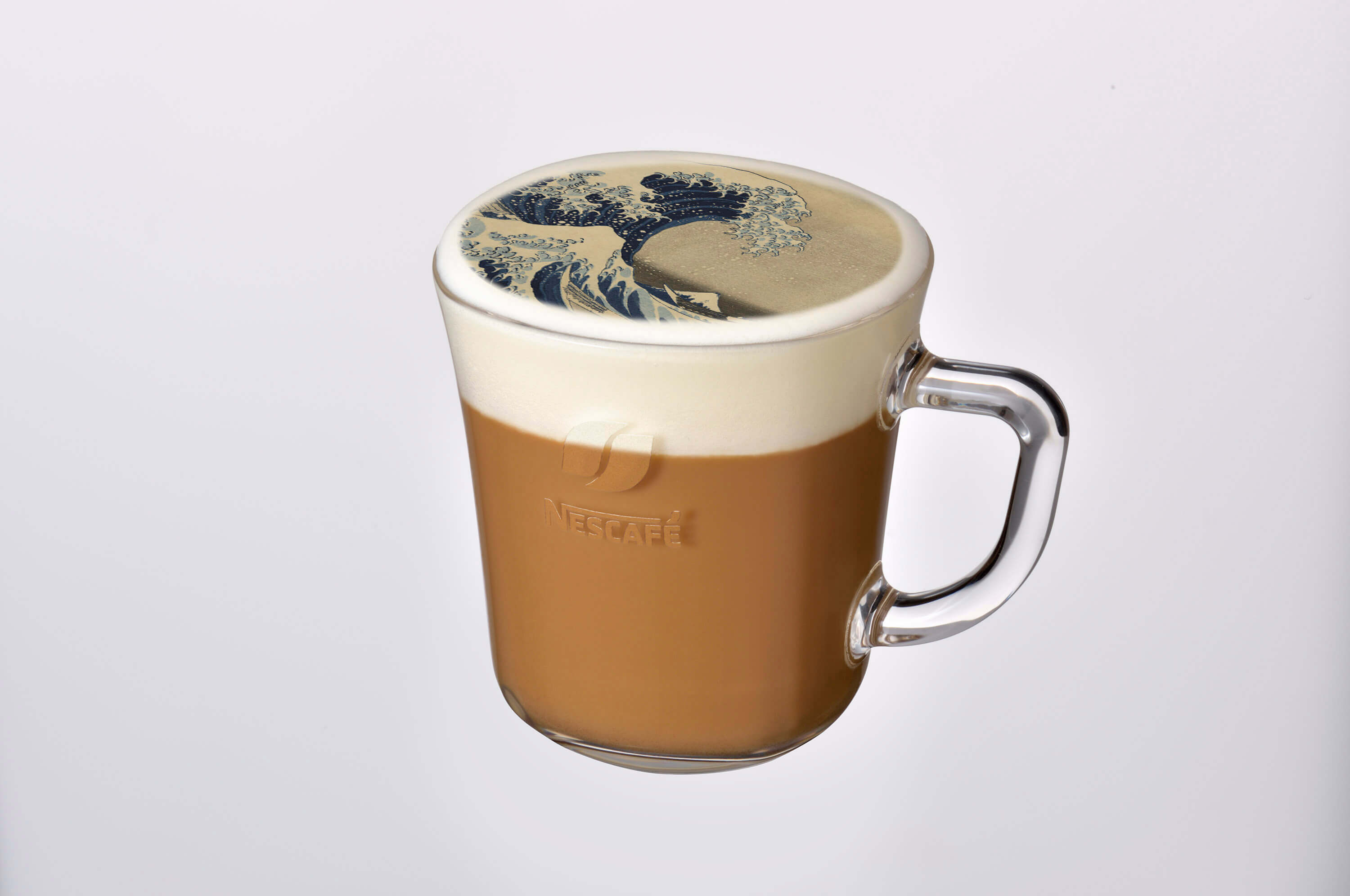 The latte art products and drinks menu are poured with Nestle's "Nescafe Golden Blend Barista" coffee machine. By laying a latte art sheet onto the creamy froth the picture springs to life with colour.
Don't miss this opportunity to enjoy a special drink this Christmas season at Nescafe Harajuku!
RELATED ENTRIES
Showa Summer Dessert Drinks Get Served Up at AWESOME STORE & CAFE IKEBUKURO in Tokyo

AWESOME STORE & CAFE IKEBUKURO is now serving up two new summer-exclusive dessert drinks inspired by the Japanese Showa era. The 'Imitation Gold' and 'Blue Light Awesome' are both available now until September 26.


Imitation Gold: ¥467 (Tax Included) / Blue Light Awesome: ¥467 (Tax Included) *both served in plastic cups (see below)

The Imitation Gold's flavour is reminiscent of an energy drink. It's topped with vanilla ice cream and colourful gummies. The Blue Light Awesome is a Blue Hawaiian syrup-infused pineapple juice topped with vanilla ice cream and a cherry. Both of these cute dessert drinks are the perfect refreshments for the summer.

Those who buy both drinks will also receive an original black straw to make the drinks even more Instagrammable. These are available while supplies last.

Some other popular must-tries

Other classics on the menu to try include soft and chewy bagels, coffees, and more.

Chocolate High | ¥396 (Tax Included)


Ebi Avocado | ¥396 (Tax Included)


Fuwa Toro Bacon Omelette | ¥396 (Tax Included)


AWESOME Organic Coffee (Hot/Iced) | From ¥217 (Tax Included)

Information

AWESOME STORE & CAFE IKEBUKURO
Opening Hours: 10:00-21:00 (Currently operating on reduced hours – closes at 20:00)
TEL: 03-5944-9754
Address: Q Plaza IKEBUKURO 1F, 1-30-3 Higashi-Ikebukuro, Toshima-ku, Tokyo
Official Website: https://www.awesomestore.jp/store/pages/cafe.aspx

Bunkamura Bon Bon: MAPP_ x Atsushi Ito Create Paris Themed Artwork

The Shinjuku-based cultural facility Bunkamura is currently promoting French culture and art as part of its monthly event which focus on different countries each month. Titled Bunkamura Bon Bon – Bunkamura France Monthly 2021 –, the event features artwork and commentary by Japanese graphic designer Atsuhi Ito as well as a Paris-themed menu.

Artwork on the walls at Bunkamura

Artwork on the columns at Bunkamura

Wagon Shop | Running: July 10, 2021 – July 18, 2021

Performance by Jester | Running: July 17, 2021 – July 18, 2021

The title of the artwork decorating the inside of Bunkamura is PLAYTIME and is a collaboration with MAPP_, an art project group known for their diverse artwork including the use of project mapping. The designs were created by graphic designer Atsuhi Ito who has captured the essence of Paris. The facility's cafe is also serving up a special French inspired menu with bistro classics to seasonal fish, summer vegetables, and more.

Atsuhi Ito | Comment

"The inside of Bunkamura is decorated with fictitious Paris artwork with life-size illustrations on the walls, columns, elevator and elsewhere. We're living in a time right now where we can't just freely go abroad, so I hope with this people can find something nostalgic about Paris, snap some photos, and feel like they're on a fun trip."
パリの街並みを感じることができるアートワークやイベントをチェックしてみては?


Key Coffee Releases Limited Edition 1920's Blend

Key Coffee has recreated its coffee from 1920's when the cafe chain first opened. Named the Yokohama 1920 Founding Blend, the coffee was released on July 20 and will be available at their 54 branches up and down Japan until August 24, the same date when the coffee shop first opened.

Yokohama 1920 Founding Blend

A picture of Key Coffee's Yokohama branch in 1936 when it was known as Kimura Coffee

Retro Showa-style espresso con panna

Milk Brûlée

Yokohama 1920 Founding Blend recreates the same flavour of coffee that the cafe served in 1920 when it first opened in Yokohama, an area bustling with restaurants serving both Asian and Western cuisine. It uses Brazilian coffee beans at its base, a type which was circulated a lot at the time. It has a distinct sweet fragrance and goes well with milk and sugar.

Back them, coffee was a commodity yearned for by the people of Japan. After releasing their hit coffee syrup in 1921, Key Coffee began serving coffee in a way that was simple, tasty, and accessible to everyone such as drip coffee and their Noi coffee-making series. In the 1930's their products began to line the shelves of department stores as they began to develop as a spearhead for the emergence of coffee culture in Japan. They also began selling TOARCO TORAJA in 1978, a highly-regarded premium coffee. Today, the chain continues to be a hub for coffee lovers, and is creating new coffees and techniques.

Japan has been a boom in junkissa in recent years, a classic cafe which blends the atmosphere of the Meiji and Showa periods. Key Coffee is showcasing two coffees on their recipe page which capture this flair including an espresso con panna and milk brûlée.

MOSHI MOSHI ROOMS opens Harajuku-Kawaii themed accommodation called 'HARAJUKU'

Rokuyon, which manages unique accommodations mainly in Shibuya, has opened the fourth room of "MOSHI MOSHI ROOMS", the home-sharing facility, named "HARAJUKU" produced by ASOBISYSTEM, which introduces HARAJUKU culture to the world.

"MOSHI MOSHI ROOMS offers accommodation services in concept rooms full of originality not found in existing hotels or home-sharing facilities. The concept of the fourth room is "HARAJUKU". The room is filled with "KAWAII", one of the representative cultures of Japan. Once you step into the room through the archway, you will feel as if you have wandered into the world of a picture book. The room is inspired by Harajuku, a place where you can enjoy the extraordinary feeling of being lost in a different dimension.

With the opening of the room HARAJUKU, an entire building has been transformed into MOSHI MOSHI ROOMS, with four rooms available for booking via Airbnb. The rooms can be used for a variety of purposes, such as accommodation for domestic and foreign tourists, staycations (casual holiday at home or nearby), girls' parties, and birthday parties with your friends. In order to ensure the safety of the guests, they carry out temperature checks, use alcohol sanitisers and disinfect the rooms with alcohol when cleaning.

The archway at the entrance is a gateway to a world of wonder. From the moment you step into the house, the excitement is bound to build.

The living room is decorated with colourful objects and animals reminiscent of a museum. Why not find your favourite objects and animals, and enjoy taking photos with them?

The bedroom has a queen-size bed, together with a sofa bed and an air bed in the living room, which can accommodate up to four people.

The shower room is equipped with amenities such as shampoo, conditioner, and body soap. The separated washbasins and Toto Washlet toilets have been installed.

The kitchen is fully equipped with a microwave, fridge, and other daily necessities. Colourful KAWAII tablewares are lined up so that you can enjoy the world of the room more.

MOSHI MOSHI ROOMS

The first room  'SAKURA'

The room has received high praise from both domestic and international travelers.

A monument of cherry blossoms, the symbol of Japan, fills the ceiling of the bedroom, creating a gorgeous and unique space.

The second room 'ORIGAMI'

This room is themed on origami, one of the symbols of Japanese culture.

The living room is furnished with benches and stools inspired by a teahouse. Looking up at the ceiling, a number of Japanese umbrellas decorate the space.

The third room 'DOSUKOI'

The room combined the traditional Japanese culture of sento, a Japanese public bathhouse and sumo, Japanese wrestling.

The sumo wrestler's hands and the large bath inspired by a sento attract the viewer's attention. The painted pictures on the walls are the work of Kiyoto Maruyama, one of only three sento painters in Japan.

The rooftop

The rooftop offers an expansive space with a panoramic view of Harajuku. It can also be used for events such as tent saunas and BBQs. Only the rooftop can be rented out as a rental space.

Why don't you create your own story at MOSHI MOSHI ROOMS, a place full of unique concepts that you can only experience here?

UNIQLO's Global Design Competition UT GRAND PRIX 2022 is Themed on the Peanuts Comics

The UT GRAND PRIX (UTGP) is a design competition that started in 2005. The contest uses the T-shirt as a creative medium and invites everyone to freely express their creativity. This year, the competition is themed on the Peanuts comic strips by Charles M. Schulz which first hit the scene in the US back in 1950, over a hundred years ago.


Create your own Peanuts tee design


Artists are invited to unleash their imagination and bring their own Peanuts creations to life using UNIQLO's UT brand as their canvas. Designs will be judged by the Charles M. Schulz Museum and a team of Charles M. Schulz creative associates.

An internship at the Peanuts studio


The Grand Prize is $20,000 and all winning designs will become products sold in UNIQLO stores worldwide in the summer of 2022. The winners of the top two prizes will be invited to the USA. There will also be an internship opportunity to be a member of the Charles M. Schulz creative associates team.

Sign up to the competition and submit your entry for the chance of your artwork being featured worldwide.

BT21 Cafe to Open in Five Japanese Cities For Summer 2021

The BT21 Cafe is set to see its 9th run in Japan when six of them begin opening in Tokyo, Yokohama, Nagoya, Osaka, and Okinawa from July 22. The theme this time around is "MY LITTLE BUDDY."

Main Visual

Uchiwa Fans (7 Designs) / Coasters (8 Designs)

Customers who book a table in advance will receive a free fan, and if they buy a drink, a free coaster.

The Menu

KOYA Gapao Rice | ¥1,870 (Tax Included)

RJ Omelette Stew | ¥1,870 (Tax Included)

SHOOKY Loco Moco Don | ¥1,870 (Tax Included)

MANG Coconut Green Curry | ¥1,870 (Tax Included)

CHIMMY Chicken Over Rice | ¥1,870 (Tax Included)

TATA Bibimbap | ¥1,870 (Tax Included)

COOKY Sushi Bowl | ¥1,870 (Tax Included)

Parfaits (Mango/Melon/Grapefruit) | ¥1,540 (Tax Included)

Mini Parfaits | ¥550 (Tax Included)

Milk Drinks (Strawberry/Mango/Blueberry) | ¥990 (Tax Included)

Shuwa Shuwa Fruit Tea | ¥990 (Tax Included)

Fuwamoko Latte | ¥990 (Tax Included)

Original Merchandise

Pins | ¥660 (Tax Included)

Acrylic Keyrings | ¥770 (Tax Included)

Folders ¥440 (Tax Included) / Clear Pouches ¥1,320 (Tax Included)

Pin Case | ¥1,320 (Tax Included)

Stickers ¥770 (Tax Included) / Acrylic Coasters ¥1,320 (Tax Included)

Milk Caramels | ¥1,080 (Tax Included)

The menu line-up is based on Asian cuisine and features cute dishes, drinks, and dessert combined with the BT21 characters. There's also a collection of exclusive merchandise for fans to get their hands on.

©BT21

Information

BT21 Cafe 9th Run ~MY LITTLE BUDDY~


Tokyo Cafe ①

Address: TOKYO BOX cafe&space Omotesando Hills (4-12-10, Jingumae, Shibuya, Tokyo)

Running: July 22, 2021 – August 29, 2021



Tokyo Cafe ②

Address: BOX cafe&space Lumine EST (3-38-1 Shinjuku, Shinjuku-ku, Tokyo)

Running: July 22, 2021 – August 22, 2021


Yokohama Cafe

Address: Collabo_Index Lumine Yokohama (2-16-1 Takashima, Nishi-ku, Yokohama, Kanagawa)

Running: July 22, 2021 – August 29, 2021


Nagoya Cafe

Address: Address: Nagoya Box Cafe&Space (B1F LACHIC, 3-6-1 Sakae, Naka Ward, Nagoya, Aichi Prefecture)

Running: August 26, 2021 – September 26, 2021


Osaka Cafe

Address: kawara CAFE&DINING Shinsaibashi (Shinsaibashi OPA 9F, 1-4-3 Nishishinsaibashi, Chuo-ku, Osaka)

Running: July 29, 2021 – August 29, 2021

Okinawa Cafe

Address: OKINAWA BOX cafe&space (Naha OPA 2F, 1-20-1 Izumizaki, Naha, Okinawa)

Running: July 22, 2021 – August 29, 2021



Table Bookings
Price: ¥715 (Tax Included) *Includes freebie

Cafe Website: https://2021-1.box-cafe.jp/


MIDTOWN ART PALETTE Brings Dreamy Digital Artwork to Tokyo Midtown For Summer

Tokyo Midtown's annual MIDTOWN ART PALETTE has returned again for the summer, opening on July 16 and running until September 5. This year, the event delivers a Digital Art Garden with gorgeous dream-like digital artwork.

Digital Art Garden

Last year's event

Experience a distinctively Japanese way to stay cool and refreshed on a wooden veranda with light and mist dancing through the outdoor space inspired by traditional Japanese rock gardens. Find yourself bewitched by an enchanting summer evening as the digital art transforms throughout the day.

This year's event is being held with all proper social distancing measures in place.

Take digital art home with you with AR fireworks

Locate five QR codes dotted around Tokyo Midtown which when accessed via your smartphone will award you with artistic AR fireworks, allowing you to enjoy fireworks with you wherever you point the camera on your screen, including at home.

Event Report: Sanrio's Little Twin Stars and Their Dreamy World at Tokyo Tower

Sanrio's popular character duo Kiki & Lala, also known as the Little Twin Stars, are have brought their dreamy, pastel-coloured world to Tokyo Tower with a special summer event titled "Little Twin Stars Summer Night Fantasy Meets Kiki & Lala Exhibition produced by LIDDELL" which began on July 10.

At the event entrance, guests are given a special 'passport' notebook which is stamped before entering, allowing access to Kiki & Lala's world in the clouds above.

Guests are guided by Kiki & Lala's voice through the rose-coloured "Star & Rose-Coloured Cloud Fantasy Gate" were they are met with five different booths.

At Kiki's Star Catching booth, visitors can experience one of Kiki's favourite past times by 'catching' stars. The stars that are caught can be taken home as a fun memory.





There's also the Starry Sky Light Shower booth which is decorated with mirror balls that reflect the light as well as a wall featuring words and phrases said by the twins, the pink and light blue-coloured Kiki & Lala's Playroom where you can snap cute photos, the Glittering Moviegenic booth which uses your smartphone to watch an animation of Kiki & Lala, and more.

Fans of the twins can enjoy an exhibit of various artworks too, including the 8-meter tall Fantasy Wall which depicts the world above the clouds.

The day before the exhibition began, on July 9, Tokyo Tower was lit up in blue and pink Kiki & Lala colours from 19:30 to midnight. It was a special one-night experience.

If you're in Tokyo this summer, soar up high into Kiki & Lala's world at Tokyo Tower.

©'21 SANRIO 著作(株)サンリオ

Information

LittleTwinStars Summer Night Fantasy Meets Kiki & Lala Exhibition produced by LIDDELL

Running: July 10, 2021 – July 25, 2021

Event Site: https://sanrio.site/qY0AN

Ibuki Sakai x atmos pink T-Shirt Collection Releases

Japanese sneaker select shop atmos pink has teamed up with model and artist Ibuki Sakai to release two t-shirts at atmos pink stores and their official website.

atmos pink x sakai ibuki collaboration raglan tee | ¥4,500 (Before Tax)

atmos pink × sakai ibuki collaboration safari long sleeve tee | ¥4,900 (Before Tax)

The two tees take on a 90's design with sticker collage motifs, something which Ibuki is known for. In promotion of the release, a special installation has been set up at atmos pink's flagship store in Harajuku where it will be displayed until July 25.

The installation is a collection of handmade original accessories, stickers, and other items selected by Ibuki. Additionally, those who purchase her artbook at TSUTAYA will receive a paper doll poster, available on a first-come, first-served basis.

Information

Ibuki Sakai x atmos pink
Installation: July 16, 2021 – July 25, 2021
Location: atmos pink flagship Harajuku

Address: 6-5-3 Jingumae, Shibuya, Tokyo

Peta Peta Kai Event
Tickets: Available from July 16, 2021

Location: atmos pink flagship Harajuku

*Open to those who purchase either of the collaborative t-shirts

Event Date: July 25, 2021 @ 13:00-18:00

1st Slot: 13:00-15:00

2nd Slot: 15:00-17:00
Price: ¥1,000 (Tax Included)
*Max. 15 people per slot

Newly Renovated Chubu Electric Power MIRAI TOWER Begins Projection Mapping Performance

Japanese creative company NAKED opened its 'NAKED SKY CRUISING' projection mapping performance at Chubu Electric Power MIRAI TOWER's observation deck on July 1.

NAKED has used its projection mapping technology at towers and observation decks up and down Japan such as Tokyo Tower, Abeno Harukas, and Sapporo TV Tower, combining it with each location's nightscape and catering each performance to the seasons at various themes. Chubu Electric Power MIRAI TOWER has hosted seven night-themed experiences at its observation deck to date, but NIGHT SKY CRUISING is the first one to be held after the tower underwent refurbishment in September 2020.


Visitors can enjoy a magical projection mapping show on the tower windows with Nagoya's incredible evening city view in the background.

Information

NAKED SKY CRUISING
Loctation: Chubu Electric Power MIRAI TOWER's Sky Deck

Run Dates

July 1, 2021 – August 23, 2021 @ 19:00

August 24, 2021 – September 14, 2021 @ 18:30

September 15 onwards @ 18:00

Finishing Times
Weekdays & Sunday @ 21:00 (Last Entries 20:30)

Saturdays & Public Holidays @ 21:40 (Last Entries 21:10)


Prices
General (High School Students and older) = ¥1,600 per person

Children (Elementary & Junior High School Students) = ¥1,000 per person

Infants = Free


Official Website: https://www.nagoya-tv-tower.co.jp/nakedskycruising/

teamLab Planets Blooms Original Blue Orchids That Are the First of Their Kind in the World

teamLab Planets TOKYO revealed two brand new, original blue-coloured phalaenopsis aphrodite orchids on July 8 as part of its new Floating Flower Garden exhibit. The flowers are the first of its kind in the world and there are no plans for it to be sold, meaning the only way to see them is by visiting the Tokyo-based digital art museum.

Unique, never-before-seen orchids

teamLab has named the flowers Phal.'teamLab Sunshine Star' and Phal.'teamLab Moonlight Star' in cooperation with Haruhiko Kato of the Lama Orchids Center.

The flower enjoys a full bloom for around a month. The reason why this orchid is so special is because until recently only four types of phalaenopsis had been found to be blue. The fifth, Phal.lueddemanniana coerulea, was discovered in recent years, and this brand new version was born from it.

The teamLab: FIRE smartphone app lets you take flames home

The new app 'teamLab: FIRE' has been created for teamLab Planets TOKYO's Universe of Fire Particles – Continuity exhibit which lets you enjoy the piece on the go. When you launch the app and approach a specific artwork or a fire held by another person, your smartphone will light up with flames. When you bring the flame close to another person's teamLab: FIRE, the flame will connect. As you connect the flame you received with another person, and they connect that flame with someone else, the flame will spread all over the world.

Drawing on the Water Surface Created by the Dance of Koi and People – Infinity

The museum's Drawing on the Water Surface Created by the Dance of Koi and People – Infinity exhibit will transform into bright colours for the summer season from July 21 to August 6. The digital artwork sees koi swim on the surface of water that stretches out into infinity. Visitors can walk into the water. The movement of the koi is influenced by the presence of people in the water and also other koi. When the fish collide with people they turn into flowers and scatter.

Information

teamLab Planets TOKYO
Address: 6-1-16 Toyosu, Koto-ku, Tokyo

July 2021: [Weekdays] 10:00-20:00 / [Weekends] 9:00-20:00

*Open 9:00-20:00 from July 22-31

*Last entries one hour before closing time

Closed: July 20, 2021

Official Website: https://planets.teamlab.art/tokyo/

Harry Potter and the Philosopher's Stone Themed Cafe in Japan Celebrates Film's 20th Anniversary

In celebration of the 20th anniversary of Harry Potter and the Philosopher's Stone, two Harry Potter Cafes are set to run for a limited time in Tokyo and Nagoya from July 22 and 23 respectively, serving magical food, drink, and dessert straight from the wizarding world.

Freebies for customers who dine at the cafe or spend a certain amount on merchandise

Gryffindor OBENTO BOX

Slytherin OBENTO BOX / Hufflepuff OBENTO BOX / Ravenclaw OBENTO BOX

Herbology Salad

Shepherd's Pie

Owl Post Snack Plate

HAPPEE BIRTHDAE Cake

Golden Snitch Parfait

スムージー グリフィンドール/スリザリン/ハッフルパフ/レイブンクロー/ホグワーツ特急カフェラテ

Hot Tea / Hot Coffee

Lunch Boxes / Teacup

Cafe Original Merchandise

Acrylic Magnets Design A / Folders Design A / Letter Set

Stickers Design A / Acrylic Charms

Eco Bag / Satin Pouch / Bandana Handkerchief

Mirror / Masking Tape Design A / Oversized T-Shirt

Fantastic Beasts Menu & Cafe Original Merchandise

Niffler Orange Tart

Magical Trunk Cake

Stickers Design B / Acrylic Magnets Design B / Folders Design B / Masking Tape Design B

The film series adaptation of J.K. Rowling's Harry Potter fantasy series ran from 2001-2011 with eight movie total. Fans gather together to celebrate 20 years of movie magic and the release of the internationally beloved series' first entry, Harry Potter and the Philosopher's Stone.

WIZARDING WORLD characters, names, and related indicia are © & ™ Warner Bros.
Entertainment Inc. Publishing Rights © JKR. (s21)

Information

Harry Potter Cafe

Tokyo Cafe

Running: July 22, 2021 – September 12, 2021

Location: OMOTESANDO BOX cafe&space

Address: Pine Under Flat B1F, 5-13-2 Jingumae, Shibuya, Tokyo

Nagoya Cafe


Running: July 23, 2021 – August 22, 2021

Location: NAGOYA BOX cafe&space

Address: LACHIC


Booking Price: ¥715 (Tax Included) *Comes with freebie
Bookings/Details: https://boxcafe-hp.jp/